Brown hair may be common, but blue is one of the rarest eye colors in the world. Only 17% percent have this eye color and pairing it with dark hair makes them all the more striking.
From deep brunette to the lightest brown, we have some stunning brown hair with blue eyes combinations that you have to see.
Brown Hairstyles for Blue Eyes
Read on to see our 31 elegant brown hairstyles for women with blue eyes.
1. French Crown Braid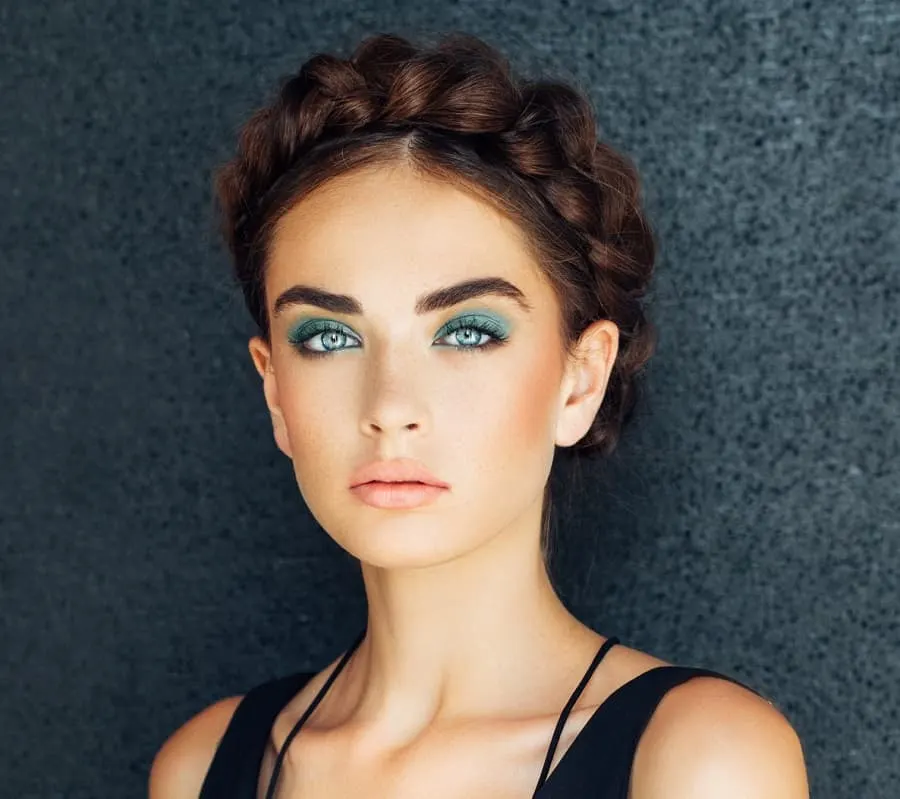 Keep all the attention on your blue eyes by styling the brunette hair in an elegant French crown braid. Start the braiding just behind the hairline of the middle-parted front and circle all around the head. Top off with flowers or keep it simple depending on your preference.
2. High Bun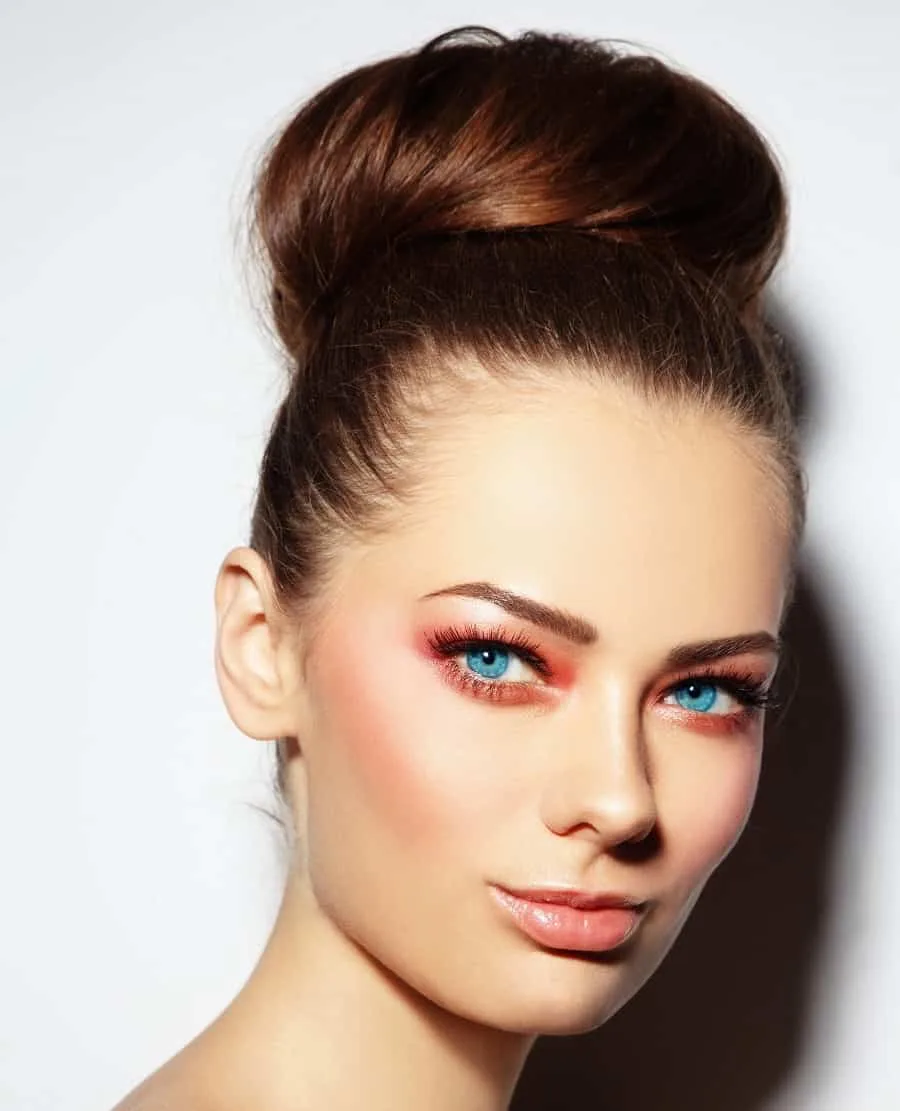 Here is a simple look for those brown-haired and blue-eyed ladies who don't want to complicate their hair look. Slick back the deep brown strands into a high bun sitting on the top of the head. This style is easy to maintain all day long.
3. Short and Savage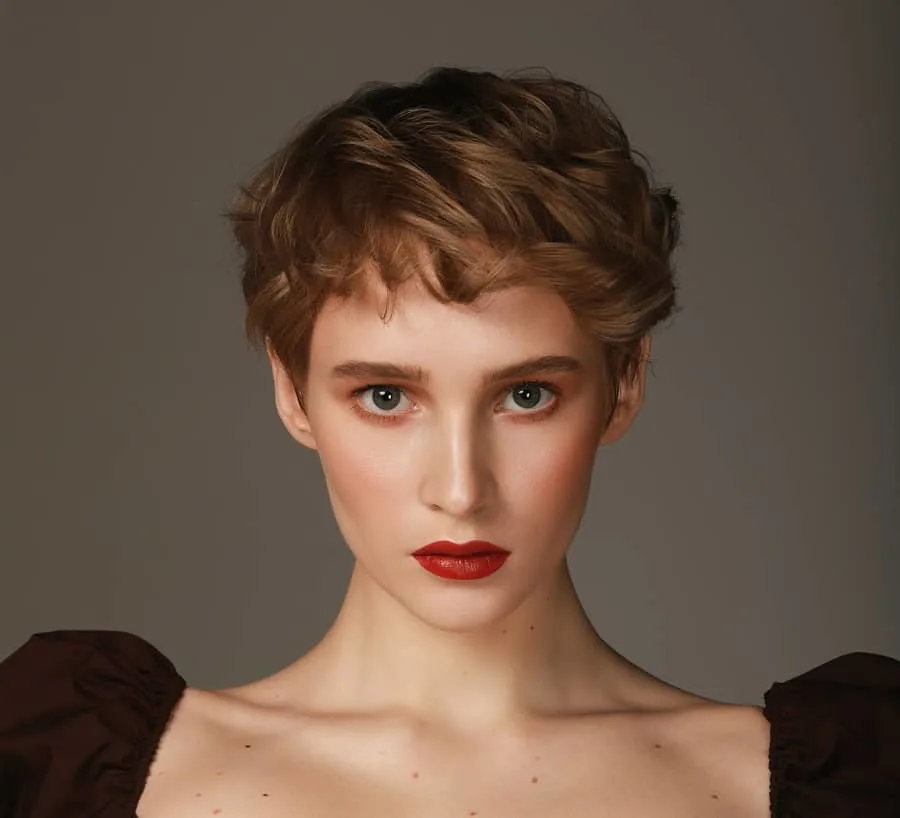 Tired of your dark brown locks? Bring a radical change by lightening the hair to a cool ash brown hue and chop off the strands into a short boy cut. The top is longer than the side and has subtle waves falling on the forehead for a savage appeal.
4. Magnificent Money Pieces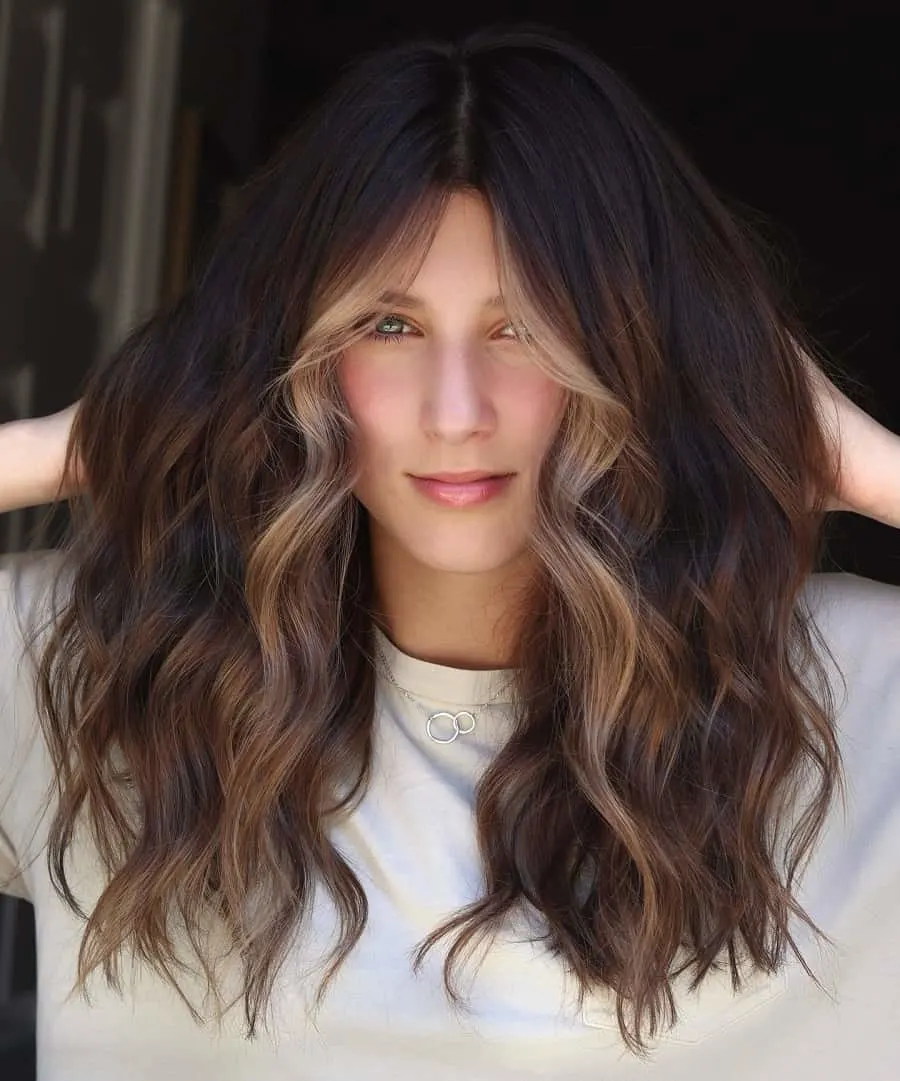 Make those beautiful blue eyes more noticeable with this front-streaks hairstyle. The blunt medium-length tresses have magnificent blonde money pieces at the front coupled with light brown highlights peeking through the darker brown strands. This look adds an instant glow to the face.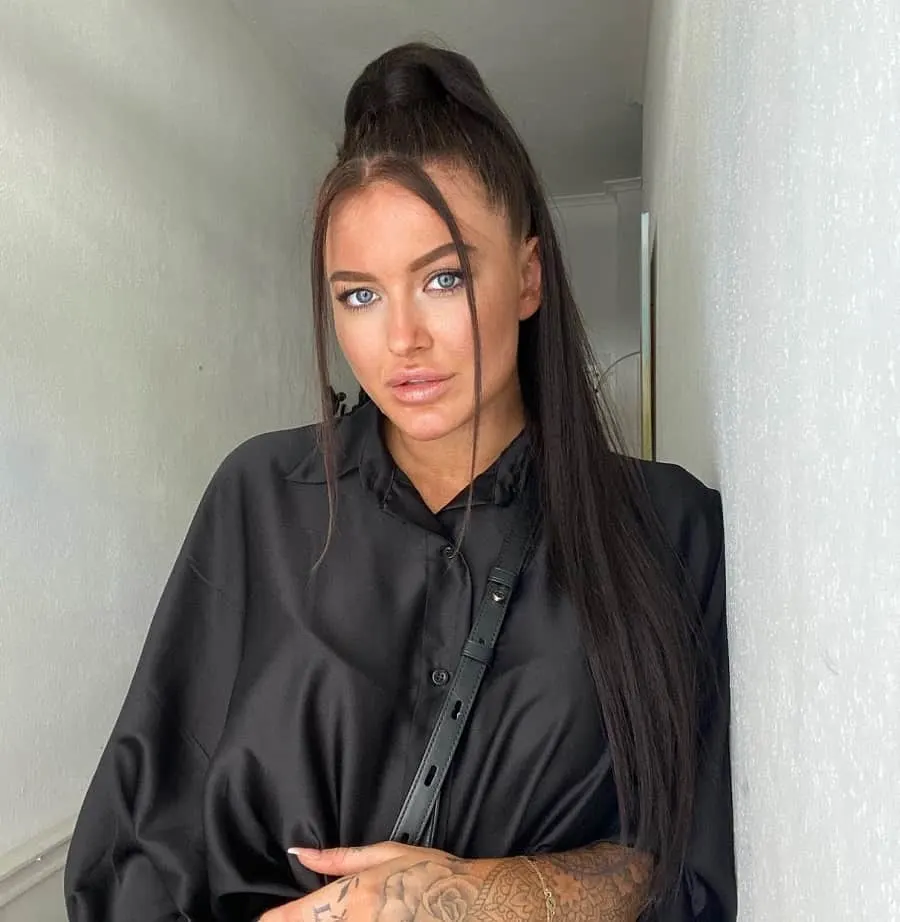 This is yet another hot brown hair idea for women with blue eyes. Slick the long brown locks up in a high ponytail with a chunk of hair wrapped around the hair tie completing the top knot look. Pull out two front strands to frame the face gorgeously.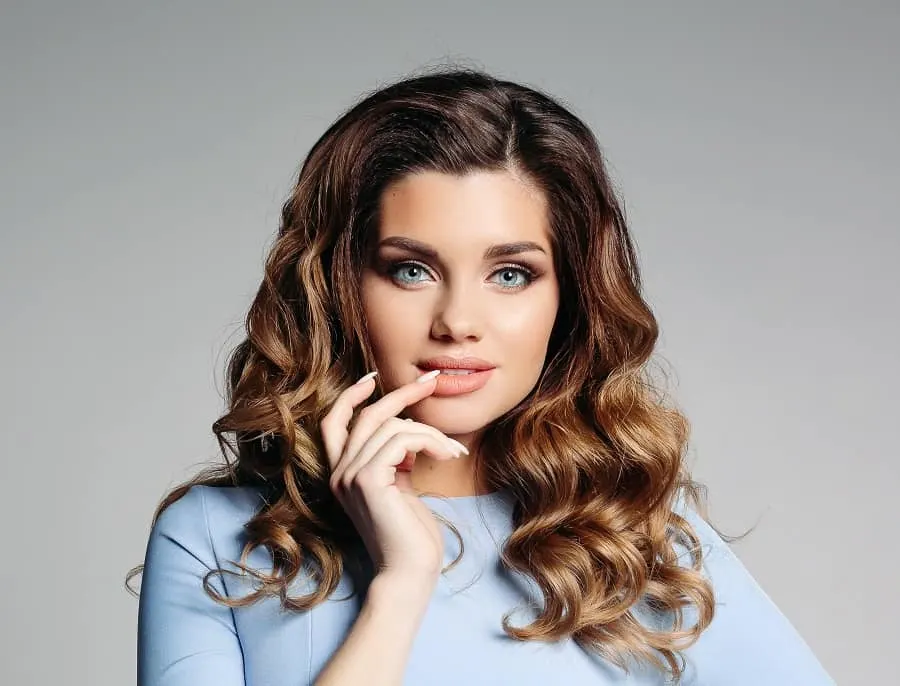 Steal the show by flaunting a blonde balayage on brown hair. Go for a warmer tone of blonde to add a soft gleam to the face. Complete the look by adding bouncy curls and wearing the hair loose with a simple side parting.
7. Retro Waves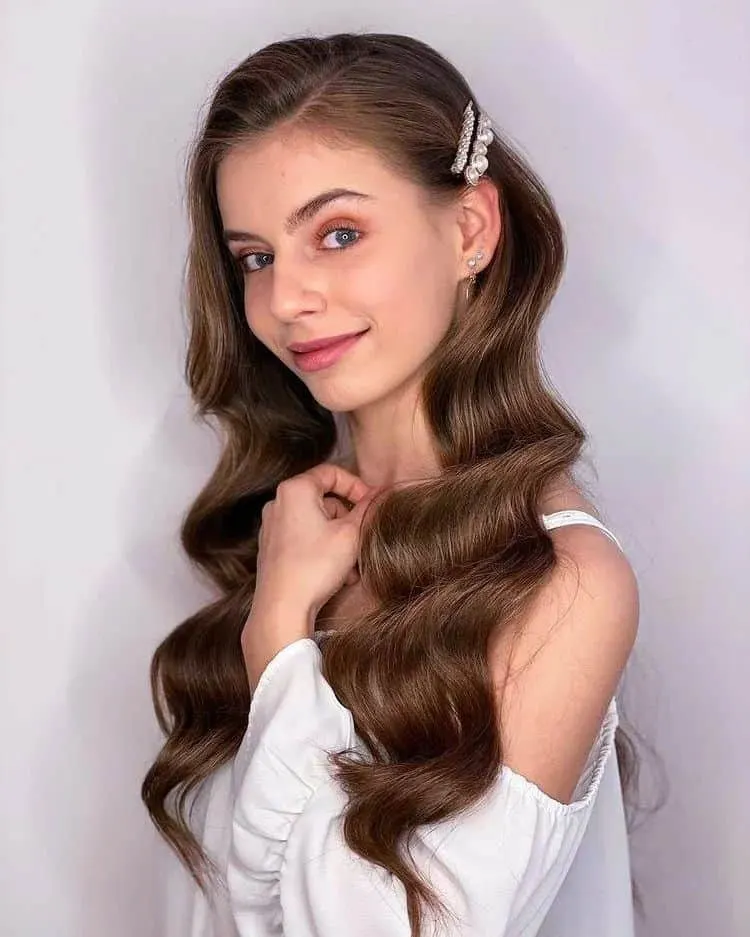 Retro waves are classic and never go out of style. Use the pin curl method or a styling tool to achieve these uniform waves and pin back one side with cute hairpins. This hairstyle is suitable for women with long tresses.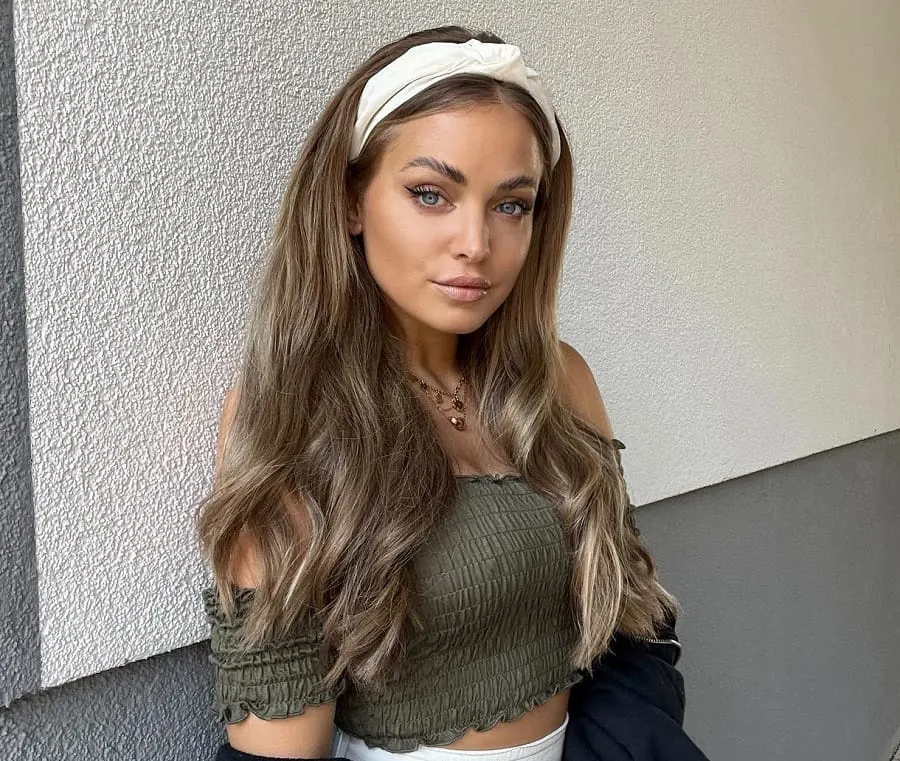 Change your basic brown hair into a shiny ashy brown mane to accentuate those gorgeous blue eyes. Amp up the look further by adding cool light blonde babylights. Finish off the style by using a chic headband to push back the locks away from the face.
Referring to the ladies who long for a low-maintenance look cut the hair into a choppy lob dangling above the shoulders. Leave the strands loose with a middle or side parting and hand tousle the layers every now and then for a carefree appeal.
10. Baby Braids
Wear this cute girly style on a daily basis. Take two front sections on both sides of the face and braid each section loosely. Secure the ends with elastic bands and leave the rest of the hair loose for a fun undone look.
11. Deep Brunette
The darker your hair, the more light eyes have a chance to pop. This dark brown hair with blue eyes is a great combination on deep brunette that is either short, medium, or long.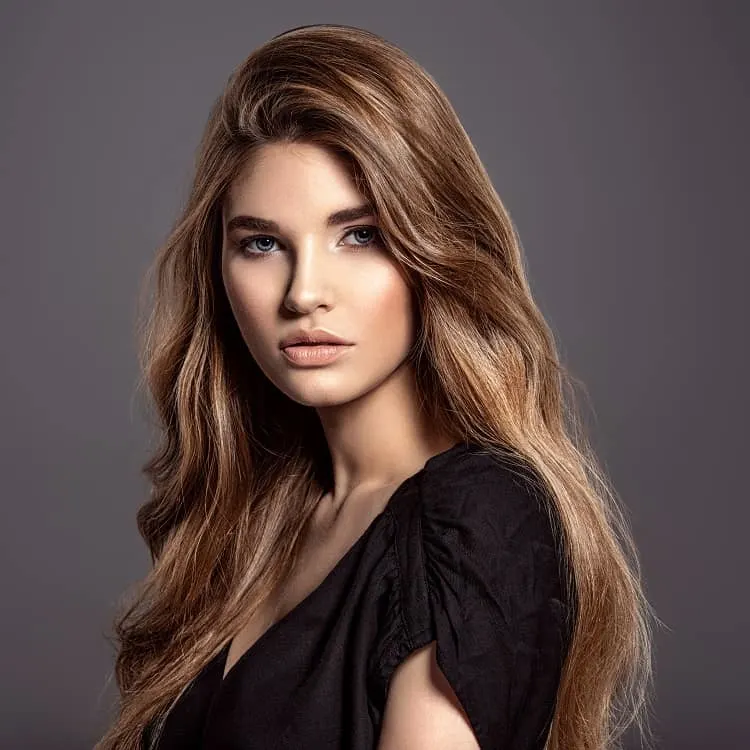 Similar to blonde hair, light brown hair with blue eyes creates a soft and sexy look. If your natural brown hair is very light, you may want to add in some blonde balayage highlights to brighten things up.
13. Very Long Brown Hair with Bangs
You don't see very long brown hair with blue eyes too often. To help frame your face, consider adding a cute fringe. If your hair is naturally straight, try slightly piecey bangs that skim the eyebrows.
14. Ash Brown Hair
Dusty, ashy, and smoky tones are all the rage these days. Create a gorgeous ash brown hair with blue eyes look with balayage highlights for a subtle effect. Hair looks great this way when given a few loose waves.
15. Blue Eyes With Auburn Hair
Auburn is one of those hair colors that can be adjusted to work with both cool and warm skin undertones. Auburn brown hair with blue eyes looks gorgeous together if you desire adding a hint of this reddish hue to your look.
16. Curly Hair With Blue Eyes
Brown curly hair with blue eyes makes for a striking, doll-like combination, especially if you have pale skin. To really make this look shine, hydrate your curls with a moisturizing creme for soft, touchable ringlets.
17. Brown Hair and Pale Skin
Unsurprisingly, it's common to have brown hair with blue eyes and pale skin. A light skin tone can really make your dark brunette locks stand out and your blue eyes sparkle. We love this relaxed, beachy tousle that is perfect for thick hair.
Frame your beautiful blue eyes with a long pixie cut. This look is suitable for brown hair with blue eyes and fair skin if you're looking for a fun, yet sexy short haircut. Cut bangs so they end at the cheekbones to make them more pronounced.
Add light brown balayage to your hair and catch the light to make hair shine. This brown hair highlights with blue eyes look has a fresh and bright feel that can be adjusted to suit all brown hair.
20. Light Chestnut Hair
Chestnut locks have plenty of warmth without red tones, so it's perfect for skin with warm and golden undertones. If you're looking for a sweet up-do, try this high bun with side swept bangs to show off chestnut highlights.
Not all hairstyles need to be neat. In fact, this tousled bob is great for mature women and young women alike. Short angled bangs help to open up your face and reveal the depth of your gorgeous blue eyes.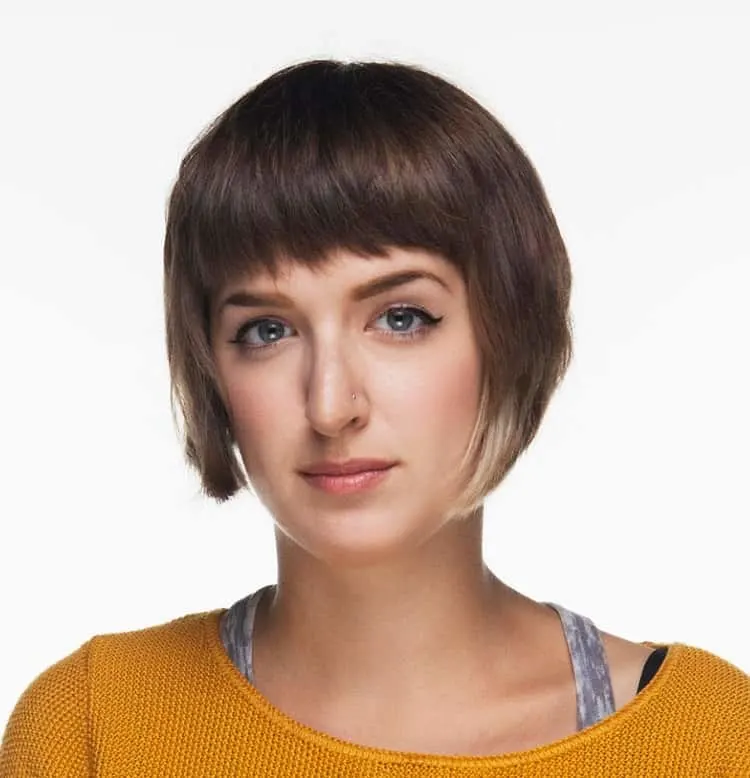 This slightly French bob has plenty of styles and is perfect for showing off your blue eyes and brown hair. If you love this look, cut bangs short and choppy above the eyebrows to help elongate the appearance of your face.
Black Hair and Blue Eyes: Stunning Looks to Copy
23. Elegant Updo For Brunette Hair
Nothing draws the attention to your face and eyes quite like a swept-back chignon style. Perfect for weddings and formal events, this elegant chignon has height at the crown of the head and shows off brunette highlights beautifully.
24. Casual Brunette Ponytail
Pulling your hair off of your face and into a ponytail may be convenient, but it also draws the focus onto your striking eyes. A high ponytail is perfect for women of any age, regardless of your brunette hue.
Sometimes, inspiration from an actress with brown hair and blue eyes can help you when it comes to finding that perfect color. A warm, rich chocolate brunette provides perfect depth for rosy cheeks and light blue eyes.
26. Braided Style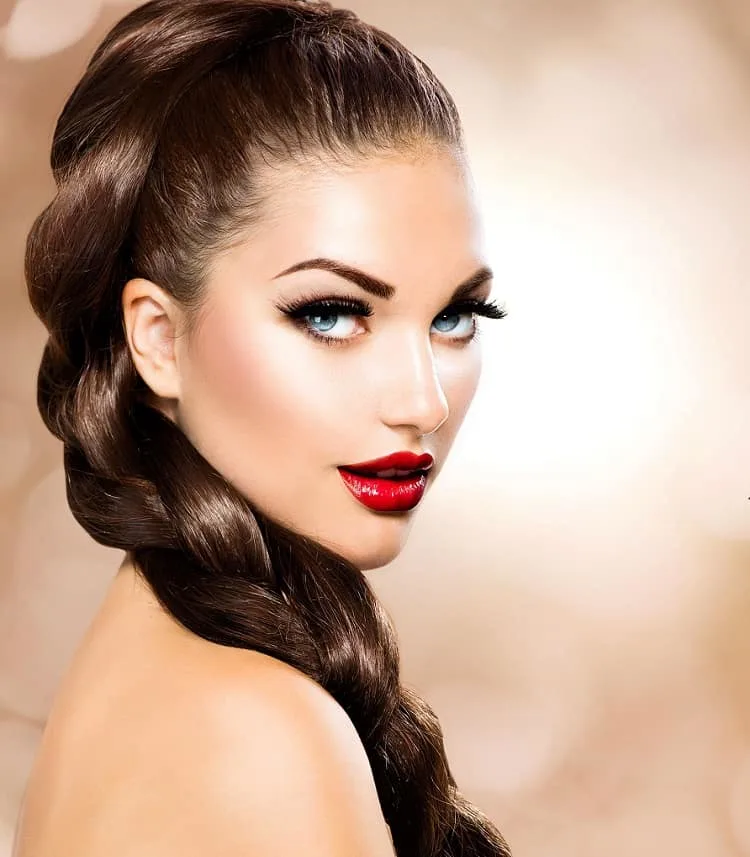 A great styling option for brunette hair and blue eyes is a thick and gorgeous braid. To highlight your eyes and give your face an instant lift, create a high ponytail and a long braid down your back or over your shoulder.
27. Curly Frizzy Texture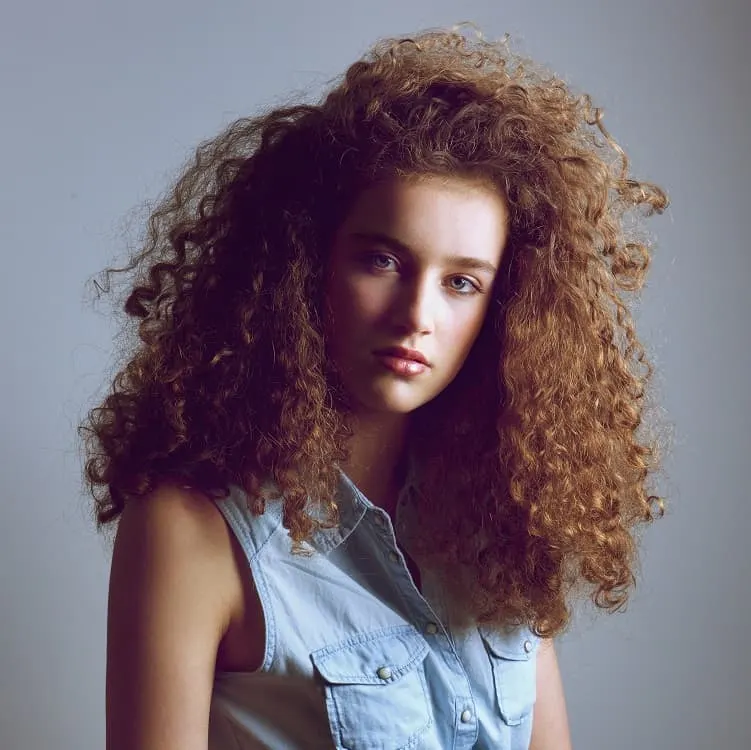 Straight hair is so yesterday! Of course, it's always beautiful, but why not embrace your natural curly and frizzy texture? It's uncommon to find this hair type with brunette tresses and blue eyes. Enjoy this unique look!
28. Light Brown Ombre
Ombre style adds interest to otherwise boring locks. Add in chestnut, auburn, or even light bronde highlights to the ends of hair to brighten up your overall look.
29. Medium Brown Hair
An approachable in-between hairstyle is shoulder-length hair. It's great for thin or fine hair types that don't want to cut hair too short. A lovely side part will give your hairstyle while helping to reveal your blue eyes.
Space buns are a fun, young way to express your personal style, whether it be for a concert or an everyday look. Twist hair into buns and leave a piece of hair down on each side to frame your face and make your blue eyes pop.
Related Articles:
31. Brown Box Braids
Box braids are awesome for trying out long hair and protecting your natural locks. This look has light brown and blonde pieces of hair braided in for a dimensional look that highlights those baby blues.
Conclusion
Regardless of how you choose to wear your hair, showing off a stunning combination of brown hair and blue eyes are impressive. Try braids, a beautiful bun, or subtle balayage highlights to enhance your look. Which style will you choose?
FAQs
Here are answers to some of the most frequently asked questions about brown hair and blue eyes.
What nationality has blue eyes and brown hair?
There is no specific nationality that has blue eyes and brown hair. This eye and hair color combination can occur in virtually any ethnic group.

A person must have biological parent DNA that includes both blue eyes and brown hair.
What percentage of the world population has brown hair and blue eyes?
There is not a known percentage of the world population that has brown hair with blue eyes, but it is safe to assume the percentage is in the single digits.

Only eight to ten percent of humans have blue eyes. Only a fraction of those people have both blue eyes and brown hair.

Will dark brown hair make blue eyes pop?
Yes. Dark brown hair will contrast with blue eyes and make them appear more prominent and vibrant. This look can create an attractive and striking visual effect.
Do blue eyes suit blonde or brown hair most?
Blue eyes look good with both blonde and brown hair. Blue eyes with brown hair often have a fair, fresh-faced style. Blue eyes with brown hair can create a warm and earthy appearance.
Is brown hair with blue eyes and freckles a rare combo?
Somewhat. The combination of brown hair with blue eyes and freckles is rare, but not as rare as you think. Researchers have identified a gene that possibly contributes to all three of these features.