Hazel eyes are dynamic, bejeweled, and beautiful, as are the best hair colors for women with hazel eyes. Take advantage of all those different facets and shards of color.
Consider a fantasy hue that will make your peepers pop or opt for traditional shades that bring out the richness of your stare.
For the most part, hazel eyes can handle practically any hair color, so it's up to you to pick a favorite.
Best Hair Colors to Complement Hazel Eyes
Do your eyes lean more toward green or brown? Are there hints of blue and gray in your pretty stare, or do your bewitching eyes have more of a yellow cast?
To find the best hair color for a woman like you with hazel eyes, spend some time studying your eyes in the mirror. Pinpoint all the hues hiding in your irises, then turn your attention to the dazzling hair color ideas for hazel eyes listed below.
1. Long Caramel Longs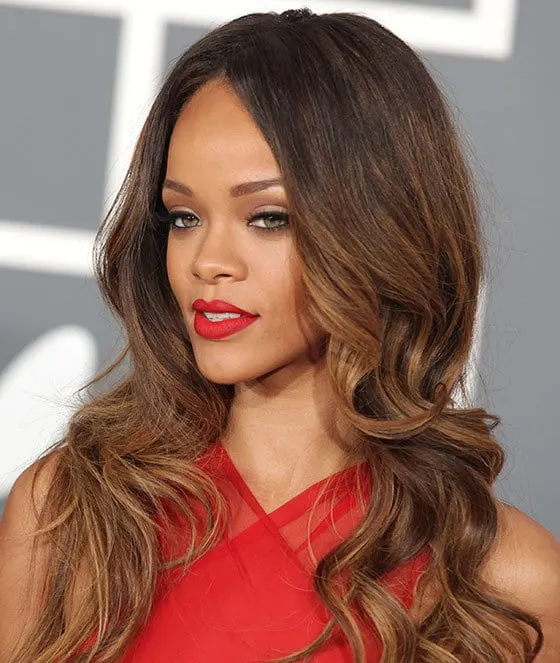 You can't deny that Rihanna knows the best hair colors for hazel eyes. The Baja stunner sports a pair of pretty peepers herself. As you can see, the caramel tones of her hair simultaneously highlight the shades of brown in her eyes while making the green half of her hazel stare pop like nobody's business. Brava, RiRi.
Best Blonde Hairstyles for Blue Eyes
2. Baby lights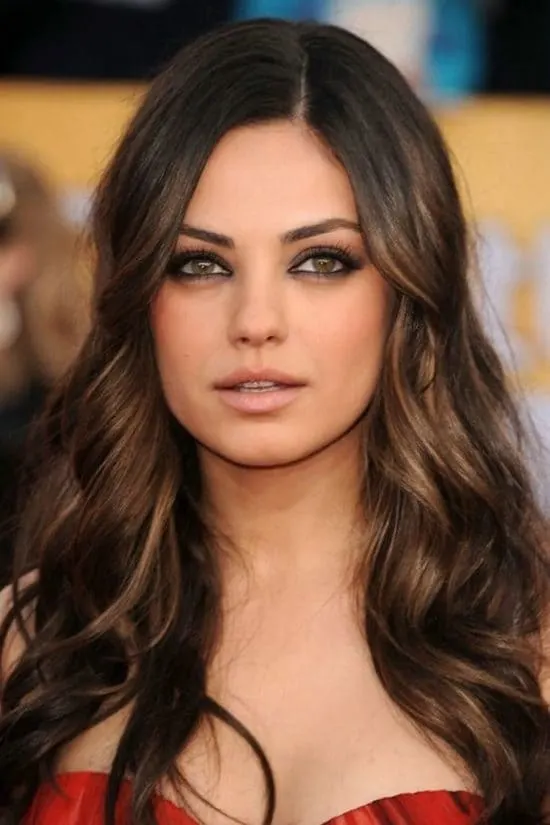 Baby lights in a hue that's several shades lighter than the rest of your hair are perfect for pulling attention to your hazel eyes. The hints of golden color complement the greens, browns, golds, and grays that make up hazel irises.
3. On the Lighter Side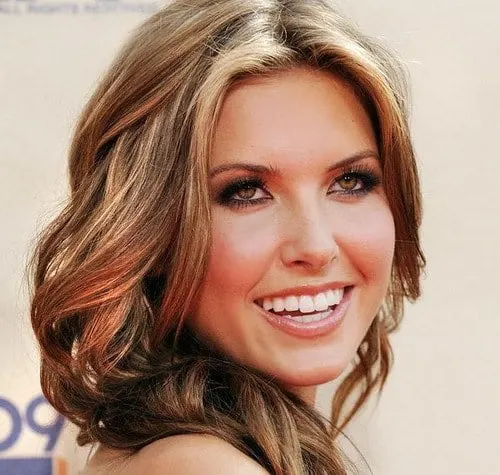 A natural-looking mix of brown and blonde creates a shining backdrop for a hazel gaze. Any hair color with hints of gold is a winner, so remember that when you're asking the stylist about highlights. Also, remember that warmer is always better for hazel.
4. Icy White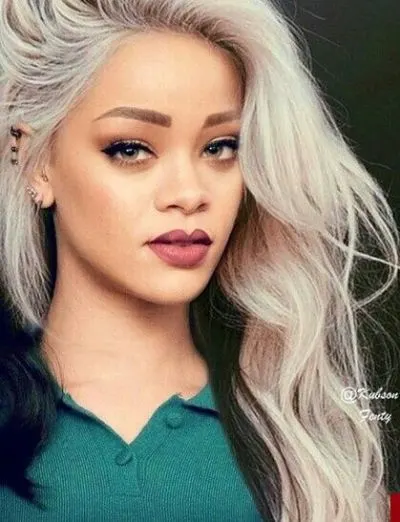 Well, perhaps we spoke too soon. Icy cool hues have their place as well. This icy white shade on top and the dark bottom half of the hair is a flattering hair color for hazel eyes because the backdrop makes the eyes pop, and that's precisely the effect you want.
5. Spun Gold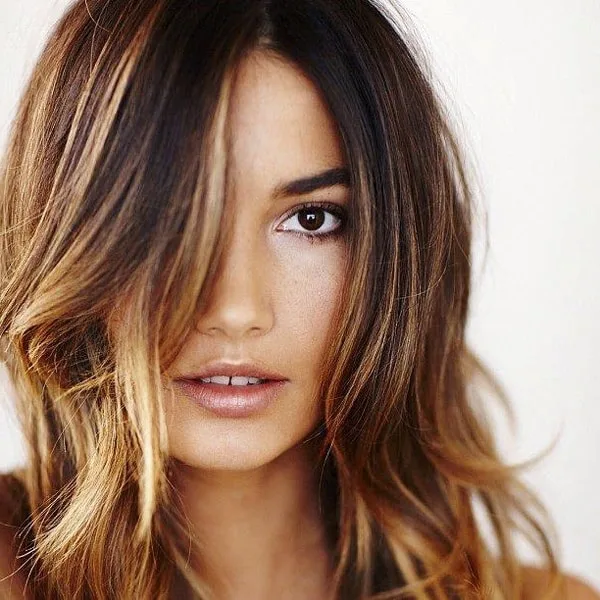 Thin, immaculately blending highlights create an enormous impact. Streaks of gold that frame the face also pull hints of gold, brown, and amber from hazel eyes.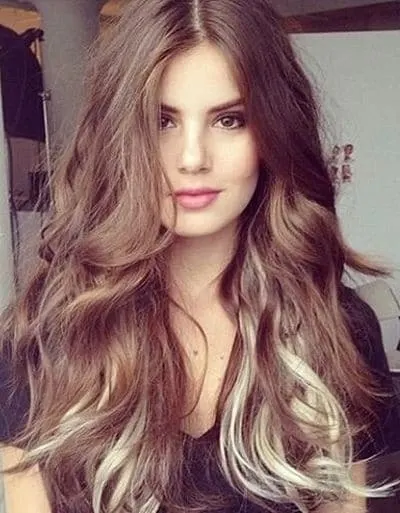 We've established that golden locks complement hazel eyes. Icy pale blonde tones are quite flattering, as well.
Platinum blonde tips create a contrast between the darker striations in the eyes and the darker layers of the hair.
7. Deep Auburn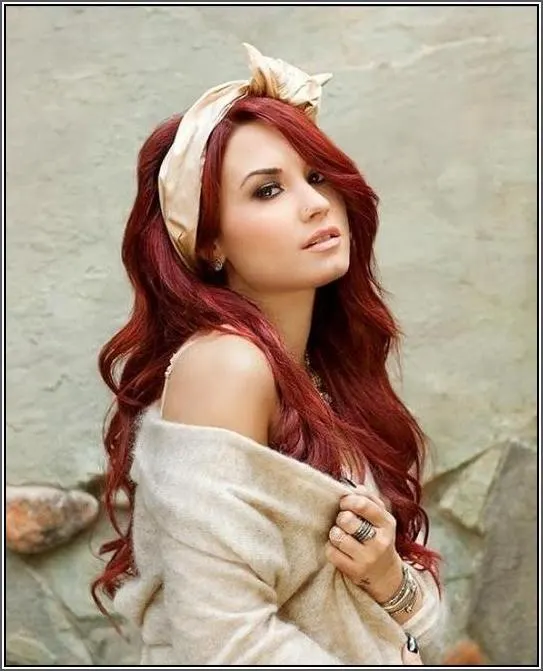 It's not a shocker that Auburn is probably the best hair color for hazel eyes. Red tresses look lovely on hazel-eyed women anyway, but Auburn is darker, richer, and deeper than traditional reds. It has a certain dramatic flair that makes all the difference.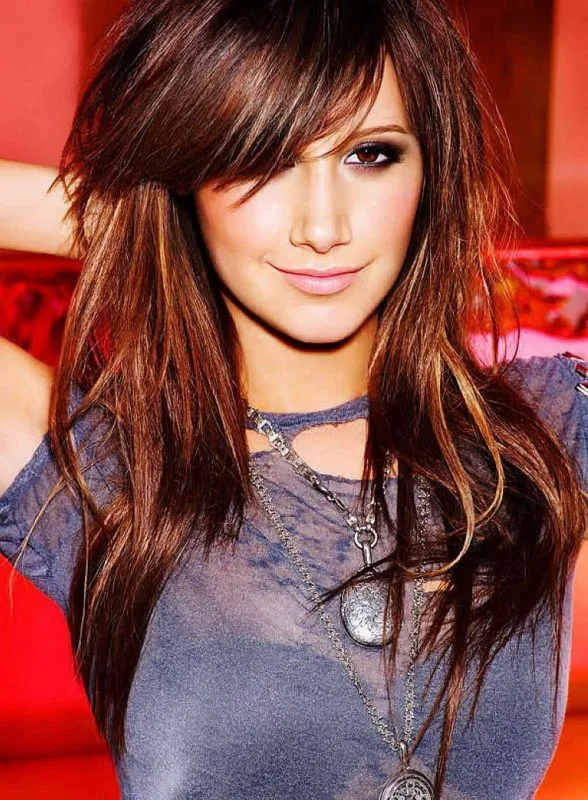 Begin with a base of decadent dark chocolate. The shade is ideal for multicolored eyes. Throw in streaks of honey brown, copper, auburn, and ash for a subtle, stunning blend of colors that make your hazel hues glitter.
9. Dark as Can Be
What's the darkest hair color you can handle? Go for it. Dark brown, brown-black, blue-black—don't hold back.
Your eyes can hold their own with that much drama. Just choose a color that complements your skin tone. Otherwise, you'll look washed out and sallow.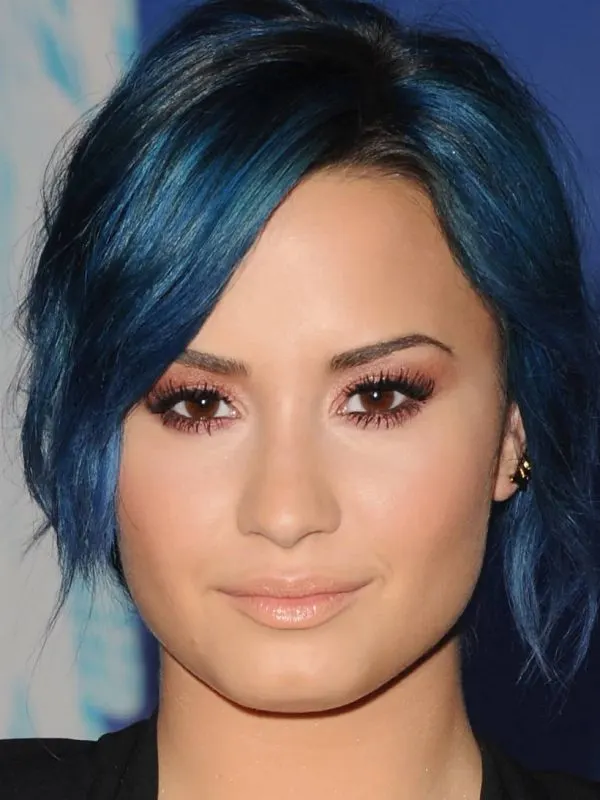 Blue and hazel? What? It's true—blue is a complementary color for hazel eyes, particularly if they have shards of blue or gray in their mix. Go with a true blue or a mermaid-inspired mix of blue and deep green.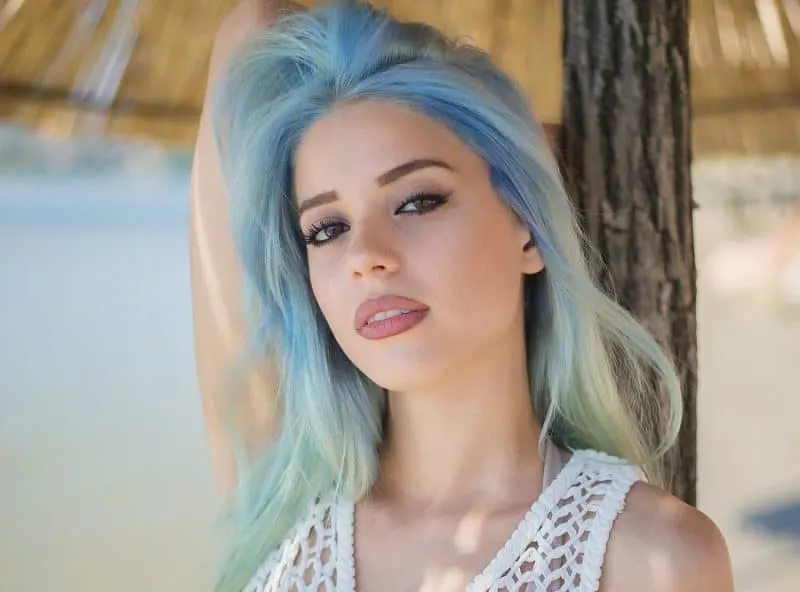 Unique hair color works well with a unique eye color, and here's one of those. There are two shades mixed in to create a wonderfully dynamic look.
The hair stands off blue and has platinum blonde underneath to go well with these pastel and unique shades. It's incredibly eye-catching overall.
12. Mint Green and Black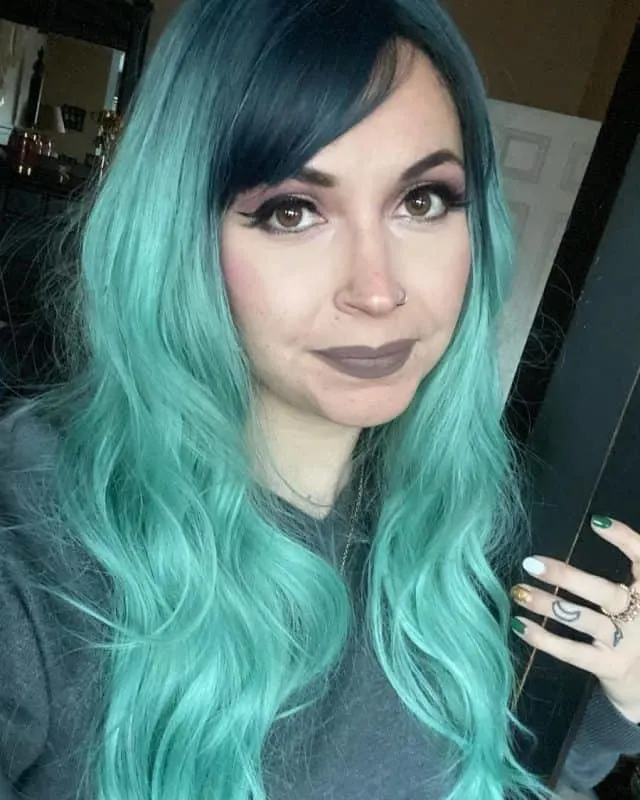 Mint green helps bring out the various green hues in hazel eyes, making it almost impossible to tell if they're blue or green.
Meanwhile, the black bangs here help darken up the brown and green together, making the eyes even more alluring with the unique hair color.
13. Tomato Red
Red pairs well with green, and it's like a much, much brighter and more vivid brown, so it's the perfect hair color for people with hazel eyes.
Here the look is very easy and hangs by the face in gentle, natural waves, with the color as the focus. You simply can't tear your eyes away from tomato red.
14. Purple and Brown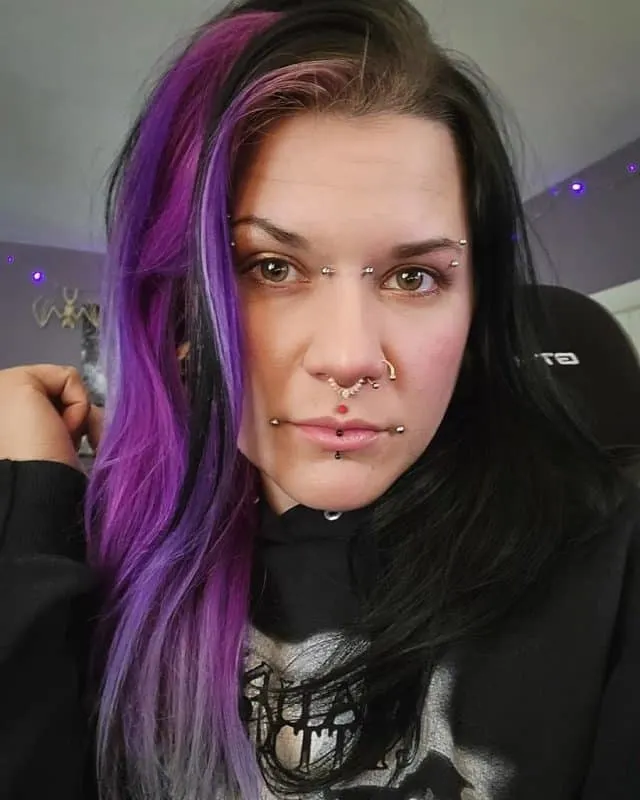 Do you love an edgy look that helps bring out your beauty, too? Here's a great one for you to play with and live your best life.
The dark brown that's almost black helps bring out the hazel eyes, and the various purple shades on one side of this casual do help your personality shine.
15. Perfect Blonde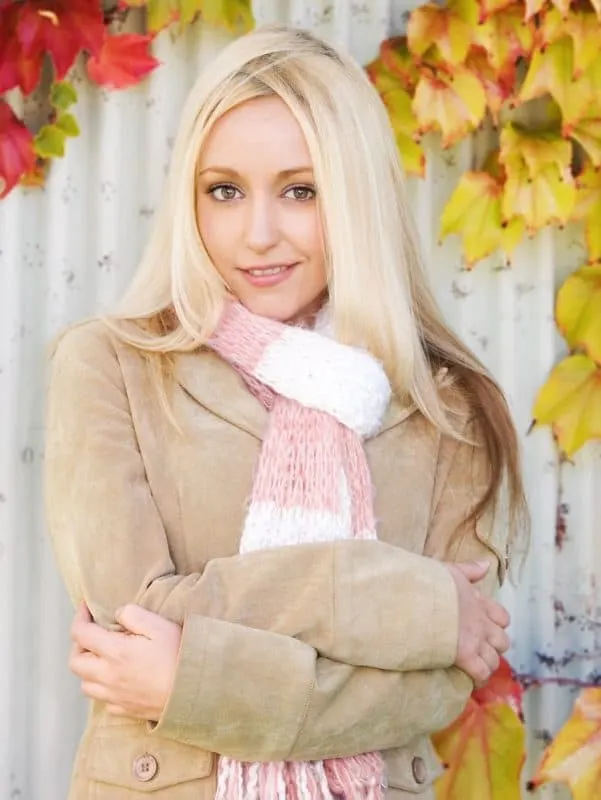 You can't go wrong with a classic, perfect blonde shade that has some darker roots and darker ends. However, most of the hair is a single shade of very light blonde that brings out the light parts of the hazel eye color.
The long, straight hair brings a sweet appearance that goes well with the hazel eye color. You'll create a sweet vibe when you pair blonde with hazel.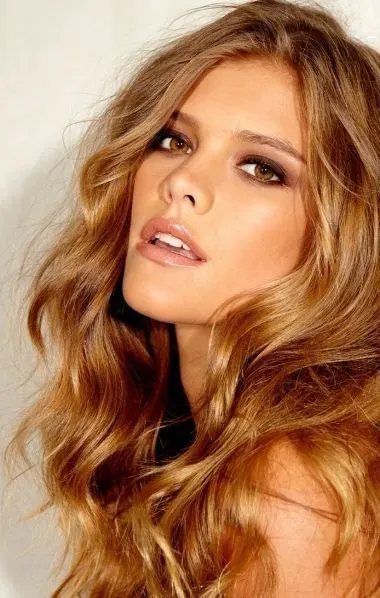 Butterscotch is a unique color for hazel eyes. You don't see locks like these every day. The warm, rich color looks as delicious as the sweet syrup for which it's named. It also brings out the gold and amber tones in hazel eyes.
17. Dimensional Brown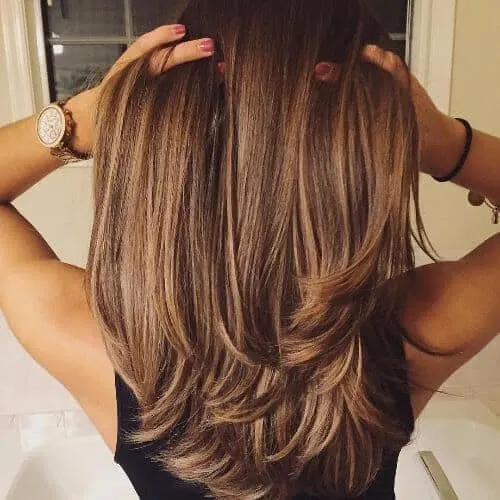 Who says brown is boring? Once again, highlights and lowlights add the depth and dimension required to make your hair as multicolored as your color-changing eyes.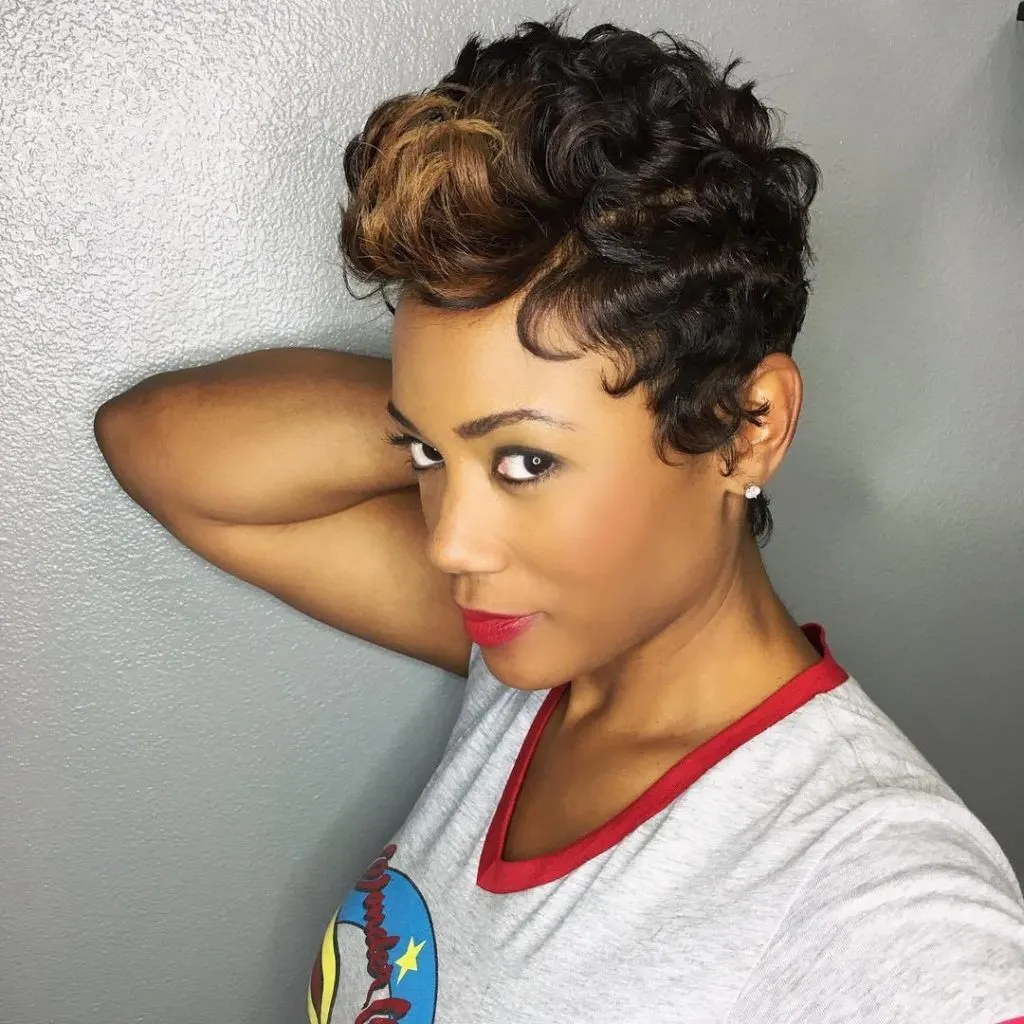 Almost any two tones will do, with one rule: pick anything as your base color but make sure to dye the front thatch of hair a shade that complements your eye color. A toasty brown shade like this one is perfect because it pulls the brown out of your hazel.
19. Gray for Days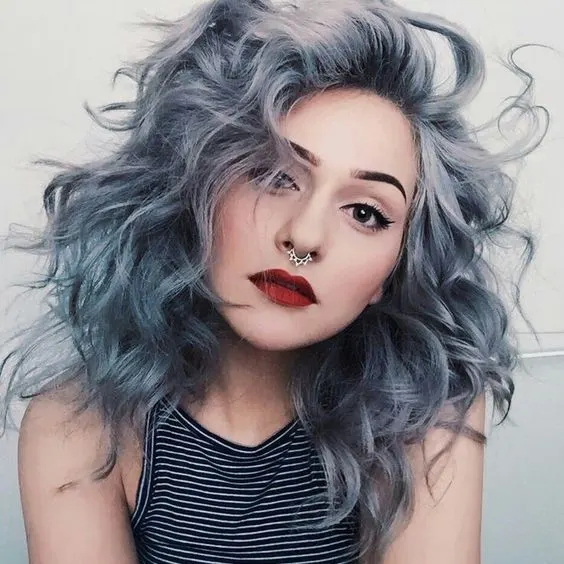 Gray is another surprisingly flattering color for hazel eyes. Go for a gray with blue undertones, though. Blue and hazel are perfect together. Think about that when you're picking out eyeshadow or lipstick.
20. Beautiful Black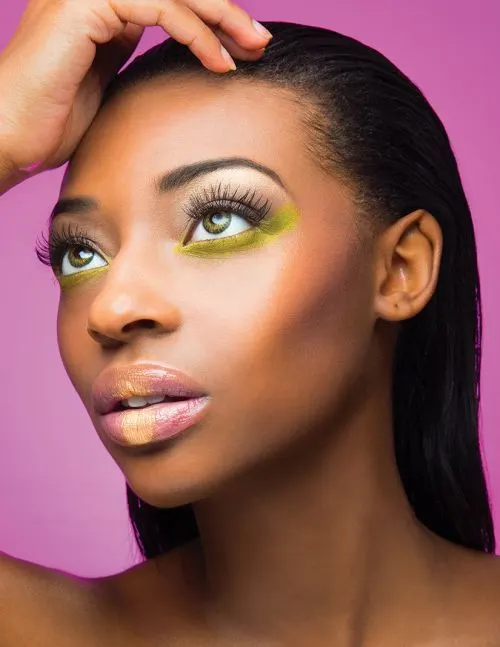 Black hair is a stunning backdrop for hazel-hued eyes. It allows your eyes to stand out as the focus of your face, which is as it should be.
Best Poetic Justice Braids to Copy
21. Caramel Blonde Balayage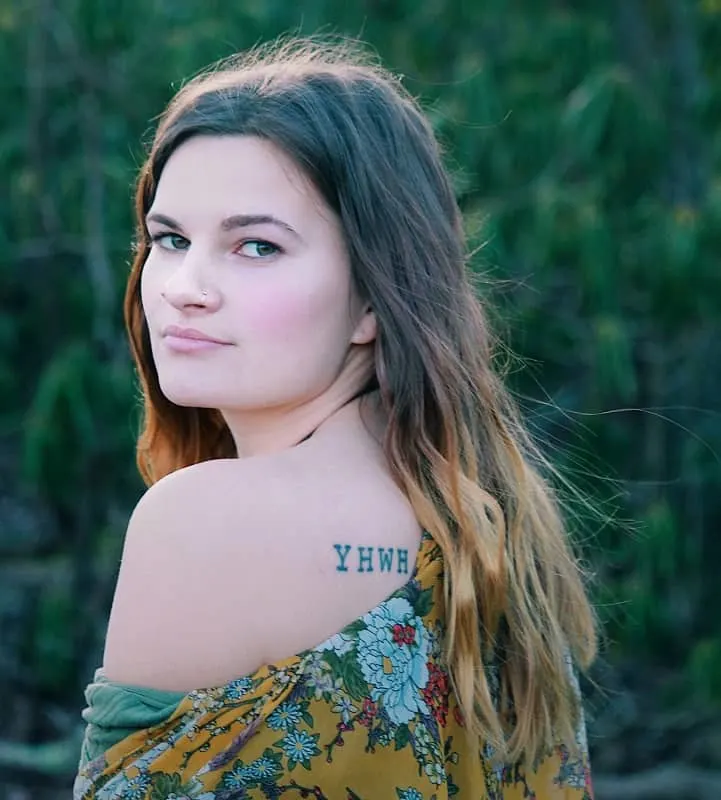 Blend blonde and caramel hair to get this gorgeous mix perfect as a balayage on long hair. Your hazel eyes and cool skin tone will easily pick up the colors.
22. Fiery Copper
Women with fair skin tones and who are feeling adventurous should definitely add this fiery copper hair color to the list.
This color brings out the boldness in hazel eyes and you'll likely feel a little more bold yourself!
23. Lighter Burgundy
Hazel eyes and olive skin is perfectly complemented by darker colors, such as this brunette with lighter shades of burgundy. The burgundy is soft enough that you can feel comfortable wearing it to work.
24. Blonde and Rainbow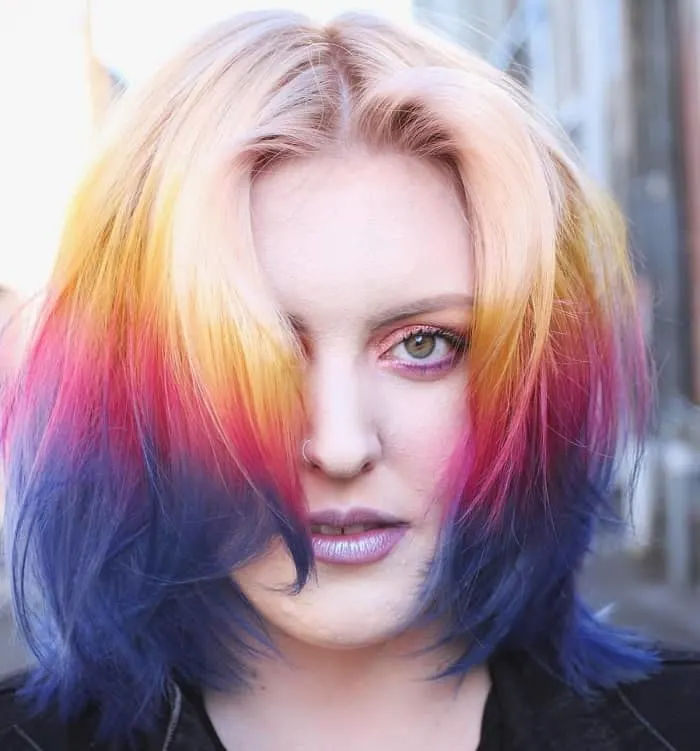 Why pick one color when you can have them all? Pale skin tones and hazel eyes will soak up the vibrancy in blue, yellow, pink, and orange.
25. Sea Foam Green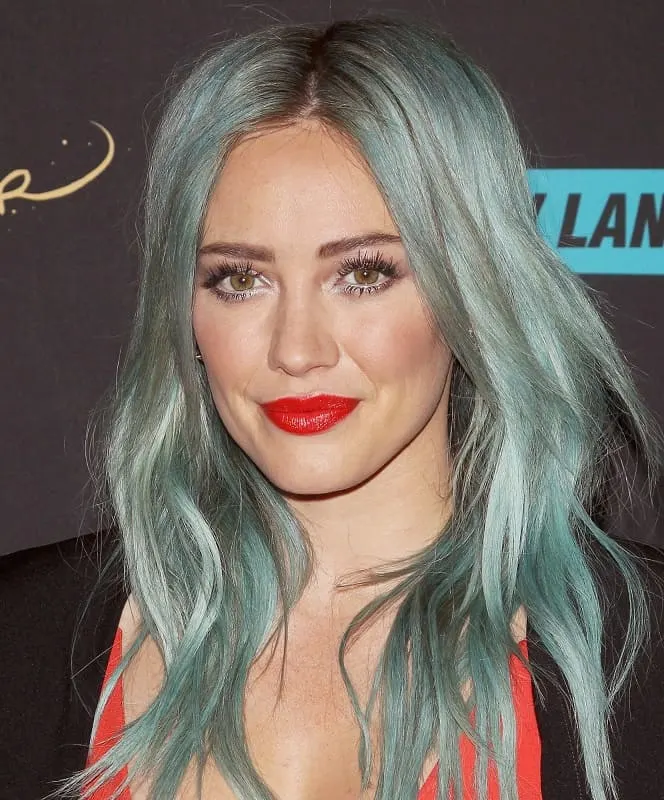 Hillary Duff shows us how gorgeous a sea foam green hair color can look on olive skin tones. You owe it to your hazel eyes to try it on your hair, whether it's short or long!
26. Strawberry Sherbet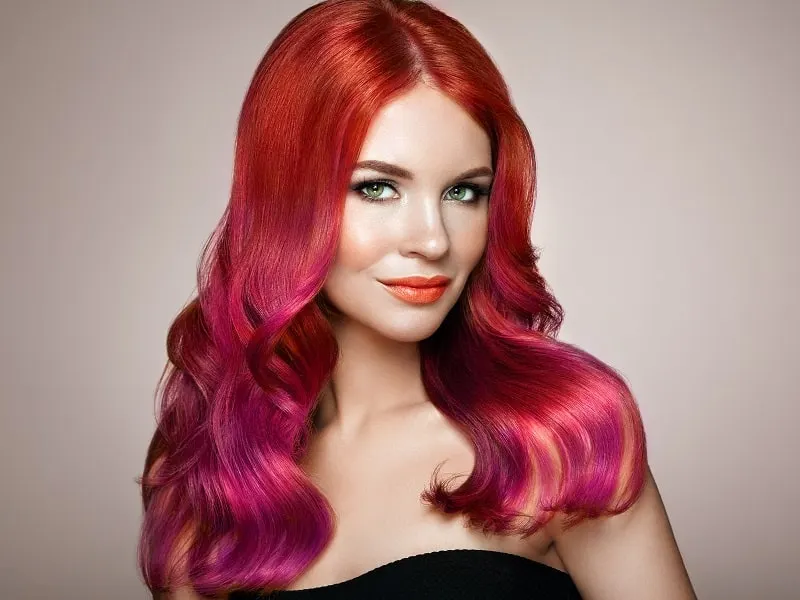 Green hazel eyes do well with dark colors so be bold and try this strawberry sherbet that blends a semi-vibrant red and pink color. Against a pale skin tone, the color will pop.
27. Medium Blonde
Looking for a classic color to pair with your hazel eyes? A medium blonde is always a good choice. Wear your hair up in a sleek ballerina bun to make your eyes pop.
28. Bleach Blonde
Beach blonde hair color is common for women with olive skin tones and it's easy to see why. The color works beautifully as highlights or a weave on dark blonde hair.
29. Three-Tone Blues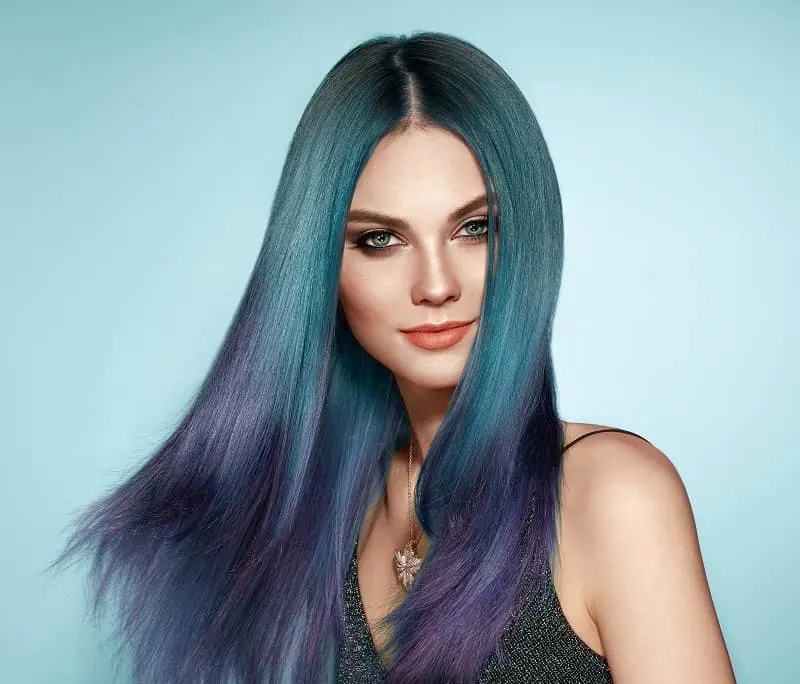 If blue is your favorite color, why haven't you rocked it on your hair yet? Pick three shades that will work together to stun against pale skins and with hazel eyes.
30. Rainbow Bright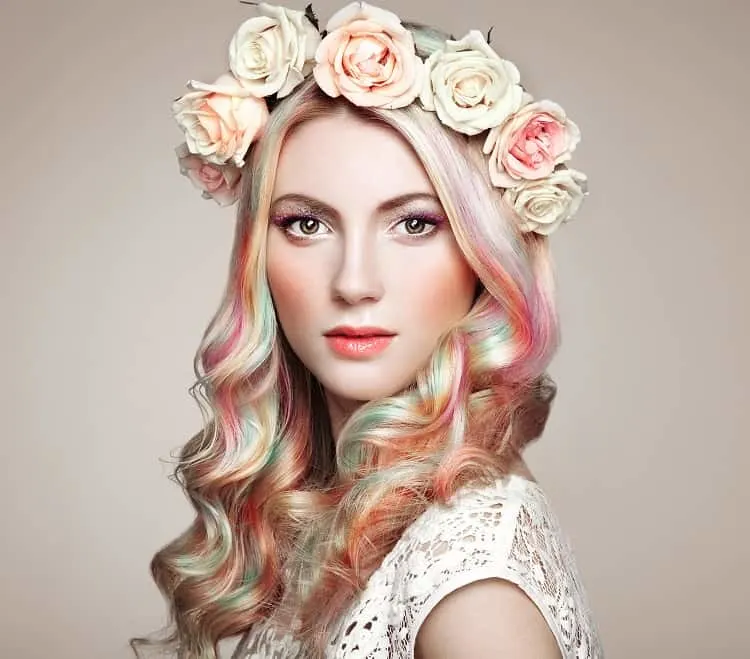 On this long wavy hairstyle, a super light blonde may be the main color, but it's the light green, pink, yellow, and orange that take center stage.
31. The Natural Look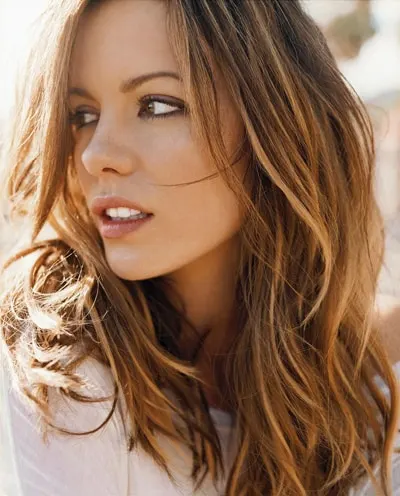 Dirty blonde, golden brown, sun-kissed streaks—any natural hair color is sure to bring your hazel eyes into focus. The best part about the natural look is that it works well with any style and it's easy to maintain.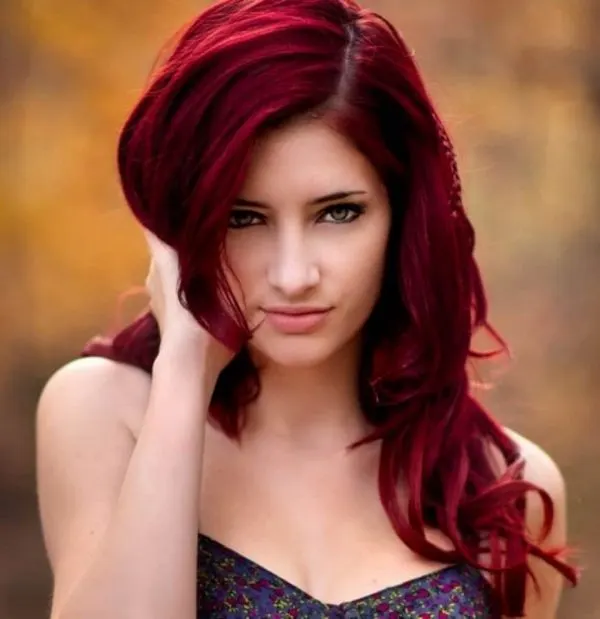 Not everyone can pull off a hair color as dramatic as this one. Hazel-eyed beauties certainly can, though. Nearly any shade of red promises to look fabulous, but opt for opulence if your skin tone can carry it.
If you're having trouble choosing just one gorgeous color for hazel eyes, pick two instead. A warm brown base with dip-dyed lilac tips in style similar to this will frame your face, naturally pulling attention to your multifaceted peepers.
Sun-kissed blonde locks with highlights and lowlights help to create a prismatic effect for your eyes. Every color that makes up your particular hazel blend will stand out like a jewel.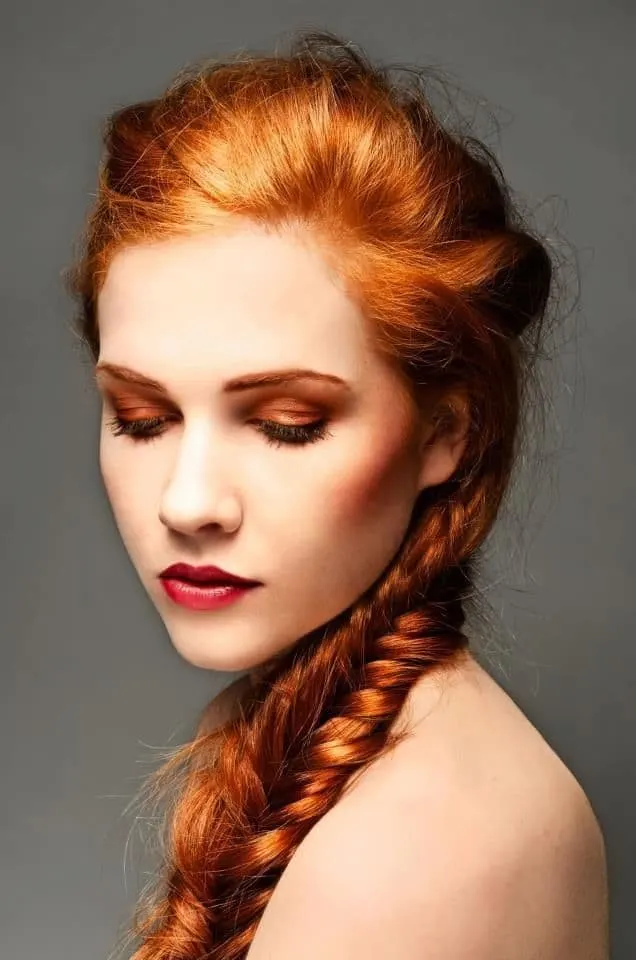 Red is the winner. Ask your stylist for a natural, brassy red to bring out your striking eyes. Tell her or him that you want to become an actual carrot top. You won't regret it.
Don't be afraid to experiment with the best colors for hazel eyes. Remember that different hues can change your eye color by making individual shades pop. Which color are you dying to try?