Out of all the ways you can make a statement with your blonde hair, rocking blue underneath is among the most gorgeous. With 57 official shades of blue and 43 shades of blonde to choose from, we can only imagine the combination possibilities. The best part is, there's a shade of blue for every vibe you're feeling.
And don't worry – the styles below for blonde hair with blue underneath can be done on any hair type. So all you have to do is choose your favorite shade and make an appointment!
The Hottest Ideas for Blonde Hair with Blue Underneath
You'll only have eyes for blue after you see our 10 favorite looks for blonde hair with blue underneath!
1. Ash Blonde + Cobalt Blue
Mix cobalt blue with light blue and sea green to get this ocean-like color combination that pops against light ash blonde hair. To put it right where everyone will see it, add blue underneath a short straightened bob.
2. Sandy Blonde + Navy Blue Ombre
No matter how you wear your long straightened hair, a navy blue will make you proud. We love how this half updo rocks sandy blonde and blue in a twisted ponytail secured with an elegant pearled barrette.
3. Light Blonde + Teal
Feel like a mermaid instantly with navy blue and teal underneath long light blonde hair. To give your hair a bit more motion, ask your stylist for feathered layers, which will display the colors most beautifully.
4. Medium Blonde + Midnight Blue
If your natural hair color is dark blonde but you have a bit of medium blonde on top from another color job, add in a bit of midnight blue underneath for a unique and subtle transition of dark colors. This is a great choice for the woman who likes edgy styles.
5. Golden Blonde + Royal Blue
For women with naturally wavy or curly texture, colors will look amazing in your mane. Just check out this long wavy hairstyle with a waterfall braid – it flaunts royal blue and teal with purple.
6. White Blonde + Azure Blue
For a more girly version, add azure blue underneath a combo of white and sandy blonde hair, and go heavy on dark purple. You can even add it just in the middle section of your hair so that the blue frames it. Wear your mane down and loose or in a half updo to fully see the colors.
7. Ice Blonde + Baby Blue
Icy cool is how we'd describe this beautiful wavy long hairstyle. Ice blonde color leads the way to navy and baby blue underneath. Get the look easily just by using a curling wand after your hairdresser treats you to the colors.
8. Honey Blonde + Turquoise
This contrast of badass navy blue underneath a thick, honey blonde double braid is pleasing to anyone's eyes. Keep it all navy blue or add a few strands of turquoise to offset the darkness.
9. Dirty Blonde + Navy Blue
If you're a natural dirty blonde-haired beauty looking for an update to your straight locks, a bit of navy blue with midnight blue underneath is all you need to add. Add it halfway down the hair or rock it just at the ends.
10. Bleach Blonde + Olympic Blue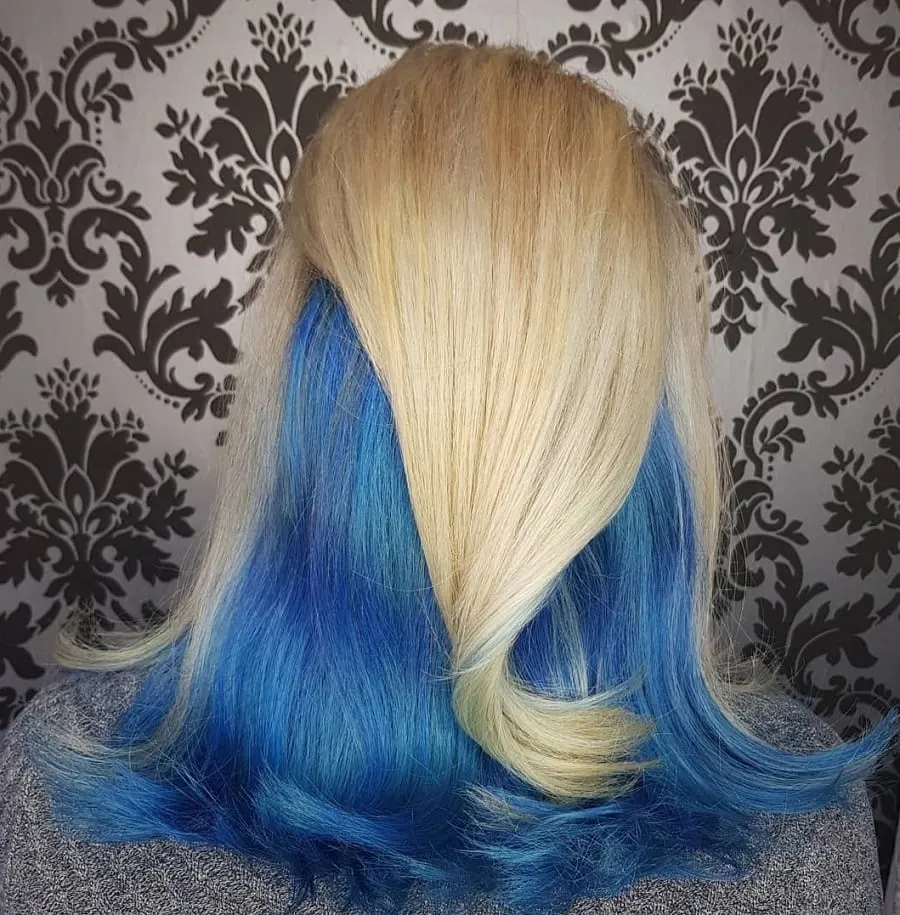 This long blonde wavy hair isn't platinum but it's still light enough to help the baby blue underneath it shine. The combination of baby blue with olympic blue is subtle and classy. This shade would be perfect for summer when you're hanging out on the beach catching some sun.
Which combination of blonde with blue underneath is your favorite? It's clear from the 10 gorgeous ideas above that you can't go wrong no matter what shade of blue you choose. From moody midnight blue, a neutral medium with pops of purple to accompany it, or a breezy light blue – they'll all help your blonde mane stun.