A nonchalant charming hairstyle can be achieved with long wavy hair. In this article, we have selected many haircuts that can be created using various styling techniques.
You can quickly get the wavy effect in a non-heated way by braiding your hair before you go to sleep and unbraiding int in the morning. If you add a little bit of hairspray, your look will last all day.
Long Wavy Hair Ideas
If you want an instant effect, there are always curling irons or straightening irons that you can use to recreate these stunning waves. The waves can be tight or full and voluminous. Check out the images below and find out which of these long wavy hairstyles you love more.
1. Natural Wavy Long Hair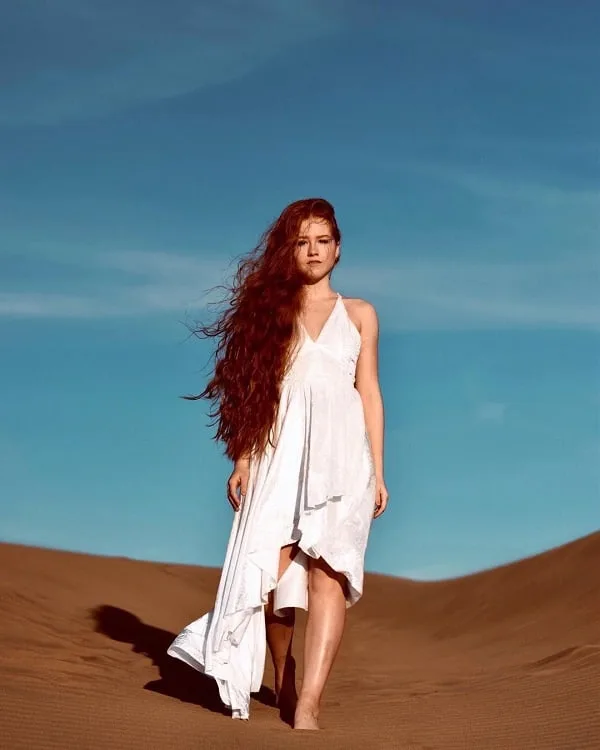 If you were born with wavy hair, you don't need all that styling routine. Opt for a layered haircut and choose a stunning bright color that will make your waves pop out. A gorgeous dark red hue is always an option, especially if you also have pale skin.
2. Long Wavy Perm
Nowadays, you don't need to use a curling iron every time you prepare yourself for work. Save all that time and energy by choosing a wavy perm hairstyle that will last for months. You can keep your natural color if you want to achieve a relaxed, smooth look.
3. Wavy Long Thick Hair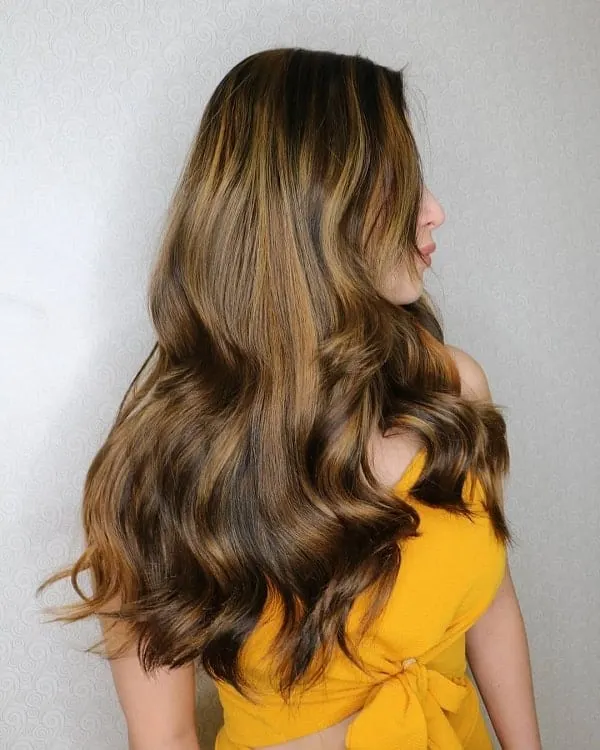 Thick hair allows you to take your hairstyling game to a whole new level of greatness. Layered bangs go so well with full caramel creamy highlights, and if you want to make all those hues look eye-popping, style some natural relaxed waves. You'll get a beautifully elegant look.
4. Long Wavy Hairstyle for Fine Hair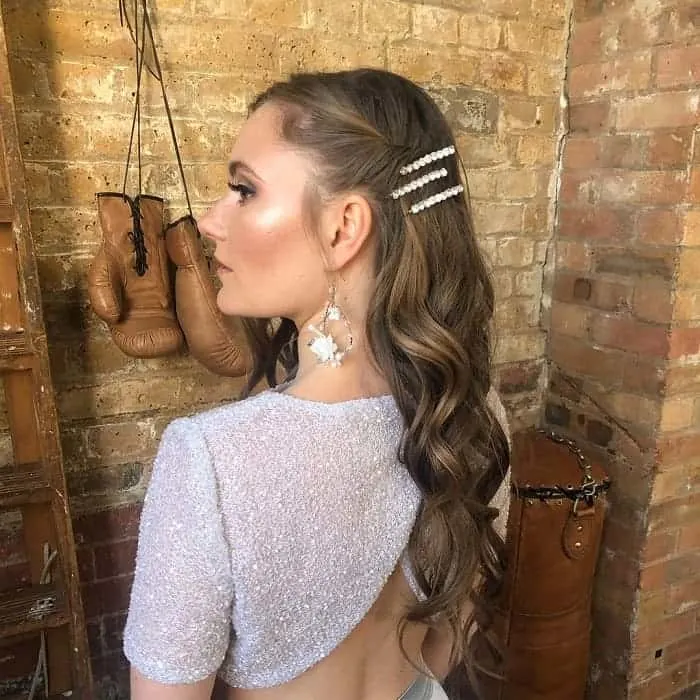 Fine hair tends to lack volume, and whenever you want to make those thin hair strands look breath-taking, all you have to do is to style some waves.
To achieve the dimension you wanted, make the tight, and use a hairspray to fix them. One common problem with thin hair is that curls never last too long, so you need a strong fixing product.
5. Long Brown Wavy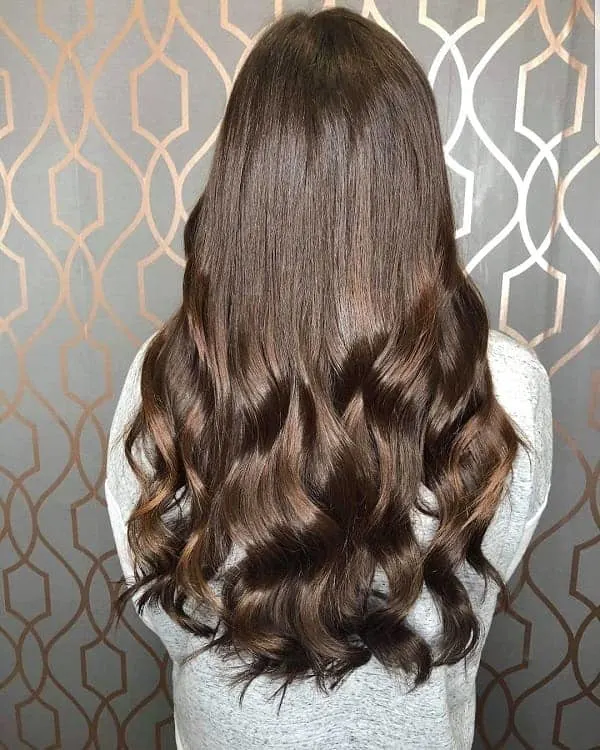 When you have brown natural hair color like this, you can kiss any hair dye goodbye. Why not take advantage of that natural shine and glow that your strands have? Style some waves only for the long tips and let your hair beautifully fall on your back.
6. Wavy Pony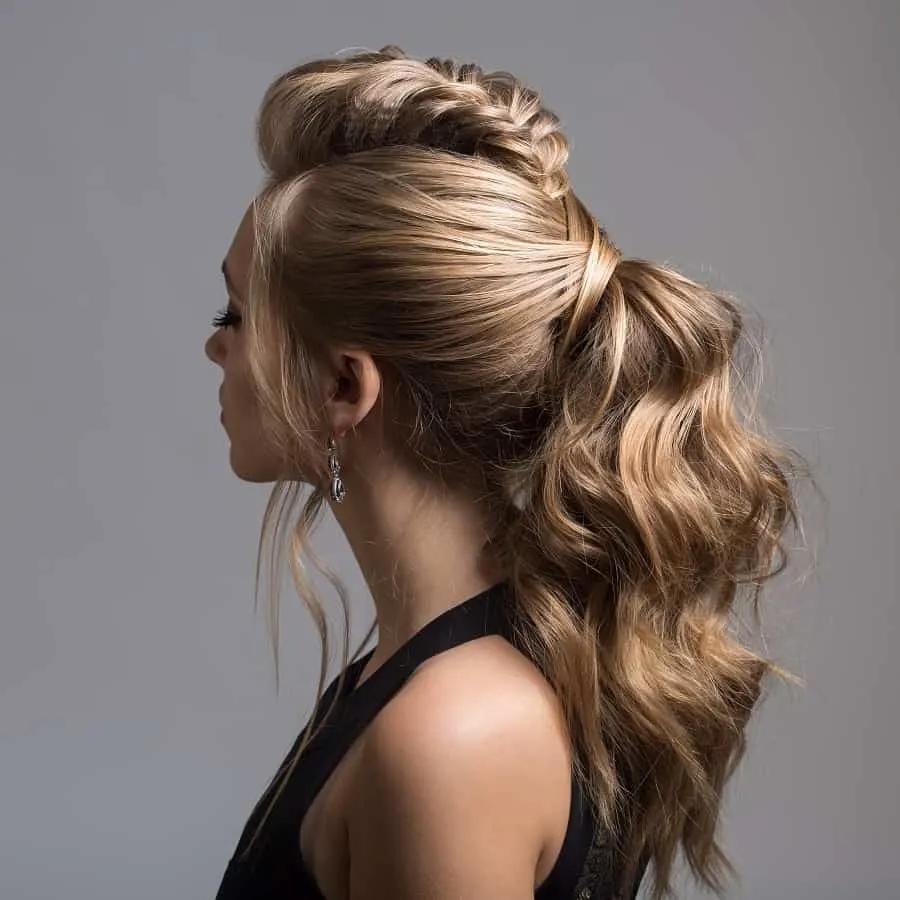 You can use long wavy hair to style numerous hairdos. So if you're attending a glamorous party, event, or reception, you need a hairstyle that adds value and completes your outfit. Go for a high Dutch braid for the top. Use a pomade for the sides. Glue the strands to your head and tie all your tresses in a rich ponytail in the back.
7. Wavy Red Ombre
A faded red ombre will look astonishing on you, especially if you maintain your roots in their natural color. Use a thick triple waver to offer your hair texture and part the mane in the middle. Wear your locks on your shoulders.
8. Retro Waves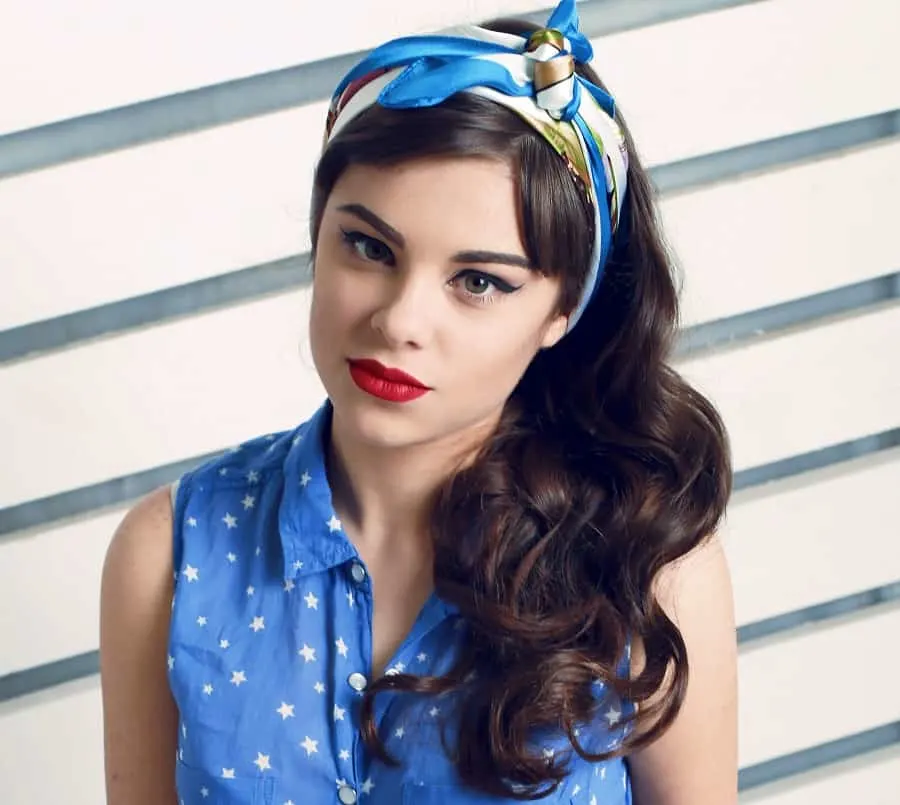 Wearing a cute scarf around your head will give you that 80s vibe. Retro looks are back, stronger than ever, and they are highly appreciated. So create wide gorgeous waves and curls and part your bangs in two uneven sections.
9. Bow Hairstyle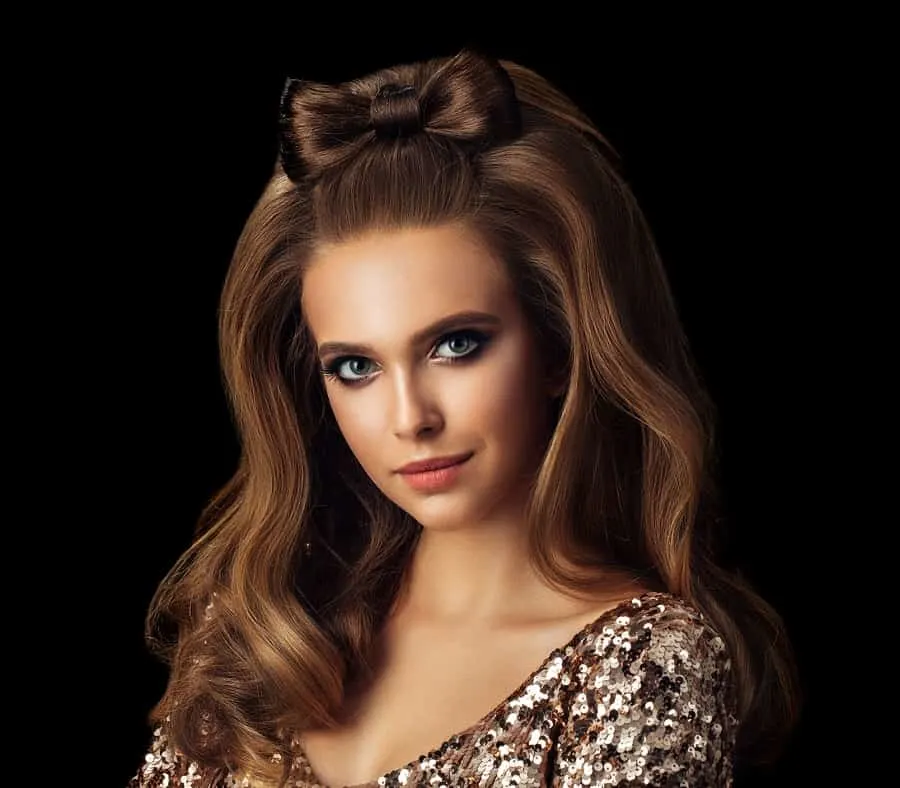 When you need a glamorous hairstyle with long wavy hair that completes your look, this half up half down hairdo is just what you need to feel and look fabulous. So tie your crown hair up and use it to create a perfect bow. Tease your roots to build more volume and style waves.
10. Two Ponytails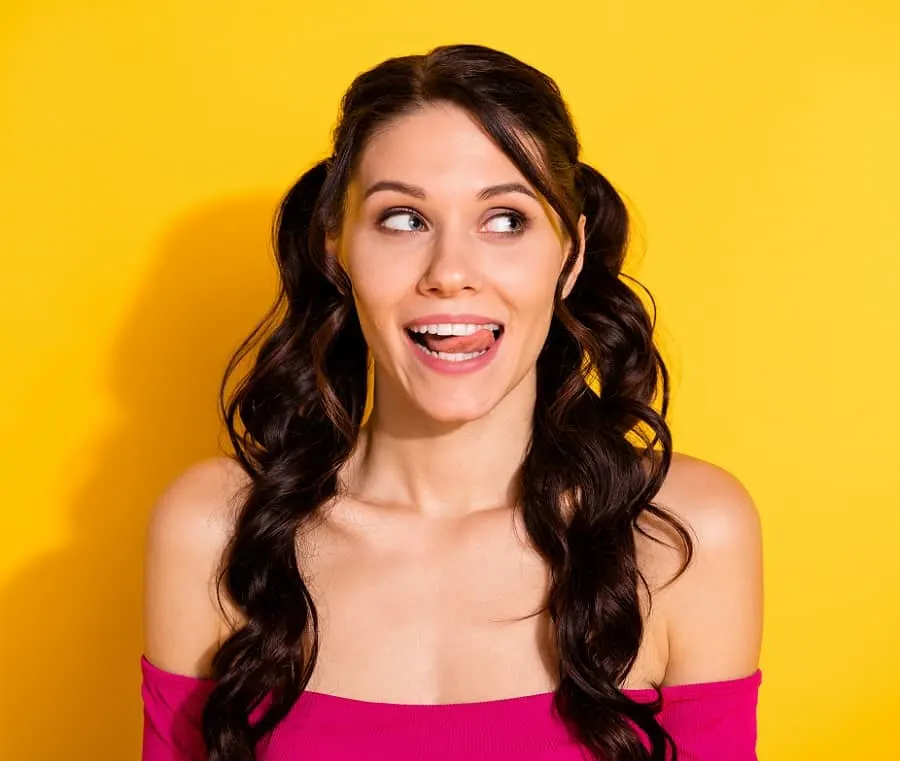 Channel your inner child and show off your personality through your daily looks. This time, do a middle part, from the forehead to the nape, and style the ponytails. Curl each pony and spare two strands from your fringe. Eave them too, and let them frame your face.
11. Crimped Roots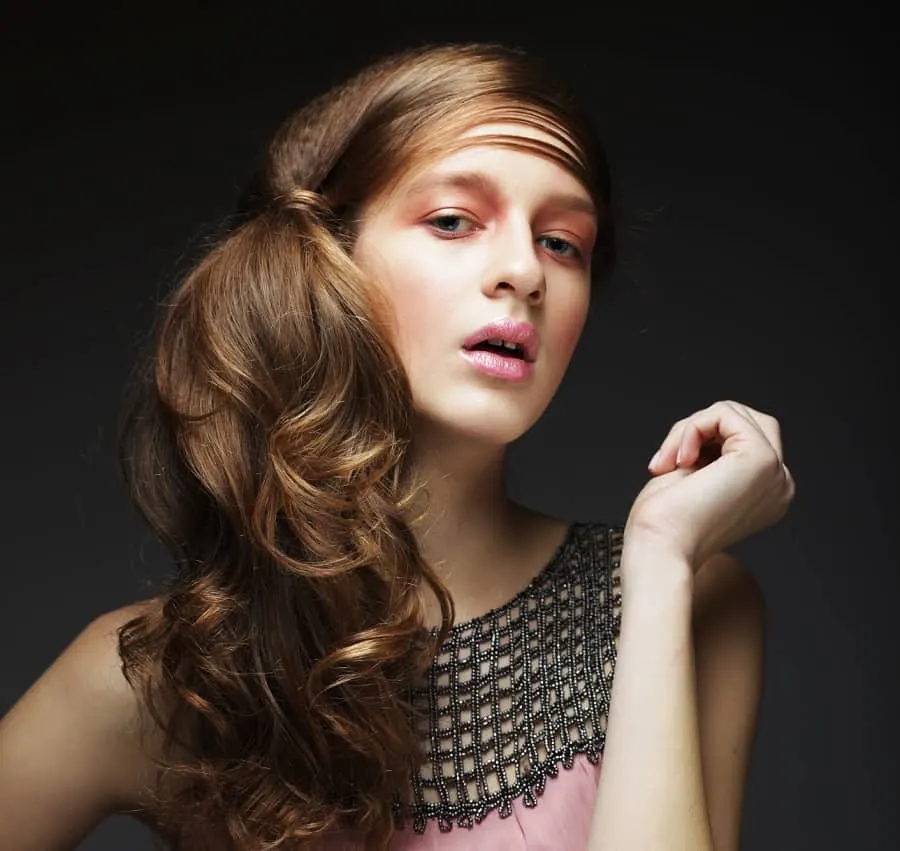 Creating texture is a common and effective practice when you want more volume. Do so by using a small crimping iron for the roots and toss all your mane to one side. Style a pony and build waves. Use a thin strand and wrap it around the base of your ponytail.
12. Blonde Sombre
Long wavy hair looks fabulous if you create a stunning ombre. For the roots, keep your ashy natural tone and enlighten the nuance towards the top. You don't need any extravagant tools to pull off these waves. Just braid your hair overnight and use hair spray to make the waves last.
13. High Bangs
Using your bangs and a rotative brush, create that fabulous height for your crown. To make sure the hair preserves its desired shape, firstly, you will need to tease those pieces and use hair spray to make the hairstyle last. Use a thick curling wand to create those waves.
14. Top Braid
Create a few ashy brown blonde highlights for your tips and layer your long mane. Using your top hair section, style a loose French braid and tuck it under your back hair. Create amazing full waves that have a bohemian and glammy touch.
15. Heart Braid
First of all, you will need a fake pony to extend your hair. Part the top in two uneven sections. Flip your bangs to one side and use hair gel to make your strand look shiny and wet. On the other side, style two cornrow braids, creating a heart shape. Gather all the hair in a bun and attach the pony.
16. Wavy Back Bun
Long wavy hair can be styled to create a voluminous back bun. To build this amazing texture, you will need small clips that you will use to secure the waves. Once you are done, blow dry your mane to preserve the shape. Style the bun and tuck everything under.
17. Long Wavy Crochet
Always wanted a long hairstyle and wavy hair? No need to panic, you can still have that with long wavy crochet hair.
You can choose from a massive variation of hair extensions and crochet them on your natural hair. Pin your crown hair in the back and pull off your bangs a little bit to achieve that outstanding volume.
18. Wavy Long Hairstyles for Wedding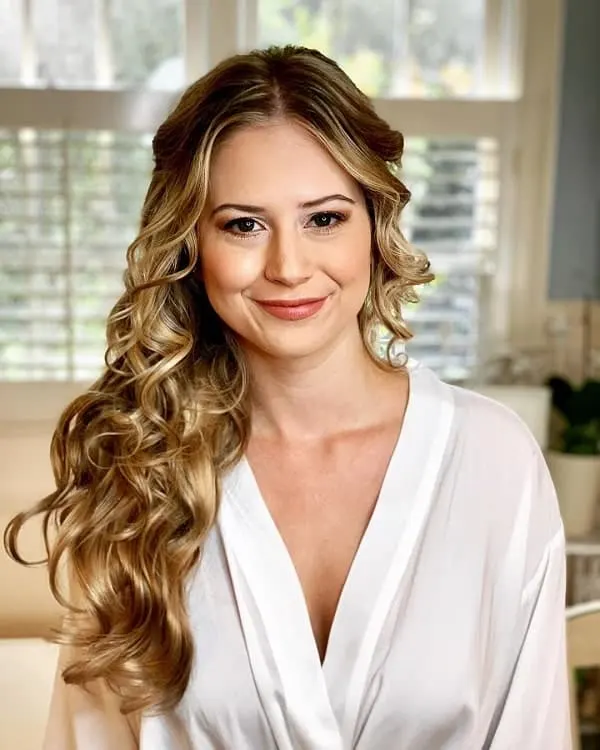 Waves and curls beautifully blend. Style curls for the bangs and crown hair, and for the low back hair, you can choose some wider fuller waves. Pin some of your crown hair in the back. Let the rest of the hair fall on one side, on your shoulder.
19. Very Long Wavy Hair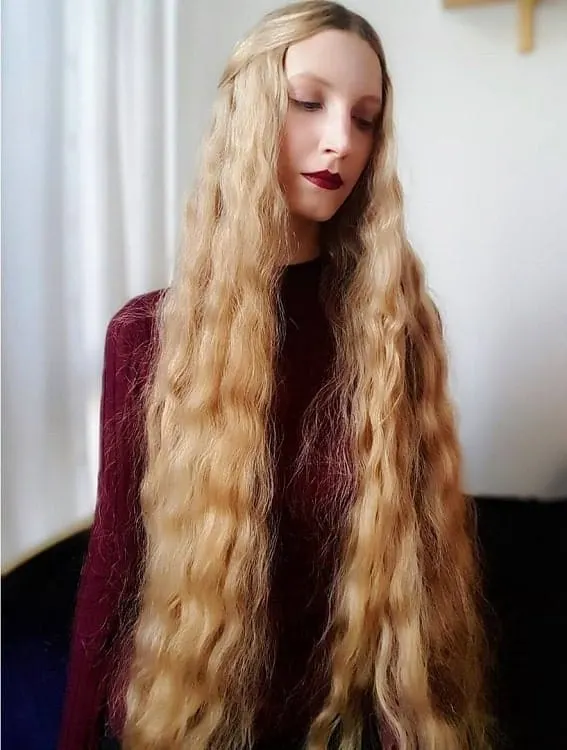 We have to pay our respects to you if you managed to grow your hair this long! Because of its length, you probably already invest a lot of money in hair products that keep it shiny and healthy.
In this case, we highly recommend that you create your stunning waves by braiding your locks tight before you go to sleep. This way, you won't spend hours using a curling iron, and you'll keep your locks undamaged by the heat.
20. Long Wavy Shag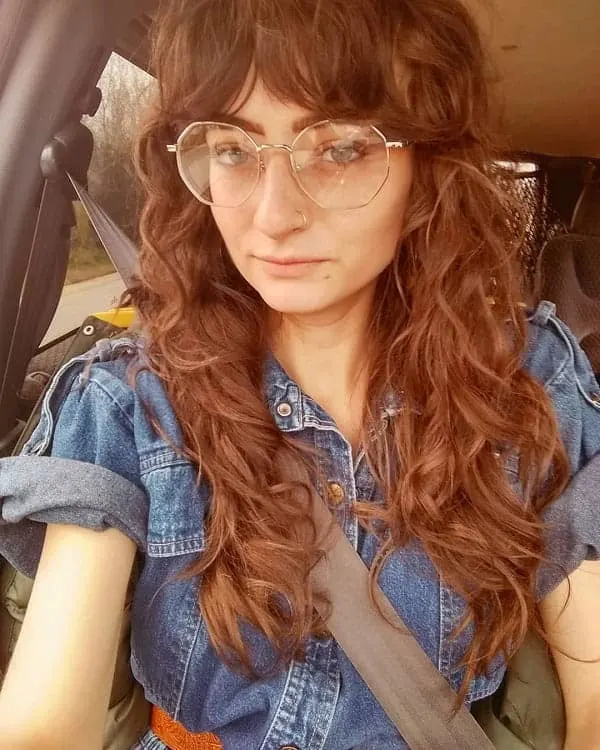 Are you one of those girls that adore hippy shaggy retro looks? We have a stunning proposition to make! A shaggy hairstyle with waves for women with long hair will indeed become your new hairdo goal. Build loads of layers and a fringe and accessorize the hairstyle with a big pair of glasses.
21. Wavy Long Frizzy Hair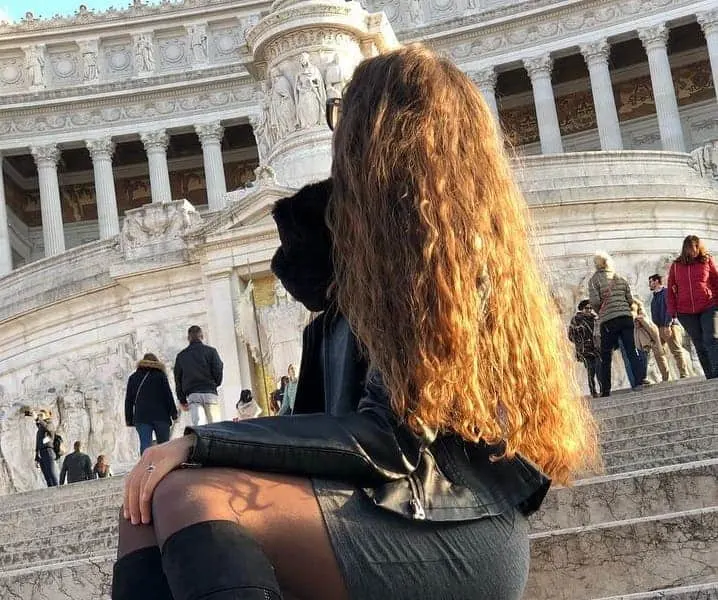 Even if your hair is frizzy, that doesn't mean it can't look marvelous. Choose a sun-kissed color that will make your strands glow in the light, and we guarantee that you'll adore this new hairdo.
22. Long Wavy Updo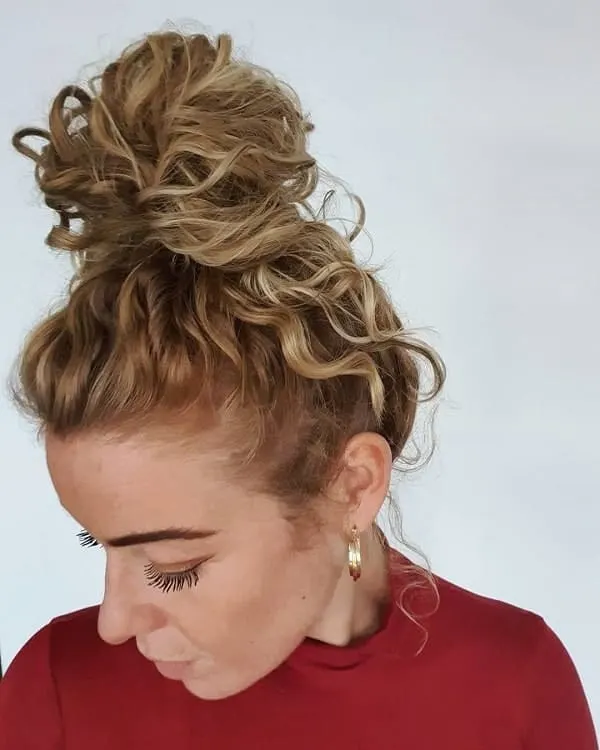 Long wavy hair looks mesmerizing in so many ways. If you just want a casual, relaxed hairdo, your waves will look stunning, pinned in a messy bun on top of your head. This hairdo is perfect for a walk in the park or a drink at your fav coffee shop.
23. Long Wavy Messy Hair
Long hair always looks stunning if waves are involved. Create a mesmerizing ombre that starts with a dark burgundy color and in a ginger bright red hue. Make these fantastic shades look brilliant by styling some loose waves. Give your crown hair volume with a small ponytail.
24. Long Sew-in Wavy Hair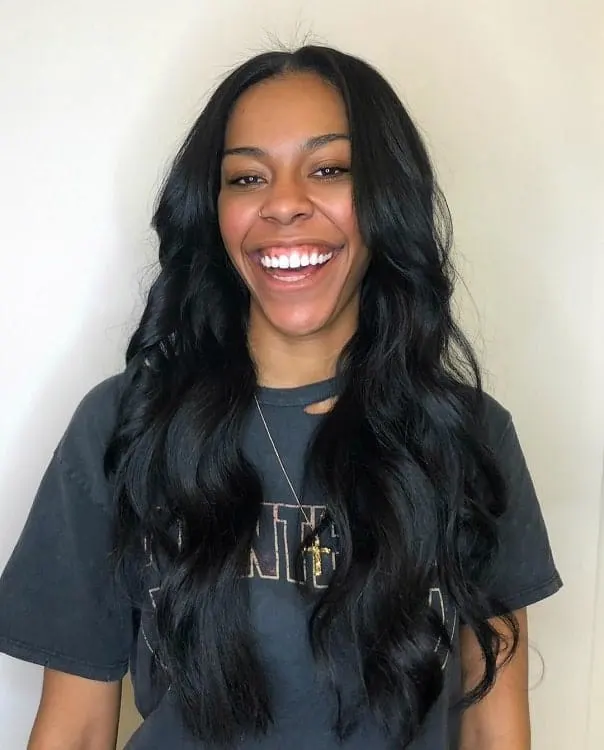 Sew-in extensions are the perfect idea when you have short hair with no volume, and you need an outstanding look transformation. Get yourself a few bundles that are thermo-resistant and thick waves. You will get one of the most beautiful long wavy hairstyles for women with black hair.
25. Long Wavy Hair for Asian Women
You can make quite an appearance at the office or on a date with a long wavy hairstyle. Style vast waves split your bangs in the middle. You can use bobby pins to secure one of the sides.
26. Long Wavy Hair + Side Bangs
When you want a hairstyle that will turn people's heads on the street, this long wavy hairstyle with bangs is your goal. Create a dark ashy gray sombre and don't be afraid to style some dark blue highlights. Flip your bangs on one side and get ready to rock!
This long hairstyle presents wavy hair with layers. The layers start somewhere below the chin and accent the length of the hair even more. This style can be worn with a side part or middle part. The hair and the layers fall to the side, creating a soft look. This is a suitable look for thin hair.
Similar to the previous hairstyle, this one differs in the length of the layers. They are subtler, begin almost at the end, just visually adding a dose of difference. In this wavy long hairstyles, the hair is most usually worn at a middle part. The waves fall equally to rothe both sides.
The wavy long layered hairstyle can be worn by women with round faces. To visually extend it and make it look longer, the one addition that makes this are the side bangs. The side bangs start from the side part, going all the way across the forehead. The waves are loose and soft.
For those who are willing to bright a bit of Boho style in their long wavy hair, the blunt bangs are the perfect option. The hair is styled in very loose waves and the bangs are blunt, straight and frame the face perfectly.
Blondes love showing off their hair, and it is usually long and wavy. The beachy look in this long hairstyle comes somewhere between classic waves and messy hair. Any technique of shadowing, ombre or balayage will add to the beauty of the look.
The loose waves can be accented with only one braid. Part your hair to the middle. Choose to do a side braid only to one side, starting from the very beginning, going up the ear and finishing somewhere hidden in the waves.
This is a great hairstyle for women and girls will thin hair. The bangs are long, sectioned, and fall just right above the eyes. The long hair has very subtle layers at the front as is done in messy loose waves. The whole look is light and makes the thin hair look thicker.
34. Spiral Waves with Side Sweep
The spiral waves are also called the "Old Hollywood glam waves". They are intense, have a spiral look, and follow a pattern. They start from a side, visibly divided by a side part. One part of the waves go at the front, and one at the back, over the shoulder.
35. Soft Side Waves with Puffy Top
This is a look for women with a round small face who have wavy long hair. Adding a puffy top on a hairstyle on these types of faces makes the face look longer, which with long hair, gives a nice balance.
The puffy top is high, fastened at the back with hidden pins. The hair is swept to the side, starting from the middle part. The waves are nice, soft and dense.
Hippie inspired, braids always make each hairstyle better and more beautiful. For a long hair with subtle waves, this hairstyle presents two thin braids, interlocking at some point, creating a crown on the head. The part of the hair above the crown braids looks like an updo. The hair under the crown falls freely down.
Half-up looks for look hair are so versatile, that the fishtail is just another option. The fishtail braid looks incredibly good on a long wavy hair.
The upper part of the hair is pulled back in a position for a low pony, and instead of a pony, a fishtail appears. It falls right in the middle over the waves. Few strings of waves are left at the front to add to the relaxed look.
Those who are looking to bring a bit of elegance in their long wavy hairstyle can try the half-up knots. Just like the half-up twists, the knots start from two string of hair from the sides and end up making a knot just in the middle back. The knot is fastened with pins, and the waves are free.
39. V Shape Hair
The V shape haircut presents a hairstyle that is in the shape of the letter V. This means that the layers are done so that they create this shape. The waves start somewhere around the middle of the length of the hair.
A popular choice of wearing the wavy hairstyle for long hair is the half up. To go this, separate the upper part of the wavy hair is pulled back and tied in a loose low pony. The waves of the pony fall over the other waves from the rest of the hair which makes it look more voluminous.
Another version with a half up is the low bun instead of the low pony. After the hair is pulled back, the bun is placed on the same position. The hair is done in very loose waves that are accented only at the ends.
42. Twisted Wavy Hairstyle
Adding some interesting look to your long wavy haircut can be also done by doing a twist. In this hairstyle, the twist is done by taking two parts of hair from both sides.
They are twisted and go way back, just in the position of a low pony or bun. They come together in a low pony, fastened with a hair band. The rest of the hair is falling down in loose waves.
The combination of a top bun with wavy hair is very popular among the young generation. With this look, the bun is done on the top of the head, high. The rest of the hair is wavy, voluminous and creates a nice balance between these two different styles on the hair. the look is very girly and romantic.
Making your face open and putting your hair behind while keeping the waves nice and long can be done by doing two half-up braids. The upper part of the hair is parted in two equal pieces, and the braids start from the very top. As soon as they reach the top of the head, they continue into the rest of the wavy hair.
45. Textured Soft Waves
Making soft elegant waves on a long hair can be done by visually doing an updo at the back of the head. Part the hair to the middle or to the side; let the waves find their way. Put the one side behind the ear or fasten it with pins. The back of the hair from the back will fall over, giving a looking like a voluminous crown.
46. Long Waves with Side Part
Making the waves more intense and visible can be achieved when turning them all to one side. The hair is all turned to the side, with an updo, and soft bangs. The waves are interlocking, all the way down.
The beauty of the waves can be shown in a ponytail too. Pull your hair back up in a high messy pony. The waves in the pony will add volume and texture to the look. With your fingers adjust them in the right direction. Add hairspray for messier effect.
This may be the look that you have worn when you were a little girl, but it is popular again. Pull the hair back in a high side pony, but position it on to the side. The waves will fall to the one side, over the ear, to the shoulder. The bangs have a blunt cut and will give you totally girl look.
This is an easy long hairstyle to do, especially for those who have naturally wavy hair. Take the top part of the hair, brush it back unevenly and tie a pony on the top of the head. Make the rest of your hair extra messy and voluminous for a bigger effect.
50. Middle-Parted Beachy Waves
The long beachy waves are the trendiest and most requested and popular hairstyle among the women with long hair. They are loose, soft, kind of messy and undone. For the best beachy waves, it is good to have layered hair and to wear it on the middle part.
51. Long Tousled Layers
The soft waves in this hairstyle look like they are separated, where each has its own definition and texture. However, together they create a wonderful wavy long hair look that looks very nice on women with longer faces.
How to Make Straight Hair Look Wavy
The long straight hair can look wavy with the proper tools. You can either use a round brush and a hairdryer or a curler. Either way, the curls you will get are not your final look.
They will be round and defined, and for the wavy style, you will need a more undefined and messy look, something between straight hair and curls. to achieve that, pull all of your locks down, like you want to straighten them. Apply hairspray to keep the form you like.
Watch The Following Video to Learn How to Make Straight Hair Wavy
Euphoric Short Hairstyles for Thick Wavy Hair
I Have Long and Thick Wavy Hair – What To Do?
The long and thick hair can easily be transferred into a sexy wavy one. You will just need more time and different hair products for it. The preparation for the hair is an essential first step. Apply the right amount of conditioner and product that will not make the hair frizzy and undone.
Straighten it a bit with a hairdryer and flat brush. Use a hair curler and make locks, but don't comb them. Let them stay that way for some time and apply hair spray on them. After 15 minutes, go with your fingers through your locks, making them wavy and voluminous.
The options of wearing a long wavy hair are quite numerous. It all comes down to the time and expertise you have. If your hair is naturally straight, then you will need more time to do the waves and keep them. Those who have wavy hair will not face that problem.
However, the long hair tends to weight so the waves might get loose to straight very quickly which will change the look completely. To keep them defined, always use products that will fix them and make them last as long as possible.