Women all over the world absolutely love the twisted ponytail. Typically, when we think of a simple low ponytail, we think of something plain and boring, or very elegant and strict. But a twisted ponytail is a very fun hairstyle, and after a little bit of practice, it is also very easy to create.
How to Do Twist Ponytail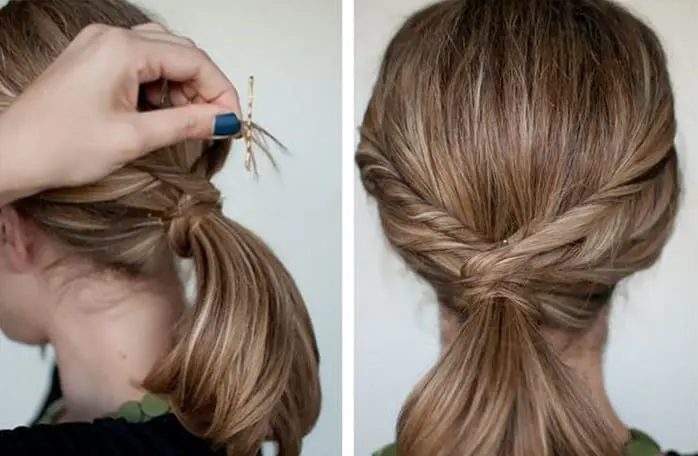 Step 1: Comb your hair so that it is free of any tangles.
Step 2: Take a smaller section of hair on both sides of your face and clip the sections away.
Step 3: Comb the rest of your hair and tie it into a low ponytail, securing it with an elastic.
Step 4: Take one side section and divide it into three equal parts.
Step 5: Twist one section up and wrap it around your ponytail, starting with the lowest section. Secure the ends with bobby pins.
Step 6: Do the same on the other side, pinning every section around your ponytail.
Extra Tip: To make the pinning of sections easier, tease the ends of each section and add a bobby pin to it before wrapping it around the ponytail, as that will make the whole process a lot easier.
Twisted Ponytail Hairstyles
Below you can find a guide to creating a twist ponytail, as well as 25 great, inspirational ideas.
1. High Ponytail with a Single Twist Braid
Add a little pizzaz to your beautiful high ponytail with a single twist braid! All you need to do is to create a two-strand twist on a small section of your hair after creating a twisted ponytail then secure it with a hair tie afterward.
2. Triple Twisted Side Ponytail
Here's another gorgeous update on your usual twisted pony. Instead of donning a low ponytail, go for a side ponytail which looks more carefree and fun. You can also make it look more stylish by twisting three different sections of the other side then hooking all the strands in the hair tie you used for your ponytail.
3. Twists with Bubble Ponytail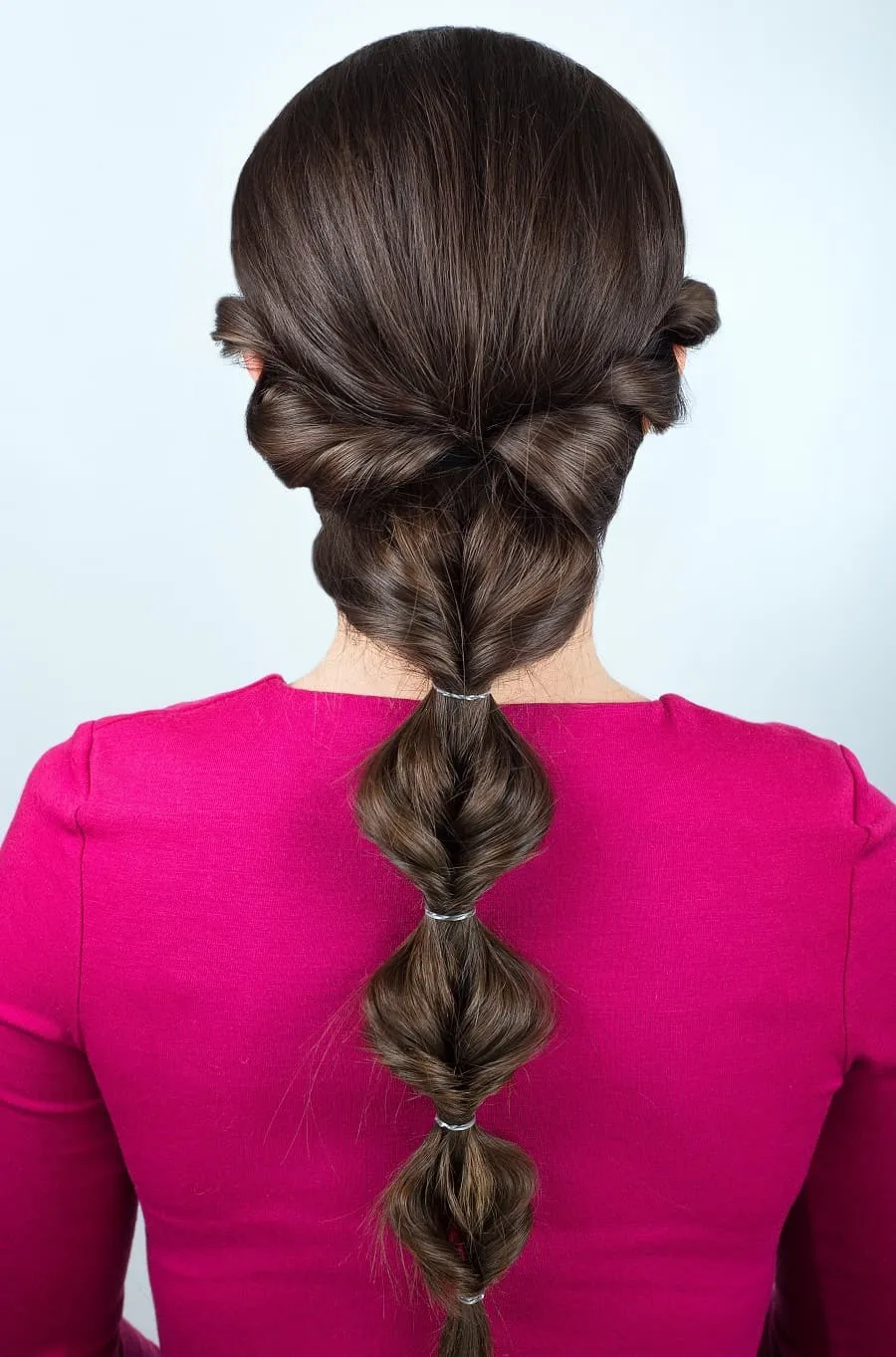 The twists with bubble ponytail are the best option if you wish to look like a modern-day princess.
The good news is it may seem like a complicated hairstyle but you only need a thin headband to achieve it. The key is to wear the headband around your head then slowly insert thin hair strands into the headband. Afterward, you can proceed with making bubbles by creating multiple ponytails and loosening up the sides of each ponytail.
4. Jumbo Twists Ponytail
If you have naturally curly hair, you're truly one of the blessed ones.
The good news is your hair is the perfect hair type for creating jumbo twists which you can do by creating large sections and then start two-strand twisting the sections. Secure each twist with a hair tie before pulling all of them into a beautiful ponytail.
5. Multiple Twists into a Ponytail
If a single twist braid isn't enough for you, then try creating multiple twist braids. You can do this by dividing your hair into large sections. Divide them into two strands and twist the strands with one another. Once you're done, twist the rest of your hair into a low ponytail.
Pro Tip: For the ultimate stylish look, create waves on the rest of your hair.
6. 3 Twisted Ponytails
For the younger ones, the more ponytails you have, the cooler you look, so this hairstyle will certainly suit your little girl. You can begin by dividing her hair into three sections and then pulling each section into a ponytail. Divide each ponytail into two sections then twist them with one another and secure it with another hair tie at the ends.
Pro Tip: Make the look more playful by using fun and colorful hair ties.
7. Flat Twists Ponytail
For women who wish to protect their hair while looking stylish at the same time, try flat twists.
To make flat twists, divide your hair into two equal sections then twist the lower section over the top section and repeat. Make sure to pull more hair into the lower section as you do so. After that, pull all sections into a ponytail.
8. High Ponytail with Twisted Braids
Make the most out of your beautiful long hair by sporting this braided high ponytail that looks oh so unique and adorable. Proceed on making a high ponytail then take a small section of hair and braid it around the ponytail like twist then secure it with a hair tie at the end.
9. Twist Ponytail with Crown Twists
Can't decide between a sleek ponytail and loose and messy twists? Get the best of both worlds with this low ponytail with crown twists.
Just make crown twist braid like you usually do but instead of leaving the rest of your hair as is, pull it into a ponytail and you got yourself an ultra-feminine hairstyle with no muss and fuss!
10. Dyed Ponytail with Lots of Twists
Sometimes, you don't need to go by the book. Dye your hair and twist it in any way you want. The sky is the limit when it comes to creating fabulous hairstyles after all.
11. High Twisted Ponytail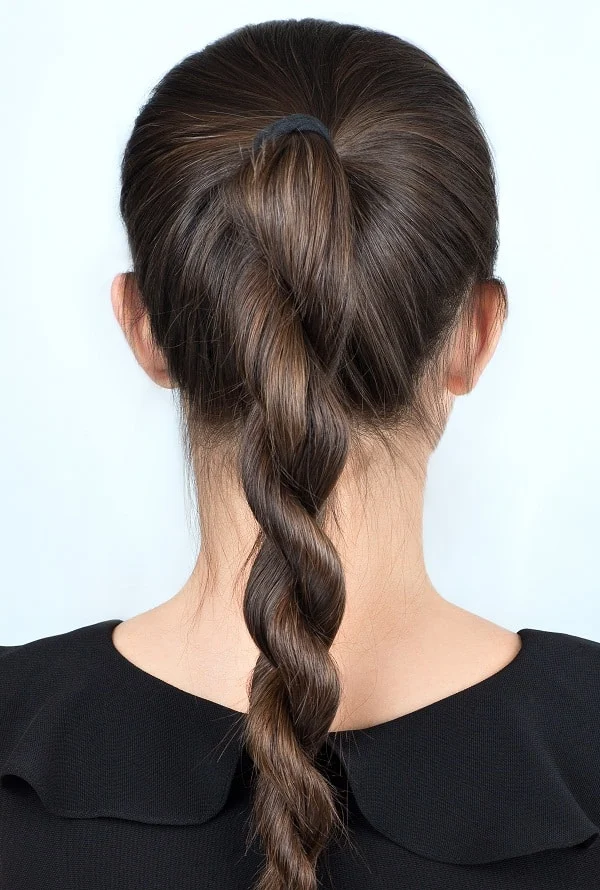 Pin your mane in a perfect ponytail and use two thick strands to create the twist. The hairstyle is ageless, gorgeous, and will suit both young ladies and women who want to impress.
12. Two Twisted Ponytail
Section your whole mane in two parts and build two twisted ponytails. Make sure that you also roll each section and then twist them together if you want your braids to last the whole day.
13. One-Sided Twist with Bangs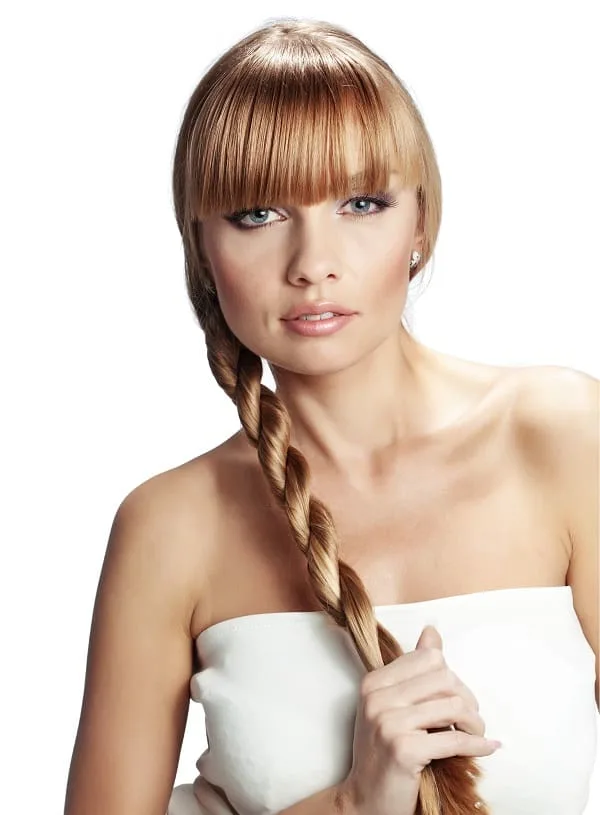 Get straight bangs that cover your eyebrows and pull all your mane on one side. Make a twisted side ponytail and wear it on your shoulder to ensure everybody notices your amazing hairdo.
14. Twisted Two Strand Top
This twisted half-up ponytail will look marvelous on long hair that you previously waved with an iron. Tie the two twisted braids with a small blue satin ribbon if you want the gain an elegant look.
15. Twisted Crown with Ponytail
Create a middle part using your bangs and start twisting your hair to create a braided crown effect. Use these twisted braids to tie the remaining hair in a low ponytail.
16. Double Twisted Blonde Pony
A twisted high ponytail is perfect for days spent at the office when you need to look perfect. To give your hairstyle more volume, create two twists using the pony and secure them at the bottom with a thin translucent hair elastic.
17. Twisted Braids for Black Girl
Style several flat twists and gather them in the back into a ponytail. Use golden beads to decorate each braid and comb your Afro pony to give it more volume.
18. French Twists with Two Ponytails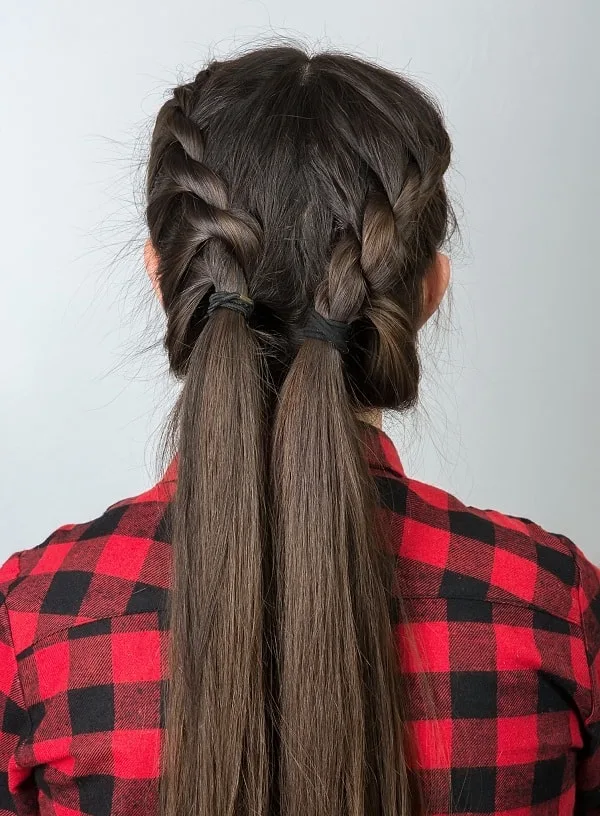 Section your hair in two parts and section again each side. Create twists for both and pin them in two low ponytails. This look is romantic and youthful and suitable for any lady who wants to be presentable.
19. Simple Twisted Ponytail
This hairstyle is even more simple to make than the classical twisted ponytail we've given the tutorial above. After you've tried it for a couple of times, you'll see that it requires minimum effort.
Ideal for: Oval and heart-shaped faces.
How to style: If your hair is naturally straight, you don't have to style it at all. Pull your hair into three sections and pull each section one over another. Use a needle hairpin to hold it in place. Given that the hairstyle is so simple, you can try out different decorative hairpins.
Chicest Half Up Half Down Ponytail Hairstyles for Women
20. Twisted Ponytail with Crown Braids
Braided ponytails never fail to make a great combination. In this case, the braids only add more dimension to the twist ponytail hairstyle.
Ideal for: Oval and square-shaped faces.
How to style: Instead of making twists, start braiding your hair on both sides, cross them horizontally creating a half updo. Make sure the hair above the braids is lifted for volume. Underneath the braids, twist and cross the hair around a simple low ponytail.
21. Curly Twist Ponytail
A classy and chic twisted ponytail options for modern women.
Ideal for: Square and round-shaped faces.
How to style: Make sure your hair is smooth and sleek. Make twists very precisely and neatly, as described above. Leave it a bit looser so that you don't take away the volume. Once the half ponytail is done, wrap it around a thicker curling iron for it to be in the shape of a perfect, big curl.
22. Ponytail with Multiple Twist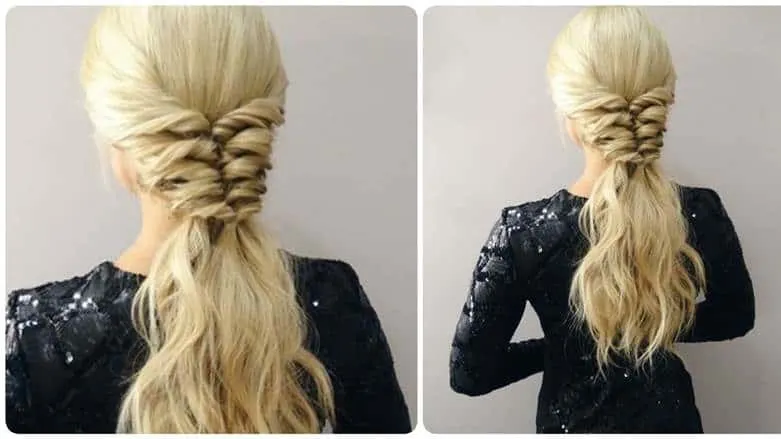 This hairstyle looks like one a princess would wear. With a little bit of effort, you can be that princess.
Ideal for: All face shapes.
How to style: Curl your hair into nice, messy waves. Twist the hair sections on both sides, bringing them to the center and twisting them. Once you've reached to the neck, tie the ponytail with an elastic band.
Trendy Long Ponytail Hairstyles for Women
23. Double Twisted Ponytail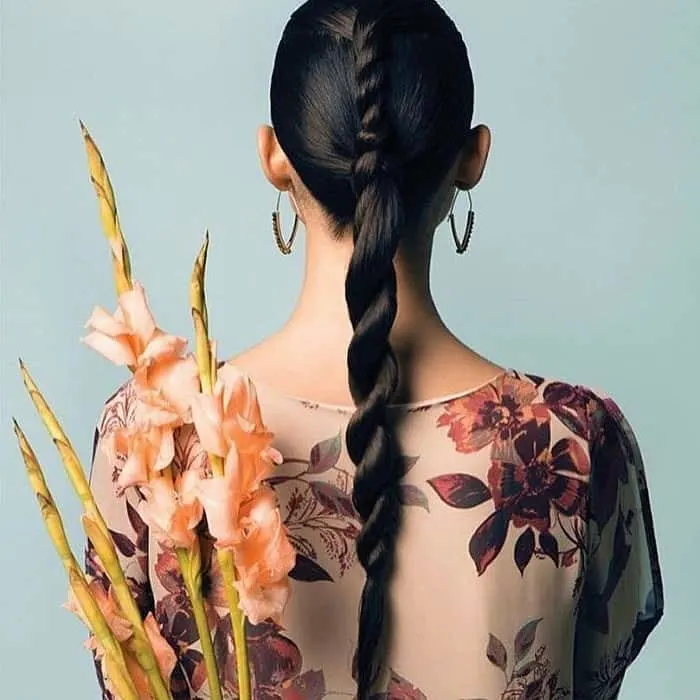 This twisted ponytail with natural hair is a more relaxed ponytail look, and it looks amazing!
Ideal for: Heart and round-shaped faces.
How to style: Follow the steps we've described above. After you're done, stretch the twists and tease the ponytail for the modern, sleek effect.
24. French Twisted Ponytail
This hairstyle looks so interesting and complicated, even though you can master it in no time!
Ideal for: Square and round-shaped faces.
How to style: This is not a classical twisted ponytail. You will have to create a French twist. and leave a section of hair underneath it loose. The Chignon bun twist will act as a twist to the ponytail. Tie the loose hair into a ponytail, and tease the hair to make it messy. Upon creating the bun, you can leave it a little bit messy too.
25. Ponytail with Tight Twist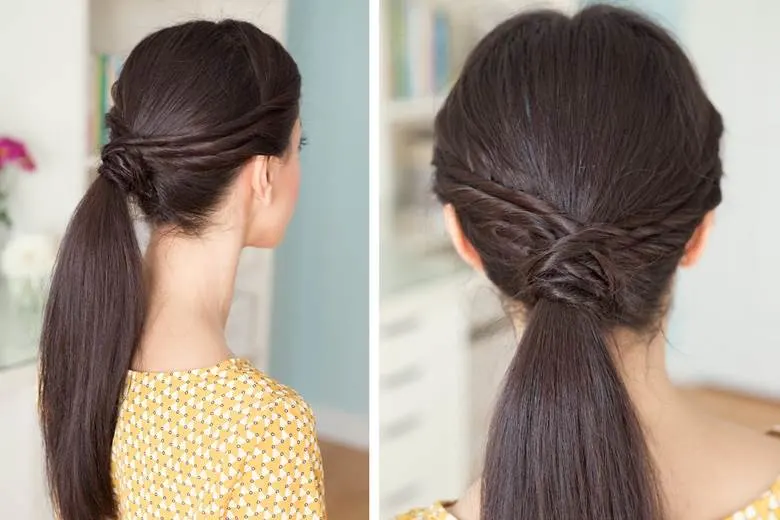 If you have a bit more patience and time, try out this fun ponytail with twist hairstyle.
Ideal for: Heart and oval-shaped faces.
How to style: The ponytail itself is plain, but the twists should consist of really small and tightly rolled sections.
Make sure you've attached a weave using a method you are the most skilled in and that works even with a plain ponytail. The weave should be untangled and clean.
The additional length gives you the possibility of making the twisted ponytail without a twist, just like on the photo. That sleek twisted ponytail is so elegant and gorgeous that you won't be able to resist it. A weave gives you countless possibilities.
Of course, if you prefer a ponytail with twist just as we've described it above, go for that one. In that case, we suggest you curl your hair slightly for the overall look to seem more natural.