The black-and-blue hair color is the perfect combination to achieve that classy, stylish, and edgy look. However, it comes with one tiny problem- it's not work or school-appropriate. But if you want to pursue this hair color at all costs, add blue underneath your black hair!
This is a gorgeous solution if you want a bold hair color that looks great on the outside and party on the inside.
Black Hair With Blue Underneath Ideas
If you're ready to show off your creative and rebellious side but in the most discrete way possible, check out these hairstyle ideas if you want to add a pop of blue color underneath your black hair.
1. Straight Black Hair + Aqua Blue
The jet-black straight hair is the best canvass for something bright like this aqua-blue hair underneath. What makes this look unique is, it also features a money piece highlight which perfectly frames the face and brightens your complexion in an instant.
2. Black Lob + Royal Blue Peekaboo
Take your straight black lob to the next level by adding a royal blue shade underneath it. The blue color is strategically placed in such a way that it will be visible when you part your hair into your shoulders.
The back parting is like a door that's slightly ajar, allowing the people behind your back to have a sneak peek of your blue hair.
3. Half Up Bun + Aqua Blue
When it comes to showing off your black hair with blue underneath, you have to choose your hairstyles creatively.
There's no better and more fun way to let everyone have a glimpse of your aqua-blue hair than with a half-up bun. This cool and stylish updo will give you a fun and carefree look as well.
4. Thin Layers + Turquoise
Adding color to your thin black hair is one of the best ways to give it the illusion of thickness and fullness.
This idea is a great way to keep your look appropriate for work while also giving your hair the texture and color boost it needs. With just a flip of your hair, you can easily show off your eye-catching turquoise shade.
5. Messy Black Waves + Blue Violet
For women with cool undertones, a plain blue shade will seem harsh against your skin. The best way to solve this is to add a tinge of violet hues to the mix. The simple addition of the subtle violet shade will deliver the warmth your pale skin needs.
6. Curly Hair + Bright Blue Underneath
Not everyone can pull off a bright blue hair color. But if you really want to make a fun, bold statement to your black hair, this is the color to go for.
Just a heads up, it works best with a cool complexion. If you have a warm skin tone, it's best that you go for purplish- or greenish-blue shades.
7. Wavy Ends + Shades of Blue
If there's one fun thing you'll discover when checking out ideas for black hair with blue underneath, it's that you get a lot of blue shades to choose from.
You have pastel blue, bright blue, aqua blue, and many more. And guess what? You can add all of these shades to your black hair if you can't choose which shade to go for.
8. Braided Bob + Midnight Blue
Here's a subtle yet equally stylish take on a blue underneath look for black hair. Since it's a deep and dark shade, it blends with your black hair pretty well.
Add in a crown braid, and you get to show off this unique hair combination in the most elegant way possible.
9. Medium Wavy Hair + Sky Blue
Can't decide between a darker or a pastel blue shade? Here's the perfect compromise– sky blue! It has that deep richness you can get from a darker blue shade, yet it's still light and vibrant enough to stand out.
10. Long Waves + Peekaboo Highlights
Waves are the best way to flaunt the blue hair underneath your long black hair. The black waves showcase the contrast between these two shades, while the blue color highlights the waves' bounce and movement.
11. Box Braids + Blue Underneath
Even though it's a protective hairstyle, your box braids don't have to be boring. A splash of bright blue color is the best way to spice it up. With the blue color peeking in between your black box braids, your unique hairstyle will truly be an amazing sight to behold.
12. Deep Blue + Dark Teal
Who says dark blue shades are boring? It wouldn't be if you experiment with more than one shade! The combination of these deep colors adds not just dimension but also movement and depth to your dull black hair.
13. Half Up Ponytail + Mermaid Blue
If you have long hair, there's no better blue shade to complement it than the mermaid blue color. This color features a beautiful blend of blue and green shades that gives the natural black hair color a brilliant shine, an eye-catching metallic finish, and a whimsical touch.
14. Wavy Lob + Blue
By placing your blue hair strand at the side and not the back, there's no need for you to put your hair up just to let it show. You can easily show it off just by tucking your hair under your ears. How amazing is that?
15. Step Layers + Blue Underdye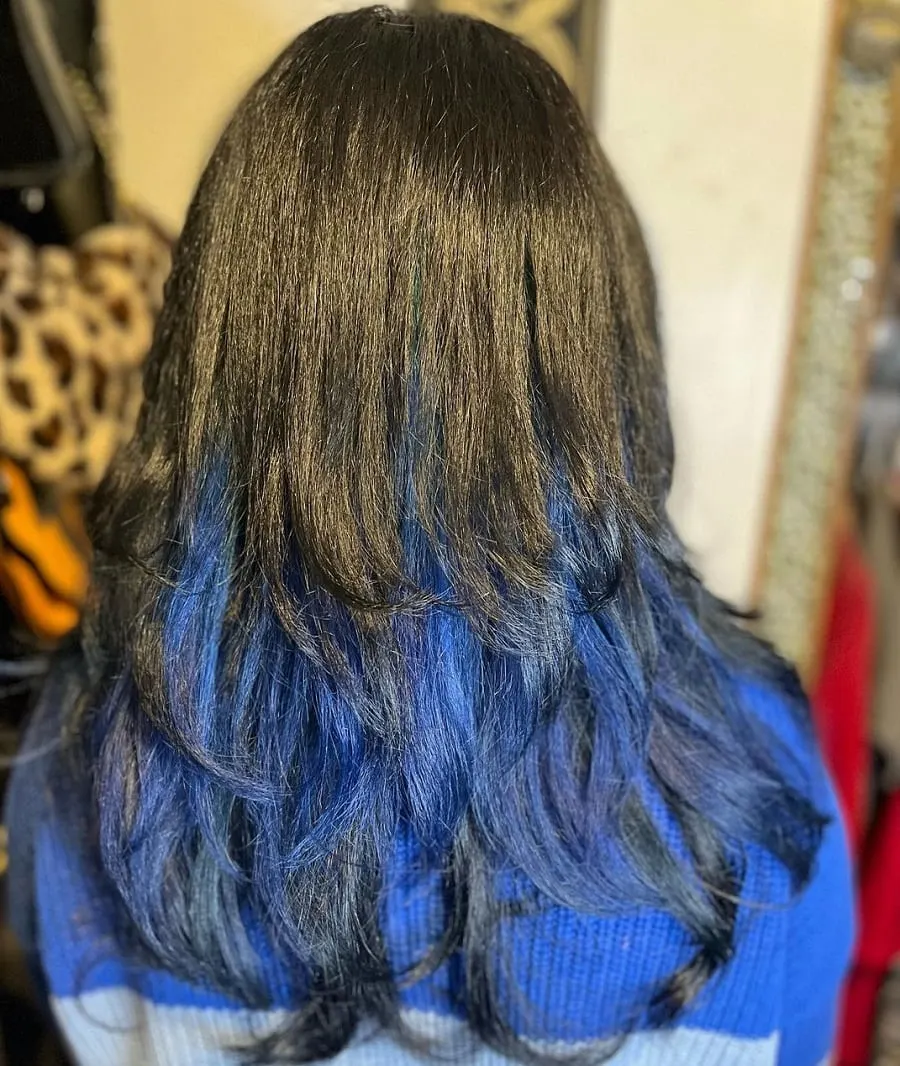 With step layers, you get to show everyone a peek at the blue hair underneath your black hair without having to showcase it fully. When you pull your hair into a ponytail, the layers of blue hair will be sandwiched in between layers of your black hair, hiding the vibrant color in an instant.
With these ideas for black hair with blue underneath, you get to enjoy a pop of color on your hair while still keeping it appropriate for school or work.
Related Trending Topics