With so many celebrity endorsements over the years, it's no surprise that Brazilian blowouts and keratin treatments have taken off in popularity. They both have similar benefits, the chief of which is smoothing your hair for a sleeker look.
Because of this main similarity, there are a lot of people wondering what the differences are between these two treatments and which of the two they should get. We'll cover their similarities and differences, the best candidate for each, and some responses to other frequently asked questions.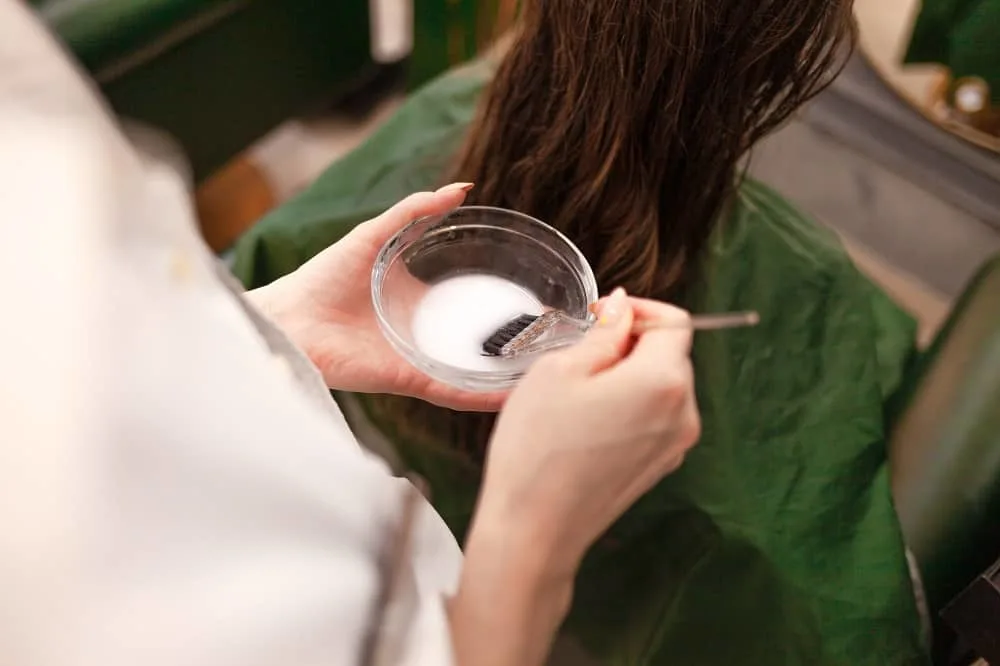 Similarities Between Brazilian Blowout and Keratin Treatment
Both a keratin treatment (KT) and a Brazilian blowout (BB) make your hair look shinier, smoother, and possibly straighter.
They can sometimes get confused with a Japanese Straightening Perm, which is a little different because it permanently changes your hair structure to make your hair straight; the two types of hair treatments we're discussing are temporary.
Both the BB and the KT develop a protein layer that surrounds your hair shaft, in turn smoothing your hair cuticle. That leaves your hair looking smooth, shiny, and healthier.
One of the main aspects that clients like about both processes is that they keep humidity from changing your hair and causing frizziness.
The smoother your hair is, the more it reflects the light, appearing more beautiful and making your hair easier to manage. Of course, this makes styling your hair a breeze on a day-to-day basis.
However, there are some dangerous chemicals used on your hair during these treatments. Both the Brazilian blowout and the keratin treatment use formaldehyde (plus other types of aldehydes) on your hair while applying heat.
You won't be able to wash your hair as often as you may have before these processes once they are complete. Otherwise, you can unintentionally wash the treatments out of your hair. For longer-lasting results, you should use a sulfate-free shampoo.
Differences Between Brazilian Blowout and Keratin Treatment
Okay, so the results are nearly the same, but here are four key distinctions between these two treatments:
Who Should Get Them
Girls with really thick, curly, or voluminous hair will typically choose the keratin treatment because it is perfect for unruly hair. That treatment will make your hair more manageable in addition to reducing its volume.
Professionals do not recommend a keratin treatment for anyone who has thin or fine hair or someone whose hair is already straight. The main reason for this is, it will reduce the volume in their hair even further, which wouldn't be appealing and would leave hair looking limp.
Contrastly, if you want to keep the movement and bounce in the hair along with the volume while also making it easier to manage frizz, go with the Brazilian blowout. If you have fine or medium-texture hair with curls or waves, the Brazilian Blowout will give you smoother, sleeker locks like without completely taking away your hair texture.
How to Apply The Treatment
It only takes about one to two hours for the Brazilian blowout process done in the salon.
The keratin treatment can take upwards of three hours to finish.
Keratin Treatment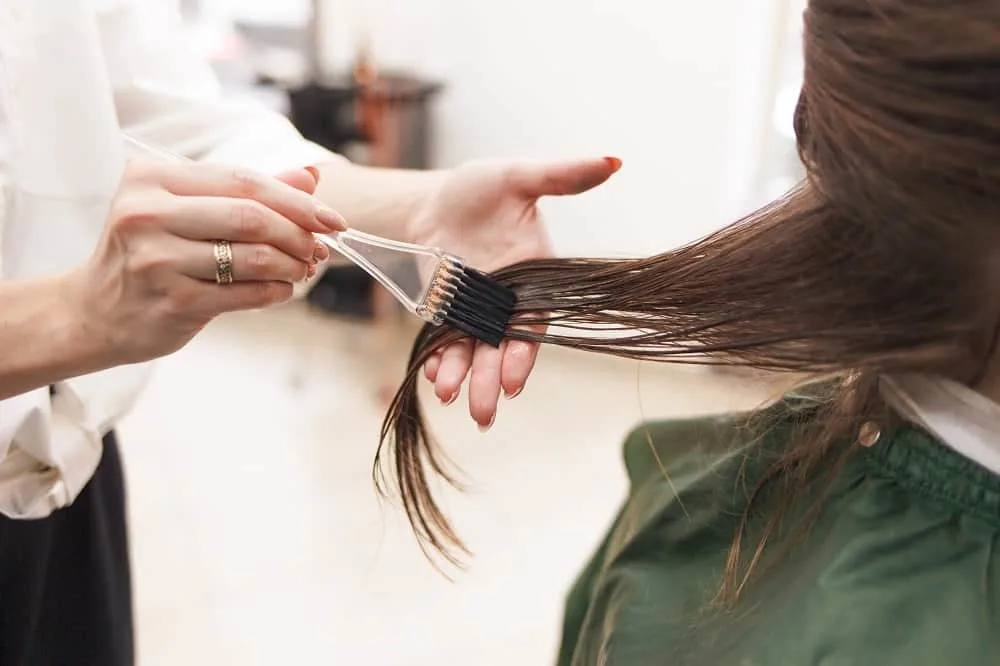 You start by washing the hair using a clarifying shampoo, which is similar to regular shampoo, except that it deep cleans your hair to remove buildup into the hair shaft. Once your hair is washed and towel-dried, you then get your hair blow-dried thoroughly.
The keratin treatment products get applied to your hair in sections until it gets evenly distributed all over. The stylist will likely place a plastic cap on your head for about 30 minutes to get the best results by allowing your hair to soak up the products deeply into your hair shaft.
Your hair gets blow-dried again, and the stylist will flat iron your hair on one of the highest settings, 450°F. You shouldn't wash your hair for at least three days.
Brazilian Blowout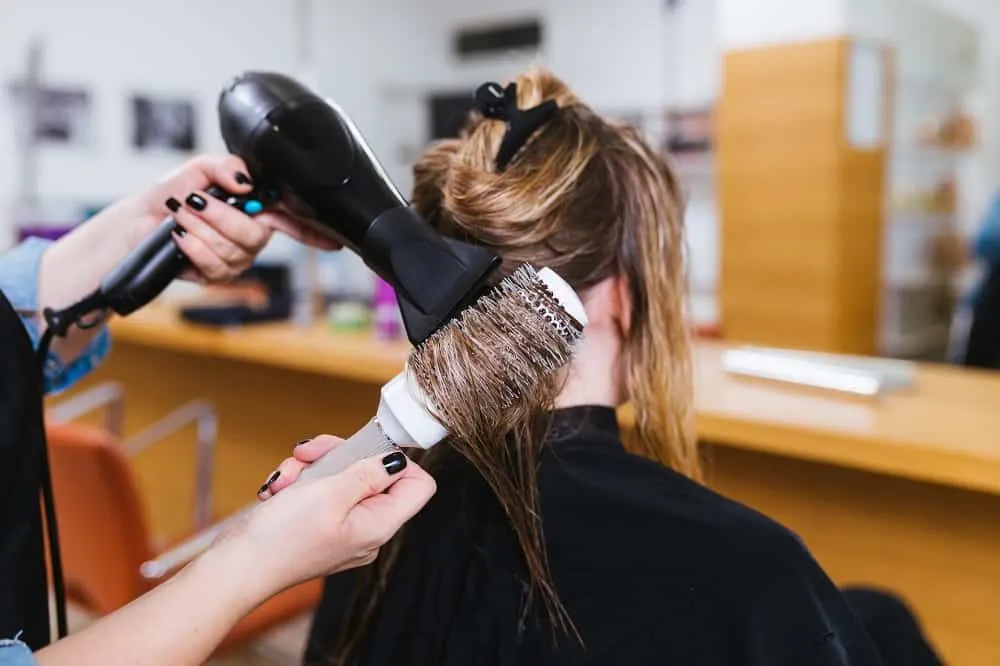 This process also starts with your hair getting washed with a clarifying shampoo and then towel dried lightly to retain some moisture. The BB products get applied to your hair in sections, and then you get your hair blow-dried. The stylist will straighten hair with a flat iron, using 450°F heat.
After this, your hair gets rinsed out thoroughly to get the products out completely. Next, a deep conditioning treatment gets applied throughout your hair, like a masque. Your hair gets blow-dried once again, and the process is finished.
Convenience
The most convenient option is the Brazilian blowout because the results are virtually instantaneous.
On the other hand, after doing a keratin treatment, you must follow certain precautions. One of which includes a 72 hour waiting period which ensures that treatment settles in and works according to plan. You will be required to leave the salon with the product in your hair and rinse it out after three days have passed.
Additionally, you will want to avoid tying hair back after Keratin, tucking your hair behind your ears, sweating, and placing any style in your hair that could cause a kink in your hair.
With a Brazilian blowout treatment, after it gets done, your results are apparent directly after the treatment. Your hair can get washed the same day, and you can feel free to style it as you please. There are no restrictions with the Brazilian blowout treatment.
Results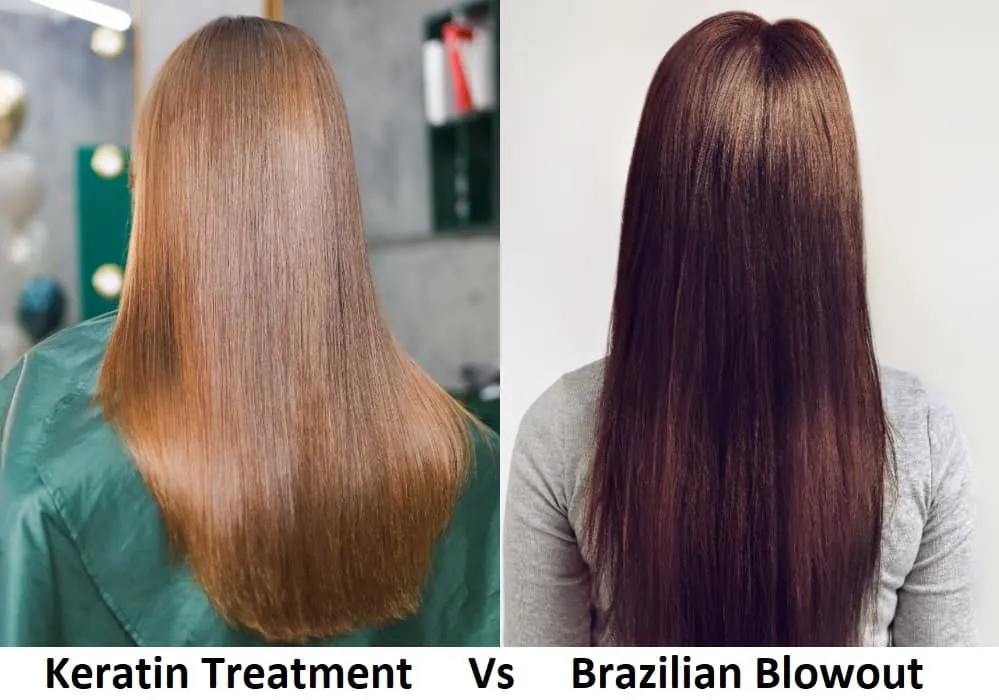 After performing the treatment, your Keratin-treated hair will appear straighter with reduced volume. For up to three months, it will eliminate any frizz from your hair.
After having a Brazilian blowout treatment, your hair will be without frizz. However, since this is a lighter option when compared to the keratin treatment, your hair will be less sleek and straight. Wavy hair will have more body and a natural wave, and it will also be straighter.
The curls will get preserved with curly hair, but they are softer, easy to manipulate, and frizz-free. You'll find that using straightening irons or the blow dryer to style your hair will be smoother and will produce much better results than before the treatment.
Depending on your specific wants, the salon can customize both treatments. However, note that the Brazilian blowout is more flexible. By adjusting the amount of the product you put into your hair and the amount of heat, your treatment can be tailor-made to fit your individual needs.
Final Thoughts
Both Brazilian blowouts and keratin treatments are smoothing treatments that last for months. Moreover, both of these treatments eliminate frizz while allowing you to manage your hair better.
Although the processes are similar, the results are slightly different. The Brazilian blowout gives you instant results, while the keratin treatment requires a bit of maintenance afterward.
In the end, your hair type and what you hope to accomplish in the end will determine the best treatment for you!
FAQs About Keratin Treatment
Below are some answers to the most commonly asked questions regarding keratin treatments and Brazilian blowouts:
Do Brazilian blowouts ruin hair?
Frankly, Brazilian blowouts can be detrimental to your hair's health. One of its main ingredients is formaldehyde, which is known to be a cancer-causing chemical.

Moreover, Brazilian blowout and other treatments that make your hair smooth contain other harmful chemicals that can cause allergic reactions and side effects.
Do we lose keratin in hair as we get older?
The amount of natural keratin in your hair lessens each year. As you age, the keratin in your hair diminishes over time.