The Brazilian blowout is a popular procedure for strengthening hair using protein treatment. The final step when applying the blowout is rinsing it out of your hair. But is it a must to rinse your hair after a Brazilian blowout? What will happen if you don't wash out the Brazilian blowout solution? We will discuss that in detail below.
Should I Wash My Hair Immediately After a Brazilian Blowout?
No, do not wash your hair immediately after a Brazilian Blowout. Leaving the Brazilian blowout solution in your hair for a while allows your hair to absorb more protein, smoothen and make it shinier.
If you wash your hair too soon, the hair won't be able to take sufficient protein from the hair treatment and as a result the treatment won't be that effective.
Manufacturers recommend leaving the Brazilian blowout solution in for at least 45 minutes in the hair before sealing it with a blow dryer and flat iron. Until this point, don't rinse the product as you would with a hair mask or deep conditioner.
I recommend you to wait at least 2 days (48 hours) before washing your hair after a Brazilian Blowout. In this waiting period, style your hair however you want but avoid applying any heat to your hair and don't make your hair wet.
After 48 hours, you can wash your hair as usual. However, it is important to use a shampoo and conditioner that are designed for chemically treated hair. These products will help to protect your hair from further damage and keep your Brazilian Blowout looking its best.
Chemicals In Brazilian Blowout
Brazilian blowout solutions are made primarily with amino acids that deposit protein into the hair structure. However, the blowout also has additional chemicals, some of which could be harmful to your hair, scalp, and health. They include:
Formaldehyde
Formalin
Methyl oxide
Methyl glycol
Formic aldehyde
Oxymethylene
Methanol
Timonacic acid
It's best to rinse the blowout solution out of your hair to be safe. Follow the manufacturer's instructions on the duration to leave the solution and rinsing directions.
Pregnant women should avoid a Brazilian blowout altogether due to the risk of early-age cancers developing in their children.
What Will Happen If I Don't Wash My Hair For Too Long After A Brazilian Blowout?
Until you wash out the Brazilian blowout solution, your hair continues to absorb the protein from the treatment. This extra protein enhances the strength of your hair while keeping it smooth and frizz-free.
But if you delay washing your hair after a Brazilian Blowout, you might face some challenges.
Firstly, the treatment's effectiveness might diminish if its chemicals can't penetrate your hair shaft due to improper rinsing.
Also, when you keep the solution for too long and don't rinse your hair, the formaldehyde in Brazilian blowout solutions could irritate your scalp. Formaldehyde can cause chronic problems like persistent headaches and skin irritation. Some people also suffer hair loss and dryness from leaving the treatment for too long.
Additionally, improper washing could leave a residue that makes your hair greasy and heavy. Further, this residue can weaken your hair, making it more susceptible to breakage.
Lastly, the chemicals present in the solution can trigger an allergic reaction. So, for optimal results and to avoid any such allergic reactions, always rinse your hair thoroughly after the 48 hours (as instructed by the manufacturer).
How To Prolong a Brazilian Blowout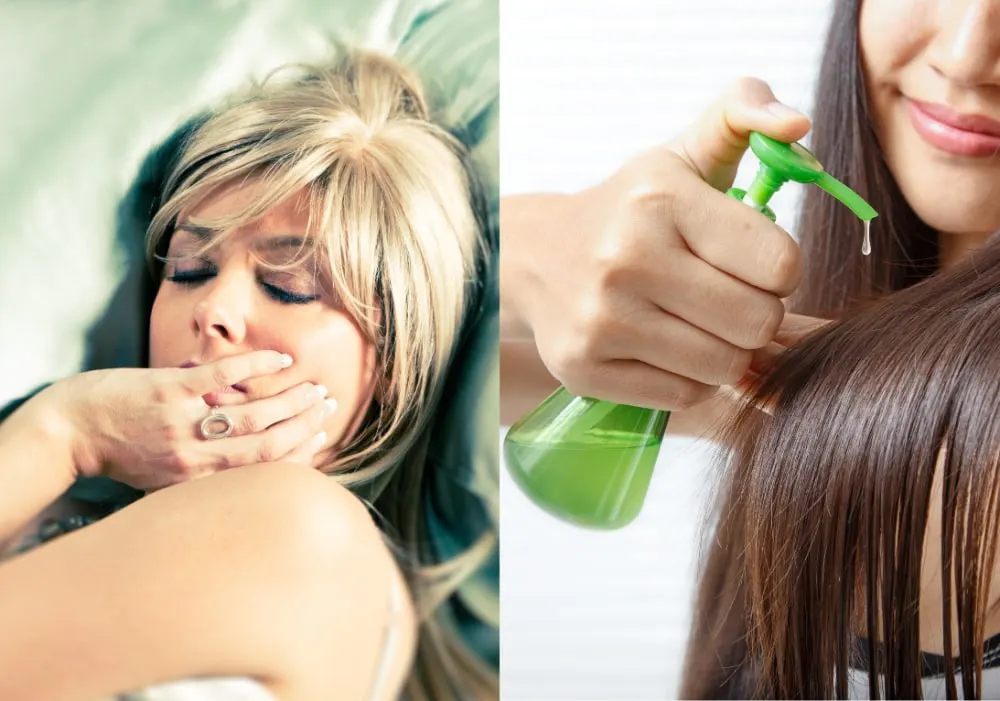 A Brazilian blowout can last between 10 and 12 weeks with proper maintenance. However, it can last as few as two weeks without the right care and products. Here are some ways to prolong a Brazilian blowout:
Use Sulfate-Free Products
Sulfate-based products damage the hair fiber. They strip it down, removing all the protein that the hair absorbed after a Brazilian blowout.
If you are unsure about what shampoos and conditioners to choose, go for the Brazilian blowout post-treatment kit. The manufacturers of the Brazilian blowout designed this kit to prolong the benefits of the treatment.
Avoid Products With Sodium Chloride
Products with sodium chloride can shorten the longevity of a Brazilian treatment. They make your hair look dull.
Avoid Heat Styling
Wait at least two weeks after a Brazilian blowout to use heat styling on your hair. You should set your blow dryer on medium heat and keep it at least 15 cm from your hair. In addition to minimizing heat treatment, apply a heat protectant when using blow dryers and flat irons.
Protect Your Hair Before Swimming
Whether swimming in a pool or the ocean, you should protect your hair with a Brazilian Blowout Smoothing Serum before you go for the swim.
Once you're done, rinse your hair and use the Brazilian Blowout Daily Smoothing serum for added protection.
Water strips off your hair's protective layers, increasing the risk of damage. Chlorine will undo the treatment if you're swimming in a chlorinated pool. Salt in ocean water will also dry your hair, leaving it unmanageable.
Wash Your Hair Less Often
Washing your hair often leads to a significant decline in keratin levels in your hair. While you can wash your hair immediately after a Brazilian blowout, most stylists recommend using products designed to work with Brazilian blowouts.
In addition to using products made for Brazilian blowout aftercare, stylists recommend washing your hair up to three times every week.
Sleep on a Silk or Satin Pillowcase
A silk or satin pillowcase protects your hair from developing frizz. It also prevents creasing in your hair after a Brazilian blowout.
Deep Condition Your Hair
Deep conditioning restores the moisture in your hair, keeping it from drying out. Deep conditioning your hair with deep conditioners designed for Brazilian blowouts will keep your hair stronger for longer.
Related: How Much Does Brazilian Blowout Cost?
What Are Some Alternatives to Brazilian Blowout?
Japanese hair straightening and keratin treatments are the popular alternatives to a Brazilian blowout.
Japanese Hair Straightening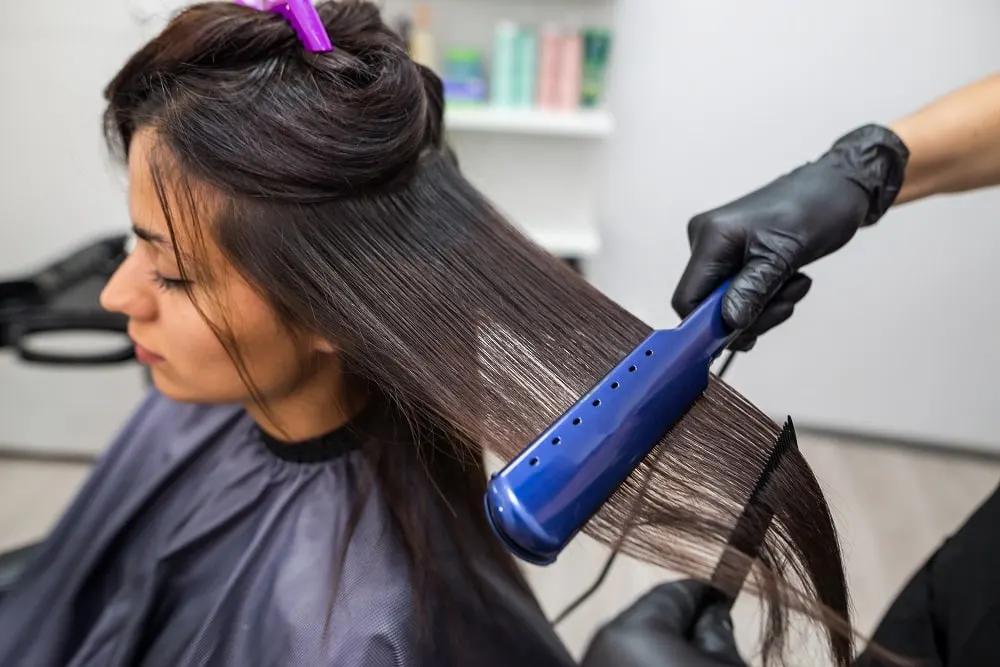 Japanese hair straightening uses chemicals and heat to straighten hair permanently. The process takes up to 8 hours to complete depending on the length, thickness, and hair type.
It's the best hair straightening treatment to go for if you want hair that's permanently easy to style and remains straight despite the number of washes or products you use on the hair.
Japanese hair straightening is a delicate procedure that requires a highly experienced stylist to prevent damaging your hair.
Unlike Brazilian blowouts, Japanese hair straightening uses chemicals that straighten your hair. It's also more damaging to the hair and must be done by a qualified hair professional.
When choosing between the two, consider whether straight hair is something you want permanently or temporarily.
Japanese hair straightening is permanent. The only way to eliminate it is by growing your hair. On the other hand, Brazilian blowouts are semi-permanent, lasting about three months.
Keratin Treatment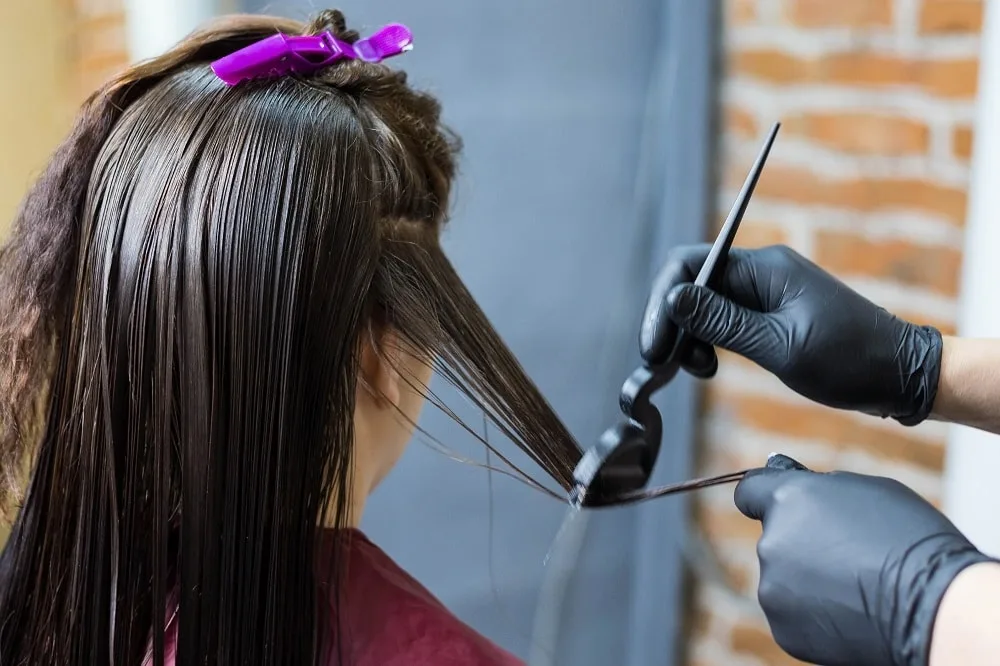 If you're concerned about what happens if you don't wash Brazilian blowout solution, keratin treatments may be a welcome alternative.
Keratin hair treatments straighten and smoothen your hair for months. Keratin treatments use keratin, a protein naturally occurring in hair, bones, and nails.
In addition to eliminating frizz, Keratin treatments help restore damaged hair from the inside out. These treatments deposit keratin into the hair cuticle, helping repair it.
Compared to Brazilian blowouts, keratin treatments are heavier, meaning they are better at smoothing out curls. They also have less harsh chemicals. However, you'll still find some keratin treatments with formaldehyde.
Unlike Brazilian blowouts, you cannot wash your hair for at least three days after the keratin treatment. It's, therefore, not the best alternative for people with an active lifestyle.
If you fail to wash Brazilian blowout, your hair will continue absorbing beneficial proteins from the solution. Some chemicals in these blowouts could irritate your scalp or damage your hair.
FAQs
How long does a Brazilian blowout last?
Brazilian blowout lasts between 10-12 weeks with proper care and maintenance. Subsequent treatments often last longer, as Brazilian blowouts are cumulative.
Can I keep the Brazilian blowout on my hair overnight?
You can keep a Brazilian blowout on your hair overnight. In most cases, the Brazilian blowout solution absorbs your hair or evaporates when it's blow-dried or flat-ironed during the application process.
Which is less damaging, keratin or Brazilian blowout?
Keratin treatments are less damaging to your hair compared to Brazilian blowouts. Keratin treatments contain keratin, which repairs your hair from the inside out, unlike Brazilian blowouts, which deposit proteins on hair.
Can you rinse your hair after a Brazilian blowout?
You can rinse and wash your hair after a Brazilian blowout without adverse effects on your hair. Avoid using sulfate or sodium chloride products when rinsing a Brazilian blowout.
Related Topics