Whether you've been at the same job for years or you just want a new look, a businessman haircut will get you in that professional state of mind again. For both short and long hair, there's a businessman look to suit all textures. With a simple side part, a fade, or even an undercut, your work look can come back to life.
Best Haircuts for Businessmen
These 30 businessmen haircuts will have you looking like a dapper professional in no time.
1. Short Businessmen Haircut
A hard part with a gradual fade on one side is a very dapper businessman hairstyle for men with thick hair. Smooth hair down with hair product for a trim final look.
2. Business Haircut for Black Men
For Black men, try an undercut and fade on your natural black hair. This will not only make your look low maintenance, but make the top hair's texture more noticeable.
3. Business Haircut for Men with Long Hair
There's no need to chop your hair off just because you want to look more business-like. For medium-length hair, add some layers, a middle part, and comb in some mousse for easy style.
4. Businessman Hair with Undercut
Add edge to your businessman haircut by shaving in an undercut. When your top hair is gathered into a pony, it looks very neat and professional.
5. Comb Over Haircut
A comb over is a popular choice for men looking for a professional haircut thanks to its dapper texture and hard part. Keep sides short to emphasize the thickness up top.
6. Curly Haircut for Businessmen
For low maintenance style for your curly hair, just leave it natural. Avoid bedhead by combing in product.
7. Taper Haircut for Businessmen
A tapered haircut is very professional in that the gradual fade of hair from ears to the top of the head keeps your look neat.
8. Subtly Tousled
Getting a business haircut doesn't mean you have to slick back your hair and lacquer it down with hairspray. A subtle, natural tousle is totally professional. Just remember that there's an enormous difference between tousled and unkempt. Don't walk into the office looking unkempt.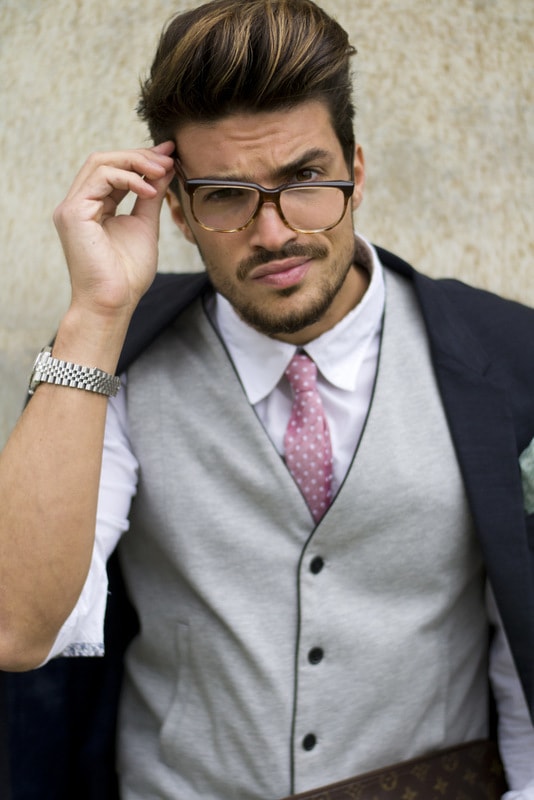 You might not want to build your pompadour quite so high unless it's Friday, but this hairstyle is ideal for any work environment. If you happen to have plans after hours, that's even better.
10. The Simple Slick Back
There's nothing wrong with slicking back your hair before you head to work, however. Consider this the Wall Street look. Wear your hair like this and you'll give off an aura of confidence and success to everyone you meet.
11. Side Parted Office Haircut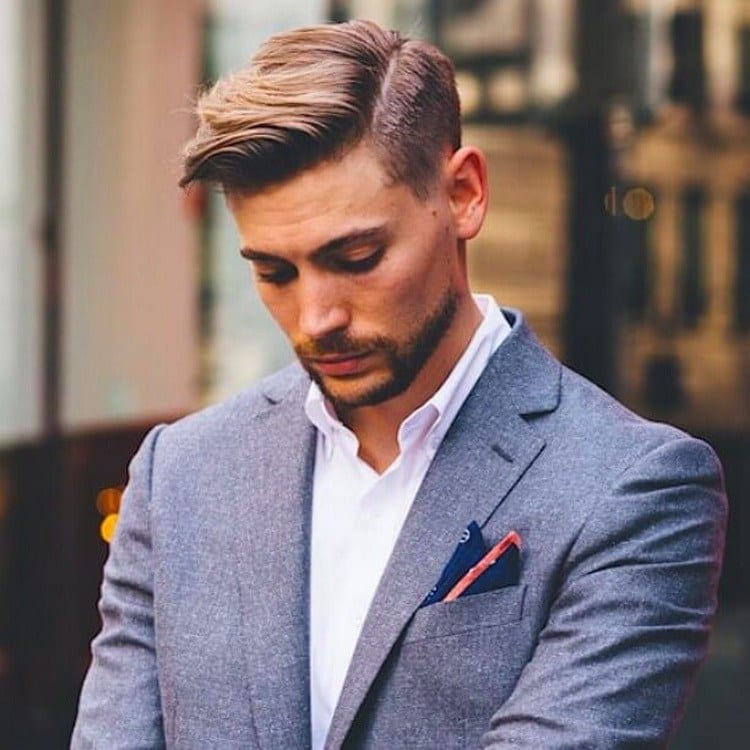 The side part is another classic business haircut. It's suave, sophisticated, but so simple to style. You don't have to get an undercut to part your hair to the side, but it doesn't hurt.
12. Men's Popular Spike
spiking your hair for work, as long as you don't go overboard. Keep it subtle, tasteful, and just a bit rumpled. This is a perfect example.
13. Workday Swoop
Ever find yourself feeling a little fly and funky on a random Wednesday? Run your fingers through your hair, arrange it so it's not quite spiked but not exactly a pompadour, either, and then take off because you're ready to own the day.
14. Long but Neat
Not all businessman haircuts are short. Long hair looks polished and professional as long as you style it properly. Gently brush it back, just like this — you're ready to rule the office.
15. A Clean Fade
You can get creative with your undercut, as well. It's fine if the buzzed sides include a fade. To keep things professional, however, you might want to avoid shaving in any lines or shapes.
16. Spiky and Sophisticated
Even longer spikes can look sophisticated. Provided you style your hair neatly, a spiked 'do is perfectly work-ready.
17. The Classic Business Cut
Everything about this is classic, from the side part to the sideburns. Look at the way he neatly combs the other side of his hair behind his ear.
Some More Handsome Hairstyle Ideas for Businessman
Business haircuts aren't boring. At least, yours doesn't have to look boring. Feel free to inject your signature style into your workday aesthetic. What haircut do you wear to work?