Guys are usually not too picky about their hair, which is why short hairstyles for men are so popular. When it comes to taking care of their locks, guys usually prefer low maintenance.
However, in order to be able to get up in the morning and go to work without even looking in the mirror, you need to have a nice haircut that will look perfect even if you forget the last time you saw a hairbrush. There are many stylish haircuts for men out there that are both easy to style and require almost no maintenance.
Short hair might seem dull at first, but in fact, there is a lot to play around with. Military cuts, undercuts, taper fades, and mohawks are not created equal.
Hot and Trendy Short Hairstyles & Haircuts for Men
Men who value their time don't like spending it on morning hair care. But while guys don't want to be best friends with their comb, they still want to look good! That's why hairstylists are coming up with low-maintenance cuts that look fashionable.
We have collected 90 men's haircuts and hairstyles for your inspiration. You can pick a few and get your stylist's advice on which one will suit you best.
1. Medium Blonde Buzz Cut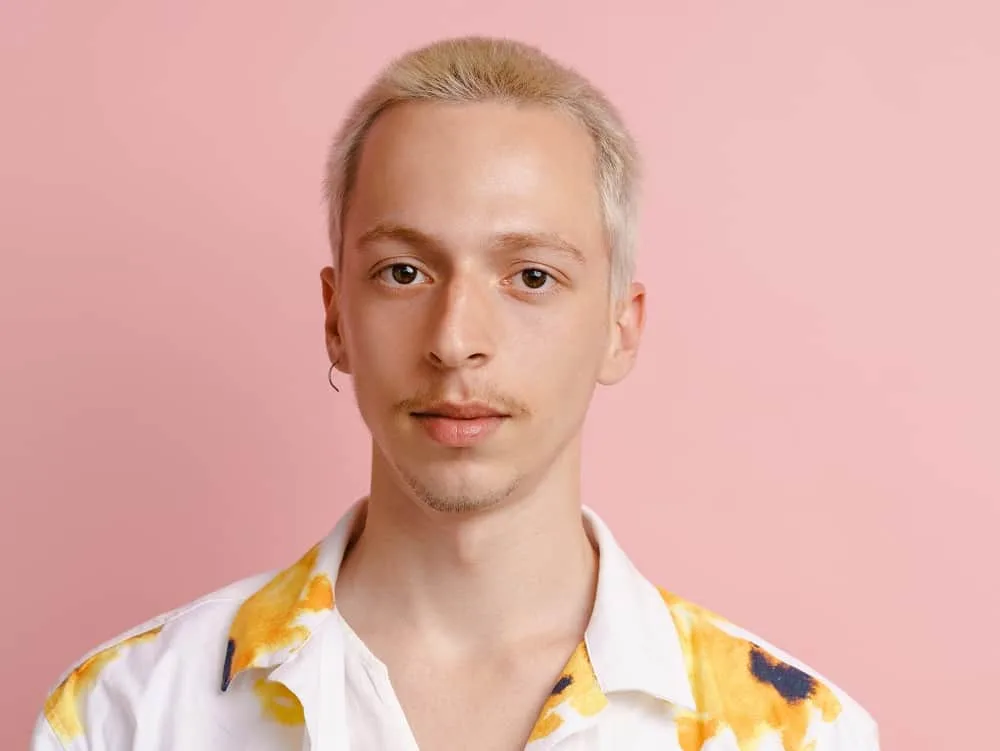 Other than going completely shaved, a buzz cut is as low maintenance as short haircuts get for men! This style is only slightly longer than the traditional buzz cut and the bright blonde color lightens up the face.
2. High Fade with Shaved Lines
If you're a man of color with short natural hair, take it to an edgy hairstyle instantly by shaving in line details! This one uses a high fade to feature curved and zig zag lines.
3. Short Wavy Hair
If you're a man who is lucky enough to have natural curls or waves in his hair, work with them, not against them! Short haircuts enhance the natural shape of texture, and you can help it by scrunching in a little mousse.
4. Brush Up with Medium Fade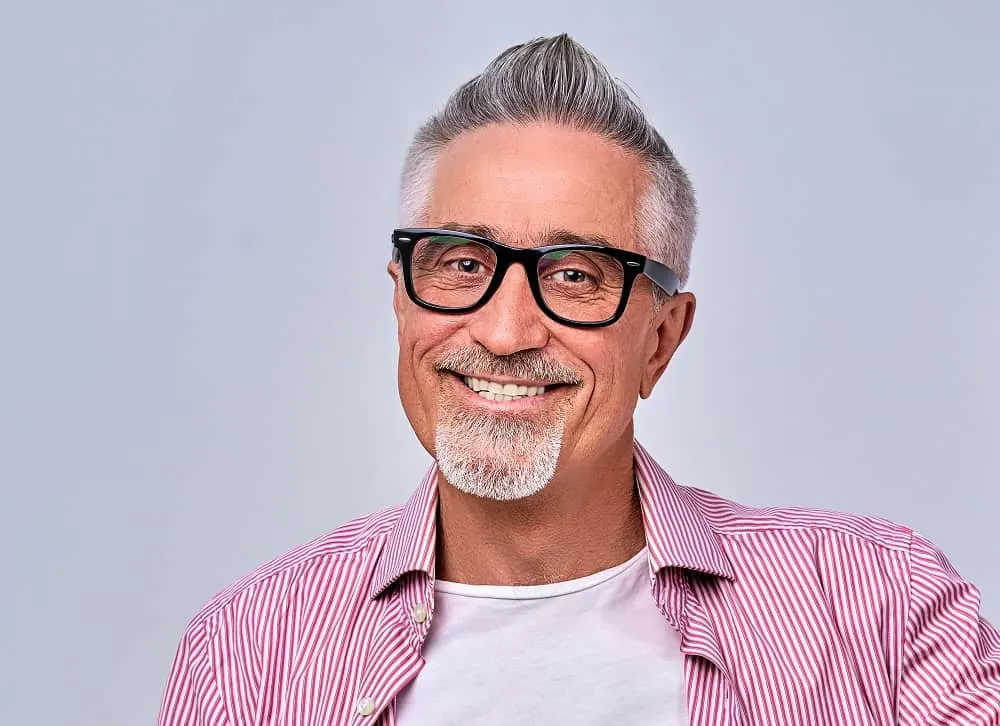 The small brush up on this men's short haircut is small but noticeable! Use a blow dryer to get the volume and shape. Frame it with a medium fade that you can easily maintain the length of at home.
5. Taper Fade with Hard Part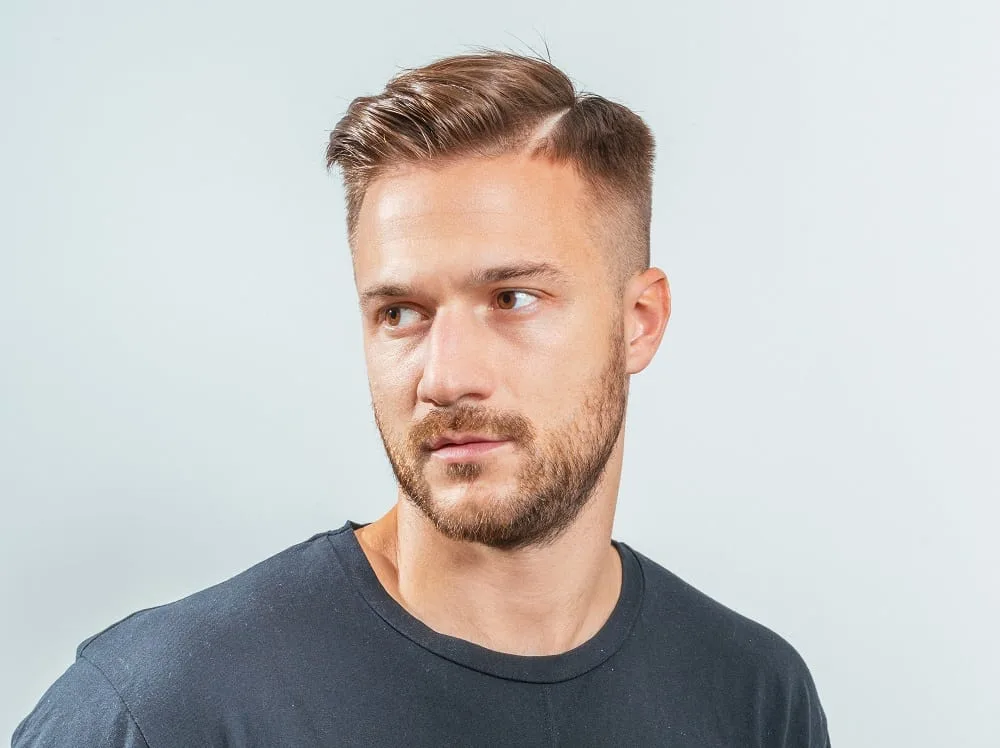 Another way to sport a faded haircut is by opting for a face-flattering taper fade. The other side can be neatly combed flat. If you're interested in the details, consider shaving in a hard part for defining separation.
6. Bedhead with High Fade
If your short hair is fairly thick, use a little product to create some sexy bedhead texture. A high fade will help make sure everyone's eyes are drawn up toward the action.
7. Combed Back with Medium Fade
Another handsome short haircut option for men with natural black hair is this very dapper combed back style. You'll need a few inches of length to get the look. At the sides, go with a low or medium fade.
8. Buzzed Mohawk
A high bald fade only adds to the edginess of a buzzed mohawk! Men with bold personalities who love expressing their personal style in their haircut will appreciate this punk-rock style.
9. Tousled Waves with Burst Fade
To instantly bring shape and sexiness to your short wavy hair, ask your stylist to cut in short layers. A burst fade adds hot detail and it will also handsomely define your face shape.
10. Thick Spiked Hair

Lime green is just the color for those men who like a bright, vibrant short haircut. Style it up by using your hands to push the hair up into a thick spiky shape. Low faded sides will cut down on thick bulky hair.
11. Messy Fohawk

When you are thinking of getting a fohawk, there is no reason to keep it very short. Long hair on top might not need too much maintenance if you decide to keep it messy. Girls love men with messy windblown hairstyles.
12. Short fohawk
Fohawks and mohawks are amazingly popular. So the higher up you decide the top part of your hair to be, the close to a mohawk you will get. If shaving is not your thing, leave the sides very short for contrast.
13. The short buzz cut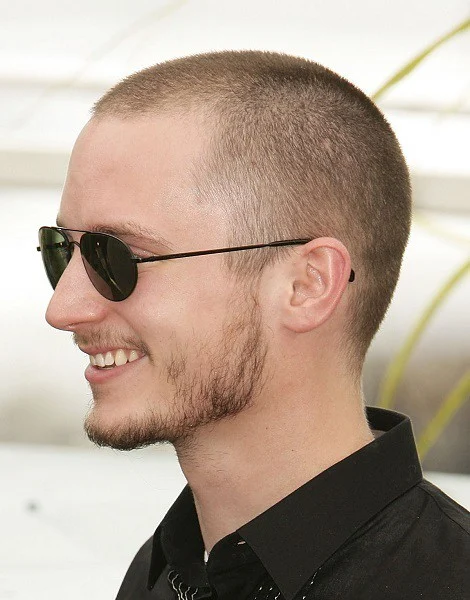 If you are not ready for a military hairstyle but want to see what it looks like, consider cutting your hair extremely short without going for any short variations such as an undercut or a taper fade.
Aristocratic Short Crew Cuts for Men
14. Tapered mohawk

If you love outrageous styles, this tapered mohawk is for you. Leave enough hair on top to have fun with. Shave the side and leave one tapered layer just under the hairline.
15. Men's short hairstyle with volume on top
This is not exactly a short haircut but it can be considered as such due to low maintenance. The bottom part is cut very short while the top is left extra-long and can be played around with.
16. Short Spiky high taper fade
If you are not ready to say goodbye to most of your hair but still want something low-maintenance, consider a high taper fade. Leave enough hair on top to spike it up. Spiking only takes a few seconds.
17. Medium Long Fade

A long fade is a smart choice for guys who know how to take care of their hair. The longer your locks are, the harder it is to take care of them but the better they look and the more amazing they feel.
18. Short and wet look
No matter what length your hair is in if you don't want to deal with it but still appear stylish, think about the wet look. All you have to do is apply a lot of hair gel and sweep your hair back. Voila!
19. Short punk Mohawk
Mohawks always look fantastic. So if you are not afraid of making a statement, choose a hairstyle that will have you shaving the sides clean and leaving some hair on top for styling.
Trendiest Hipster Haircuts for men
20. Military comb over
Brad Pitt came up with several military hairstyles during his movie career. One of them is this appealing military comb over that will look great on guys with all hair types.
21. Taper fade

Taper fades can be different. Sometimes it makes sense to leave more hair on the sides in order to make the face shape rounder. Choose a long taper fade with some hair on top to make the spikes.
22. Long fohawk

Making a fohawk doesn't mean cutting the sides really short. You can keep them a little longer but leave the top even longer for obvious contrast. Pay special attention to the bangs. They are the easiest to style.
23. Widow's peak

If you have a widow's peak, you might want to consider cutting the top part of your hair short. Spiky locks on top are not the best choice for men with this type of hairline. You can make the sides long if you wish.
24. Low taper fade
A taper fade is one of the most popular short haircuts for men out there. The fading effect creates some volume on top while the bottom is so short that a guy can avoid frequent visits to the barber shop.
25. Ivy League
Ivy league cuts are among the men's most popular short hairstyles since they suit any occasion. There are no shaved or really short parts to make the cut unsuitable for an office format or a formal event.
26. Asymmetrical undercut

Asymmetrical undercuts are gaining popularity. Consider cutting short just the front part of your temples and keeping the rest of the hair on the sides a little longer. The top can be played around with too.
27. Fun tops

Short haircuts for men are fun when they are brave enough to leave some hair on top. There are so many amazing ways you can arrange the long locks, you just must give them a chance.
Men's Coolest Curly Hairstyles
28. Spiky curls

If you have curly hair, you can have an amazing short haircut with the fun spiky curls. Keep the sides cut very short and leave enough length on top to make the curls visible.
29. Partial mohawk

A partial mohawk entails shaving just part of your temples and leaving long hair on top, on the sides and the back. This is a high-maintenance style, so make sure you are ready for keeping it neat.
30. Undercut with bangs

Undercut with bangs is a good choice for guys who hate brushes but want to add their images something funky. Bangs can be arranged in many different ways from spikes to a comb over.
31. Windblown mohawk

Mohawk is a short hairstyle that has many development options. You can start by growing the top part long and then brushing it in different directions to create a windblown look.
32. Spike it up

Any short haircut for men can be changed in a matter of seconds by creating spikes on top. No matter what hairstyle you have chosen, you can make the spikes and immediately look stylish.
33. Curly and fabulous

Many black men hate their curly and unruly hair, but cutting it short can get rid of all the problems. Consider creating this neat taper fade that will help you flaunt the curls without taking too much care of them.
34. Tapered mohawk

A full blown mohawk might seem scary at first so you can start with a high taper fade. It has all the qualities a real mohawk does but you are leaving more hair on the sides for the changes not to be too drastic.
35. Short and promising

Guys with a widow's peak look amazing with simple short hairstyle when more hair is left in front. There is no reason to hide your amazing hairline. Emphasize it with some extra hair.
36. Slight mohawk

While some guys like going all out with their mohawk, there is no reason to grow a long mane on top. About 1 or 2 inches of hair is just enough to create a great hairstyle while the sides are shaved.
37. Spiky crest

If you are not afraid of spending some extra minutes in front of the mirror in the morning, you can turn even the simplest short haircut for men into something as impressive as you see on the photo.
38. Keep it high

This high taper fade for black men is great and exciting. The curly and thick hair black guys usually have can stand up on its own without any help. So you can keep it very low-maintenance.
39. Spikes all around

This is a creative approach to a simple fade. Just a little hair gel can turn your short haircut into something very interesting. You don't need to spend too much time on it. Just work your fingers for a few seconds.
40. A cowlick

A cowlick is not getting out of style, it's just becoming a little different. Consider leaving enough hair in front to create all kinds of amazing style, including this one.
41. Mohawk for a widow's peak

Guys with a widow's peak can enjoy this amazing mohawk but it will need some styling on their part. Don't be afraid to grow your hair a little longer. Hair gel is easy to work with.
42. Shape it up

Shaped up haircuts look especially interesting. This variation of a blowout can be appealing to guys who like long hair but hate touch-ups and want to avoid it getting into their faces.
43. New Ivy League

If you like to sport your Ivy league haircut when you are going to the office but want something special on your night out, consider spiking up your mane in a way you see on the photo and perhaps growing some whiskers.
44. High comb over

Short on the sides and the back and long on top can make you look really impressive. There is absolutely no hassle with this short hairstyle for men who are not afraid of hair gel. Just brush it backward.
45. Oh, those bangs

If your hair is naturally straight, you can go for side swept bangs. Any hairstyle will look special if you take care of your long bangs. However, if your locks are curly, styling them will be a hassle.
46. Boyish fade

Want a short haircut but don't want to wear a hat in the winter? Leave more hair on your head while still creating a low fade. Leave enough on top for the purpose of making nice stylish spikes.
47. Straight lines

When you are getting a short haircut, there is so much you can play around with. Ask your hairstylist to shape up your haircut with straight lines or come up with some other interesting design.
48. Hair design

Hair design is one of the greatest advantages of short hairstyles for men. Whenever there is shaving involved, there is plenty of room for imagination. Get lines, dots, flowers, or whatever your heart desires.
49. Complicated hairstyles

If you are brave enough to do some styling, you might want to go for complicated hairstyles that involve shaving, brushing and managing. You can make a great statement with such a cut while looking unique.
Creative Fade Haircuts for Modern Men
50. Ocean waves

Ask your hairstylist for ocean waves. They look especially good with short and curly hair. They involve using a special brush and a little patience. Learn how to make them yourself.
51. Add a beard

Any short hairstyle for men, be it a taper fade or a mohawk looks great with a beard. Beards are getting trendier and trendier every year so consider creating even the shortest goatee or a chinstrap.
52. Play with colors

Your fade will look even more impressive if you decide to give it some color. By dyeing the top part of your hairstyle, you are creating a contrast that makes your hair look unique and appealing.
53. Military mohawk

Before deciding to go military, you might want to consider creating a very short mohawk. Short mohawks don't look as outrageous. In fact, they might even suit some formal occasions.
54. Spiky bangs
Spikes are trending now and don't seem to be going out of style. So whatever you decide to do with the rest of your hair, consider leaving enough length to make even the shortest spikes.
55. Use the gel

Any short haircut for men can look stylish if you add some gel. It doesn't necessarily mean that you need to style something. Just apply some gel on your fingers and run them through your hair.
56. Simple cut

A simple short haircut might be what you are looking for if you don't like frequent trips to the barber shop. Keep all your hair the same length and you can allow it to grow as long as you wish.
57. Keep it shaved

Shaving the sides of your head is fun and you can do it on your own. Come up with your own simple hairstyle by making a few bold moves with your razor.
58. Make it shine

Long and curly hair look wonderful when contrasted with really short sides and back. This variation of a blowout can make you look amazing but will need some maintenance.
59. Shorter sides

You don't need to go for a full-blown undercut if you are not ready to make your hair too short. Simple shortened sides will give your hairstyle a neat look without any drastic changes.
60. Simple undercut
A simple undercut is a great choice for guys with long or round face types. This short hairstyle for men allows the stylist to play around with the face shape. The top part can make the face longer or more oval.
Short hairstyles for men vary from simple to complicated. Most of them look great and are easy to take care of. Whichever haircut or style you choose for yourself, you'll definitely want to keep trying further and enjoying a new and improved look. Good luck!