Chinese culture puts emphasis on the elements of deconstruction, reconstruction, and innovation into the hairstyles for Chinese women. Unique to every region is its sense of fashion. Much detail is put into mediums of art to express this culture, and one of these mediums is fashion and hair. Here is a guide into some of the best hairstyles in China that we have chosen for you.
Beautiful Chinese Hairstyles for Women
Here is a list of 50 trendy and popular Chinese hairstyles that you can pull off this season. So ladies, come and choose the perfect hairstyle that will enhance your beauty!
1. Wavy Side Bun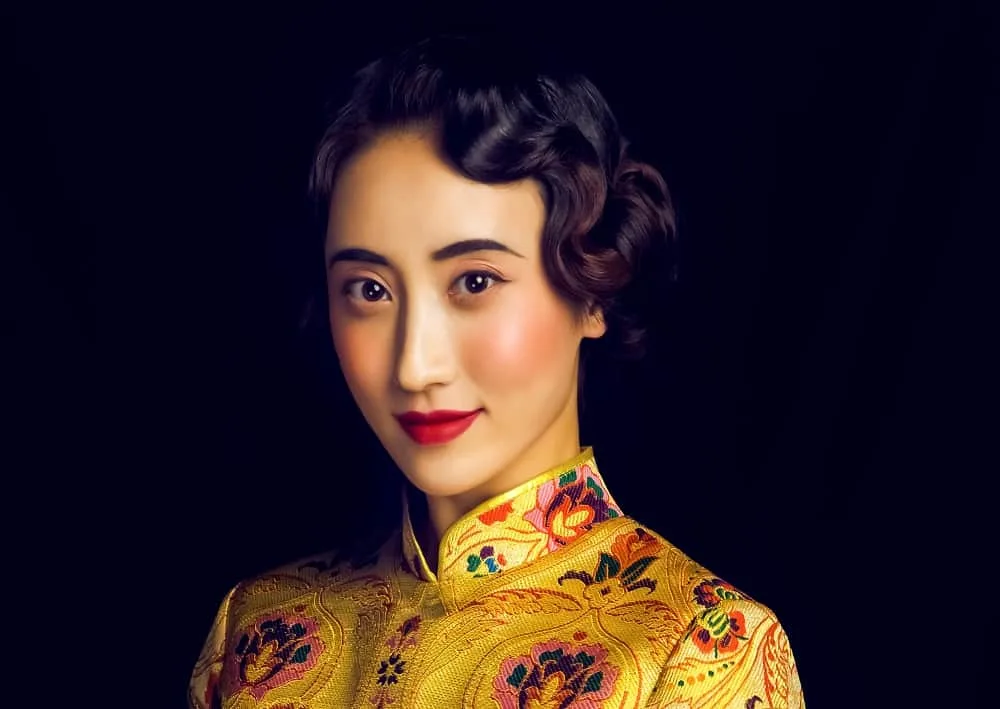 The swooped waves in this side bun pull the hairstyle together. It's graceful look that exudes elegance. Secure the waves with hair pins and nix any frizz or flyaways with hairspray.
2. Combed Back Half Updo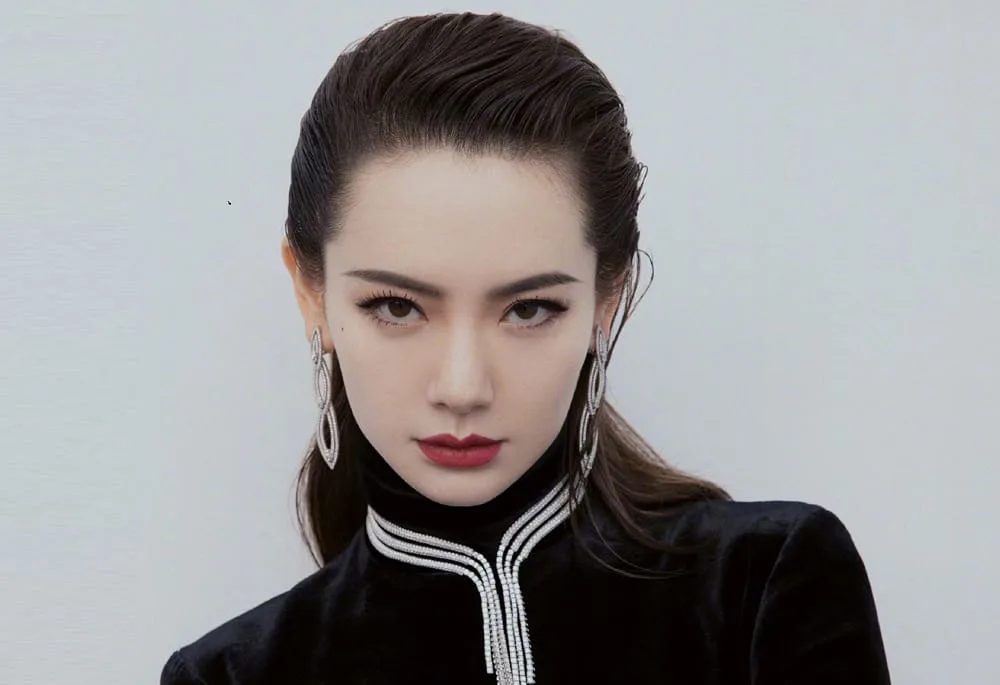 When you're sporting a Chinese hairstyle that is completely combed back off the face, your eyes will be front and center. This half updo is great for when you want to draw attention to your beautiful eyes.
3. Side Braid and Long Bangs
If you have short hair and long bangs, one easy way to dress up your look is with a small side braid near the front of the face. Also, if you aren't afraid to try bright colors, a single turquoise highlight is unexpected but gorgeous against dark hair.
4. Small Bun Updo with Waves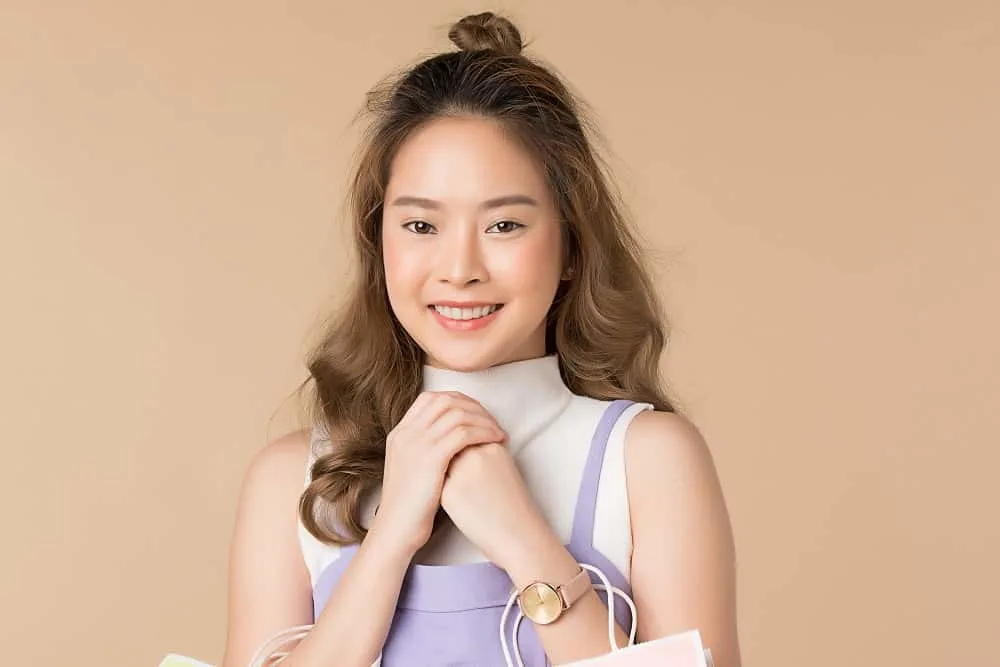 Do you have thick long hair? Opt for a Chinese hairstyle that accentuates that texture! It takes only minutes to gather a small section of hair from the top into a small top knot. The rest of your hair can be worn loose to show off natural waves.
5. Long Straight Chinese Hair
A center part may seem simple, but that doesn't mean it isn't classy or stylish! Ladies with long straight hair will appreciate this low maintenance Chinese hairstyle. Polish the look up by straightening hair to sleekness.
6. Textured Ponytails with Bangs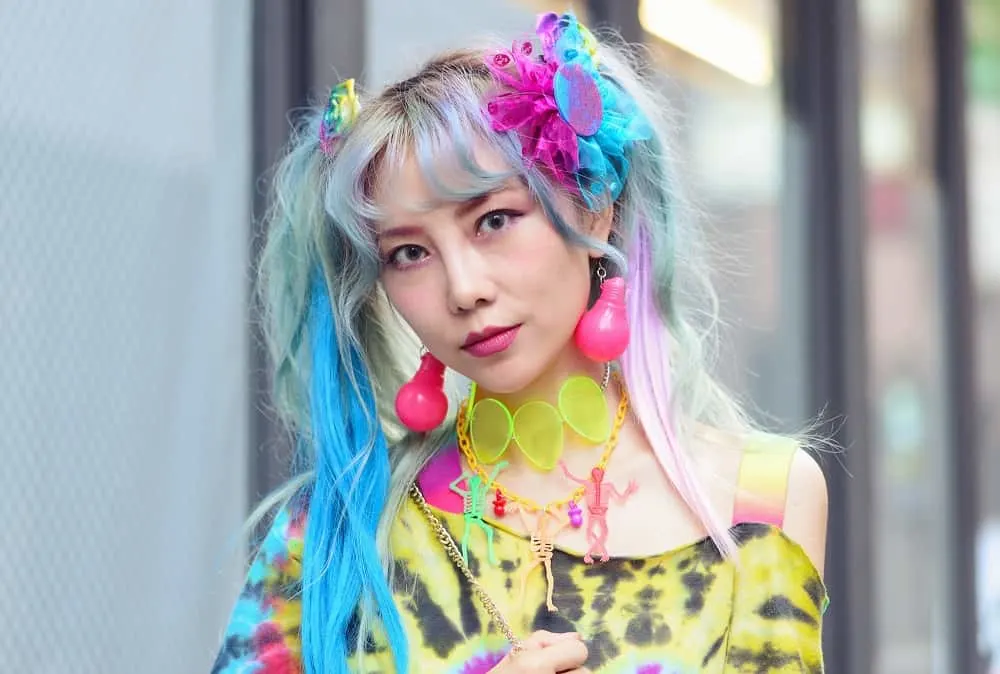 Thin piecey bangs and bright colors are key to this flirty Chinese hairstyle. After making two ponytails, straighten only parts of them to get a nice mix of texture. Embrace your love of large accessories to put the fun in the look. If you aren't comfortable with permanent hair color, you can use temporary hair color or extensions to get the blue and pink.
7. Curled Updo with Flowers
As we mentioned before, Chinese updo hairstyles for women are often filled with detail and they're always elegant. This one features two levels of ponytails, both loaded with graceful curls. A delicate flower accessory can be pinned in for softness.
8. Bright Pink Choppy Bob
Do you prefer short haircuts? A choppy cut bob with bright color is especially flattering on women with small faces. If your hair is on the thin side, use hairspray and combing to tease locks for texture.
9. Slicked Back Chinese Low Bun
For fancier occasions, a chic Chinese hairstyle is a must. Make an off center part, then use hair mousse or cream to slick back the hair into a low bun. If you want a little more detail, you can tuck in a flowered or jeweled hair pin.
10. Low Fishtail Braids
Ladies with hair that is longer than shoulder length need to put these two low fishtail braids on their must try list! Be sure to make the braids tight, not loose, to get the full effect of this Chinese hairstyle.
11. High pixie with bangs
Pixies and bangs give the most innocent look. Within Asian countries such as that of China, a lot of emphases is put on making your face look slimmer and your eyes look bigger.
With a high pixie going off your neck and shoulders, a slimmer jawline can be highlighted, making your features look more prominent. The bangs fall down across your forehead, diminishing its size, giving you an overall slim look.
12. Braided Bun
Usually considered a red carpet look for Chinese celebrities, the braided bun has its origins from ancient Chinese hairstyles for women.
Since Chinese hairstyles are meant to encapsulate the look of fantasy and wonder, the braided look captures the feminine side of the person wearing this hairdo.
13. Braided Hammer bun
A mixture of the hammer and the braided bun, the hairstyle reminds us of Princess Leia again. The resemblance confirms that the purpose of this hairstyle is to hold up your hair while making you look like the princess that you are.
Symmetrical from both sides, a lot of practice and time goes into getting this hairdo right. No one side can be smaller than the other!
14. Chinese High Bun
Beginning to see a recurring pattern here? Buns are a Chinese favorite. This Chinese hairstyle is commonly a bridal hairstyle, however many celebrities have rocked this look.
The beauty of this hairstyle is that you can customize it according to whatever your hair type is. Even if you have curly or wavy hair, simply curl up your hair into a bun and fix it in with pins. Alternatively, you can put on bows and ribbons to secure your tight hair bun and wear it like a crown.
15. Ancient hairstyle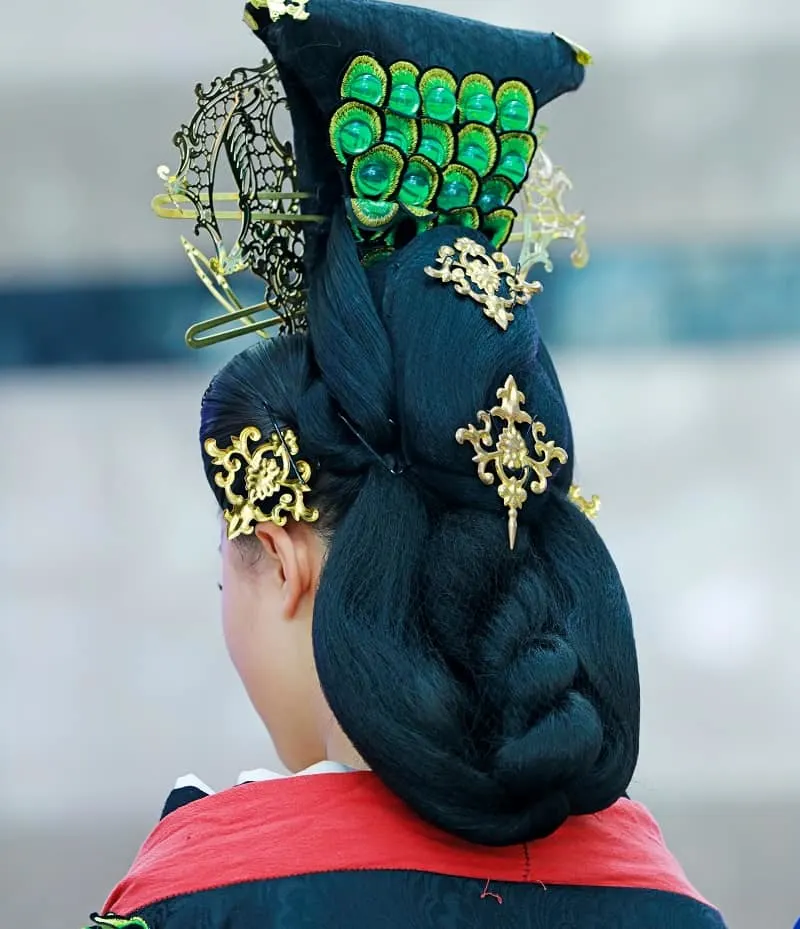 Another one of the ancient Chinese hairstyles that still looks up-to-date is updo with accessories They are likewise known as the ultra-modern hairdo of China. In the old days, to keep a hang on hair in a round frame, the Chinese would make utilization sticks and wires. Be that as it may, with the beginning of the new age, a hairspray can do the trick miraculously to keep up the hold.
16. Chinese bob
The Chinese bob is a look that isn't just centralized around Asia. A worldwide trend, the Chinese bob with its many variations is perfect for those with a round face. It creates an illusion of slim cheeks, giving the bearer a more smooth, elegant look.
Given that the hair is cut above the neck, the neckline is highlighted. This serves the purpose of giving a more youthful look. So chop off your hair and make yourself look younger!
17. Long Bangs
The illusion long bangs create is to make your small eyes look bigger by giving that hint of hidden mysteriousness.
Although it may be uncomfortable for some people, bangs are usually considered very popular among Chinese women. It is also worthy to be taken into account that this is a very high maintenance haircut because bangs grow out very quickly, and if not trimmed down, it will be hard to tame them and keep your look ongoing.
18. Medium Hair
If you have thick, unruly hair and if you are afraid to go too high with a bob, then medium hair can give you that fresh look of youth, making your round face much slimmer.
19. Medium hair with bangs
An alternative to the medium length hair. A medium length haircut for thin hair would be better suited to individuals with a round face and big forehead. Medium hair will diminish the puffiness in your face, making it look more soft and relaxed.
20. Ancient Chinese hair
Didn't see this one coming, did you? This Chinese women's hair is another example of the fantasy princess look. This has two alternatives.
The first alternative is to keep all of your hair tight in a bun and part your flicks either from the mid-line of the hair or from the side.
The second alternative is to wrap up your hair in a bun, making it the crown of your hair, and let the rest of your hair loose. The second look works best with silky, straight, flowy hair. This is truly a princess look, and you can add more to this look by adding accessories, pins and hair brooches to take this look to the next level.
21. Mid-parting hair
Similar to the ancient look, simply tie up your hair in whatever way you like – it doesn't have to be a bun – and part your hair very neatly from the middle, making sure the parting is very neat and straight.
22. Bob with sideways bangs
The bob is a simple look. If you aren't looking for the traditional bang look to go with, you can cut your hair nearly the same length (or if you have existing bangs) and part your hair from one side.
This look is very casual, and it has been popularly seen in the television and drama industry. The bob makes you look fresh, and the sideways bangs give you a more innocent look.
The simplicity of this hairstyle comes along with the fact that it is a very low maintenance hair, which is also why it is featured so heavily in dramas by characters that portray everyday life.
23. Medium hair with a side part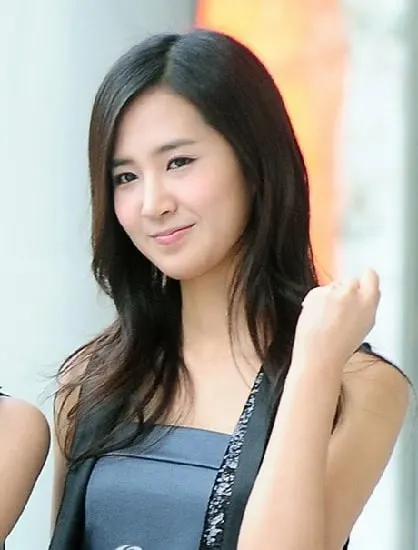 Medium-side-parted hair looks best with fine, short and straight hair. Similar to the sideways bangs and the bob, medium hair is a very low maintenance Chinese haircut for women, and if you choose not to live with the bangs, you can easily grow your bob and side bangs looks into this hairstyle. It is more suited to older women as the sleek style of the hair gives a more professional look.
24. Bob with one side tucked in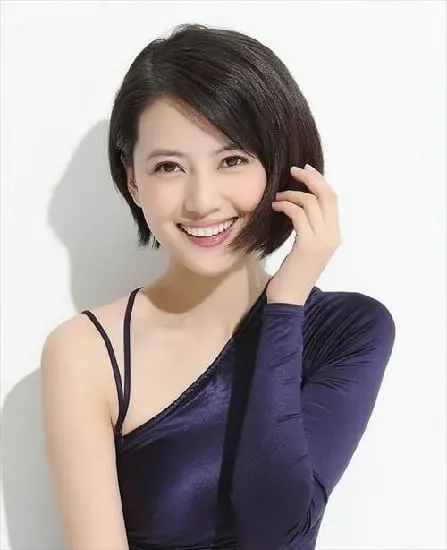 If you love bobs and if your hair is parted sideways, you can style your pre-existing bob look into this easy, casual look. Simply make the fringe of your hair look longer at one side by brushing it as such. For the other side with less going on, balance your overall look by tucking in your hair behind your ear. It looks very cute when you do it!
25. Short hair with waves
If you have a bob, long waves will be great for your new look. Add some texture into your hair by getting long waves into your hair. You can ideally take a curler to achieve this look.
26. Pixie with a long tail
The tail is the part that extends into your neck from the back of your hair. If you want a toned-down pixie, this will be your go-to look!
27. Short hair with added volume

Love short Chinese hairstyles? If you have a slimmer face and if you want to highlight your features, you can go for a haircut that goes above your neck and is cut into a lot of steps near the top of your head to give more volume to your hair.
28. Medium hair with wispy ends
If you have medium length hair which seems flat and dull, you can go for a more rugged look by adding more volume to the lower ends of your hair.
29. Asymmetrical side
Short hair on the sides! We have explored the tucked-behind-your-ear look. Similar to that look is this look, but this is a more refined version of that look.
Rather than going through the mess of parting your hair sideways over and over, you can simply trim down the sides of your hair from the end you choose to highlight. Here you can go for shorter hair or a more shaved look. Keep it up to your preference and personal style.
30. Long side-ways parting
If you have long, straight hair, you might not need to do anything at all to achieve this look. Simply part your hair sideways and keep one end of your hair to your front and the other to your back. Yes, this Chinese hairstyle really is that simple!
31. Messy side pony
If you have wavy, textured hair, this a messy pony work out great for you. Tie your hair into a loose ponytail either with a lock of your own hair or with a hairband, and keep this to a side, resting it across your shoulder and chest.
32. Curly side
An alternative to the side look with straight hair, you can curl up your hair sideways, only getting very loose, relaxed curls. You can then part your hair sideways and rest your hair across your shoulder. Very comfortable and easy.
33. Side Braids
Side braids depend on the way you want them to be. You can braid your hair into a fish-braid, or a simple classic braid, making sure this is a side-ways braid.
34. Braided flick
With the option of braided flicks, you don't always need to braid all your hair into a bun or a long ponytail. You can take the top of your hair and secure it into a braid. Other choices include going for a tighter braid and wrapping it over your head, letting your hair loose.
Best for straight, sleek hair, long, layered hair is a hairstyle for Chinese women that can last very long and is very easy to wear.
36. The Cobra style
This one-of-a-kind and today's boho-chic Chinese hairstyle was first seen in a Chinese warrior film. No wonder, since then it has earned a global recognition amongst the hairstylists.
It appears pretty simple to make, but really you will find it a bit tricky. You would have to roll your hair neatly into a bun, and then have the tip of your hair stand in an upward direction. No matter how hard it sounds to make, it gives your overall look a dashing glow.
37. Extraordinary like Buddha
Inspired by the exceptionally influential Buddha, it is a lovely combination of a yore princess and a warrior. It is a graceful hairstyle that adds up to a modest and confident look. With hair strands swirling freely, the stylish freestyle bun still remains its high-point.
38. Not-a-brooch but looks like it
It is a chic floral brooch effect Chinese hairstyle. Instead of using a certain set of hair accessories, the hair is styled into a bunch of roses or flower-inspired motifs. It is an intricate hairstyle that requires you to take assistance from a professional stylist. You want a flawless finish, don't you?
39. Hammer bun
The best kind of hairstyle for females who have a small head is a hammer bun. It comes with a little drawback; it takes 2 hours or less to fix it with countless pins and accessories. With the help of a transparent hair catcher, the bun can be made in a diagonal way towards the side of the head. Truth to be told, it looks magical.
40. Flat sagging bun
One of the oldest Chinese women's favorite hairstyles is the flat sagging bun. It may come as a surprise that it became popular when the movie Moulin Rouge was released.
You give a smooth and glossy finish to your hair using a gel and wax first. After that, here's what happens next; the hair is slightly overlapped from the front and then the strands are styled into a sagging bun.
41. Bubble piped side pony
The most adored bubble piped side pony is a Chinese hairstyle inspired by the 70s. Remember how the girls used to pull their hair into a pony for schools? It's an awe-inspiring hairstyle made with numerous rubber bands. A mid-section is created for two ponytails, and one side is tied and tweaked with the other into a beautiful bubble side pony.
42. High raise bun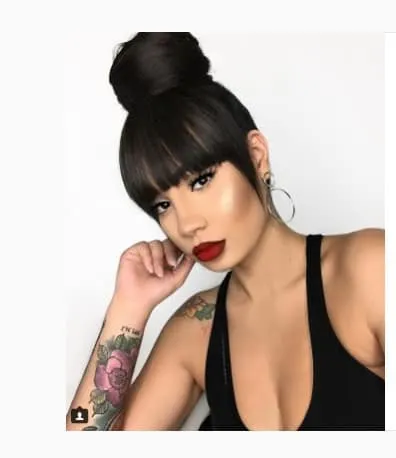 This freestyle hairstyle for Chinese women is making headlines these days. The top knots are inspired from the pageant woman's walks at the events, you can recreate this hairdo at your home. All you have to do is twist your hair up and form a bun. You can use a band or a ribbon to hold it tight to have it on fleek.
43. Short Curly Hair
You all will agree to it; short hair with curls look alluring than ever. The Chinese prefer short hair, which looks cuter than long hair. Although there isn't much to do with short hair, the curls are a perfect option for a much wanted fabulous look. Short and bouncy, such a truly bewitching hairstyle!
44. Two braided hair lock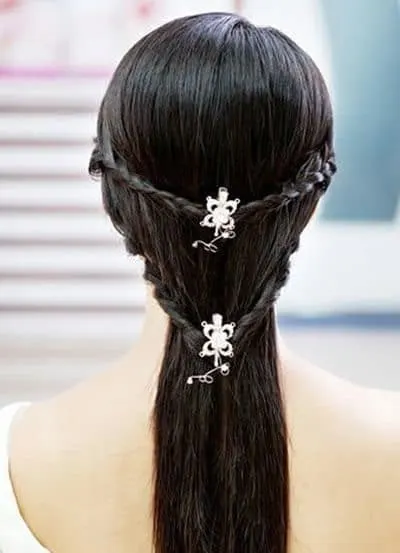 This is a classy braided Chinese hairstyle that is a flawless copy of a chain or a rope. The two braids meshed together is made by interlacing them twice, with one hang on top and hold beneath to shape a characteristic ponytail of free strands. Sounds complex to make, but looks splendid once done!
45. Orbit circles
Hair in circles! I am sure you must have seen ancient Chinese warriors with spiral hair in movies before. Although worn both by men and women, this was a popular warrior's hairstyle back in the day.
If you want this look now, you can simply use a hairspray to fix in the orbits. However, if you want to go retro, you can use malleable wires to hold your hair into place.
46. Layered Hair with Fringes
An effortless open Chinese haircut is none other than this one. To crown it all, this is the most worn hairstyle in all the Asian countries. The subtle layers with the square fringes look absolutely winsome. Women are smitten with this!
47. Round Bob with Front Bang
Since round faces are really common in the Chinese, they are crazy about round bob haircuts with bangs at the front. Women all around the world are extremely fond of this hairstyle. This haircut naturally contours the round shape of the face whilst the soft bangs add the perfect pizzazz to it.
48. Side Sweep Bun
It's the ideal Chinese haircut for women who are in for some serious killing looks. This beautiful bun lies at the scruff of the neck with an attractive silky side sweep. All things considered, it is a decent hairstyle for all brunettes and blondes.
49. Sleek Straight and Long Layers
The perfect layered haircut is in demand around the world and people love it for its sexy appearance. A side part and the unruffled straight layered hair frame a genuinely awesome hairstyle. Don't you agree?
50. Looped Ponytail
Loop is the version of a ponytail and it creates a vogue outlook. If you want to prettify it more, you can wrap a section of strands around the base.
Although many popular Chinese hairstyles for women are inspired by ancient and modern looks, it mostly comes down to how you accessorize and customize your hairdo. Every haircut your get is versatile, and with every length, you get to change your look into something new. Keep experimenting!