A hairstyle for growing-out bangs can be stylish, cute, sophisticated, and edgy, depending on how you wear them. But when you're ready to move on from bangs, they can be intimidating to grow out, especially if you're nervous about keeping them at an awkward length.
Once you know how you can grow out bangs, there are plenty of hairstyle ideas that can actually work in favor of your lengths. Here are a few of our favorite hairstyles you can try when you're growing-out bangs.
1. Double Hair Clips With Long Waves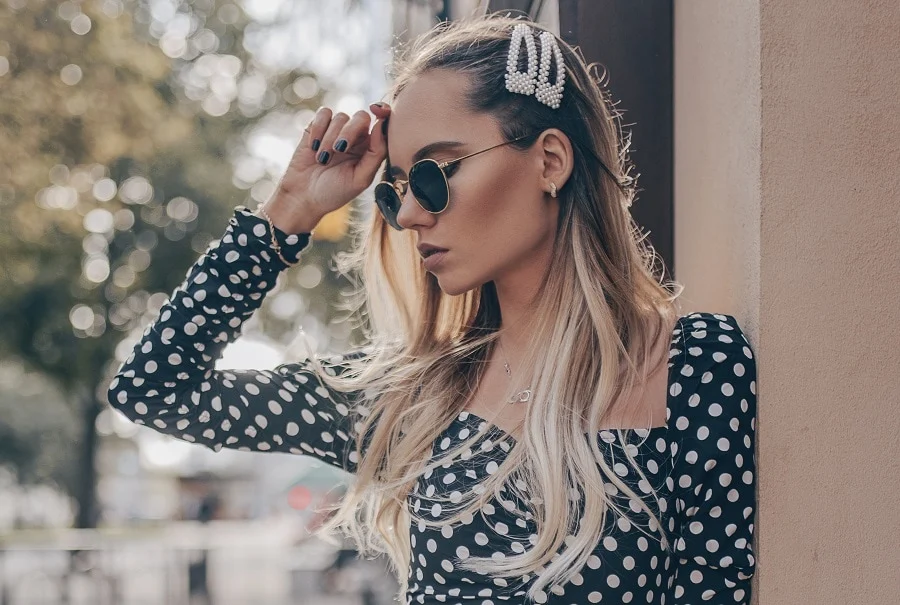 If you have long hair with relaxed, loose waves, using double hair clips to pull your growing bangs backward is an excellent option for adding a more intriguing element to your overall look.
Getting a wide range of decorated hair clips can also allow you to easily switch up your look by changing the clips daily.
2. Bobby Pin Loop
If you want a cute and retro style, try gathering and swirling your bangs in one direction to create a loop, then securing it with a bobby pin.
This simple style for bangs is perfect for disguising uneven growth or an awkward length, and it looks great with a simple bun in the back.
3. Middle Parting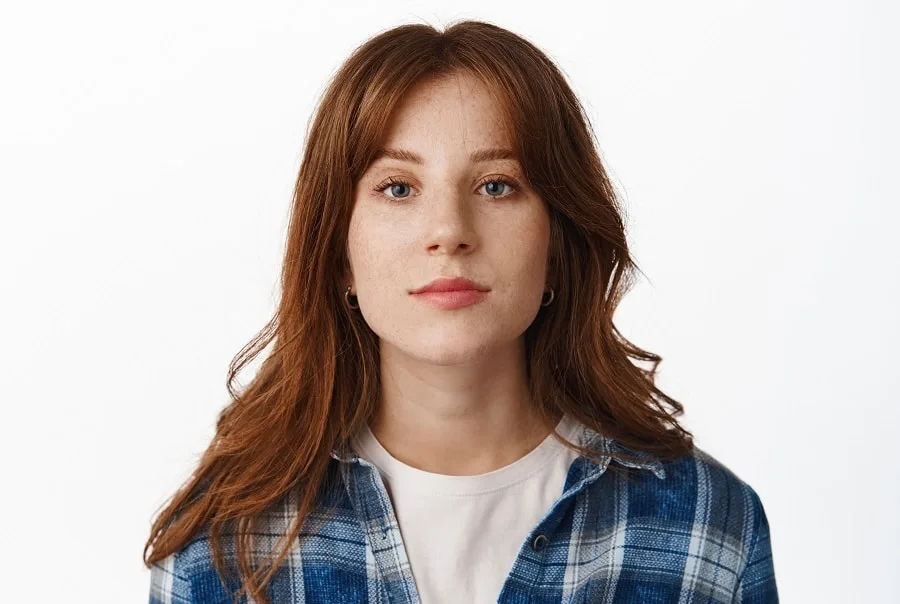 If your bangs are getting quite long but are still nowhere near as long as the rest of your hair, they will still look like bangs.
However, instead of allowing them to cover your eyes, you can create a middle part and sweep them to each side of your face so that they appear as curtains framing your face.
4. Braided Crown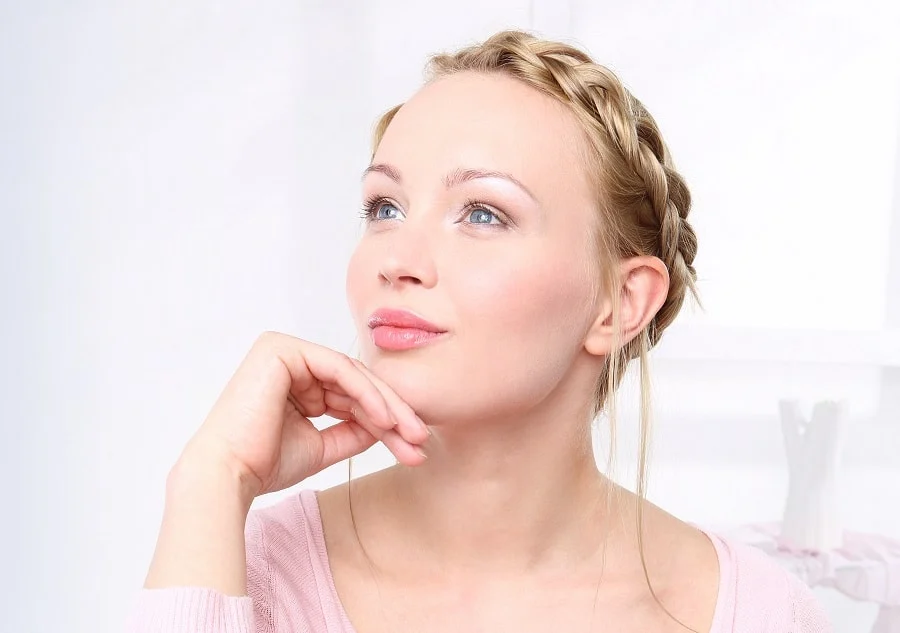 This style is perfect for hiding growing-out bangs that are too short to be pulled back but too long just to be left down.
Simply create a French braid wrapping around the front edge of your head. If you want the look to feel more modern and relaxed, leave out a few pieces of hair around your ears.
5. Half-Up With Puff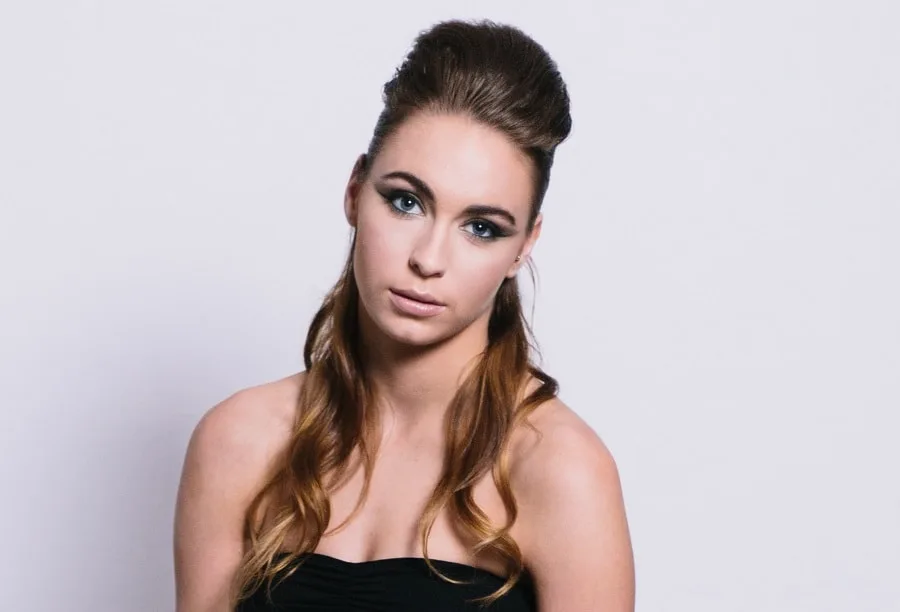 If your hair is long enough that it hangs well below your eyes but is still nowhere near as long as the rest of your hair, a half-up, half-down look may do the trick.
You can even add an edgy high bump to make this look more dynamic and intentional.
6. Simple Headband with Waves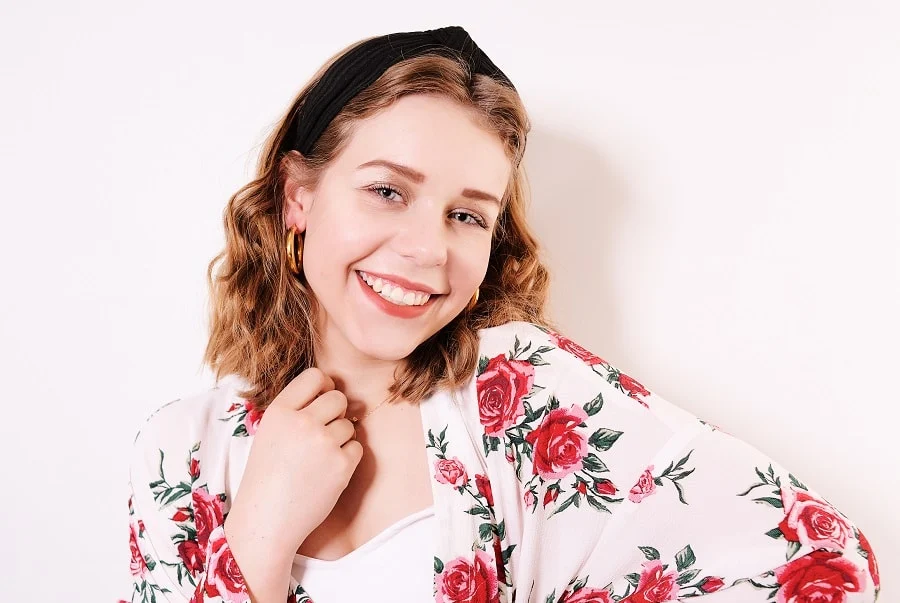 If you have curly or wavy hair, this simple hair band style is an excellent option for you to hide awkward-length bangs.
It pulls the hair back away from your face while still allowing your natural texture to show through. You'll simply brush your hair back, throw on a headband, and you'll be good to go.
7. Updo with Bandana
If you have straight hair and a simple headband looks too dull for your liking, you can make it look stylish by putting your hair into a neat top bun.
This way, you're still using a decorative bandana to hide your growing-out bangs but creating a trendy and versatile look.
8. Side-Parted Bun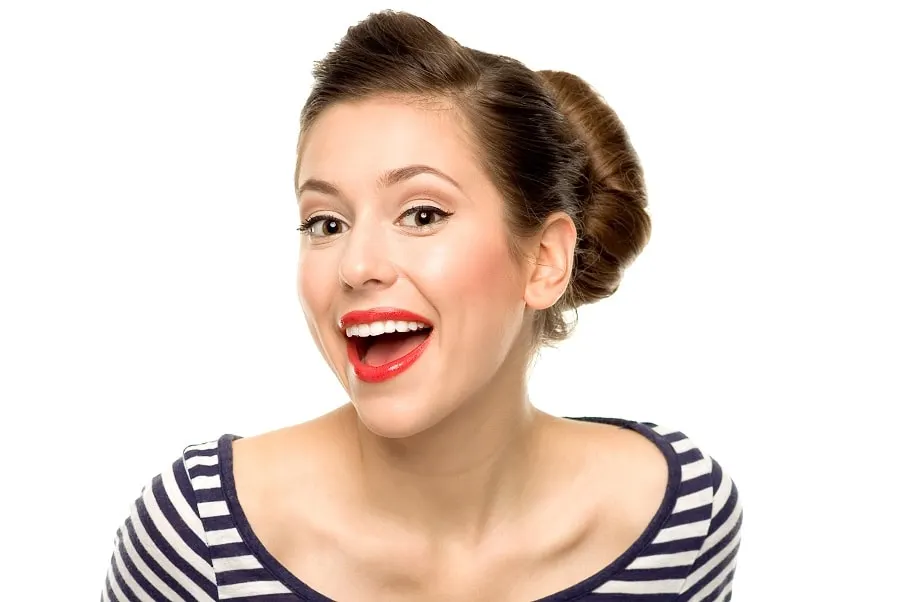 If you like a classic and chic look, creating a side part and sweeping your bangs backward at an angle before securing them with bobby pins is a great way to style them.
You can then put the rest of your hair into a low or medium-height bun in the back.
9. Wavy Layered Bob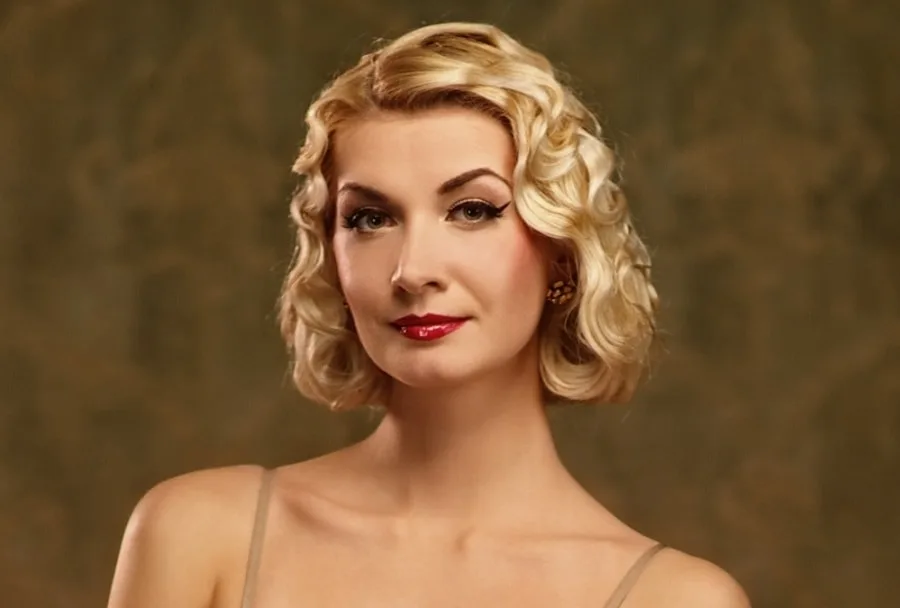 Another timeless and elegant hairstyle for grown-out bangs is a mid-length wavy and layered bob. The waves and layers work together to disguise uneven hair.
Most people will have no idea that you're growing out your bangs with this look.
10. Side Swoop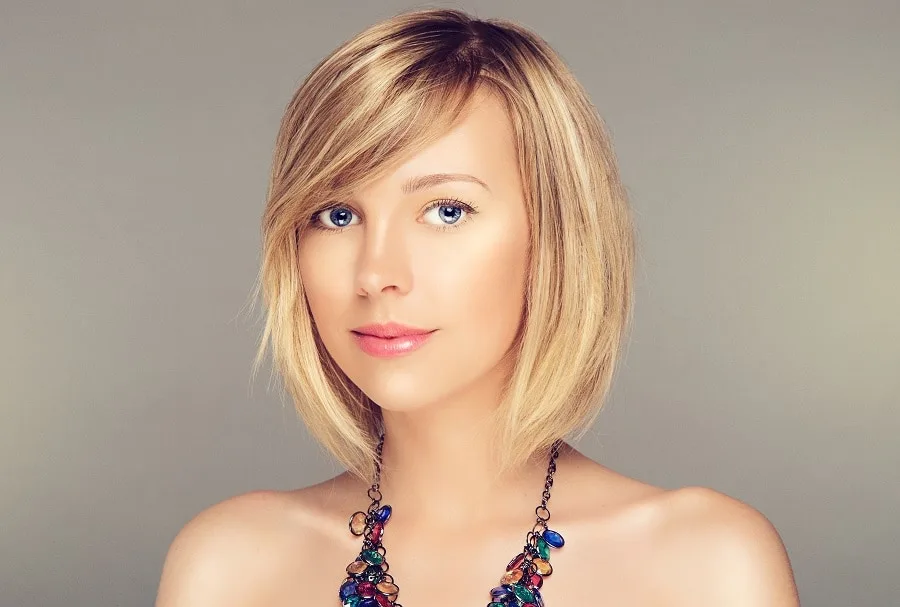 This style works swimmingly for long bangs that are still present as bangs. Simply sweep them to the side and allow them to compliment a cute, hip, chopped bob.
11. Back Combing
A pixie cut may be daring for more feminine types, but it is a wonderful hairstyle for overgrown bangs because the length of the cut is similar to the length of the bangs.
That said, brushing the bangs back and adding some gel or mousse to keep the style in place can create the illusion that there's no difference between the bangs and the rest of your hair.
12. Center Part + Decorative Headband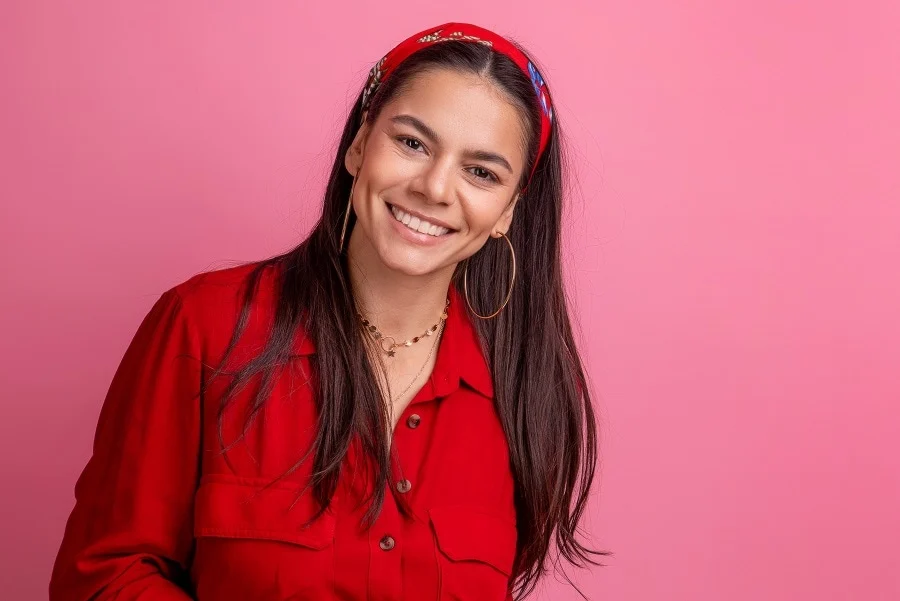 As we mentioned earlier, throwing a headband on straight hair may seem a bit boring. However, this is a simple style that's easy to fall in love with if you get suitable bands.
Decorative headbands that match your outfit or go with your jewelry can make all the difference compared to a black or brown one.
13. Slicked Back Bun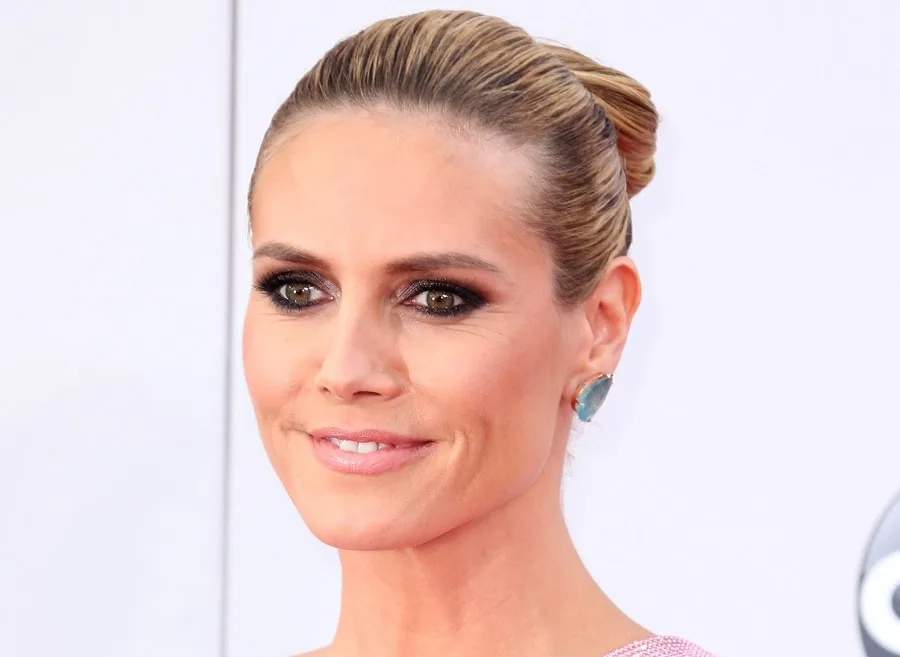 Using gel, mousse, or edge control to slick your hair backward can come in handy when you want to rock a bun and keep your growing bangs out of your face.
This look can be sleek the whole way through or smart in the front and messy in the back for a more relaxed, everyday look.
14. Rolled Crown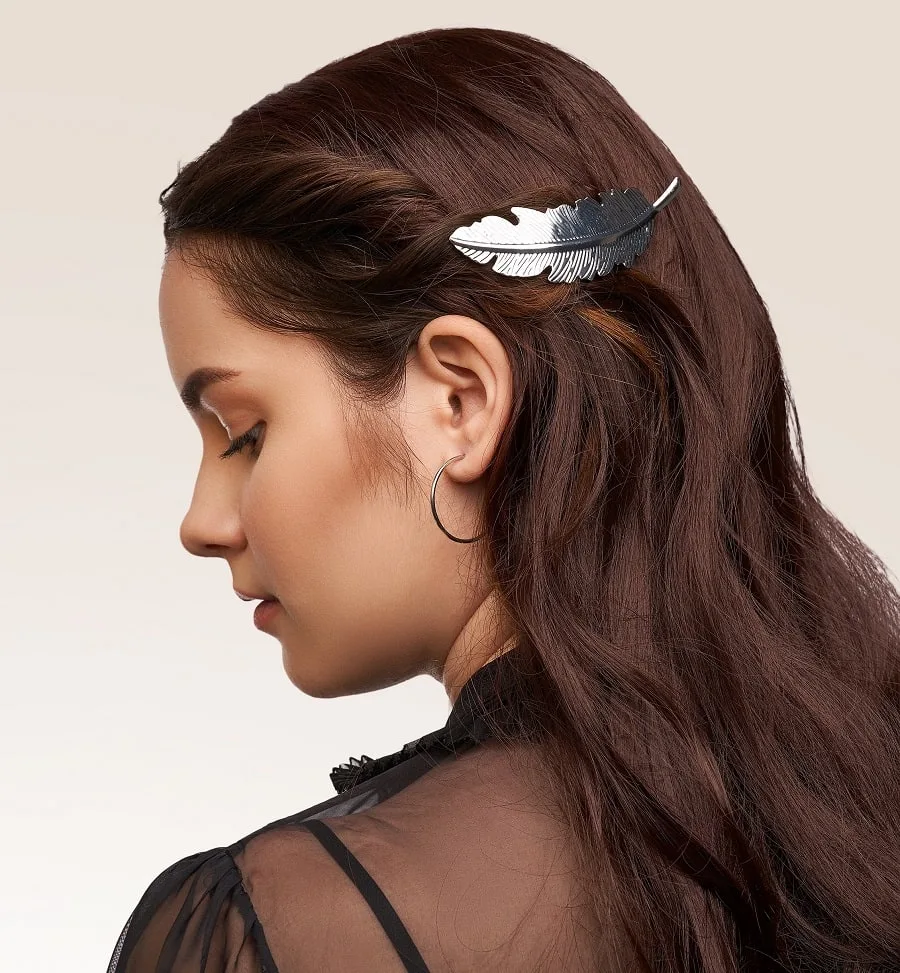 A rolled crown is similar to a braid crown but is even simpler to accomplish, especially if the bangs are long enough that they won't stick out from the roll.
You'll simply take the bangs and roll them in with your longer hair, then use a decorative clip to secure the roll and complete the look.
15. Messy Braid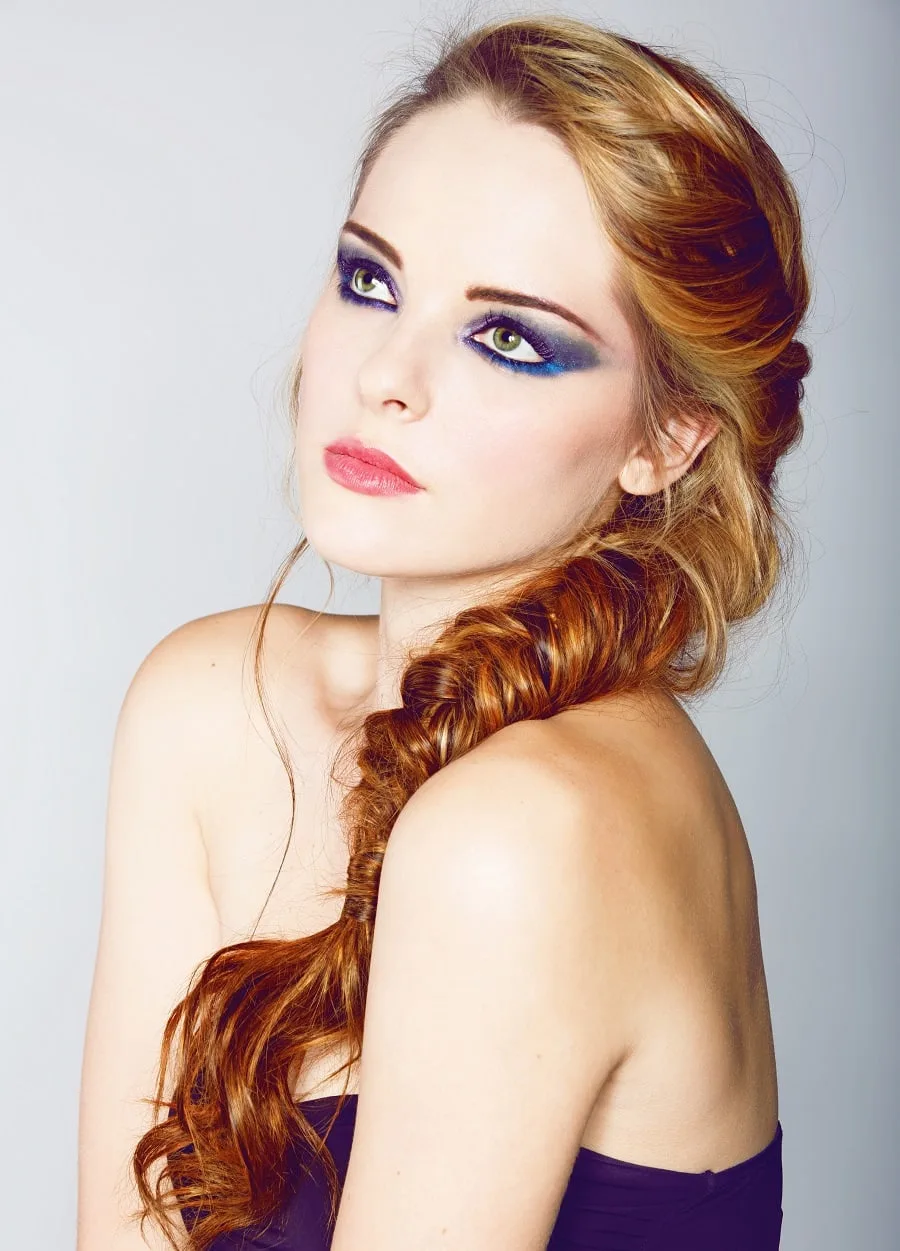 If you want to take the rolled crown one step further, you can continue rolling it until you get near the base of your head, then create a messy braid going down your back or over one shoulder.
You can leave the hair clip out if your bangs is long enough to stay secured in the roll, or include it if you want to prevent flyaways — or if you love your clip!
Tips for Styling Growing Out Your Bangs
Here are a few tips for growing out your bangs without exposing their awkward length:
Use a hair clip to pin the hair back
Sweep the bangs to the side so that they don't cover your eyes
Incorporate braids or rolls to disguise uneven lengths
Gel your hair backward for a sleek look
Create "curtain bangs" by sweeping half the bangs to each side of your face
There are many stylish ways to grow out your bangs in a way that won't look weird. This is great to know if you are thinking about getting bangs but are worried about the commitment. Now you know that you can always grow them out if you want to move on while still looking stylish.
The best hairstyle for growing out bangs will depend on the length of your hair, the original style of your bangs, and your preferences around accessories. But given all the options, you will surely find something that works perfectly for you.