It's not uncommon to have a big forehead, but some women feel uncomfortable showing theirs off. Luckily there are many hairstyles you can use to hide the big forehead of your face.
Full bangs do an excellent job. Side bangs can also work to disguise your appearance. Let's look at how you can cover up your forehead with trendy hairstyles and look fabulous.
Excellent Hairstyles for Hiding Big Foreheads
Do you need a disguise for the top of your face? There are lots of ways you can shield that part of yourself below!
Simple Ponytail with Full Bangs
Sometimes a simple solution is the best way to style your hair. This is a basic ponytail that sits in the middle of your head. The bangs are the main focus. They curve down below the eyebrows and have some longer strands on the sides.
Split Hairstyle with Curtain Bangs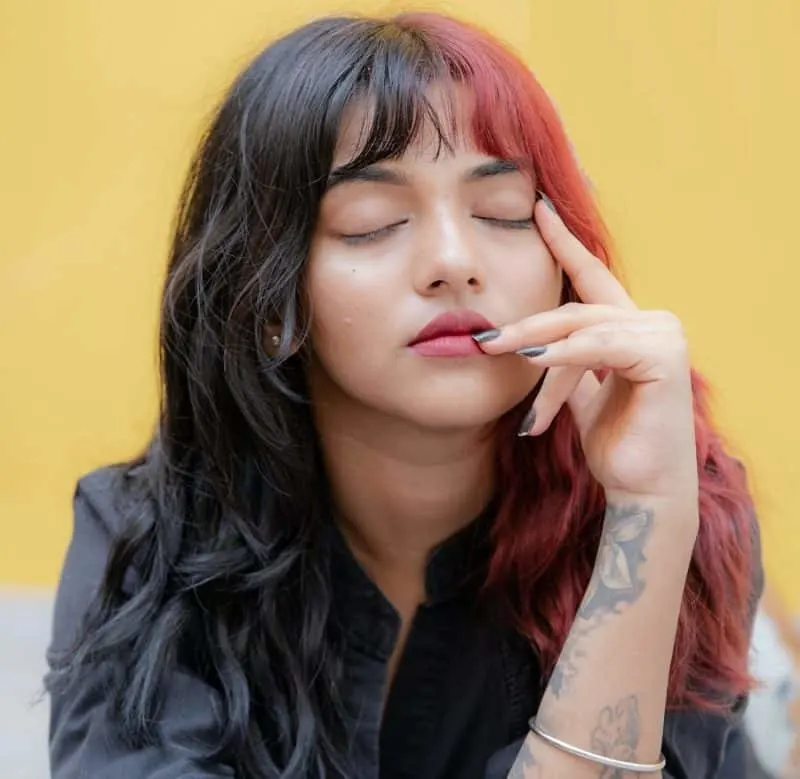 Two-tone split hairdos are very eye-catching and fashionable. They're becoming more common. The hair has a lot of texture in it to help it look lively.
At the front, there are curtain bangs covering the big forehead. They're quite thin so you can still see the skin underneath.
Pink and Blonde Curls
Sweeping your hair to one side and adding a bandanna helps create a very casual and messy look. The curly hair texture emphasizes the casual and messy nature. The pink and blonde colors paired together are very fun.
Doughnut Bun with Side Bangs
You can't go wrong with an easy doughnut bun on the crown of your head. It's always fashionable, neat, and voluminous. At the front, these nice side bangs help keep the attention lower on your face.
Dreadlocks Bun with Undercut
Undercuts are super edgy and unique hairdos where part of the hair is shaved. You can see that here on the sides. A circular section of tresses then wraps around the rest of the head and hides the hairline.
Some large dreadlocks are piled into a bun on top of the head to create a super unique style.
Elegant Low Updo for Weddings
Wedding and formal hairstyles have such an elegance to them. The hair rolls back in three sections and forms a low-side bun. There's a nice decoration in the bun. The rolls help minimize the appearance of the big forehead.
Blonde Hairstyle with Bow
It's always fun to create shapes with your hair. Here you can see there's a nice little bow shape created just above the hairline. This helps draw the people's eyes away from the size of the upper portion of your face.
Half Up Hairdo
Some of the tresses here are drawn up at the sides and secured at the back of the head. Most of the locks fall in curls over the shoulders.
One section forms an elegant round shape that falls over the forehead. It creates the shape you'd usually see in a hairpiece. It's a very interesting decorative section that would look great at a formal event.
Elegant Side Part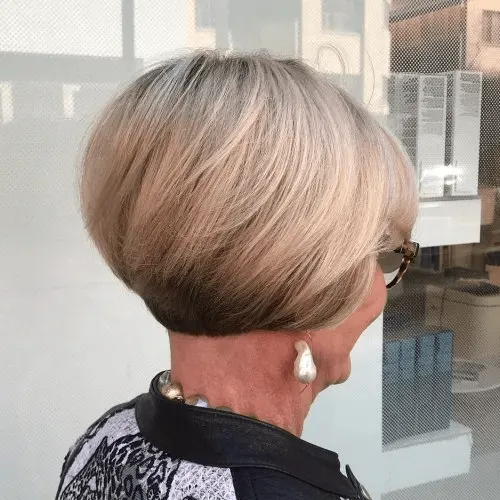 It's always stylish to wear your hair over one shoulder like this. The curly locks form a very intriguing style. There are so many loose curls that it looks very unique. Some locks sweep across the forehead and hide its size from sight.
Low Updo with Wispy Waves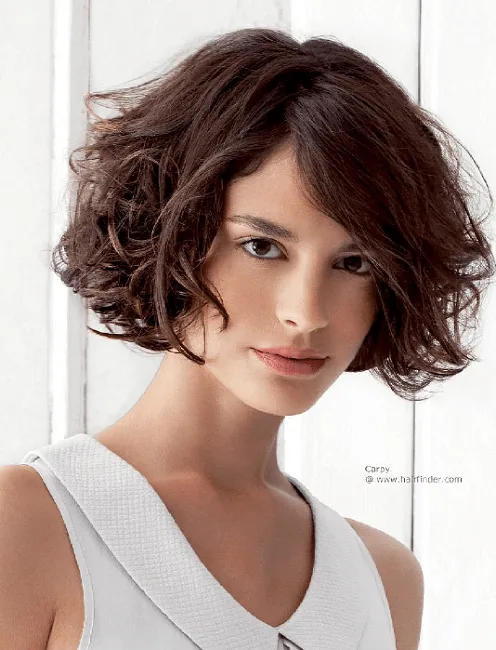 A low updo is a wonderful style for a wedding or other formal event. The hair is drawn back into a very loose bun. Some wispy strands fall by the face. The bangs are styled to cover part of the top section of your face.
Crown Braid
A crown braid is a perfect way to hide a big forehead. The braid sits below the hairline and forms a regal shape around your head. Some wispy waves frame the face to add some dimension to the look.
Bob with Braid and Full Bangs
Neat little bobs are an excellent option to hide your big forehead. This one is pushed back behind the ears. There's a braid at the side of the head to keep the locks pushed back. This also shows off some green and blue hair in a peekaboo style.
At the front, there are full bangs with a slight gap in them. This helps keep people's attention on the lower part of your face.
Updo with Braided Bangs
A low braided updo always looks lovely. The bangs are also braided here. This shields some of the hairline from view. It's a very smart way to make your forehead appear smaller.
Voluminous Bob
Adding a little volume is a great way to keep peoples' eyes on your hair rather than your face. This bob sits high on one side of the head. The bangs are short and split almost down the middle.
Pixie Cut with Bangs and Hairband
Pixie cuts often have a lot of hair that covers the big forehead. This one has the locks covering the forehead in the style of full bangs. The rest of the cut is neat and short and sits behind the ears.
A pretty pearl headband separates the front of the hair from the back.
Glamorous Blonde Waves
This retro style is glamorous. It covers one-half of the forehead and part of the face. It's a very fancy wavy style and is eye-catching. Very few people will look at the top of your face when your hair looks this fabulous.
Classic Croppy Pixie Cut
This hairstyle is very choppy and textured, so it has a lot of volume. The hair is swept across the forehead from one side. It sits just above the eyebrows. It's great for focusing on the lower part of your face.
Updo with Wispy Curls and Braid
Are you looking for an extremely unique updo? This one is completely eye-catching. A nice little braid obscures part of the hairline. The rest of the hairdo will fully capture anyone's attention.
It wraps around the head and has lots of flyaway hairs. There are perfectly styled curls on one side that protrude from the look.
Highly Voluminous Curls
If you have natural type 4C hair, then you can use your curls to hide part of your big forehead. Part your locks at the side and push some over to one side of the face. This makes one side of the hair bigger than the other.
A style like this casts part of your face into shadow. It helps hide any parts of you that you're insecure about.
Ponytail with Gelled Baby Hairs
If you have baby hairs, then you can gel them down to make it look like your hairline is lower. Then pile your long locks on your head in a ponytail. Pull them over one shoulder to help capture people's attention.
Curly Updo
Curls are fantastic for making you look fabulous. They can also help hide your insecurities. Here they're piled on top of the head in an updo. Some curls are brought forward to fall down over one eye.
Round Space Buns with Full Bangs
Space buns are total to die for. It's such a cute style. Any woman will want to try it at least once in her life. These buns are perfectly round and very voluminous.
Full bangs add a lot of depth and dimension. They cover the eyebrows in this hairstyle. This helps highlight your eyes.
Loose Wedding Updo
Loose updos with lots of free strands of hair are great for capturing peoples' attention. The hair is sectioned on one side and looks very glamorous. The sections curve towards the back of the head. Lots of wispy strands fall at the front. This helps cover the high hairline.
One of the most straightforward looks is the full bangs to hide your big forehead. However, don't be afraid to play with the more unique styles either.
Making the hairline look lower is an excellent trick to make your face appear shorter. Experiment and see what you can do!