Army haircuts are classic yet stylish. These trendy haircuts have a style of their own and if it's the sophisticated vibe that you are going for, the military hairdo is sure to fulfill your desire. There are a number of different haircuts that can be grouped under the military category, however, these cuts originate from the battlefield as their name implies. They are short, simple and they can really do your appearance a favor.
Sometimes, though, it can be difficult to choose which style will suit you best. So, to make things easier or you, here are 25 army haircuts that are sure to give your style a great makeover.
Hottest Army Haircuts for Men
Every man can take advantage of the army haircut. Of course, military men have to have these cuts, but other than that those men who prefer the simple and subtle look should also give this style a chance.
As the haircut is very low maintenance and can be handled easily, it is the ideal choice for people looking or a stylish cut who are too lazy to keep it prim. The style really is a charm and looks exceptional with square, oval and heart-faced individuals, but almost every face cut can carry it and look amazing. This is the beauty of this cut, it's sharp, it's prime and it looks spectacular!
1. High and flat top army cut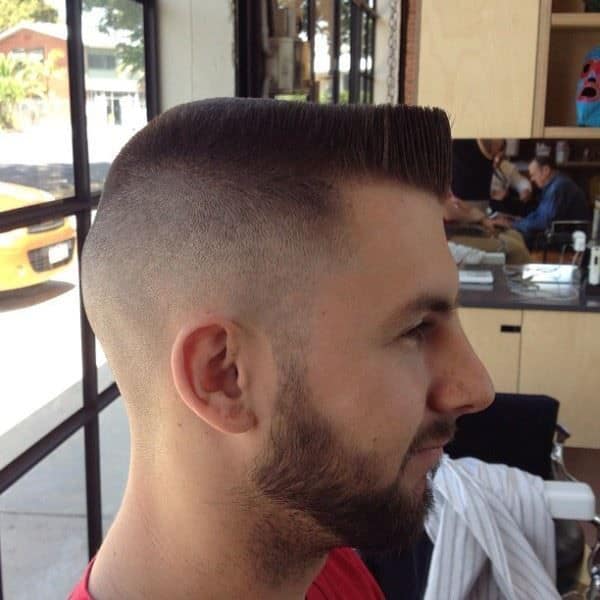 For men who wish to keep the length of their hair, the high and flat top is a great style to choose. The style has a 2-3 inches high cut top that is flattened at the top to give an even look. The sides are shaved to provide that smooth and refined finish. The cut is popular with senior members of the military and can really up to your style game as well.
40 Most Attractive Military Haircuts for Men
2. High and spiky army cut
Another amazing army haircut is the high and spiky cut perfect for those who want to add a modern look to their cut. The cut allows the hair at the very front of the head to grow into natural spikes. The back and the sides are trimmed, which focusses all the attention on the spiky top. It's a great way to make a statement and looks really trendy and proper at the same time.
3. Crew cut with a side brush

If you are troubled by the type of hair you have and are looking for a cool cut, this can become your personal favorite. The style looks perfect on men with oval and round faces, but it also suits every other face cut and can really bring out your personality. The cut leaves just enough hair at the top that you can easily comb to one side and the sides are shaved clean. A small gradient look is created at the top to even out the cut and create a side brush that gives you the perfect finish.
4. Army regulation cut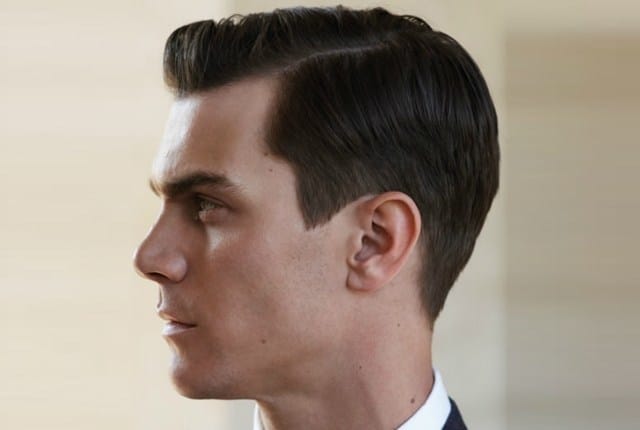 This is a senior military favorite and the look explains why they prefer it. Its sleek, it's neat and it looks very well put together. The cut involves cutting down to 2 inches of hair at the op and then creating a side part, which is stylishly brushed to one side for that sophisticated appeal. The sides are cut down in a gradient, with scissors and then clippers to a very short length. This army haircut is great or men looking for a different but classy look.
This is one of the standard cuts for new recruits. Where it can be too drastic for some, for others, it can really make their features pop! It looks great with square and oval face cuts and Involves trimming down your hair to a bare stubble. It's great for those who wish for a no maintenance, easy to carry cut, as this army haircut does not need you to do anything to do with it! So, if this style fits, it's a win-win situation for you, indeed!
6. The military cut
For those of you who desire a vintage outlook, the military cut is one of the great things to try out. It's quite similar to the crew cut, except that its finish makes it completely different. A side part is made in the hair and then a shiny gel is applied to make the hair glossy and firm. It's the perfect vintage look to bring out that part of your personality. The retro essence really is a charmer and if it suits your style, it's hard to let go.
This army haircut is again similar to the crew cut, but this time the hair at the top are given more length. This creates a bigger tuft at the top that can be either jelled on the side of flattened to give that tight look. The sides and the back are then trimmed in a gradient for the final finish. The cut can be tricky to create which is why it's best to acquire the services of a reputable salon for the endeavor!
8. Comb over top
This undercut inspired hairstyle has short sides and back. The top is neatly parted and then combed in either direction. A gel is used to give that sleek finish which makes this army haircut an amazing choice for those looking for a stylish, yet classic military cut.
9. Modern butch cut
The butch cut is an iconic army hairstyle, however, now it's all about modernizing the cut. The new styles shave the back of the head and the sides more to create a sophisticated and refined look, unlike the original cut. A great, low maintenance cut for people looking for an iconic cut that stands out.
10. Exquisite front sweep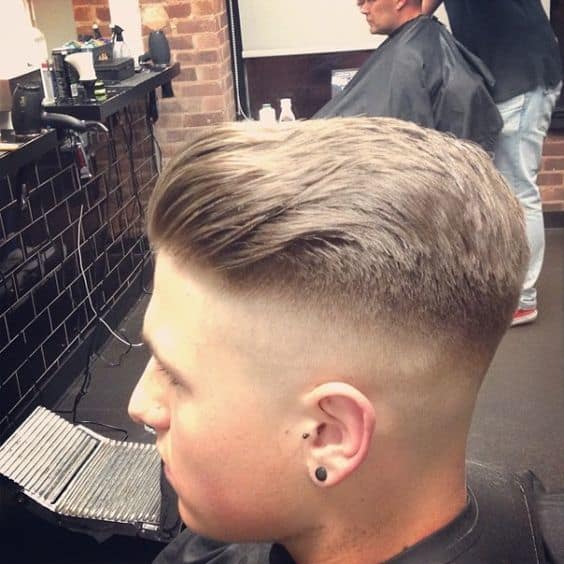 Of course, we can't end the army hairstyles without mentioning the front sweep. This one of a kind army haircut gives you a stylish look that will up your style game wherever you go. The hairdo involves tapered hair from the front to the back. The hair at the top is kept at a slightly longer length. The side hair is then combed forward and your look is complete!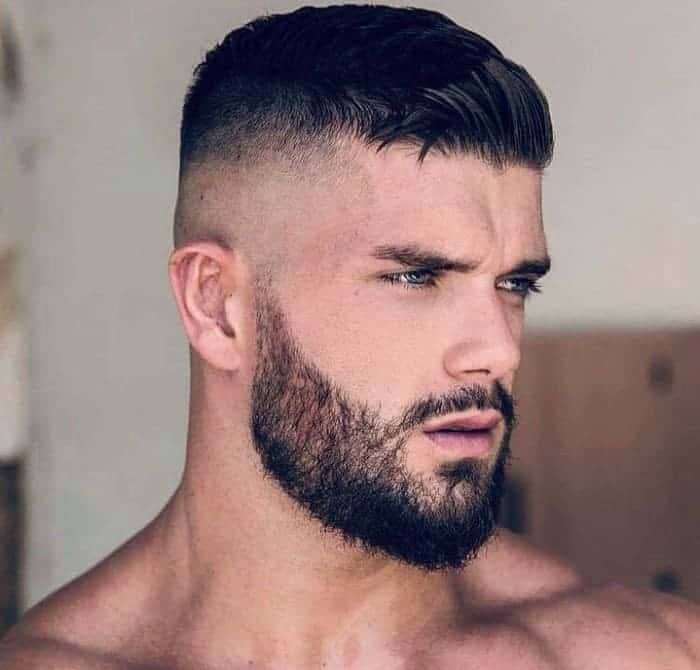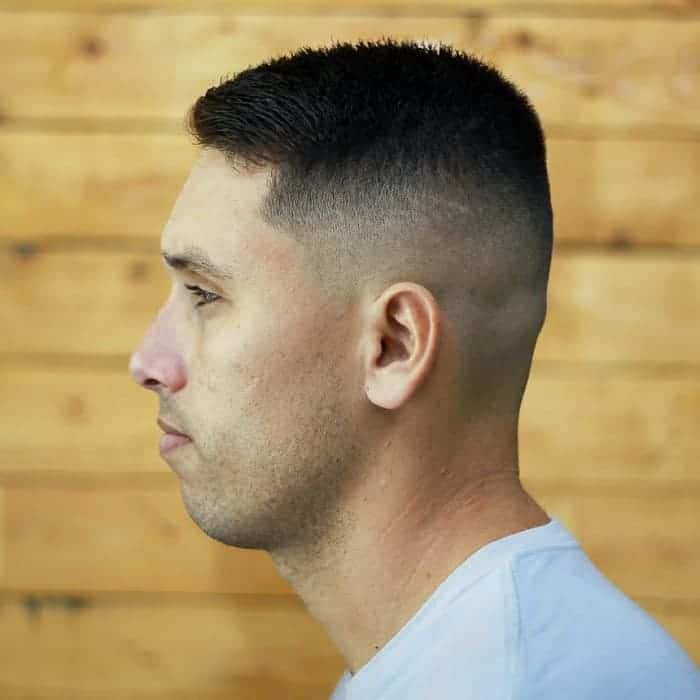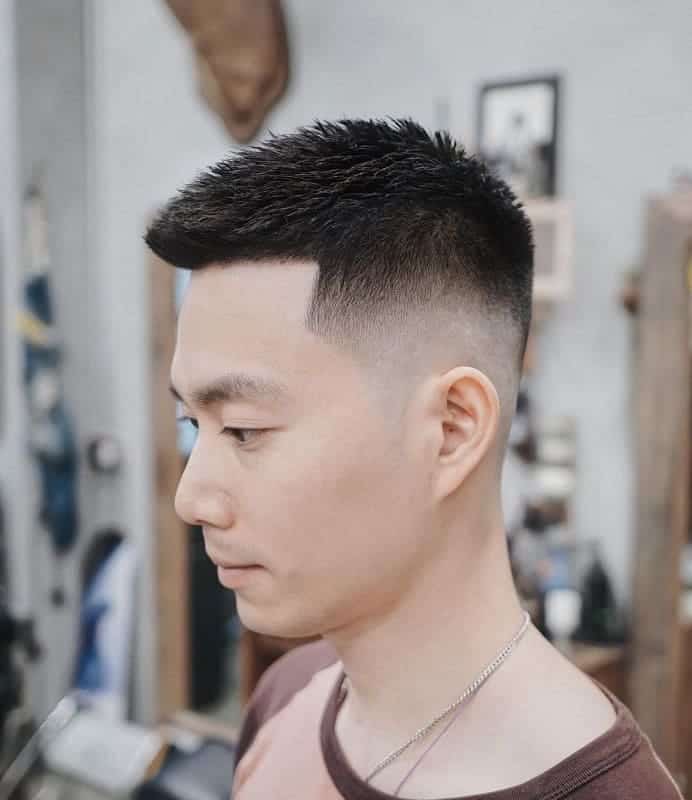 All these hairstyles are perfect examples of how trendy army hairstyles can look. If you have to get a military hairstyle, it doesn't mean that you don't have a choice. On the contrary, there are a number of different ways that you can cut your hair according to your face cut. These 25 hairstyles are sure to give you some valuable ideas about which cut to go for. So, which army haircut is it going to be?