Bikers love to style their hair in unique ways. If you're also a biker looking for a manly hairstyle, channel your wild badass side with a bold and intimidating motorcycle hairstyle! And if you don't know what to choose, you must know that these hairstyles include undercuts, long hair, comb-overs, or messy hairstyles and are a real statement.
Also, if you want to go for a low-maintenance cut, you should consider mohawks as they are very common among guys who love adrenaline and motorcycles.
However, whatever you pick, you must remember that you'll be wearing a helmet that can easily ruin your look. Consider that once you take the helmet off, you'll need a hairdo that can be easily fixed with a simple tousle, and low-maintenance biker hairstyles are the best.
Stylish Hairstyles for Male Bikers
If you want to sport a hairstyle to look like a dapper biker or a motorcyclist (whatever you prefer to call yourself), here're some hairstyles to suit your personality and hair type!
1. Slick Comb Over + Undercut
One of the most popular biker hairstyles for guys is this long top that is combed to the back. Using a strong hair gel is recommended, especially if you want your hairstyle to last.
Complete your look with a beard with a long goatee that you will split into two pieces and then braid.
2. High Top
A high top gives the apex hair extensive length, while the sides and back area are shortly trimmed. It works beautifully with a beard that maintains the length from the sides and a mustache that highlights the outfit.
To get that rebel look, you can tousle the top and add some hair spray.
3. Layered Thin Dreadlocks
Thin dreadlocks get a nicer aspect if you trim them to create layers. Do a middle part and style long bangs that reach the jawline, while the extended pieces fall near the shoulder line.
4. Curly Top with Fade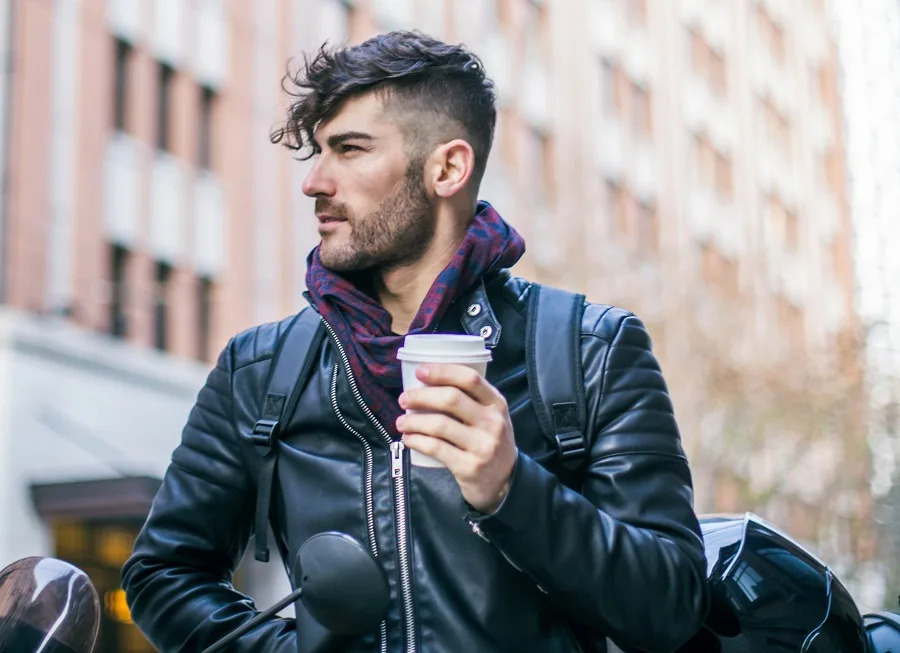 If you love your curly hair, then you need a biker hairstyle that flatters and highlights them. Opt for a short trim on the side and a longer top that you will swipe to the side.
5. Side Braids
This biker hairstyle is modern and a great choice for guys with curly hair. To give your ringlets a more defined look, use a pomade or hair gel, depending on your preferences.
On one side, highlight the contrast between the undercut and longer hair by styling two thin cornrows.
6. Tousled Side Part
For this layered tousled cut, you need to chop your hair so you can blend different lengths for the sides, back, and top.
Your top hair should be trimmed longer to gain more versatility. Flip it to the side or wear it up.
7. Short Mohawk
Nothing yells more "badass" than this motorcyclist hairstyle. You can easily do it at home because it requires shaving the sides and getting a wide short mohawk in the center.
You can sport that patch of hair only on the top or extend it til it reaches the nape.
8. Curly Pony + Undercut
Hairstyles for motorcycle riders that involve side undercuts are quite trendy, especially for men who have long curly hair.
Apply hair gel and comb your mane to the back, then secure it in a ponytail, revealing those amazing ringlets.
9. Caesar's Cut
If you have medium hair, go for this stylish biker hairstyle! Caesar's cut requires a straight cut that goes around the head, with trimmed sides and back.
To create that flawless blunt trim, hairstylists use most of the time clippers. But if you have more dexterity with scissors, you can do the trim using those.
10. Ashy Blonde Hair
Another stylish hairstyle for motorcyclists that uses a high-top cut with lighter longer pieces. This allows you to build contrast between the ashy blonde color from the apex and darker, natural hair from the sides and beard.
Classy biker hairstyles have a daring touch, however, if you want a cut that is suitable for more formal occasions, but still reflects your personality, choose a high top, add fades and undercuts comb-backs, or sleek tops.
Also, to complete your look, when choosing your haircut, remember that these chops work hand in hand with a beard so you should consider growing one.