There was a time when military haircuts were considered to be reserved for military personnel. But from a couple of years, these military haircuts or war-themed haircuts have become trendiest as they are used to shape signature style and make the wearer's look even and appealing.
Short, Simple and Striking Military Haircuts For Men
We have compiled here forty short military haircuts that have been used by military men from all over the world. All the military haircuts are short haircuts that don't exceed the two inches hair length. Furthermore, these military haircuts share the same traits as they offer low-maintenance hairstyle that doesn't block one's vision field as well as not allow hair to get trapped in the in helmet or shirt's collar.
#1: Regulation Haircut
This haircut is commonly associated with the haircut of higher ranking army men. This haircut allows more than two inches of middle area hair. The side and back hair is tapered using a pair of scissors and then a hair clipper.
#2: Low Fade Haircut
This low fade haircut makes the hair invisible from sides and back lower than a high fade and higher than a regular fade. A low fade usually ends up about one inch above the natural hairline.
Some trendy Ivy League haircuts
#3: Regular Fade Haircut
This haircut allows the gradual reduction of hair length from sides and back until the hair turn entirely invisible. In regular fade haircut, the hair on the back and sides end up at the natural hairline.
#4: High Fade Haircut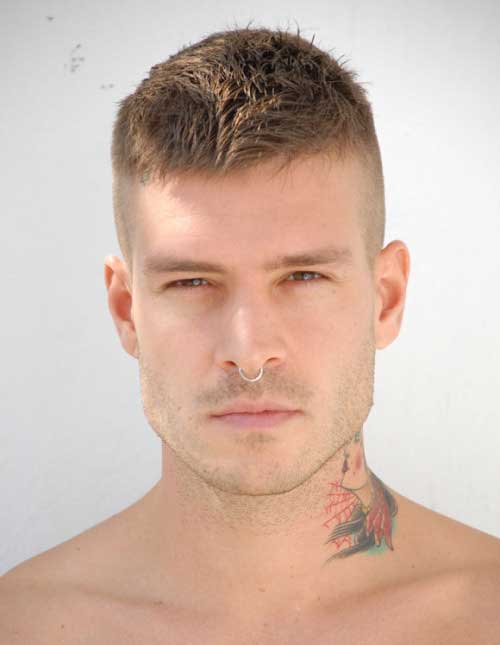 This high fade haircut is used by most of the military men as it is very easy to maintain. In this haircut, the hair length is gradually reduced from sides and back. It completely disappears from the temples and about 2 inches before the natural hairline.
#5: Burr Cut
This cut is one step above the classic induction military cut in term of length. The hair are trimmed up to 1/8 of an inch or so with a guard of number one or two. All of the head hair is trimmed with the same guard number.