When it comes to the perfect hairstyle, most of the guys want something utterly simple. That's why men's buzz cut styles are so popular. The problem with these haircuts can be the lack of variety. While there are plenty of approaches to making them seem amazing, some people can't tell the difference. So what do you do if you want to change your style but still want all the benefits that come with a buzz? You can browse through the 55 buzz cut styles for men we handpicked to make your next choice of hairstyle easier.
What Do You Need for A Perfect Buzz Cut Style?
Not all buzz cut styles for men are created equal and not all men can take advantage of all the available buzz cuts. Let's take a look at what you need to look perfect with a buzz cut style.
1. Good Head Shape
When you have long hair, you don't bother yourself with questions about your skull. Meanwhile, all people have different skull shapes and some are not happy with what they own. Before cutting your locks too short, make sure to inspect your skull for bumps and irregularities. If the shape is too irregular, the buzz cut won't look good.
2. A Receding Hairline
If you have a receding hairline, you'll love the buzz cut style because they allow you to keep a manly look without too much hair. Forget about embarrassing attempts to use the hair on one side of your head to cover another. As soon as you see that the hairline is about to recede, get a buzz cut and stick to it. This way to hair loss won't be as obvious and you'll get to keep a youthful appearance for years to come.
3. Choose the Right Length
A buzz cut doesn't mean you have to shave your head. When you are choosing a trimmer attachment, you can go for #1 or even #2 to reach a good result. If you have a problem with the skull shape or just don't want to make drastic changes, you can opt for a longer buzz. A longer buzz is also a good choice for men who are not sure how well they'll look with a military cut.
4. Study the Options
A straight forward buzz cut style for men is all well and good but nowadays, there are plenty of more complicated options. You can try faded buzz cuts, undercut buzzes, fohawk buzzes, and more. Don't stop at the first option.
The Best Buzz Cut Styles for Men
The buzz cut styles for men come with plenty of benefits, starting from easy maintenance and ending with hiding the receding hairlines. They are easy to make, easy to touch up and easy to enjoy. With the right buzz cut style, you can forget about combs and brushes. The only thing you need to do is wash your hair and schedule regular barber shop appointments. Some men believe that buzz hairstyles are not respectable enough for a serious job. We are offering you a list of 55 men's buzz cut styles where you can find a buzz style to suit any occupation or occasion.
1. Men's spiky buzz cut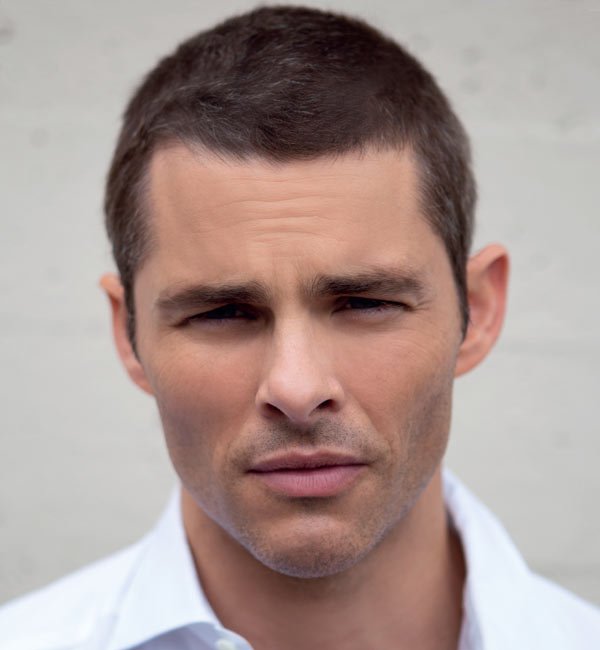 Spiky tops are in style and buzz cut styles for men are making it easy to outline them. You can keep most of your hair cut very short and leave an inch or so on top to make a short spike. It takes only a few seconds to style.
2. Buzz undercut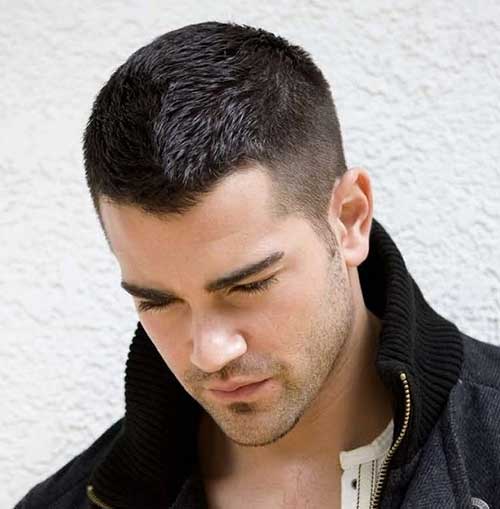 The main advantage of a buzz undercut over a fade is that it's much easier to make. All you have to do is produce enough contrast for the shaved parts to be visible. Keep the shaved line well above the ears.
3. High buzz fade
This high buzz fade is a wonderful choice for guys who like to get creative with their locks but hate brushing them in the morning. The sides are practically shaved leaving a thick layer of short hair above the ears and about 2 inches on top for styling.
4. Military buzz
The best way to avoid the hair maintenance is to shave all of your hair off. This classic military cut can be done in the comfort of your own home. While it's easy to make, it's just as easy to touch up. What an ideal choice!
This buzz cut style can be appreciated by men who like being diverse. You can start by shaving the sides and leaving a third of an inch of hair on top. As the days go by, such hairstyle becomes more and more fashionable without any work on your part.