When it comes to the perfect hairstyle, most of the guys want something utterly simple. That's why men's buzz cut styles are so popular. The problem with these haircuts can be the lack of variety. While there are plenty of approaches to making them seem amazing, some people can't tell the difference.
So what do you do if you want to change your style but still want all the benefits that come with a buzz? You can browse through the 85 buzz cut styles for men we handpicked to make your next choice of hairstyle easier.
How to Style A Buzz Cut?
Not all buzz cut styles for men are created equal and not all men can take advantage of all the available buzz cuts. Let's take a look at what you need to look perfect with a buzz cut style.
i. Good Head Shape
When you have long hair, you don't bother yourself with questions about your skull. Meanwhile, all people have different skull shapes and some are not happy with what they own. Before cutting your locks too short, make sure to inspect your skull for bumps and irregularities. If the shape is too irregular, the buzz cut won't look good.
ii. A Receding Hairline
If you have a receding hairline, you'll love the buzz cut style because they allow you to keep a manly look without too much hair. Forget about embarrassing attempts to use the hair on one side of your head to cover another. As soon as you see that the hairline is about to recede, get a buzz cut and stick to it. This way to hair loss won't be as obvious and you'll get to keep a youthful appearance for years to come.
iii. Choose the Right Length
A buzz cut doesn't mean you have to shave your head. When you are choosing a trimmer attachment, you can go for #1 or even #2 to reach a good result. If you have a problem with the skull shape or just don't want to make drastic changes, you can opt for a longer buzz. A longer buzz is also a good choice for men who are not sure how well they'll look with a military cut.
iv. Study the Options
Men's buzz cut hairstyle looks good but nowadays, there are plenty of more complicated options. You can try faded buzz cuts, undercut buzz cuts, fohawk buzz cuts, and more. Don't stop at the first option.
The Best Buzz Cut Styles for Men
The buzz cut styles for men come with plenty of benefits, starting from easy maintenance and ending with hiding the receding hairlines. They are easy to make, easy to touch up and easy to enjoy. With the right buzz cut style, you can forget about combs and brushes. The only thing you need to do is wash your hair and schedule regular barber shop appointments.
Some men believe that buzz hairstyles are not respectable enough for a serious job. We are offering you a list of 85 men's buzz cut styles where you can find a buzz style to suit any occupation or occasion.
1. Men's spiky buzz cut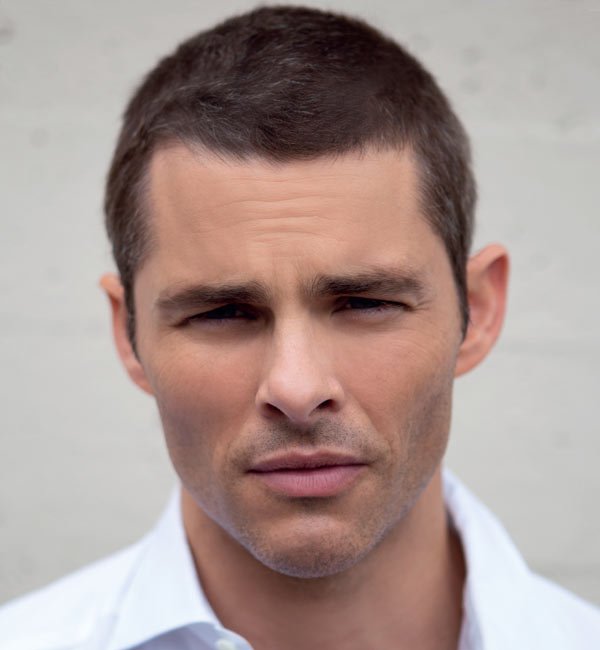 Spiky tops are in style and buzz cut styles for men are making it easy to outline them. You can keep most of your hair cut very short and leave an inch or so on top to make a short spike. It takes only a few seconds to style.
2. Buzz undercut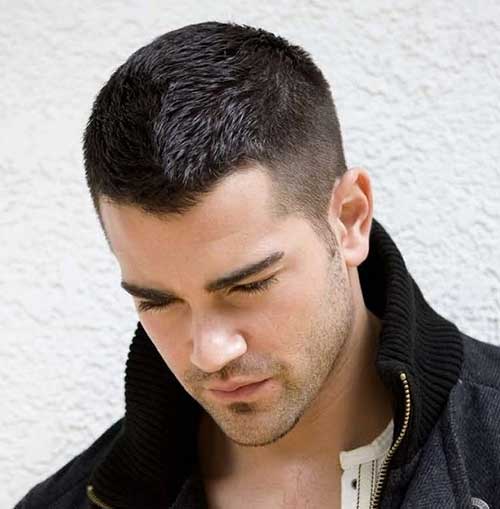 The main advantage of a buzz undercut over a fade is that it's much easier to make. All you have to do is produce enough contrast for the shaved parts to be visible. Keep the shaved line well above the ears.
3. High buzz fade
This high buzz fade is a wonderful choice for guys who like to get creative with their locks but hate brushing them in the morning. The sides are practically shaved leaving a thick layer of short hair above the ears and about 2 inches on top for styling.
4. Military buzz
The best way to avoid the hair maintenance is to shave all of your hair off. This classic military cut can be done in the comfort of your own home. While it's easy to make, it's just as easy to touch up. What an ideal choice!
This buzz cut style can be appreciated by men who like being diverse. You can start by shaving the sides and leaving a third of an inch of hair on top. As the days go by, such hairstyle becomes more and more fashionable without any work on your part.
All guys can be divided into two groups. Those who like their widow's peak and those who don't. If you are in the first group, you can use a buzz cut hairstyle to amplify it. Leave more hair in the peak area to draw attention to it.
7. Medium fade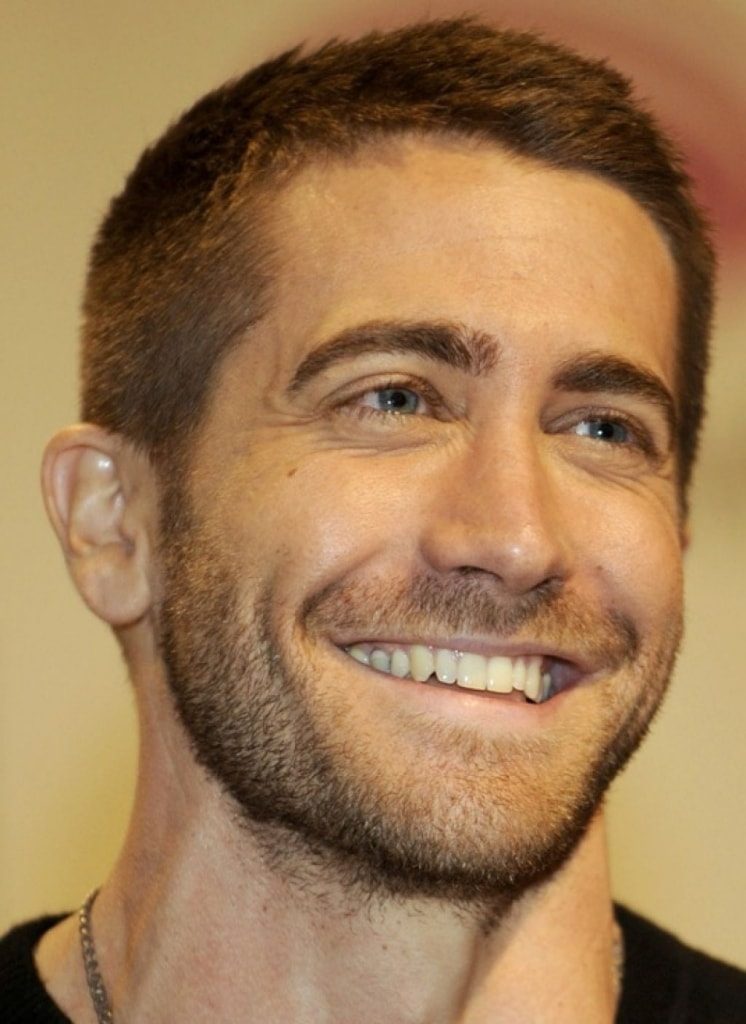 This long buzz hairstyle is suitable for men who care for their respectable look in the office. The hair is trimmed on the sides to create a stylish medium fade. The locks on top can be any length you prefer.
8. Cornrow trick
If you are not ready for drastic military-style changes, you can get an idea of what a buzz style cut will look on you by creating cornrows. Find out the shape of your skull and keep the maintenance to a minimum.
9. Slightly buzzed
Don't want to go all the way but the hair on the sides is making you crazy? Shave it off. Leave the hair on top long enough for styling experiments. Meanwhile, the shaved sides won't bother you anymore.
10. Neat buzz
This neat buzz style involves cutting all of your hair to be the same length. You can create this simple hairstyle in the comfort of your own home by using a trimmer with #2 or #3 attachment. You'll save money on the barbershop visit.
11. Buzzed undercut
Keeping the sides short and the top a little longer allows you to create a style that offers the best of both world. The hair is long enough on top to make some spikes but short enough to just leave it alone without any maintenance.
12. Cool and simple
This is another example of how the hair trimmed to be the same length can look fantastic. Meanwhile, if you have a widow's peak you want to hide, you can play around with the length of the bangs.
13. Add a beard
If you've saved some time on the buzz style, why not spend it on growing a stylish beard? Beards are very popular right now. The simpler the hairstyle is, the more outlined your beard will be, even if it's just chinstrap.
14. Shaped up
Not all the guys have a perfectly shaped hairline, so some shaping up as an order. A shaped up buzz with a fade on the sides is one of the most stylish hairstyles that don't require too much maintenance effort.
15. Brad Pitt style
If you feel like copying a celebrity hairstyle, Brad Pitt has a simple one for you. The trimmed hair allows him to show off the shape of his face and to focus the attention on the manly facial features. If you have a similar goal, copy him!
16. Add some bangs
While spiky hairstyles are conquering the planet, spiky buzz cut styles for men are just as popular. While you keep all the hair trimmed really short, some locks in the forehead area can help you create awesome spikes.
17. Buzzed mohawk
Who said that the mohawk must have plenty of hair on top for styling? A buzzed mohawk is a magnificent choice. The hair on the sides is completely shaved and the locks on top are neatly trimmed. No maintenance, no hassle, no problem.
18. Color trick
If you have dark hair, a buzz cut style can be used to make an impression of color transition. The short hair on the sides appears lighter than the longer hair on top. This is a great trick for people whose hair is becoming white on the sides.
19. Beard symmetry
If you have an oval face, you can use a high faded buzz cut to create a certain symmetry with your beard. Spike the top part of your hair into a crest and leave a buzz on your chin. The combination is priceless.
20. Buzz designs
Whenever you decide to do some shaving or short trimming, there is a great opportunity for the hair designs. Ask your hairstylist to use his or her imagination or create your own design to outline the amazing style.
21. Creative buzz
Not all buzz hairstyles mean that you need to remove all of the lengths. Shaving or trimming most of your hair allows you to play around with the contrast. You can leave part of your hair long and style it any way you like.
22. Fade the unfadable
Even if you are using the shortest trimmer attachments to make your buzz cut style, you can still get creative with the fading. If you are not sure you can do this on your own, watch the hairstylist do it first. It's as easy as pie!
23. Make it neater
Men with curly hair can really appreciate the buzz cut style. The plenty of hassle that the curls bring into your life can be negated by just a few strokes of your trimmer. You might want to use the #1 attachment to allow the curls to show off just a little.
24. Buzz the sides
Whether you are into sports, a sports fan or just like to look good, you can go for a partial buzz. Use a trimmer to style your sides and leave the hair on top long enough for spikes or other hairstyle masterpieces.
25. Hide the hairline
This is a perfect example of how much a man with a receding hairline can benefit from a well-made buzz. Just imagine how much older he would look with long hair. The buzz cut style eliminates the contrast before balding places and the rest of the hairstyle.
26. Shape it up
This is a great example of the buzz without an actual buzz. You can use a trimmer with a long attachment to create a shaped up hairstyle. The longer you make the hair, the more often you need to trim it.
27. The zero
This simple yet elegant approach to the hairstyling is favored by many guys all over the world, most of whom are in the military. No styling, no brushing, no combing and no hair drying. Why? Because there is no hair.
28. Longer beard
Want to outline your beautiful buzz cut style? Add a longer beard. As soon as your facial hair becomes longer than the hair on your head, your overall style changes from ordinary to extremely interesting.
29. Matching goatee
Match a longish buzz cut style with a goatee and you'll get an extremely neat image. One of the biggest advantages of the buzz cut is the neatness. You can forget about the struggle to tame your locks and focus on more important things.
30. Shave right
If you decided to shave your head before an important event, it's a big mistake to do it the night before. You might find out some unpleasant things on your skull, such as bumps or pimples, you don't want to show off. Do it a couple of days in advance.
31. Be natural
This buzz hairstyle involves keeping the hairline intact without any shaping or close shaving. Some guys prefer a certain form of the hairstyle while others are ready to settle for the natural shape. This is a 100% DIY hairstyle.
32. Look smart
A buzz cut style wouldn't look perfect without the right approach to your image. If you use to wear longer hairstyle and decided to make some changes, you might need to think about adjusting your wardrobe and accessories.
33. Go round
If you have long face shape and need to make it look more oval, you can use the buzz hairstyle to help you change the appearance. The length of the hair should vary from the back to the sides to create a round hairstyle.
34. Faded buzz
This rather long buzz cut style for men is perfect for those who want a short hairstyle but shaving is out of the question. The hair is faded on the sides and left somewhat longish on top. Such hairstyle requires minimum daily care.
35. A buzz mohawk
Not every man is ready to create a full-blown mohawk. Buzz styling can make the process easier and much less drastic than cutting. By keeping the hair on top slightly longer than on the side, you allow the overall image to seem very neat.
36. Appealing buzz
It's easy to look appealing with a buzz, you just need to think about the rest of your style. Consider keeping your facial hair either shaved or very neat. Otherwise, the overall image looks disconcerted and unappealing.
37. Make the change
If you have long hair, it's sometimes very hard to make the first step toward the buzz cut style. Men all over the world face the choice between long and beautiful and short and easy. But you never know until you try, right?
38. Style the peak
If you have both a receding hairline and a widow's peak, the buzz hairstyle is a wonderful option for your next hairstylist appointment. You can kill two birds with one stone and finally forget about the hair problems.
39. Clean shaven
A clean-shaven image will only look perfect if you make sure that the rest of the hair on your face is neat as well. The best way to show off your new buzz cut style is to shave your whole face clean. If you want a beard, grow something subtle like a goatee.
40. Respectable look
Most men don't realize that a buzz cut style can make them look much more respectable than any other haircut. If you are into longish hair, mohawk, and braids, but your coworkers are looking at you kind of strange. Consider changing the style.
41. High taper fade
A high taper fade can make you look amazing especially if you have curly and unruly hair. Consider playing around with different hair designs on the sides. Keep the hair on top short enough for the curls to subside.
42. Flat and beautiful
Buzz fades look great if you leave some hair on top to make an appearance of some bangs. The hair can be flat and shouldn't require any styling in the morning. If you want, you can make some spikes using a touch of hair gel.
43. Grow it longer
One of the best benefits of the buzz cut style for men is that it doesn't need touch ups for a very long time. You can shave your head and then watch the hair grow and turn into a completely new hairstyle. Scheduling barber shop appointments may become a thing of the past.
44. Become perfect
The freshly shaved military cut looks amazing in guys with oval face shape. If your face is round or long, you might want to consider leaving some hair on top. Otherwise, you might not like the result you see in the mirror.
45. Start to buzz
Your first step toward an ideal buzz hairstyle can be trying to trim your hair using a long attachment. Once you do the trimming all on your own and realize how easy it is, you can go further to create masterpieces.
46. Jim Carrey buzz
Even the most famous celebrities don't mind wearing a great buzz cut style every once in a while. Consider checking out the way you'll look with such a hairstyle by using special online "try a haircut" services.
47. Go crazy
If you are ready to go for a buzz hairstyle, you have plenty of grounds for experiments. You can go crazy with your hair at least for one evening. After all, you can always shave it off and sport an amazing military style.
48. Follow Ryan
This is an amazing way a neat buzz style can look without too much hassle. All you have to do is choose the right trimmer attachment. As long as there are no drastic changes, your hairstyle will look very neat.
49. Smile and style
The mix of a buzz hairstyle for men and a wild beard can be outrageous but some guys appreciate it. The contrasts and asymmetry are in style nowadays. You can take advantage of this fact and go through with the wildest experiments!
50. Hair designs
A good buzz style can allow you to create any hair designs you wish. If you are going for a fade, you can use a line to make the level changes even more obvious. Just make sure enough hair is left on top for contrast.
51. Ocean waves
A buzz hairstyle looks amazing with various top hair styling. If you are a guru of ocean waves, the time has come to flaunt them. If not, ask the hairstylist to show you how to make them. You'll definitely enjoy the result.
52. Beard and mustache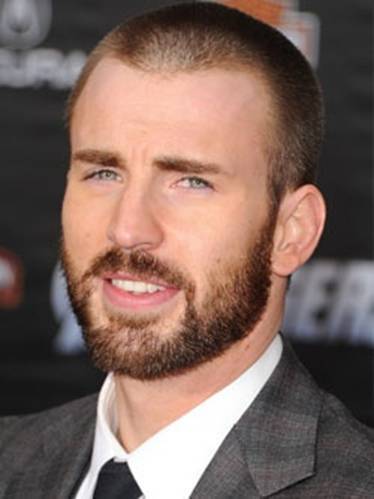 If you are a facial hair fan, you should make sure it matches your amazing buzz style. Spend some time coming up with a matching beard and a mustache in order for the overall style to look wholesome and intriguing.
53. Geometrical shapes
Once your magnificent tapered buzz is created, consider using geometrical shaping for your facial hair. Well-designed whiskers and beard can become a great addition to your style. Use lines to outline the part.
54. Just a bit
When you are going for a buzz hairstyle and want to get rid of all of your hair, stop and think for a minute. A narrow line of hair on top won't make a difference in the hair care process but can give your appearance a unique touch.
55. Fine lines
A buzz can look truly stunning when you add soft lines when shaping it. If you have facial hair, you can enjoy this approach even more. The only downside that comes with such shaping is the need for frequent touchups.
We hope these impressive buzz cut styles for men gave you an idea of how wonderful you can look with such a haircut. We described the obvious benefits of these cuts but we are sure you'll find something special for yourself as well.