When it comes to hair care, there are two things that we can say for certain:
One – heat protectants are extremely important to your hair's health.
Two – high-quality hair products can be expensive and hard to find.
So what's the solution?
Learning how to make heat protectant sprays at home could be the smartest answer out there. And we're here to help you make that happen.
We've put together a list of some of the best DIY heat protectant projects we could find for you to try, using common household products and affordable ingredients.
What is Heat Protectant and Why is it Important?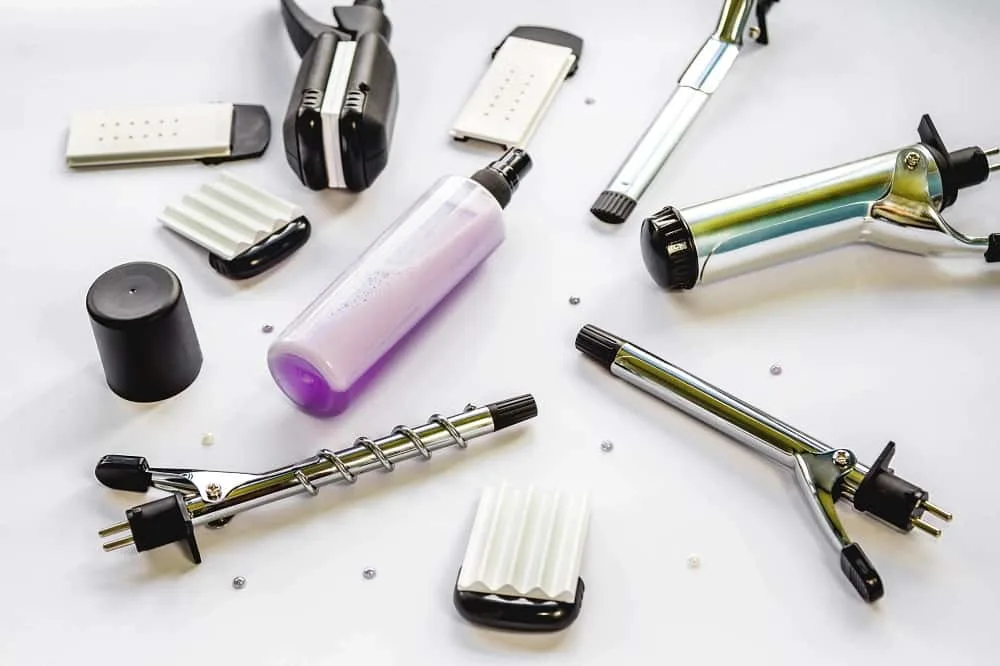 If you've ever used a heated styling tool, you've likely experienced some level of heat damage to your hair. Heated tools such as flat irons, curling irons, and even hair dryers can impact your hair's health, which affects its appearance, texture, and growth.
Some signs of heat damage include:
Very dry hair
Split ends
Excessive breakage
White tips at the end of hair strands
Stringy or rough texture
Knots and tangles
Frizz
Difficulty styling
If you've noticed one or more of these signs more than usual, your hair has probably suffered from heat damage and needs some extra TLC.
But protecting your hair from heat damage in the first place will give you the best results and can help you keep your hair soft, shiny, and healthy. A good heat protectant can help you achieve that.
Heat protectants are products that shield your hair from excessive heat when using styling tools like flat irons for hairstyle. You can find them in creams, sprays, and serums to use on your hair before applying heat, which minimizes the impact of the high temperatures.
Heat protectants are an essential part of any styling routine that uses high temperatures and can significantly lower the amount of damage done to your hair.
How Does Heat Protectant Work?
The goal of a heat protectant is to create an effective barrier between the strands of your hair and the heat coming from your styling tool. Without a heat protectant, the heated portion of the tool sits directly on your hair – often squeezing it between metal or ceramic clamps.
When you apply a heat protectant to your hair, it works by sealing in the moisture, smoothing the hair cuticle, and blocking out frizz.
Likewise, many protectants these days also contain moisturizing and strengthening ingredients such as natural oils, keratin, antioxidants, and extracts. So, while you're protecting your hair from the heat, you're also adding in some key nutrients to improve your hair's overall appearance and texture.
Applying a heat protectant can look different depending on the type of product you're using and the specific heat styling tool you're applying to your locks. For instance, if you're blow-drying damp hair, you should apply a spray, serum, or cream all over while your hair is still wet.
However, when using a steam flat iron or curling iron, most people are working with dry hair. In this case, it's best to section out your hair and apply your heat protectant as you go rather than all at once.
How to Make Heat Protectant For Hair
Do-it-yourself projects are very in right now. They can save you a ton of money, and let's all agree; they're just really fun to do!
Learning how to make heat protectants for hair might just become your new hobby when you see our list of ideas. So if you're feeling bored and could use a new product in your styling routine, keep reading.
1. Shea Butter Mixture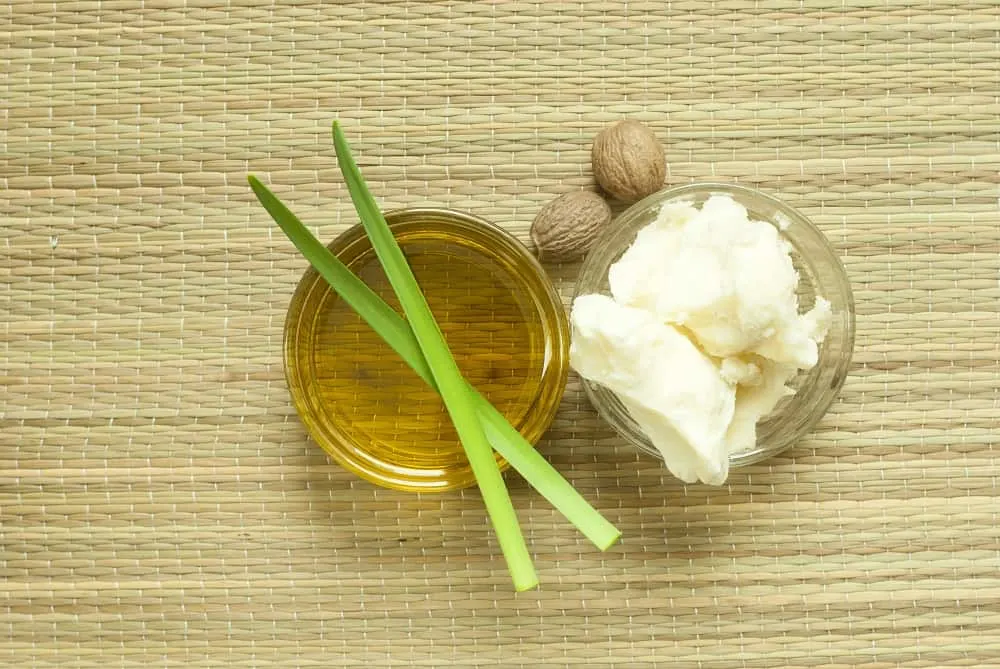 Shea butter is one of those miracle ingredients that comes with tons of benefits and lots of diverse uses. The butter itself is a natural vegetable fat, and you get it by processing the nuts that come from the shea tree.
You can use shea in cooking, on your skin, and in hair and treatments like scalp exfoliation. In fact, you probably recognize the ingredient from some of your favorite beauty products.
Our first recipe uses shea butter as the main ingredient, mixed with a few others that offer some positive impacts as well.
Here's what you'll need:
½ cup of shea butter
10 drops of your favorite essential oil (we love lavender)
2 tablespoons of refined avocado oil
1 mason jar
To make, mix your shea butter and avocado oil together in a bowl until soft. Using an electric mixture, combine the ingredients at high speed until it becomes light and fluffy. Add your choice of essential oil and mix once more at high speed until combined thoroughly.
Store the mixture in a glass jar and keep it in a cool, dry location. Use it sparingly on damp hair before applying heat.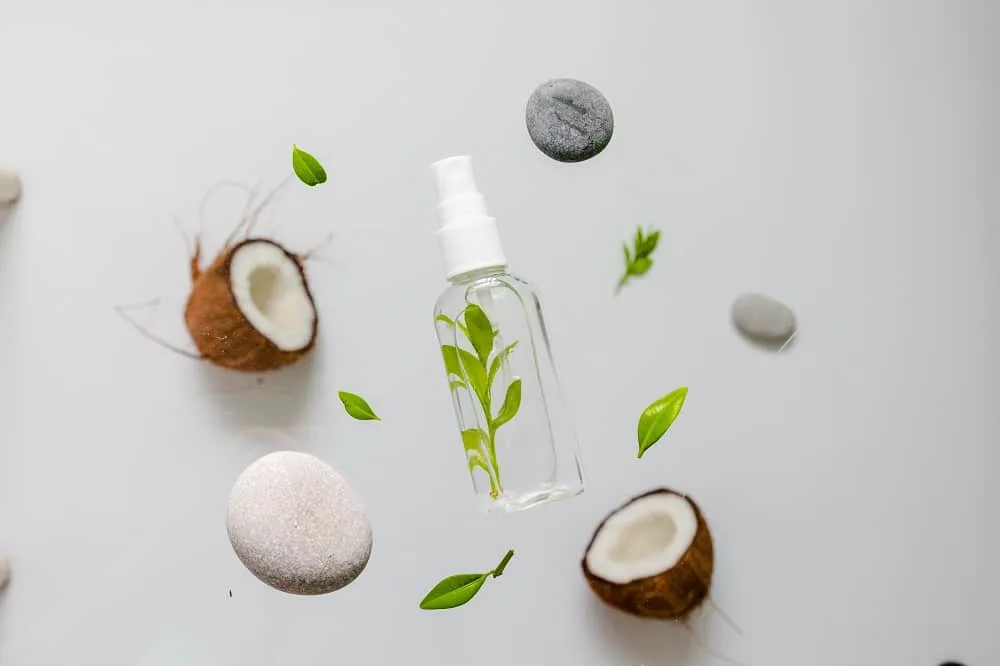 Do you know how to use coconut oil as a heat protectant? If not, keep on reading for an awesome hair hack!
Some DIYs are easier than others. This is one of our easier projects because it only requires two ingredients:
Coconut oil is a popular product and for very good reasons. It is jam-packed with nutrients that have tons of benefits – and not just for your hair. It's great for cooking as an alternative to other fats, may improve heart health, and can potentially expedite fat burning.
And, of course, it's great for your hair.
Coconut oil not only conditions hair and heals damage, but it also works as a natural sealant. This ingredient can penetrate the hair shaft for protection that many hair products cannot offer.
Here's how to make your own heat protectant spray with coconut oil:
Melt about a teaspoon of coconut oil in the microwave or on the stovetop. Add ¾ cup of water to it to dilute and stir to combine.
Pour this mixture into a spray bottle and store it in a cool, dry place. Shake the bottle well before each use, spraying it on wet hair before styling. Avoid using this DIY on dry hair, as it can make your hair appear greasy.
3. Aloe Vera & Oil Spray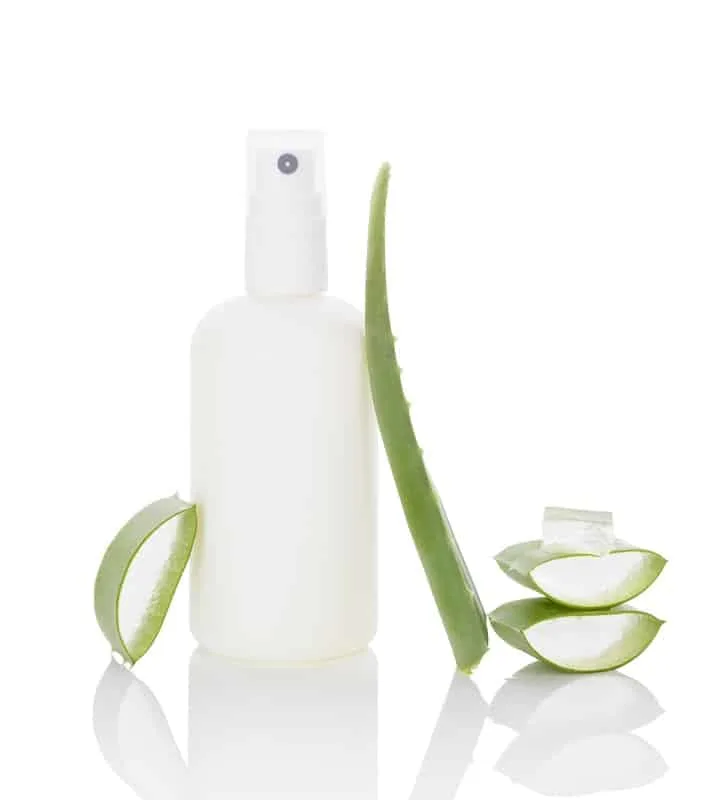 This recipe uses aloe vera as its base and amps things up by including a few different types of oils that are great for your hair.
The first is argan oil, which can give your hair a nice, healthy glow by preventing both split ends and frizz. The fatty acids in this oil are also great for strengthening your hair and protecting the protein structure.
Grapeseed oil and sunflower oil both contain vitamin E, as well as more fatty acids that can improve the texture and appearance of your hair.
Here's what you'll need for this DIY:
¼ cup of aloe vera juice
2 tablespoons of argan oil
2 tablespoons of grapeseed oil
2 tablespoons of sunflower oil
5 drops of essential oil
1 spray bottle
Combine all of these ingredients in the spray bottle, put the lid on, and shake well. You can use this mixture on both dry and wet hair before using heated tools.
4. Coconut & Almond Spray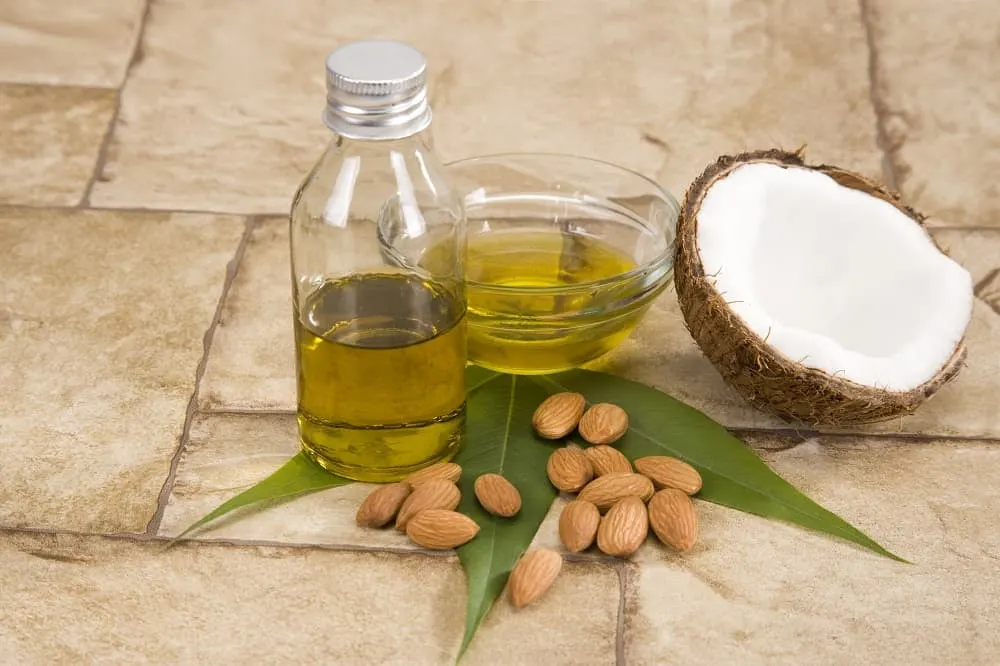 We've already mentioned the benefits of coconut oil, so it shouldn't be a surprise to see it pop up on our list again. This time, we're combining coconut oil with sweet almond oil.
Sweet almond oil has some great moisturizing properties as well as tons of vitamin E and vitamin A, which help keep your hair healthy.
However, anyone with a nut allergy may experience scalp irritation with this ingredient. If you have a nut allergy, you can replace the almond oil with jojoba or avocado oil.
For this DIY, you'll need the following ingredients:
2 teaspoons of sweet almond oil (or alternative oils above)
1 teaspoon of fractionated coconut oil
1 cup of distilled water
2 teaspoons of your favorite conditioner
10 drops of your favorite essential oil
1 spray bottle
This project is super easy. All you need to do is combine all of your ingredients into the spray bottle. Screw the lid on tightly and shake well. You should give the bottle a good shake before each use.
To use, spray on your damp hair before blow-drying. You can also use this homemade heat protectant spray on dry hair before you straighten or curl it.
5. Avocado Oil Spray
Is there anything that avocados can't do? This superfood has become very popular over the years, as it's considered a healthy fat and makes for some delicious recipes (guac, anyone?).
But avocado also has some awesome benefits for your hair. The monosaturated fats in this fruit are excellent for your hair, while the various vitamins, antioxidants, and minerals can keep your hair strong and healthy.
This spray is another one that only requires two ingredients:
25 to 40 drops of refined avocado oil
½ cup of distilled or filtered water
Use a funnel to pour the water into a spray bottle, then add your drops of avocado oil. You can adjust the amount of oil according to your hair type. Those with thicker hair should add more, while those with thin hair should aim for less.
Shake the bottle well to combine, and shake again before each use. You can use this spray on both wet and dry hair.
6. Argan Oil Spray
Argan oil came up earlier, but we're using it again as the base of this recipe because we truly do love it that much. Argan oil is great for adding moisture to your hair, and it's been known to improve dry scalps as well. It has natural anti-inflammatory and antioxidant properties that are to die for.
In addition, argan oil is excellent for treating damage due to heat and coloring.
Here's what you need:
½ cup of argan oil
1 cup of distilled or filtered water
10 drops of your favorite essential oil
For this simple recipe, add the ingredients to your spray bottle and shake to combine. Lightly spray it all over your hair when it's wet, or use it in sections on dry hair.
You can also use argan oil by itself, but since it's a bit thick, you will need an oil mister spray bottle instead of a normal bottle.
7. Sunflower Oil Spray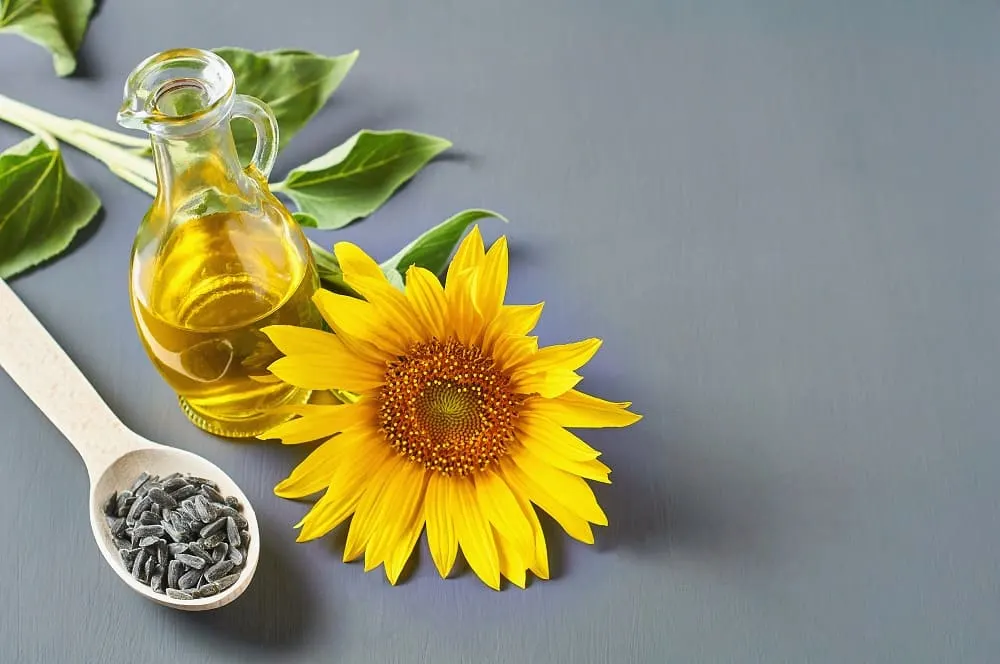 Sunflower oil is a versatile ingredient because you can mix it with other nourishing oils or use it on its own. It's full of antioxidants and essential fatty acids and contains vitamin E – all of which are great for protecting your hair and maintaining its natural strength.
For this DIY spray, all you need is:
Simply add two cups of water to your spray bottle and pour in one tablespoon of sunflower oil to make this spray. You can shake the bottle to combine, and you should give it a good shake every time you use it.
In addition to being good for your hair, sunflower oil has a smoke point of 440 degrees. This means that the product will withstand very high temperatures before it starts to burn, making it an excellent protectant.
We recommend sunflower oil for very thick hair and coarse textures. Use it on wet hair and give it a few minutes to set in before applying heat.
Final Tip
These DIY heat protectant sprays and creams make for a fun and easy project and are actually effective. But as an extra tip, you should know that you can use many of the ingredients we discussed today on their own in a pinch.
This includes:
Almond oil
Sunflower oil
Grapeseed oil
Avocado oil
Coconut oil
Argan oil
Olive oil
Shea butter
If you don't have all the ingredients for one of the recipes above, you can grab any of these oils and use them on their own to protect your hair from heat.
Some of them, such as avocado oil and sunflower oil, should be diluted with water, while you can use the others in small amounts on their own.
Thicker ingredients, such as coconut oil and shea butter, can easily weigh down thin hair, so go easy with these products to avoid looking greasy.