Dreadlocks are special so they need special styles with Mohawk and fade. They are meant to be fun, carefree and wild so you can experiment with different styles of these kinds as there is no restriction to as to which style is acceptable and which is not. This freedom to play with different variations and ideas makes styling up dreadlocks so much fun and refreshing.
Mohawk & Fade Dreadlock Hairstyles for Men
Styling up dreadlocks is quite an engaging and rewarding task so you should try this out. Here are some of the best dreadlock hairstyles with Mohawk and fade that we came across.
1. Funky and Cool High Top Dreads
There are so many dreadlock hairdos or dreadlocks fade which will make you look so elegant and groomed up. Here you taper the sides and the back with shorter hair in the fro, of dreadlocks.
This hairstyle is a lot easier to make and maintain throughout the day. High top dreads give you a funky and playful charm which helps lift up your mood in all situations. So, you should give this easy and impressive hairstyle a serious thought before arriving at your hairdresser's the next time.
2. Dreadlocks Mohawk
This one is a brave and more attention seeking hairstyle as it has dreadlocks with fade which scream for attention. Mohawks dreads usually have a variable length of hair at different points of your head. This means that they can appear unruly and wild at times too. The fade at the sides, however, takes away the wildness giving your hairstyle a definite edge. You can have this hairdo
with all kinds of dreadlock hair lengths.
Unique Mohawk Hairstyles for Black Men
3. Short Locks with a High Fade
This is the ultimate stylish and charming hairstyle for men who have dreadlocks and want to look polished and all primed all the time. These short dreadlocks fade are easy to manage and they do not go falling about in all directions around your head and face.
The high fade brings a certain class and sharpness to this hairstyle which is rare in other dreads with fade. You can sport one with a sleek beard too and look formal and professional all the time.
4. Dreadlocks with Lineups
This is a cool and unique dreadlocks hairstyle as it has locks styled in a fun manner. However, unlike other dreadlock hairdos, the locks are brought to the back of your head where they do not seem as messy as they would in the fronts. The artistic lineups along these dreadlocks make the hairstyle more fun and attractive.
5. Dreadlocks with Fade and Lines
Dreadlocks look even cooler with a beard, especially when they are short. This means that you can have short dreads lightly grazing the sides of your head which are faded to give you a cultured look.
The addition of a beard shows just how creative you are as you choose to go for a more stylish hairstyle than most people out there. One or more lines in the fade can help you attain that extra cool look without having to spend much on hair products.
6. Dreadlock with Ponytail and Skin Fade
If you are a lover of dreadlock mohawk hairstyles, you will love this too. To take your dreadlocks to a whole new level of style and class, you can tie all of them in a ponytail.
The sides of the head are shaved and present a stark contrast which is impressive mostly. The rough dreads look great while going down the back of your head. This hairstyle is perfect for those who have dreads and have work of managerial nature as it portrays you as a confident and friendly personality.
7. Braided Dreads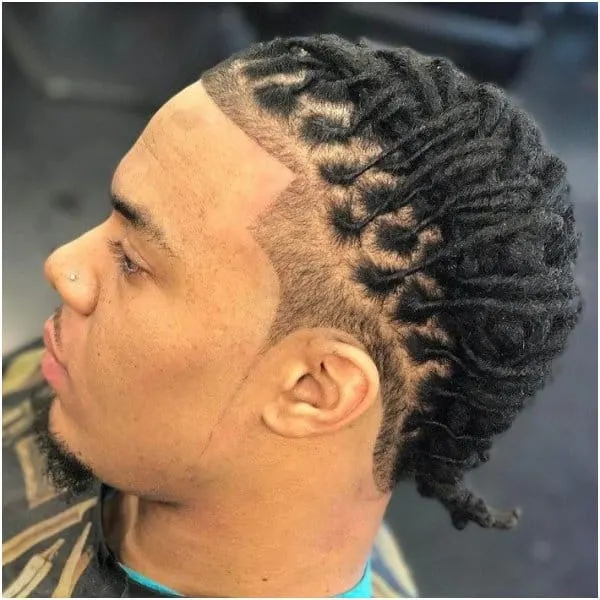 All the dreads tied up in a single braid look intricate and highly professional. These dreads do not need to be smoothed out for this particularly as they can be braided even when they are hopelessly messy. You may like these man braids too.
The trick here is to have thinner dreadlocks as thick tufts of hair are hard to manage. Braiding the dreadlocks seems to be a tricky business, but in reality, it is easy and you do not have to ask a professional hairdresser to do this for you.
All of these are our favorite mohawk and fade hairstyles for dreadlock hair. Try them out and you will certainly come thanking us!