Whenever you feel like making a statement with your hair, mohawks and outrageous colors are what comes to mind. Mohawk hairstyles for black men are especially interesting due to the nature of their locks.
Curly mohawks look fantastic whether they are classic or have a fohawk-like appearance. Creating a mohawk is always a bold move. However, men are usually brave enough to try them. After all, you can always shave one off, if you don't like it. Mohawk is one of the most popular hair experiments among men. It comes in many different variations.
Why it is called Mohawk?
The name actually comes from the Mohawk civilization, that is present in North America. They are a part of a tribe called Haudenosaunee. The main connection between the hairstyle and the name is the fact that these people wore a large square on the back of their head behind the crown.
These days, men shave the sides of their head to achieve the Mohawk, while the Mohawk natives used to pluck the sides. Although the real definition of a Mohawk describes a dramatic cut with a long middle part and completely shaved sides, the modern versions deliver many variations.
How to Cut Mohawk
The first thing you need to know about black men Mohawk is that the sides have to be shorter compared to the top. You can choose from a wide variety of different styles. The cutting of the hair depends on the hairdo that you like. There is an option to opt for completely shaved sides, do a low fade, medium fade, or even a high one. Another very interesting idea is to get patterns on the sides to upgrade your mane.
The top also delivers so many varieties. It can be shorter, medium length, and very long. Once you pick the final hairdo, your hairstylist will know how exactly to cut it. For all the guys that want to do it at home, we can guide you through the process. The initial step with every hairstyle is the same. Choose the exact type, length and be 100% sure that you want to get it because there is no turning back.
The Mohawk hairstyle is divided into three sections, two are on each side, one is in the middle. Decide how wide you want the middle one to be. Some men opt for a wide type, that ranges from the outer corners of the eyes. Others prefer it thinner. Get a fine comb and create the lines between the sections with parts. You can continue the parts to the back as well. Clip each section before you start. Get hair clippers and set them on the length you want to achieve on the sides.
If you are already a pro, you can use scissors as well, depending on the length. Hairstylists can create low, medium and high fades, but you should stick to the classic cutting process. Do the sides, one at a time, making sure that there is a curvy C line facing towards the ear. This is the classic method, but so many guys avoid the C shape these days. Continue with the top part.
You can keep it long, or if you want to cut that as well, start from the back. It should be shorter there, and longer in the front. Work from the side of the middle part, to create a proper black guy Mohawk. That part should also be shorter compared to the center. That is how you can achieve this Mohawk haircut for black men at home.
Watch The Following Video to Know How to Cut Mohawk for Black Guys
Mohawk vs Faux Hawk vs Deathhawk
The differences between Mohawk, faux hawk, and deathhawk are very subtle. These days hairstylists can get so creative that it's hard to properly store a hairdo in a single category. The Mohawk is much more dramatic compared to the faux hawk.
That is said in terms of the sides. With the first style, the sides are usually shaved and the top part is very long. The faux hawk has a more subtle transition from the top to the sides. The deathhawk is a hairstyle adored by punkers and rockers. It is very dramatic and long.
Dapper Mohawk Hairstyles for Black Men
Not all mohawk hairstyles for black men are created equal. Depending on your imagination and the professionalism of your hairstylist, you can sport a real masterpiece. If you are not ready for anything too prominent, you can settle for tapered fohawks or undercuts.
They make the overall hairstyle look like a mohawk without being too complicated. The next time you feel like you should do something special with your hair, check out these 50 alluring options and pick one that suits your mood. You won't regret it!
1. Tapered Fohawk with Shaved Sides
A tapered fohawk is one of the most famous mohawk variations for black men. By leaving the sides partially shaved, you are giving your image a feeling of neatness. The length of the top part may vary.
Faded Mohawk & Fohawk Hairstyle for Men
2. High Taper Fade
This is another variation of the Mohawk hairstyle for black men that won't have you getting rid of most of your hair. This high taper fade is close to an undercut. Most of the hair stays intact while the sides are shaved.
3. The Classic
If you are bold enough to go for the classics, you will sport the most amazing hairstyle on the block. The sides are completely shaved and only a thin crest is left on top. The length of the crest depends on your wish to maintain it.
4. Spiky Fohawk
A fohawk is the closest you'll get to making a classic mohawk. The sides are not shaved but kept short to create a contrasted look. In order to make a fohawk seem more like the Mohawk, spike up the hair to outline the contrast. This is the most popular fohawk style as it is worn by Brazilian soccer star Neymar Jr.
Mohawk Hairstyle Adorned by Black Women
5. The Shape
If you want to sport a mohawk hairstyle for black men with glasses, try this one. This hairstyle will look on your mane without making any drastic changes, you can shape up your locks to create a Mohawk appearance. You will need to use plenty of hair gel.
This is the undercut variation of the Mohawk. The difference between this hairstyle and a classic undercut is that the hair on the back part of the head is kept intact in order to imitate a mohawk.
7. Priceless experiment
If you are about to shave off most of the hair on your sides, why not take the experiment even further? Ask your hairstylist for fashionable hair designs that can easily be created on the shaved part of your mohawk hairstyle.
Fohawk Vs. Mohawk: How They Differ?
8. Braided Mohawk with Topknot
One of the best black Mohawk styles is the one with the top knot which makes you look carelessly suave. The hair on the sides is kept extremely short while the mid-section has longer hair to pull back into a careless topknot. It keeps the hair off your shoulders on hot days and is a perfect cool look for summer.
9. High Fade Mohawk with Side Sweep
This is one of the coolest hairstyle suitable for young black boys. The sides of the hair are shaven and faded with the mid-section structured into a sideward sweep. The volume is intentionally kept thicker for the sweeping effect.
10. Upswept Mohawk
The upswept Mohawk style for black guys is similar to the previous sweep but with a slight difference. Here, the front and central portion are not swept towards the front but in a horizontal manner. The sides are tapered and faded or left with a sharp undercut to highlight the upswept portion.
11. Spiky Mohawk
We love how this spiky mohawk allows black men to wear their hair natural. High faded sides and no facial hair keep this a fresh style.
12. Mohawk with Design
Keep your mohawk just an inch long at most, then shave in cool designs on your fade. Criss cross patterns, x's, or anything else you can think of will liven up your fade.
13. Buzzed Mohawk
Black men with very short facial hair will look great with a buzzed mohawk. It's less than an inch of length up top paired with a high fade, although a bald fade would look equally as handsome.
14. Mohawk Mullet
If traditional hairstyles aren't your favorite, you'll love this mullet mohawk. The mohawk is short up until the neckline when hair is a couple inches longer.
15. Faux Hawk
Black men with lots of length up top will easily pull off this faux hawk. Length is gradual with the longest part in front and the shortest in the back. Wear with minimal facial hair or just a goatee.
If you are a lover of edgy Mohawk hairstyle you should definitely try the sharp skin fade with the mid-section neatly combed and set with a hairspray. A sharp line serves as the perfect neat undercut separating the longer hair in the middle from the clean-shaven sides and back right till the skin.
17. Curls with Faded Side
Who said that men with curly hair cannot sport a classic Mohawk hairstyle for afro men? Curls and Mohawk is, in fact, a very funky combination. The central part of the hair has natural curls while the sides and back are lightly shaven to give the faded look.
18. Tapered Mohawk
To attain this kind of look the front and central portion of the hair is kept long and voluminous while the sides and bottom till the nape is tapered. The front part is then back brushed and set with spray or hair gel.
One of the most natural black men's Mohawk styles to be tried out is this shortly cropped hair with tapered fade on the sides. The hair is overall shortly cropped with the central part left a bit longer than the closely cropped and tapered section of the back and the sides. This kind of a Mohawk looks best with light spikes.
20. Patterned Mohawk
Mohawks for black men with patterns are one of the most favorite styles for those in love with boldness. The main section is trimmed very short with a clean undercut while the sides or the back is highlighted by cut out geometric patterns or designs that you want to sport.
21. Mohawk with Blue Crest
Want something bolder than just a Mohawk? It is time to add some color to your regular Mohawk then. This is a hairstyle where the front section of the hair is dyed with a bright shade of blue and spiked up to keep it in focus.
If blue seems too bold, another way to highlight your spiked Mohawk is to go blonde. You can combine the short cropped spiked style or a swept-up black Mohawk with the blonde to have the best of everything.
It's time for men to learn how to make a French braid. This is a great mohawk style for black guys who are not afraid to actually rock a braid. If you don't know how to braid, you can watch a tutorial and repeat. Also, one of your female friends or girlfriend can help.
Locs are already so cool, but they become even better when included in a Mohawk. This is a favorite Mohawk of African-Americans guys and they always do it best. That doesn't mean that you shouldn't try it, as long as your hair is long enough. You will need to learn how to take care of the locs and use techniques to braid them.
25. Pretty And Simple
This is officially the black guy Mohawk everyone can try. It is a trendy style meant for all men who are interested in a Mohawk cut. Use a round brush to dry your hair up and style it with a wax or gel.
26. Dreadlock Mohawk
Already sporting dreadlocks? Just shave the sides and wear them in a pony. The other option is to get extensions with highlights or other cool color to add some spice to your mohawk.
27. Frohawk
Black men with afro-textured hair that want to embrace it in a new way will love this frohawk. It shows off the natural hair in a way you can be proud of and looks awesomely edgy with no facial hair.
28. Short Dreads Mohawk
The short dread's on this black man's mohawk are tipped with blonde and styled forward so they are front and center. Sides are kept at a high or medium fade.
29. Mohawk with High Fade
The nice thing about fades is that pretty much any face shape can pull it off. Try a high fade on your mohawk with a goatee or no facial hair for a handsome style you'll feel confident in anywhere.
30. Mohawk for Receding Hairline
Black men who are self conscious of a receding hairline should take it as a sign to embrace a mohawk. With the rounded shape and high fade, no one will know your little secret!
There is so much space to play with braids. Perfect for all that have had a black men Mohawk for a while and want to elevate it. Do a chic French braid on the side and tie a bun in the back.
If you've been wanting to go platinum blonde, make sure to mix it up with more colors. Men who get easily bored of hairstyles will want to try something new. By going platinum you get also the chance to play with bold hues such as purple and pink. This will all be the masterpiece of your hairstylist.
The man bun just got an upgrade. Men don't like it when hair gets in their way, so they can always use a bun to solve the problem. Sleek the hair back with a comb and create a bun with a tie. A unique mohawk hairstyle for black men.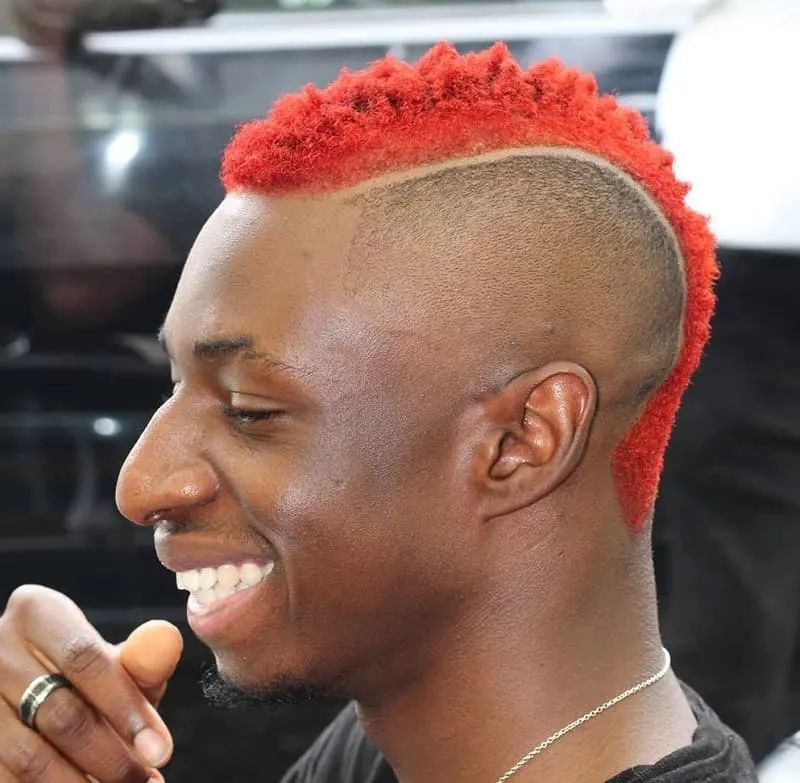 The easiest low-maintenance Mohawk is probably this one. When you need a dramatic change, maybe you want to try this hairdo. Shave the sides completely and leave the middle part a little longer.
If you already have long hair, you can simply shave the sides and rock a long mens Mohawk. It's ideal for men with a long haircut. Decide how long you want to keep the hair and all you have left is to get it short on the sides.
36. Shades Of Blue
If you are tired of your natural hair color and want a change, you can definitely use the shades of blue. Perfect for everyone who likes to experiment with colors. You don't have to color the whole hair blue, just several strands. Style the black guy mohawk with fun spikes by using a hair cream.
37. Twist It Out
Don't be afraid to use twists and braids to decorate your Mohawk even if you are a man. Perfect for long hair in the top part. Separate the Mohawk haircut for black men in several sections and start doing twists.
38. Curly Mohawk With Patterns
Guys with naturally curly hair can grow it into a Mohawk and even decorate it with patterns on the side. The ideal mohawk hairdo for African-Americans. Start by deciding which patterns you want and how long you want the Mohawk. You can use the usual styling products that you did so far.
39. Long Curly Mohawk with High Fade
Sometimes it can be a very chic change to let your hair grow out. Any guy with curly hair can try this mane. Ask for a high top fade for curls at the hairdressers and if you want to upgrade the hair you can also add hints of blonde.
When you're all about volume, the pompadour is here to help. The best option is to have a long and easy-to-style hair. Choose a high fade on the side, and try using a pomade or gel for the pompadour and get a modern variation of black men's mohawk.
41. Standout Art
Get your hair ties and start experimenting. Everyone who wishes to look unique is a potential candidate. Opt for a very interesting undercut that will really have everyone's eyes on you.
42. Rainbow Mens Mohawk
Even men can dye their hair in a whole rainbow of shades. These are really brave and innovative guys who are not afraid of experimenting with hair. It's best for a traditional long Mohawk haircut for black guys. Visit your hairstylist and ask focoloredrful dye. You can choose all the colors and shades.
Yes, you can get black men's Mohawk without shaving your sides. Great for everyone who doesn't want very short sides. Take your hair up with a strong hold product such as a wax. Do the spikes by getting a hair strand between two fingers and rotating it.
44. Blue Mohawk
You will often see blue amazing Mohawks for black men that are inspiring to get your hair dyed. Perfect for black guys who love color and already have long hair. Choose the tone of blue and let the dyeing begin.
A high fade is a perfect combo with a long black mens Mohawk. Perfect for men who like high fades. With this length of hair, you might find it hard to keep it voluminous and high up. Invest in quality products with a strong hold.
46. Slicked Back Mohawk
Slicked back hairstyles are popular and so beautiful. It's a dapper hairdo for true gentlemen. Grab a comb and start slicking the hair back. Use pomade or wax.
Flat tops are in again, so if you like this way of cutting the hair this is the best time to try it. Best for straight hair types. Use styling products that will provide great hold to keep the African-American guy's Mohawk up. Wax and gel are the best two options.
48. Diagonal Braid
Sometimes all you need is a statement Mohawk hairstyle for black men such as this one. Great for longer hairdos. Get the help of a lady who is really good with braiding or go to your hairstylist.
More Mohawk Hairstyles for African-American Black Men
Black men Mohawk hairstyles give so much space for variations. Make this your year by getting one of these amazing looks that no one else will have. There are options for all tastes and hair lengths. Plus, your hair will probably grow out very fast, so if you end up not liking it, you can easily fix it.
Mohawk hairstyles for black men can bring a real diversity into your life. Don't be afraid to sport the most outrageous mohawk. The hair will grow back but the feeling of freedom will stay with you for the rest of your life.