Dreadlock hairstyles for men have been a thing for a very long time. Inspired by bohemian lifestyle, it's mostly worn by men belonging to the African race but is now being worn by men from all the races around the world.
There are various ways to wear this look regardless of hair length and hair type, one can achieve multiple looks at once and go from looking like an ordinary guy to an A-list model in town.  To have a better idea of how one can style their dreadlocks, here are 40 dreadlock hairstyles for men.
Manly Dreadlock Hairstyles
We have handpicked 40 best dreadlock men styles so you can choose the perfect hairstyle for you.
1. Dyed Dreads
Having a hair dye along with dreadlocks in hair for men is two different things, but when combined, it gives an overall super stylish look. All it takes is to get your hair bleached to open up the hair cuticles before locking your dreads. If, however, the hair is already dreadlocked, then go for oil treatments to prevent hair from drying out to strengthen them.
Backcombing Method to Dreadlock Any Hair
2. Twisted Dreadlocks
If you want to add more style to your men dreadlocks, then try adding in some criss-cross twists to the hair. This would look much better with having a few dyed strands to bring more color and creativity to the style.
3. Mohawk Dreadlocks
Now, this is a very popular dreadlocks hairstyle that goes with any hair type. Quite trending these days, this hairstyle adds up more definition to the hair. To go even bolder with this look, twists can also be added to take this look to a whole new level.
4. Side Part Dreads
Going for side parted dread styles for men will not only help the hair grow in a healthy shape, but it will also boost up the volume in the hair as its one of the most sophisticated looks. The longer the dreads, the better the hairstyle would be. However, if the side part only sounds dull, then one can get an undercut to add more edge to this look.
5. Edgy Dread Hairstyle
This look can be perfect for special occasions like weddings, fashion shows or even themed photo-shoots. It adds more class to the person and gives a boost to the person's personality as the hairstyle speaks louder than the attire.
6. Long Jumbo Dreadlocks
Men too love having long hair and those who have dreadlocks, this look can do wonders for the person's overall style.  As beautiful as they look, they require high maintenance and care to keep the hair healthy and styled.
7. High Top Undercut Dreads
If there is no extra time to spend on hair care and maintenance, then this look would just be the right one to have. The hair is short and easier to manage keeping the sides undercut and the top hair long. This gives more options to either let the hair stay just the way it is, tie them up or pull them back.
8. Braided Dreads

To have a neater look with the dreads, braiding them tightly would do the job right as it's also quite popular in dreadlocks hairstyles these days. It's low maintenance and gives the hair a very intricate, yet a graceful look.
9. High Top Shaped up Dreadlocks
To look like you've stepped out fresh from a barbershop who absolutely loves looking on fleek every day can go for this look. It remains a bohemian men dreadlock style but with a modern twist. It has an undercut with asymmetrical lines with the hair remaining messy on top. So much to have in just one look!
10. Lined-up Man Bun Braided Dreads
Nobody does a bun like men do, especially if the hair is in dreadlocks. This is one of the most extraordinary looks, in which the hair is wrapped neatly in a bun aligned with the beard which may turn so many heads. One can just stop right there and admire the perfection happening over the face and head.
11. Long Up-Do Dreadlocks Styles
If you enjoy your log hair, you can wear your dreadlocks like this. With long dreadlocks, you can experiment with styling them. For example, this top knot half up, half down hairstyle is casual fun. It is an easy way to dress your self up when you want to.
12. Ponytail Dreadlocks
This dreadlocks hairstyle for men is a great way to have the best of both worlds. The long deadlocks style ponytail lets you keep your length. At the same time, the buzz cut sides let you have a common trait added. This haircut is fun and will help you stand out in a crowd.
13. Dread Updo's
Nothing really fits hand in had like dreads and up do's do. If you have long dreads and want to change it up, this hairstyle is great. The advantage of long dread has the opportunity to manipulate it into different hairstyles. This messy man bun is a great example. It's sexy and playful at the same time.
14. Intricate Dread Hairstyle
This hairstyle is one of the unique dread hairstyles. Wearing this would definitely mean turning a few heads no matter where you go. This three-strand braid is intricate yet sophisticated. You could wear it for both types of occasions, a night out and a formal occasion.
15. Avant-Garde Blue
Blue is one of the colors that has recently been trendy. Pairing blue with your dreads is a great way to be a part of this trend and have your distinctive individuality. The ombre blue dreads are versatile and hence will go with any skin color. They are funky and edgy a perfect way to showcase your personality.
16. Side Part Dreadlocks Style for Men
If you are someone who likes parting their hair, this hairstyle is apt. You get to keep your long dreads and also part it to make it look sexy. To add a little oomph, you could color the tips honey brown. Together, the hairstyle looks well kept and sexy. You could wear this to all occasions.
17. Pushed Back Short Dreads
This dreadlocks style is funky and subtle at the same time! The appeal of this style totally depends on how you style your clothing with it. You could go all funky and cool with ripped fashion clothing. Or, you could pair it with something more modest for a subtle look.
18. Side Fringe Dreads
Side fringe dreads are a great way to hide a broad forehead. You get to look trendy and handsome and at the same time help your face look a little more structured. This dreadlocks hairstyle is fun yet at the same time appealing. You could wear it to a casual setting or for a night out.
19. Half Mohawk Dreads
This is an alternative for a Mohawk hairstyle. If you like Mohawks but don't want one that goes all the way, this one is your pick. It has the faded sides that make it look trendy and the short dreads that make it look edgy. This hairstyle is the perfect balance between old and new.
20. Dreads with Short Sides
This hairstyle is an excellent twist on the classic dread hairstyles. The short hair around the push back Mohawk adds a clean element to the haircut. In contrast, the unkept dreads pushed back, adds a messy element. These two characteristics together make one of the most appealing dread hairstyles. You could wear this anywhere.
21. Long Dread Mohawk
Here's another alternative for the Mohawk hairstyle. This way, you get to keep your hair length and still have traits of the Mohawk trend. The shaved side adds a clean touch to the otherwise long hair. This haircut can be worn to both, formal and informal occasions.
22. Dreads With The Hard Part
Hard parts have recently become widely appreciated. There's no better time that incorporating one in your hairstyle than right now. If you are into clean and fresh looks as opposed to messy dread hairstyle, this is your pick.
23. Box Dreadlock Style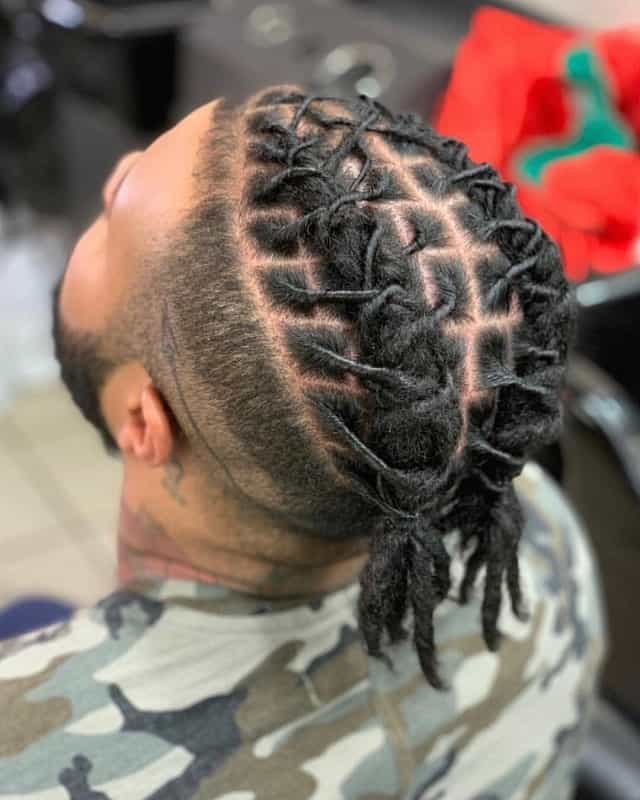 If you are not into box braids, this hairstyle is right up your ally. You could look incredibly sexy with your box braids braided backward. The faded sides help the entire look, look chic. This hair look is edgy yet extremely attractive, and you can not go wrong with it.
24. Dreads with Beads
If you want to take your dread one step further, adding beads is a great idea. This will make your hairstyle look fun and edgy. These box braids compliment the purple dip dye and beads perfectly. Making the entire hairstyle appealing and sexy. You could wear this hairstyle for festival season and fit right in.
25. Tied Dreadlocks
This hairstyle is a great way to add volume to your hair. In case you have thing brittle hair, this hairstyle is something you should try. Other than adding volume, this hairstyle looks trendy and cool as well. With it neatly tied behind, you can wear it to formal occasions as well.
26. Low Taper Fade Paired with Dreads
Instead of having one braid down the center that incorporates your dread, mix it up, and have three. This hairstyle will help you stand out. The low taper fade adds a modern and clean touch to it. You could wear this hairstyle for all occasions.
27. High Pony Dreads Style
Yet another alternative hairstyle that gives you the opportunity to have the best of both worlds. The side sides can be kept natural, whilst the hair on the crown can be dreaded. To style it, you can put it in a high pony.  This is perfect for thick hair as it will keep your hair away from your face.
28. Short Dreads with Taper Fades
If you are someone who doesn't have the time to care for long hair, yet still prefers braids, this one is for you. This short dread hairstyle is classic yet sexy. The taper fades at the side add a chic and sophisticated feel to it. To add a little more detail, you can keep the back of the hair long and highlight it.
29. Long Spider Leg Dreads
If you like to play around with your hair and prefer opting for unique, out of the box, this hairstyle is the best option. It's not too over the top but at the same time unique enough to make you stand out. This way, you don't have to worry about styling your dreads.
30. Braided Faux Hawk Dreads
This braided faux hawk is right between appealing and chic. By opting for this dreadlocks hairstyle for men, you could look stylish and yet look extremely sexy. This hairstyle looks equally stylish in all types of looks. It is a great way to contain thick hair.
31. Messy Dreads
If you dig the messy, bedhead look, this one's your pick! This hairstyle is great for all kinds of hair textures. It is extremely sexy in a messy way. If you wish to sport something rugged and tough, this look is ideal for you!
32. Long and Thin Classic Dreads
Thin dreadlocks have an aura and look of their own. If you have thin hair and want to style it, you should go for this dreadlocks style for men. This hairstyle is hot and attractive, and you could style it in different ways as well.
33. Low Crown Dreads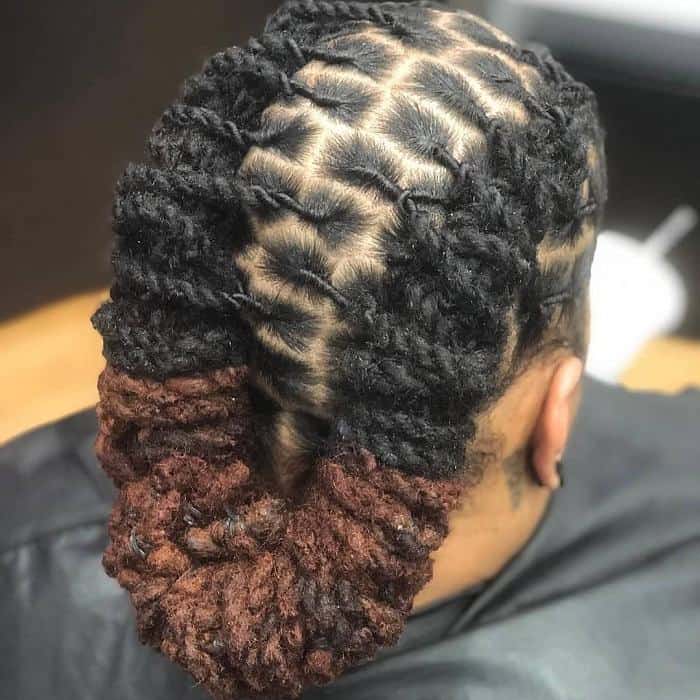 Crown dreads are a great way to style long hair. It keeps your hair in place at the same time it looks great. You can have any texture for this hair, and it will still work. The best thing about this look is that it's versatile looking.
34. Side Pony Dread
This hairstyle is a new convenient way of tying your hair in a pony. Instead of tying it behind your hair, do so in front and make it look like a side fringe. This hairstyle is sexy and unique. If you aren't afraid of those attributes, you should go for it.
35. Dread Spikes
Here is a dreadlocks hairstyle for men that incorporates two classic hairstyles- spikes and taper fade. If you are into spikes, this dread version is perfect. The taper fade compliments the entire hairstyle. You could wear this hairstyle for anything you please.
36. Blonde Tips with A Mid Part
If you are into subtle color, this hairstyle is something you should dabble with. The ever so slight blonde towards the ends brings the right amount of attention to the dreads. The side part adds sophistication to the look, making it classy and chic.
37. Voluminous Dreads
If you have long, thick hair, one of the best ways to style it is by embracing it. This long thick curly deadlock hairstyle is extra and sexy. It might be a challenge to maintain, but it is definitely worth every bit!
38. Blonde Locks
If you appreciate blonde dreads, this Mohawk inspired hairstyle is perfect. Paired with an undercut, it is fun yet clean. You could wear this for festival seasons and look amazing.
39. Natural Wavy Dreads
This dread hairstyle is more natural and easy going. If you are into that sexy, natural, not putting too much effort look, this is perfect. It is low maintenance and versatile enough to wear everywhere. Moreover, it looks casual and elegant at the same time!
40. Long Dreads from The Crown
This hairstyle has recently gained a lot of attention. The blue tips and undercut adds the perfect amount of fun and edge. The undercut balances the hairstyle out. You could wear this everywhere and look hot, sexy, and trendy.
With all these amazing men dreadlocks hairstyles, one now has a whole lot of variety to play with if they're willing to go for dreadlocks with a bit more spice in them despite the length, texture or the color of the hair, any style would perfectly do with these modern-day bohemian styled dreadlocks.