The skin fade haircut has quickly become a popular styling option within the past decade. With inherent influence from the African-American community, the skin fade has made its way to mainstream barbering as it has been used to make more traditional haircuts and edgy styles.
On-Trend Skin Fade Haircuts in 2023
A 'skin fade' is achieved by cutting the hair shorter and shorter, or 'fading' as it extends to the neck. While some prefer a subtle fade, some opt to go all in by shaving until the hair is down to nothing, otherwise known as a 'bald fade'.
If you're interested in seeing different ways to incorporate this into your style, here are 41 of our favorite skin fade haircuts for men:
1. Basic Skin Fade
Here is a classic skin fade that has been applied to this short haircut. The hair basically tapers gradually until there is, seemingly, nothing there.
70 Kicky High and Low Taper Fade Cuts for Men
2. Skin Faded Quiff
Incorporating a skin fade to your Quiff hairstyle is another option for men who like to have the best of both worlds. This haircut features a deep side part and gradual fade around the perimeter.
3. Deep Part Fade
This unique skin fade hairstyle features a very prominent side part. The crown is left lengthy while the perimeter of the style is cut very low and gradually faded.
Other posts on Skin Fade Hairstyles
4. Bouffant Fade
If you're a fan of the long hair but still want a sleek, clean-cut look, then try this bouffant style with a skin fade. The crown is left long but is layered and styled high in order to achieve this impressive bouffant.
5. Peculiar Fade
This unique skin fade haircut is perfect for men who like to go against the grain. Featuring a sleek 'panel' that is highlighted by two striking parts, this look is tied together by.
6. Low Top Fade
Here's a play on the famous 'high top fade.' The hair has been cut relatively short and gradually faded.
7. Funky Fade
Here's a dramatic 'do that's completely badass. This fade haircut features a deep side part and an impressively layered coif that has been styled up in spikes. The perfect edgy look for a man who wants to look put together without looking too "stuffy."
Here is a classic Caesar cut that has been faded. The sharp lines of the hairline are what pulls this look together.
9. Gentleman Skin Fade
This tapered fade takes a classic look and gives it a completely modern spin. The distinctive part and sleek uniformity make this cut perfect for professional settings, but the cut can be styled casually as well.
Taper Cuts With Curls and Waves
Here's a Mohawk inspired style has been cut relatively short and faded around the perimeter. Leaving the curls intact gives the look a unique twist.
It is one of the popular hairstyles since 2016 and is one of the versatile hairstyles that give you a stunning look. For this hairstyle, you just need a pompadour on top with the skin fade. However, you need to properly maintain it with a perfect blow-dry.
One of the simplest hair fade designs you can choose and look classic. Combine contemporary skin fade with retro-style side part giving you a perfectly defined look.
For this haircut, the barber must know the clipper lengths and you must know the perfect skin fade you want by offering pictures or describing it in the most appropriate way.
13. Skin Fade Hairstyle with Curls
Maintaining curls is one of the difficult tasks with a skin fade. This option works well for guys who have naturally curly hair. The curls are grown on top with a skin fade on back and sides giving you a unique feel.
If you prefer a dapper, retro-styled look then choose slicked back, skin fade. It is a perfect variation of fade hairstyles for the people who prefer the classical appearance. Simply get a skin fade and slick back all your top hair with a water-based pomade to get this look.
15. Curly Hair Skin Fade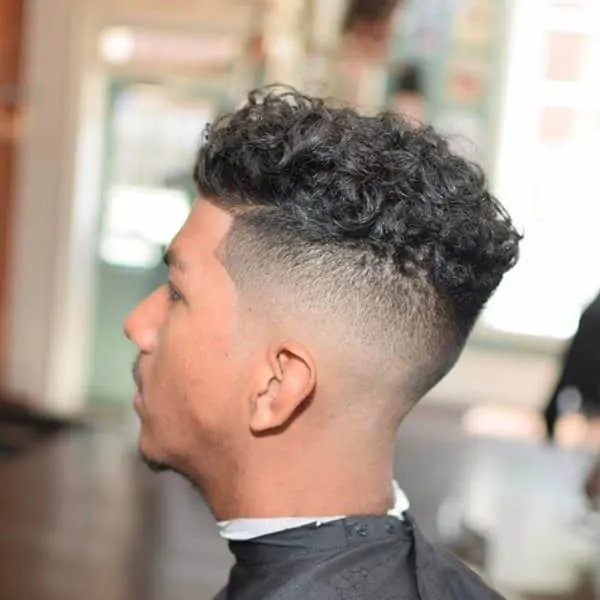 It is hard to maintain a flawless look with curly hair. Skin fade with curly hair can be attained with clean edges and complete maintenance. The line design over the backside of your hair creates the disconnected look from the skin fade and adds a jaw-dropping look.
The textured crop over the top creates a dimensional look with the disconnected skin fade. This hairstyle looks more compelling if a line is added in between the French crop and skin fade.
17. Vanished Neckline and Skin Fade
This drop fade starts from the temples and goes down over the back of the ears. Skin fade with vanished neckline gives you a clean and fresh look.
Afro hair is usually thicker so skin fade works well for maintaining it. The afro hair on top can be kept short or mid-length depending on your desire. The hairline must be kept sharp and clean to attain a distinguished look.
The low fade begins from the sideburns and slopes down towards your neck. The low fade is darker over the top while it fades down over the bottom side.
Colored hair gives a perfect dimension to each wave in your hairstyle. The perfect contrast hair with skin fade gives you a striking look.
This hair look can be attained with proper proportions. The long hair over the top and a smart beard give you a balanced look. The faded sideburns are prepared in this look to avoid any heavy feel with the hair.
This hairstyle is seamless for people who want to combine skin fade with a beard without any harsh disconnected look.
22. Disconnected Skin Fade Hair
Buzz cut with skin faded hair on the side is the modified version of traditional buzz cut look in which the hair is shaved with no. 1 or 2 guards. In men's skin fade, the hair over the sides' gradients down the temples. In this look, the line is carved from the top of the hair to the point where the fade tapers.
23. Fade with Spiky Texture
Right products and perfect hair length are required to maintain the spikes. It is best for people with short hair. Using hair wax for maintaining this look gives a sleek finish. Spikes with a vanished neckline offers a splendid look.
Pompadour and quiff are quite similar with a small difference where the pompadour has volume and increased length while in quiff short length with shaved sides is maintained. In short quiff, the hair is simply brushed back with hair gel or wax giving you a flawless look.
25. Burst Skin Fade
The burst fade is a hairstyle where the gradient moves around the ears within a semicircle manner. High length is maintained on top and back while less growth over the nape of the neck. The fade-in this style starts from temples or sideburns depending on your look.
In this contemporary hairstyle, the skin fade with parting of hair is done and gelled over the other side. It works well for a dapper gentleman giving him a classic look.
27. Neckline Design with Fade
The line cut is usually placed over the darkest part of the skin fade haircut with designs. In this disconnected fade with neckline design, the line is cut to create a perfect transition between lighter and darker area. This line is then drawn down towards the neck where it is kept clean.
The line design is curved in this hairstyle over the border of skin cut fade. It offers a graphic look to the hairline. High volume is kept over the top to giving a striking look.
The undercut is a traditional hairstyle served from the 1900s. It is commonly seen in people who belong to the military, working-class or street gangs. The undercut sides are short and evenly placed. A slight fade is added over the sides with a textured, lengthy top that offers a refreshing feel.
30. Tapered Neckline with Drop Fade
The gradient skin fade within this haircut is extremely abrupt when compared to the traditional hair look. The mid-hair length is clearly finished on top with vanishing sides that grabs the attention. The tapered neckline and clean sides offer a spectacular look.
31. Tapered Sides with Designs
The line design with a perfectly shaped neckline grabs the attention of the entire crowd. Choose an artist who can create this beauty in the most fascinating way.
The gradually curved line on the side is a sign of liveliness which is combined with the designer neckline. The burst skin fade haircut tapers around the ear giving an interrupted look with a curved cut over the nape of the neck.
This haircut works well for people with thick hair. It offers perfect style and structure to your hair which can be easily managed on an everyday basis. The high fade side swept crew cut is lined up with two small lines on the side that gives a perfectly stunning look to the entire haircut.
33. Line Up Fade with a Pompadour
This pompadour is perfectly shaved over the front edge with sharp borders creating lines and angles running parallel to the thick beard. This geometric men's skin faded hairstyle can give you an instant retro look.
34. French Crop with Hard Part
This modern hair look with bangs goes well for certain face shapes. Choose it if it complements your entire personality. It works well for disguising the receding hairline. A bold pattern is carved over the sides making you feel the center of attention in parties.
Naturally curly hair on top with a small lineup that gradient moves down gives you a completely finished hair look. It gives a polished look by taming the waves on top and building a strong foundation for the hair look.
This hairstyle is easily maintained with curly hair however for straight hair the look can be attained with the addition of layers. You need to visit the barber more often for maintaining this look if you have straight hair.
36. Skin Fade with a Crew Cut
Crew cut and skin fade run hand in hand. The barber keeps the hair short on top with skin fade where the hair gets short and gradient giving you a perfect look. This hairstyle is universally trendy and is chosen by most men out there.
37. Colored French Crop Side Fade
Choose an unusual color for the French crop that offers you a surprisingly cool look. The cool-toned hair color should give a perfect shadow of light and dark colors. The haircut is further enhanced with an interesting pattern of line art over the back end and sides.
This striking hairstyle with bald sides and skin fade cut is a classical yet an edgy and modern hair look. The side-swept top with faded sides gives you a refined feel similar to an Ivy League haircut.
Getting yourself a faux hawk offers you a completely versatile look that transforms you from an edgy style towards the cultured look. If you get a side fade hairstyle, then slick back your faux hawk in a professional way to attain the best look.
40. Messy Top with Skin Fade
Mid-length hair locks in combination with messy top skin fade haircut give you a cool look. This fade ends towards the ears with a perfectly finished beard that draws complete focus towards the facial hair and nicely paired messy top.
41. Fade with Wild Brushed Up Hair
Get a perfect look with glasses and wildly brushed hair on top with the fade haircut. Brushing up your hair whether you have a highlighted or colored hair gives you a stunning look. It draws complete attention towards your brushed up hair.
As you can see, there are many ways to rock a skin fade in order to customize your look based on your style preference. Try adding a fade to one of your favorite cuts and see how you like it. You may be surprised at how much it can transform your look.