Four strand braids look truly exceptional. If you've never tried making one before, you've been missing out on a lot of fun.
Surprisingly enough, four-strand braids are not hard to make. You just need a little practice to create real masterpieces. Such braids are suitable for all types of hair. In fact, women with fine locks might appreciate them even more than girls with thick hair.
Braids with four strands look more voluminous than regular French or fishtail braids. Meanwhile, they can keep the hair looking neat and stylish all day long.
How To Make Four Strand Braids
While these braids might look complicated, they are easier than you might think. You only have to make a few simple steps to create the hairstyle of your dream. Here they are: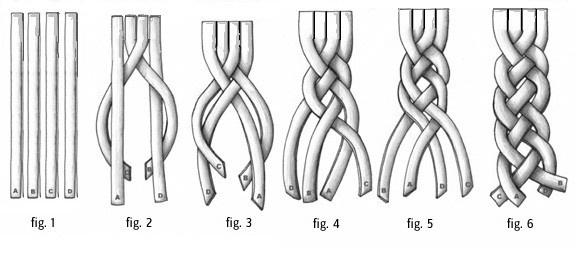 Separate your hair into sections just like you would for a French braid. The only difference is to take 4 strands instead of 2. Let's call them 1, (farthest from your head to the left), 2 (next one toward your head), 3(next one after the 2), and 4 (farthest from your head to the right).
Start braiding by moving section 1 under section 2. Now the 2nd section is on the left and 3rd section is to the right of the 2nd.
Go on by passing the 1st section over the 3rd This way section 3 is on the left while section four is to its right.
Pass section one under the 4th This way section for is to the left and the 1st section is closest to your head. The first weave is done.
Continue going through steps 2 to 4 until you wish to stop braiding.
If you want to add the braid more volume, slightly tug at the strands after the braid is done. The more you tug, the looser it will look.
Four Strand Braids for Creative Girls
If you are looking for a new way to shine, 4 strand braids can do the trick. These easy-to-make yet unusual braids can become an integral part of your hair routine.
You can use these braids to create variety of hairstyles. It can be used to style side braids, upside-down braids, and runaround braids. While adding your style a little extra zest, these four-strand braids can keep your hair neat for a long time.
If you have very fine locks, 4 strand braids can make them appear more voluminous. Take a look at these 15 options to give you an idea of how amazing these braids can look.
#1. Purple Teal Four Strand Braid
Four strand round braids are the peak when we're talking about hair knits! Section your mane into two parts and start making them from the top head, just like the ordinary French braid. If you want them to look extraordinary, opt for an ombre that keeps your roots in a brown shade and transforms into a teal and purple tint.
#2. Neck Based Four Braid Hairstyle
If you have long red hair, curl only half of you mane. Start the four strand French braid from one side, and orient it to the low other. Once you are done braiding, secure the knit with a rubber band and pull off some edges to obtain more dimension.
#3. Four Strand Braid for Ombre Hair
If you are a brunette who wants a gorgeous summer hairstyle, go for a bright blonde ombre. This will help obtain a beautiful French four strand braid that starts from the top of your head. Secure it at the bottom and decorate it with a flower.
#4. Four French Strand Braid
Four strand pigtail braids are ideal for women who have thin hair. To recreate this look, section the hair into two, with a zig-zag part. Go for four French strands braids for the top, and once you reach the nape, continue with the regular twist. Try pulling off the edges to obtain chunky knits.
#5. Four Strand Braided Bun
Go for a French four strand braid that starts from the forehead and follows the hairline, reaching the back. Create a big low bun using the same braiding procedure. If you have colored lowlights, make sure they are visible for a more striking look.
#6. High Braid
If you have short or fine hair or both, consider making the four strand braid using just two side strands. Brush them upwards and back and start braiding. Such braid looks just as impressive as the full one.
#7. Braid Craze
When you know many different braid types, you can come up with amazing hairstyles. Such 4 braids are wonderful for any special occasion. Unfortunately, you can't do it on your own. Make a barbershop appointment!
#8. Low Side Braid
This low side braid is a wonderful choice for women with short hair. You start at the top part of your hairline near the temple and start braiding diagonally toward the back. You can finish braiding at the hairline or continue all the way down.
#9. One Side Braid
Four strand braids look amazing when they are just part of the overall hairstyle. You can make one or two side braids and incorporate them into a ponytail, a bun, or anything else you can come up with.
#10. Braid Mix
Impress your friends with your smart approach to braiding. You can start with a French braid on top and go on to make a four-strand masterpiece on the bottom. You need to make sure all the strands are of equal size.
#11. High Start
Using all of your hair to create a braid with four strands is a wonderful idea. Start at the top and go all the way down your head by grabbing new strands along the way. If you have medium-length hair, you can finish with a ponytail.
#12. Beautiful Weave
If your hair is not thick enough to create the masterpiece you see in the picture, don't worry. Hair extensions can save the day. You don't even have to choose one to match your hair color. A shade mix will look great!
#13. Ribbon Braiding
Weaving something into your four strand braids is a wonderful way to make it look truly special. You can use different colored ribbons to create something unique. Such braids tend to stay intact longer.
#14. Loose Braiding
While simple loose braiding can add some volume to your hairstyle, it can also make it more impressive. This braid should be entrusted to the hands of real professionals. It's a wonderful choice for a special occasion.
#15. Thick Beauty
Such braid is easy to make. You just have to shift the strands slightly to make it look asymmetrical. Consider adding a bow or any other hair accessory to outline this amazing hairstyle.
We hope these 15 four strand braids helped make your day. It's up to you to spend several minutes on making a really beautiful hairstyle. No matter what hair length or type you have, such braid will look amazing