A hairspray allows you to style your hair perfectly by keeping them in place and protecting it against wind and other weather elements.
However, constant use of commercial hair products like hair spray comes with certain risks, such as dry and brittle hair or even hair loss.
Accordingly, you might want to consider better and safer alternatives to hairspray to style your hair without exposing it to harmful ingredients that can damage your hair.
Today, we will discuss the best substitutes for hairspray that are safe to use while providing promising results. It comprises a list of commercially available, natural, and DIY alternatives.
What Does a Hairspray Usually Contain?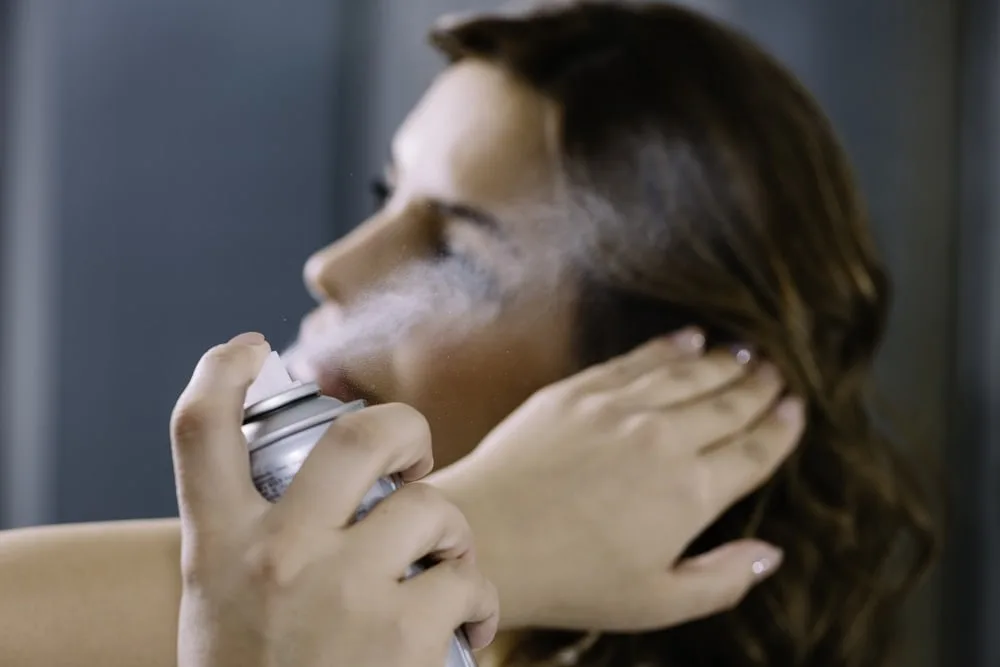 The primary purpose of hairspray is to set the hair in your desired style and provide long-lasting hold. For this purpose, it needs to have a sticky property while being flowy to come out of a nozzle.
Hairsprays are typically a mix of polymers and solvents. Different types of gums and polymers are mixed in hydrocarbon solvents and alcohol. In most cases, alcohol is the solvent.
Polyvinylpyrrolidone (PVP) is an active ingredient of hairspray. Studies show that esters, PVP, copolymers, and poly methyl vinyl ether (PMVE) impart the stiffness aspect to the spray.
Hair sprays also contain sodium benzoate, a preservative that prevents the ingredients from rusting and protects against bacteria or viruses.
Gum arabic and vegetable gums are added to the mixture to make it more effective and keep hair stiff.
Is Hairspray Bad for Your Hair?
Generally, most ingredients in a hair spray are safe to use in moderation.
However, excessive use can cause the hair to become dry and brittle as the hair follicles weaken, causing temporary hair loss.
Hairspray is abundant in aerosols that harm human health (when inhaled). Modern studies claim that the values of aerosols in hairsprays are acceptable and the products safe to use.
Can You hold your hairstyle in place without hairspray?
You can use different natural and commercial products to hold your hairstyle in place. Hair wax, gel, and mousse are great alternatives to hairspray. Styling clay and hair paste also serve the purpose effectively.
To style your hair with the added advantage of scalp nourishment and follicle strengthening, you can use natural products such as gelatin, coconut oil/shea butter, and flaxseed gel.
Things to Consider Before Choosing Substitutes for Hairspray
Before choosing the best substitutes for hairspray, you must know what factors to consider to make an informed decision. They include:
Hair Stiffness and Retention
The primary thing you need to achieve with a hairspray alternative is the ideal level of hair stiffness to hold it in place. The substitute should not be too harsh nor too soft in setting the hair.
An ideal hairspray alternative should be capable of retaining hair stiffness for some time. It should also be resistant to changes in hair moisture due to humidity.
Hair Type
The hair type is another essential factor when choosing the ideal alternative to hairspray. Some substitutes are better suited for small or fine hair, while others may be suitable for kinky and coarse hair.
Safety of Ingredients
The most crucial aspect of the best alternative to hairspray is its safety. The hair spray alternative should not irritate the scalp or harm the hair. Natural products or DIY formulations are the safest for setting and styling hair.
Best Alternatives to Hairspray
Below is a list of some of the best alternatives to hairspray to hold your hair in place:
#1. Hair Gel
If you don't want to expose yourself to the hairspray ingredients and still need your hair to stay put, you can opt for hair gel. It is the closest you can get to hair spray and achieve a firm hold.
A hair gel offers more control over the usage. You can take a small amount and apply it to the hairs (from roots to ends). Most hair gels are easy to use.
The most effective and time-saving method to set hair using gel is applying it on wet hair and letting it dry. You can style any look (spikes or combed down) with a good-quality gel. Like hairspray, hair gel also imparts a shiny/shimmery look.
The only disadvantage is that the dried gel forms whitish flakes, which may look untidy. You can also pick any of these hair gel alternatives.
Pros
Easy to use
Produces a wet and shiny look
Cons
Flaking of hair on drying
Difficult to wash
#2. Hair Mousse
The purpose of a hair mousse is to hold the hair in place and maintain the curls. Hair mousse is a viable alternative to hairspray and adds more volume to the hair.
Hair mousse also helps in defining the curls and is easy to use. All you need to do is apply the mousse on damp hair and let it dry. To style the hair, gently massage the mousse on the roots and comb the hair while blow-drying the roots.
It is a good alternative for individuals with curls and fine hair. However, the holding potential of mousse is less than a spray. It is also essential not to overdo it to prevent your hair from looking greasy.
Pros
Effective for all hair types
Adds volume to hair
Cons
Not suitable for dry hair
#3. Hair Paste
Do you desire a natural look while keeping the hair in place? Hair paste can be your go-to solution. Hairspray tightly sets the hair in a fixed style and does not allow much movement. But a paste allows the hair to move slightly.
This hairspray substitute is ideal for those having short or thin hair and want to create the illusion of more thickness or volume. Like other alternatives to hairspray, it is best to apply the paste on wet hair.
Just make sure to warm it between your hands before applying. Hair paste does a fine job of adding texture to the hair while leaving your hair supple and easy to manage.
Pros
Imparts hair fullness
Adds texture to the hair
Cons
Hair stiffness is lesser than a typical hairspray.
#4. Hair Clay
Styling clay is the perfect solution if you aim to achieve medium hold and have short or curly hair. The product has a consistency similar to natural clay. This feature of clay allows it to be used as a substitute for hairspray.
The application of clay also adds volume to the hair. You can easily apply a small amount of clay by rubbing it between your palms on your hair. Clay has the advantage of being effective on both dry and wet hair.
Pros
Works perfectly for dry and wet hair
Adds volume to hair
Cons
Not as firm as a hairspray
#5. Gelatin
The animal protein gelatin is used in medicines and foods. However, you can utilize gelatin to achieve the perfect hairstyle for the day. You can prepare a gelatin mousse/gel by mixing a ¼ teaspoon of gelatin in half a cup of heated water.
After the complete dissolution of the gelatin, you can add chamomile or lavender to the mixture. That imparts a pleasing scent to the preparation. Apply the mousse to damp hair and let it dry. You can achieve sufficient hair stiffness with gelatin, making it a good substitute for hairspray.
Another significant benefit is that gelatin nourishes and strengthens the hair follicles, promoting thickness and growth.
Pros
The addition of lavender/chamomile imparts a pleasant scent.
Provides good hair stiffness
Strengthens hair
Cons
Not suitable for dry hair
#6. Flaxseed Gel
A DIY hair gel using natural items is a safe and effective alternative to any commercially available hair product. Flaxseeds are known for their different health benefits, and you can use flaxseed gel as a substitute for hairspray.
To make a gel, you must soak the seeds in water and leave them overnight. Take a cup of the flaxseed water and boil it. After that, you get a stringy gel. Let it cool, and then apply it for styling.
Studies show that flaxseed gel has a great consistency and can retain for more than 24 hours. Besides this, flaxseed gel promotes hair growth by nourishing the hair follicles, making it an exceptional DIY herbal cosmetic/hair care product.
You can also add essential oils to the concoction. Store it in your refrigerator for any future use.
Pros
Retains hair stiffness for a long time
Easy to make and apply
Strengthens the follicles
Cons
Not as strong as a hair spray
Time-consuming to prepare
#7. Coconut Oil and Shea Butter
Another effective natural alternative to the aerosol-rich hair spray is the coconut oil and shea butter formulation. This homemade formulation involves mixing half a cup of shea butter with half a cup of coconut oil.
Mix the ingredients in a mixer to make the job easier. This combination is the best for curly hair. Coconut oil has the added advantage of protecting against hair damage.
Shea butter is rich in vitamins and fatty acids. That makes it a natural choice for individuals with curly hair. According to a study, shea butter can treat hair damaged by bleaching.
Combining shea butter and coconut oil can help hold the hair in place, but perhaps not as much as hairspray.
Pros
Provides amazing hair/health benefits
Best for curly hair
Helps treat bleached hair
Cons
Can not hold the hair strongly
#8. Pomade (Hair Wax)
Pomade or hair wax is another great alternative if you want a slick look without using hairspray. The product adds shine to the hair too. You can opt for different types of pomade, i.e., oil-based and water-based.
Oil-based pomade lasts longer and gives a shiny look. On the other hand, water-based pomade is easier to apply and retains hair stiffness for a shorter period.
Pros
Effects are long-lasting
Smooths the hair
Cons
Difficult to wash due to greasy texture
Doesn't provide a thicker consistency than hair paste
Various effective alternatives can help secure your desired hairstyle, including natural/ DIY products. Selecting the ideal substitute for hairspray typically depends on hair type and ingredients.
Hair wax, mousse, gel, and clay are effective for styling hair, making them worthwhile substitutes for hairspray. DIY alternatives to hairspray include shea butter/coconut oil gel, gelatin, and flaxseed gel.
These products may not be as effective in retaining the hair as hair sprays. But they do the job satisfactorily while providing additional benefits to your hair. Happy styling!
FAQs About Hairspray Alternatives
The following are some frequently asked questions regarding the best alternatives to hairspray:
What is the best DIY alternative to hairspray?
The best DIY alternative to hairspray is shea butter gel. You can prepare it using coconut oil and shea butter. This DIY alternative is ideal for people with curly hair. What sets it apart is the hair/health benefits it provides.
Can I use dry shampoo as a hairspray alternative?
Yes, dry shampoo can mimic the role of hairspray. It removes the excess oils from the scalp surface, making the hair bind closer and imparting an effect similar to hairspray. However, you should avoid long-term usage of dry shampoo as it can cause dryness.
Can I use mousse as a substitute for hairspray?
Yes, a mousse can be an effective substitute for hairspray. Apply mousse on wet hair to hold the hair in place. It can also help add volume to the hair. If you have curly hair, mousse is perhaps the best alternative.
Can I use deodorant as hairspray?
Deodorants are not made for use on hair and scalp. Deodorant contains large amounts of alcohol, which can make the hair dry and brittle the hair once released into your scalp.
You May Like These