As a 6th-grade girl, finding a cute low-maintenance hairstyle can be daunting. She has entered the first year of middle school and has become a pre-teen who is around 11-12 years old ready to take on the world.
Naturally, these young girls start to care more and more about their looks, particularly how their hair is styled, as they don't want to stick to those basic braids and ponytails anymore. Quite reasonable!
In this regard, we have hand-picked 10 of the prettiest hairstyles for 6th graders that are perfect to begin with. Thank us later!
Lovely Hairstyles for 6th Graders
Now that you've got to the age where you can make your own choices. Try whatever hairstyle attracts you the most. Below are some cute hairstyles that are great for 6th-grader girls.
1. Long Hair with Bangs
Want a refreshed look without letting go of those luscious long tresses? Opt for soft layers with a U cut and Birkin bangs grazing the eyes. Leave the tresses loose to sway with the wind or style them in a chic high ponytail or a bun. Your little one's call!
2. Blunt Cut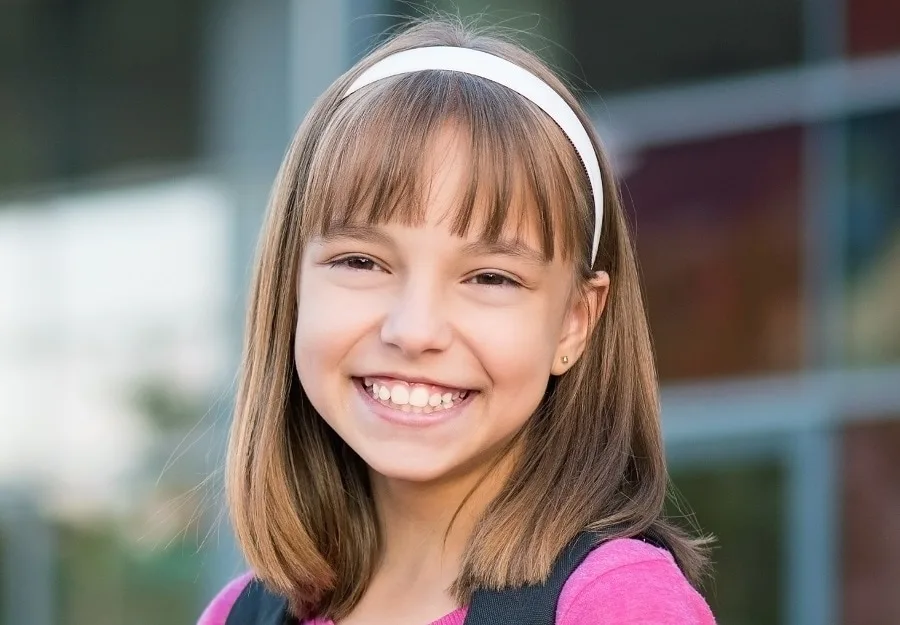 Blunt haircuts just look adorable on young girls and can be achieved at home without much effort. Choose a length that suits you the most like a bob, lob, or shoulder-length tresses, and snip straight across. Avoid a boring look by pairing the style with a wispy fringe. Put on a hairband and voila!
3. Layered Curls
Teach your 6th grader to flaunt her natural curls with utmost pride from the beginning. Spice up those locks with soft layers or a step cut and couple them with curtain bangs framing the face. A hand-tousle and done!
4. Finger Coils
African-American little girls can show off their kinky afro curls in various waves. Try space buns, pineapple puffs, or braids instead. But if you have got bored of all that natural fluff, use a good curl-defining product and finger coil the strands tightly or loosely. You won't regret it!
Related: Hairstyles for 4th Grader Girls
5. Color Blocking
Moms who don't mind a bit of hair dye can recreate this color-blocked hairstyle for their 6th graders to stand out in school. Bleach the front chunks, if dark, and paint them in the brightest colors available. Pink, blue, orange, whatever your girl wishes for!
6. Wavy Lob
Referring to those with a wavy hair texture it would be unfair not to try a lob at least once. Chop off the locks to hang just above the shoulder with or without bangs and ask for subtle layering to create some movement. Simply stylish!
7. Braided Bun
Got a party coming at school? Try braided hairstyles for young girls. Steal the show by plaiting the top into French, Dutch, or fishtail braids. The remaining hair is secured in a high ponytail and knitted down before wrapping it around in a bun. Top off the style with a fancy frock to turn your girl into a princess!
8. Chic Top Knot
When not in the mood for something elaborate slick back the tresses on top of the head and swirl them into a top knot bun. Pull out some strands to accent that innocent face or don't. This hairstyle is ideal for 6th graders with glasses.
9. Hair-Wrapped Pigtails
There is no harm in rocking these good old pigtails once in a while. Assemble the hair on top of the head a bit behind the hair line or keep your ponies low and wrap them around with a chunk of hair at the base for a chic appeal. Easy-breezy!
10. Classic High Ponytail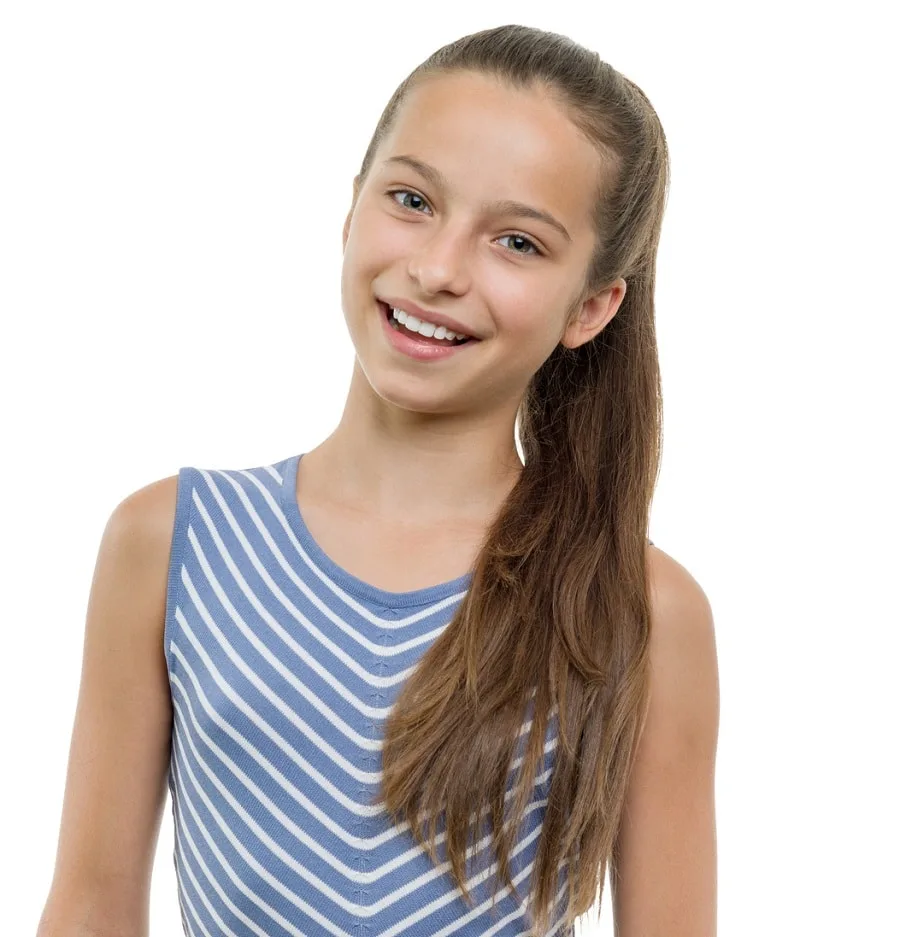 Lastly, hairstyles for 6th graders are surely incomplete without a classic high ponytail. When getting late for school or planning on delaying a hair wash a day or two pull the hair back and secure it in a colorful hair tie. You are ready to go!
Recreate the above hairstyles without worrying about your 6th grader and see a smile on her cute face once she looks into the mirror.
Simple hairdos can be spiced up with different hair accessories like oversized bows, fancy ponytails, hairbands, and tiny hair pins because what else is the perfect time to use them?