Parents of school-going kids have very busy mornings. Between all the chaos of getting their children ready for school, styling their hair is another inevitable task that needs to be fulfilled.
On the other hand, girls in 4th grade and above get pretty conscious about their looks, especially their hairstyles. And in order to stand out in class, they often demand a new hairdo almost every single day.
Given the above situation, the following hairstyles for 4th graders can be achieved within 15 minutes. Yes, you read it right! And your little fashionista won't be disappointed too!
4th Grader Girl Hairstyle Ideas
Keep it simple with low-maintenance and easy-to-do hairstyles, as complicated ones won't suit those innocent faces. Below are some cute and trendy hairstyles for 4th-grader girls to try.
1. Bob with Bangs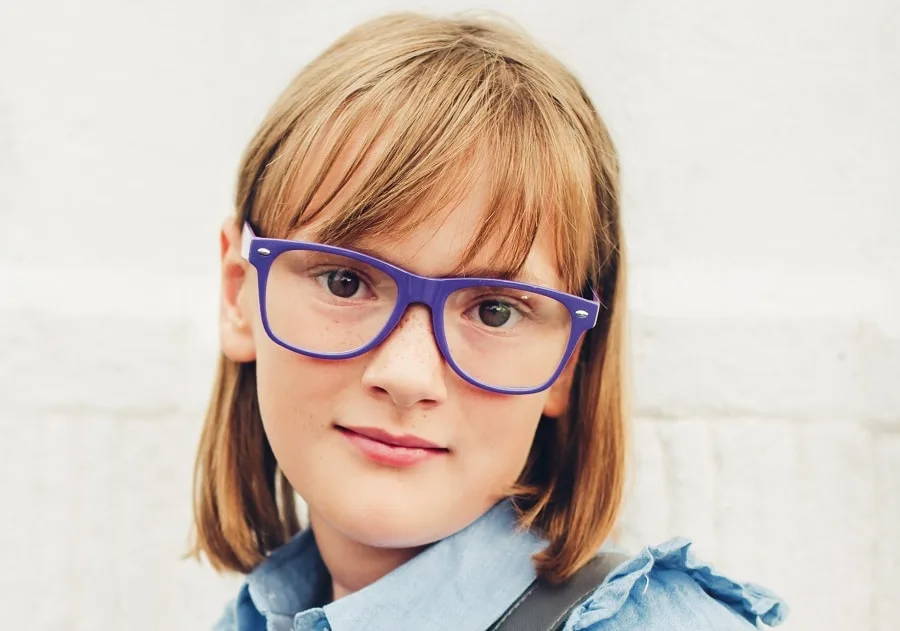 Bobs are all-rounder hairstyles that look equally gorgeous on young girls as well as mature ladies. They work with all textures and are easy to style, requiring a mere hairbrush in the morning.
Opt for whatever length you and your tween like and cover the forehead with some bangs for a cute look.
2. Space Buns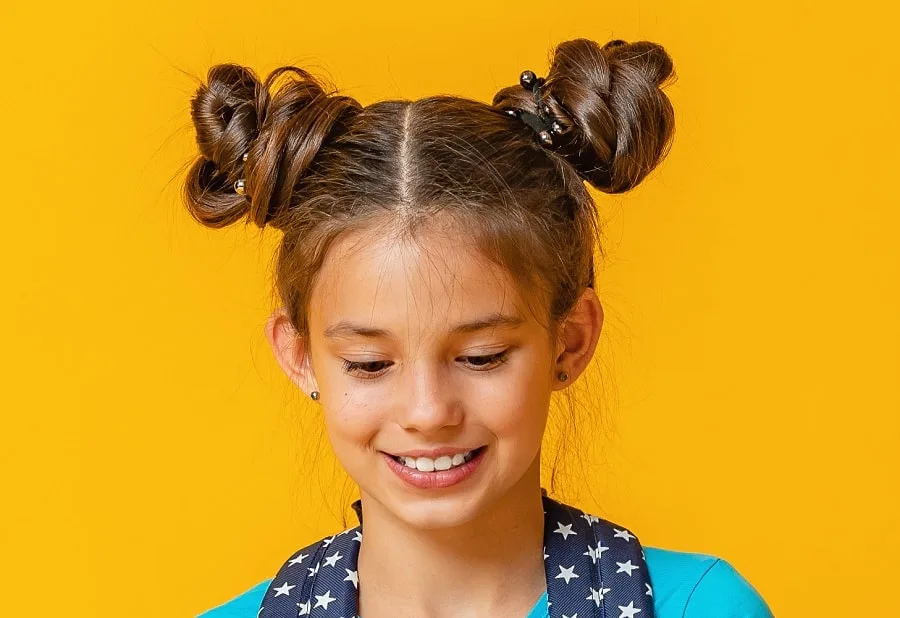 Funky and playful, space buns are the go-to hairstyle for 4th graders. Tame those medium to long tresses while keeping them away from the face by creating two high ponytails and wrapping them around into buns. Pull some strands loose to frame the face. You can also experiment with a zigzag middle part.
3. Defined Curls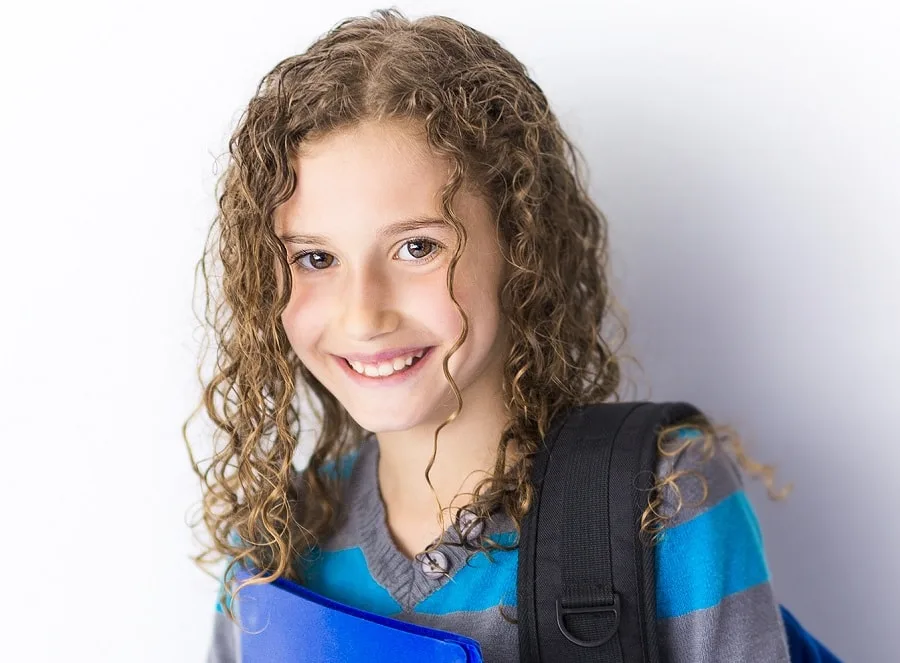 Girls with a head full of curls need some extra care. Instead of taming those natural coils, refine their pattern by using good quality curl-defining products, leave-in conditioners, and moisturizing shampoos.
Trim the tresses and add soft layers. There are various hairstyles that you can create with a healthy curly mane.
4. Cornrow Ponytail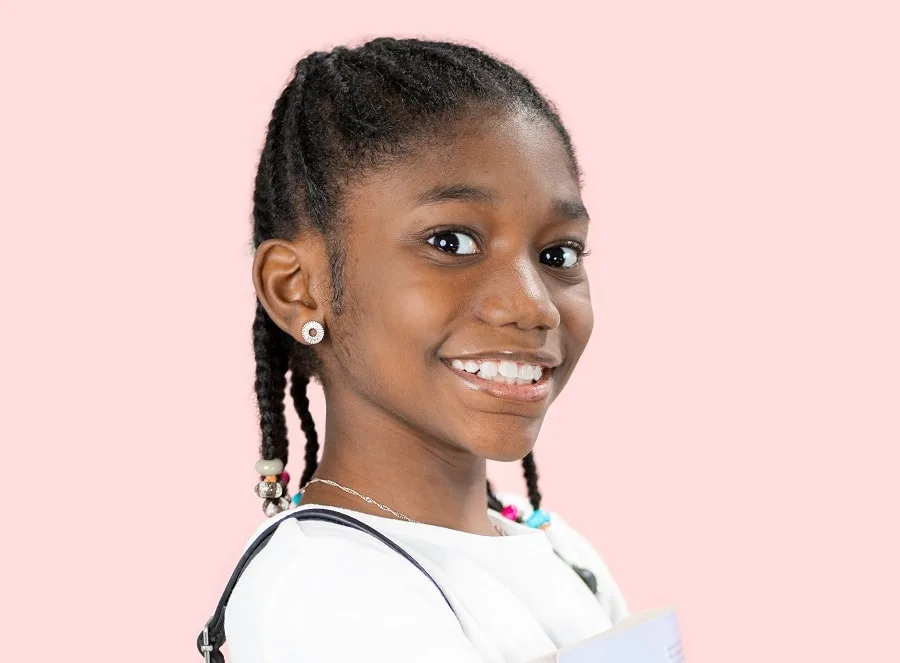 A cute 4th grader ponytail hairstyle for dark-skinned girls. African-American moms can protect their little one's delicate locks with cornrows. These scalp braids can be knitted in numerous patterns and remain intact for several days.
Point all the plaits towards the top of the head and add colorful beads on the ends to achieve a fun-looking ponytail.
5. Pigtails
Pigtails are ageless and timeless; every girl has rocked them in her childhood.
Whether the hair is long, medium, or short, braid both sides of the head with a middle or side part. Continue towards the ends, or stop near the nape and secure the remaining hair with rubber bands.
6. Shoulder Length Hair With A Headband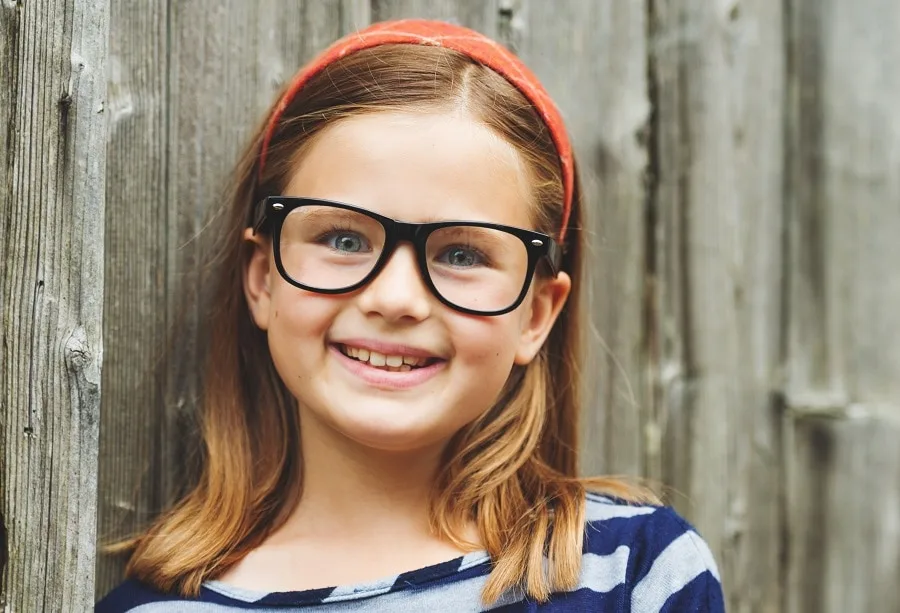 Headbands come in handy when you are in a rush or can't think of any other hairstyle. Keep the hair loose and push it away from the face with a hairband. You can also use this accessory to adorn ponytails, buns, and braids. It can't get any easier!
7. High Ponytail
Enlisting hairstyles for 4th graders and forgetting about a high ponytail? Impossible!
High ponytails are just made for young ladies. They save an oily hair day and can be achieved within a minute. Assemble the hair on top of the head and fix it in place with a hair tie and pins matching the dress.
Related: 6th Grader Hairstyles
8. Dutch Braids
Dutch braids look classy and chic. Although they may take some effort and time to master, they don't unravel during the entire day and are suitable to keep long tresses under control. Pull the strands loose while plaiting the hair for a bubbly look. How about incorporating colorful extensions for a change? Worth a shot!
All the hairstyles for 4th grader girls mentioned above are effortless to achieve and look cute without a doubt. You can customize them according to your time, needs, and the choice of your little one of course. Time to get a little creative!