Wondering what to do when your hair is thin and doesn't seem to get that fabulous glam however you choose to style it?
You can opt for multiple hairstyles when you are dealing with a big forehead and fine hair. We know that finding something that works can be hard, especially when your hair texture won't help you.
The thread is annoyingly thin, can't hold a curl, and easily breaks. You can't use heat-styling tools too because of the damage it causes. But you don't need to despair because we are here to guide you!
Appropriate Hairstyles for Big Foreheads and Thin Hair
So, even if you're dealing with these inconveniences, layered and asymmetrical bob haircuts are the best, and you can combine them with bangs and curls. Take inspiration from the below suitable hairstyles for thin-haired ladies with big foreheads.
1. Short Icy Bob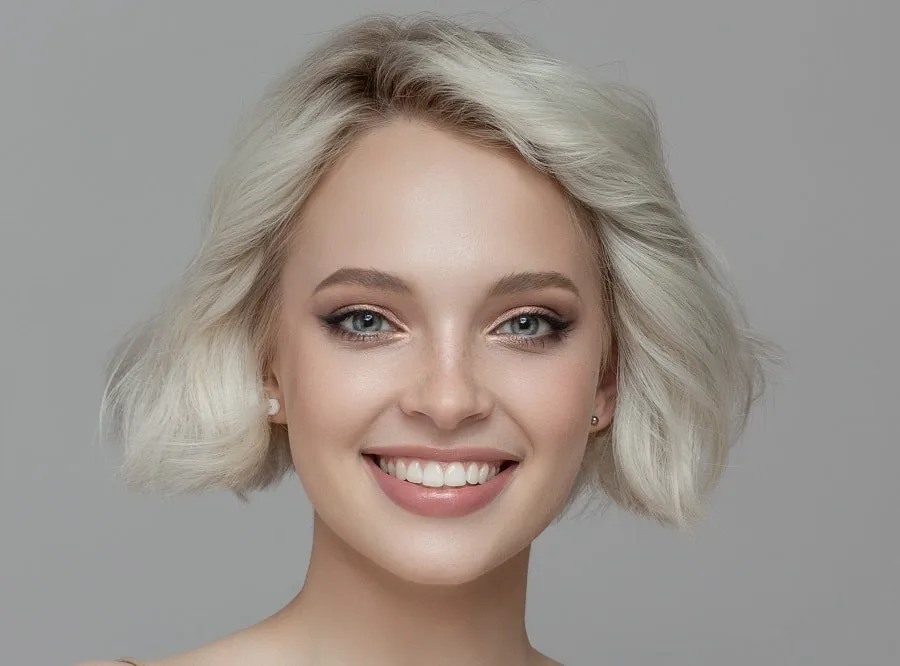 A hairstyle that is suitable for a big forehead and thin hair is definitely a blunt bob. Go for a cut that reaches the jawline and for bangs that you will swipe and style on one side. Use a wand tool to give your hair texture.
2. High Ponytail
Makeup can help you contour your face and make it slimmer, but you will need to find a proper hairstyle that works to your advantage.
You can try a pony that will keep the hair in place. Use a ponytail hair extension that gives you an enriched mane with much more volume and thickness.
3. Pale Pink Hairstyle for Women with Big Forehead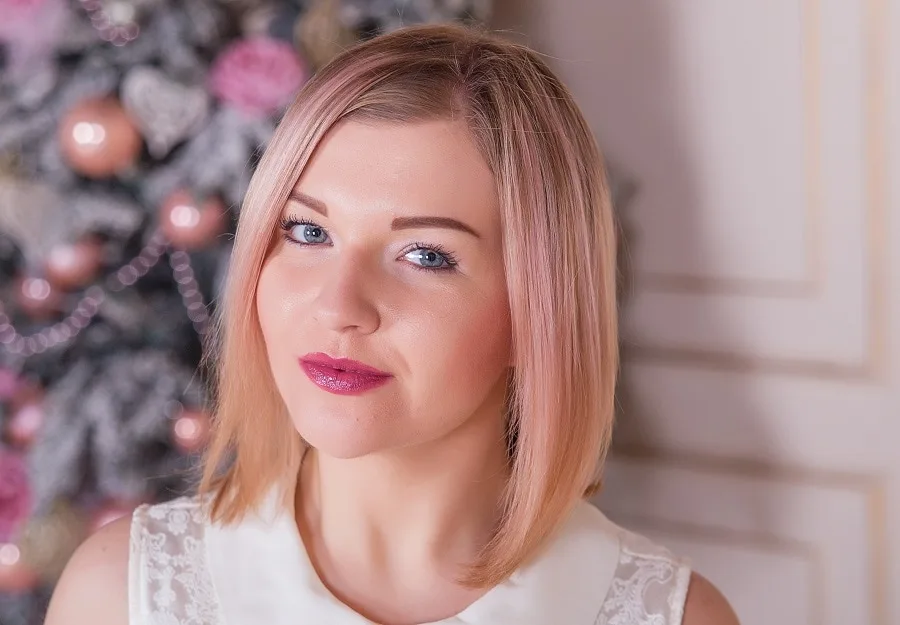 Side parts are a must when you have a round face and a big forehead. They create that asymmetrical twist that gives the illusion of a smaller face.
When hair is thin, we recommend you try to prevent breakage and use less heated styling devices. You can straighten your hair by combing it when it's still wet or damp.
4. Short Straight Bangs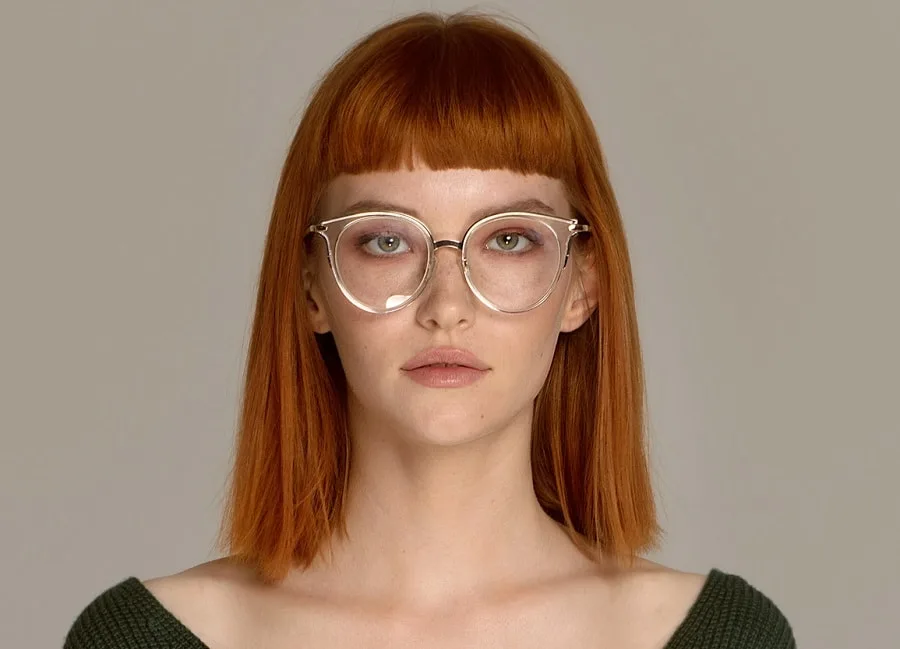 A bob haircut with short bangs is one of the cutest hairstyles for women with big foreheads and thin hair.
Choose a copper color, especially if you have fair skin and freckles. Cut the hair blunt and trim your fringe one or two fingers above the eyebrows.
And if you are wearing glasses, even better! Your new look will have personality and a cute twist.
5. Pale Pink Blonde Hair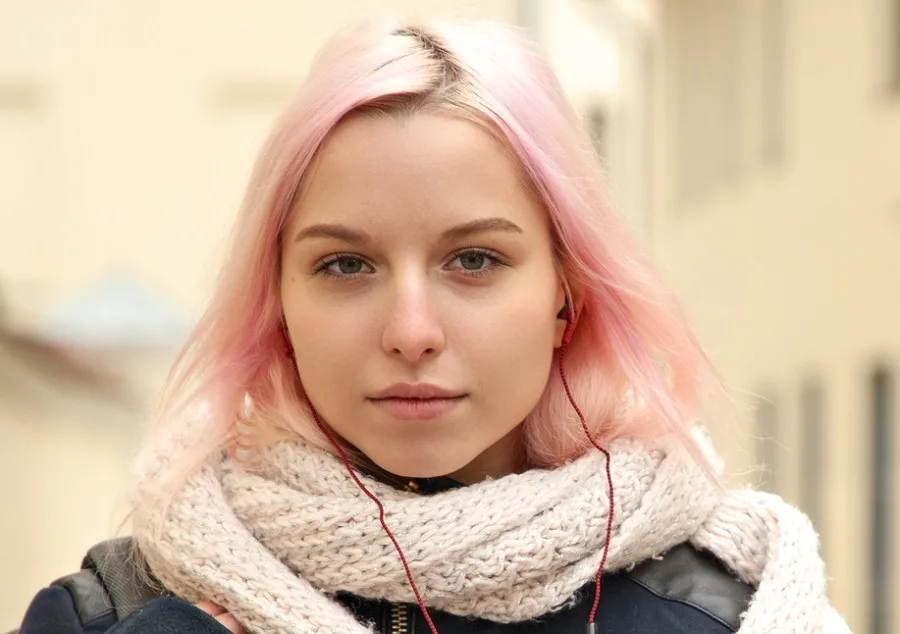 One of the best ways to make your forehead less noticeable, especially when you have fine hair, is to create layers.
Getting a hair color that draws all the attention is also a great idea. So choose a pale strawberry blonde color, and for the bangs, go for a pink nuance.
6. Curtain Bangs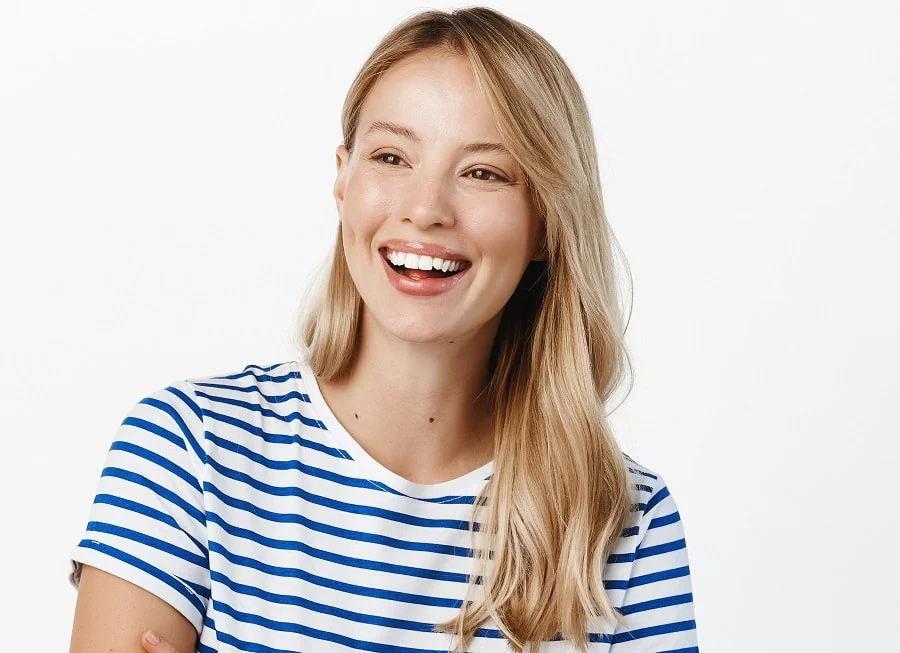 The bangs look great on big foreheads. Curtain bangs are now on everyone's to-do hairstyling list, and that happens because this fringe is highly popular.
So you should definitely try this cut if you have thin hair and a big forehead. It will provide coverage and layers, making this imperfection unnoticeable.
7. Tight Curls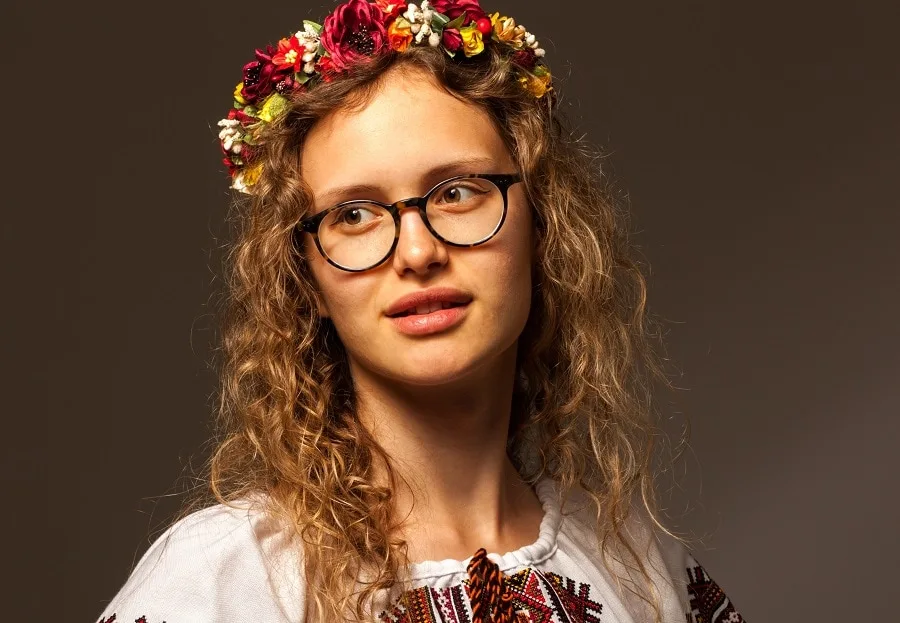 One of the best hairstyles for women with big foreheads and curly thin hair requires enhancing that curl pattern.
To make sure your curls don't get loosen up during the day, while your hair is still damp, use a curling mousse that preserves their shape. If you're feeling festive, you can opt for a flower crown on top of the head.
8. Blonde Pixie Cut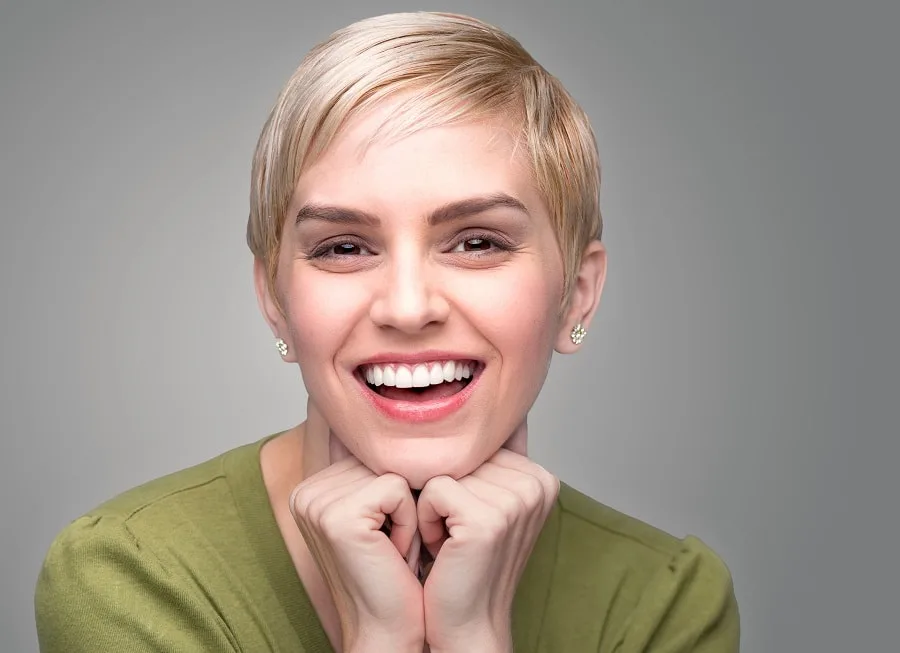 A pixie haircut with side-swooped bangs is exactly what you need to make your forehead look smaller, especially when you have thin hair.
So get a side part and layer your fringe, spreading ut on the forehead.
Choose a blonde color and keep your eyebrows in their natural color so they will get all the attention they deserve.
9. Ombre with Waves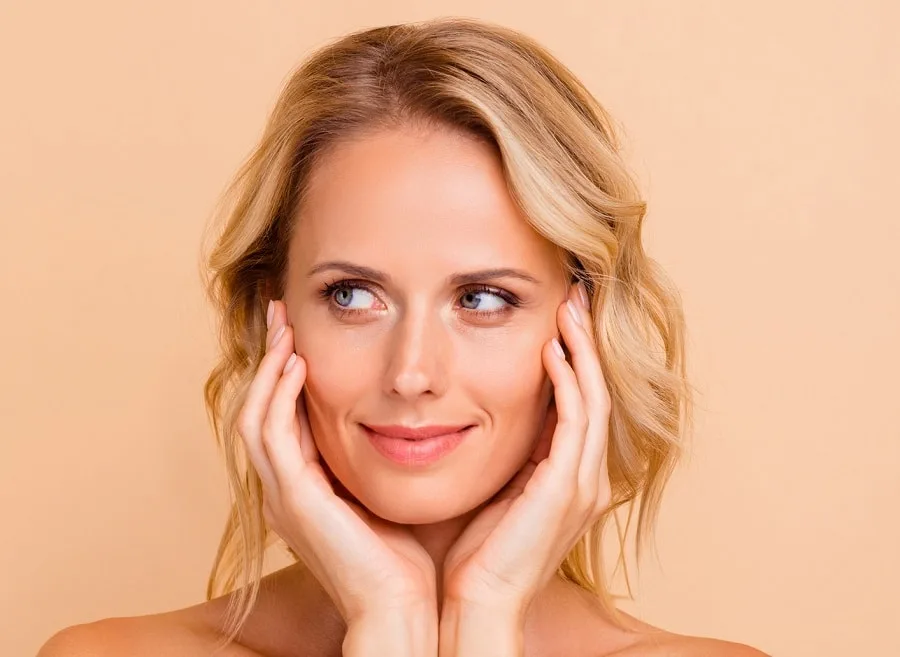 Get more dimension for your roots, especially if you are dealing with fine hair.
Also, you will want to build texture and get rid of that dull aspect of your tresses.
Use a straightening iron and roll strands on the tool, slowly pulling it off. This technique will help you create a curly hair pattern.
10. Messy Bun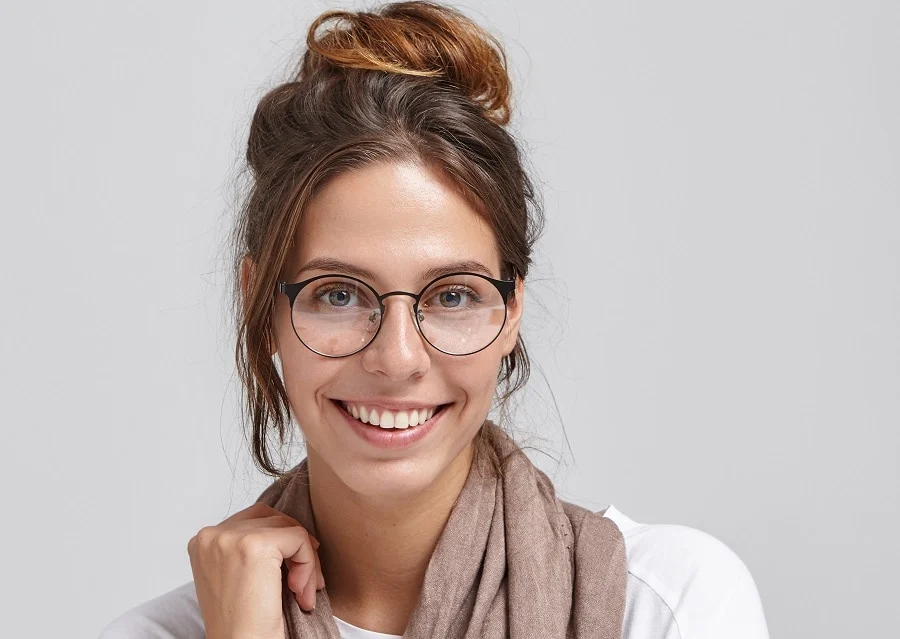 Creating height will definitely help you make your face look elongated. Spare your curtain bangs and gather the rest of your locks in a top bun.
You don't need to comb the hair or previously style it because you want to get that careless look.
11. Angled Bangs
When you are dealing with a prominent forehead, your best chance to make it look smaller is to go for a side part.
This way, you will have enough coverage and will create angles and an illusion.
12. Wispy Bangs for Big Forehead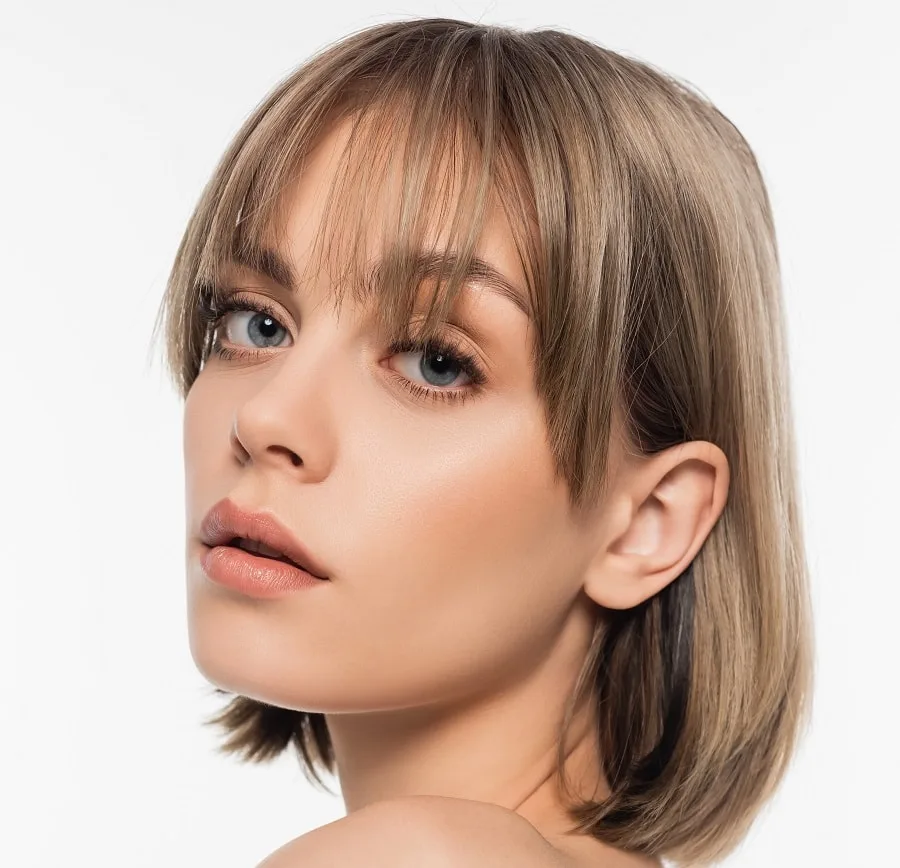 One of the best hairstyles for women with big foreheads and thin hair is a layered bob with wispy bangs that are cut longer on the sides. You can play with highlights and lowlights in the same color range or do an ombre.
Bangs and bobs are among the best hairstyle for women with big foreheads and thin hair because they provide good coverage and properly shape the face.
Even if some fringe types reveal the forehead, middle parts also work well with face shapes with prominent features.
However, you must know that bobs and layers must be involved. Let us know in the comments which trick you use when dealing with fine hair and a prominent forehead.