Oftentimes, women with thin hair find it difficult to style. It usually doesn't have a lot of body or texture, which makes products or heat tools a must. However, there are many gorgeous ways to get body and use what you have to style up a cute look!
Ideal Hairstyles for Thin Hair
If your hair is thin, don't ever think you don't have hairstyling options like most thin-haired ladies do. Take a look at these gorgeous ways to style your thin hair.
1. Thin Straight Hair
This hairstyle features blonde highlights on layers. Layering is the key to creating texture and shape, especially when you have thin hair. The blonde color brightens everything up and gives the style some flair.
2. Thin Curly Hairstyle
If you don't already have curly hair, you can either try getting a perm or use a curling iron to achieve this look. Is your hair already full of curl? Enhance the shape with the leave-in conditioner.
3. Thin Wavy Hairstyle
These gorgeous waves will trick you into thinking your hair is actually a full mane. Cut hair to shoulder length so the waves sort of bunch together and pair it all with your favorite hat!
4. Long Thin Hairstyle
Your long hair can still look great when it's thin – a side bang will do wonders for drawing the eye upward to your pretty face. Drape the rest of your hair over the shoulder for that statement look.
5. Medium Thin Hairstyle
There's no reason you can't wear your thin hair down. Just comb in a center part for simple style that doesn't require extra work and that will make your eyes the focal point.
6. Side Braid
Braids don't need to be perfect to look good. They are in fact ideal to keep the hair neatly tucked away from the face while protecting it from any damage. Tousle the mane on one shoulder with a deep side parting and knit it down to the ends.
7. Twist-Back Bun
No one's ever going to notice your thin tresses with a gorgeous updo like this at formal events. Twist back those side locks and secure them at the back. Roll the remaining hair, chunk by chunk, into a chic side bun, or use a hair donut maker to achieve a voluminous updo effortlessly.
8. Inside-Out Flip
Referring to future brides, consider this hairstyle for thin hair if you don't want your locks to fly away with the wind. Opt for a voluminous bouffant-style top with a pinned-back swooped fringe and an inside-out side ponytail. Add curls to the remaining hair and top off with a white flower.
9. Retro-Chic Bob
Short haircuts are the best option for fine hair. Keep it retro yet modern with a heavily layered chin-length bob to achieve extra movement and body. Rock an asymmetrical style by curling and folding the ends in opposite directions on both sides of the face.
10. Messy French Twist Updo
Messy hairstyles are a thin-haired lady's best friend. Recreate this romantic updo with a pouf at the front, slicked back sides, and a ruffled French twist at the back. Tease the hair before folding it to achieve extra volume. Leave the ends sticking out and bring the look together with a flower clip.
11. Colorful Cornrows
Cornrows are an ideal protective hairstyle loved by women all over the world. Give your hair a break from heat styling by plaiting it into fine scalp braids. Spice them up by adding extensions in the brightest colors going as long as you want. Gather your knits in a ponytail or half-up bun and done.
12. Platinum Buzz
Short is sexy and here is a look to prove it. Start fresh by getting a buzz cut and instead of going for a uni-length chop, keep the top slightly longer than the sides. Finish off with a few carved-out slits or an elaborate design at the back or sides and a platinum blonde hair color.
13. Headband Hairstyle
Headbands are classy and come in handy when you can't think of any other hairstyle. An elastic hairband is suitable for fine hair as it keeps the strands assembled making them appear healthier than usual. Take a few minutes to add some loose curls/ waves and you won't regret it.
14. Baby Braids with Beach Waves
Baby braids are back and look hotter than before. Create an instant on-the-beach look with soft curls and brush them out to achieve the perfect wave pattern. Plait down the front chunks to frame the face. Tousle the hair at the front and voila! Easy-breezy!
15. Pompadour Pixie
Don't mind going short? Consider this pixie hairstyle that is ideal for thin hair. Buzz the sides keeping the top long enough to be styled in a sexy pompadour. All you need is a barrel brush and dryer to sweep the strands sideward or straight back for a more professional appeal.
16. Classy Finger Waves
Finger waves have stood the test of time and can be created with any type of hair to make a style statement worth remembering. Whatever the length, create S-shaped waves using a hefty amount of mousse, a tail comb, and your fingers all over the head or the front only.
17. Medium-Length Layers
There's no use in keeping your fine tresses long when they look lifeless all the time. Opt for a medium-length chop and avoid a blunt look by getting some layering done particularly around the face. Plait damp hair into two loose pigtails overnight to end up with the most beautiful heatless waves.
18. Crown Twist Braid
Crown braids look lovely without a doubt and this twisted version is suitable for women who find braiding difficult. Take two chunks and twist them around one another. Keep on adding hair while moving around the head with or without a parting and secure everything in place with pins.
19. Tucked-In Look
Winter is here and so is the tucked-in hair trend. Achieve an on-the-go look by slipping your tresses under your coat or turtleneck and that's it. With such a sexy hairstyle you'll be happy with your thin hair for once!
20. Bubble Braids
Fun, snazzy, and easy to style, what can be better than a couple of bubble braids on casual days? Create two pigtails and keep on adding rubber bands at regular intervals along the entire length. Loosen the sections in between to achieve a characteristic bubbly look.
21. Layered Thin Haircut
The next time you see your stylist, ask for long layers. They'll add in piecey movement to the bottom half of your hairstyle. A few choppy layers along your face and a side bang will go a long way toward making you feel flirty and feminine.
22. Fine Hairstyle for Women Over 40
Over 40 and not sure what to do with your tresses? These curls are soft and frame the face beautifully. Just by adding a little product and using a diffuser to banish frizz and hold shape, you can get this look.
23. Thin Hairstyle for Women Over 50
Embrace your natural color, whether it's white or gray, on a medium hairstyle with a center part. Whatever your hair texture, leave it natural to maintain that soft vibe, especially around the face.
24. Fine Hairstyle for Older Women Over 70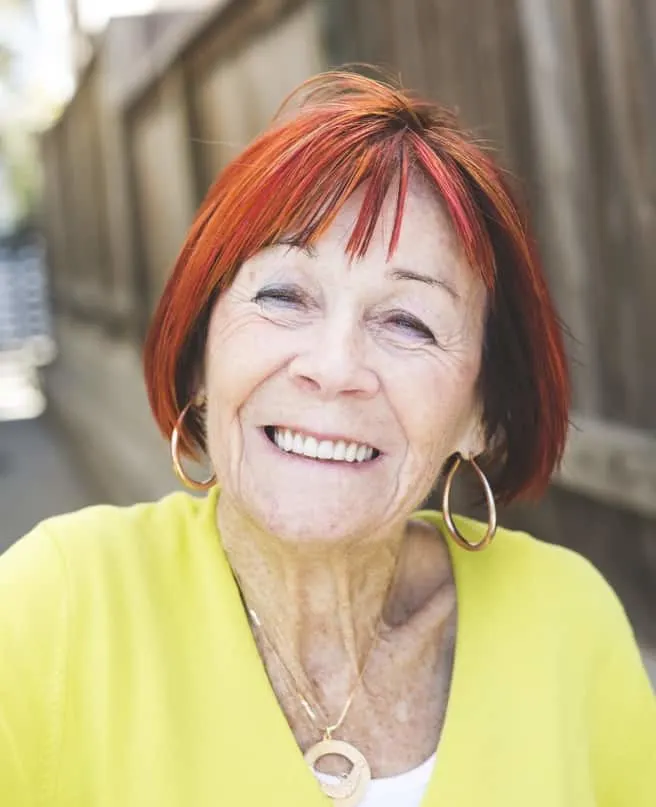 When you're an older woman ready to experiment with hair color, try a bold red with sporadic strands of black and lighter red. This combination stuns on a short thin hairstyle with bangs.
25. Thin Hairstyle for Long Face
Long faces don't necessarily have to sport bangs to round out the shape. A center part works just fine, especially when no one will be able to tear their eyes away from cascading waves.
26. Thin Hairstyle for Curvy Face
Thin hair looks super pretty gathered back into a low side ponytail. Take care not to smooth all the bumps as it adds volume. The waviness of the ponytail helps with creating a girly hairstyle.
27. Thin Hairstyle with Bangs
This high ponytail is the ultimate girl-next-door hairstyle. It looks best with medium to long hair gathered up, then finished off with straight bangs that stop just above the eyebrows.
28. Natural Thin Hairstyle for Black Woman
If you prefer to keep your hair on the short side, try out a cute wedge pixie. Hair is still to neck length, but all the movement and body is focused up top for a posh style that works with thin hair.
29. Braided Hairstyle for Thin Hair
Braids don't always have to be thick to be feminine. This look features two classic low braids on thin hair. The hair is braided to almost the ends, but leaves enough hair loose to curl. A fun fashionable hat tops it off.
30. Ponytail for Fine Hair
Comb back your fine hair into this classic ponytail, leaving a few bumps to keep it relaxed. This hairstyle is a great go-to when you're heading to the gym or running errands.
31. Prom Hairstyle for Thin Hair
Your prom is a special occasion that deserves a great hairdo. Gather your thin hair into a chignon or low bun and let a couple face-framing tendrils curl around the face.
32. Vintage Hairstyle for Thin Hair
Platinum hair is the epitome of a glam hairstyle. Rock it for your thin hair by creating this vintage look loaded with thick waves and a classy red lip.
33. Blonde Thin Hairstyle
If your hair seems to be stringy at the ends as well as thin, you can draw attention away from that by playing up color. This shade of blonde flatters light and pale skin tones as well as adds an artistic style element.
You can feel gorgeous on your wedding day with a long half-braided hairstyle. Using texturizing spray will help to tease the hair and play up any waves you add with a curling iron.
35. Two Buns for Thin Hair
Your thin hair will actually feel luxurious tucked up into these two buns. To add a bit more texture to your hair, curl it or add a few waves before pulling hair up.
36. Curls
If your hair is fine, curls and waves will become your best friends. Of course, they are not an everyday solution, but for special occasions, they are the best hairstyle for thin long hair you can imagine. Play around with the curl size to find the one that looks most fabulous.
37. Straight and wavy
Haircuts for thin hair vary in length. If you choose to keep your hair long, but don't want to overdo the curls, keep it straight on top and wavy on the bottom. This style requires less maintenance than the regular curls and still looks very interesting.
38. Asymmetrical Bob
Bobs are great hairstyles for fine thin hair. Especially the asymmetrical ones. Such asymmetry helps add volume to the bob while keeping the style very easy to handle. Wispy bangs are a great addition to any fine-haired bob.
39. Chin length bob
Bobs are great for thin hair. Fine hair doesn't like to be long, so chin length hairstyles are the best choice for it. Straight haired bobs always look great, so lucky owners of thin hair can experiment with short bobs any way they wish.
40. Shoulder length hair with wispy bangs
Keeping your fine hair shoulder length needs some work. Don't be afraid, you won't be spending hours in front of a mirror. Just give your hair a little tousle and add some wispy bangs. A great short hairstyle for thin hair is ready!
Teenager? Try These Hairstyles
41. Long graduated bob
If you have thin hair, bobs are your right hand. You can do almost nothing without them. Play around with the length to choose the one that suits you best. Don't add bangs if you don't want to. Such bob will look great all on its own.
42. Classical pixie
Pixies are next in line after bobs for girls with thin hair. Fine hair feels great when it's short, so pixies will make any woman with thin hair look fabulous. Add some wispy bangs to complete the look and you'll forget about ever being ashamed of fine hair.
43. Short bob with highlights
Learning how to play around with highlights is imperative for the women with thin hair. One of the best short hairstyles for thin hair is the bob. If you add highlights, you can diversify the simple bob in so many ways, you'll be really amazed.
44. Bob with a side part
Side parts are great for thin hair since they add any hairstyle some volume. The more hair you brush to one side, the more volume you will create. Make sure to keep the bangs neat. Tucking some hair behind the ear will add the style a sexy feel.
45. Straight hair with parted bangs
Bangs add a lot of style and volume to the thinnest hair out there. If your hair is too thin to produce blunt bangs, go for parted wispy bangs. They always look fashionable, are easy to maintain and will make you feel fabulous.
46. Graduated long hair
Even though bobs and pixies are a more popular choice for women with fine hair, the length shouldn't be completely forgotten. Flaunt your long hair by making layers. Layers add a lot of volume and help fine hair avoid a dull look.
47. Textured Pixie
Ask your stylist for a short textured pixie and you are bound to get a new and fresh look regardless the type of your hair. Women with thin hair should take a good look at such a pixie, since it needs almost no maintenance and looks fantastic.
Trendiest Pixie Cuts for Women
48. Hidden highlights
Hidden highlights are a great weapon if you know how to wield it. Any woman with fine hair wants volume. So, this is exactly what you should tell your stylist. Well-chosen colors for hidden highlights can add volume to your thin hair without much effort.
49. Disheveled look
Got baby fine hair and no patience to deal with it? Go for the disheveled look. Such style will do a great job hiding the real amount of hair you've got on your head and needs little to no maintenance. Give it a try!
50. Long wavy bob
Don't forget about the waves. Hair doesn't necessarily need to be long to look great when wavy. Bobs are a wonderful hairstyle, which looks even better with curls and waves. Add some romance to your style, let the waves do the job.
51. Windblown style
Windblown style is a more neat version of the disheveled look. While the disheveled look might not be a good office hairstyle, the windblown version is good for any occasion. Brush the bangs to the side and do some work with your hairdryer to achieve the windblown impression.
52. Teased hair
Teasing your fine hair might not be too good for its health, but the result is amazing. If you need to come up with a good style for a special occasion, this is a good option. Try to use as little hair cosmetics as possible.
53. A long tousle
Long hair can easily be tousled as well as the short one. Actually, this hairstyle for long thin hair can easily become your favorite. There is almost nothing to do here. Keep your hair long and straight and add long bangs to complete the picture.
54. Long blunt bob
Asymmetry might be fine hair's best friend, but there is no reason to abandon blunt bobs. They look great on fine thin hair if they are long enough and are styled properly. Add some side swept bangs and your look is complete.
If you consider coloring your fine hair, don't forget the rule of thumb. The lighter the hair, the more voluminous it looks. Accordingly, women with fine hair should go blond and there is no doubt about it. Choose the right shade of blond and give it a try!
56. Slight waves
If you are not ready to go through the rounds of creating full-time curls and waves, you can easily go for the simple slight waves look. The slight waves are easy to style and they look great on long hair. Don't forget about the bangs.
57. Brushed to one side
If you are not ready to go for the bangs, you can still achieve a little volume on top by brushing the hair to one side. Making a middle part without bangs is not always a great idea for women with fine hair, while the one-sided look can be a good choice.
58. Short and neat
If you are tired of a constant struggle for keeping your hair voluminous and sparkling, give it a rest. Fine hair doesn't mean you must always try to add volume. Keeping it short and neat will give your look an amazing cuteness, you might not want to change in the future.
59. Back to the '20s
This is a very interesting way to add volume to hair without much effort. Brush your bangs to one side and seal them with some hair gel and you will get a unique and outstanding look, that girls with thick hair will envy.
60. Let it grow
Roots must always be colored on time, right? Wrong! Girls with fine hair can let the roots grow out a little in order to create a transitional feel to the hairstyle. A little dark hair mixed together with the blond shade of choice will not ruin your look.
61. Accessorize
Don't ever forget about the accessories. The correctly chosen accessory can change your look drastically. So, think about the ones you like best and don't be afraid to use them. Any type of brushes, hair pins or bands will draw the attention away from the hair type.
62. The classics
This textured long bob with fringe can be considered the classical hairstyle for women with thin hair. While keeping the hair a little longer than the pixie will allow, this bob creates an impression of volume without almost any maintenance.
63. Highlights on top
Another way to use highlights on fine hair is to keep them on top only. What we are trying to do here is create as much volume on the top part of the hair as possible. In order to achieve that we use proper highlights and keep the lower part of the hair as thin as we can.
An impression of an undercut allows brushing most of the hair to one side. This way the feeling of the volume is created. Proper coloring is a must here, otherwise, the undercut look will be ruined. Give this unique style a try.
65. Make them thinner
You'll be surprised but one of the ways to give your fine hair some volume is to keep it thinner. How would you do that? Keep the volume on top and then the falling strands out to make a contrast. This way the top part looks even more voluminous.
66. Straight and natural bob
Depending on how thin your hair is, you can settle for a natural looking bob, like the one on the picture. Such bob looks very neat and is often a hit. Women with thick hair will spend a lot of time creating such a hairstyle, all you will need to do is brush and go!
67. Choppy Bob
A choppy bob is a wonderful idea for anyone with thin hair since the choppy ends give a lively and voluminous look to the dull and thin hair. Make sure to keep your hair blond, otherwise, the choppy bob won't be as effective.
68. Textured asymmetry for long hair
If you are bold enough to keep your hair at least at a shoulder length, there is no way you can just leave them straight. Make sure that you either add some texturing or asymmetry or both, otherwise, the hair will look dull and thin.
69. Colored ends
An easy way out for women with thin hair would be colored ends. The best choice would be to keep the ends darker than the rest of the hair since it would give the top more volume, but a vice versa version is also allowed.
70. Short blunt bob
Blunt bobs look great on short hair as well as on the long ones. A neatly styled blunt bob is a great choice of hairstyle for fine thin hair. Go for the side swept bangs to complete the look.
71. Dark Pixie
While the color of choice for women with thin hair is blond, dark colors are also allowed. If you decide to go for a darker color, make sure that you keep your hair short. Dark long thin hair doesn't have many chances.
72. Asymmetrical pixie
Asymmetrical pixie is a stylish haircut, which looks great on any hair. Women with fine hair will appreciate this style for its voluminous look and easy maintenance. Make sure to add the side swept bangs.
73. Mix and match
If you can't play around with the volume, give colors a chance! Any woman with thin hair is a little limited to a choice of hairstyles but there are almost no limitations to the choice of colors. Use your imagination and mix and match any way you want. Just keep them as light as possible.
74. Get creative
Don't forget about getting creative with your hair. On special occasions, fine hair can be allowed to become anything you want. However, make sure you give your hair a lot of rest, so it doesn't get even thinner.
75. Colored Layers
If you are leaving your hair long, you must create some layers. When layers are in place, think about giving them some life with different colors. Play around with all shades of blond. Light brown is also allowed.
76. Cropped pixie
A cropped pixie is a great choice for making fine hair on top seem more voluminous, while the tapered back accentuates the jawline. This creative hairstyle is sure to keep some heads turning, so go ahead and try it out!
Can You Make Your Thin Hair Look Thicker?
Luckily, it only takes a few easy tricks to make thin hair look thicker! If you typically part your hair in the middle, switching to a deep side part can add volume to your hair and make it appear denser.
You can also try using a heat-protectant volumizing styling product before blow-drying your hair for a DIY blowout look.
Texturizing and styling products can also make a big difference. If you have super short hair, try using a thickening pomade or hair clay to tousle some volume into your locks.
We hope by now you know that fine hair doesn't mean being left without a great hairstyle. There are so many options for thin hair out there, that it would be a crime not to try at least some of them out. You'll be surprised at how your hair gets lively and bright right in front of your eyes.
FAQs
Here we'll review some of the most commonly asked questions regarding thin hairstyles.
Short or long: what's the best length for thin hair?
The answer depends on your haircut, hair texture, and styling methods. A short, layered pixie or a blunt bob can volumize thin, straight locks.

Shorter and mid-length haircuts are also good options for adding fullness to thin curly and coily hair.
Can I layer my thin hair?
Yes, layers can add volume to thin hair in some cases, but over-layering might also create a wispy look. Ask your stylist for advice on layering.
What hairstyle is best for very thin hair?
If your hair is very thin, a short or medium hairstyle will maximize its volume. A pixie cut with choppy layers is a cute, femme look for straight hair.

Close crops are also an adorable choice for curly and coily hair. Finally, an androgynous buzz cut is a striking style for hair of all textures.
How often should I wash my thin hair?
Experts advise shampooing thin hair every other day, as over-shampooing can lead to increased oiliness. Using volumizing shampoo and conditioner on your wash days can help to give your hair that extra oomph.
How do I know if my hair is thin?
The ponytail test is a simple trick to help determine your hair density. Get a standard-sized ponytail elastic. How many times do you have to wrap it around your hair to create a ponytail? If you answered "more than three times," your hair is thin.