Hairstyles for older women come in many shapes and styles. As women age, sometimes our hair starts to thin out. It becomes fine, maybe even brittle, and can oftentimes feel undesirable. If you're looking for a way to liven up your fine hair, you'll appreciate this list of amazing hairstyles for older women with fine hair that'll help you fall in love with your hair again.
These 20 older women's haircuts and hairstyles will help you pick the right one if your goal is to look amazing with thin hair.
1. Older Woman with Short Fine Hair
To have a short haircut and maintain the full body you love, you can use curlers or a bit of product worked in with your hands. Shape bangs across the forehead for softness.
2. Older Woman with Thin and Straight Hair
Styling straight hair is a breeze. This short pixie is parted just off the center, with straight bangs lightly covering the forehead and a rich strawberry blonde color to cover it all.
3. Pixie
Fine hair is the best texture to rock a straight pixie. Embrace your white hair color as well while fashioning these long sides, short top trendy hairdo.
4. Older Woman with Fine Long Hair
Are you still blessed with long hair like the above women? Whether you have just a few white hairs or you ask your stylist to cover your whole head with white, a long cut with wavy body is the way to keep yourself feeling youthful.
5. Curly Bob
If you're an older woman who wears glasses on the reg, a short haircut for your fine locks will help round out your face. The bangs are thin and the body is wavy for a flattering balance.
6. Shoulder-Length Layers
No matter your age, a straight medium length hairstyle looks great with fine hair. This shoulder-length do features a side part with subtle layers and curl.
7. Curly Pixie
Are you used to wearing your hair long but have amazing texture? Going short will help fine hair look thicker and be more manageable as well. Play with grey and white to embrace your age!
8. Fine Hair Pixie with Cropped Bangs
For older women with round or oval faces, a super short pixie is adorable and flattering. Cut the bangs super short and curl the tips for edgy yet soft vibes.
9. White Layered Hairstyle for Women Over 70
An all-white hairstyle is cutting edge for older women and you can help fine hair look thicker by asking your stylist for layers. Insert a partial side part to create a soft side bang.
10. Fine Pixie with Straight Bangs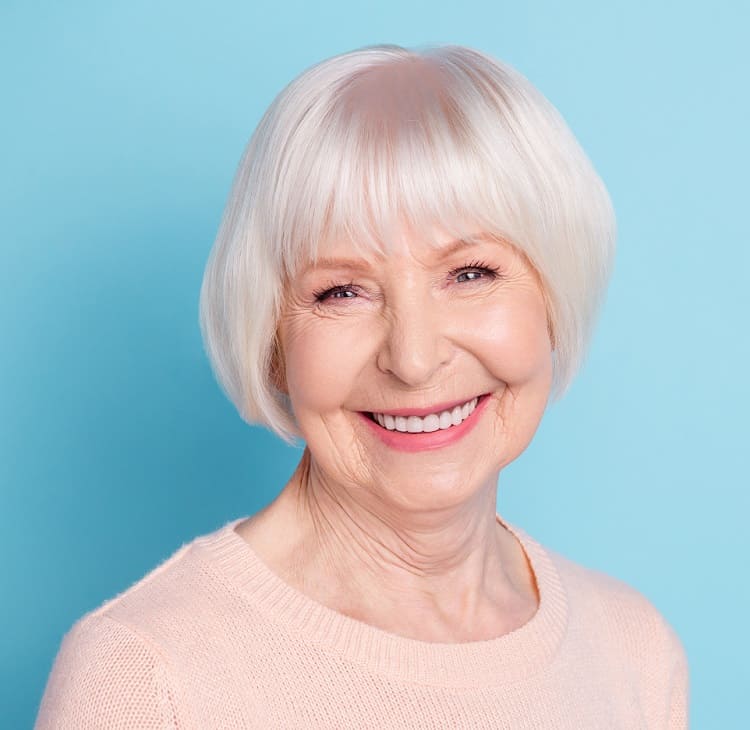 Another all-white hairstyle that pops is this short jaw-length bob with long straight bangs that meet the eyebrows. Get super-smooth texture by conditioning regularly.
11. Low Updo
Are you one of those few lucky old women who can grow thin hair longer than the shoulder? Instead of wearing your hair loose every day, try pulling it back into this low ponytail. It will keep your fine hair off the face in a stylish way whether you're at the gym or at home.
12. Formal Updo
Getting older but still want to look amazing for a wedding or other fancy event, right? Gather your fine hair into a medium-high ponytail and accent it with a pearled barrette. Brush your bangs to the side for softness.
13. Wavy Bob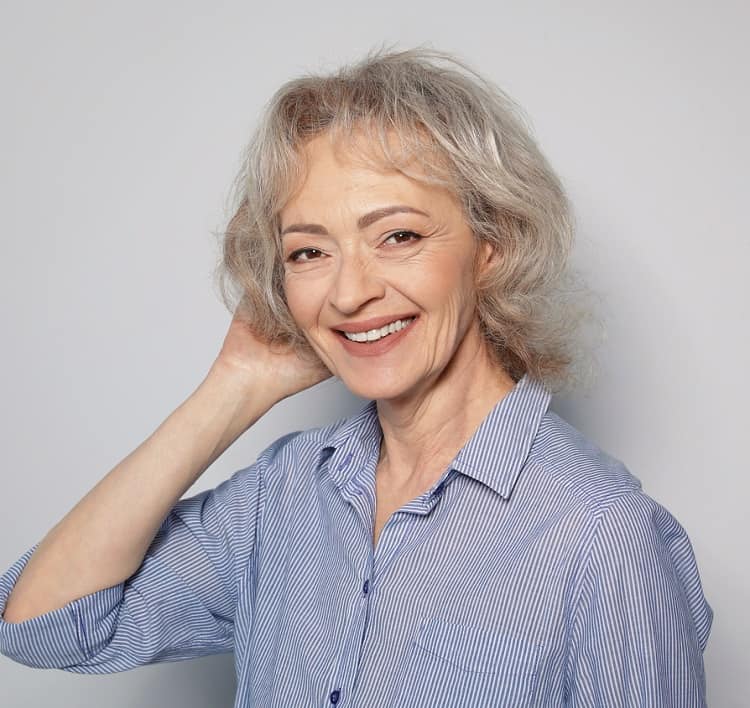 Your hair may be getting thinner as you age, but you can still show off the texture. For waves, use a bit of hair cream and finishing spray for all-day hold on a shoulder-length style.
14. Colorful Pixie for Fine Hair
An edgy pixie that combines both long and short hair is the epitome of edge. Make it even more rock by adding color, like blue or purple. For old women with thin hair, this hairstyle is perfect.
15. Purple Shag
Your fine hair won't look thin anymore when you shape texture with hair cream. This shaggy cut actually looks thick and even more fun with the tips colored a light shade of purple.
16. Simple Short Wavy Haircut for Very Fine Hair
If having a manageable haircut when you get older is important to you, you'll love the convenience of this short haircut. The wavy body in your fine hair can easily be shaped and defined with curl creme.
17. Red Updo
Not ready to embrace your natural color? Try something more bold like this shade of red. It looks great on a braided updo, the perfect style for a weekend event.
18. Straight Fine Pixie with Choppy Bangs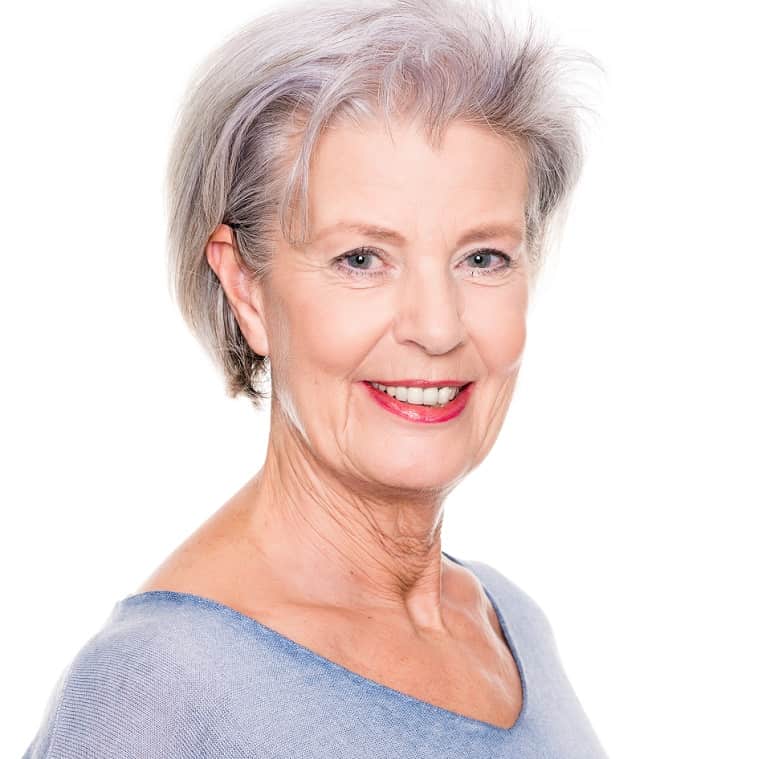 Another way to style thin hair is by cutting it to the top of the neck, straightening it, and giving the bangs a choppy cut. Your beautiful eyes will pop with this style.
19. Super Thin and Curly Hair
If your fine hair doesn't have a lot of body to it, try opting for a perm for curls that will last several months. The short style will stay looking beautiful on its own without any maintenance.
20. Cropped Blonde Pixie
Blondes can still have fun at an older age! Color your short fine hair any shade for a lightening of color and keep the style cropped super short for edgy vibes.
These hairstyles for older women with fine hair are all prime options for style. The best way to take care of your hair and maintain an amazing look is by conditioning and avoiding hot tools which will cause split ends and damaged strands. Now is the time to embrace your natural texture and feel great!