Hairstyles for older women come in many shapes and styles. As women age, sometimes our hair starts to thin out. It becomes fine, maybe even brittle, and can oftentimes feel undesirable. If you're looking for a way to liven up your fine hair, you'll appreciate this list of amazing hairstyles for older women with fine hair that'll help you fall in love with your hair again.
These 30 older women's haircuts and hairstyles will help you pick the right one if your goal is to look amazing with thin hair.
1. Long Feathered Pixie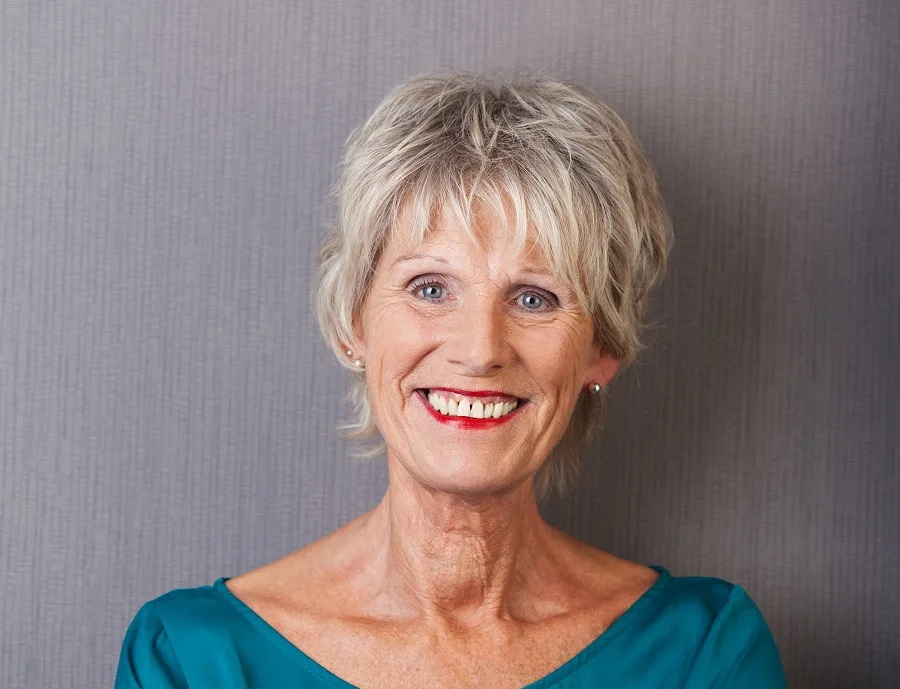 Feathered cuts always create instant volume and are actually pretty easy to style if you have naturally fine hair. Use a blow dryer and a round brush to add height to the loads of layers at the top of the head.
These wispy bangs of varying lengths create a choppy effect that makes hair appear thicker and full of energy. Short pieces coming out under the ears also adds to that feeling of fullness. We love the way this cut brightens and frames the face!
2. Curly Pixie With Tapered Sides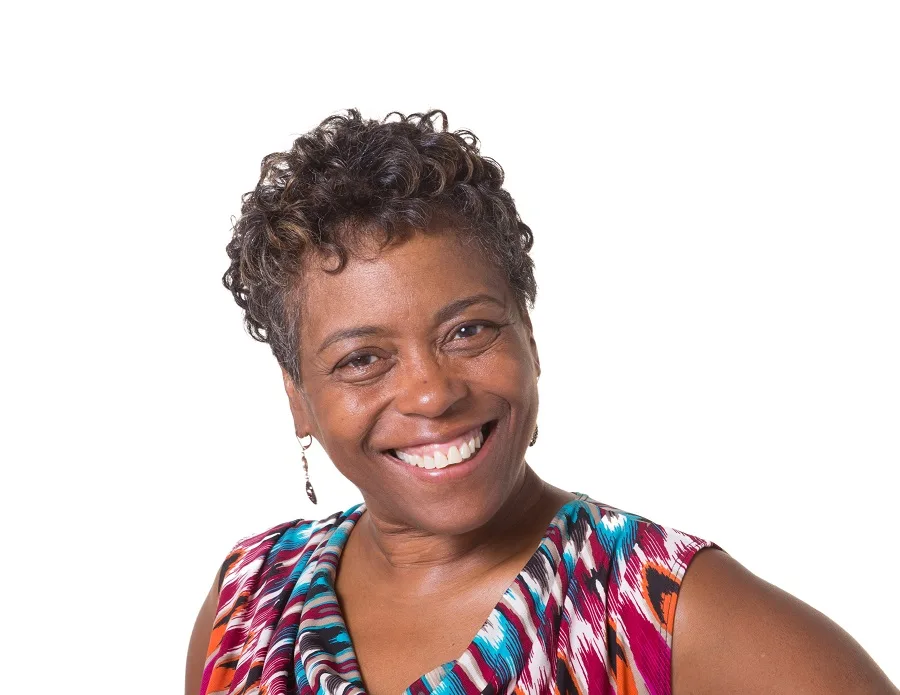 A tapered cut always makes hair look fuller, thanks to the close cropped sides and the thick portion up top. While a variety of textures can work with this hair, setting natural curls against straight, short temples creates thickness.
As for the bangs, you can go as long as you'd like, but typically, short bangs mirror the closeness of the cropped hair over the ears.
3. Mini Pompadour Pixie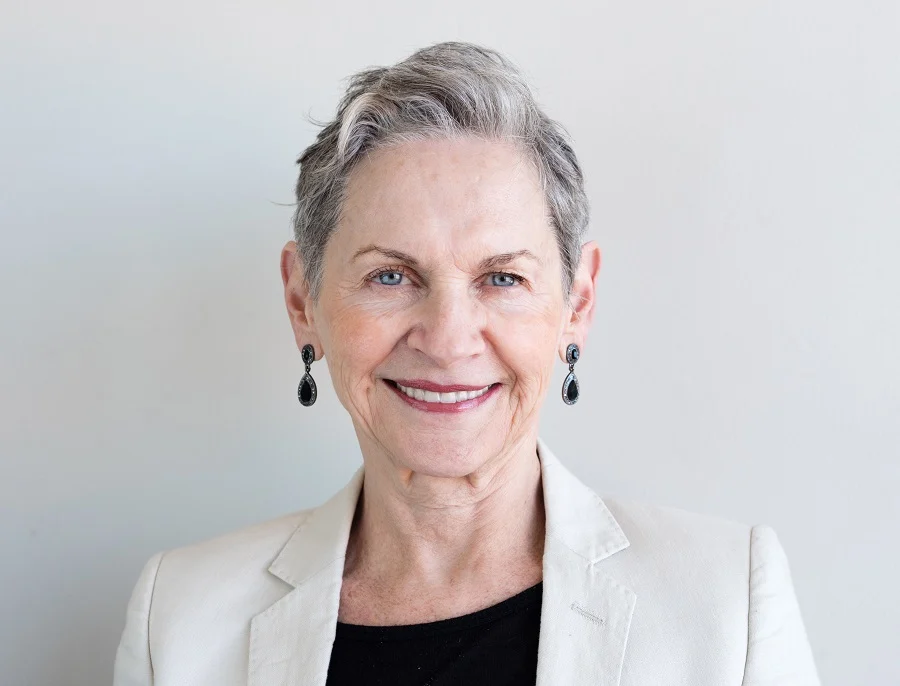 This is such a sophisticated style that is so easy to create. Because you're creating height with a pompadour style, short hair will automatically look much thicker.
Additionally, this style makes a round face appear longer and beautifully oval shaped. Don't feel like you have to be perfect with this style, either. Some texture at the top of the forehead feels approachable.
4. Round Wispy Bob for Curly Hair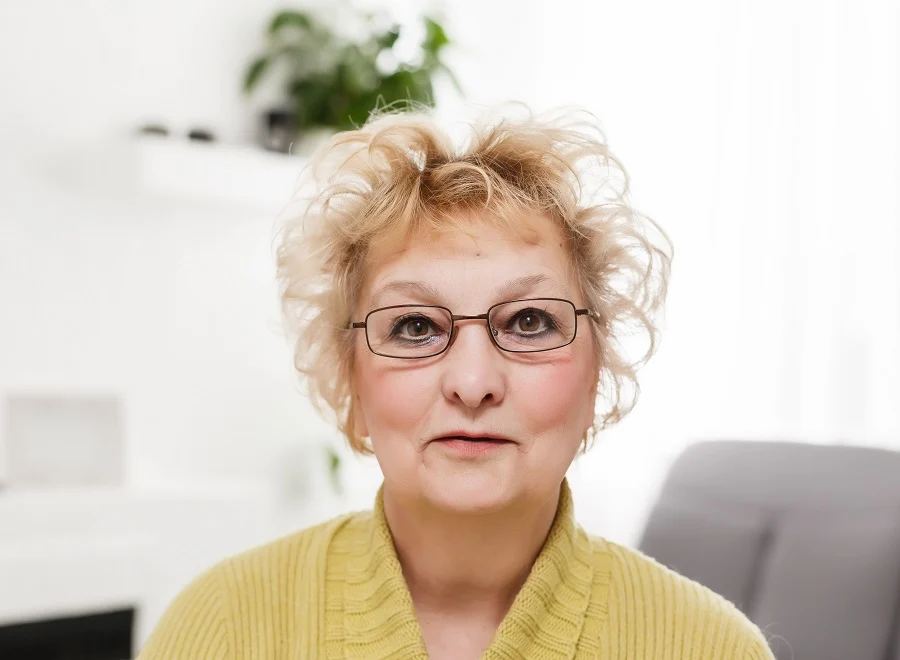 Fine yet curly hair can be tricky. Luckily, curls create the illusion of volume naturally, so why not lean into that? A round style emphasizes the roundness of your curls.
Hair should be delicately blown out so as to not create breakage while also giving off the appearance of thickness. Short bangs only enhance this effect. This look is ideal on an oval or square shaped-face.
5. Sleek Bob with Off-center Part
Somehow, just slightly throwing off a center part instantly thickens the hair- or at least makes it look thicker! This soft part creates roundness that is mirrored in a rounded under bob that will not only protect fine hair but will plump it up.
A sleek bob is perfect for naturally straight hair, but can also work on various hair types.
6.Sleek Ombre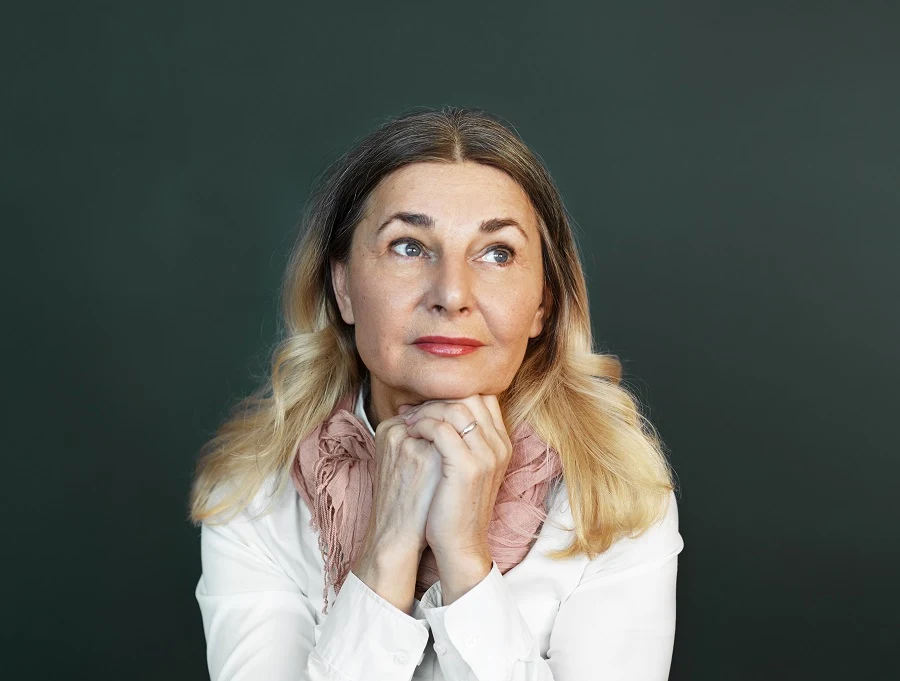 Even if your hair isn't long, ombre styles naturally makes hair appear thicker, thanks to the dark roots that gradually fade into lighter color. This creates some serious depth.
Typically, darker roots on lighter hair will have this effect. It's especially great for longer hair because as hair grows, it can appear less full and more stringy. So, consider ombre for fine, medium length hair.
7. Mushroom Cut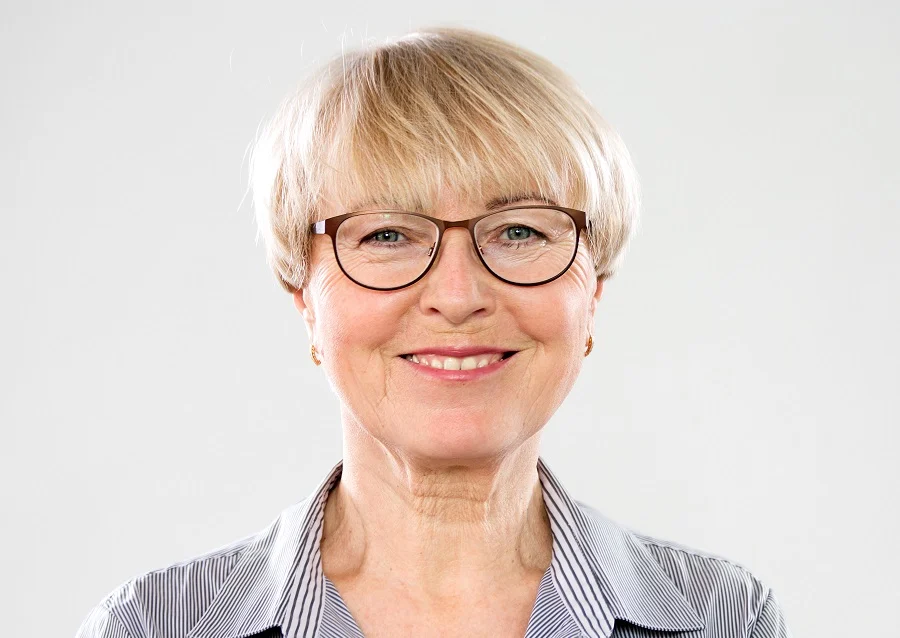 Another great cut for mature women with fine hair is the mushroom cut that gained popularity during the 90s. This naturally rounded cut instantly makes hair appear thicker than it really is, prompting many women of a certain age to choose this style.
Especially if you have glasses, these long bangs provide the perfect framing. To make the cut feel mature and up to date, hair should be longest over the front of the ears.
8. Close Crop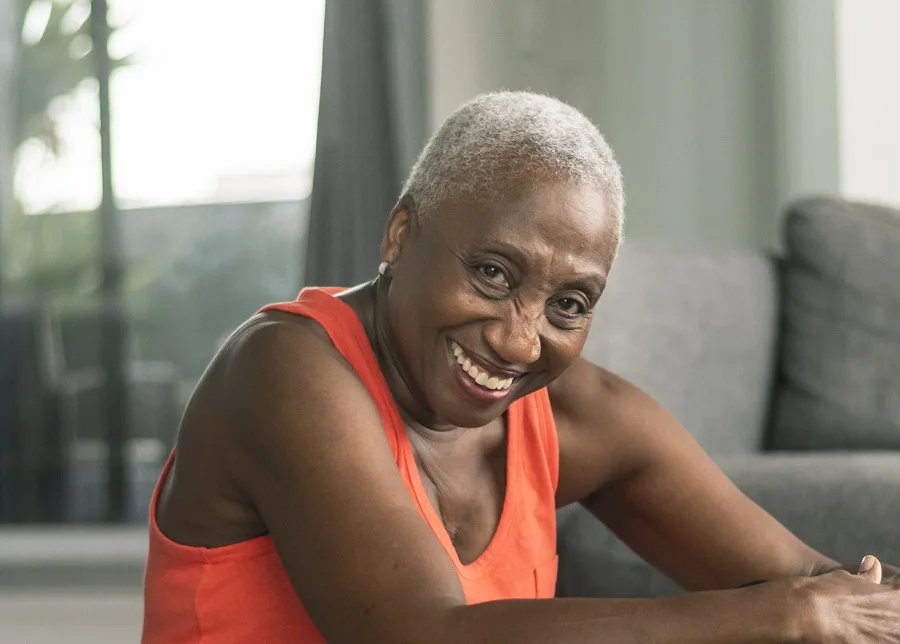 What's not to love about this easy cut? Styling is virtually eliminated and you're sure to make your hair appear thicker with a buzzed style.
Embrace your natural beauty and try a close crop like this one. Sometimes, instead of fussing over fine hair, it's easier to cut it off and work with what you've got!
9. Curly Pixie Bob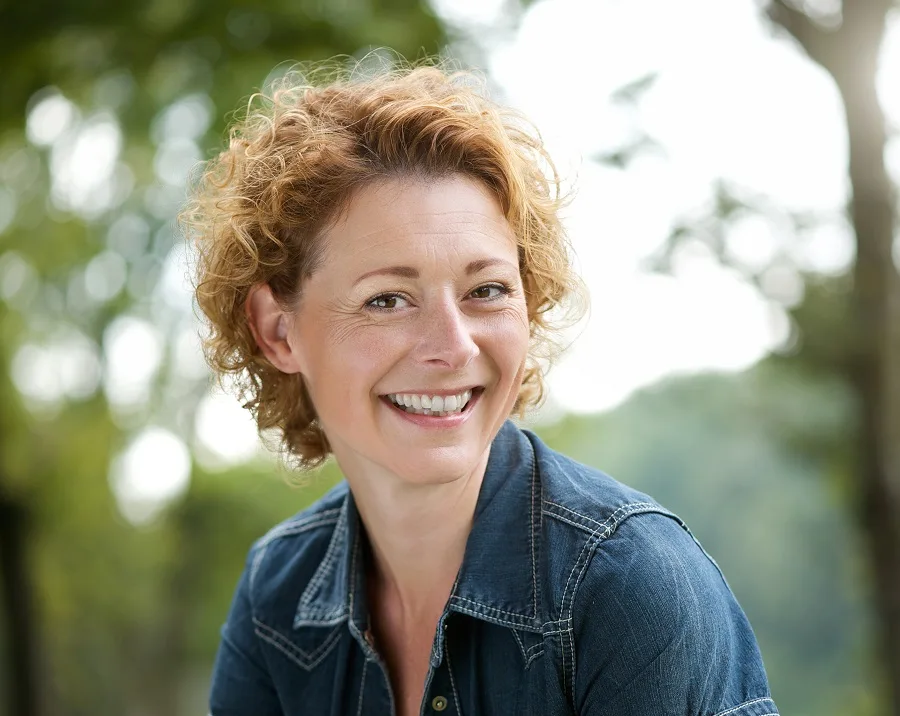 A pixie bob is an approachable way to cut your hair short without losing too much length. Most of the time, short hair looks thicker than long, so a full pixie bob with texture is a great way to go.
For a full feeling, try a swooping side part that adds to the illusion of loads of hair. Short layers cut throughout the hair will contribute to a vibrant feeling of thickness.
10. Undercut Style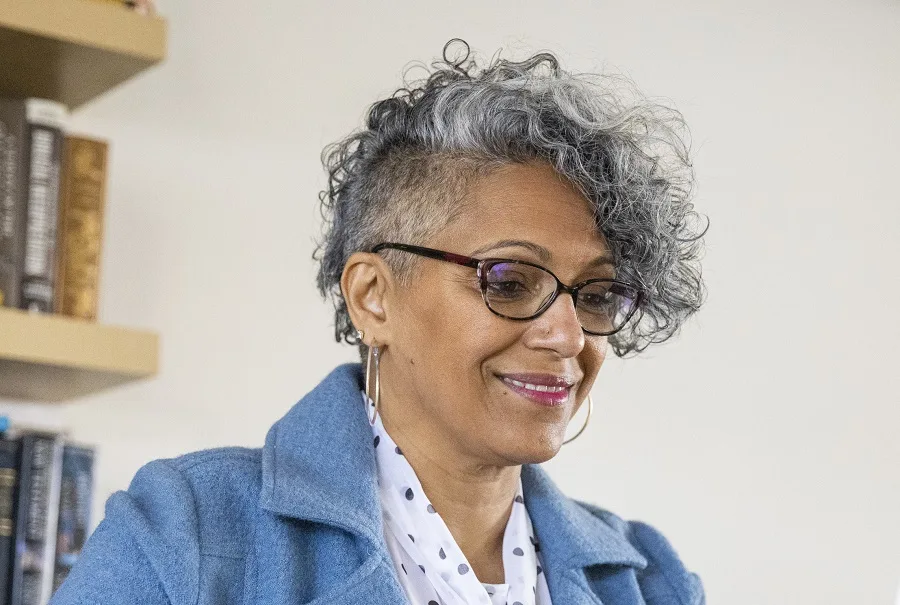 Nothing says 'fashionable' quite like an undercut style on short hair. This look is popular even among young people and looks great for women of a certain age.
By adding in a totally new texture that is buzzed, especially when contrasted against soft curls, you're adding interest and creating that ever-desirable illusion of more hair than what is actually there.
11. Older Woman with Short Fine Hair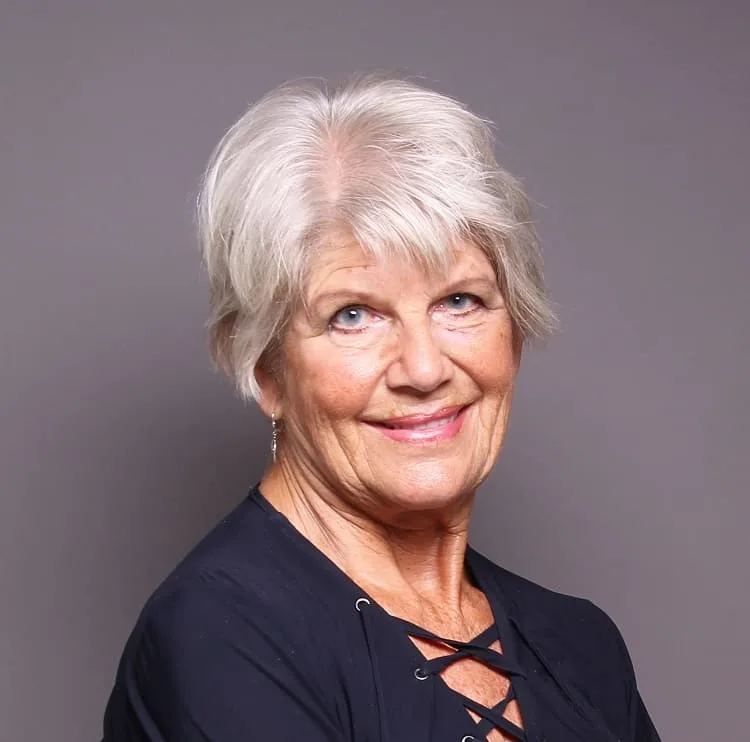 To have a short haircut and maintain the full body you love, you can use curlers or a bit of product worked in with your hands. Shape bangs across the forehead for softness.
12. Older Woman with Thin and Straight Hair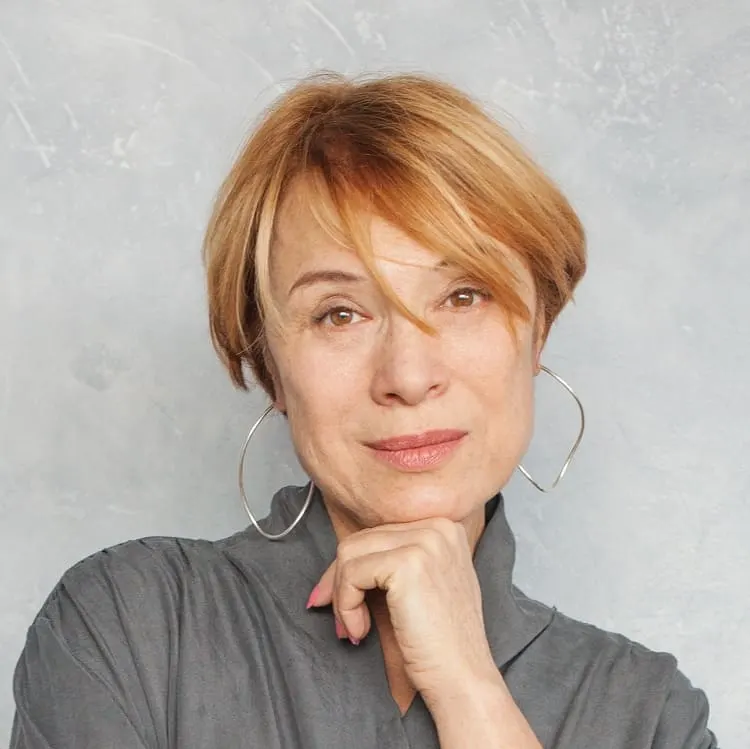 Styling straight hair is a breeze. This short pixie is parted just off the center, with straight bangs lightly covering the forehead and a rich strawberry blonde color to cover it all.
13. Pixie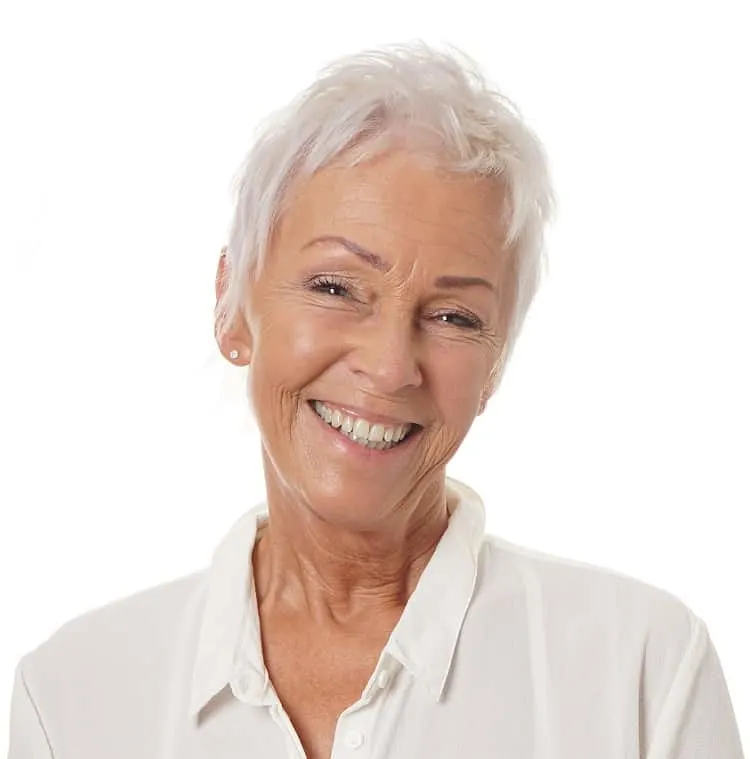 Fine hair is the best texture to rock a straight pixie. Embrace your white hair color as well while fashioning these long sides, short top trendy hairdo.
14. Older Woman with Fine Long Hair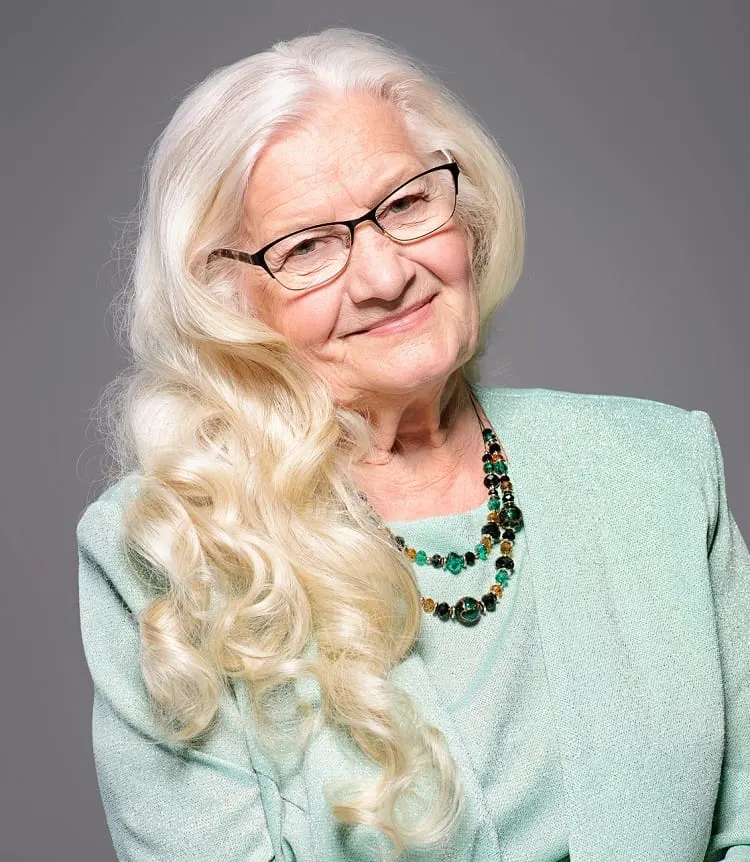 Are you still blessed with long hair like the above women? Whether you have just a few white hairs or you ask your stylist to cover your whole head with white, a long cut with wavy body is the way to keep yourself feeling youthful.
15. Curly Bob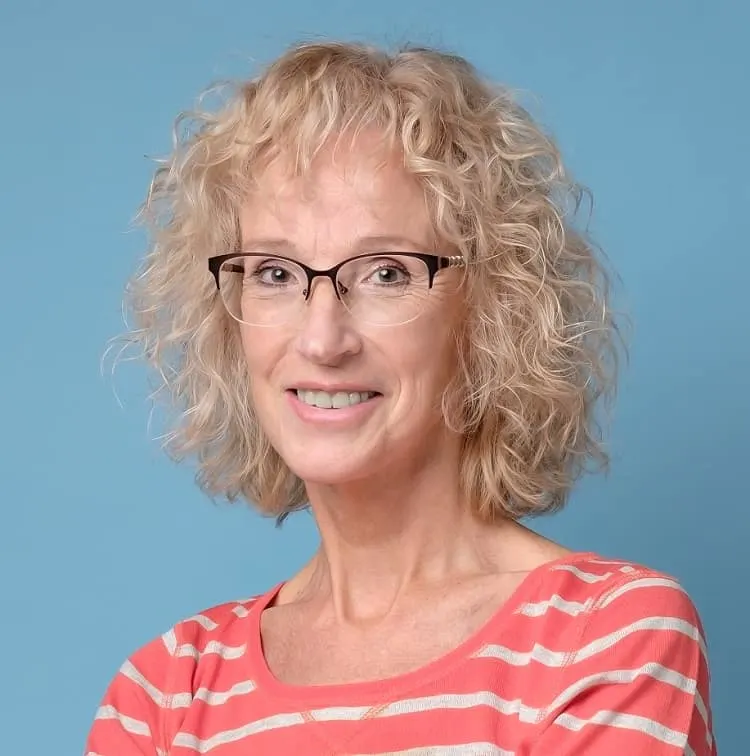 If you're an older woman who wears glasses on the reg, a short haircut for your fine locks will help round out your face. The bangs are thin and the body is wavy for a flattering balance.
16. Shoulder-Length Layers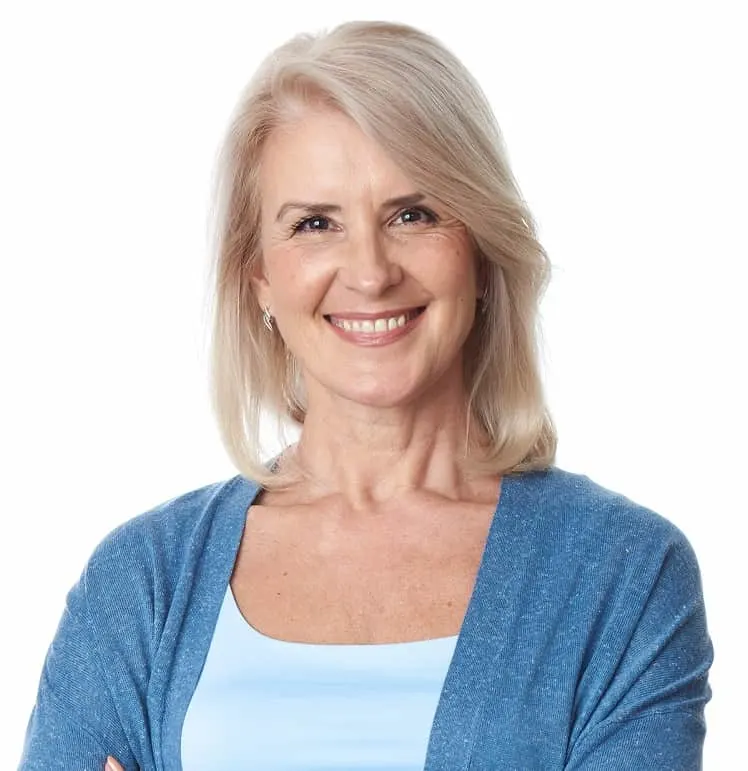 No matter your age, a straight medium length hairstyle looks great with fine hair. This shoulder-length do features a side part with subtle layers and curl.
17. Curly Pixie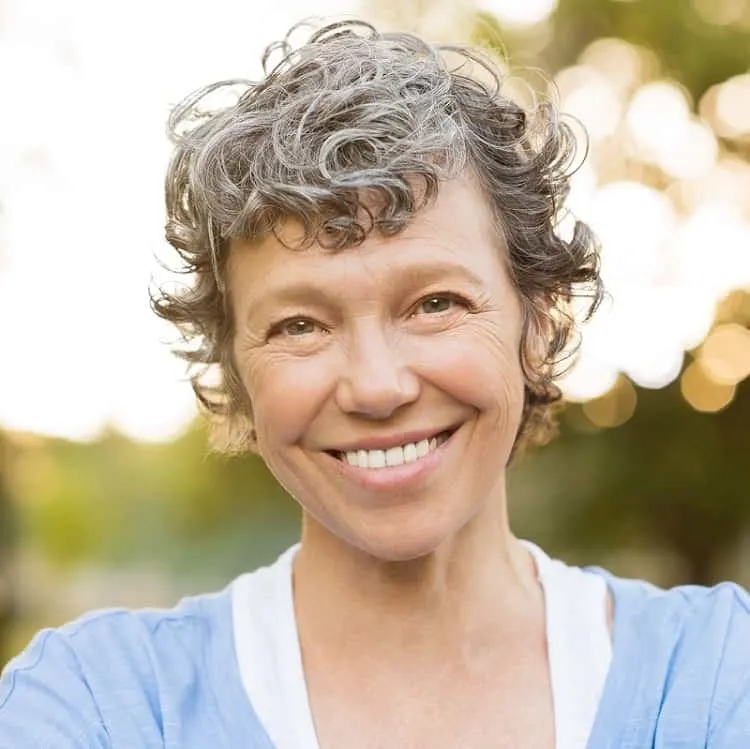 Are you used to wearing your hair long but have amazing texture? Going short will help fine hair look thicker and be more manageable as well. Play with grey and white to embrace your age!
18. Fine Hair Pixie with Cropped Bangs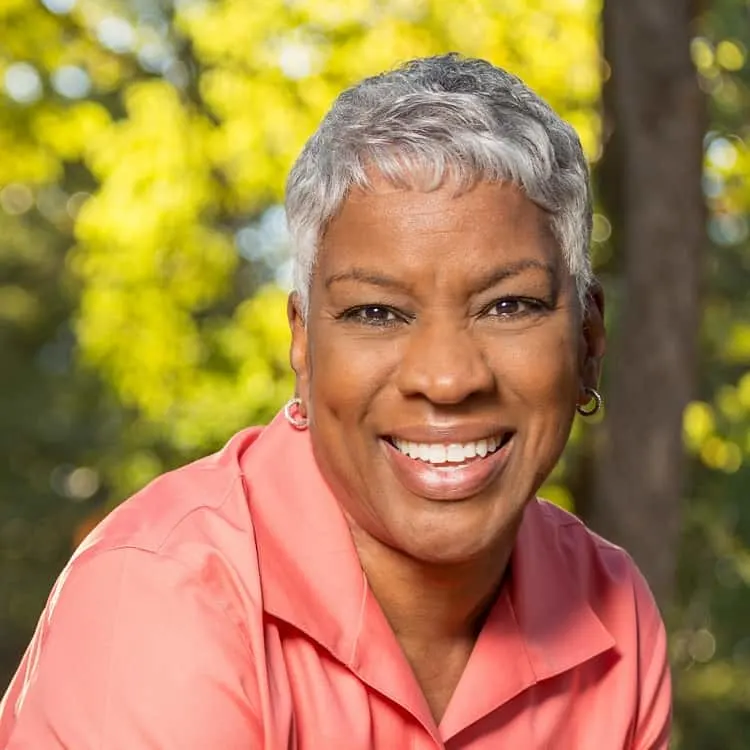 For older women with round or oval faces, a super short pixie is adorable and flattering. Cut the bangs super short and curl the tips for edgy yet soft vibes.
19. White Layered Hairstyle for Women Over 70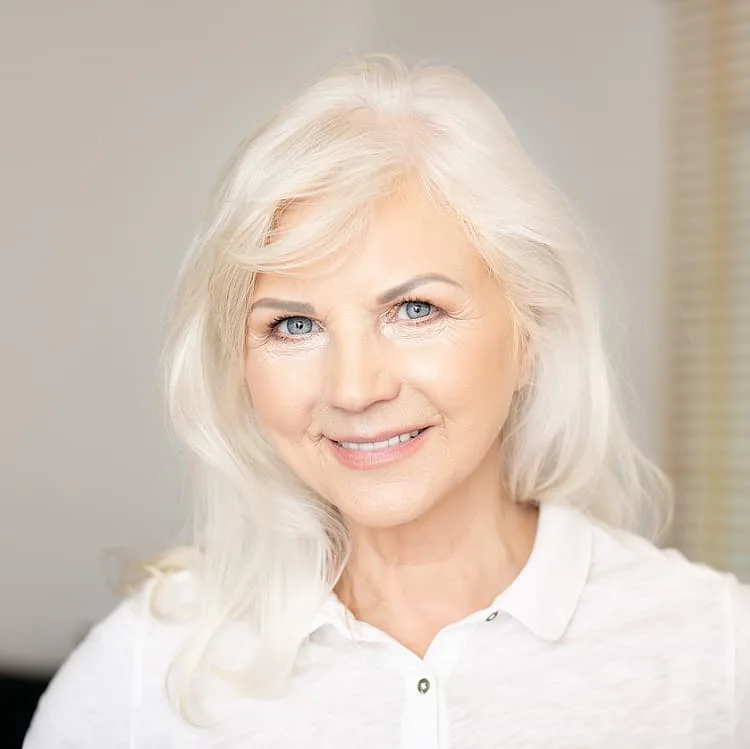 An all-white hairstyle is cutting edge for older women and you can help fine hair look thicker by asking your stylist for layers. Insert a partial side part to create a soft side bang.
20. Fine Pixie with Straight Bangs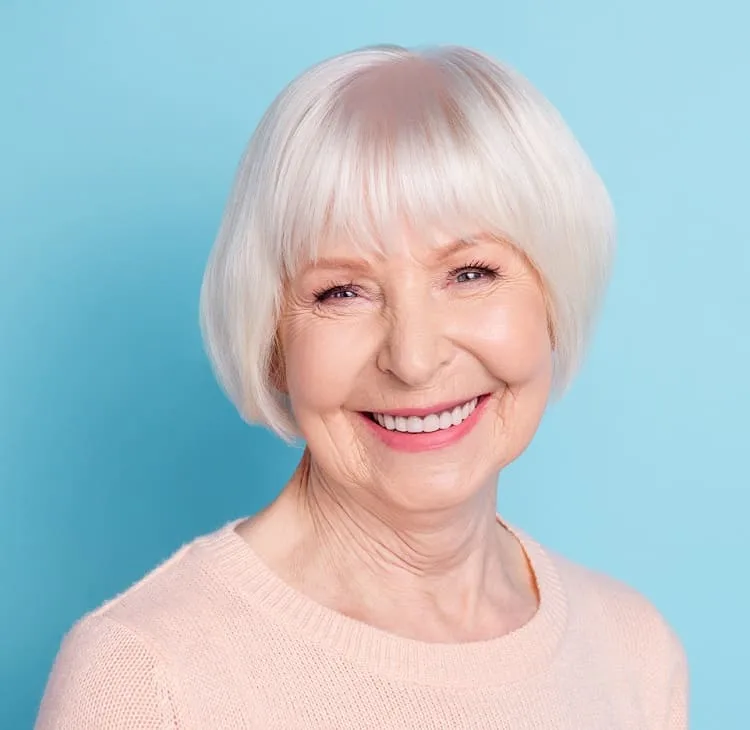 Another all-white hairstyle that pops is this short jaw-length bob with long straight bangs that meet the eyebrows. Get super-smooth texture by conditioning regularly.
21. Low Updo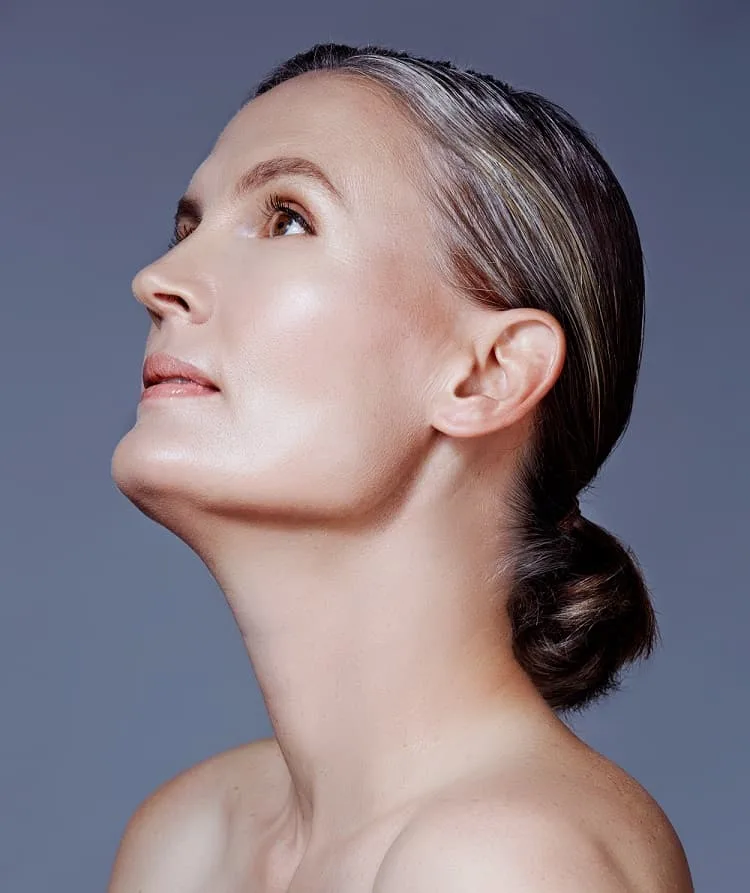 Are you one of those few lucky old women who can grow thin hair longer than the shoulder? Instead of wearing your hair loose every day, try pulling it back into this low ponytail. It will keep your fine hair off the face in a stylish way whether you're at the gym or at home.
22. Formal Updo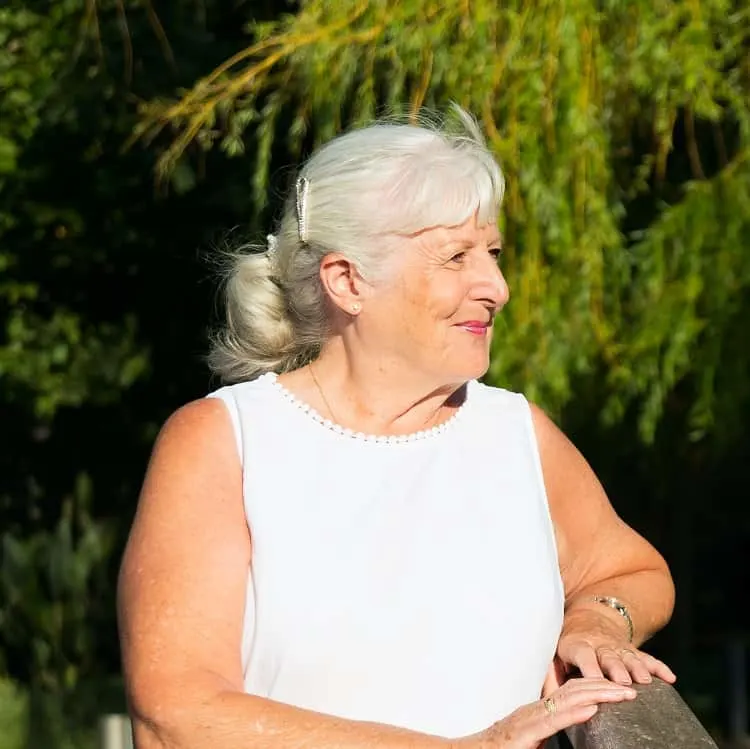 Getting older but still want to look amazing for a wedding or other fancy event, right? Gather your fine hair into a medium-high ponytail and accent it with a pearled barrette. Brush your bangs to the side for softness.
23. Wavy Bob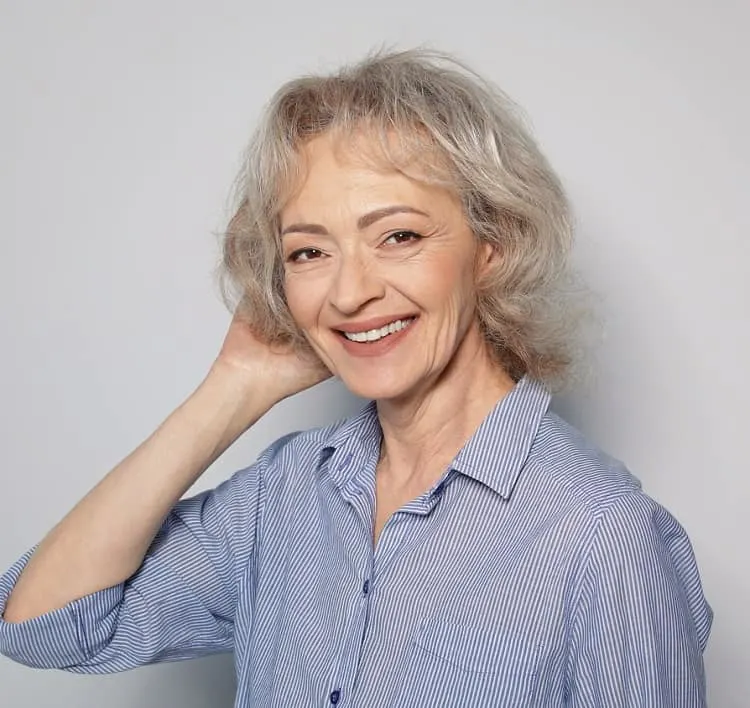 Your hair may be getting thinner as you age, but you can still show off the texture. For waves, use a bit of hair cream and finishing spray for all-day hold on a shoulder-length style.
24. Colorful Pixie for Fine Hair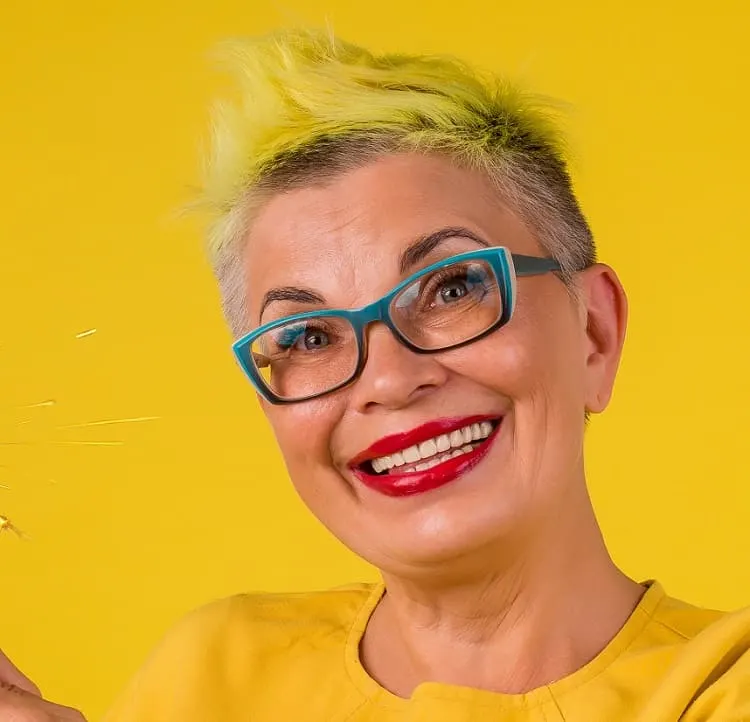 An edgy pixie that combines both long and short hair is the epitome of edge. Make it even more rock by adding color, like blue or purple. For old women with thin hair, this hairstyle is perfect.
25. Purple Shag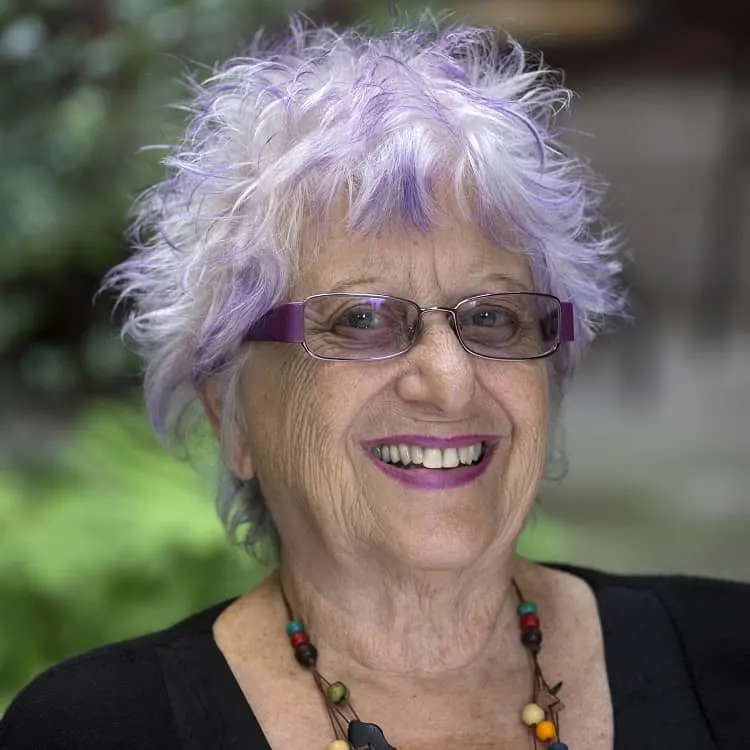 Your fine hair won't look thin anymore when you shape texture with hair cream. This shaggy cut actually looks thick and even more fun with the tips colored a light shade of purple.
26. Simple Short Wavy Haircut for Very Fine Hair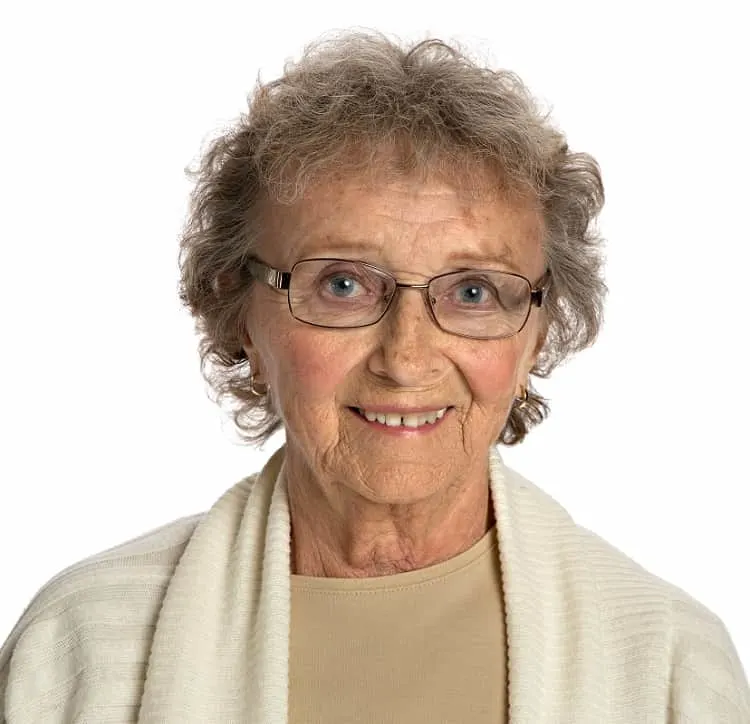 If having a manageable haircut when you get older is important to you, you'll love the convenience of this short haircut. The wavy body in your fine hair can easily be shaped and defined with curl creme.
27. Red Updo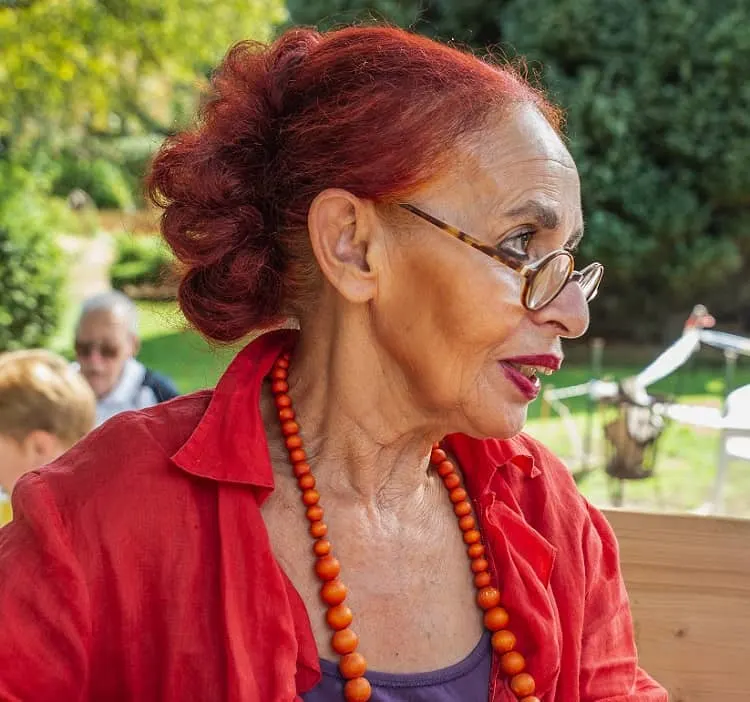 Not ready to embrace your natural color? Try something more bold like this shade of red. It looks great on a braided updo, the perfect style for a weekend event.
28. Straight Fine Pixie with Choppy Bangs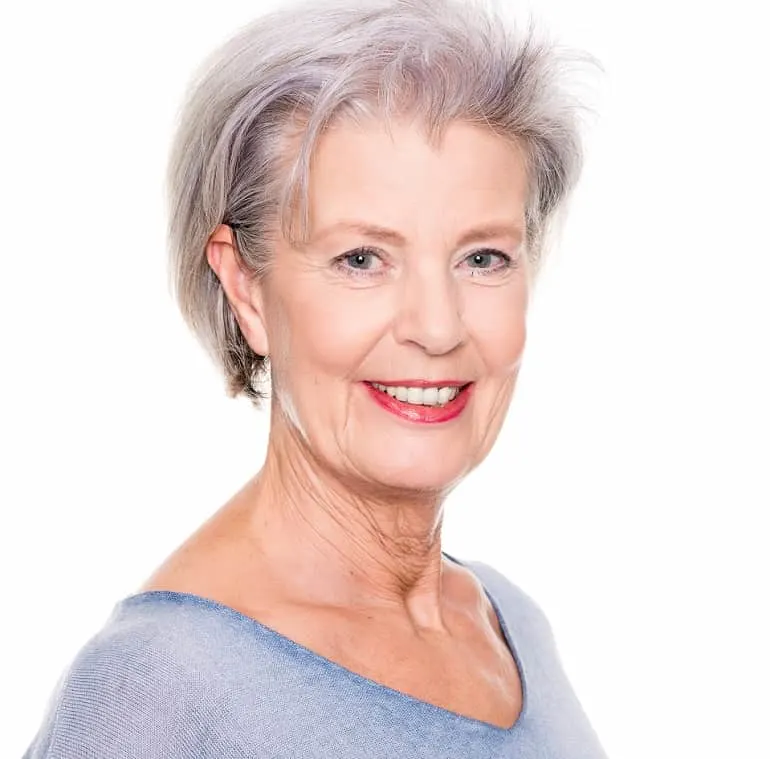 Another way to style thin hair is by cutting it to the top of the neck, straightening it, and giving the bangs a choppy cut. Your beautiful eyes will pop with this style.
29. Super Thin and Curly Hair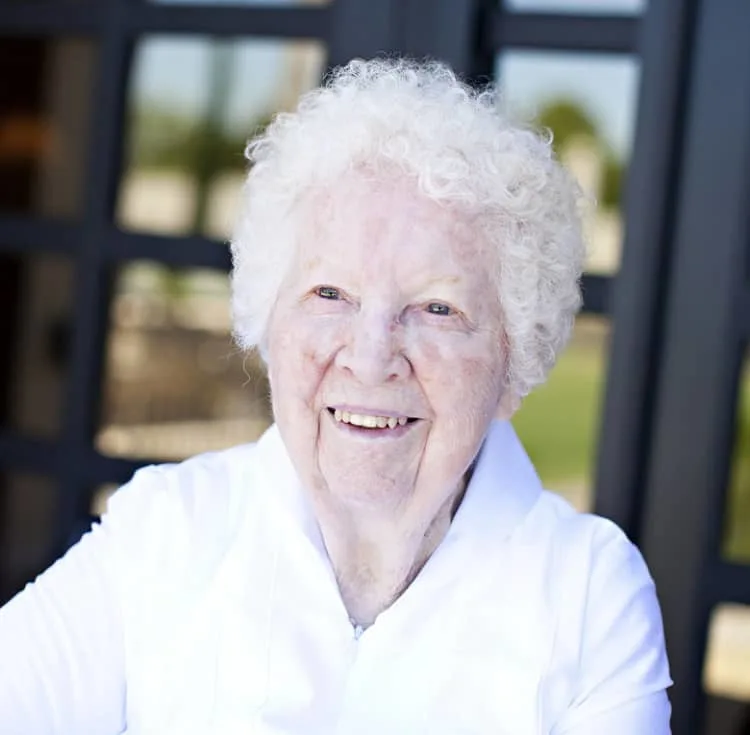 If your fine hair doesn't have a lot of body to it, try opting for a perm for curls that will last several months. The short style will stay looking beautiful on its own without any maintenance.
30. Cropped Blonde Pixie
Blondes can still have fun at an older age! Color your short fine hair any shade for a lightening of color and keep the style cropped super short for edgy vibes.
These hairstyles for older women with fine hair are all prime options for style. The best way to take care of your hair and maintain an amazing look is by conditioning and avoiding hot tools which will cause split ends and damaged strands. Now is the time to embrace your natural texture and feel great!