There's an old hairstylist quote or saying that our hair is basically the frame of our faces, and that's completely true! A good hair day can make your face shine bright like a diamond, while a bad hair day can make you feel really bad.
Now imagine dealing with people's hair and having the pressure to make them look as good as possible; that's exactly what hairstylists do! And if you're one, then you're definitely going to relate to all the hairstylist quotes we have for you today!
Best Hairstylist Quotes
We know that being a hairstylist isn't an easy job. You have to deal with thousands of different types of hair on a daily basis, constantly do your very best job, and deliver exactly what each client wants.
Not only that, you have to deal with the pressure of hoping your client actually likes the way their hair looks; talk about pressure! But of course, not everything is bad!
So yes, we know being a hairstylist combines the best things of both worlds, so we have compiled a compilation of quotes for the hairstylist that we know you'll find amusing! You can also check quotes about hair, curly hair quotes and barber quotes that'll give you a good time for sure.
Are you ready to spend the next few minutes reading funny, relatable hairstylist quotes you can find? Trust us; you will love each and every single of them and even relate to most of them!
1. Be stress-free and believe in the skill and magic of your hairstylists.
2. Most hairstylists be like: "Who did this haircut? This is no longer in fashion. Come regularly here and have the new trendy haircut. "
3. I'm the favorite client of my hairstylist because I give her the freedom to do whatever she wants.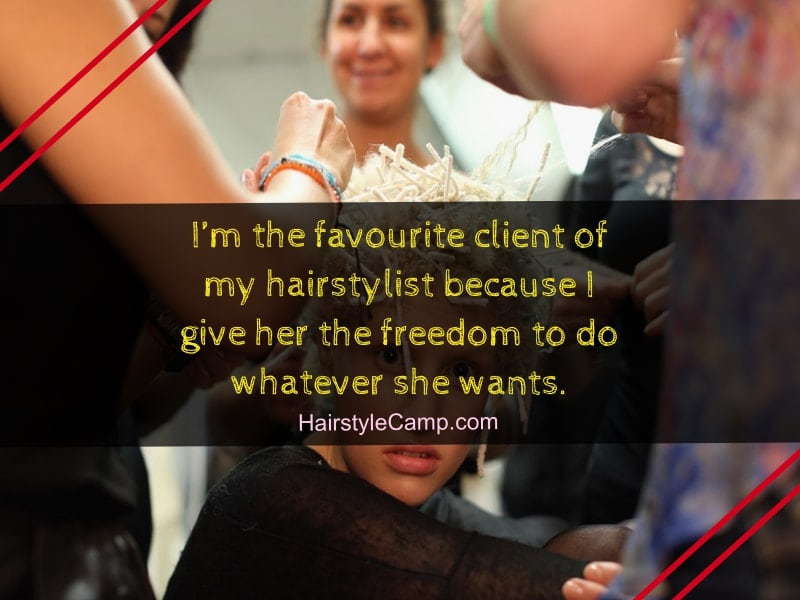 4. I don't have time to get married because I'm too busy to fix my client's hair.
5. Most women like their hairstylist more than their partner.
6. My hairstylist is a PHD. Yes, she is a Professional Hair Dresser.
7. My hairstylist does his experiment with my hair every day.
8. It doesn't matter whether you have an imperfect life as long as you have a perfect hairstylist.
9. Hairstylists are as sharp as razor and know the best ways to deal with hairy situations.
10. When a woman walks in a room her hairstylist walks with her.
11. 1 universe, 8 planets, 204 countries, 804 islands, 7 seas, 7 billion people and I found 1 fantastic person who gets me; my hairstylist.
12. Hairstylists bring out the beauty in you.
13. Your hairstylist is your most confidant partner.
14. It doesn't matter how bad your day is as long as you tell your hairstylist about it.
15. There is no therapist like a hairstylist.
16. A hairstylist is the therapist you really need.
17. Nobody will get you better than a good hairstylist.
18. A good hairstylist sees your potential to look beautiful long before you do.
19. Nothing like a hairstylist that makes a woman feel beautiful.
20. Hairdressing is a way of life that encourages you never to give up on your hair.
21. A good hairstylist is like a good husband, when you find them, you marry them.
22. There is nothing as healing to your self-esteem like a good hairstylist.
23. A hairstylist is both a therapist, a self-esteem booster, and a kind of twisted friend in just one package.
24. We stylists know how to find the weakest point a woman has and make it strong by working the beauty.
25. There is nothing better than a good hairstylist to vent about your daily struggles while getting pretty.
26. There is an unbreakable connection between a hairstylist and their client.
27. I have a one-on-one relationship with my hairstylist in which beauty connects with the soul in a way that only a hairstylist can provide.
28. A hairstylist is an artist that plays with the beauty that lies both outside and inside.
29. Bad hair is just a result of no hairstylist at all.
30. You want to see a miracle? Go to a good hairstylist.
31. My hairstylist is like family because she makes me feel beautiful outside and inside.
32. I never do my hair because it is my hairstylist's baby and he doesn't let me touch it, and I'd rather it be like that, to be honest.
33. There is only one way to know if my hair can be saved; let's go to a hairstylist.
34. I only know one person who can make this hairy situation better; my hairstylist.
35. I have never seen a better magic wand like my hairstylist's scissors.
36. The world looks different after visiting my hairstylist.
37. A hairstylist plays with the creation and modification of pure beauty, isn't that artistic?
38. I don't go to my hairstylist just to fix my hair; I go to her for the safety of her craft.
39. For a good hairstylist, every client is a world that can only be approached in unique ways.
40. My hairstylist doesn't only fix my hair, but he reaches into my heart and connects it with the beauty he makes.
41. A hairdresser is the self-esteem booster of so many powerful and unstoppable women.
42. Great hair is nothing to be born with; it is something to be worked with by professionals.
43. A hairstylist doesn't only give you good hair; they give you confidence, which is always the best kind of hairstyle.
44. There is a before and after in my life, and that is meeting my hairstylist.
45. My hairstylist is sharp as a knife but sweet as the cake, and the beauty she makes is the beauty I feel.
46. Everywhere I go and become the center of attention, my hairstylist is behind me.
47. Make sure you build a good relationship with your hairdresser. Your self-esteem depends on it.
48. Never, never, never give up on your hair.
49. Hairdressing is not a job, it's a craft.
50. Friends come and go, but a good hairstylist is forever.
51. Hair day is the best day…
52. Be nice to your hairstylist. We can ruin your self-esteem for six months in fifteen minutes.
53. It is always wise to be nice to a person who is holding scissors near your head.
54. If I weren't performing, I'd be a beauty editor or a therapist. I love creativity, but I also love to help others. My mother was a hairstylist, and they listen to everyone's problems- like a beauty therapist! – Beyonce Knowles.
55. Keep calm and hire a fashion stylist.
56. As stylists, we're ground shakers and daymakers. Setting trends, while fostering that special connection between a person's inner and outer self. – Rebecca Gregory.
57. Life is full of struggles & challenges but eventually, you find a hair stylist who understands you.
58. Hairdressers are a wonderful breed. You work one-on-one with another human being and the object is to make them feel so much better and to look at themselves with a twinkle in their eye. -Vidal Sassoon.
59. I am an artist, this does not mean I will work for free. I have bills just like you. Thank you for understanding.
60. There really is no such thing as people with bad hair. Just people who haven't found the right hairstylist.
61. My clients are my extended family… Without them, my career would not have been possible. – Darlene Kent Rodgers.
62. To be honest with you, I literally don't even know how to style my hair unless I'm doing an event because I rely on hair stylists. – Nina Dobrev.
63. The best hairdressers never stop learning.
64. Primpin' ain't easy.
65. Hardworking artist imparting remarkable style to your look & illustrating supreme talent.
66. Life is too short to have boring hair.
67. "The hair prayer": And now I lay my hair to sleep, I pray my style to bed will keep. If my new look withers & dies… please call my stylist before I rise.
68. "I can make someone 10 years younger without a knife." – Vivienne Mackinder.
69. I play with scissors for the shear fun of it.
Inspiring Hairdresser Quotes
70. Everything feels better after a haircut.
71. Love of beauty is taste. The creation of beauty is art.
72. I wanted to make people feel beautiful si I became a hairstylist.
73. "50- percent of the reason your clients come to you has nothing to do with a comb, a brush or a color bowl…" – Eric Fisher.
74. I'm not just any hairstylist. You're not just any client. Together, I promise to unlock the beauty & confidence that chemicals never could.
75. Bangs are the mustache of the forehead.
76. "Hairstylists" – A wonderful person who touches more hearts than hair.
77. Cheap haircuts are not good! good haircuts are not cheap!
78. Behind every beautiful woman, there is a hairdresser that loves her.
79. You're the highlight of my life.
80. Beauty comes from the inside. Inside the hair salon.
81. Great hair doesn't happen by chance. It happens by appointment.
82. I think that the most important thing a woman can have next to talent, of course is her hairdresser. – Joan Crawford.
83. "Curl it, cut it, dye it. And at the end of the day, confidence is the best hairstyle."
84. Life is more beautiful when you meet the right hairdresser.
85. You don't have to be a movie star for me to do your hair when you sit in my chair you're my movie star. – Vincent Roppatte.
86. A good hairstylist will always get you out of trouble when need is dire.
87. Hairstylists are like plastic surgeons armed only with scissors and hairspray.
88. Good hair days can happen by chance, but you can make it happen through your hairdresser appointment.
89. The closest thing you will get to a wizard is a hairstylist during bad hair days.
90. You're looking to boost your confidence? Make sure you find the right hairstylist, for they can do much better than a therapist.
As a matter of fact, being a hairstylist is probably one the most entrained jobs in the world! You get to play around with hair, changes people appearance for the better and practically help them get their dreamed makeover.