It's safe to assume that most of us have been to a hairstylist before. And it's not that the hairstylist's job is just to cut your hair. It involves gaining and displaying as many soft skills and people skills like most other jobs.
A typical hairstylist would shampoo, cut, color, highlight, perm, and style hair. They also tend to offer advice to customers regarding scalp and hair care, relevant products, removing unwanted hair, and more on a case-by-case basis. Most hairstylists provide their services to both men and women.
According to the U.S. Bureau of Labor Statistics (BLS), some hairstylists are also called cosmetologists. The salary of a hairstylist can vary from state to state. How much a hairstylist makes can depend on their education, years of experience, the industry they work in, and the different trends and techniques they are aware of.
The hairstylist profession has been listed as the 6th best job without a college degree on U.S. News and World Report. It's also a safe profession as the unemployment rate in this profession is around 2 percent.
How Much Does A Hairstylist Make On Average In 2023?
According to ZipRecruiter, the national average salary of a hairstylist in 2023 is $29,779 per year, which makes it $14 per hour. The lowest paying jobs for hairstylists just starting their career can range from $14,000 to $17,499.
About 22% of the jobs can pay anywhere between $21,000 to $24,499. As a hairstylist gains more experience and exposure, they can start earning anywhere from $31,500 to $52,500 per year, which would make them some of the highest-paid hairstylists in America as only 20% of hairstylists currently fall under that range of salary.
The average monthly income of a hairstylist in the US currently stands at $2,482 per month. ZipRecruiter also says that some monthly salaries are as high as $4,375 and as low as $1,167. Most hairstylists can earn anywhere from $1,750 (25% of hairstylists) to $2,667 (75% of hairstylists) in the US.
There is also a lot of potential for career advancement and increased pay depending on the hairstylist's skill level, location, and years of experience.
Hairstylists And Their Salary In The Performing Arts Industry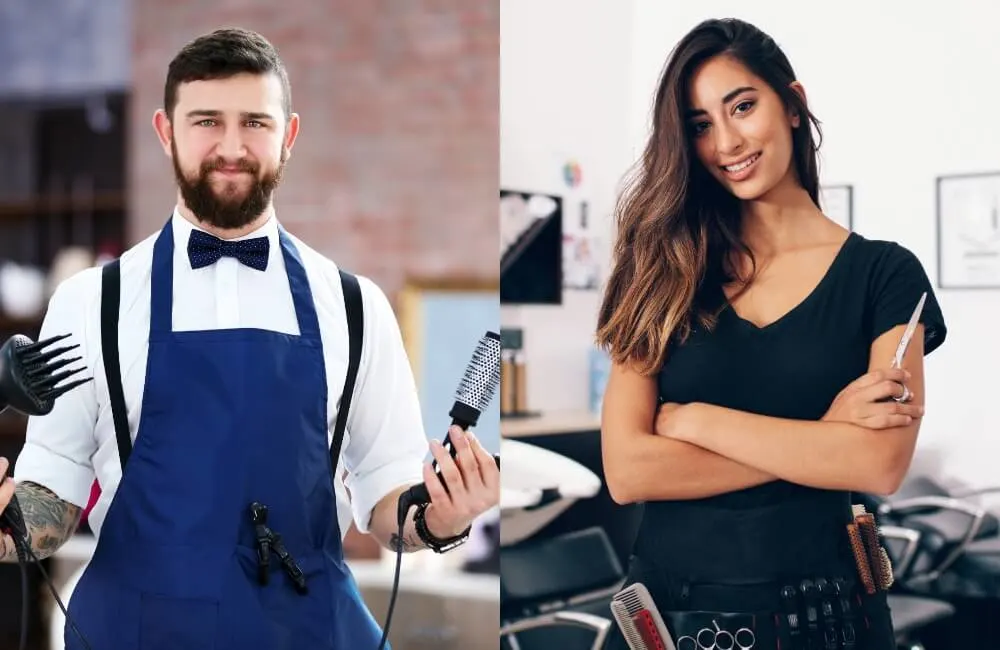 Becoming a hairstylist in the performing arts business can be an opportunity to increase your income in this profession drastically. The BLS also reported that hairstylists, hairdressers, and cosmetologists working in the performing arts industry made the most money in 2019, which averaged $84,540 a year.
According to Glassdoor, the median salary of a hair and makeup artist in the performing arts industry is $40,673 per year with additional pay of $29,259 per year. This extra pay can include cash bonuses, commissions, tips, and profit-sharing. However, hairstylists in this niche can earn anywhere in the range of $31,000 (25%) to $131,000(75%), with some earning all the way up to $268,000 per year.
Hairdressers and hairstylists can work on feature films, commercials, and promos. They can also be recruited to work during pre-production all the way through production and sometimes on a freelance basis. The entertainment and performing arts industry can be demanding and require long hours of work on set.
They may work closely with the makeup and costume departments or provide makeup services on the set themselves. They are also required to possess skills with wigs, hairpieces, and hair extensions as well as chemical solutions.
They must also be to oversee hair continuity in between shoots. They must also be able to break down the script and hairstyle requirements. They also need to remember allergies and sensitivities to products and chemicals.
Hairstylists are also expected to repair, alter, clean, and dress wigs and hairpieces and remain on standby during scenes to touch up and redress wigs in between takes.
A typical hairstylist job in the industry consists of being briefed by heads of departments. This is typically the chief makeup, hair designer, or hairdresser. They must take detailed notes and remember important information about the hairstyles for the specific production.
They also work on the main and supporting actors and can manage several actors throughout the lifetime of the production. Some hairstylists can be employed personally by one or some of the hairstylists on the set.
You must have some extra skillsets to be employed in the performing arts industry as a hairstylist. Here is a list of hairstylist-related jobs, skillsets, and attributes that you'll require to get your foot into the door.
Research Hairstylist
Depending on the movie script, you might need to style the actors' hair in a way that goes with the setting of the movie. Stylists who have researched a lot on history in a particular era can earn more than other hairstylists working a different job who doesn't possess this knowledge.
You can increase your chances of getting a higher salary by becoming an expert on wigs and extensions. You will also need to be able to pay attention to details as you will have to recreate the hairstyles in the exact same way for actors in every scene.
Invest In The Proper Tools
Movie hairstylists will require to bring their own equipment to the set. A basic set kit can cost you somewhere around $1,000. Those who are willing to invest in movie production-level quality tools will be directly increasing their salaries in the process. Some extremely successful hairstylists can have gear worth $10,000.
Multi-tasking
Movie and theater productions can be high-energy jobs where you have to spend a considerable time on your feet styling multiple actors. Naturally, those who can multitask will be able to get paid more for the work they put in.
Most common multi-tasking hairstylists are required to do is manage both the makeup and the hair for the actors. Production sets can be shooting scenes in high-definition, and such require makeup on actors that goes well with high-definition videos.
This often requires hairstylists to obtain specialized education in applying makeup in films. That can increase your salary as well as this is not a skill that many hairstylists possess.
Top 10 Highest Paying Cities For Hairstylists
ZipRecruiter was also incredibly resourceful to list out the top 10 cities with the highest paying hairstylist jobs. San Jose, CA makes the top of this list as the hairstylist job market is demanding and presents opportunities for growth.
Below is the list of the top 10 cities with the highest-paying jobs for hairstylists. However, you should also consider the cost of living if you're planning on relocating to a different city for a hairstylist job. In some cases, when you're starting out, a lower cost of living can help you save up initially while you gain more experience.
| | | |
| --- | --- | --- |
| City | Annual Salary | Hourly Wage |
| San Jose, CA | $36,123 | $17.37 |
| Oakland, CA | $35,713 | $17.17 |
| Tanaina, AK | $35,566 | $17.10 |
| Wasilla, AK | $35,566 | $17.10 |
| Hayward, CA | $34,965 | $16.81 |
| Jackson, WY | $34,928 | $16.79 |
| Norwalk, CT | $34,836 | $16.75 |
| Seattle, WA | $34,724 | $16.69 |
| Vallejo, CA | $34,715 | $16.69 |
| Concord, CA | $34,641 | $16.65 |
Top 5 Best Paying Hairstylist Related Services
While tons of jobs can be added to a hairstylist's services, according to ZipRecruiter, some services or job categories for hairstylists can pay more than others. We've also mentioned that diversifying your skills can also allow you to diversify your client base, in turn, helping you to earn more.
All of the jobs listed below can pay you anywhere between $39,773 (133.6%) and $118,419 (397.7%) more than the average hairstylist job mentioned before. Here, we list out the hairstylist job categories or services that can pay more than the typical salary.
| | | |
| --- | --- | --- |
| Job Title | Annual Salary | Hourly Wage |
| Work From Home On Set Hair Stylist | $148,198 | $71.25 |
| Hair Restoration | $76,859 | $36.95 |
| Hair Extensions | $74,582 | $35.86 |
| Work From Home Licensed Hair Stylist | $71,465 | $34.36 |
| Work From Home Great Clips Franchise | $69,552 | $33.44 |
A Hairstylist's Responsibilities and Expectations
Hairstylists are more often than expected to provide extra services such as skin care, facials, nail care, and more. Hairstylists also require a license and extensive training to become a hairstylist in a state and additionally need to master new techniques, learn about the latest hairstyles and products, and even renew their licenses in some states. They may need to continue their education that focuses on recent hairstyles, trends, and public health.
Once you've received your license as a hairstylist, you can work in many different settings, such as spas, fashion shows, movies, television, and theater production sets.
Other than being able to cut, color, highlight, style, and perm hair, hairstylists can also choose to specialize in specific techniques such as a Brazilian blowout or Keratin treatments, which are services not offered by many stylists.
They must possess skills such as attention to detail, physical stamina, as the job requires them to stand and move around a lot, customer service, creativity, and amazing time management skills. Hairstylists are also expected to provide consultations and also how to maintain their hairstyle after they leave the salon. They are also expected to be extremely hygienic and take all the precautions to maintain public health.
A hairstylist must also possess the skills to look at a picture shown by a client and give them the hairstyle of their choice. You may also have to shampoo the client's hair and provide recommendations for hair care products to their clients.
These products can either be their own products or products of other brands that you prefer or placed at the salon. This is an easy way to earn some commission on sales as well. Hairstylists must also be able to market themselves in such a way that they can recruit and maintain a client base for themselves.
While we've already mentioned what a typical hairstylist's job consists of, it can give you a clearer picture of what a hairstylist's responsibilities entail.
So the following are the duties a hairstylist must perform at work:
Provide haircut, blow-dry services, keratin smoothing, formal styles for events, and other services you trained for at your cosmetology or barber program.
Braiding and weaving hair.
Demonstrate sales and marketing skills for hair care products and cosmetics-related products.
Provide bleaching, dyeing, and hair tinting services.
Develop and recruit new customers.
Increase customer retention and maintain relationships with them.
Pre-book appointments and basic accounting skills.
Strong presentation and professional presence, technical skills, and communication skills.
Provide amazing customer service and show a strong work ethic.
Continue education and training as a hairstylist and willingness to grow and keep up with the times.
Flexible with work hours as it requires them to work during weeknights, weekends, and sometimes even on holidays.
Prerequisites To Becoming A Hairstylist
Hairstylists concern themselves with the look and the health of their client's hair. As the look of a client's hair and its health is so personal to anyone, proper education and training are necessary before starting your career as a hairstylist. You will also need the relevant license to operate in the state you choose to work in.
While requirements for license qualification can vary from one state to another, there is a consensus throughout the US. The basic requirements for licensure are:
You will have to be at least 16 years old to apply for a license.
You must have a high school diploma or a GED.
You must enroll in and graduate from a state-licensed cosmetology program. Before enrolling in a school or training program, you should first check to see the licensing requirements in your state.
After the program is complete, you must take a written and a practical exam where you'll have to demonstrate your newly acquired skills in front of the licensing board.
It's important to remember that the school you enroll yourself in must also be accredited by an accrediting organization in the state you live in.
Selecting The Right Cosmetology Program Or Beauty School
While hairstylists and cosmetologists can sound like different professions, they often go hand-in-hand and can easily increase how much money you make per year. Most hairstylists are required to go to a beauty school, hair school, or barber school. In most cases, they are all the same, but it's important to go through each program offered by your school of choice to see which best fits your need. However, barber schools may strictly adhere to training you for a barber license and not for cosmetology.
Cosmetology schools offer some common programs, such as:
Cosmetology: A full cosmetology program covers hairstyling, skincare, nail care, and makeup-related courses.
Esthetics: This is the study of using and applying makeup and how to conduct facials, massages, waxing, and reflexology.
Nail Technology: This includes understanding and studying nail art, designs, tips, forms, wraps, and gels.
Electrolysis: This is a medically recognized permanent hair removal technique for the face and the body.
Teacher training: This program is taught to prepare cosmetologists to teach other aspiring future cosmetologists about the trade.
As mentioned before, the school you choose for your program must be accredited. This means it meets specific academic and institutional requirements that an accrediting organization has set forward. The factors for accrediting organizations include but are not limited to curriculum, staff and admissions policies, quality of instruction, and facilities.
A cosmetology program can cost anywhere between $6500 to $10,000, depending on if you're in a rural area or a major metropolitan city respectively. You're also expected to purchase your own student kits and supplies while trying to obtain a license, so you should factor that in as well.
What To Do After Completing Your Cosmetology/Hairstylist Program?
After completing your program and getting your license approved in the state, you wish to work in, your journey is still not over. Requirements can vary from one state to another. You can start your career early while still in school by taking up a job at a salon as a trainee.
Cosmetology or beauty school students regularly work as shampooers as that requires the least amount of training. This can easily help you score a professional hairstylist job right after graduation.
Cosmetology school graduates also become business owners or self-employed hairstylists who rent space in large salons. You can also apply for employment in salons in the state you will be working in.
A Hairstylist's Work Environment
Hairstylists can find work at any salon, spa, barbershop, hotel, or resort. They can also get hired in the modeling, television, theater, and movie industry or be self-employed and work on their own time.
Usually, it's easiest for a hairstylist to start their career and enter the profession by joining a salon where they are given a workstation to work on. They then earn a commission for each customer.
Once you've been in the profession for a few years and have been able to set yourself up as a prominent hairstylist sought by a good number of clients, you will eventually only have to pay rent for the workstation instead of paying a commission on a customer-by-customer basis.
You can even move up the ranks to manage a salon for someone. Some hairstylists eventually open up their own salons where their responsibilities may increase.
Hairstylists are expected to carry their own kits and are usually exposed to a lot of chemicals which may require them to wear aprons and disposable gloves.
Most hairstylists work full-time; however, quite a few also work part-time hours. If they own their salons, expect them to work way into the night. Most stylists will also require working on weeknights and weekends as those are usually the busiest hours, while salon owners can set up their own schedules.
If you're a hairstylist, here are some recommended posts for you:
Wrapping Up
So we hope that this article answers all your questions related to getting a hairstylist job. We've covered everything, starting from the requirements to becoming a hairstylist to what you will need to survive out there after graduating from the right cosmetology or hairstylist program.
We've also talked about the salary ranges for hairstylists in and out of the entertainment and performing arts industry and the steps that you can take to increase your salary by investing in your education and the kind of mentality and skills you need to do great in this profession. Let us know about your experience working as a hairstylist.
Recommended For You