Red hair color is probably the most stunning hair color you can ever see. Unfortunately, the perfect shade of red is hard to achieve.
Is your hair darker than the shade you like? Did you dye your hair too dark? Or maybe your hairstylist messed up the shade?
If you're looking for ways to lighten it, the most common answer you'll get is to bleach it. But, unfortunately, this method can damage your hair.
The good news is there are plenty of ways to lighten red hair without bleach, and you can discover all these methods in this article, so keep on reading!
Ways to Lighten Red Hair Without Bleach
While it's the most common solution, bleaching should be your last resort when it comes to lightening your hair color. Here are other ways to lighten your red hair without bleach.
Color Remover
You can find this hair product in a lot of beauty or department stores. They are sometimes referred to as color erasers because they eliminate the color in your hair by reversing the oxidation process of the color molecules in your hair.
Here are some things to keep in mind when using a color remover:
It usually smells like sulfur, so don't be alarmed.
It may cause slight dryness.
The product will remove the hair dye so you can re-dye it to the shade of red you want.
This will work only on artificial pigments and will not be effective on permanent, demi-permanent and semi-permanent hair color.
How to use: You apply this to your hair the same way you applied your hair dye. Leave it on for 15 to 20 minutes, then rinse it out with shampoo and cold water.
Clarifying Shampoo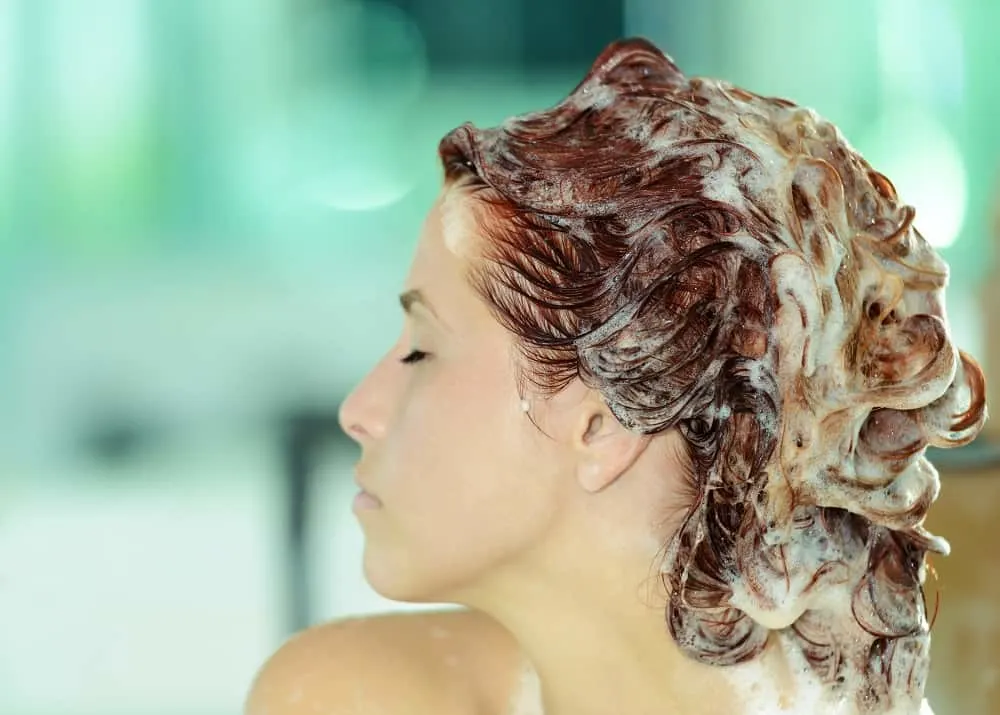 If your hair is only a shade darker than your desired color, using a clarifying shampoo is the best way to go.
After using different styling products, clarifying shampoo is formulated to remove the impurities and residues that get left behind in your hair. With its high acetic acid content, it can eliminate even the dye in your hair.
But please take note that this won't eliminate all the hair dye in your hair right away. It might take 10 -17 days before you achieve the lighter shade you want.
How to use: Wet your hair with warm water, then apply the shampoo generously all over your head.
You can also do a thermal hair treatment with this. Simply apply the shampoo, then put a shower cap over it. Next, turn your hairdryer to the maximum heat setting and use it on your hair for a minute.
Baking Soda
If you don't trust the chemicals in the clarifying shampoo, try the natural route. One of the best natural ways to lighten hair is to use baking soda.
This substance is commonly used as a natural cleansing agent and abrasive cleaner, so it can remove stains (dye) in your hair the same way it can clean tough stains on other surfaces.
Same with clarifying shampoo, it can lighten your hair gradually, so you'll have to wait a few days to see the results you want.
How to use: Mix a teaspoon of baking soda with a small amount of water to form a paste. The paste should not be too watery or too thick—just medium thick.
Afterward, massage the paste all over your hair and let it sit for 15 to 20 minutes. Rinse your hair thoroughly.
Lemon Juice
Lemon is effective in lightening hair color as it contains citric acid, which functions as a natural bleaching agent.
But just the same, it can only lighten your hair gradually. The good news is adding sun exposure to the formula can speed up the lightening process, so if you want to achieve your desired hair color faster, expose your hair to sunlight after applying lemon juice.
How to use: Place the lemon juice in a spray bottle, then add equal parts warm water. Spray the mixture all over your hair, then sit outside for 1 to 2 hours. Rinse afterward.
Enjoy Lighter Red Hair Without the Damage
Yes, you can get lighter red hair without bleach. Bleaching your hair comes with a lot of problems which can lead to irreversible hair damage. Luckily, bleach is not the only option you have when it comes to lightening your hair.
To achieve the lighter shade of red hair you desire, try the other methods we've mentioned. It may take a while for you to see their effects, but the good thing is you can enjoy lighter red hair and healthy hair at the same time!
More Related Articles: