Out of all the things you could treat your hair to during your life, a keratin treatment is high up on the list. The process of a keratin treatment may be lengthy, but the way it makes your hair sleek, shiny, smooth, and basically void of any frizz is a feeling no girl can deny feels amazing.
Whether you're new to keratin treatments or you've had one before and you need to brush up on how to protect and maintain your new look, one of the most important things to know about getting a keratin treatment is how you'll have to sleep after one. It's not like you can just jump into bed, sleep on the same old sheets, and proceed with your normal routine the first night.
After a hair treatment, your hair still needs time to set. To make sure you wake up with hair that is still smooth and sleek, here's how you should sleep after a keratin treatment:
How to Sleep After Keratin Treatment
Tip 1: Sleep on a Silk Pillowcase
If nothing else, sleeping on a silk pillowcase will be the best way to make sure your keratin treatment doesn't unfold and frizz out right away. A silk pillowcase is better than a cotton or polyester pillowcase because it doesn't create as much friction as cotton does. Friction is particularly bad for keratin-treated hair because it literally strips off the keratin.
Silk also doesn't absorb moisture like cotton and polyester. After a keratin treatment, it's important to do everything possible to make sure the moisture stays in the hair.
Additionally, instead of the hair's strands rubbing up against themselves and the pillowcase, your hair will just slide across it, leading to less knots and tangles. Silk pillowcases also have been proven to reduce split ends and there's no bad in that!
The other benefit of sleeping on a silk pillowcase is that silk doesn't warm up like cotton and polyester. And we all know that when you warm up, you sweat, leading to frizzy hair. Your new keratin-treated straight hair will be happiest with no friction, frizz, or knots.
Tip 2: Leave Your Hair Down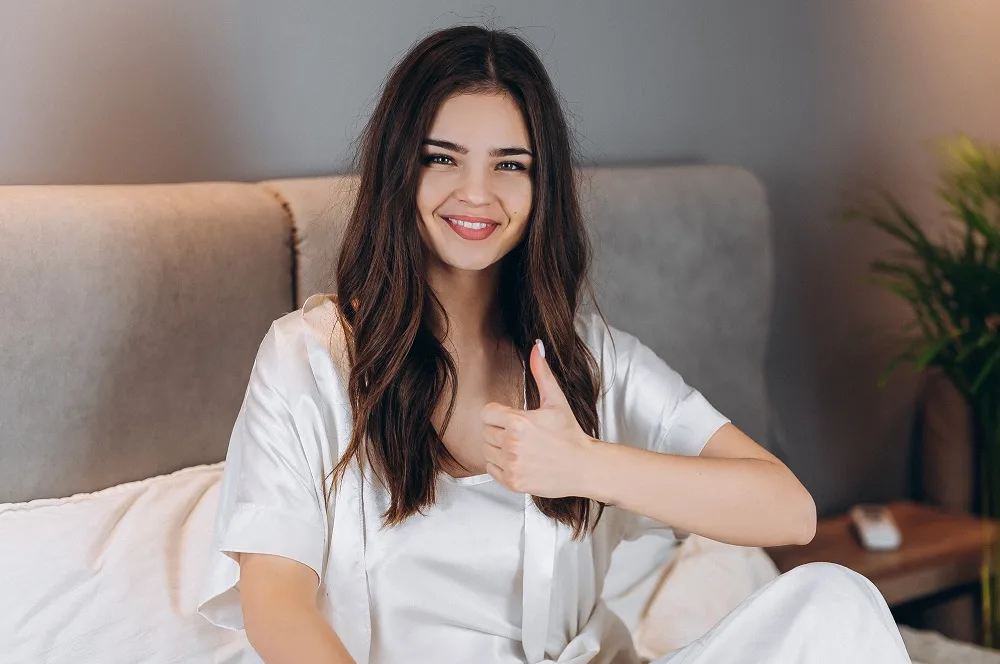 As tempting as it may be for those of us ladies who like to gather our hair up in a ponytail or bun while we sleep, skip tying hair after a keratin treatment, at least for the first couple of days! Keratin needs time to bind to the hair and set that way – any dents from styling your hair in a ponytail or braids will ruin its effects.
Tip 3: Sleep On Your Back
The side sleepers reading this will hate us for saying this, but sleeping on your side after a keratin treatment is recommended to prevent hair gathering and sticking together. As we mentioned, when hair sticks together, it lessens the effects of the keratin treatment. When sleeping on your back, pull your hair out from under your head and/or back so you aren't lying on it.
It may be difficult to sleep on your back, so one tip is to kind of force yourself to stay in place by using other pillows around your head.
Bonus Tip: Don't Get Your Hair Wet
The general rule surrounding water after a keratin treatment is to wait three days before getting your hair wet, so don't wash your hair the same day you get your keratin treatment. If you shower, use a hair cap to keep your hair off your face and neck. Since you're unable to wash it for three days, just use a dry shampoo to freshen it up.
While all of the above rules pertain specifically for sleeping the night of your keratin treatment without damaging your hair, the other things that'll protect your keratin-treated hair include using low heat when using a straightener for touch-ups and avoiding using any really oily hair products since that goes hand-in-hand with getting hair damp or wet.
Follow the above four rules for how to sleep after a keratin treatment and your new hair will be fine and stay as gorgeous as the day you got it!