Liberty Spikes are a cornerstone of the punk subculture. They are named Liberty Spikes because they look like the spikes the Lady Libertas wears around her head on the Statue of Liberty. Punk fashion means that these spikes can be worn by both men and women. Any of these looks are great hairstyles for men or hairstyles for women.
These hairstyles are a major hit in punk subculture. Getting its name from the spikes on the head of Statue of Liberty, these hairstyles have incorporated in themselves the real definition of bold and blunt.
How to Make a Liberty Spikes Hairstyle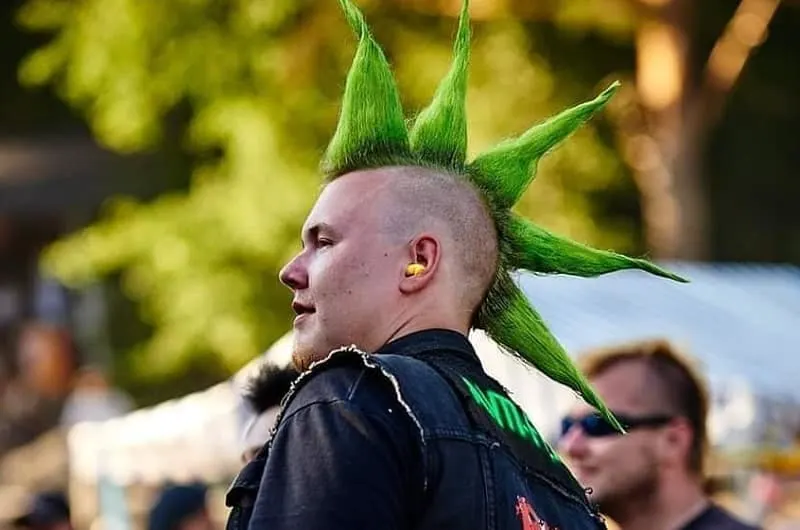 The fashion of liberty spikes is gaining popularity day by day. In 2023, it is among the renowned hairstyles for both men and women alike. Once you have adopted this hairstyle of liberty spikes, it is going to rock your world!
If you want to create liberty spikes in your hair, you will need a very strong-hold hair gel. Most standard hair gels will not hold your hair in place all day. Buy special hair gel for punk styles and use plenty of gel when you are styling your hair. Some punk hair holding gel actually includes dye so that you can color and style at the same time.
From twisted rainbow spikes to basic upright spikes, it has hundreds of variations for you to choose from. Where pun rockers tend to dye their hair in bright colors, goth subculture is more in favor of getting black liberty spikes.
Watch The Following Tutorial to Learn How to Do Liberty Spike Mohawk Hairstyle
Best Liberty Spikes Hairstyles
Find here 25 awesome liberty spikes hairstyles to get a punk look that will blow your mind!
#1: Hair Raiser

This style does not necessarily fit into the genre of "spikes", but it is still shockingly cool. The hair raiser hairstyle has been gelled up to look like the results of an electric shock.
#2: Dark Times

Black liberty spikes may be considered to be slightly satanic, but they are also great for anarchists. Use black or midnight blue hair dye to give yourself an edge of darkness.
Coolest Short Spiky Haircuts for Men
#3: Punk Explosion

Punky hair spikes were a staple of 1970's and 1980's counterculture. Create an explosion style by pulling your spikes upwards and outwards in a lot of different directions.
#4: Fringe Look

Create even more anarchy with your liberty spikes hairstyle by dyeing your fringe a completely different color. Blonde hair dye provides the perfect contrast to black hair color.
#5: Spiked Mohawk

A mohawk fade is another staple punk hairstyle. Close shave the majority of your head except for a strip down the center. Use strong hold hair styling gel to pull your hair up into a small number of liberty spikes in the center of your head.
#6: Sunshine Style

Give your hair a sunny style by gelling it up into sunbeam-style liberty spikes. Enhance this bright and cheerful look by dyeing some of your hair with a bright blonde or yellow hair color.
#7: Elongated Look

Elongate your head by pulling your liberty spikes slightly backwards instead of straight upwards. Give the spikes at the rear of your head a lot of length.
#8: Dino Cool

Take some inspiration from the Stegosaurus by gelling your hair up into these uniquely-shaped liberty spikes. The spikes should be thick and rounded at the bottom but pinched into a point at the top.
#9: Thin Spiked Faux Hawk

Use your hands to pull the top layer of your hair up into a thin mohawk style but do not not shave the underneath layers of your hair. Secure your 'hawk in place with firm hold hair gel.
#10: Hair Flick

This punk hairstyle for men or women looks as though it is straight out of an Instagram beauty shot of someone flicking their hair over. The only difference is that this look has been styled to stay this way for the whole day!
#11: Red or Dead

A huge red mohawk liberty spike is sure to attract attention. Use a really bright shade of red to make sure that your look cannot be missed. Alternatively, choose a different color of hair dye to express your individuality.
#12: Long and Thin Spikes

If you do not have thick hair, then it may be better to create a larger number of thinner liberty spikes. Thin spikes will help to give your hair the illusion of more volume whereas you may not have enough hair to create thicker spikes.
#13: Twisted Spikes

Twisting your liberty spikes whilst you are pulling them upwards can help to give a firmer hold. Twisting your hair spikes will also give them a slightly more rounded shape.
#14: Black Tips

To give another interesting dimension in your spiked-up hairstyle, you can color the tips of your hair a different color. For the cleanest finish, add the black hair dye after the spikes have been pulled up.
#15: Liberty Crown

Follow the example of Lady Libertas by wearing your spikes around your head in a crown formation. This is a great look for people who want to subvert the regal crown style.
#16: Hooked Look

Give each of your liberty spikes a little curl at the end to create a hooked look. All that you need to do is curl the point halfway around your finger before adding the firm hold styling gel.
#17: Punk Accessories

Accessorize your liberty spikes hairstyle with some funky jewelry. Snake bites, lip rings and earlobe stretching retainers are all popular choices on the punk scene.
#18: Go Long

For a really extreme look, grow your hair long so that larger spikes can be created. Shaving your hair for a true mohawk will enhance the look. Remember that long hair will need more gel to hold it.
#19: Sun Burst

This explosion of yellow hair is a wonderfully bright choice for a punky liberty spike hairstyle. Create regularly spaced spikes coming off your head at all angles for the maximum effect.
#20: Rainbow Bright
Give your hair an amazing rainbow look by dyeing it with a lot of different hair colors. Choose the colors that you like best to create your own unique mix of patterns that match your personality.
Mohawk is one of the most favorite hairstyles in today's world. Mohawk with fanned spikes is the best combination you could ask for.
#22: Liberty Spikes for Thin Hair
Styling thin hair can be difficult sometimes, but with the introduction of liberty spikes, it is not a problem anymore. Style your hair into several thin spikes to give the illusion of volume to the hair.
#23: Golden Shower Punk Effect
To shine bright, dye your punk rock hair yellow golden and spike them up in mohawk liberty spikes pointing in every direction. These are the perfect sun rays for the world to see.
#24: Spiked Rainbow Style
If you have a serious love for colors, it should reflect in everything you do, especially through your hair. Dye your hair in every color you like and then make a Mohawk with evenly spaced spikes.
#25: Gothic Pointy Style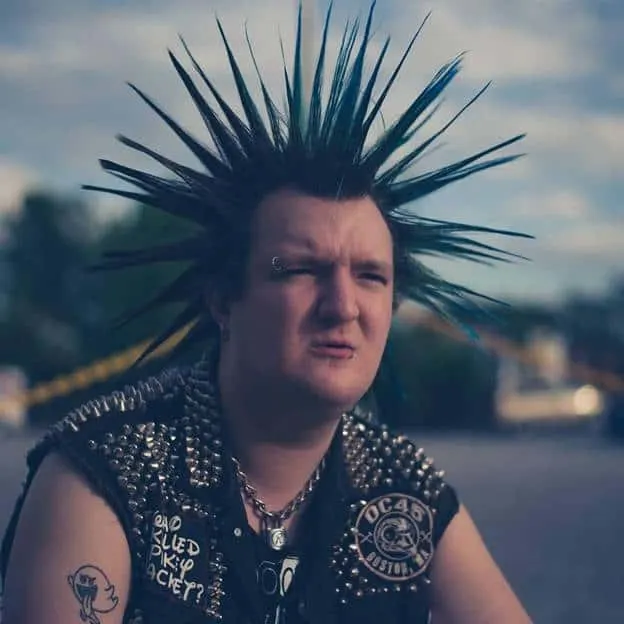 If you are a goth, you ought to try this look. All you have to do is spike up your hair into pointy liberty spikes, and that's all.
Before you start doing any liberty spikes hairstyles, you should make sure that you have plenty of styling gel available. Take a lot of time to carefully shape your hairstyle and it will look great all day long. Be fearless with your style and you will realize that the possibilities are endless.