Good long hairstyles for boys are quite rare, that's why young men tend to choose something short and simple. However, if you do enough research, it's easy to find amazing examples of easy to make and fairly simple to maintain long hairstyles. The longer the hair is, the more experiments you can make with it and the more different hairstyles you can come up with. If you have long locks, there are no boundaries, you can go from a shag to a bob or a striking mohawk. There is so much you can come up. Such is never the case with short hairstyles. If you are not scared of growing a long mane, get ready for a fun adventure!
Cool Long Hairstyles for Boys and Teenagers
Boys often don't want to spend too much time on their hair. However, these long hairstyles for boys can make you change your mind. Just take a look at how amazing a guy can look with a long mane. Perhaps one of these appealing hairstyles will become your next favorite. Cutting the hair is easy, growing it long is not. If you are up to the challenge, you can sport the most amazing hairstyle and become the king of the block. Here are 55 modern long hairstyles that will look good on young boys and teenagers.
1. Brushed back shag
If you have soft and wavy hair, you can enjoy this amazing brushed back shag hairstyle. You'll need a few drops of gel to keep it in place. Play around with the top part and turn it into a pompadour.
2. Wild curls
If you have curly locks, this hairstyle is a wonderful choice but only if you are not afraid of a little messiness. Allow the bangs to grow wild and keep the hair down your neck neat.
3. Manly bun
If the hair is truly long and you need a way to keep it out of your face, buns are the best way out. They win the battle with ponytails since they are easy to make and keep neat.
4. Clip it
If you want to get your long mane out of the way but still want others to see it, you can use the clipping trip. Collect the side locks and clip them together in the back. You'll get the best of both worlds.
Teenager? Browse 70 Trendy Hairstyles for Teen Guys
5. Sleek look
If you have a shag and want to keep it neat, the hair gel should become your best friend. By sleeking the hair on top you get a neat hairstyle without any hassle and can make a great impression.
6. Layered shag with asymmetrical bangs
This layered shag with asymmetrical bangs is exactly what a boy needs if he has thin straight hair. Such hairstyle will stay neat without any hair gel. The asymmetrical bangs add it an extra modern oomph.
7. Long layered bob with bangs
This very attractive long haircut for boys is usually not a big favorite among youngsters since the hair tends to get into their eyes. However, teenagers will appreciate the appealing and romantic look such a bob gives them.
8. Highlights
While young boys don't know how to take advantage of the highlights, teenagers can completely change their appearance with a touch of a new color. Dye your long locks with new shades and get an attractive look.
9. Long pixie with wispy bangs
This hairstyle with eye-covering bangs is exactly what you need for a dreamy look. The main advantage of this hairstyle is that the hair is kept out of the way. The overall maintenance is minimal.
10. Voluminous shag
This is a tricky hairstyle that borders on being short. Only the hair down the neck makes it a wonderful long hairstyle for boys. The hair is kept out of your face while seeming voluminous and long.
11. Highlighted ends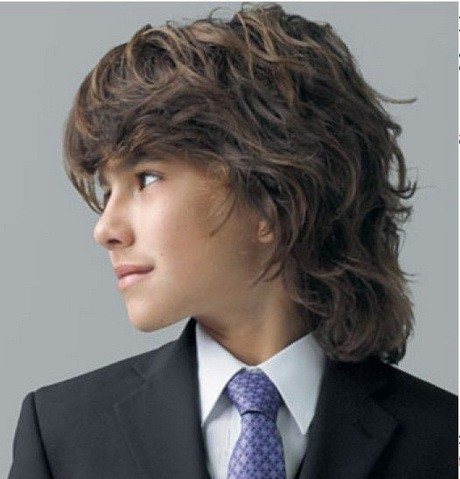 Turn a simple shag into something truly fantastic by highlighting the ends. Only a professional hairstylist can turn your hair into a fiery mane. Consider blonde or red shades for this look.
12. Short bob with bangs
This hairstyle is perfect for young boys with fine hair. The locks are mostly the same length and the bangs are long but not eye-reaching. All you need to do to keep this hairstyle neat is to brush it on a regular basis.
13. Pixie with alluring bangs
This long hairstyle for boys is suitable for teenagers. Young boys won't appreciate it because of the long bangs that get into the eyes while on a teenager such bangs look appealing. Some styling is in order.
14. Cropped shag
This cropped shag is a good choice for guys with thick and straight hair. Take a close look at how the sides and the back are styled here. The bangs are asymmetrical and long. The overall look is very stylish.
15. Neat and red
Making the hair, all the same, the length can create a nice neat bob for boys who hair is too think to be styled into anything more complicated. Such long hairstyles for boys are gaining more and more popularity.
16. Spiky undercut
While an undercut is done mostly on short hair, this long variation is a wonderful choice for a boy. The top part can be spiked up to create a stylish appearance suitable for special occasions.
17. Striking curls
If you have thick and curly hair and are not afraid of maintenance, this hairstyle is for you. The more curls you have, the more voluminous it will look. You can choose to add bangs or leave it all the same length.
18. Fun and sporty
This simple shag was made popular by Lionel Messi and it's not going out of style. It's easy to make and keep neat even if you are into sports. The thinner your hair is, the easier this hairstyle is to maintain.
19. Shorty and shaggy
This short shag with a long top is a good choice for guys who like spiky hairstyles. Any boy with thick enough hair can create various styles using the hair on top, while the bottom part adds more zest.
20. Down the neck
Leaving the hair on top short and allowing it to grow down your neck is an ideal way to combine a short and boy's long hairstyles. The top part is styled in a way you always wanted to and the back part doesn't need any maintenance while looking fashionable.
21. Elongated pixie
This is a variation of the elongated pixie. The hair on the top is styled into an elegant pixie with long bangs, while the hair down the neck is left as long as you wish it to be. Some guys choose to make braids or ponytails.
22. Elongated undercut
This hairstyle requires the same approach as the elongated pixie. The top part is styled as an undercut. The hair is left long enough to make pixies and comb-overs on top while the part down the neck stays ready for a ponytail.
23. Sleek shag
There are many ways you can go about making a shag. This one is the simplest. Most of the hair is cut short to avoid extra styling and the hair behind is left just about 5 inches long. This long haicut for boys is styled with plenty of hair gel.
24. How low can you go?
This hairstyle is simply long. The hair is brushed backward to be kept out of the face. Such hairstyle is rarely worn down. Most of the boys prefer it to make stylish ponytails or appealing braids.
25. No tricks
This simple long hairstyle involves layers and wispy bangs. There is nothing tricky about this cut. It's easy to make and easy to wear. All you have to remember is to make regular touch ups to keep the layers looking neat.
26. High comb over
High comb overs look great as part of an undercut or a taper fade but coupled with a long hairstyle the look becomes even more magnificent. Consider spiking your hair up and combing it backward.
27. Accessories
Some boy's long hairstyle look especially appealing when the right accessories are chosen. Headbands for men are a great way to keep your hair down without worrying about it looking messy.
28. Pump up the volume
You can turn your long asymmetrical shag into a voluminous do with the help of a curling iron. Pump up the volume by lifting up the roots of your strands. This is not a daily style but can be useful for a special occasion.
29. Middle part
Simply wearing your hair down is fun. By arranging a middle part you can create a simple yet romantic look. However, such approach requires regular brushing and some hair products.
30. Wavy choice
If your hair is wavy, you can create a great hairstyle and keep it intact easily. The waves give this layered shag some effective extra volume. The middle part adds this hairstyle some charm.
31. Short bob
Such bobs are usually women's choice, but there are boys that can take advantage of them and look fantastic doing it. The top part is styled to be voluminous and round. The bangs are long and blunt.
32. Windblown mane
Some guys don't like to bother with keeping their manes straight, and there is some charm to this. Wearing your hair simply down without coming up with anything special is a good choice for some occasions.
33. Simple bob
This simple layered bob with the front strands shorter than the back can be a wonderful choice for any occasion. Any boy can easily wear this cut to school without being afraid of reprimands.
34. Long fringe
A long fringe coupled with a short shag can create a wonderfully romantic and soft look many boys would love to sport. Such hairstyles for boys with long hair are popular among teenagers.
35. Striking curls
If you have wavy or curly hair, you can enjoy this complicated yet magnificent approach. The shag is carefully styled with the help of some hair gel. The bangs are side swept. Each wave is arranged separately.
36. A-line bob with side swept bangs
If you are brave enough to grow long hair, no one can stop you from playing around with it. Consider something interesting, such as an a-line bob and arrange the bangs in order to make a real statement.
37. Shabby shag
Despite its name, this shag looks quite neat and can be a great choice for guys with thin and straight hair. In order to compensate the lack of volume in the back, add some by creating blunt bangs.
38. Oh, those bangs
If you are not ready to create a full-blown long hairstyle for boys, you can start with growing long bangs. There are so many ways you can play around with them, starting from spikes and ending with a cowlick.
39. Fun and simple
Guys who like to lead an active way of life like simple hairstyles. If you want long hair while keeping the maintenance to a minimum, go for the simplest shag, short in front and long in the back.
40. Sport the waves
If your hair is wavy, it might be hard to manage. But most of the time, it will look good on its own. Let your waves down and add a bit of hairspray to keep them from looking too wild.
41. Ponytails
No matter how amazing your hairstyle is, sometimes the long locks get annoying. Instead of cutting them off, turn to fun hairstyles, such as various ponytails. Make one, two, three or ten.
42. Brighten up
Brighten up your long mane by going blonde. Changing the hair color is just as fun as creating a new hairstyle. Long dyed hair looks especially impressive if you choose the right shades.
43. Cornrows
Long hair gives you a chance to experiment as much as your heart desires. One of the most effective ways to make your long hair manageable is to create cornrows. Give them a try!
44. Low ponytail
A low ponytail is the most popular hairstyle among men with long hair. However, it is rather boring. If you must collect your hair to keep it away from your face, come up with several ponytails or braids.
45. Windblown bangs
Bangs are not a compulsory part of long hairstyles for boys but they make the haircut look more stylish. The longer you fringe, the better impression you can make with your appearance.
46. Classic highlights
Knowing the right highlighting approach to your hair allows you to create the most striking long hairstyle for boys. The longer the bangs are, the better the highlights look from the front.
47. Messy tresses
Sometimes the easiest way to sport a haircut is to leave your hair alone. While it might look wild and messy to some, others will like the freedom such wonderful long hairstyle can make you feel.
Most Popular David Beckham Hairstyles
48. Add a beard
If you are old enough to style a beard, it can be a great addition to any of the long hairstyles for boys. The contrast of long hair and a short and neat beard can be truly impressive. Give it a shot!
49. Keep it short
Short hair in front is a wonderful way to direct the attention to the long hair in the back. By keeping the hair all the same length beside the back part, you are creating a neat and appealing hairstyle.
50. Partial highlights

Make your bob really shine by adding partial highlights. You can create a fiery hairstyle by adding a few red strands to your brown or black mane.
51. Shag with long bangs
This simple shag with long bangs is a good choice for guys with elongated face shape. While not requiring too much maintenance this long hairstyle looks impressive. It will look the best on straight hair.
52. Simple yet striking
This simple long hairstyle is often the perfect choice for boys. The hair is long and straight without any bangs to deal with. Such hairstyle is perfect for making ponytails or keeping your hair down.
53. Layered bob
A layered bob is a great hairstyle for boys who having long hair but still want to be stylish. The layers create the much-needed volume while making the haircut look neat all day long.
54. Faux bangs
This hairstyle is created by brushing the long mane forward. There is absolutely nothing hard about it but the results are very impressive. This kind of style is great for a special occasion and requires some maintenance.
55. Short shag with long bangs
Contrary to the popular belief that long bangs are a hassle, such fringe can be very attractive and require little care. This hairstyle is designed to look a little windblown and long bangs add it a romantic look.
Boy's long hairstyles can really make you look new and improved. Don't be afraid of the hassle that comes with such hair. After all, you can always make it short again. Each one of these hairstyles is definitely worth your while. Think about it the next time you want to cut the locks short again.