Men with long curly hair look bold and styling it is a great way to embrace naturally curly hair. A well-picked curly hair creates a show-stopping look that is guaranteed to attract attention for all the right reasons. Curls are no longer just for girls!
Men's Long Curly Hairstyles
Texture and curls can add body to your hair, and prevent it from looking limp and lifeless. In fact, long curly hair is now so popular for men that many men are having curls added to their naturally straight hair in the salon.
The key to loving your long curly hair is finding the right cut and products that work with your hair's natural texture. Here are 42 of the best long curly hairstyles for men to help you love your style:
1. Finger Curls
To start with, this gorgeous look is impossible to ignore and ideal for those already blessed with natural curls. Section the layered hair and apply a curl-enhancing product before wrapping and twirling the strands around your fingers. The result will be perfect corkscrew coils!
2. Long Curls with Beard
Prove your masculinity with this long curly hairstyle for men. The shoulder-length mane is cut straight to dangle at the back while tucking the strands behind the ears with a middle part. Accentuate the style with a ducktail beard and mustaches.
3. Hot Mess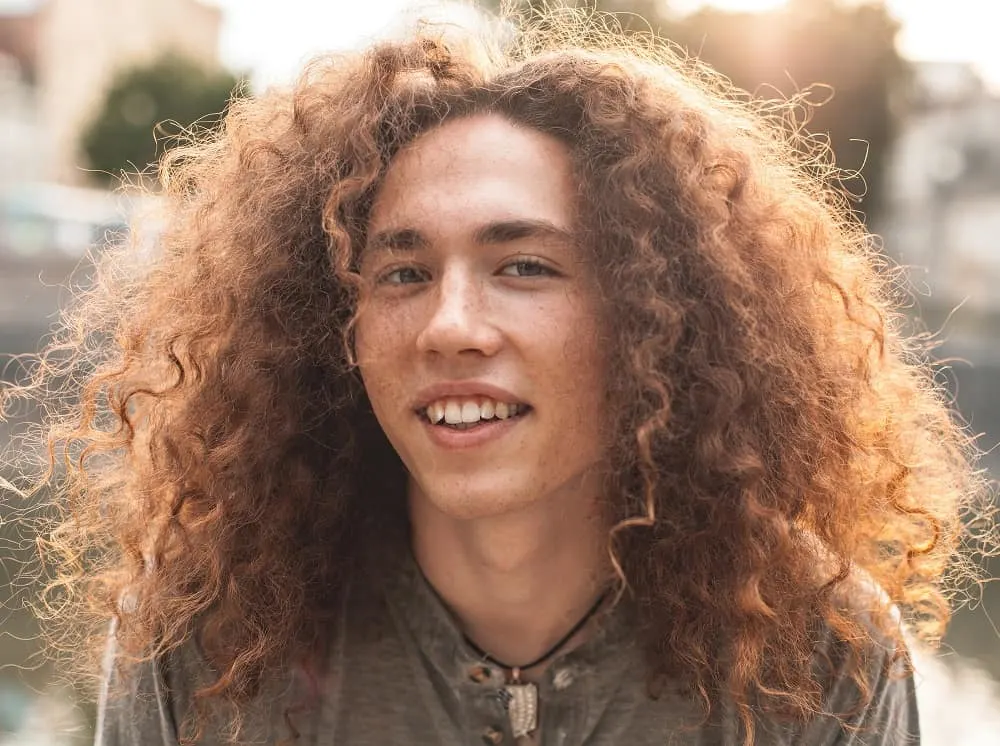 Not able to tame that natural fluff? Embrace it as it is while subtly layering the hair. Dye the mane in a light copper brown hue and keep it loose creating a hot mess sitting on the shoulders. Hand-tousle the strands for a funky appeal.
4. Ponytail + Undercut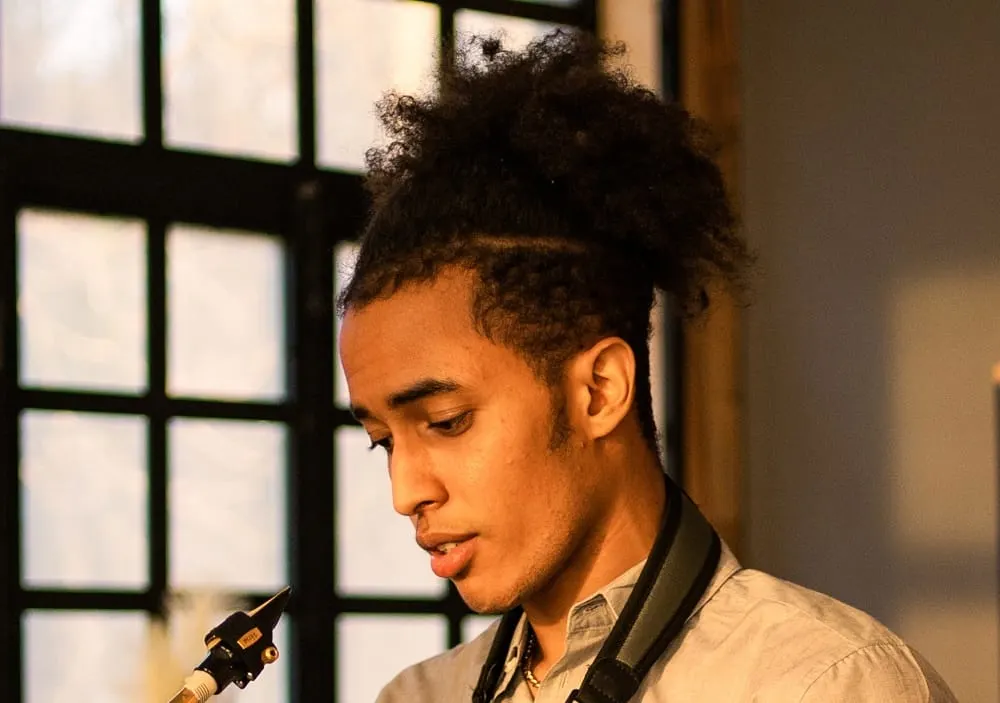 An undercut looks chic when combined with a long mane. African-American guys can buzz their sides and back while keeping the top long enough to be styled in a fluffy ponytail. This style is easy to handle making it perfect for the lazy ones.
5. Side-Swept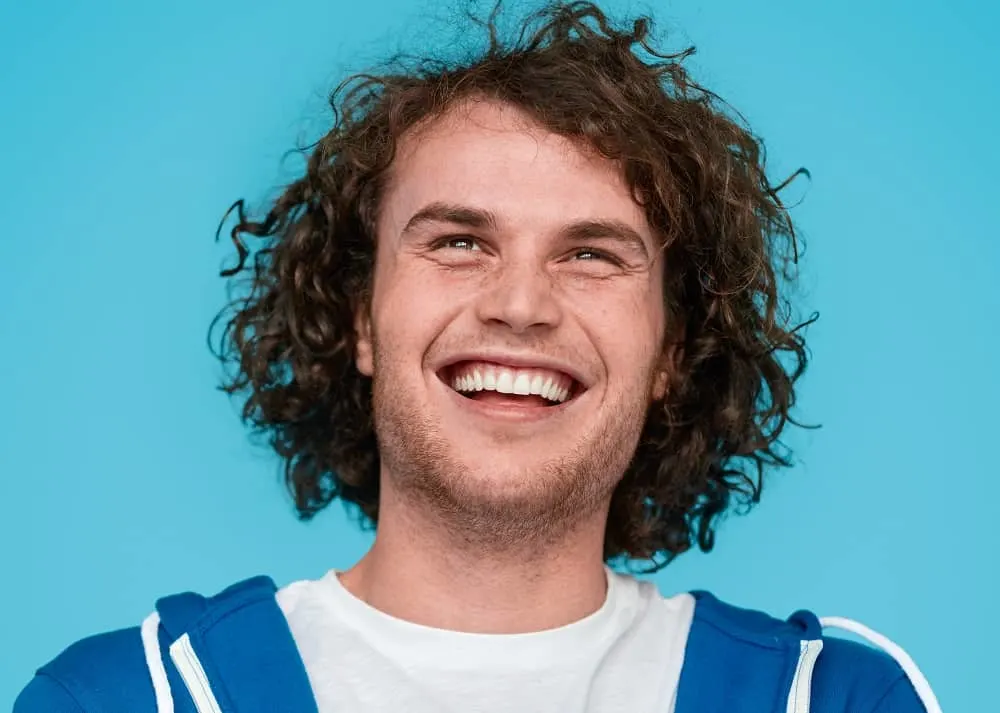 When mentioning curls, the messier the better. Grow the hair to shoulder length and opt for a short round bob with ruffled layers creating a lot of movement. Finger brush the strands with a side parting and you are ready to rock.
6. Half-Up Style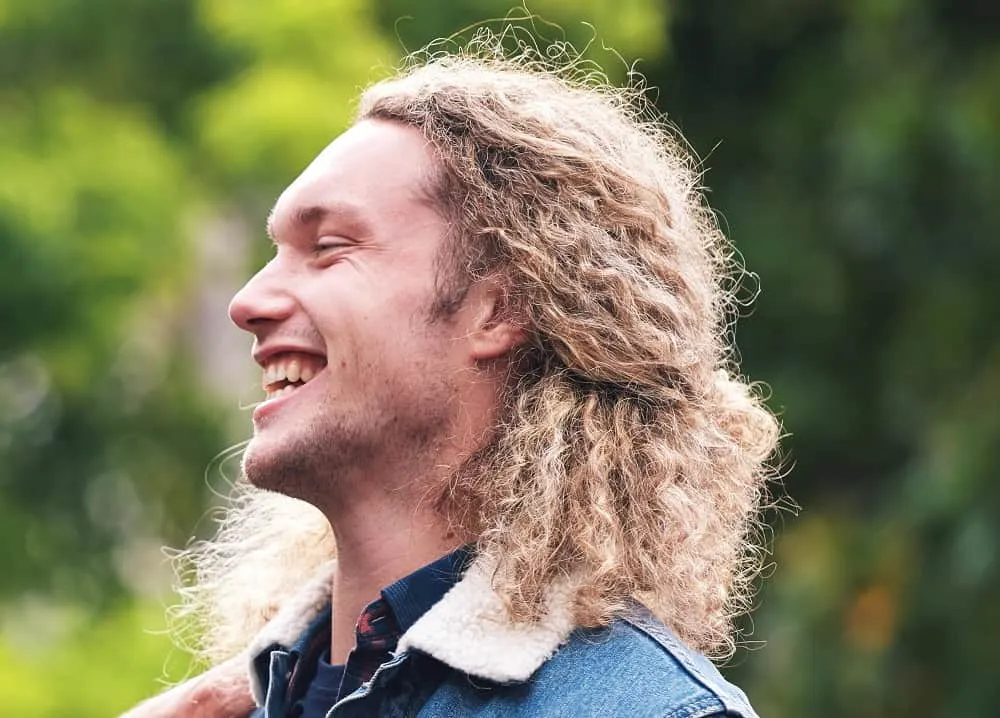 Men carry long curly tresses as good as women and this look proves it all. The strands are dyed in a soft sandy blonde hue with an undercut along the temples. Secure half of the hair in a ponytail creating the classic half-up hairstyle.
7. Man Bob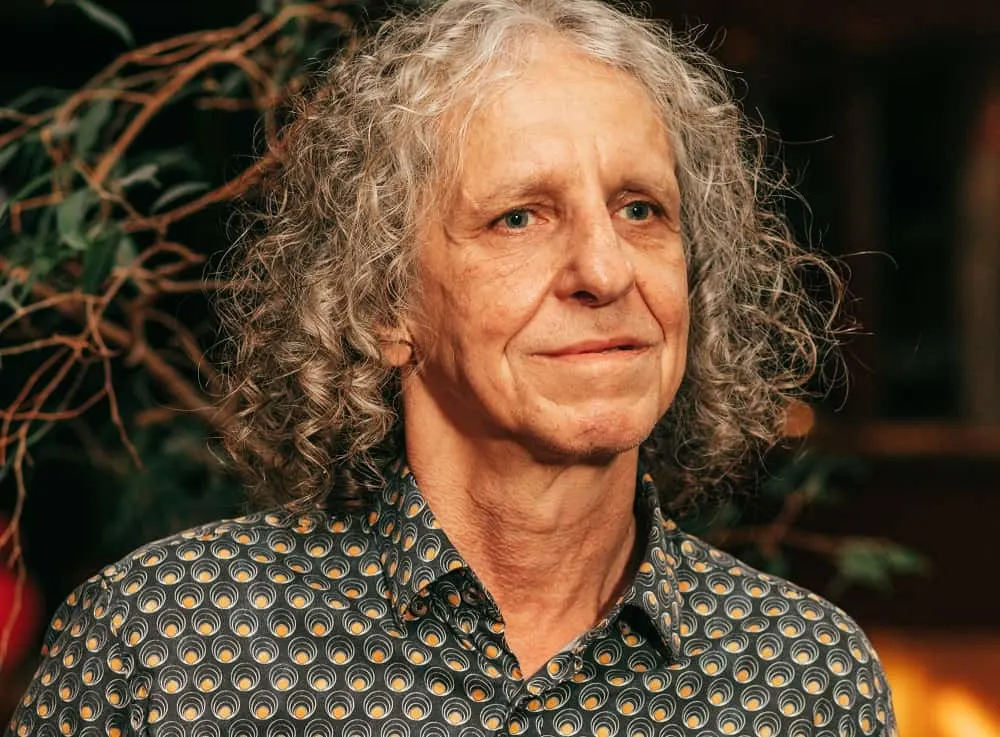 Those who have never heard of a man bob here is one to consider for the next time. It features a simple middle part with the silver top darkening into a grey hue reaching the ends. This look is ideal for elderly men with thin hair.
8. Caramel Highlights
Add some life to those boring coils with highlights. Go for a chocolate brown base with vivid streaks of caramel blonde creating the perfect contrast. This style is low maintenance as the hair grows out creating a natural balayage look.
9. Top Knot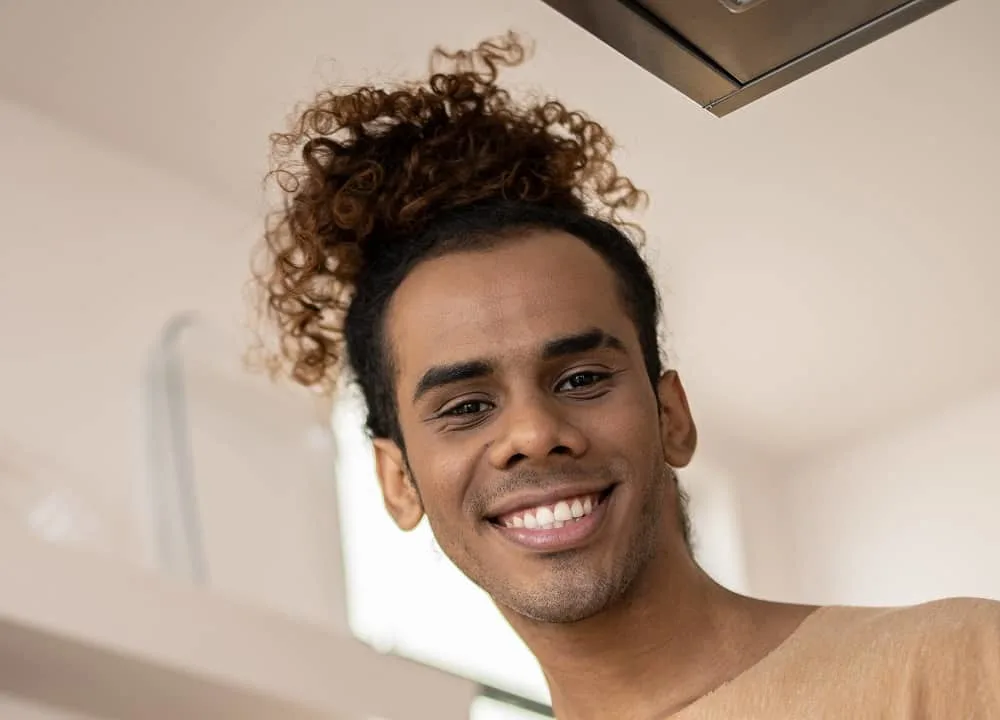 Here is another funky long curly hairstyle that will surely turn around some heads. Go for a black to medium brown ombre with an undercut along the temples keeping all the attention towards the top. Secure the curls in a messy top knot bun with the ends sticking out intentionally.
10. Blonde Locks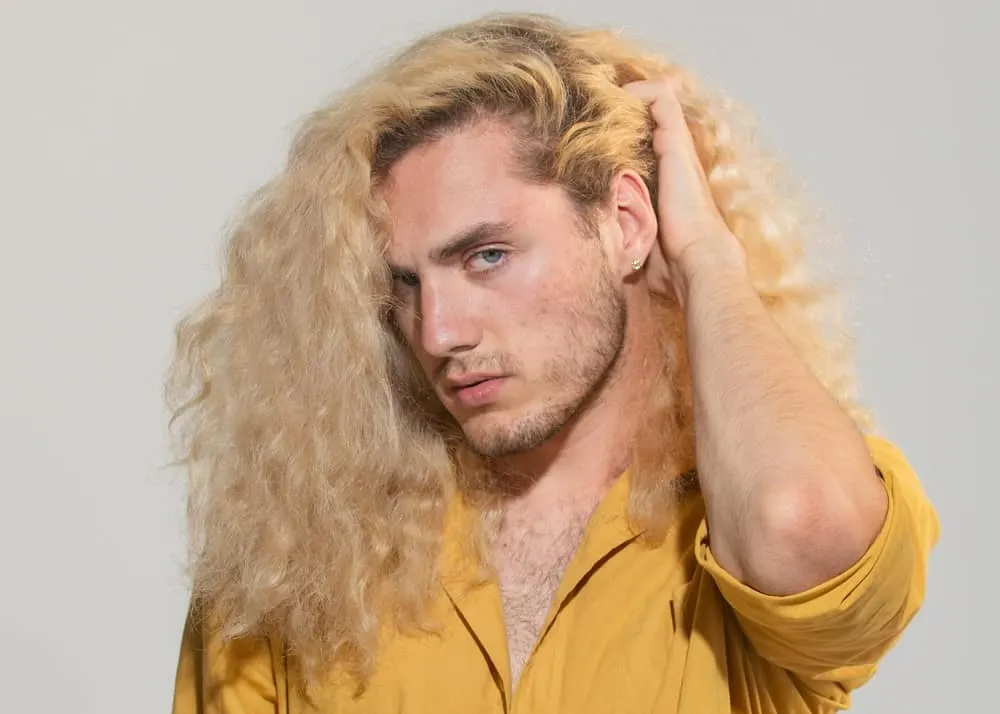 These dreamy locks will surely make all the ladies swoon over you. The armpit length strands are dyed in a light golden blonde hue keeping the roots dark. Wear the mane with a deep side parting covering an eye for a sexy finish.
11. Middle-Parted Fringe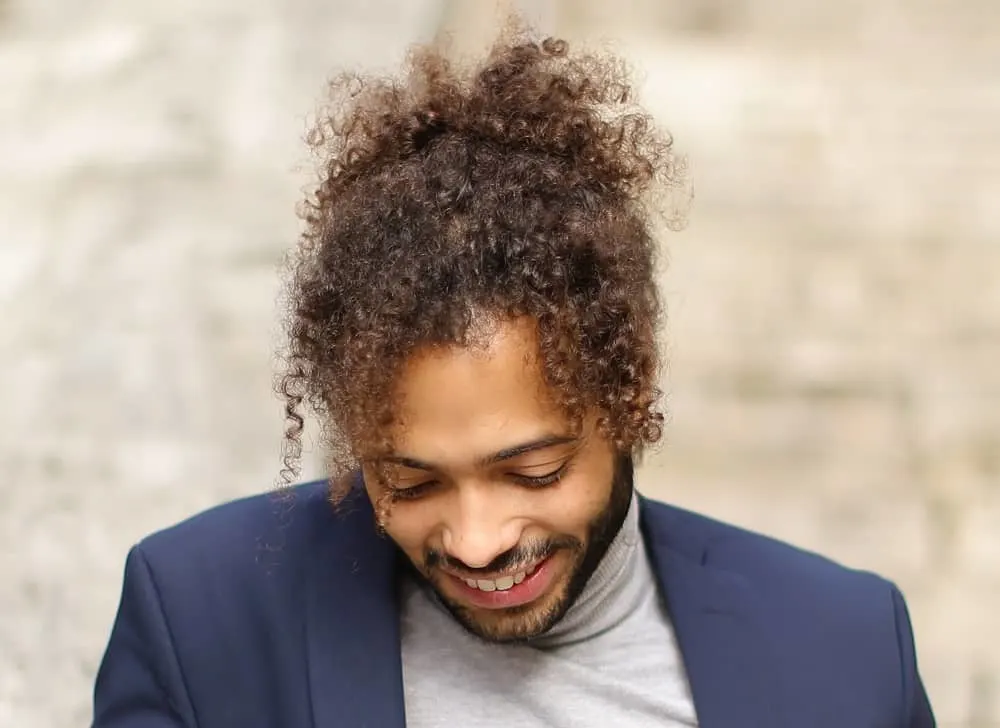 Cover a large forehead or a receding hairline with a fluffy fringe. Chop the strands short at the front to fall on the face with a center parting while secure the remaining hair in a ponytail. Add further detail by going for a dark to light brown subtle ombre.
12. Handsome Curls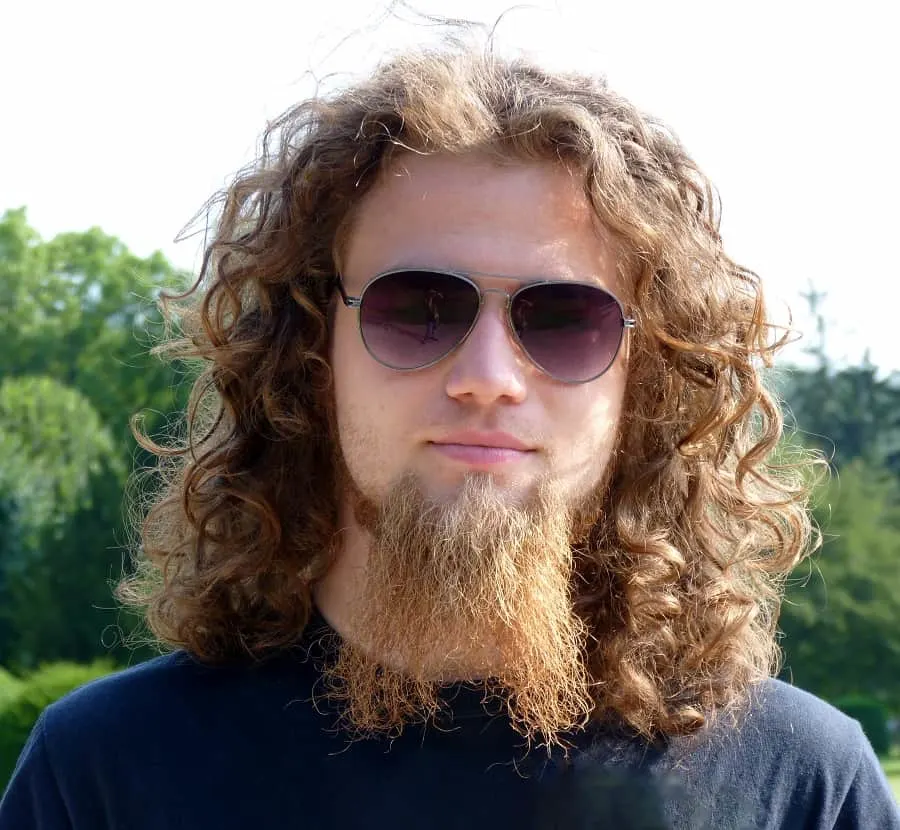 Bring out the best of those natural curls with a bit of care and conditioning. The dirty blonde mane has radiant blonde babylights adding a soft gleam to the face. Pair the style with a chin puff for a grizzly look.
13. Radiant Streaks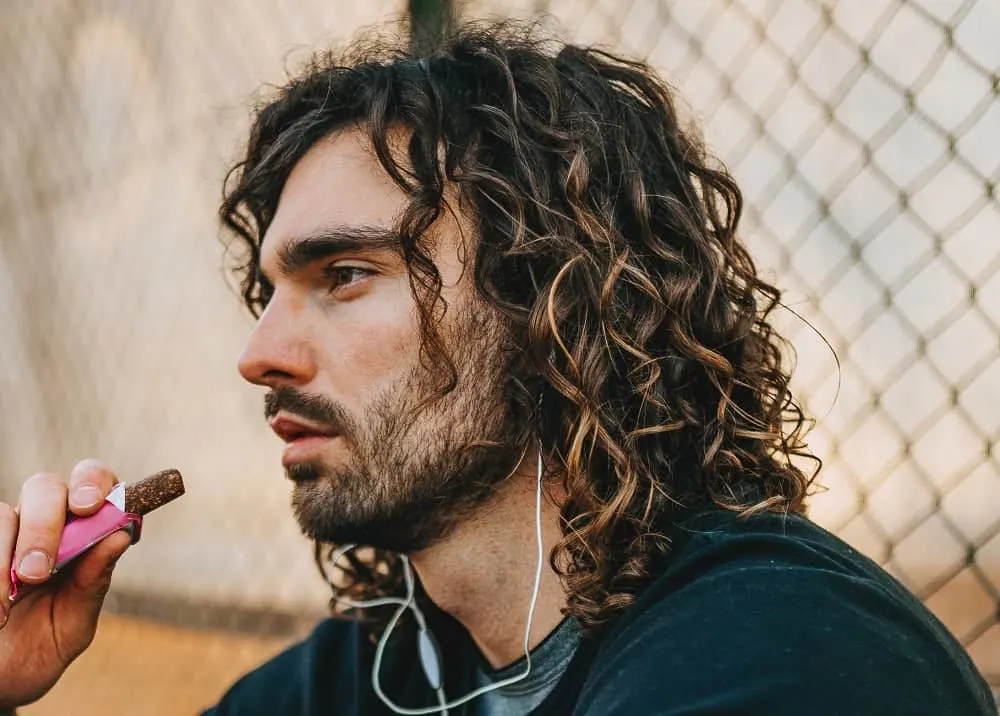 A touch of blonde surely won't hurt anyone. Those who want to refresh their look without overpowering their natural base shade can opt for blonde streaks peeking through the dark strands. Add soft layers and finish off with a medium facial stubble.
14. Long Curtain Cut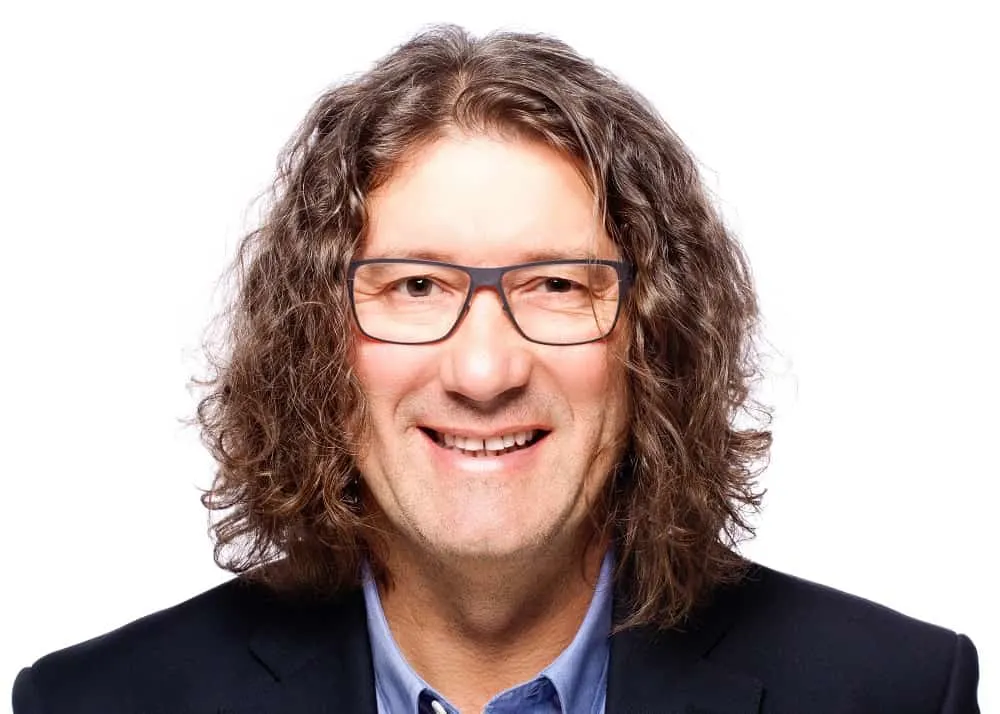 Popular since the 90's, many men sport the curtain cut with varying lengths. It is characterized by a middle part with the hair falling on both sides of the face. Create texture by layering the strands and using some oil or gel for a mild hold. Voila!
15. Low Ponytail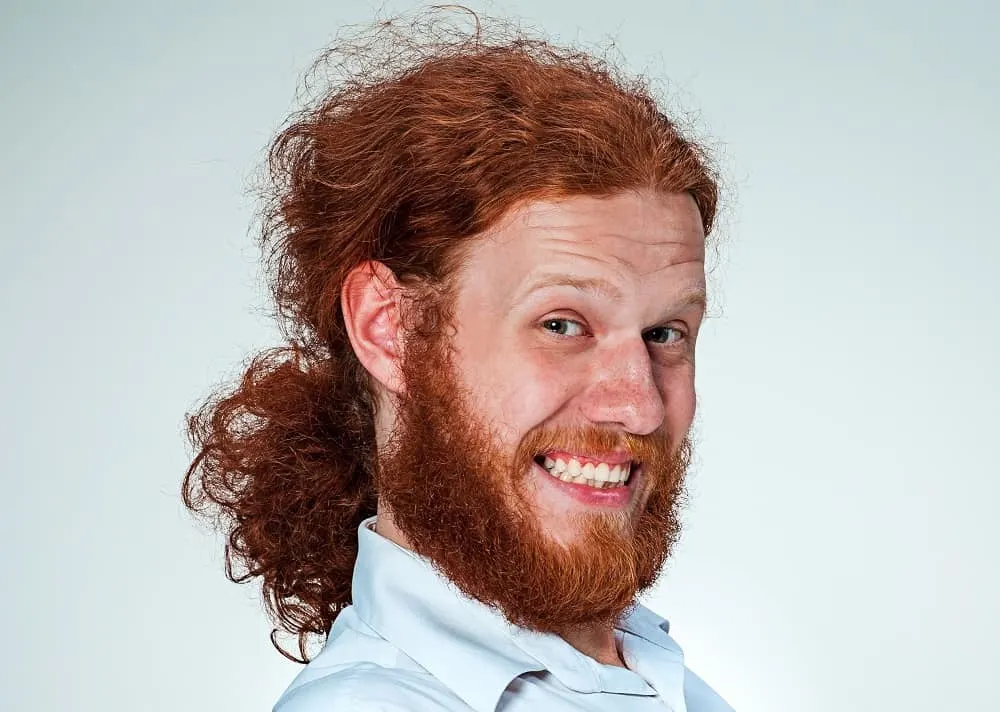 Not to forget the redheads, secure the long curls in a low ponytail for a change instead of leaving them loose all the time. Don't worry about the flyaways as they create a fun carefree appeal with a thick beard and mustaches adding up to the look.
16. Long and Loose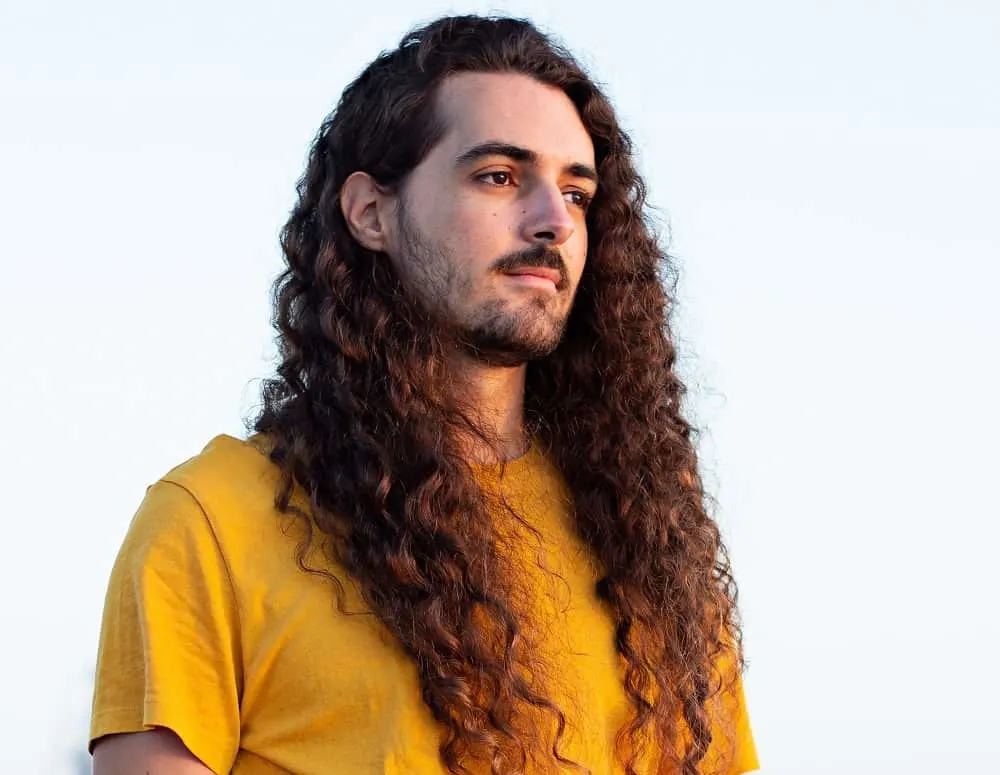 Talking about men's long curly hairstyles, this look requires time and patience to achieve but it will surely not question your manliness. Trim the mid-back length strands in a deep U-shape and side tousle them while tucking some of them behind one ear. Done!
17. Drawstring Puff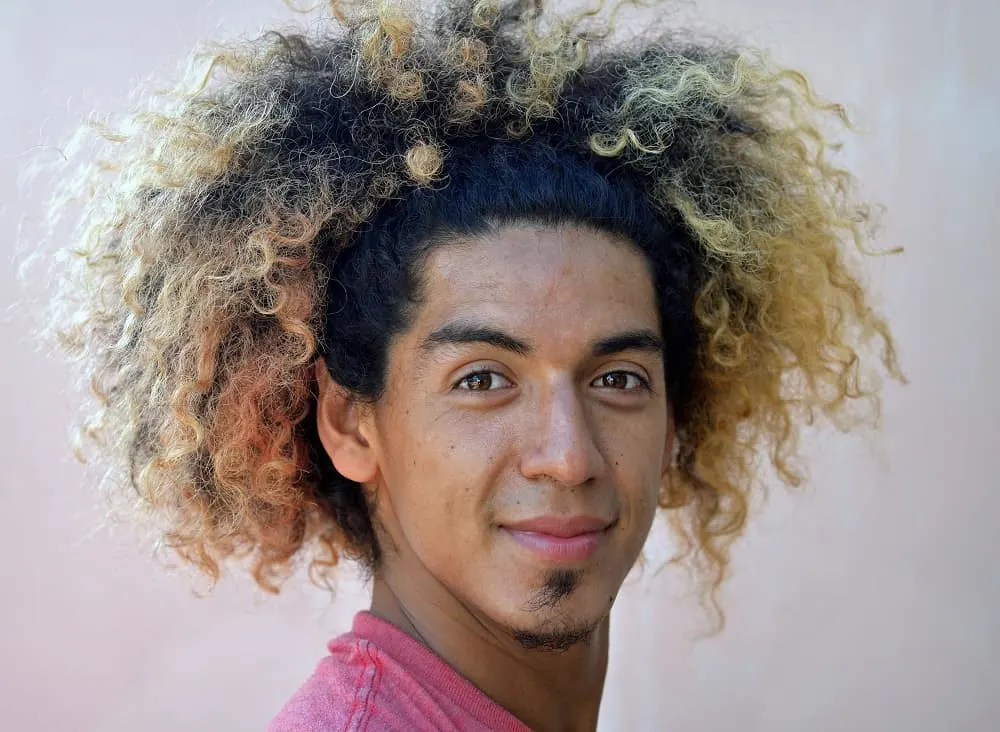 Make jaws drop wherever you go by dying the tips of your kinky black hair in a light blonde hue creating a sharp contrast. Flaunt the two-toned look by styling the mane in a jumbo puff using the drawstring method with the strands falling all around the face.
18. Gorgeous Layers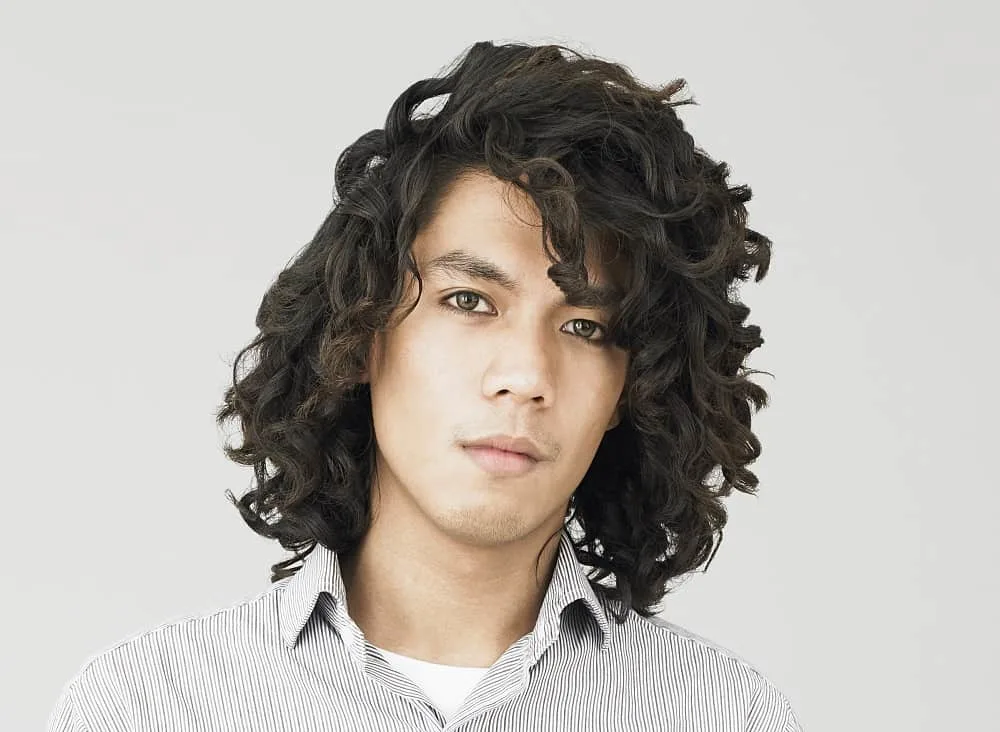 Asian boys can show off their curls with ease by asking the barber for choppy layers on shoulder-length locks. Define the curl pattern further by twisting them with your fingers and wear them loose with a deep side parting.
19. Carefree Appeal
Those blessed with ginger curls have nothing more to ask for! Let the strands grow out into a long messy mane and create some movement with layers. Use a curl-defining product while tousling the side-parted curls forward for a rock star appeal.
20. Three-Toned Ombre
Express your wild side with this three-toned hairstyle. The dark roots turn sandy blonde midway while transitioning into a soft platinum blonde hue reaching the tips creating a dashing ombre effect. A hint of blonde on the beard completes the look.
21. Long Curly Side Ponytail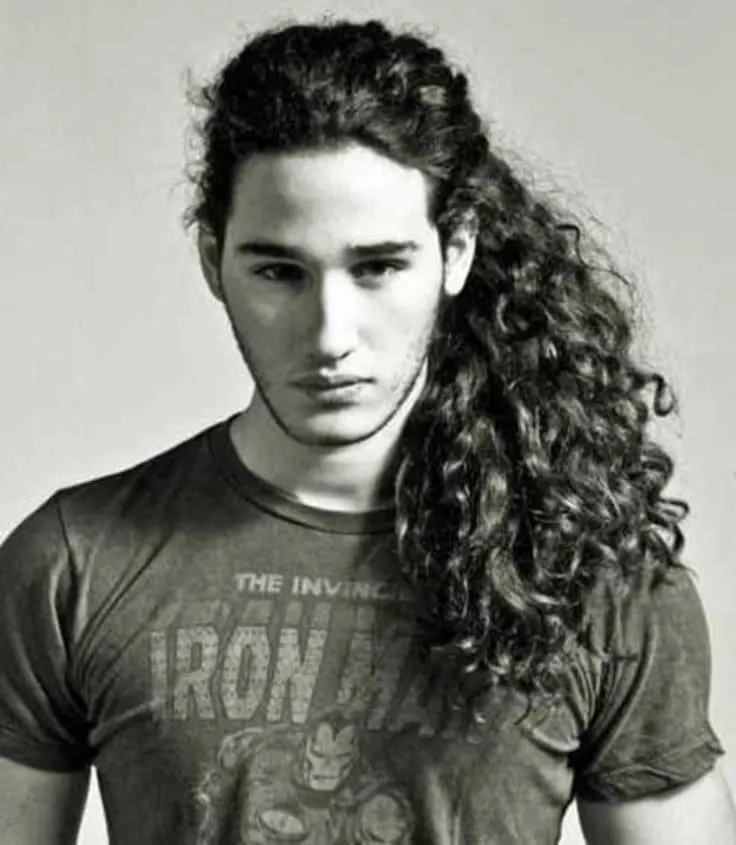 Love your long curly hair but hate the way it falls in your face all day long? Then you need to experiment with a swooping side ponytail. More modern than a classic ponytail, this style will still show off your curls whilst keeping them out of your face.
Ideal for low-key weekends, this is a style that will suit hair of any color and texture. It's an easy style to achieve, and shouldn't take more than a minute to do in the morning.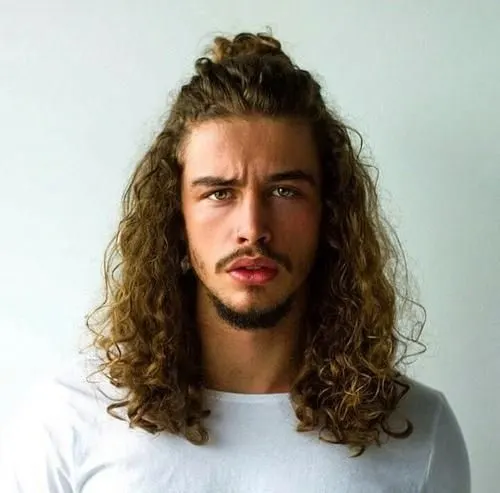 The man bun is one of the most popular modern hairstyles for men, and the good news is that it is a style that particularly suits men with long curly hair. It's a great way to pull your hair off your face in a fun and fashion-forward way.
Why not experiment with a demi bun, so that you can still show off the length and texture of your hair? This style isn't as complicated as it looks: simply hold the hair you wish to tie back, then twist it until it forms a ball shape and holds it in place with a hair tie.
23. Add Bayalage Highlights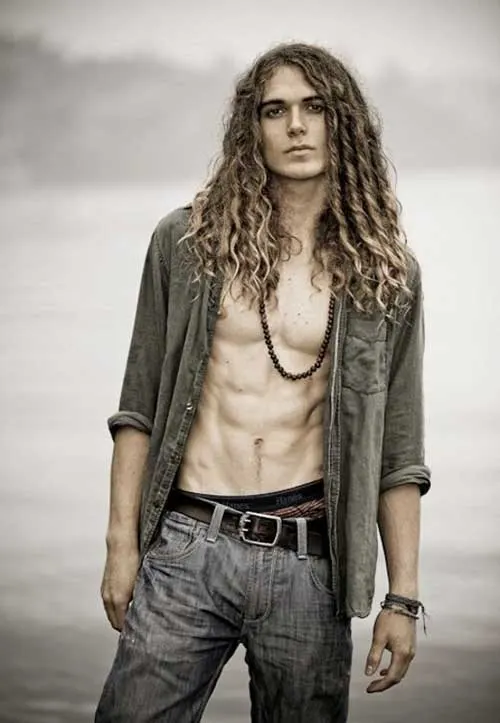 Bayalage Highlights are the latest in hair color innovation: with this technique, the color is painted onto the ends of your hair by hand, creating a look that is totally unique to you.
This is the perfect way to color long curly hair, as your hairdresser can work to emphasize your hair's natural texture. As a bonus, by only coloring the ends of your hair, you don't have to visit the colorist every six weeks for touch-ups.
24. Men's Long Side Swept Bangs
Add side swept bangs to your long curly hair to remove some of its weight and make it more manageable. This is a style that is ideal for minimizing a high forehead and will especially suit men with asymmetrical features or long face shapes.
Ask your barber or hair stylist to cut your bangs at an angle so that they tamper down towards the side of your face and blend seamlessly into the length of your hair.
Taper fade hairstyles with curl and waves
25. Pulled Back at the Roots
Pulling back the roots of your curly hair is a great way to add volume and keep your hair away from your face. This is a style that is really easy to achieve. Use a salt spray through the length of your hair and then add a texturizing putty at the roots to pull the hair back from your face and hold this style in place all day.
Avoid using hair gel or hair spray which will both make your hair feel stiff and prevent its natural movement.
26. Thin Out With a Tapered Undercut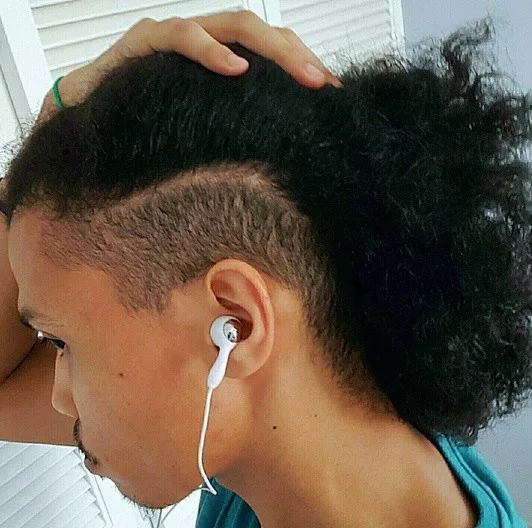 If you find your long curly hair thick and unmanageable, but don't want to sacrifice its length, then thinning it out with a tapered undercut is a great option. Not only does it look modern and fashion-forward, but it will also make your hair feel lighter, making it an ideal style for summer.
Ask your hairdresser to cut your hair so that the undercut is visible when your hair is pulled back but can't be seen when it is worn loose for a truly versatile style.
27. Add Textured Layers to Long Curls
If your curls are wild and out of control, then why not consider adding layers to give your hair shape and make it feel more manageable. A good hair stylist will work with the natural shape of your curls and add layers to complement your face shape: this is a great way to flatter a fuller, rounder face.
Pulling your hair into a side parting is a great way to emphasize layers or to create them if your hair is cut at one blunt length.
28. Choose Full Bangs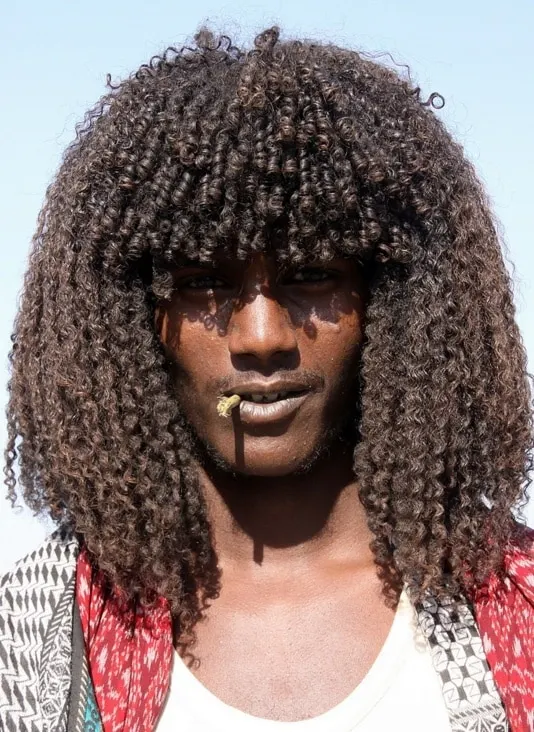 Adding bangs to thick curly hair can look bulky, but it is a strong look and a great way to give your hairstyle shape. If you think bangs are the right look for you then ask your stylist to layer them in order to create texture whilst still ensuring that they maintain a blunt and modern feel.
29. Black Coils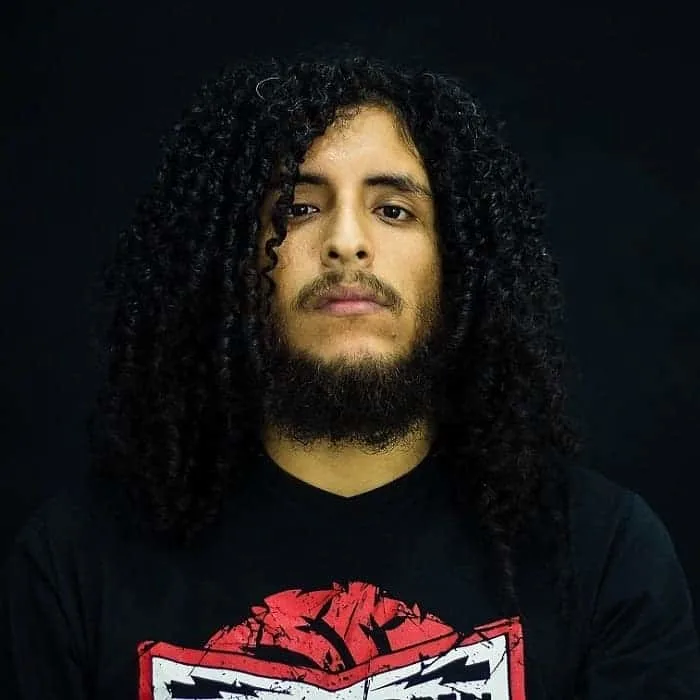 There is no need to complicate a style when a simple deva cut is enough. Each coil is styled individually to fall around the face flawlessly. Go for a middle or side part depending on the face shape and pair the look with a full beard.
30. Long Lob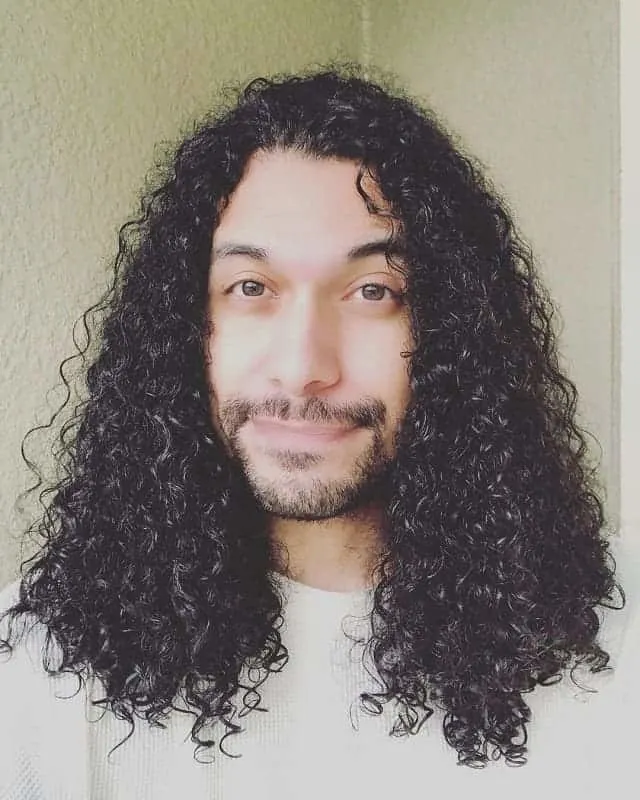 Lob haircuts are without a doubt gorgeous and an ideal way to flaunt those curls with style. Go for a straight cut in case of a thick mane or add some volume with light layers. Use a lot of gel to get the wet curls look trending these days.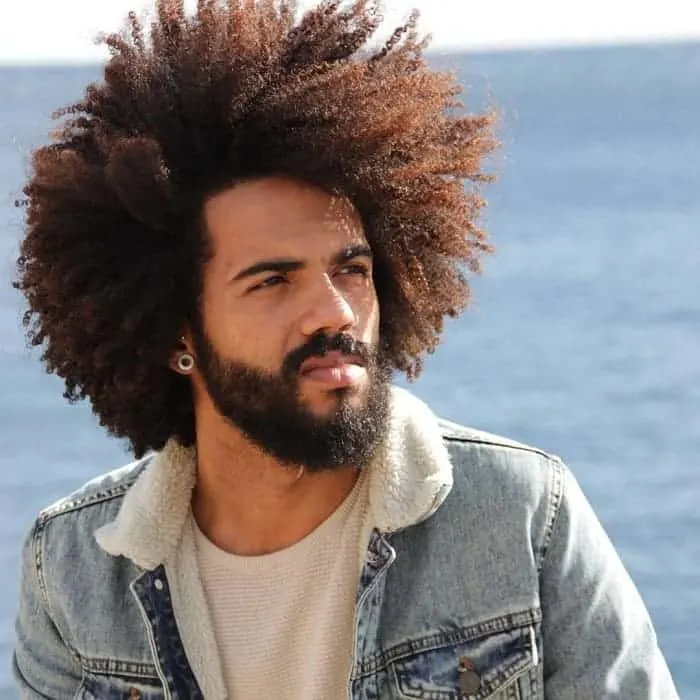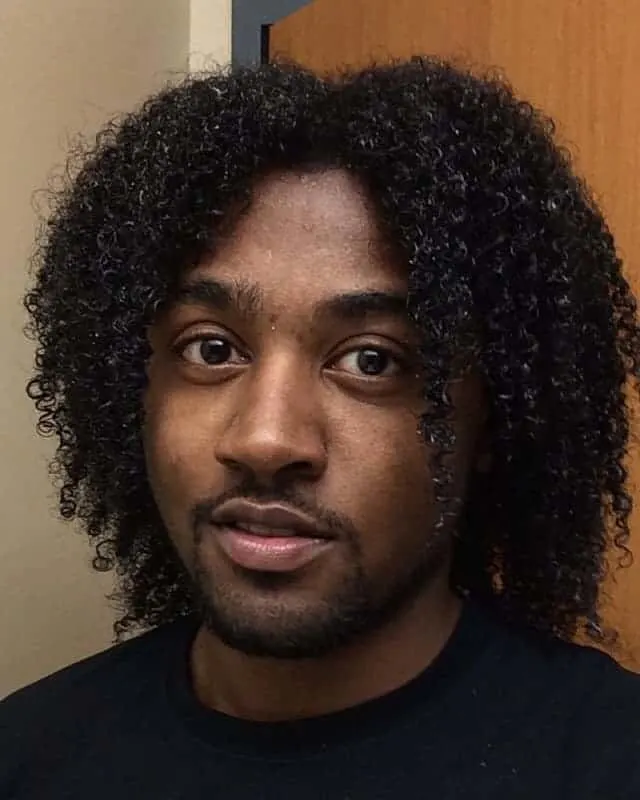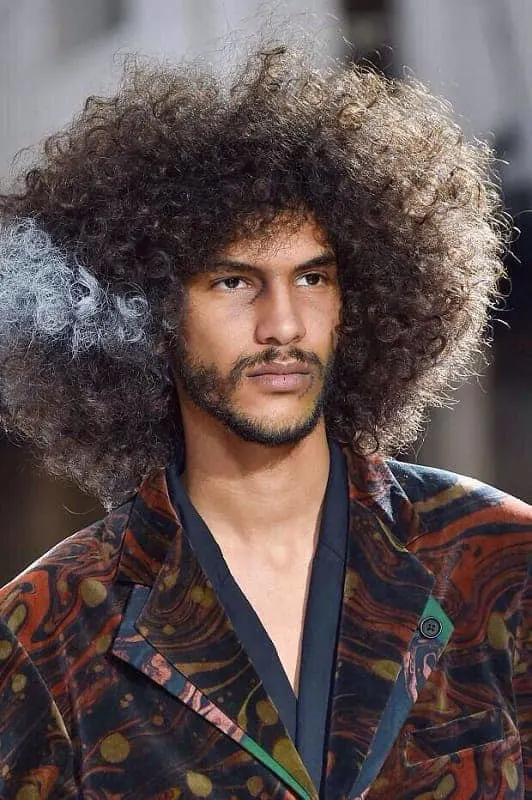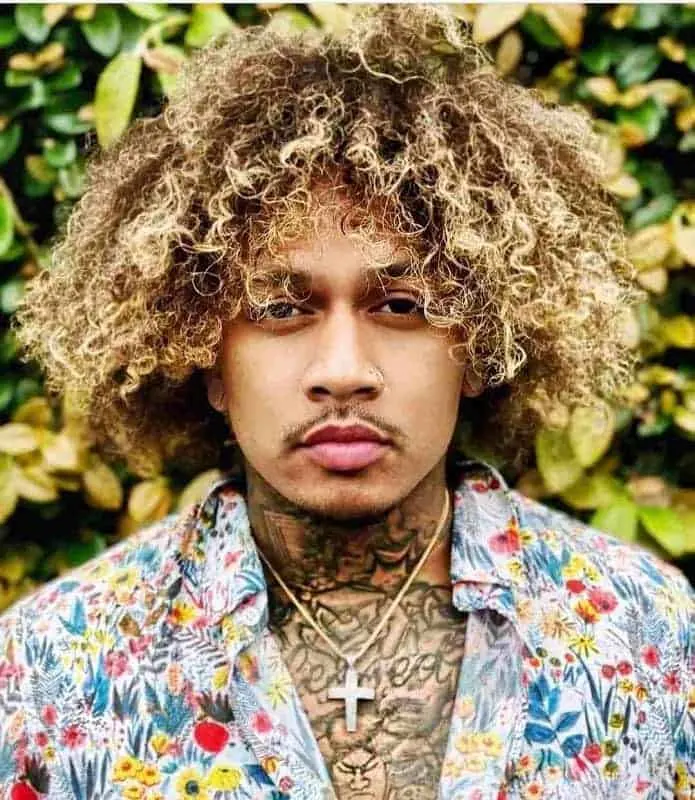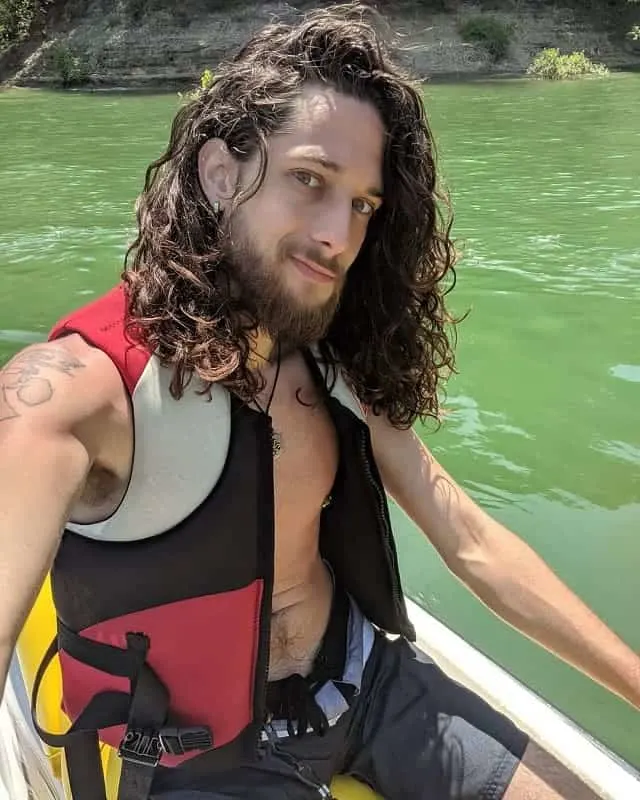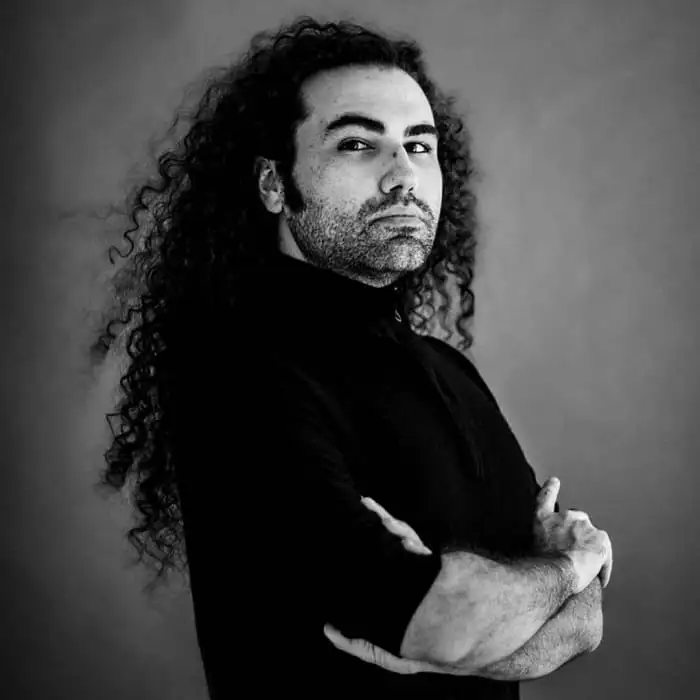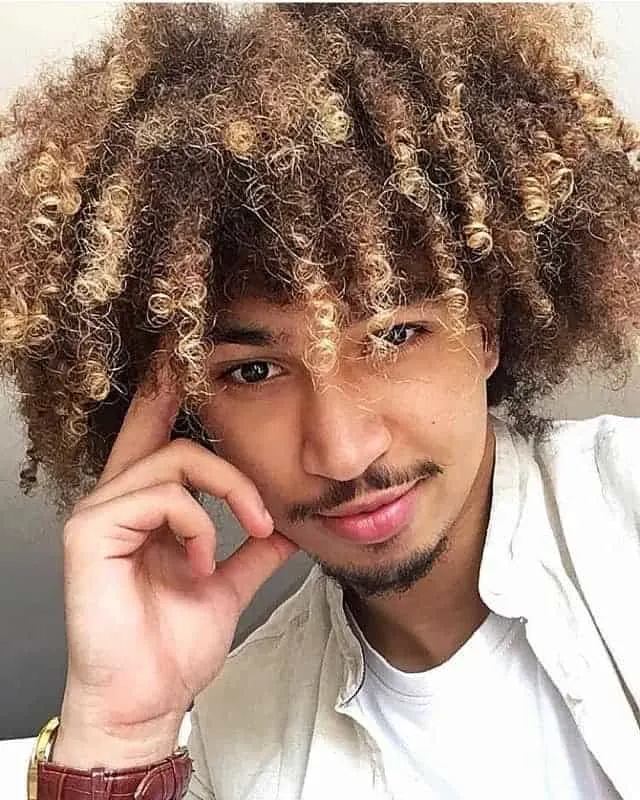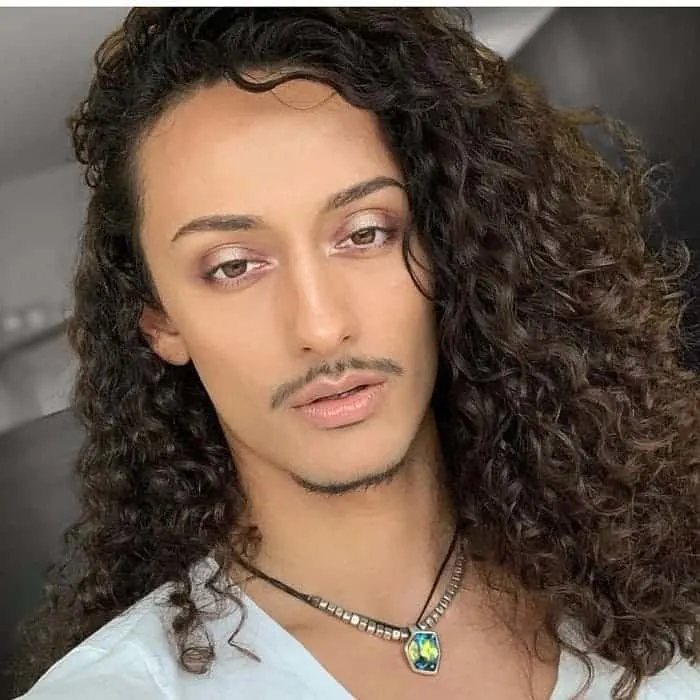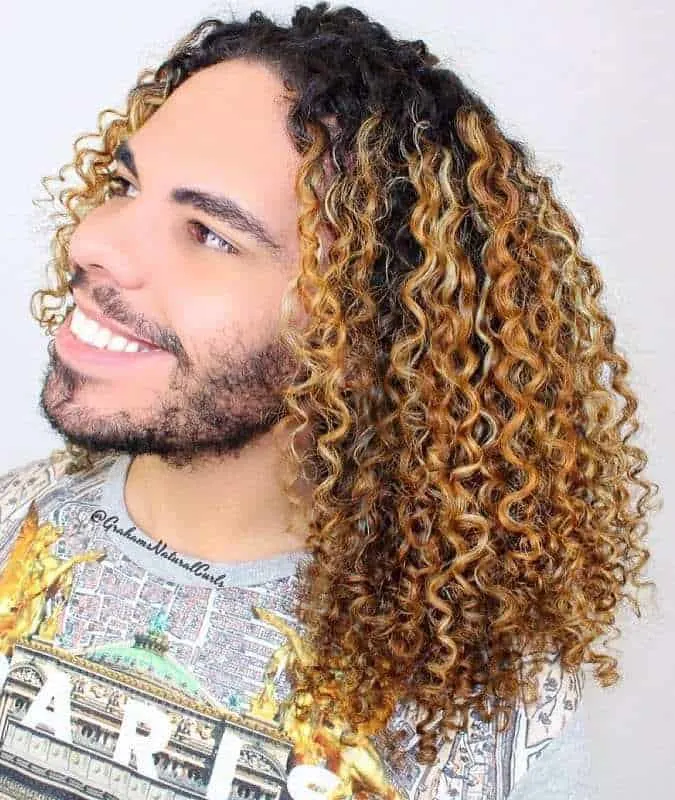 Hair Care for Men's Long Curly Hair
Curly hair is hard to maintain for men and women. Long curly hair is even harder to maintain, but we have a few tips to achieve healthy curly hair! Here are some crucial hair care tips for long curly hair on men.
Do Not Brush Your Hair With a Hairbrush
Doing so will ruin the shape and bounce of your curls! Instead, use a wide-toothed comb in the shower to brush through them.
Use Shampoo and Conditioner Formulated for Curls
Avoid ingredients like parabens, sulfates, silicones, and waxes. These ingredients can damage your curls. You can also invest in a top-of-the-line leave-in conditioner. Ask your hairstylist for a recommendation if you are in the market for a leave-in product.
Scrunch Your Long Wet Curls Right Way
Scrunching is a technique that keeps your curls in their desired shape and adds volume. It is important to learn how to scrunch your hair the right way because doing so too aggressively can lead to frizz.
Try Using a Microfiber Towel To Dry Your Hair
This is because it has smooth finishing and regular towels generally have a rough texture. You can also use an old t-shirt due to its softer texture.
Invest in a Good Blow Dryer!
A blow dryer is a curly-haired person's best friend. Use a blow dryer with cold heat because hot air can damage your hair and curl structure.
Hence proved! Long curly hairstyles are not limited to the ladies only. Although curls can be difficult to tame at times that's no reason to chop off all those precious locks. Instead, be thankful and grow them with patience working with your natural texture rather than going against it. Rock all that volume and bounce confidently with any of the above looks to make the ladies swoon all over you.