Men with long curly hair look bold and styling it is a great way to embrace the natural curly hair. A well picked curly hair creates a show-stopping look that is guaranteed to attract attention for all the right reasons. Curls are no longer just for girls!
Men's Long Curly Hairstyles
Texture and curls can add body to your hair, and prevent it from looking limp and lifeless. In fact, long curly hair is now so popular for men that many men are having curls added to their naturally straight hair in the salon. The key to loving your long curly hair is to find the right cut and the right products that work with the natural texture of your hair. Here are 30 of the best long curly hairstyles for men to help you love your style:
1. Long Curly Side Ponytail
Love your long curly hair but hate the way it falls in your face all day long? Then you need to experiment with a swooping side ponytail. More modern than a classic ponytail, this style will still show off your curls whilst keeping them out of your face. Ideal for low-key weekends, this is a style that will suit hair of any color and texture. It's an easy style to achieve, and shouldn't take more than a minute to do in the morning.
The man bun is one of the most popular modern hairstyles for men, and the good news is that it is a style that particularly suits men with long curly hair. It's a great way to pull your hair off your face in a fun and fashion forward way. Why not experiment with a demi bun, so that you can still show off the length and texture of your hair? This style isn't as complicated as it looks: simply hold the hair you wish to tie back, then twist it until it forms a ball shape and holds it in place with a hair tie.
3. Add Bayalage Highlights
Bayalage Highlights are the latest in hair color innovation: with this technique the color is painted onto the ends of your hair by hand, creating a look that is totally unique to you. This is the perfect way to color long curly hair, as your hairdresser can work to emphasize your hair's natural texture. As an added bonus, by only coloring the ends of your hair, you don't have to visit the colorist every six weeks for touch-ups.
4. Men's Long Side Swept Bangs
Add side swept bangs to your long curly hair to remove some of its weight and make it more manageable. This is a style that is ideal for minimizing a high forehead and will especially suit men with asymmetrical features or long face shapes. Ask your barber or hair stylist to cut your bangs at an angle so that they tamper down towards the side of your face and blend seamlessly into the length of your hair.
Taper fade hairstyles with curl and waves
5. Pulled Back at the Roots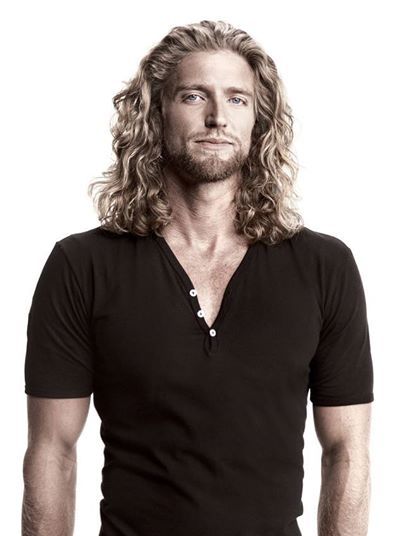 Pulling back the roots of your curly hair is a great way to add volume and keep your hair away from your face. This is a style that is really easy to achieve. Use a salt spray through the length of your hair and then add a texturizing putty at the roots to pull the hair back from your face and hold this style in place all day. Avoid using hair gel or hair spray which will both make your hair feel stiff and prevent its natural movement.
6. Add Layers and a Headband
Looking for a show-stopping style sure to make your long curly hair the center of attention? Channel your inner eighties rock star by adding a thick fabric headband and teasing your curls so that they look like they have been blown by a wind machine. The key to achieving this look is to avoid using a hairbrush on your hair: comb it through with your fingers instead, and then add hairspray liberally to hold it in place.
7. Thin Out With a Tapered Undercut
If you find your long curly hair thick and unmanageable, but don't want to sacrifice its length then thinning it out with a tapered undercut is a great option. Not only does it look modern and fashion-forward, it will also make your hair feel lighter, making it an ideal style for the summer months. Ask your hairdresser to cut your hair in such a way that the undercut is visible when your hair is pulled back but can't be seen when it is worn loose, for a style that is truly versatile.
8. Add Textured Layers to Long Curls
If your curls are wild and out of control then why not consider adding layers to give your hair shape and make it feel more manageable. A good hair stylist will work with the natural shape of your curls and add layers to compliment your face shape: this is a great way to flatter a fuller rounder face. Pulling your hair into a side parting is a great way to emphasize layers, or to create them if your hair is cut at one blunt length.
9. Choose Full Bangs
Adding bangs to thick curly hair can look bulky, but it is a strong look and a great way to give your hairstyle shape. If you think bangs are the right look for you then ask your stylist to layer them in order to create texture whilst still ensuring that they maintain a blunt and modern feel.
10. Create Texture with Highlights
If you would like to inject texture and emphasize curls in hair that gently waves then adding traditional blonde foil highlights is a great way to exaggerate your style and draw attention to your style. Ask your hairstylist to choose a shade of blonde that will compliment your skin tone and add a beard, or stubble, to ensure the look remains overtly masculine.