Plenty of teenage guys pride themselves on their long locks of hair, and rightfully so. Long hair is versatile, takes plenty of effort, and looks appealing.
However, it can be challenging to find the perfect long hairstyle for teenagers that won't be a time-sink to take care and styling.
Nonetheless, teen boys have plenty of attractive and exciting long hairstyles to choose from. Read on to see which hairstyle is the best for your long hair.
Healthy Hair Tips For Teenage Guys
Taking care of long hair can be challenging, but with the proper care and tools, you can enjoy your long hair without much fuss.
Whether you have curly, straight, or frizzy hair, these tips can help manage your long hair without sacrificing time or appeal.
Maintain a Healthy Diet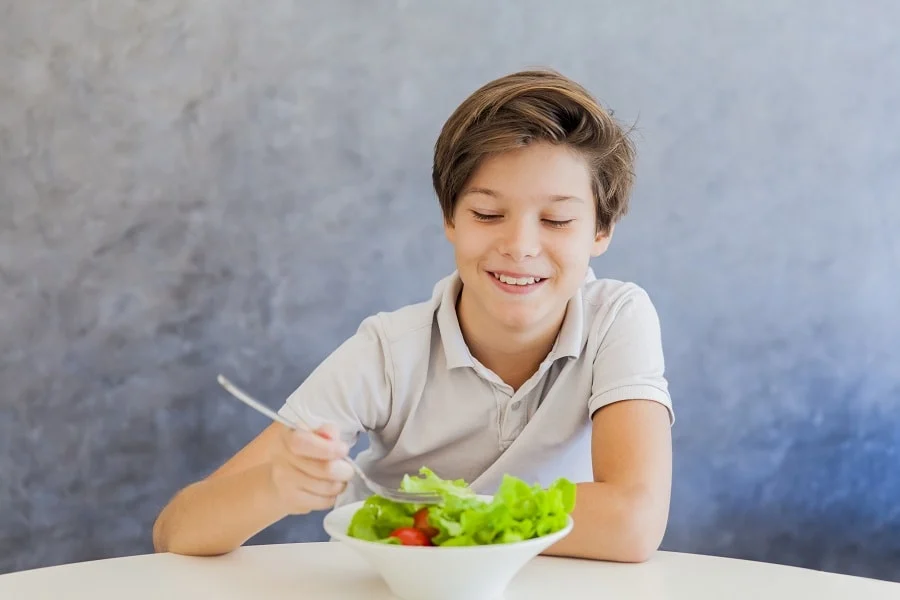 Eating healthy foods will make your hair vibrant since trace amounts of vitamins and minerals make their way into hair follicles. A diet rich in multivitamins, fruits, and vegetables will result in a healthier head of hair.
Comb Your Scalp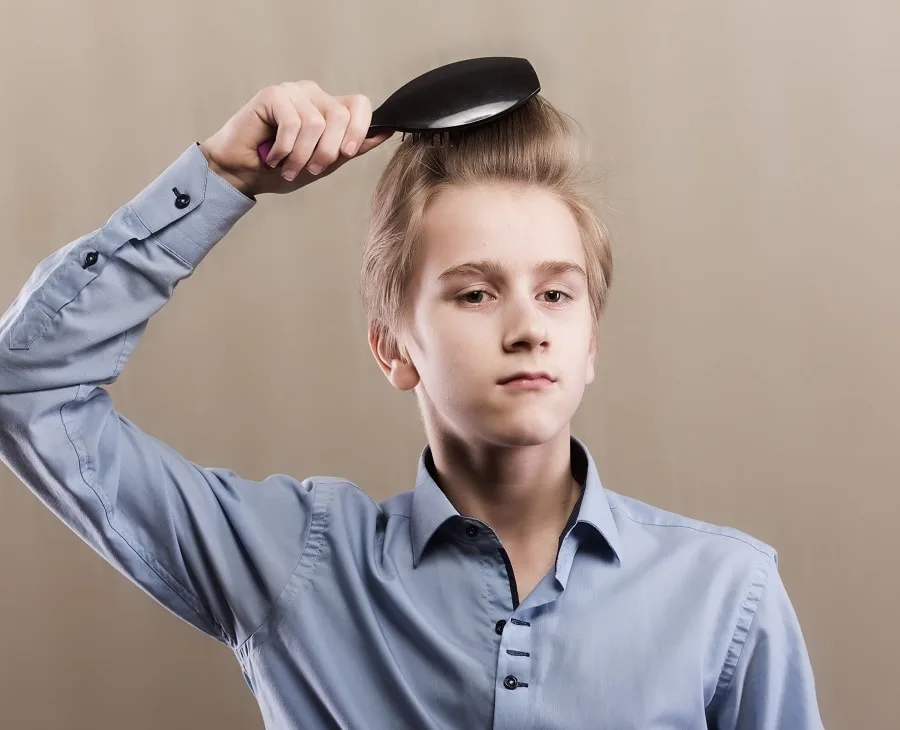 Combing your scalp every couple of days can be a good way to help prevent dandruff buildup. However, you need to be gentle to prevent hurting your scalp and causing damage to your hair follicles.
Use Products
There are dozens of products for varying hair types. Some hair types may benefit from curl creams, leave-in conditioners, or frizz products. Test out some products to see which works best for you.
Be Gentle
Be gentle with your hair to prevent any damage to your hair follicles and cause hair loss. Although you are not likely to cause significant hair loss from a scalp massage, you can cause some irritation and mild loss.
Trim Regularly
Trim the ends of your hair routinely to keep your hair silky and smooth. Although the top of your head may not benefit from this practice, your hair will lose the dull shade from split ends.
Best Long Haircuts for Teen Boys
Long hair always gives a stylish look and there are plenty of styles to do on long hair. Have a look at some of the best haircuts for teen guys with long hair.
1. Long Curls with Bandana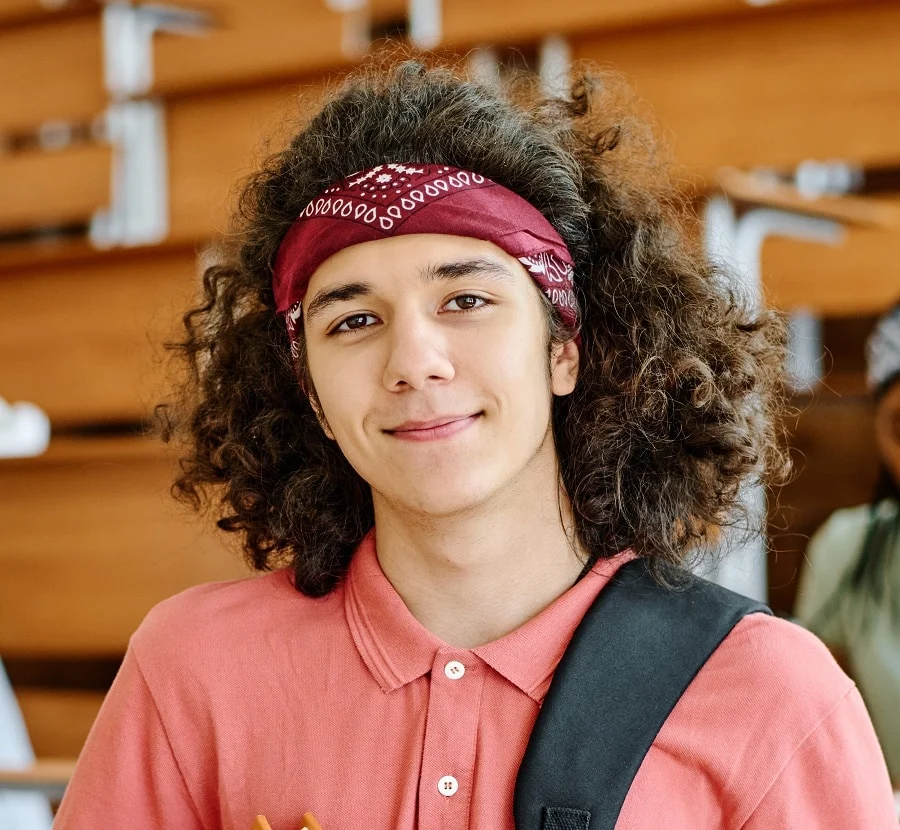 Just because you have curly, textured hair doesn't mean it can't be long and look fantastic. Add a bandana to keep it out of your face and pair it with a headband for more control, especially if you plan on playing a sport.
2. Long Hair With Bangs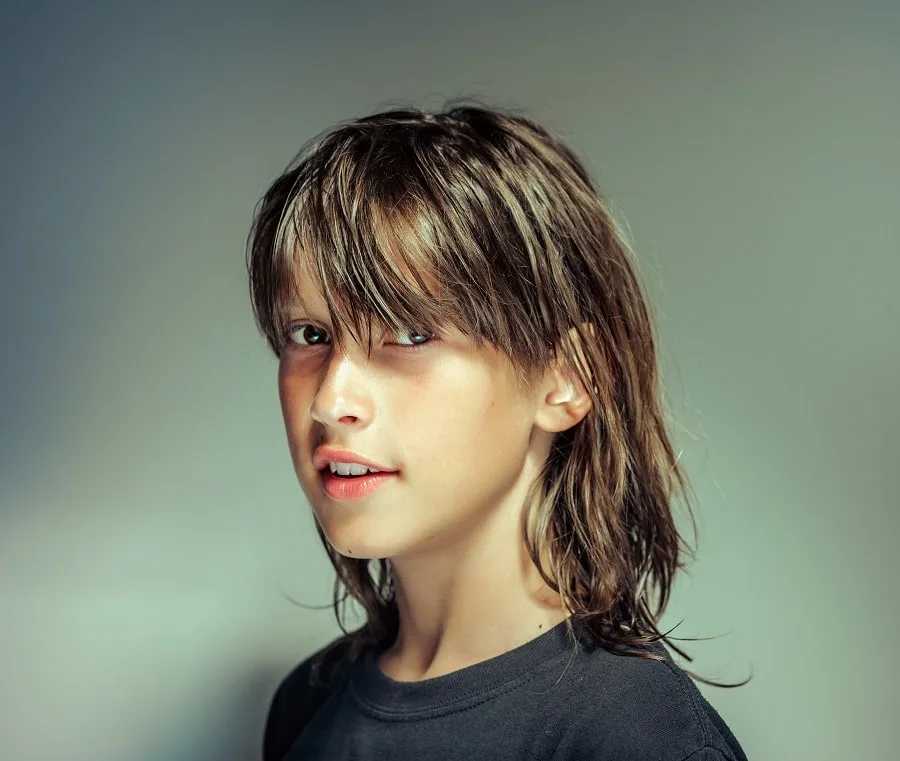 Pairing bangs that hit mid-eye with long hair is a great way to give straight hair some texture for young boys. The different lengths give the illusion of volume, especially if you keep most of the hair tucked back behind the ears.
3. Long Dreads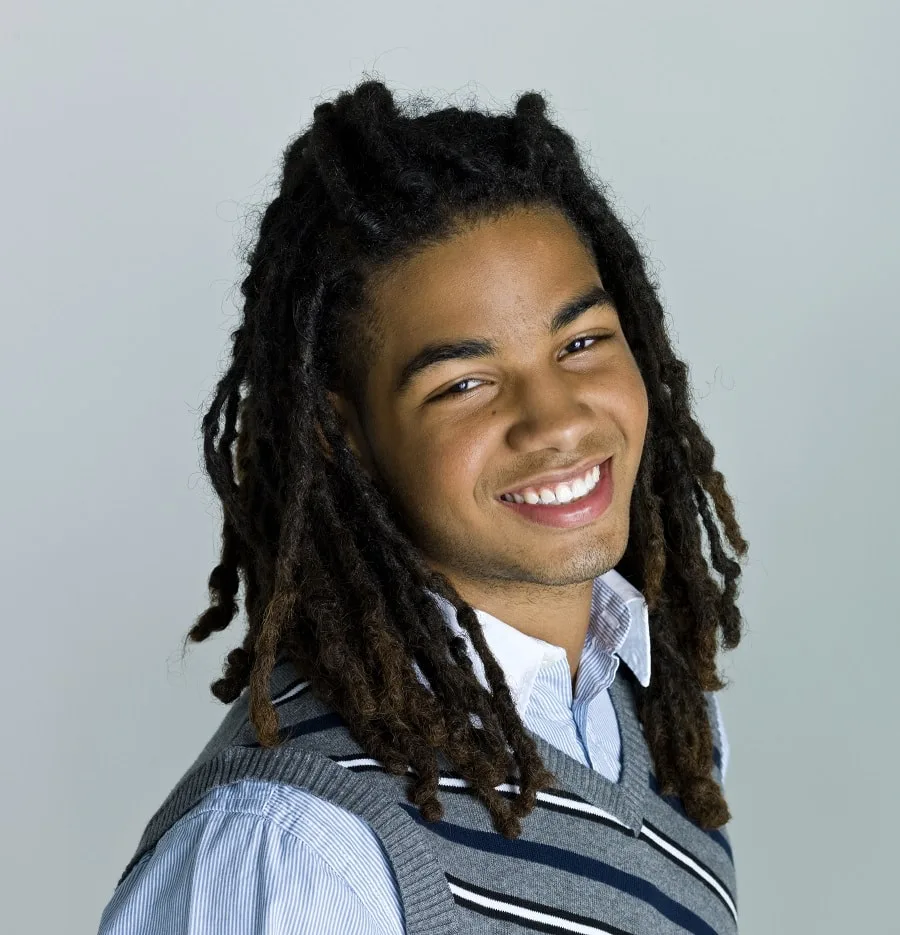 For a natural but great hairstyle for teen boys with long hair, consider long dreads. Fine on their own, you can group your dreads together and pull them back, out of your face, for another, distinct look without tons of effort.
4. Long Straight Hair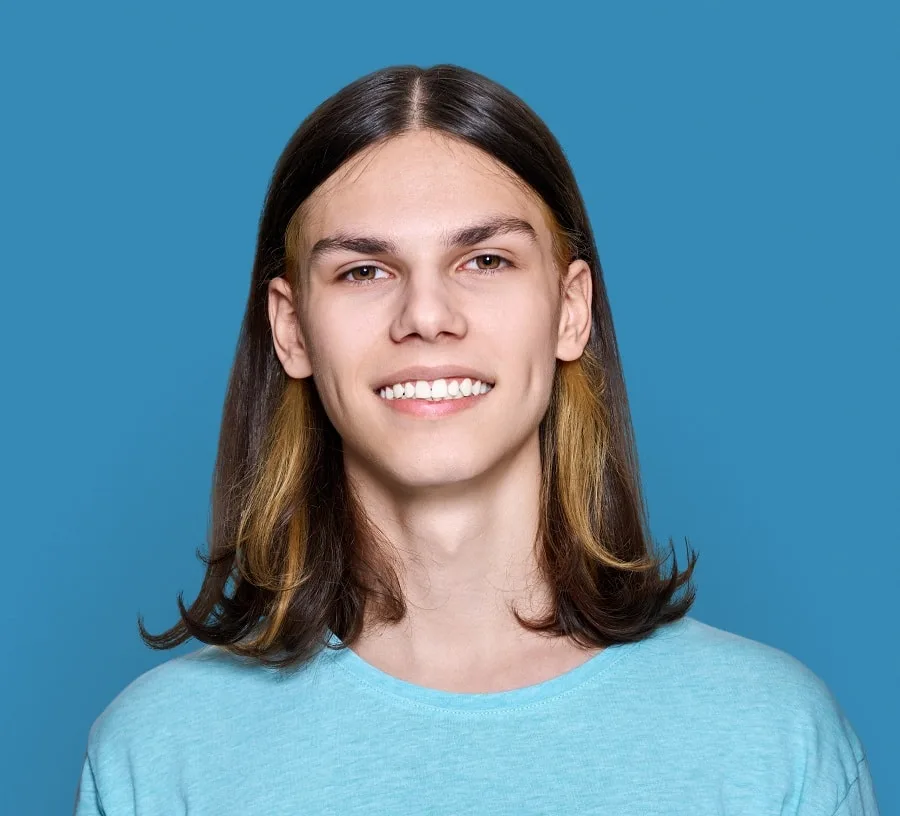 If you have straight but thick hair, leaving it with a center part and tucked behind your ears can be a style. It's an easy, no-fuss look that stays out of the face.
5. Long Hair in a Ponytail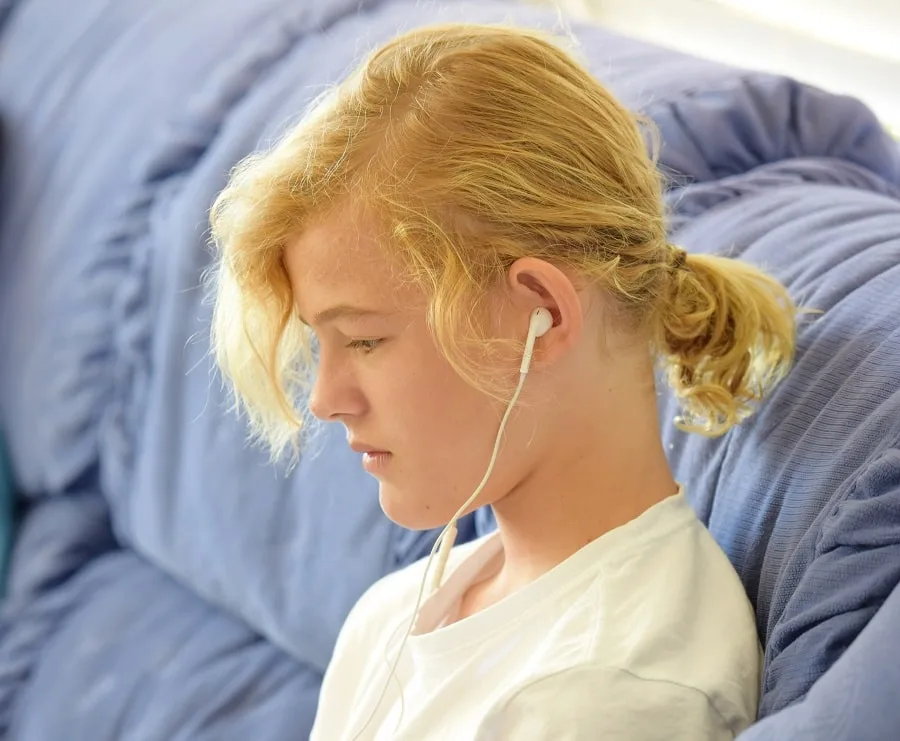 A low ponytail isn't boring, especially if you loop it like a bun. Have a side part with a flop of long bangs for a dynamic but simple look.
6. Two-Tone Curls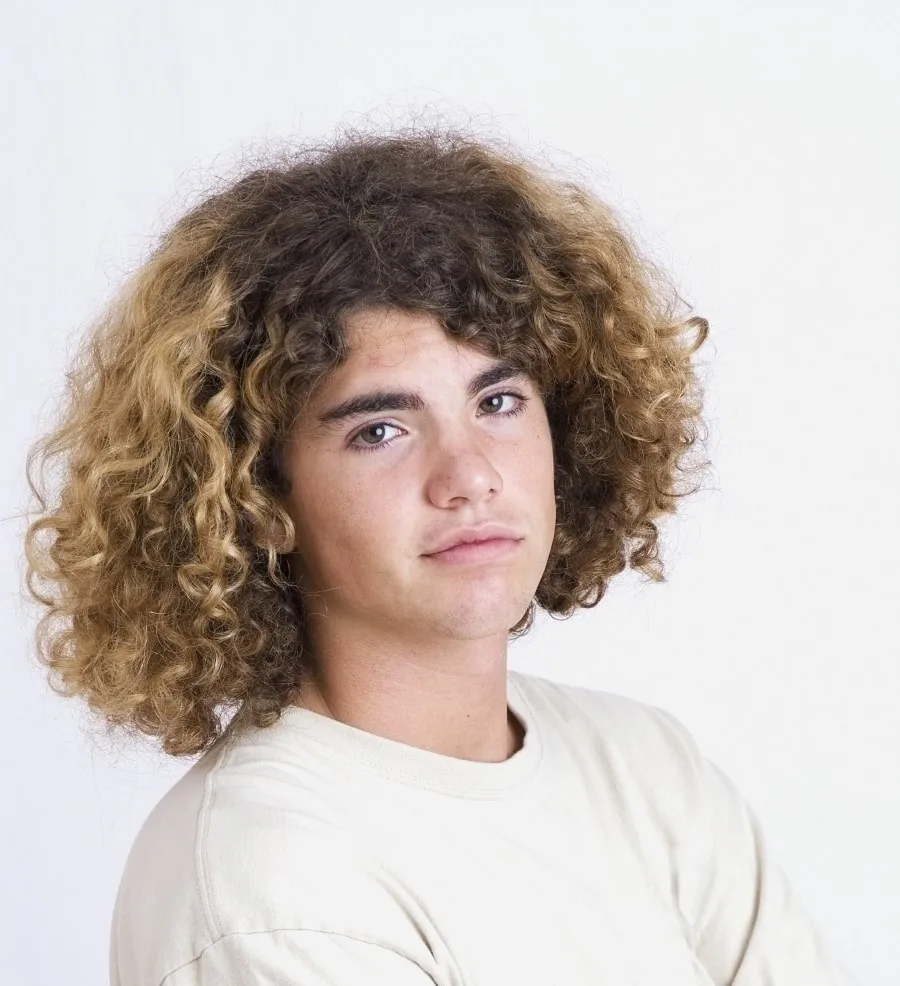 Not all long hairstyles for teenage guys need to be natural. A two-tone look gives beachy vibes, especially when paired with loose curls that hit your shoulders.
Part on the side to give a bit of extra volume and prevent your curls from looking flat on top.
7. Trimmed Face-Framing Hair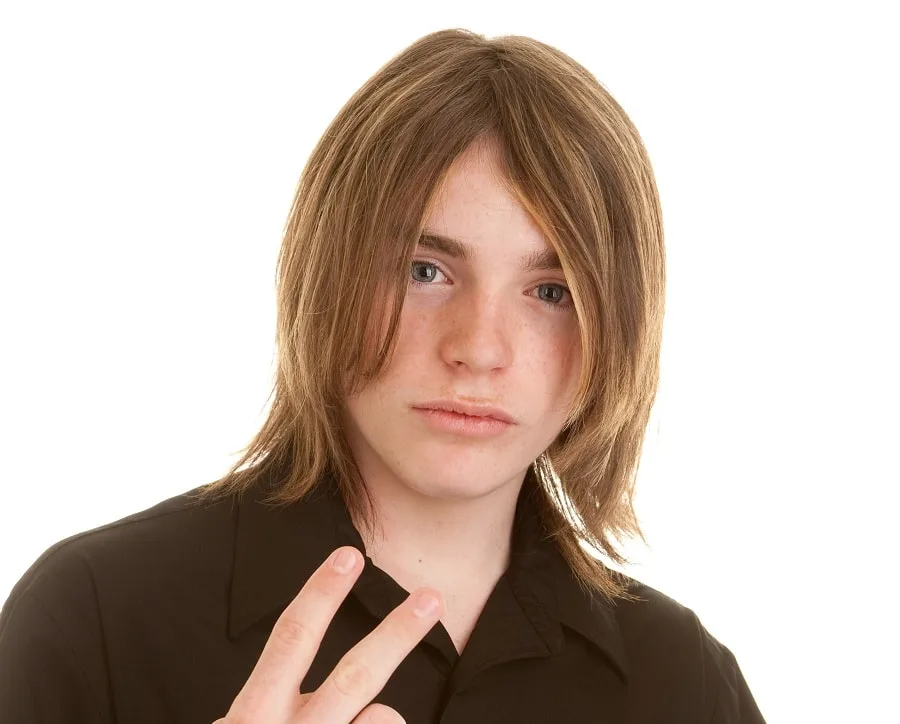 A trimmed long hairstyle will frame the face and make your features pop. Long hair can seem hard to style for teenage guys, but leaving it down, and parting just around the face is a great option for those who want a no-fuss look.
Let your bangs drape slightly in your eyes for a mysterious and tousled look.
8. Afro Hair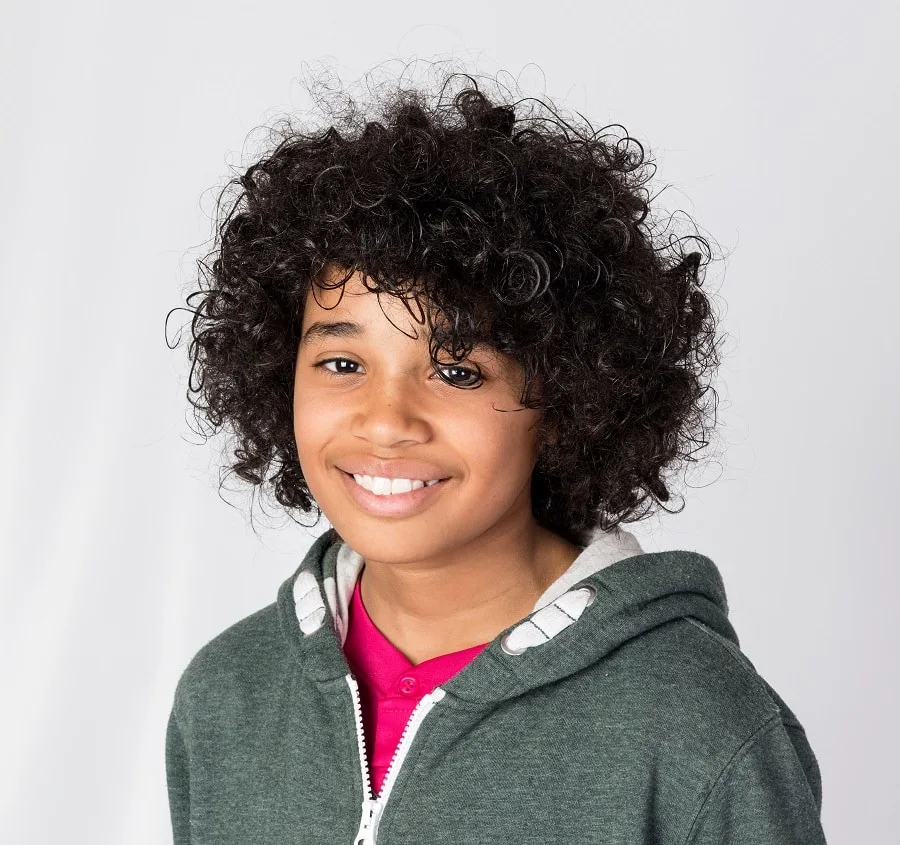 An afro doesn't necessarily have to be combed or picked out. You can have loose, natural curls that brush the nape of your neck and still give afro vibes.
Medium Length Haircuts & Hairstyles For Teen Guy
9. Long Tossed Hair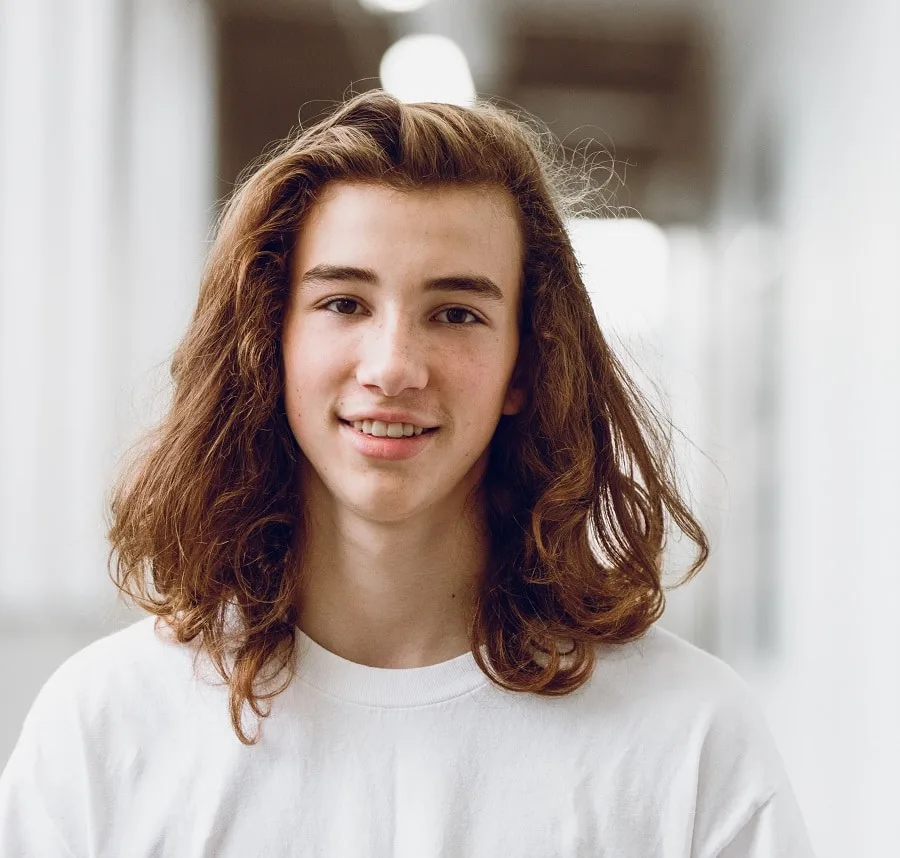 Wavy and textured hair doesn't need to be pulled back to look good. Push it back in the front, with bangs going to one side, and let it flow free, over your ears.
Keeping your bangs to the side will keep the hair from your eyes without compromising the free movement of your locks.
10. Curly Hair in a Headband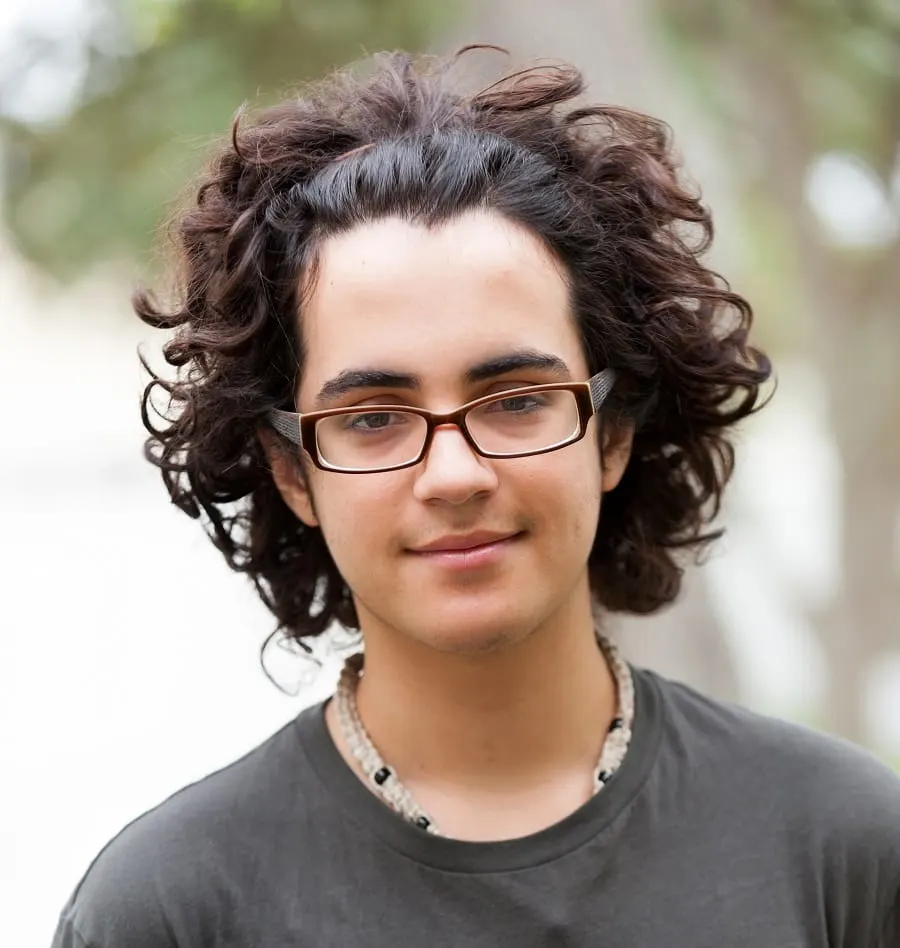 Wavy or curly hair seems a bit untamable, especially when it gets long. However, pulling it back with a headband, leaving your curls teased out, is a fantastic way to keep your eyes clear but still rock the long locks.
11. Two Braids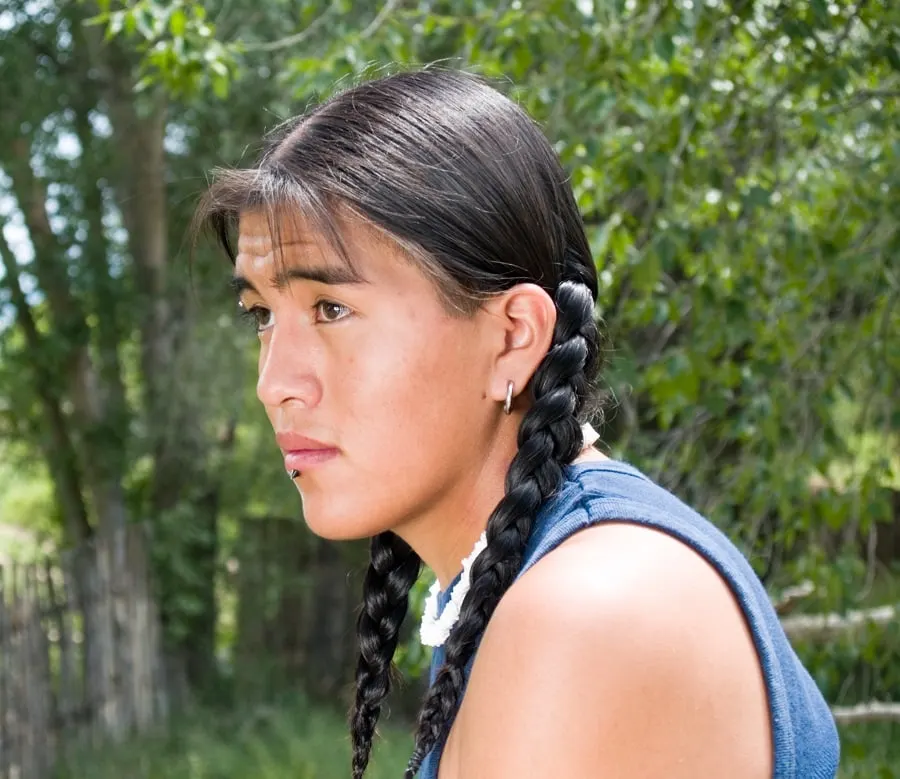 Anyone can rock braids, especially thick pigtail braids, one on either side of your face. Keep a center part for a defined look, but leave a few wisps of hair down at the front to prevent the braids from looking harsh.
12. Mullet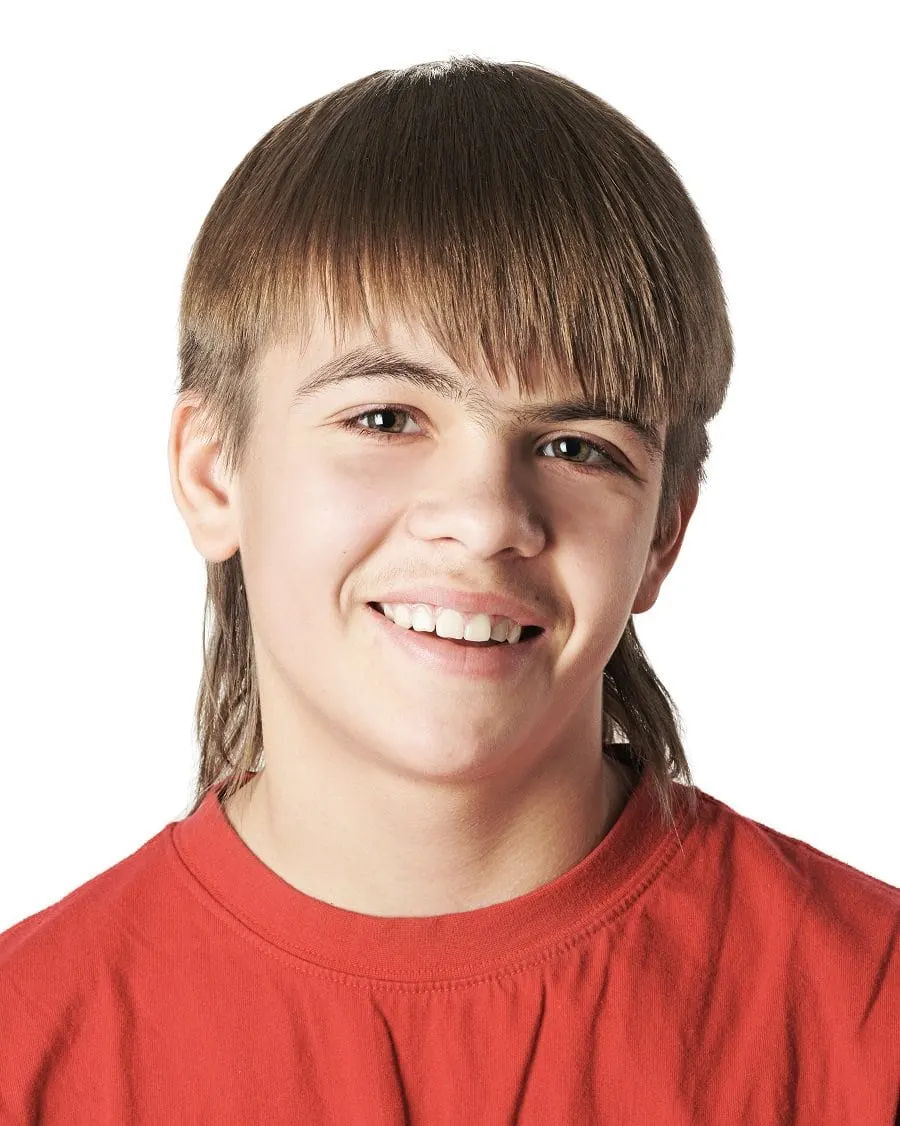 Bring back the mullet by pairing it with short, blunt bangs and short, but not buzzed, sides. This is a great option for those teen boys who have straight, fine long hair. The different lengths create texture for an interesting look.
13. Blonde Bangs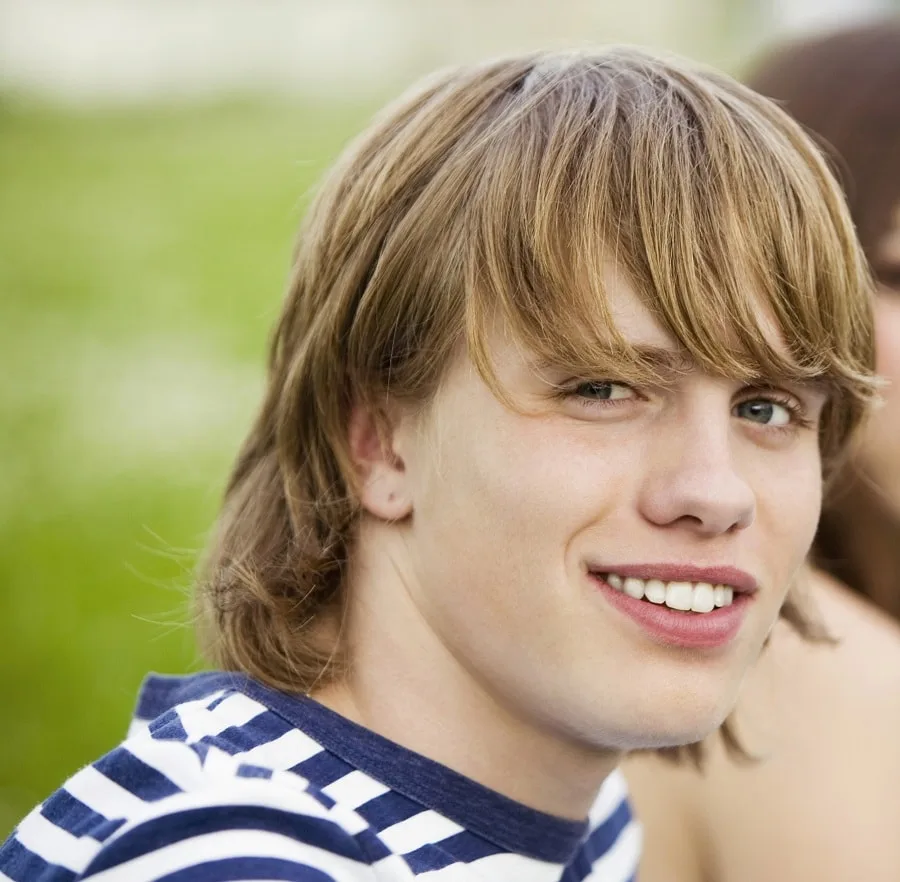 Wispy blonde bangs on top of long hair on the sides and back are a fantastic style for teens who want to keep their eyes clear but still want the benefit of long hair.
A bit of hair wax can add texture and get your bangs to look just-so.
14. Cornrows
Just because you're looking for hairstyle ideas for teenage guys doesn't mean you have messy or untamed hair. Cornrows, with a straight part, can go down the neck, keeping long hair controlled and protected.
15. Half-Up Half-Down
For those boys with silky or straight hair, which can be hard to style, a half-up, half-down bun is the perfect look. It's easy to maintain and still looks styled. Tuck your hair behind your ears to keep your hair out of your face.
Finding the perfect long hairstyle for teenage guys can be challenging, but there are plenty to choose from and try. Although long hair can be hard to take care of and may need plenty of time, some tips can help you manage your hair without feeling lost or frustrated.
Always look for products that match your hair type and use them as recommended on the bottle. Additionally, make sure you keep your scalp clean and comb through to prevent a dandruff buildup.
Eating healthy and regularly trimming the ends of your hair can help keep your hair vibrant and happy.