More or less, all teenage guys with curly hair go through the same dilemma when it comes to choosing a hairstyle. They have no idea what will look good on them, and they are worried that they might end up looking like a complete dope.
However, there are plenty of curly hairstyles for teenage guys, and you just need to find them.
Cool Curly Hairstyles for Teenage Guys
If you're looking for a curly hairstyle, the following styles will surely give you some inspiration for your next haircut.
1. Bushy Ponytail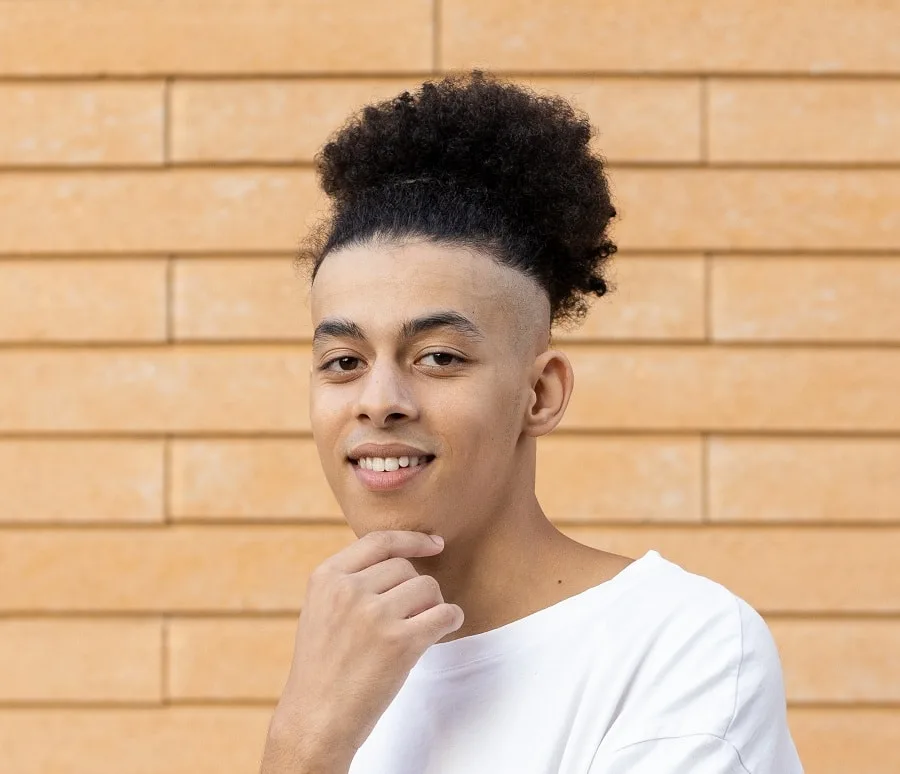 It is perfect for guys with long bushy curly hair. To style it, start by gathering all of your hair into a high ponytail. Then, use a wide-toothed comb to gently back-comb the hair at the crown of your head. This will create volume and lift. Finally, use a hair tie to give the ponytail a more natural look.
2. Messy Curls
If you're a teenage boy with shoulder-length, messy hair, you may feel like you're stuck in a style rut. You can just keep the hair as it is and giving a carefree look.
3. Mushroom Shape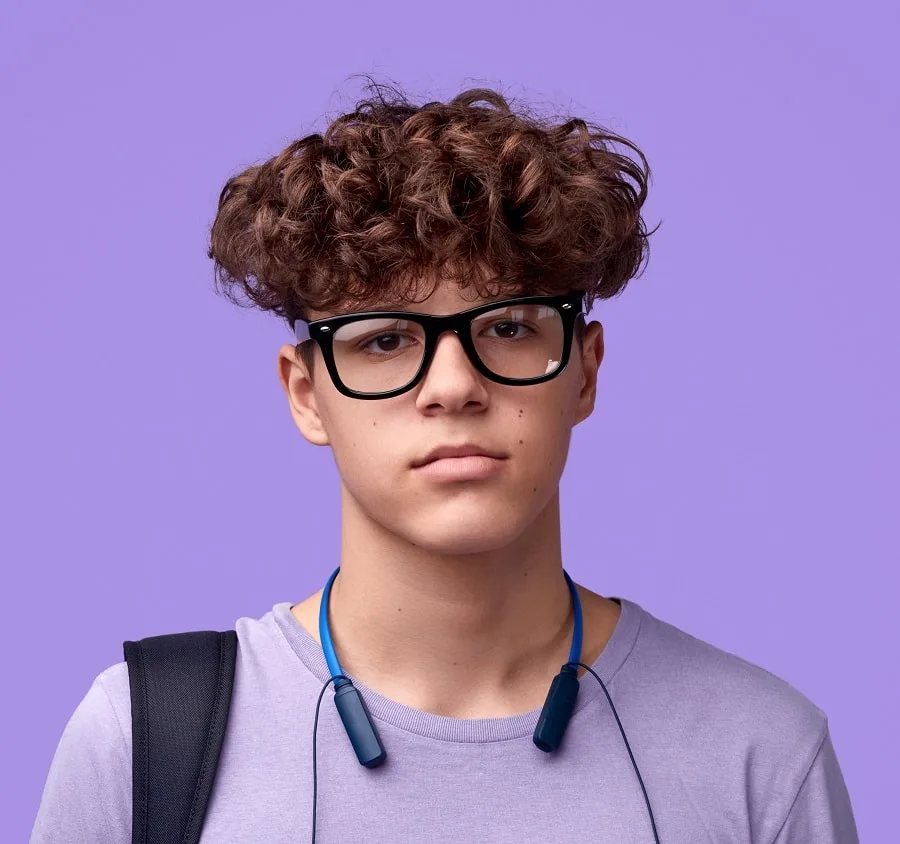 This hairstyle is perfect for those teenagers with naturally curly hair, as it will help to accentuate your curls and give you a stylish and commanding look.
To achieve this look, use a little bit of hair gel and run your fingers to have a messy mushroom head shape wide top.
4. Thick Curly Hair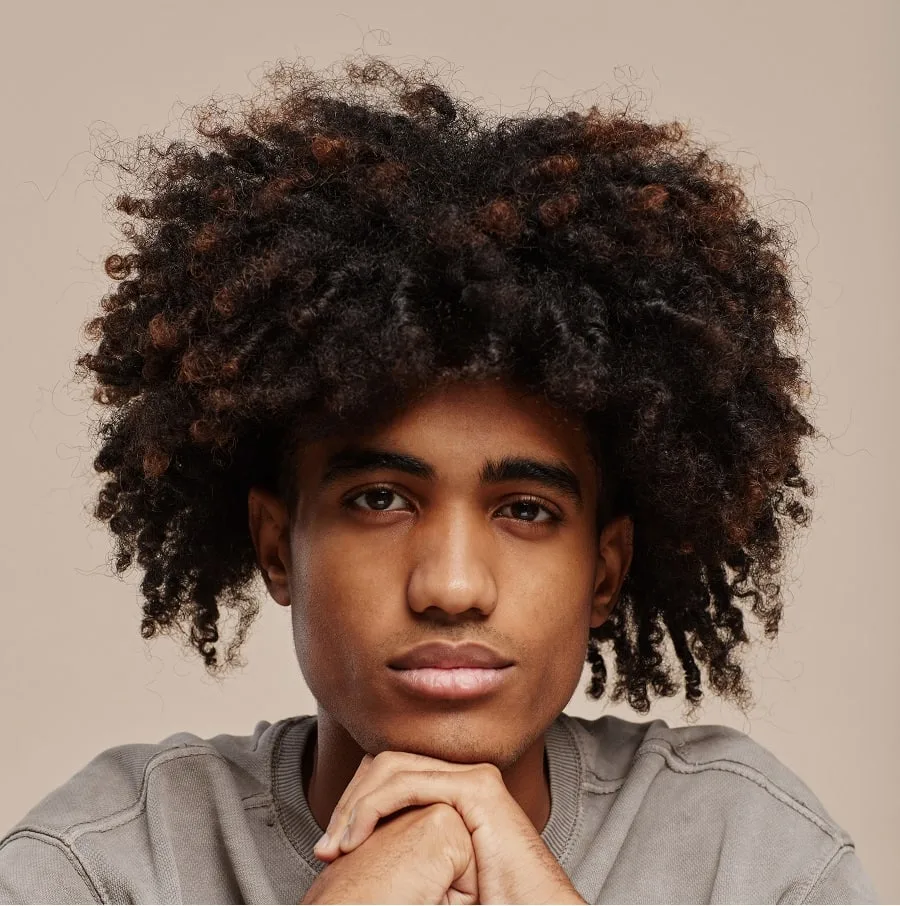 This playful style is all about embracing your natural twisted texture and having fun with it. Just grow your hair for months or even a year and let the hair hang down from the top.
However, make sure you regularly wash your head during the growing period.
5. Curly Teen Bob
Start with damp, towel-dried hair. Next, apply a generous amount of curl-defining cream to your hair, starting at the roots and working your way down to the ends.
After that, make your hair hang down. It looks excellent on teenage guys with square-shaped faces.
6. Wavy Bob with Bangs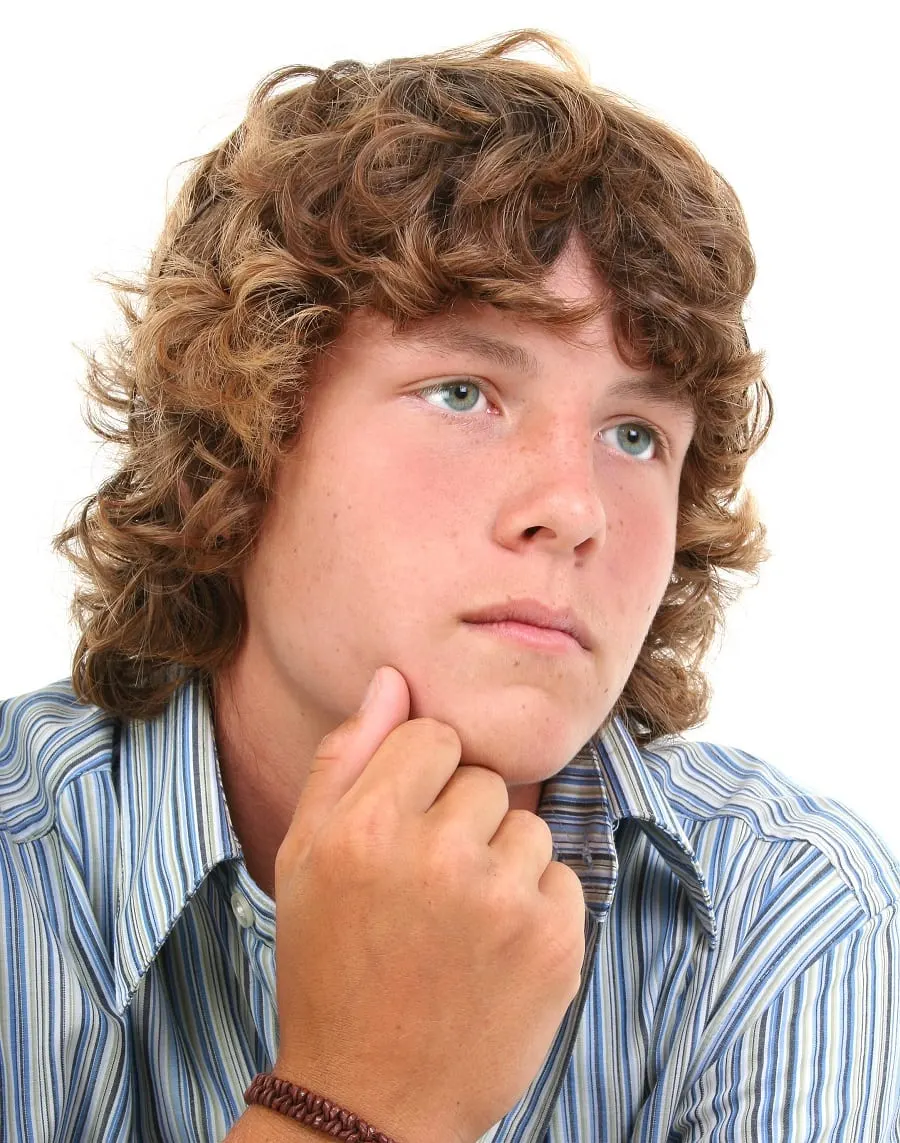 Whether trying to keep your curls under control or simply want a different look, a loose curly bob with bangs can be an excellent option for teenage boys.
Just towel dry your hair after wash, scrunch through your hair to froward brush the bangs. Then just comb the rest of the hair with a wide tooth comb.
7. Curly Bangs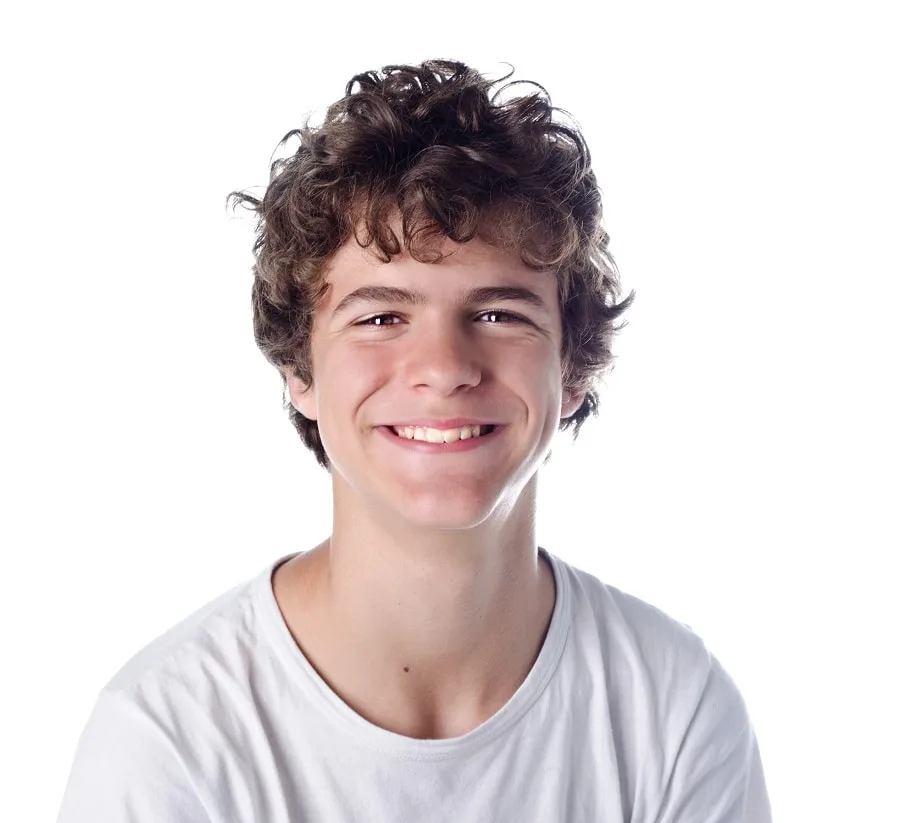 To get the start, use a light gel or mousse to help define your curls. Next, take a small section of hair at the front of your head and use a hair brush to make the curls.
Also, use your fingers to curl the hair around your finger, then release it and allow it to fall back into place.
8. Curly Undercut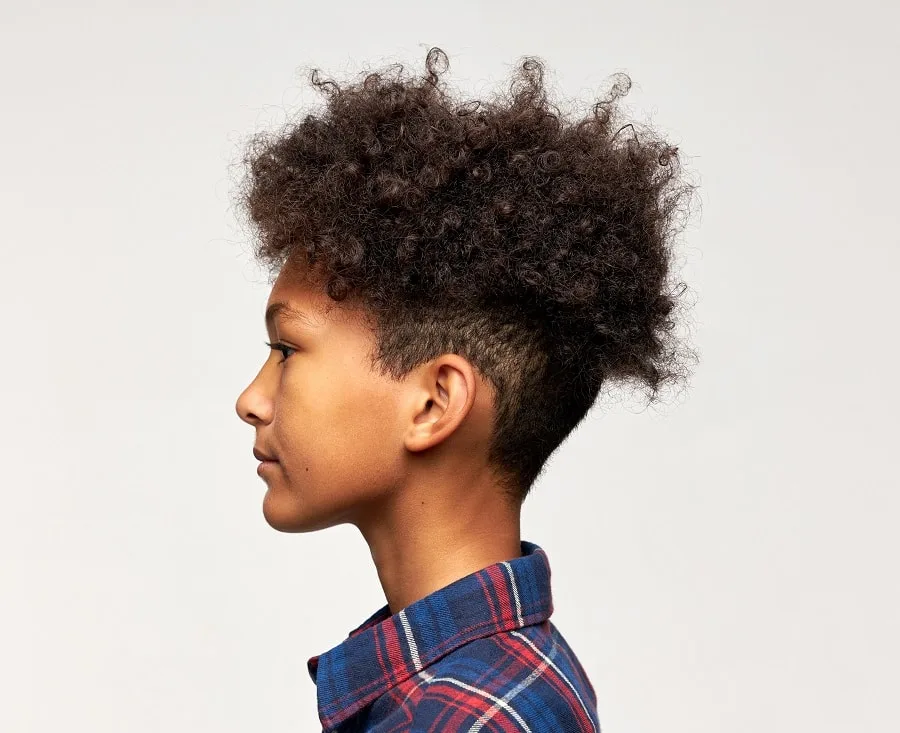 If you have bushy hair, try undercut to get a unique look. It involves trimming the sides and back of the head while the top remains bushy. This hairstyle looks great on 12-14 years old boys.
9. Short Curls
It may seem like a high top. To get this short hairstyle for teenager, simply let your hair air dry after a wash and then run your fingers through it to give it a bit of a tousled look. It suits both formal and casual looks.
10. Natural Hang Down
If you have medium curly hair, you can let it hang down naturally. To hold the curls in place, use some hair spray. You may also cut the front for a messy bang. Teenage guys with a square to oval shape can rock this style with fun.
11. Layered Bob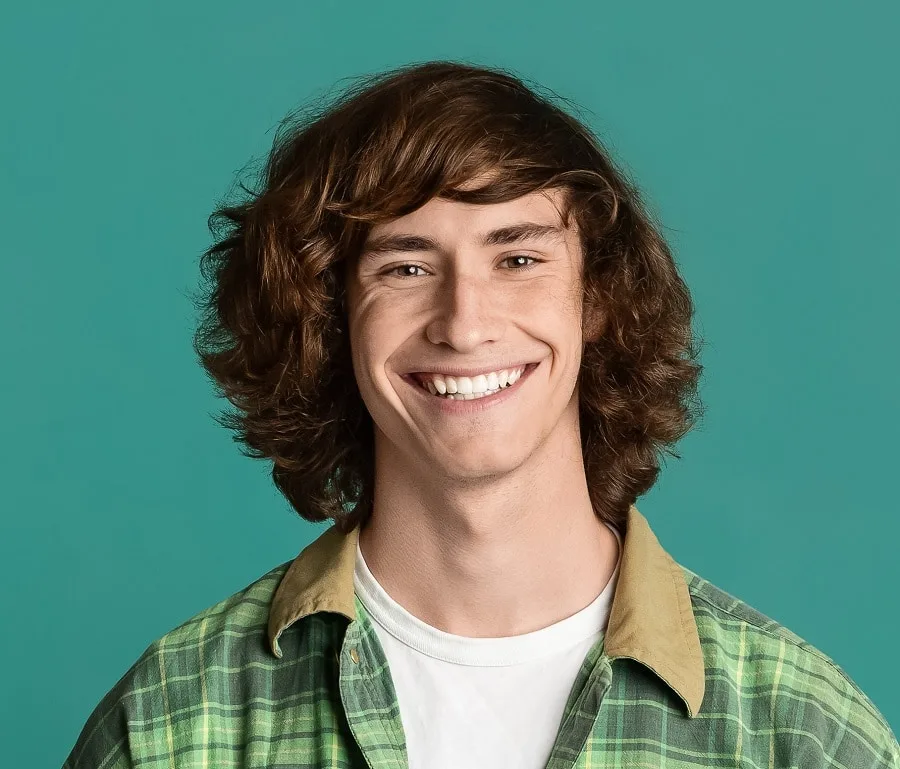 To get the look, ask your stylist for a layered bob that gradually gets a bit shorter on top and ends up with long bangs.
Then, sweep your bangs to the side and use a curling iron or hot rollers to create soft, loose waves. Finish by applying a light-hold hairspray to keep your style in place all day long.
12. Top Ramen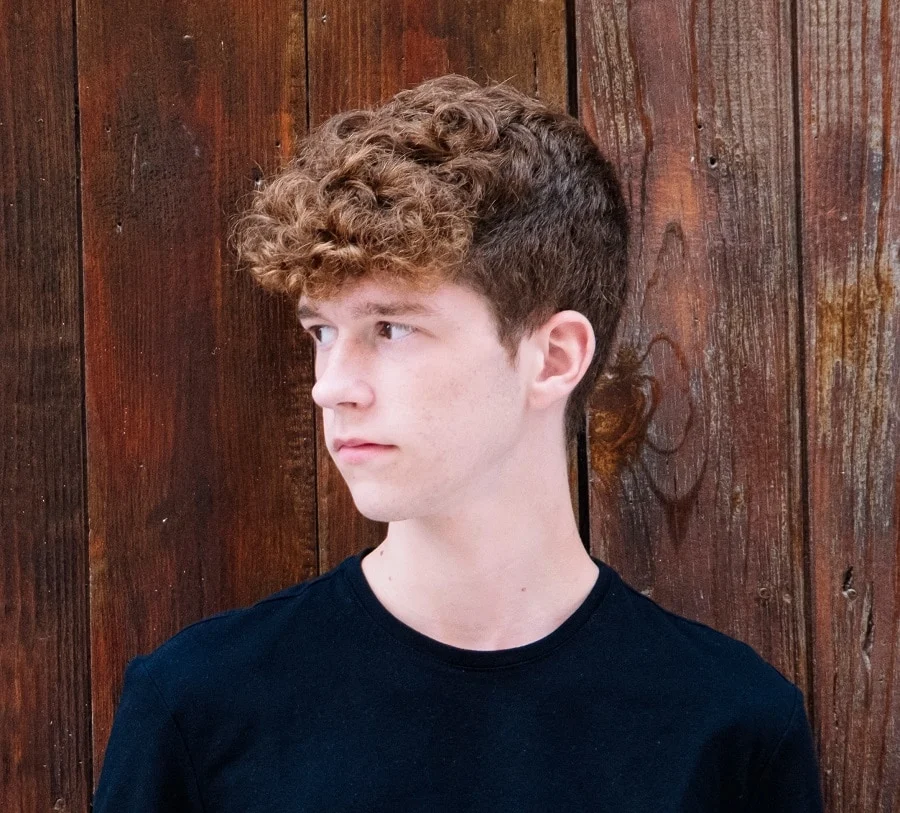 Achieving the twisted hair on top with straight sides hairstyle is easier than you may think! Start by washing your hair with a volumizing shampoo and conditioner.
Apply a curl-enhancing product on top, and then use a diffuser to dry your hair. -Finish with a light-hold hairspray to help keep your curls in place.
13. Messy Curtain Bangs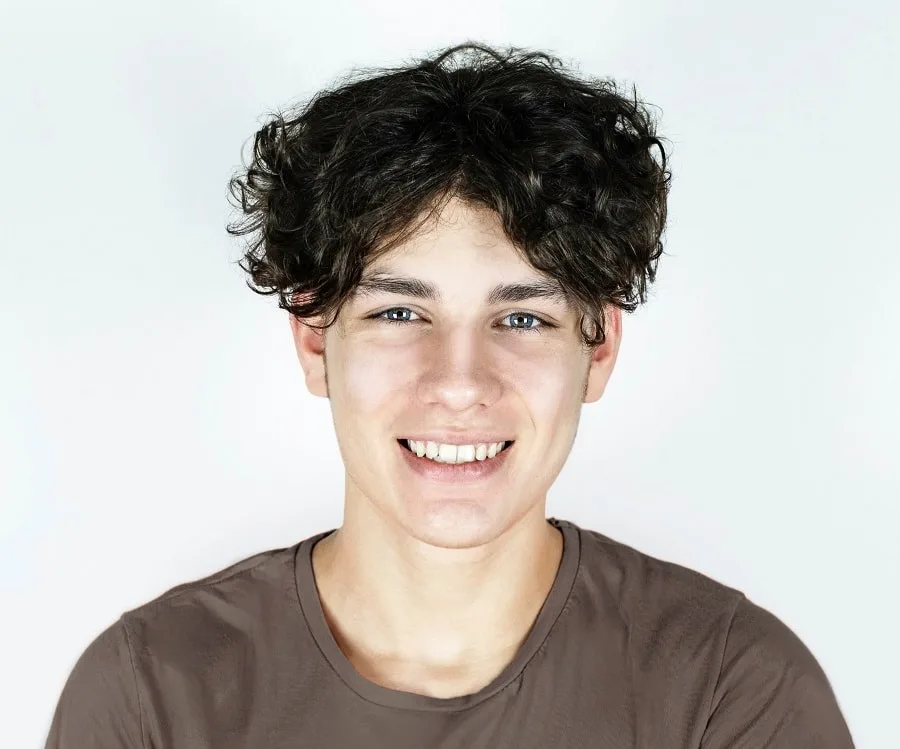 Use a small amount of gel or pomade, and work it into your bangs while parting the top in the middle. Next, style your bangs into place using your fingers.
After that, Let your bangs dry naturally, or use a blow dryer to style them.
14. Messy Pompadour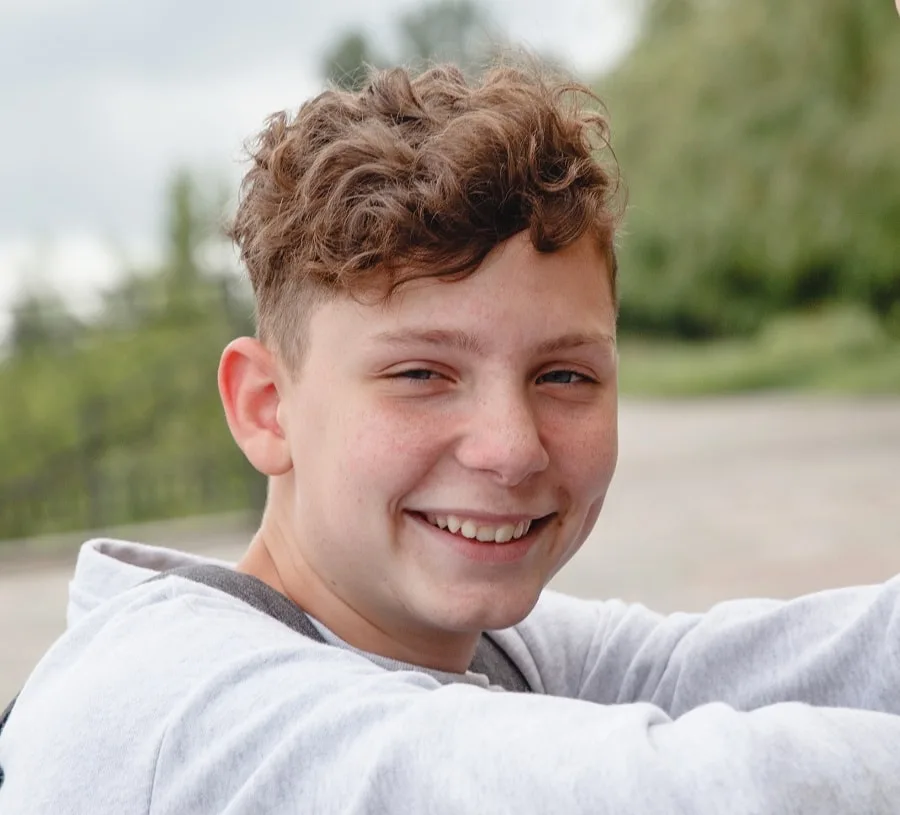 This is an unusual pompadour for teenage guys. To achieve this style, the side should be shorter while the top remains longer.
However, the hair should be clean and dry while you run your finger through the hair to give a back brush.
15. Ashy Curls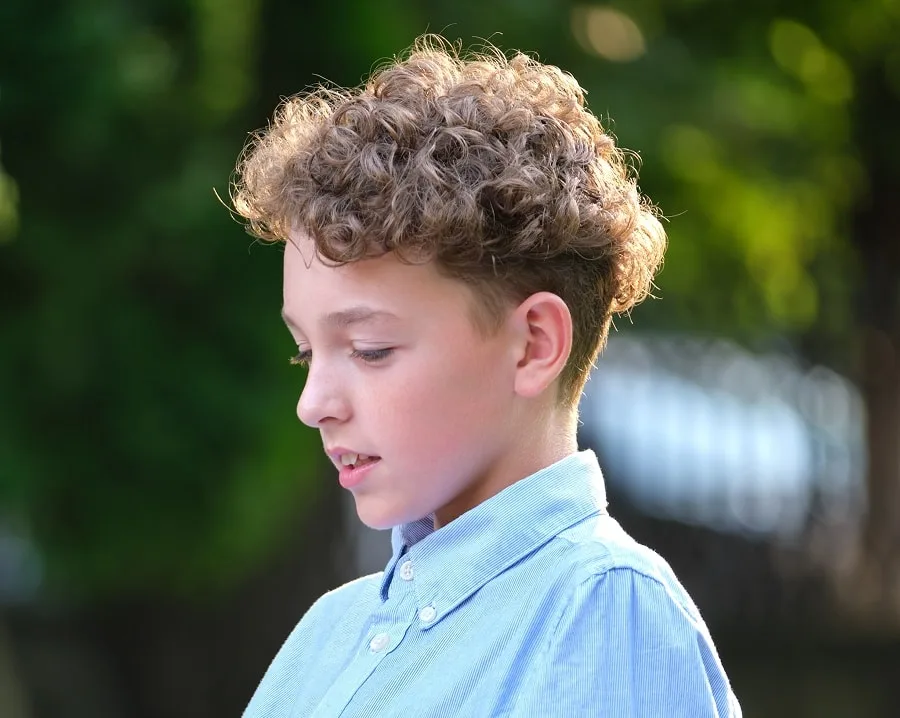 To style, simply apply a curl-defining cream to damp hair, then allow your hair to air dry or diffuse. Once dry, use your fingers to define your curls and add volume.
For the finishing touch, apply a light-hold hairspray to help keep your style in place.
16. Long Curly Mullet
This style is achieved by trimming the hair from the sides to the neck while allowing the top and back layers to remain long.
Start with dry hair and use your fingers to style the top layer into loose, defined curls. Finally, use a hair spray to hold the style in place.
17. Taper Fade
Any teen boy can wear this faded hairstyle both formally and casually, and it can be customized to suit your face shape and personal style.
To style the curly taper fade, simply get a short haircut on the sides and back, and then let his natural curls do the rest on the top.
18. Undercut Mohawk
This curly hairstyle is one of my favorite hairstyles for teen guys. It's achieved by shaving or trimming with a #1 clipper on the sides of the head and leaving the hair on the top longer. To add some edge, you can make the mohawk-like shapes on the back.
Curly hair can be a blessing and a curse at the same time, but with the right haircut and styling products, it can look amazing. These curly haircuts and styles for teenage guys will work with any type of curl, from tight ringlets to loose waves.