Tons of short haircuts and hairstyles are available for teenage guys, so finding a suitable style is no longer a problem for teenagers.
Nowadays, teen guys can adopt haircuts not only from their celebrity styles but also from improvising and designing haircuts on their own. This creativity of them is often very successful.
It is a typical observation that teen boys look more decent, even more fabulous with a short hairstyle and most teenage boys hate longer hair as they feel unkempt.
How to Choose A Short Hairstyle for Teen Guys?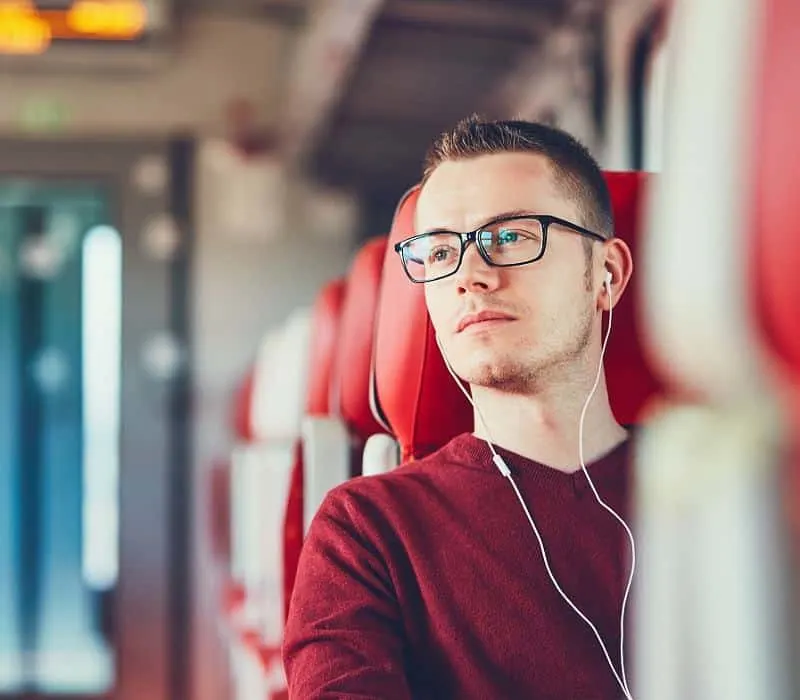 The haircut usually depends on the teen's face and face shape. With long and straight hair, the slim and long face looks even longer, while the face seems less long with the short haircut.
In the same way, a big chin might become more prominent with short hair, while a small chin might less prominent with long hair. If you have shoulder-length hair, try these medium hairstyles for teenagers.
People look different with different haircuts, and we don't think there is just one best haircut or style for everyone. Like the bald look suits Vin Diesel a lot, but it doesn't need to fit a teen boy with a wide or slim face.
Another example is Pete Wentz; he has a diamond face and chooses the best haircut for himself.
Teenage Guys With Short Hairstyles
Here are some of the most popular teen boy's short haircuts that will make them the most attractive and cool in the crowd.
1. Side Part + Sweep Over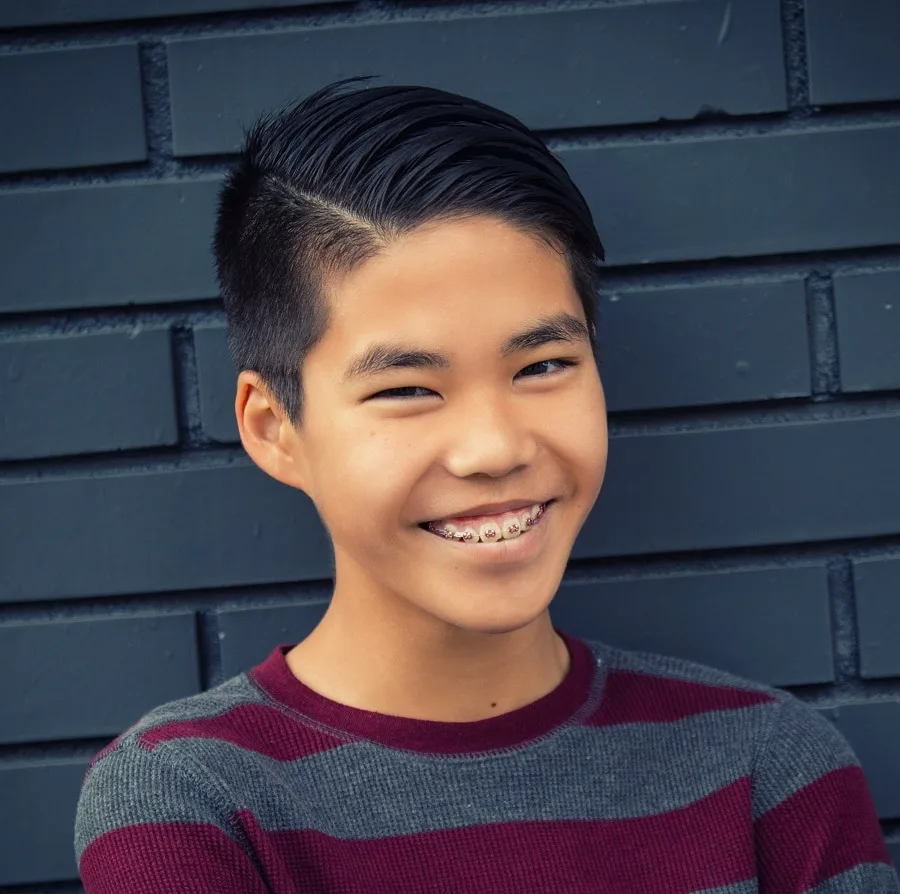 It's a timeless look that can suit best for school or any occasion. To achieve the look, start by parting the hair on one side and combing it over to the opposite side using a fine-toothed comb. Use a light hold gel or pomade to keep the hair in place.
2. Wavy Side Part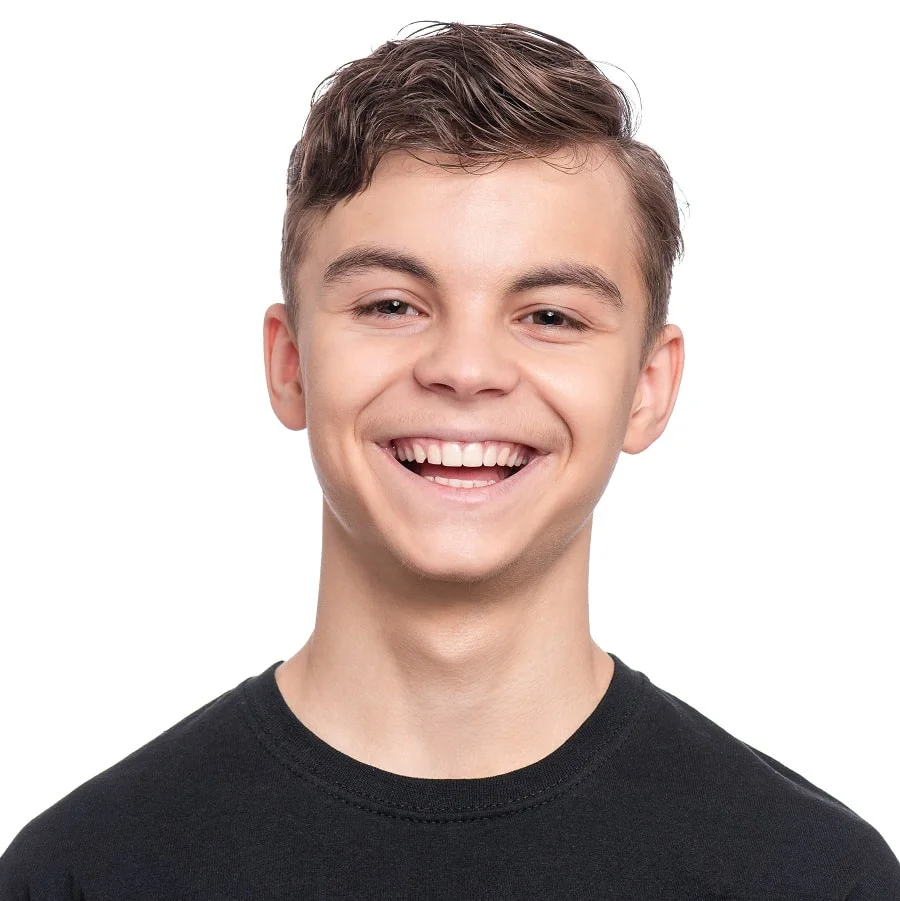 This style features a deep side part with plenty of volume and texture on the top. The parted hair is combed in a light wavy style that adds volume. This short hairstyle for teenage boys is great for casual or dressy occasions, and it's easy to maintain with regular trims on the sides.
3. Faded Mohawk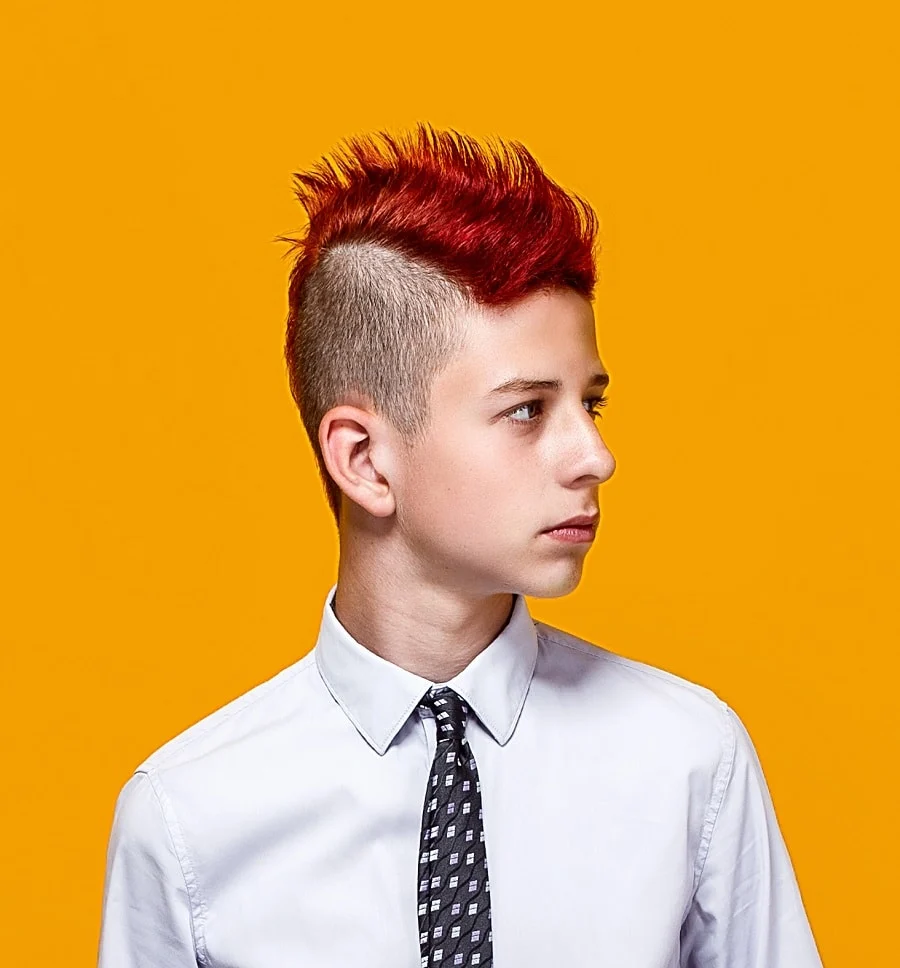 To achieve this style, the hair should be cut into a high mohawk with the sides tapered and faded down toward the ear. The top should be combed upward and styled with hard gel for a sleek finish. This look can be accessorized with colorful hair dye or highlights to add a unique twist. Thus, this will make a bold statement for teenage guys without going too extreme.
4. Curved Top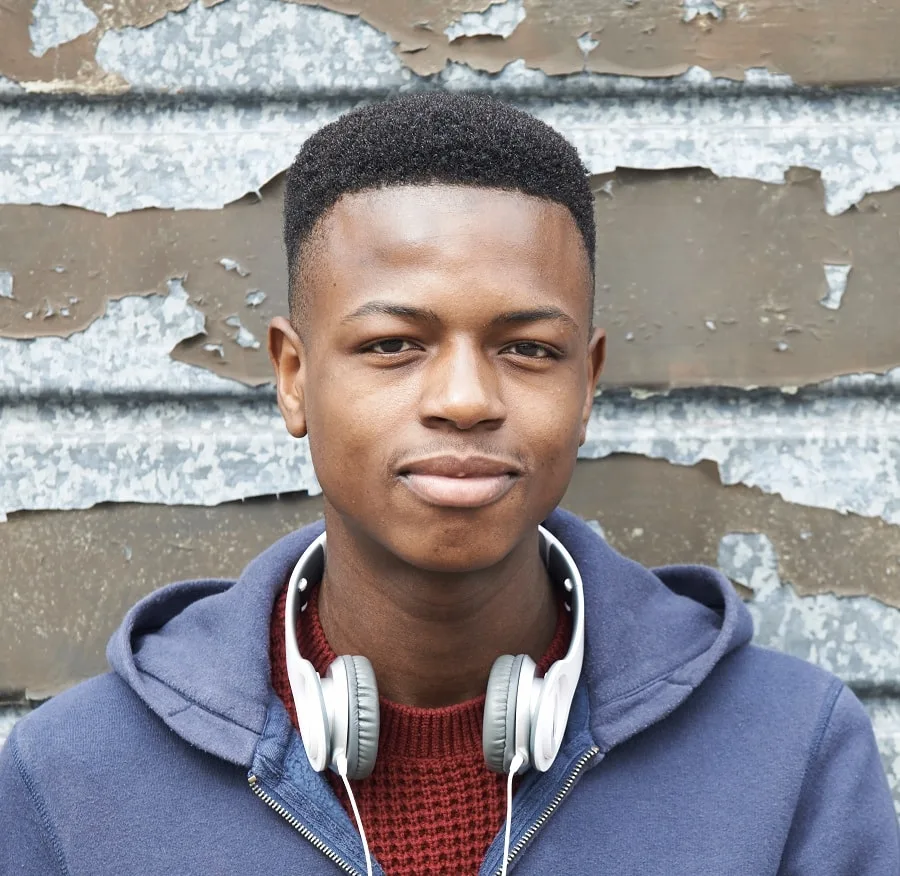 The curved top and faded sides can give a modern and edgy vibe to an afro boy while still maintaining a classic look. Start by asking your barber to cut the top in a curved shape. The top should be slightly longer than the sides, and skin fades the sides.
5. Undercut + Middle Part
This style features a short undercut on the sides and back and a longer top that is parted down the middle. The sides and back can be buzzed or faded to your desired length. It is easy to maintain, and it looks great with any outfit.
6. Angled Comb Over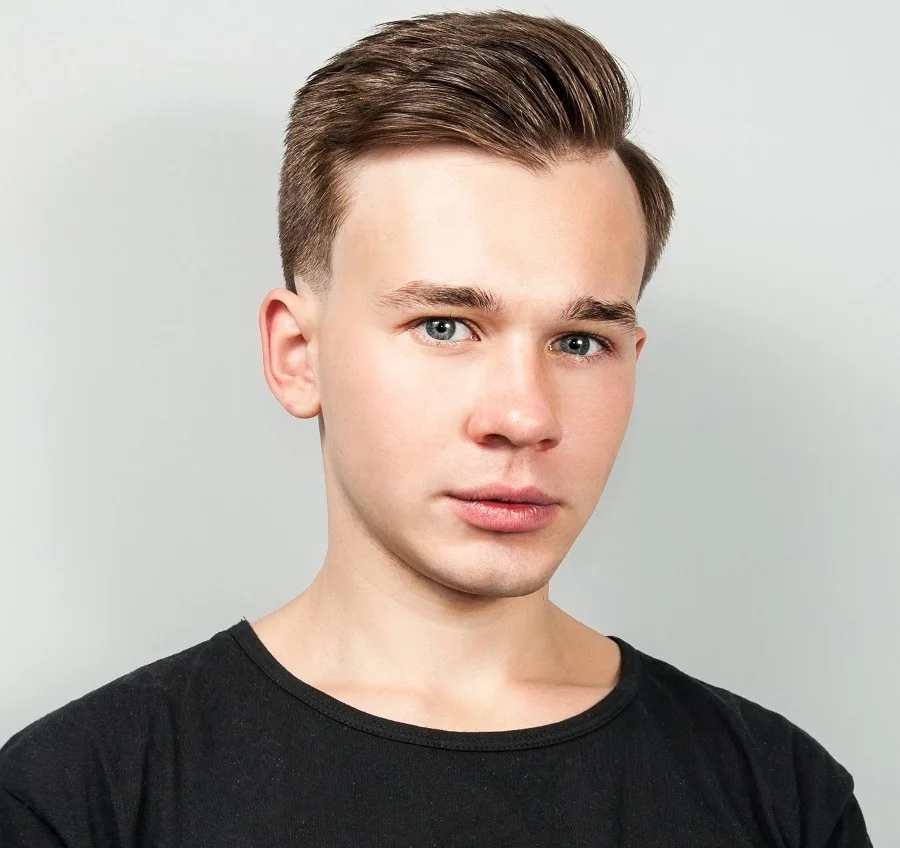 To get this style, start by trimming the sides and back of the hair to a short length using clippers. Style the top of the hair with a pomade or wax to create a sleek, classic comb over look. This style suits best for formal occasions.
7. Short Sides + Forward Sweep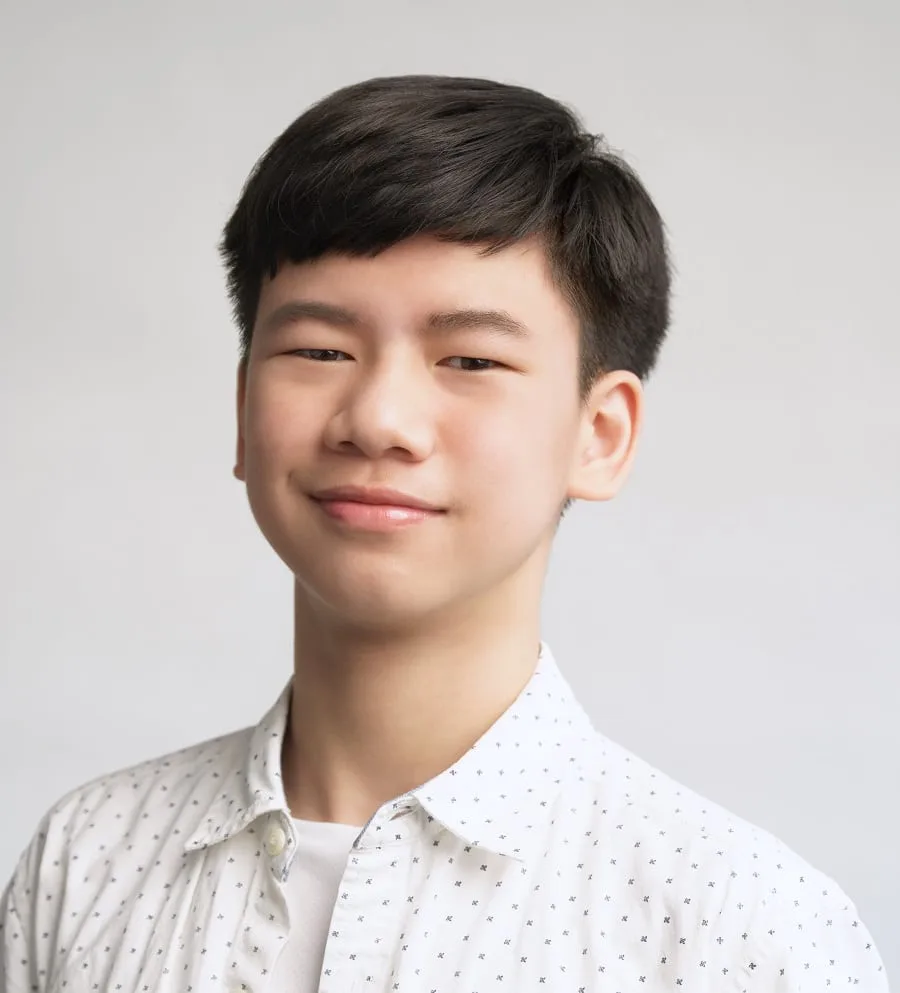 This style looks great on an Asian teenage boy as the silky hair gives a natural looking sweep. Start by applying a lightweight mousse or gel to damp hair. Next, blow dry the hair forward, creating a soft, silky forward sweep. Finish off the look with a light-hold hairspray to help keep the style in place throughout the day.
8. Short Curls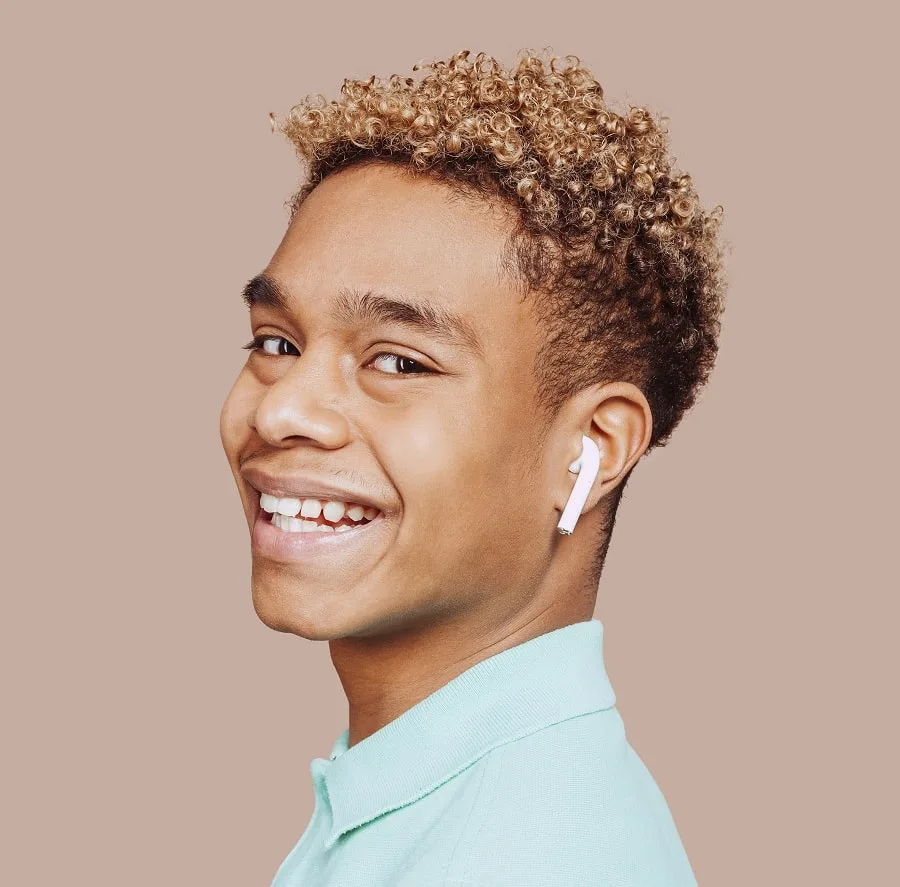 It adds a modern touch to classic curls. To style this look, start by applying a curl-defining cream to short damp hair and then blow dry with a diffuser. Once dry, leave the hair as it is. Finish off the look with a light-hold hairspray, and you're all set!
9. Comb Forward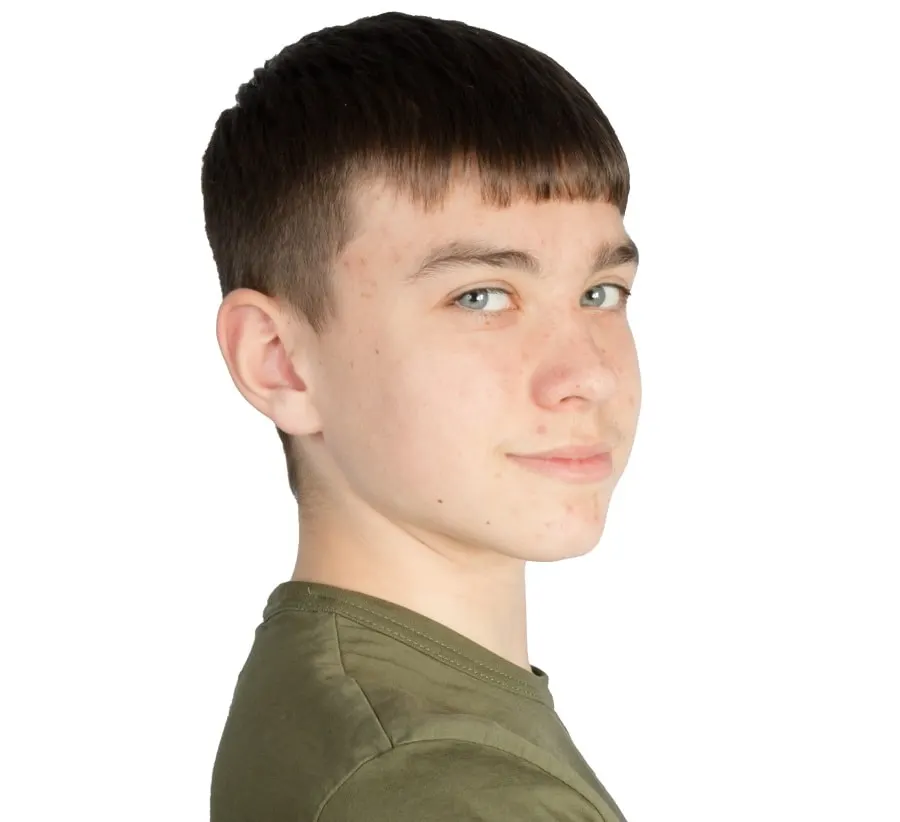 This is a very simple style for silky hair and can be tailored to fit nearly every face shape. Scissor cuts the hair short and starts by combing the hair forward. The side should be shorter than the top.
10. Messy bangs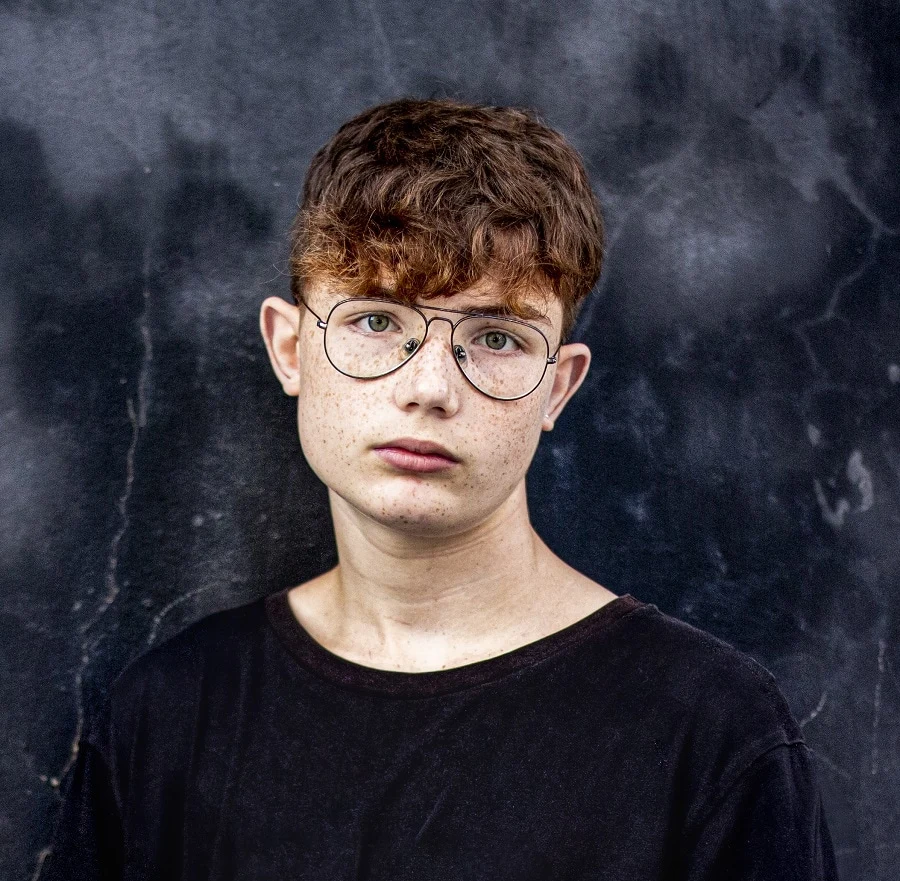 This style requires applying light hold hairspray to damp hair and blow-drying it with a round brush or comb. Once the hair is dry, tousle the bangs using your fingers and tweak the style until you are satisfied with the result.
11. Afro with Highlights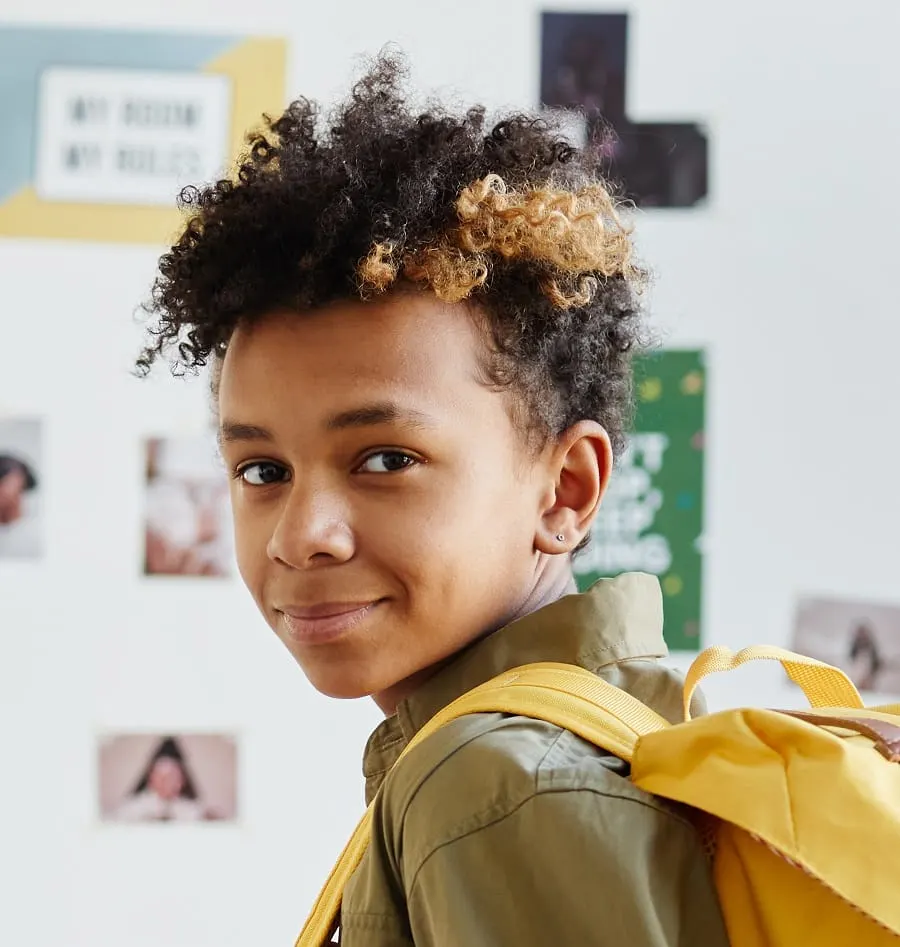 This highlighted hairstyle looks great on a teen boy with an oval to rectangle-shaped face. To get this style, apply a curl-defining cream to create tight curls in the hair. Next, pull the curls with your fingers to give them a spiky shape.
12. Short Spiky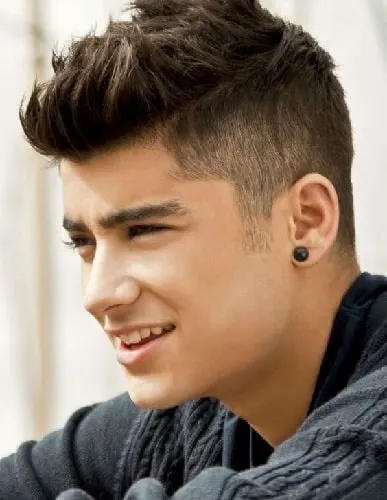 The short spiky haircut is the most admired short haircut among teen boys. The best characteristic of this short hairstyle is that it is the simplest one that you don't need to go to any salon. You need a gel and comb.
If you apply styling products, this style looks excellent, but it can also look perfect without any product. Apply gel or matte (it would be more suitable for the best result) on hair and, with the help of hands, twist your hair neatly to give them the shape of spikes. Congrats, your Job is done!
You can also combine this haircut with the fades at the back or sides of the head, as seen in the image. For inspiration, check these fade styles.
13. Brushed Up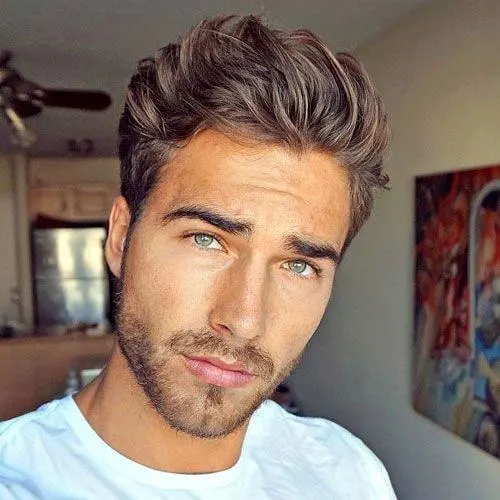 These are like the spiky haircut, but not completely. It just looks like spikes. These are an alternative form of side quiffs. These are the most stylish short haircuts for teen boys.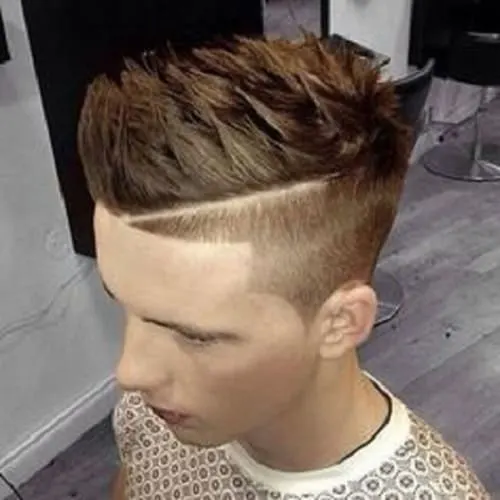 The second best choice is the classic side part. It includes the fade on the back and at the back of the head. You cannot make this style by yourself; you need to go to a salon as professionals can only do that. It's tricky to fade, so you can't just trim half of your head, but the professional can.
In this short haircut for teen boys, the professionals trim the bottom half of your scalp, leave significantly less hair, and keep long hair on the top of the head. You can style it in any form, but mostly the side part looks perfect.
15. Side Hair Fringe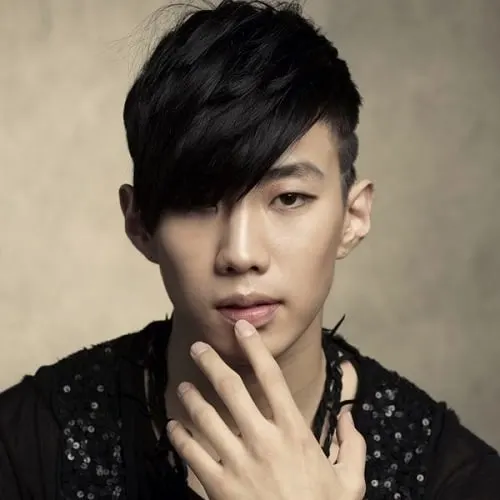 It has various categories like shaved sides, long fringe (for very thick hair, gives a sharp look), heavy statement fringe (which covers the forehead completely, giving it a scruffy look), and long curly fringe (for curly hair) as shown in the picture.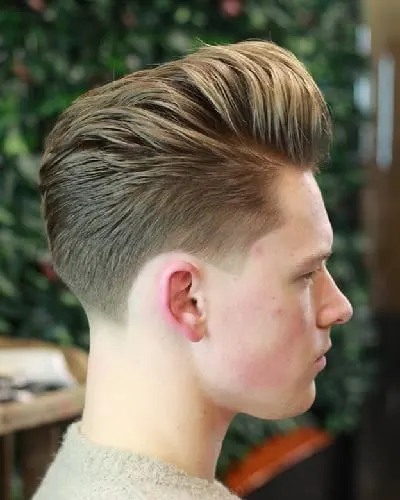 This is also one of the most popular and versatile short haircuts for boys in their teens. It gives the most attractive and unique look, as shown in the picture. In this haircut, the professional cuts the side hair shorter and leaves the front hair longer.
Then, use a styling product or gel on the longer hair and puff them back. It is done very carefully.
These are the smart-looking short haircuts for teen boys. As shown in the picture, this haircut is short on the back as well on the side and tapered to the top. Additionally, there is a lot of long hair left on the top. It can also be styled as a pompadour or a classic side part.
18. Short Bangs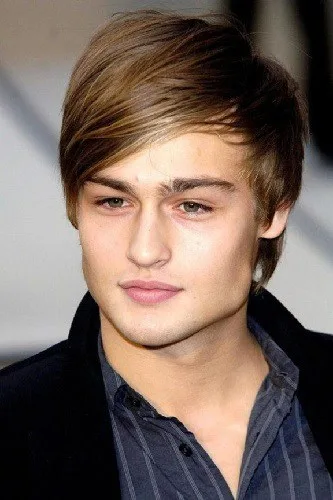 This haircut depends on your facial features. Bangs usually get into the eyes and, in some cases, cover the eyebrows. As you can see in the picture, these bangs can be cut in half to reach only the forehead.
19. Bald Fade with Long Wavy Hair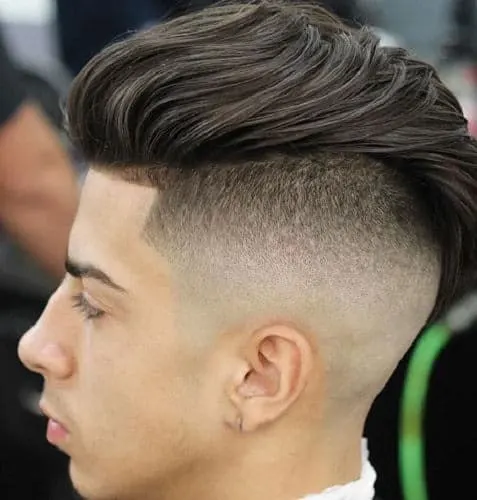 It looks good on the medium-thick or thick hair. This short haircut is for those teenage guys who have long hair on the top of their heads. The professional shaves the sides of the hair slightly but gives the side's bald look and twists the hair on the top of the head with the gel or any other styling product.
20. Braided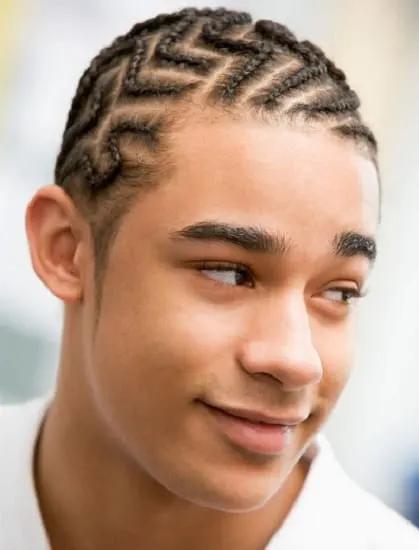 If you have curly or wavy hair, this hairstyle is perfect. Teens with straight hair can also make braids as braids are one of the most incredible ways to show your personality and make you stand out among the people gathering. This short haircut for teen boys mostly suits black teens.
21. Hard Part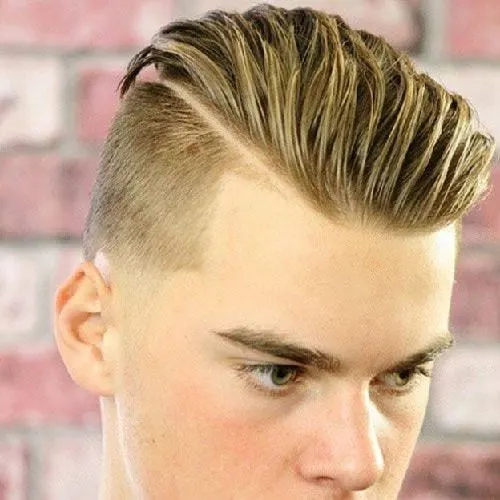 As shown in the picture, in this haircut professional shaves the hard part of the head to make the side part more prominent.
So which short hairstyle will you choose as a teenage guy? Whichever style you choose, first evaluate your facial features, shape, type and thickness of your hair.