Do you own a medium length hair and want to try box braids? Medium box braids might take a while to do but the results are amazing. There are many benefits to such box braids, including low-maintenance and hair revival. If your locks are damaged, getting them into box braids can be very beneficial.
They are simple to remove and have to be touched up only once every 3 to 4 weeks. Girls love these braids for their versatility and impressive look which can be suitable for just about any occasion possible. You can wear medium box braids to the office, to a girl's night out and even to a wedding. They will look gorgeous anywhere.
Medium Box Braids for Any Occasion
If you are bold enough to make box braids, you will really appreciate your own effort. Girls who wear these braids forget about frequent washing and damaged hair. While cornrows might make your locks break, box braids have a reversed effect.
Hair tends to grow better when tied into these braids. They are less exposed to the chemicals in the hair products and dirt in the air. If you grow tired of these braids, you can easily get them removed without any hassle and enjoy the way your new and improved hair looks.
1. Long Medium Box Braids
Medium box braids are probably the best way to protect your hair from external factors like dirt, sun, and pollution. Your natural threads will look fabulous, especially if you add Jumbo hair extensions. They are so versatile and can be done in almost any color you want.
2. Medium Kids Braids
When there are so many colors available, why not let your kids embrace box braids hairstyles? Let them choose their favorite shades and nuances for the braids. This way, you will spend less time styling their hair each morning and they will love you for the new look.
3. Knotless Box Braids
Partings are very important when you're going for a braided hairstyle. Make sure you use a fine tooth comb and jam to preserve their shape. Also, your knits will be much easier to manage and will look perfect for a longer period.
4. Medium Box Braids with Curly Ends
Combining box braids with curls is a trend that many women love and follow. All you need to do is choose your extensions and braid the whole head. Once you are done, wrap the ends on rods and dip them into hot water to obtain those beautiful ringlets.
5. Medium Triangle Box Braids
Triangle partings give your medium box braids hairstyle a stunning look. Go for blonde extensions or choose a color that is closer to your natural hair. You can also decorate some of the braids with plastic or metallic beads.
6. Box Braids with Color
Eyepopping colors like mauve or ombre greens are great hairstyling choices for women with fair skin and blue or green eyes. Make sure that when you're going to sleep, you have a silk pillowcase or a silk bonnet to protect your braids overnight.
7. Medium Curly Braids
Want to find the best way to get waves and curls and braids? The secret lies in choosing the right hair extensions. So instead of going for straight bundles, opt for hair that is already curly. When braiding, only knit half of your hair to show off that curl.
8. Braids for White Girls
Afraid of getting this color because you need several bleaching sessions? You don't need to because with braids you are not obliged to dye your hair. Choose white or platinum blonde hair extensions and attach them as close to the scalp as possible. Make the braids tight and be ready to receive all those compliments.
9. Shoulder Length Medium Box Braids
Box braids are not only protective hairstyles but a great way to change your hairstyle and get a new look. It seems easier than ever to get a superb bob hairstyle. Go for medium hair that reaches your shoulders, and twist the ends.
10. Medium Bohemian Box Braids
Medium long box braids are a great way to transform your hairstyle into a statement. You don't have to braid the whole head. Knit only the roots and add curly extensions to gain that most wanted volume. Wear it in a cascade on your shoulders and back.
11. Burgundy Braids
Burgundy braids are so eye-catching! They are ideal for black women or those with darker skin tones. Moreover, golden hair decorations will highlight the knits, even more, giving them that royal touch.
12. Short Medium Box Braids
Box braids are also very common among white women. And getting a bob hairstyle out of your braids is quite in trend. So take advantage of these knits and style your own angled bob haircut. Choose a hair color that is modern and highlights your features.
13. Black Women Braids
Whether we're talking about bob hairstyles or long medium braids, these poetic justice braids are a hairdo you should try at least once. They are fashionable, and more and more stars are showing their intricate knits on the red carpet.
14. Medium Red Box Braids
Red long braids are quite impressive and totally breathtaking. We guarantee that you won't pass ignored with these knits. They are long-lasting and low-maintenance, and you can keep them for even eight weeks.
15. Brown Box Braids
When you want box braids that are not too bold and keep that natural touch, consider choosing a brown color because it suits all skin tones. You can easily combine the hairstyle with a temple undercut, and you can flip the top to one side.
16. Medium Ombre Braids
Ombres do not seem to fade away too soon, so if you're enjoying this trend, why not use it for your box braids? Choose bundles that have a dark nuance for the roots and transform into a gorgeous pale silver mauve. Or why not go for something bolder and opt for pastel colors?
17. Medium Blue Box Braids
Electric blue colors are so noticeable, and everybody will say WOW when seeing your new hairstyle. Create knotless braids by untieing the and of your knits. Go for a half up, half down hairstyle and insert a few white threads into those braids.
18. Medium Box Braided Bun
You don't have to create full head braids. Use only the back hair and braid it using a color close to the one you already have or create contrast. Choose a gorgeous blonde and do a top bun to highlight these medium back box braids.
19. Blonde Box Braids with Curly Ends
Whenever you want a breathtaking hairstyle with medium box braids, this is one of the most fabulous options. Keep your roots in your natural black color and use curly blonde hair to knit the braids. Let the ends loose and show that curl, girl!
20. Very Long Knotless Braids
Use black jumbo hair to give your hair some long box braids. Make them look fabulous without knotting the ends. This way, they will look much more natural.
21. Black Triangle Box Braids
Part your hair into small triangle shaped sections and use jumbo hair to knit your thick box braids. Keep them long, and you will have a hairstyle for medium braids that you will adore.
22. Medium Crochet Box Braids
Recreate this medium crocket braids with a little bit of help from a few packs of jumbo hair. Keep the twists loose and let them fall on your shoulders.
23. Medium Blonde Box Braids
Your white-blonde long box braids will look fantastic if you choose to dye your roots into a darker blonde shade. Beautifully blend them with your hair, and the effect will be tremendous.
24. Cornrow Mix
If you want box braids but still have some longing for the way cornrows look, you can make the cornrows at the base of your hairstyle and continue with box braids style.
Top Picks: Box Braids Hairstyles
25. Box Braid Accessories
Your medium box braids will look even more stunning if you use special accessories. Cornrows and box braids have been popular for a while, that's why there are many different rings and clips to choose from.
26. Highlights
Highlights are always a great choice for any hairstyles and they look especially well with braids. Make about a quarter of your braids a lighter color than the rest and the result will be impressive.
27. Violet Colors with The Box Braids
If you are not afraid of such a bold hairstyle as box braids, you can go even further by making them look more intense by dyeing them some outrageous colors. Violet is a great shade of choice.
28. Subtle Shades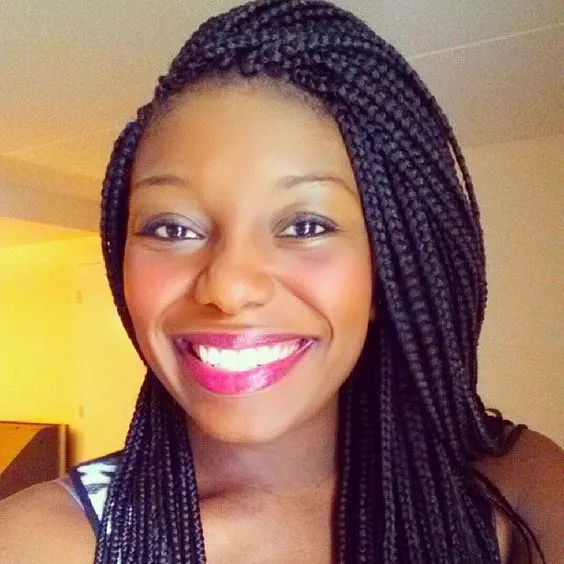 If wild colors are too bold for you, dye your locks some subtle shade that can be discovered only when you look really close. Tint your braids with a shade of burgundy and you will love the look.
29. Get a Weave
If you are not satisfied with the thickness of your hair and are hoping for voluminous medium box braids, you can get hair extensions for a better appearance. But remember that they can damage your tresses.
30. Thick Braids
Thin box braids are very popular but if you want to get some diversity, play around with the thickness of each braid. Thick braids look even more stunning than thin ones.
31. Raven Black Braids
Box braids look amazing when they are natural. Raven black hair color is a good choice for the braided hair. You might need to use a dye to get the best results.
100 Hand Picked Black Braided Hairstyles
32. Thicker Cornrows
The thicker your medium box braids or cornrows are, the more special they look and the easier they will be to undo. If you want a fast hairstyle that looks close to the box appearance, get thick cornrows.
33. Bow Fun
Such braids often create an aggressive appearance. Lighten it up by some girly bows or scrunches. Don't forget, you can make many different hairstyles out of these braids.
34. Matching Accessories
If you are accessorizing the right way, your braids will look even more amazing. Make sure the accessories in your hair match the accessories on your neck and fingers. Go with golden rings.
35. Creative Box Braids
The best way to go for box braids with your medium length hair is to experiment with them. Allow your imagination to run wild with the new and impressive hairstyles. Start with simple ponytails and buns and go from there.
36. Accessorized Cornrow Braids
Is your hair in a mess and want to go to a party? The best and easiest style is the Cornrow box braid for women which is easy to undo also. You can just give it a party look by putting some classy accessories. Flaunt your braids with any and every dress.
37. Thick Cornrow Box Braids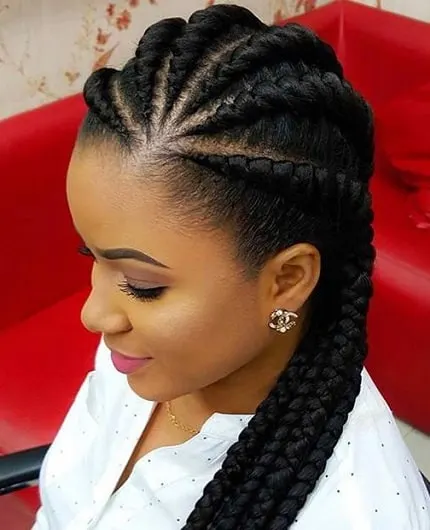 Thick cornrow braids give a more stunning look than the thin cornrow braids. If you want to play around with the thickness of the braids, then you can go for this style featuring box braids. The style is perfect for both casual and formal outings.
38. Janet Braids
This medium box braid is pretty cool for a summer day look. Janet braids are easy to undo and easy to make. It can also be a cool look for a day in the water. Since the style is easy to do, you can opt for the Janet Braids for any outing.
39. Small Box Braids
A lot of people's mood depends on their hair. So the best solution for your good hair days is braiding which will make you smile all day along. These box braids will make your look gorgeous at all occasions. Be it a normal outing or a business dinner, the style will definitely make you the highlight of the occasion.
40. The Crown Brains
Invest in your box braids. It is the crown you never take off. So give your Box Braids a twist by putting on a necklace around your braids instead of your neck. The style will you a retro yet unique look that people will admire.
41. Medium Box Braided Bob
Do you think braids don't look good on black women with medium hair? They look really very pretty just like the above picture. Braids on short hair give a confident look. With a braided bob, you are good to go for any outing.
42. Half Up Burgundy Box Braids
What better than coloring your box braids? Opt for burgundy shade braids to give you a strong and dominating look. This hairstyle is perfect for women who are open to change and want to surprise the public around them.
43. Colored Streaks with Thin Braids
Streaks will go very well with thin braids. This is one of the most famous braided hairstyles out there. You can color a few braids in brown shade and rock an elegant and classy look. A few streaks along with braids will give you a bold look especially if you want to do a hairstyle for a cocktail party.
44. Street Style Cross Braids
Bored with normal medium box braids for women? Go for the street style braids wherein you can play with your hair by straightening the front part of your hair and by braiding the rest. The cut will definitely give you a unique style that most people will be fond of.
45. Half up Braids
With thin braids its very easy to play with different hairstyles. So take a half bun with your braids if you want to look like a princess. You can also opt for a slight golden color to give your medium box braids that extra elegance that they need.
46. Purple Infused Twisted Braids
Twisted braids don't consume a lot of time. If you are looking for a bold and concert look, twisted braids can be an option and also if you very particular of putting on everything matching you can color your braids purple for a funky look
47. Black with Light Blue Box Braids
If you want a bold and unique look, there is no better option than box braids with a slight tinge of light blue. You can easily wear this to any outing and put it on with some boldness for every professional gathering.
48. Box Braids with An Accessory
To look sassy and make your box braids for medium hair look full, you can always highlight it by putting a hairband or some other hair accessories.
49. Half Bun with Braids
The combo of bun and braids goes really good together. If you want to tie up your hair but also want braids this style is the one.
50. Mohawk Braids
To make your look funkier with your Mohawk haircut you can always go for medium box braids because it will look classy and funky at the same time.
51. Half Ponytails with Box Braids
With box braids, you can play with your hair by doing a half pony or a half bun. Now whether you make a pony or half bun, Box Braids are going to be fun to experiment with!
52. Mix of Cornrow Braids
Mix Cornrow braids will help you be ready for a perfect party look. You will not even have trouble undoing them because it's easy.
53. Jumbo Box Braids
Jumbo box braids for medium hair are the easiest, and it is also easy to undo the braids. If you go through a bad hair day, then thick box braids will solve your problem.
Trying new and fun hairstyles is a smart way to go about your appearance. These amazing corn braids are a great choice for any woman who is looking for an image change. Try them and you might even get addicted!