Because peacock hair colors are styled after peacocks—duh—the traditional shades usually include plenty of blue, green, and purple, perhaps with a bit of yellow to suggest gold. However, pink, teal, and turquoise also have their place.
Some people prefer a more feminine interpretation of the peacock trend and thus skip out on using green or midnight blue. Others embrace the beauty of these majestic birds that are so proud of their plumage. Which combination strikes your fancy?
Best Peacock Hair Color Options
What's your favorite peacock hair color? Is it deep, decadent purple or electric blue? Do you love the dazzling green streaks in peacock feathers or are you all about the occasional flashes of gold? It doesn't matter, sweetheart—you can strut your peacock hair in any color combination. It all comes down to what makes you feel just as regal and radiant.
1. Glowing Green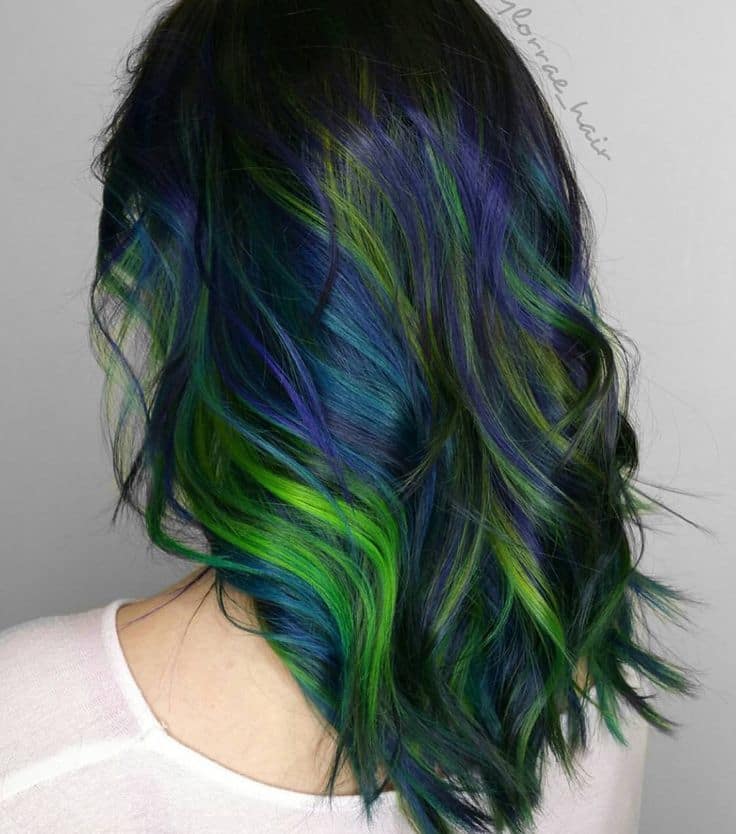 Green is one of the most prominent peacock hair colors. You can rock the trend without any green, but you won't look precisely like a peacock. The trick is to make sure the verdant streaks stand out, even if you only ask for a few highlights in a lush lime hue.
2. Teal and Purple
Although green is a hallmark, like say, you don't necessarily need it. Color combinations similar to this one are a fashion-forward take on the peacock 'do. It's softer, more feminine, but still on-point. You can't deny that the mix of purple, teal, and blue is a smash.
3. Long Blue Locks
Make an electric blue the signature hue of your peacock hair. Blue takes center stage here, but that just makes the rich green, purple, and raspberry highlights catch the eye. Seriously, how much do you love that shade of green?
4. Peacock on Black
Believe it or not, peacock hair colors can be subtle. You don't have to strut around like a … well, like a peacock. Start with a dark base, preferably black, then ask the stylist for subtle overlay highlights of dark green and blue.
5. Peacock Undercut
If you really want to make your mark as a trendsetter, buck the conventional. Take the peacock trend and turn it on its ear—or simply turn it upside down, as you see here. The feathers shaved into the undercut look exactly like peacock feathers, particularly with that gorgeous dye job.
Balayage Hair Colors on Short Hair
6. Peacock Meets Mermaid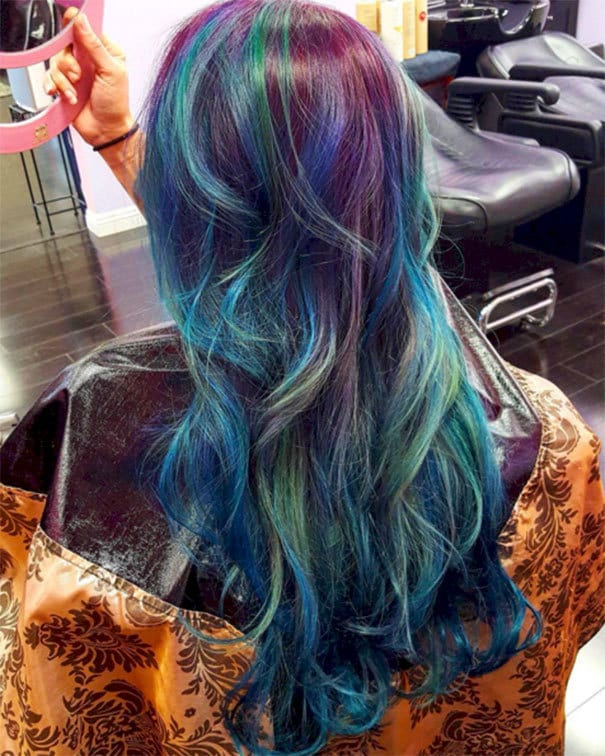 The colors here are paler and lighter. They're not pastels, but they're not dark, dramatic jewel tones, either. The result is a fantastical profusion of beautifully colored locks that make it seem like a mermaid had a baby with a peacock. Weird imagery, sure, but look at the hair!
7. Peacock Ombre
As you can see, there are dozens of ways to incorporate peacock hair colors into your coiffure. The ombre effect is one of the most eye-popping ways. The contrast of the lime green with vibrant shades of turquoise, teal, and blue is irresistible, especially if you show it off with a hairdo like this.
8. Peacock-a-Boo
All right, this hairstyle is fire. The colors are beautifully blended, plus the vivid green is nearly hidden. It's a surprise that peeks out from beneath the top layers, throwing off unexpected pops of color.
9. The Big Three
Purple, blue, green: these are the three traditional peacock hair colors, but we've never seen them together this way. The top layer is dark violet, blue holds down the middle, and the ends are bejeweled emerald. This is utter perfection.
10. At the Top
Who says you have to go all-over peacock? Here, the roots are a stunning blue-green, which fades into green and nearly yellow. The rest of the hair remains natural. What do you think?
50 Light & Dark Brown Hair Colors for Smart Girls
Don't pass up on peacock hair colors because this trend is going places. Are you as pretty or as proud as a peacock? Then why not show off your style?