Do you work in a profession where brightly colored bangs would be a no-no? Then peekaboo coloring is for you!
There is a small part of the hair coloring adventurer in all of us – hair coloring and style has long been part of our creative identity. But what do you do if you work in an industry where a shock of fluorescent hair would be deemed 'inappropriate', or if your desire to dye is strong but you do not wish to damage your hair or risk the scalp irritation common with more commercially available coloring products?
Ladies, I would like to suggest that now is the time for all our inner adventurers to go undercover with peekaboo hair coloring.
#1. Peekaboo Oil Slick
Originating in the salon of New York-based colorist, Aura Friedman, the 'oil slick' as it has come to be known, is the granddaddy of peekaboo coloring. Stunningly effective on black and dark brown hair, a combination of green, purple and blue highlights are applied to the hair to give the impression of fluidity and light. Suitable for both long and short hairstyles, the oil slick gives greater emphasis to curls and a shiny, opal iridescence to shorter locks.
#2. Magenta
Due to its adaptability with all types of hair color, magenta highlights are a staple when it comes to peekaboo coloring. Contrasting with dark hair it provides a punky aftershock. Blended with red hair with a gradation in tone it gives a rich, vibrant warmth. Magenta really comes into its own on fair hair, graduated magenta highlights creating what one Tumblr reader described as 'Business on top, party down below.'
Balayage on Short Hair Color Trends
#3. Lavender
Until very recently naturally occurring greys were something that needed to be eradicated as swiftly as possible. Now, thankfully, a new trend has emerged on the high street with younger women displaying beautifully conditioned silver locks and women of a certain age, instead of rushing to conceal their greys, embracing them with multi-tonal silvery highlights. But why stop there? Why not further enhance your color with some lavender peekaboo highlights. A stunning effect on layered curly hair as well as straight, lavender peekaboo coloring gives youth and emphasis to what was once seen as old and aged.
#4. Grey
Grey, no longer being a hair color no-no, its potential is also being demonstrated with black hair being given the peekaboo treatment with the addition of grey highlights. Suitable for all styles, grey is a color that particularly suits long layered or curly hair, each curl gave a shimmering emphasis. An addition of ombre creating a touch of warmth.
Light and Dark Brown Hair Colors for Women
#5. Blonde on Red
Redheads are blessed in that no other natural color is able to generate such natural warmth. The addition of multi-tonal red highlights further enhancing this warmth until it becomes a fiery red. But why stick to the safety of what you know. Why not punctuate the beauty of this natural color with a wave of peekaboo blonde?
#6. Red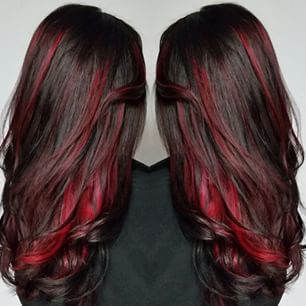 Nothing gives extra richness and warmth to chestnut brown hair than a generous splash of vibrant red. Emphasized by gentle waves and layers this is a color combination that comes alive in long hair.
7 Fab and Fine Magenta Red Hair Color Ideas
#7. Green
Unless you're a punk, a goth or a villain from a Batman comic, green is not normally a color to wear in everyday hair, however, peekaboo coloring allows you to do just that. Concealed beneath a layer of natural color hair, its mousey brown during the day and green demon by night.
#8. Peekaboo Blue
Of all the peekaboo colors, the vibrancy of this blue blended with subtle purple highlights is sure to create an impression, particularly when contrasted with deep brown hair and a scruffy up-do.
#9. Turquoise
Although a color that lends itself to electrifying effect to most hair colors, the vibrancy of the contrast between wavy black hair and an undercurrent of turquoise creates a stunning effect.
#10. Pastels
Unless dark hair is bleached the pretty, femininity created by a combination of pastels; yellows, pinks, lavenders, pale blues and light greens, is lost in the sheer depth of color of darker shades but added to blonde hair the effect is ultimately girly. Plant your blonde tresses and you can become your own Disney princess.
#11. Black
Lending itself to any hair style the contrast between black lowlights and ash blonde hair is perfect for those wishing for a more dramatic peekaboo color without making too much of a splash.
#12. Electric Blue
Nobody saw this coming. A color usually used on darker hair, the effect created by the revelation of an electric blue undercurrent is guaranteed to be simply shocking.
#13. Neon Yellow
Neon yellow peekaboo hair coloring is for those who seek luminosity. Working well with fairer shades, the color blends with fairer roots increasing in vibrancy as it reaches the ends. Peekaboo color covers the whole of the neon spectrum creating endless possibilities.
#14. Deep Neons
Want to achieve the glowing luminescence of neon yellow but have darker hair? Neon colors are also available in vibrant deeper shades. Hidden beneath an outer layer of black, the revelation of vibrancy revealed by a simple plait has a wow factor all of its own.
#15. The Rainbow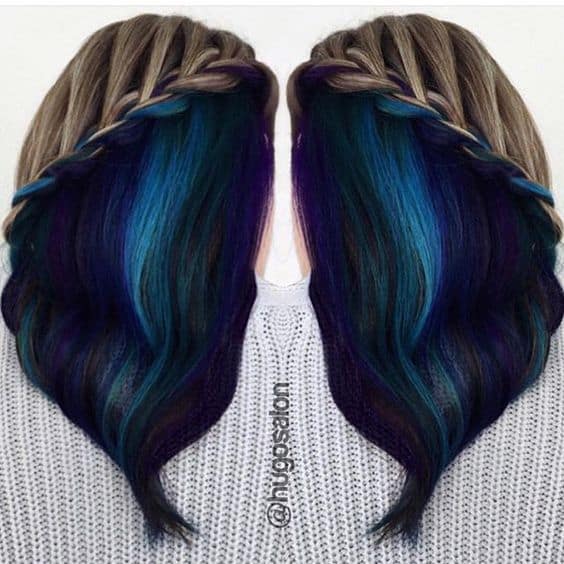 Unable to choose between the pure choice of peekaboo colors? Then why not embrace the rainbow? Suitable for all hair shades and length the vibrancy of color available within the rainbow is bound to put you at the center of attention.