You probably have a curly hair color right now and don't even realize it. That's because hair colors for women with curly hair have no limits.
That being said, some hues are better suited than others. Curly locks are enviable. Most women with straight hair yearn for spirals and waves. Your twisted tendrils are already glorious. They can handle lively, brilliant shades, such as purple, gray, and red. Even everyday hair colors like brown and blonde become transformed with a few spirals and curls.
Bold Hair Color Ideas for Curly Hair
What's the best hair color for women with curly hair? That's a difficult question. Every curl is different, after all. The same goes for every curly style, every woman rocking curling locks, and then you have to consider eye color, skin tone, and natural hair color.
The best curly hair color for you might be lilac or glittering dragonfly green. You might look better with highlights or a unicorn-inspired combination of hues. Who knows? Why don't you begin by seeing if any of these hair colors speak to you?
Red is a glorious curly hair color, particularly if you go dark with it. Oxblood, burgundy, deep ruby red—those are all acceptable colors within the spectrum. Of course, bright hues are fine, too, but deeper shades tend to throw off prettier highlights. You can also check other hairstyles with red highlights.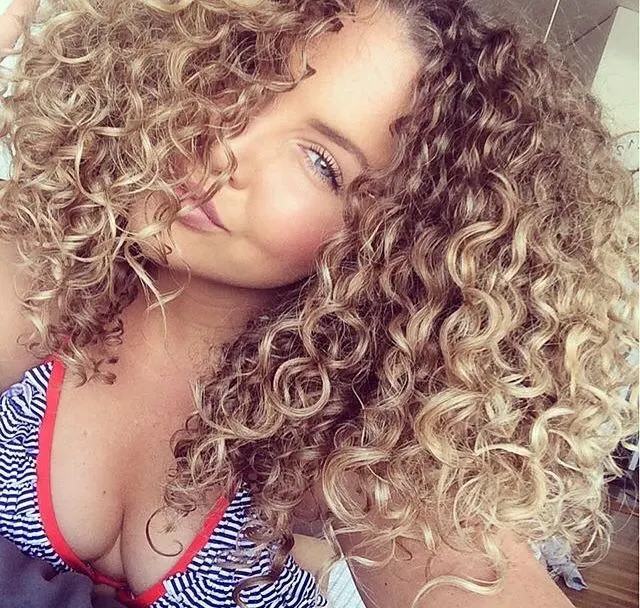 This might seem a bit too ordinary, but give it a chance. Blondish brown is more dynamic and fashion-forward than you think. There are so many highlights and lowlights at play that the color has a ridiculous amount of dimension.
3. Red-Brown Blend
Spiraled curls of red, copper, and Auburn mix with various shades of brown and a chocolaty base. This entire look is scrumptious. It's also proof that, if you're fortunate enough to have curls, show off your spirals in a glorious profusion.
4. Shades of Honey
Honey blonde is one of the best hair colors for curly hair because it tends to look natural, and never mind if it's not. It's a good idea to request a few highlights in paler shades and lowlights in brown hues. You'll look like you were born a blonde, honey.
There's a gorgeous pink blush hiding in the undertones of this lavender color, a pink that makes it even brighter and more vibrant. Curls somehow look natural when they're all dressed in purple. Let's take a moment to sing praises to her lips, as well.
It's hard to see unless you look closely. Her hair is dark brown at the roots but then fades into a somewhat lighter, brassier brown. The contrast is subtle, but that's why it works—it keeps people looking. Here are some of the hottest bangs on ombre.
7. Tipped in Turquoise
Turquoise is a popular curly hair color for obvious reasons—duh, it's gorgeous! To draw attention to your curls and to keep them healthy—i.e., by not bleaching the heck out of your follicles—stick to dyeing just the tips. Sometimes a hint is better, anyway.
8. Sunset Curls
These curls are to-die-for, and so are their colors. Pink, peach, coral, purple—her hair resembles a cotton candy sunset. The palette is the perfect complement for her skin tone and eyes, as well. We love it—are you?
9. Red on Fire
This shade of red is absolutely fire. It's an all over hue that's almost matte, but not quite. Doesn't matter, anyway, because her flawless curls throw off highlights and lowlights along the spectrum. Frankly, her whole look is the living end. Her face is beat to the gods—those lips, those eyebrows, that liner, those freckles!
10. Pretty in Purple
Told you. Purple is arguably the best hair color for women with curly hair, at least if they love fantasy colors. It holds forever, and it fades beautifully. Can't ask for much more than that. Long-lasting hues are the bee's knees.
11. Curly Hair Color for Brown Skin
Colors that best flatter dark skin are caramel and light blonde. Pair either one of these with your brown or black curly hair and you've got a lovely hairstyle.
Do something nice for your waist-length long hair and add caramel highlights. They'll show up beautifully on dark brown hair and look beautiful against your medium skin tone.
13. Rose Gold Curly Hair
Rose gold is an increasingly popular choice of hair color for women these days. Add it to your thin curly hair and scrunch in a bit of styling cream to hold the curl's shape.
14. Short Curly Hair Color
For thick curly hair, cut it short enough that it stops at the jawline, like this wedge pixie cut. This length of hair is flattering for an oval face and the bright red hair color will show off your curls.
Do something fun with your naturally curly hair by letting it go wild in an afro. Liven it up by adding balayage in this gorgeous sea teal or another fun color like hot pink.
16. Curly Burgundy Hair Color
Burgundy is a stunning color on short curly hair. Give your hair shape first with long layers, then load it up with this stunning deep red to draw attention to curls.
17. Pink and Purple Curly Hair
Why stick to neutral hair colors when you can play up your curls with something out of the box like purple and pink? These luscious locks really stand out with a combination of feminine colors.
18. Medium Blonde Curly Hair
If the 80s were your favorite style era, you can bring the vibes to your hairstyle by teasing your current texture. A warm medium blonde is just the color to lighten up curls.
19. Springy Afro Curls for Black Women
Show the world you're proud of your natural curls by giving them some poofy texture like in this afro. A copper brown or chocolate with caramel highlights will look amazing.
20. Bubblegum Pink Waves
Loose waves and curls are total mermaid vibes with a gloss of bubblegum pink hair color. Help it pop by wearing a cat-eye or bold red lip on your next night out.
21. Tawny Gold
Curls and gold go together like beer and pizza, like Vidal and Sassoon. You get the idea. Varied shades of blonde, brown, and even a bit of red create this gorgeous golden explosion of curls. Aren't you dying to mimic the style?
22. Radiant Russet
The color seen here almost defies definition. There are warm brown undertones, but the hue itself is like a cross between russet red and auburn. Whatever the mix, it works. The curls bring it home, no doubt.
23. Dark Brown
Dark brown might seem uninspired, but it's the best curly hair color if you want a traditional shade that looks like it sprouts straight from your head. Stick to the dark side of the spectrum to make your coif more interesting.
Popular Short Curly Hairstyles for Black Women
24. Ultraviolet
The hue here is definitively purple, but it leans more toward red than blue. That creates a richer, more dramatic shade of purple that pair well with twirling, swirling, spiraling curls.
25. Sugar Spun
You know Chrissy Teigen has the 411 on the hottest hair trends. When she sends sugar spun streaks through her dark chocolate hair, you can trust that it's a winning combination. Seriously, observe how the highlights brighten her features and draw attention to her flawless face.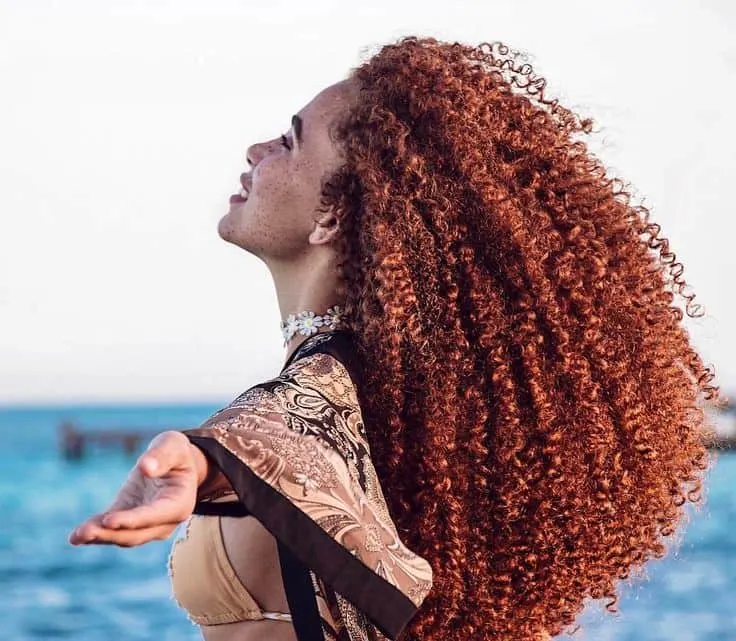 Here's a gorgeous true red. It's the red of fertile, lush red dirt, the red-orange of the last lingering minutes of a summer sunset. It's gorgeous and radiant and vibrant. Don't you want to bury your face in those curls and breathe?
27. Honey and Chocolate
Flavor-wise, honey and chocolate rarely meet, but the combination creates one of the very best hair colors for women with curly hair. It's subtle but glowing. Your hair will never appear dull if you pick these hues.
Enticing Loose Curls for Short Hair to Brighten Up
28. Every Red
The entire red spectrum is represented in this coiffure. True red, cherry red, copper, strawberry blonde, and even some pink. Do you love red hair enough to make this type of commitment? Your curls will surely adore it.
29. Array of Gray
Honey, this hair is on fire—but it's so cool. It's not so much streaked as frosted with gray, bursting out from a base of black curls. Yes. Yes, a thousand times. Do this.
30. Going Green
The vibrant, glass-bottle green hue seen here is a stunning curly hair color. It's phosphorescent. It practically glows. It's more balayage than ombre by design, but the black roots highlight the iridescent green.
Special, Stylish and Trendy Ringlet Curls
31. Caramel Crush
Curls dyed in a soft caramel hue look all-natural while adding an instant glow to the face. Define the look further by dying the tips in a light blonde hue creating the illusion of the darker shade melting into the lighter tone flawlessly.
32. Ice Blue
Blue hair color is trending this year and curly-haired women can confidently take part in it. Go for darker shades of blue or opt for a lighter hue like this one mixed with subtle silver highlights for an icy look this winter.
33. Luscious Light Pink
A dark to light ombre hair look will keep all the eyes on you. Retain the roots naturally dark and merge them into a light coral pink hue for a two-toned appeal. Take care of your hair hereafter as this curly hair color requires considerable bleaching.
34. Curly Caramel Tips
Those who like to stick to their natural hair shade can go for this dip-dye hair idea. The lower three to four inches of the curly strands are dyed in a soft caramel hue. This look is low-maintenance and can be achieved easily at home.
35. Midnight Blue & Violet
Bring the entire galaxy on your head by dying the coils in a midnight blue shade with violet strands peeking in between them. A subtle touch of aqua blue and pink takes this dreamy look to an entirely different dimension.
36. Copper Kinky Curls
Make those coils look divine by going for a hot copper hair shade. Rather than going for a monochromatic look create a subtle ombre effect by merging the black roots into a copper hue and lightening it down to an orange tint reaching the ends.
37. Dark Purple Highlights
A touch of purple looks gorgeous on curly hair. Those who don't want to color their entire head can go for these dark purple highlights. Define the look further by adding subtle lilac streaks to accentuate the purple ones.
38. Rose Gold Curls
Instead of tinting the curls with a blonde hue, mix it with some pink to create this jaw-dropping rose gold hair shade. The emerging dark roots spotlight the rose gold tinge further proving that this look is not high-maintenance.
39. Touch of Teal
This crazy curly hair color is a game-changer for confident women. Nothing can go wrong with this deep teal shade to liven up your look. Spice it up further by adding a subtle touch of emerald green giving off mermaid vibes.
40. Burgundy Beauty
Add a pop of color to your hair while staying low-key by dying those tight curls in a deep burgundy tinge from the roots to the tips. Add lighter streaks of burgundy in between for a highlighted effect or just enjoy this monochromatic look in all its glory.
Frequently Asked Questions
Here are answers to some of the most frequently asked questions about curly hair colors.
Can curly hair be dyed without damage?
Yes, your curly hair can be dyed without significant damage if you work with a qualified hair colorist. Curly hair is susceptible to the harsh effects of bleach and other dye chemicals, so careful application and attentive aftercare are essential to preserving your curls.
Do hair dyes damage curly hair?
Hair dyes can damage curly hair if you are not careful. Curly hair is prone to dryness, and the harsh chemicals and hair dyes can make your curly hair dry, brittle, and frizzy.

Be careful with bleach and hair dye to avoid damage. After you dye your hair, use high-quality conditioners and moisturizers to rehydrate your thirsty curls.
Balayage or highlights: which is better for your curls?
Both highlights and balayage work well with curly hair, and each has pros and cons. These dyeing techniques will emphasize your curls and will be quite flattering.

Balayage may cause slightly more chemical damage to your curls. However, the application allows your stylist to dye each curl individually, which produces gorgeous results.
What hair coloring is curly girl approved?
If you want to dye your curls, try to use natural hair color. Natural hair colors like henna are less likely to damage your hair. If you want to use a more intense hair dyeing method, look for ammonia-free hair dyes.
Do hair dyes loosen curl patterns?
Hair dyes can loosen curl patterns by making your hair more brittle and changing its elasticity. Instead of your curls bending into S or C shapes, chemically damaged curls may break or have a looser pattern.
Can curls be dyed on the Curly Girl Method?
You can dye your curls on the Curly Girl Method, but you may need to adjust your hair care routine to maintain your dyed hair. A semi-permanent hair dye may work better with the Curly Girl Method.
Curly hair is eye-catching all by itself. It can easily handle a bevy of trendsetting and even flamboyant shades. In your opinion, what's the best hair color for women with curly hair?
You May Also Like