The cotton candy hairstyle is the newest trend in town and everyone is raving about it. These hairstyles are all about playing with beautiful pastel colors like lilac, blue, soft green, and of course, pink.
If you're willing to transform your head into a huge scrumptious, you're at the right place. It's time to treat your inner child with the hair color of your dreams.
Cotton candy hair color ideas are inspired by various pastel palettes. This trend typically features a lot of blues, pinks, purples, greens, and yellows.
However, you don't have to add too many colors to achieve this look, a single color would work just fine.
Cotton Candy Hairstyle Ideas
Here's a carefully curated list of 25 hairstyles inspired by your favorite cotton candy.
Pink Candy Floss
This hairstyle is giving us Barbie vibes. If you want to look like a doll then dying your hair in this baby pink color will fulfill your heart's desires. Bob and some beach waves will suit this hairstyle and make everyone go WOW!
Shades of Pink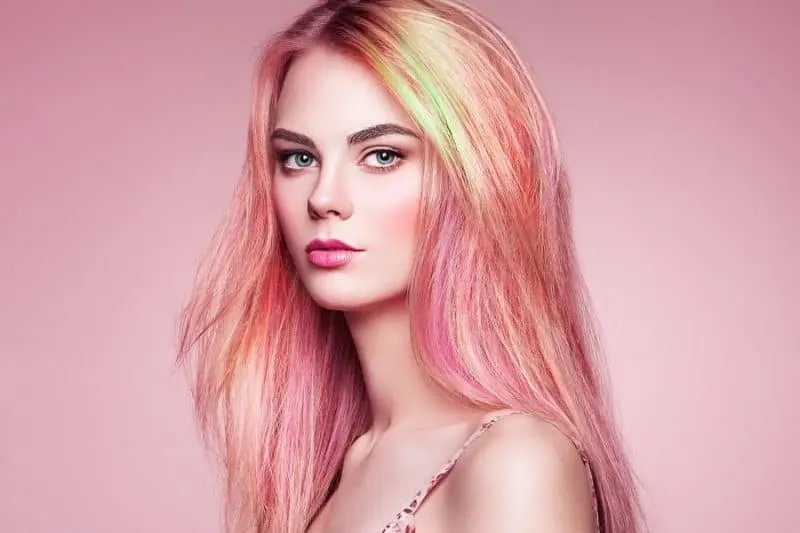 Here's a hairstyle that can be the embodiment of your inner princess. This hairstyle has various shades of pink blending seamlessly into one another with some green highlights peeking through. If fairies were real, we imagine some of them flaunting this cotton candy hair color.
Icy Pink Hair
We have this gorgeous hairstyle with a baby pink hair dye that gently merges with the blond tones for our blondies. The style has a sweeping effect that has swept us off our feet. If you're looking for an unforgettable style, get this one.
Dusty Pink Hair
If you're thinking that you can only make a Cotton candy hair color work by going for a preppy and bright pink hair color, then think again.
If you want something subtle and muted, this dusty pink hair color would work for you. You can leave the roots as they are for an even more natural look.
Hot Pink Hair
You can rock your hair with a bold color like this hot pink. This color will make sure that you make a statement with your look each time. A bob cuts down on the maintenance part of the hairstyle.
Candy Fishtail Look
Blues and pinks are a match made in heaven and the hairstyle incorporates both colors perfectly. To style their hair color, we've added some fishtails to achieve this dreamy look. You might not be a mermaid, but this hairstyle can make you feel like one.
Perfect Purple
A candy-themed hairstyle list is incomplete without an all-purple look. But this isn't a plain purple hair color.
Here all the different shades of purple have been effortlessly and seamlessly mixed. From lilac to lavender, this hairstyle is a purple lover's dream come true.
Fluffy Peach Hair
This hairstyle resembles cotton candy not just in color but also in texture. This gorgeous and fluffy cloud of cotton can be achieved by dyeing your naturally curly hair color a deep peach shade. This hairstyle is perfect for our darker skin beauties.
Beautiful in Blue
If blue is your favorite color, what's stopping you from incorporating the pretty color into your style. These gorgeous blue highlights range from light pastel blue to bright blue. This hair color is nothing less than a masterpiece.
Peekaboo Vibes
Loving candy isn't restricted to a certain age group and adults would certainly love this peekaboo-inspired hairstyle. The ends have been colored with pretty purples and blues resulting in this gorgeous hairstyle.
Rose Gold Ombre
Two words to define this hair color would be royal and magnificent. The beautiful golden color is faded into a gorgeous pink shade. And the ensemble is curled to absolute perfection. Indeed, this hairstyle is just perfect.
Pink Ringlets
This romantic hairstyle has all our hearts. These cotton candy pink locks will make sure you feel like a real princess. You have many options for styling your long tresses but we recommend these curls because they're just too magnificent.
Pink Delight
We all have dreamt of getting pink hair when we were little girls and it's never too late to fulfill your childhood dreams.
If you're looking for some inspiration to style your pink hair then we can recommend a unique way of doing so. You can go extra bold by adding rough and asymmetrical layers to your short hair. Some A-lined bangs would also work very well.
Purple Ombre Braids
Ever had the random urge to dye your dreads a crazy color? If yes, then maybe try out this beautiful ombre hair color. Starting with a pretty lilac color at the roots and then slowly transitioning into a bright purple.
Lovey Lilac Hues
This hair color is an absolute treat to the eyes and looks like it's straight out of a Disney fairytale. The hair color starts with lilac at the roots and then melts into a beautiful ice blue color, with hints of pink in between.
Feelin' Pink
Feeling bold? Maybe try dyeing your hair this gorgeous pink color. What's unique about this particular hairstyle is that the roots are kept orange to add more character and depth to the whole look.
Flowers to Sunlight
This hairstyle is the perfect amalgamation of the prettiest colors. The pink, blue and yellow trio works wonderfully together. If you're daring enough to go for such a bold look then we promise you that no one is going to be able to keep their eyes off of you.
Green Candy Floss
The colors in this one are so true to life, that it's impossible not to want to take a lick or a bite. This gorgeous pastel color has been streaked meticulously with pastel color to achieve the perfect cotton candy hairstyle.
Colored Half n Half
Who would've taught these two contrasting colors would look so great together. If you want something eye-catching dye half of your hair bright pink and the other half a bright mustard yellow.
Peachy Hues
No color screams peach. It's time to rock the summer with this peach-colored hairstyle. To break the monotony of the peach color and a little spice to the wholesome purple highlights are perfect.
Holographic Angled Bob
Want to give your cotton candy-colored hair a more sophisticated look? Pair it with this Angled bob to achieve a funky yet neat look. The colors in this hairstyle like the blues, the pinks, the yellows, and the greens make the perfect candy floss hairstyle.
All-in-one Hair Color
If you can't pick your favorite color and are too spoilt for choice we encourage you to go crazy with all your favorite hair colors. Who says there are any rules when it comes to hair colors? Ditch the rule book and add some spikes to your shag haircut too.
Peachy Pink Transition
Feeling a bit courageous and want to dye all of your hair? This mix of peach and pink is the perfect cotton candy hair color for you.
You will have to bleach your hair for this style so make sure you take the best care of your hair after getting this dye. We have to say, this hair color is perfect for the beach.
Pink Shock
A bright neon pink like this one can do wonders for our African American beauties. This beautiful color compliments dusky skin so well as is evident from this picture. It's time to turn heads by going for a bright pink color like this one.
Pink Bob With Bangs
Remember Stephanie from Nickelodeon's super hit show, "lazy town*? You can rock her iconic pink bob with bangs as well. This modern rendition of the enigmatic look as black roots. This gives it a more natural and rooted appearance.
We are sure you have all the inspiration you need to make the final call on whether you want to divulge in the cotton candy hair color delicacy or just be stuck with dull hair.
Believe us, you'll never come back once you go cotton candy! So listen to your heart and experiment with the craziest hairstyles with these beautiful shades!