For the bold daring souls that aren't afraid of taking a chance and choosing a controversial color and dying their hair, magenta hair color is one of the trendiest options beloved this season… A color born from red and purple manipulated through its various shades to match your skin tone, eye color, or simply your individual style.
We know that magenta hair isn't for everybody out there, but it never fails to compliment women who wear it with pride. Varying shades of magenta are available for women with differing personalities.
This year brings magenta hair as the most beloved and trendiest hair color for women who are not scared of experimenting with their hair. With this hair color, you are free to choose the shade that best matches your physical appearance or your inner personality. Apart from being trendy, it is unique, bold, and blunt, which is the best thing for a lady like you.
You don't see everyone wearing magenta every day. This bold trait of magenta allows you to look different from the ordinary around you. Walking with confidence, with your head held high, everyone is going to turn their heads to see you one more time.
Glamorous Magenta Hair Colors You Can Try
Magenta isn't a regular hair color you'll see every day. That's the power of wearing a magenta hairstyle as you look unique and if you feel confident it'll grab attention all around. Below is a list of unique and fashionable magenta hair colors we have collected for you.
#1: Sleek or curled
Whether sleek or curled matches your taste, this magenta color will surely reflect your personality greatly regardless of the hair style.
#2: Summer-go Magenta
Different hues, different shades, different seasons. If your aim is to match your hair color with the season feel, then try this magenta ombre hair that goes all the way from blond to bright magenta shade, matching perfectly with the summer feel.
#3: Amaranth Purple Bow Hair
This hot shade of magenta will perfectly match the fiery side of your character. Add to it a unique yet easy bow hair style and it would definitely flatter your figure.
#4: Short But Not Too Short
This combination of dark magenta color and a bob haircut will express your youthfulness. Curl up your hair and the fun persona in you will definitely surface.
#5: Stylish Faux Hawks
Going for an unusual hawk? Try out this faux hawk with unsymmetrical magenta hair dye shades complimented with your own hair color.
#6: Simple and Dandy
Stand out on your special day by this simple yet dandy magenta hair color. Add some roses and some accessories to perfect the look.
#7: Bubble Gum Blend
Blending up both the bright magenta as well as the azure blue to end up with this funky style is totally worth it. Use even brighter shades and get a cotton candy color mix.
#8: Funky-Fancy
Not a fan of the bubble gum blend? Consider darker shades of black, blue then magenta and ombre to get this fancy hair.
#9: Rock Pink Messy Bun
Even on a casual day, stand out by rocking a hot pink messy bun that'll make you the centre of attention.
#10: Winter Magenta Shade
Try out those winter color shades that descend from dark magenta to an orchid shade. A perfect combination of cool winter feeling and warm colors.
Watch how to get Magenta hair color
#11: All in the Details
Perfection lies in the details. Going from dark magenta shades gradually to bright rose pink, adding to it a bright skin complexion gives an innocent look. Braid up your hair and create a radiant masterpiece.
#12: Curella de Vil
Combing complementary colors like magenta and green makes them both stand out and making a fine separation between the colors instead of blending them in can make you a modern Curella de Vil.
#13: Go-Crazy Accessories
Not only can you go crazy with your hair color, but with the accessories as well. Different shades of magenta topped with a dream catcher accessory will certainly catch your dream boat's attention.
#14: Mermaid wave
Make a bold move and try out this sleek mermaid magenta ombre wave. Start it off with bright orchid color and end it with shocking pink shade to get a feminine and classy hair-do.
#15: 20 Seconds of Insane Courage
Aiming for a dangerous vibe? Go for a degrade hairstyle with a dark to bright magenta hair color. To get those thorn-like hair ends all you need is "20 seconds of insane courage" to decide.
#16: Hybrid Magenta
Having a bold character with angelic magenta hair ombre is quite a unique combination. Never shy to stand out while trying to fit in.
#17: Lavender Paradise
Into wild colors with innocent feel? Go for this lavender shade of innocence and let the orchid melt within!
#18: Violet and Blond Hair Melt
Create a multi-coloured highlight effect by fading violet magenta with blond strands. For a different feel let some violet strands go all the way down.
#19: Floral Magenta
When you're out of ideas for easy and unique hairstyles, there's always this floral style. Create a loose braid and roll it up in a floral way. To make it look even better, try dying different magenta shades.
#20: Indigo Night Braid
Get a mystical look by this loose plaited braid that blends different shades of magenta and indigo.
#21: Majestic Magenta
Want a makeover that will help you stand out of the crowd? You have to select bright magenta shade to do the job for you. It also helps brighten up your whole appearance.
#22: Light Magenta Hair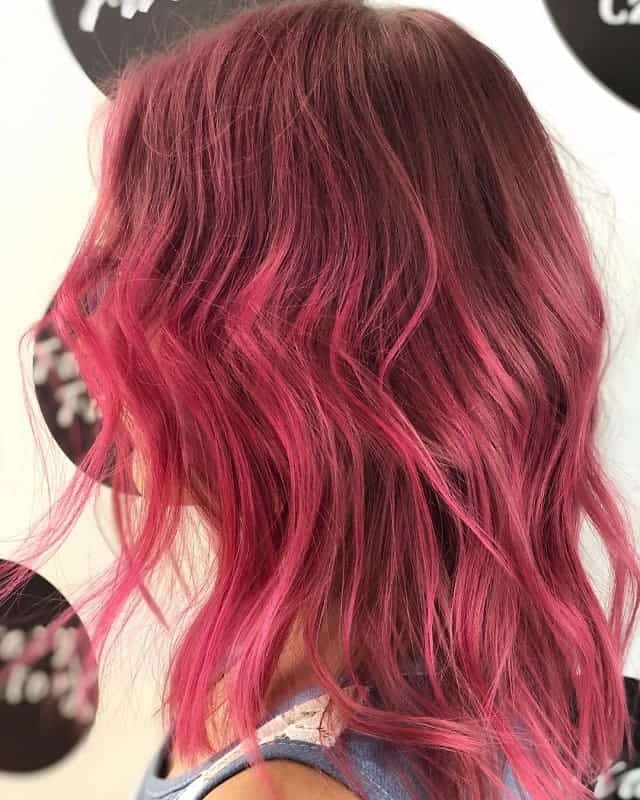 Going a little discreet with light magenta hair looks elegant. You can also use pink or purple tints, but the end result should be fair magenta.
#23: Magenta Tips
If you don't want to go for full magenta look, try dying your hair tips magenta to add some pop to your hair.
#24: Pale Magenta Shade
Pale magenta hairstyle is in the limelight this year. It is your time to rock this delicate pastel pink hair alternative to bold magenta.
Allow that magenta hair color for some peek-a-boos in your hair, and everyone is going to love it. If you have naturally dark hair, magenta highlights are the best option for you.
#26: Magenta to Hot Pink
Dark magenta roots blending out to hot pink hair color is among the best combinations we can think of. Just the right time to get on your girly vibe.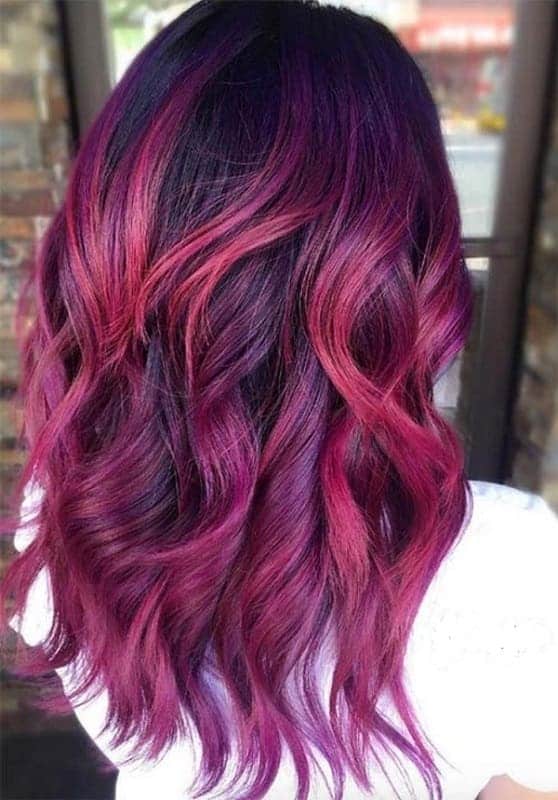 If balayage is your style, lighter magenta should go best with it. Finally, everyone would be able to see the utter beauty of balayage with magenta.
#28: Magenta Hair for Dark Skin
Magenta is the perfect color for dark-skinned beauties. You can rest assured that magenta complements your skin tone like no other. Magenta hairdo with braids look fabulous too.
Going to get a pink ombre hairstyle? Make sure you blend magenta with peach. With magenta hair color at roots, gradually turning to peach at the tips, you are going to look fabulous.
If you don't want bold magenta, you may want to go for magenta tint instead. A mahogany hair color base with a tinge of magenta is what we recommend.
Below are 10 more hairstyles with magenta hair colors we recommend to try.










Hair color isn't just a random choice you make, but it reflects your personality, ideas, thoughts and messages you're unconsciousness is trying to convey. Strong women always go for fearless choices to express themselves and opting for magenta hair color is definitely going to add to your style statement.
This variation of magenta hair color shades could be the color that reflects you or that you chose to reflect you, which in both cases has its outstanding effect.