A pixie cut for women over 70 offers a more youthful approach, is low maintenance and easy to work with. By creating multiple layers for the top and bangs, you will achieve more volume and a stacked layer effect.
However, the reason why pixie cuts are very popular among women over 70 is their ability to better mask hair loss, which is very common at this age.
Finding Your Ideal Pixie Cut: Things to Consider
If you're a woman over 70 and considering a pixie cut, find a professional stylist. If they have wavy hair, precision is crucial for cropped styles. Below are some points to keep note of:
Pixie cuts are bold and demand confidence; they draw more attention to the face and features, which is ideal for those ready to make a statement.
Recognizing your face shape is crucial; pixies complement oval, square, and heart-shaped faces well.
For those with a heart-shaped face, a shorter pixie can emphasize the eyes, and side-swept bangs can balance wider foreheads.
Round-faced women might prefer longer pixie styles with height on top to elongate the face, while square-faced individuals might want soft layers to soften their features.
Best Pixie Cuts for Women Over 70
For ladies who don't want to spend ages styling their hair every day but still want to look chic, the pixie cut is a savior. If you are seeking a comfortable, easy-to-maintain short hairstyle for women in their 70s, check out the pixie haircuts below.
1. Rounded Pixie
Such a short pixie haircut for women over 70 will match a lady who has thick threads and some texture. To style it, you will need to tease the roots to gain more volume and set it all up with a spray.
2. Short White Pixie Cut
Go for a short crop for the sides and a slightly longer top. Do just a little bit of teasing at the roots and let your waves follow their pattern. You don't need to dye your hair, just embrace those whites. This way you won't be stressed out that your roots start to show off.
3. Side Swept Bangs
If your hair is fully white, then maybe it is time to begin a new chapter in your life, embrace this new color, and pair it with a short haircut. Choose a pixie cut with a side part, and bangs tossed to the other.
4. Salt and Pepper Pixie
Women over 70 love a low-maintenance hairstyle that looks sophisticated without too much effort. And the trick lies in picking a short pixie cut that suits the pattern of your slightly wavy hair and color.
5. Pixie With Sideburns
For a better face-framing effect, you should keep your sideburns longer than usual and style in front of your ears. If you have a prominent jawline, you might want to soften it. The best trick is to create angles by getting a side-swept fringe.
6. Pixie Bob
If your hair preserved its thickness and volume as you got older, you could go for a longer version, a pixie bob. Use a blow dryer and a round brush to style it and some volumizing spray to gain that bounce. This hairstyle works beautifully with glasses and
7. Perm Textured Pixie
One of the best pixie hairstyles for women over 70 that lacks volume is one that involves a perm. It adds the texture you needed, and the waves will smoothen prominent facial features.
8. Layered Afro Curls
Creating layers is mandatory if your hair has that beautiful afro texture. By using a pomade or hair gel, you will define each coil and gain that wet look. Apply the product to your hands and run them through the hair.
9. Pixie for Thin Hair
Thin and dull hair is a common problem for ladies who are in their 70s. A short pixie is a perfect choice because it tends to add more volume. If you want more texture, you can always use a curler or some volumizing spray and a tousle, or keep it straight like in the example above.
10. Layered Pixie
Take advantage of the natural texture of your hair and get a layered pixie cut that creates more dimension. Teasing the hair is also a brilliant idea if you want to build height and volume.
11. Modern Short Crop
Embrace your full white color and sport a modern look. A pixie haircut that is shorter on the sides and slightly longer on the top will help you gain more volume, even if your hair is rare and thin.
12. Blonde Pixie
Golden blonde hair color makes a great pair with blue and green eyes because it highlights their mesmerizing color. An off-center part always gives a hairstyle an elegant note, so if you aim to look sophisticated, this is the best idea for you.
13. Textured Pixie with Long Sides
If you want to get a spiky look in your 70s, go for this look. When you are doing your perm on short hair, make sure you wrap the hair on medium rods, close to the scalp. This way, the roots will have a naturally lifted look that makes this pixie haircut for over 70 women gain the volume it lacked.
14. Wavy Bangs
If you have fine hair and no volume, then your hair definitely needs some texture. You can gain a long-lasting wavy or curling effect by getting a perm. If you don't mind styling your bangs every day, then you can get that texture with a curling iron.
15. Side Part
This thin pixie haircut for women over 70 is probably the most low-maintenance crop you can get. It needs no styling, all you have to do is do a side part, and you are good to go.
16. Layered Full White Pixie
As your hair loses its pigment, you will see that the texture and thickness of your hair are also changing. Don't be surprised if you will end up with coarse hair and naturally lifted roots. Embrace it and rock your hair with confidence.
17. Messy Modern Pixie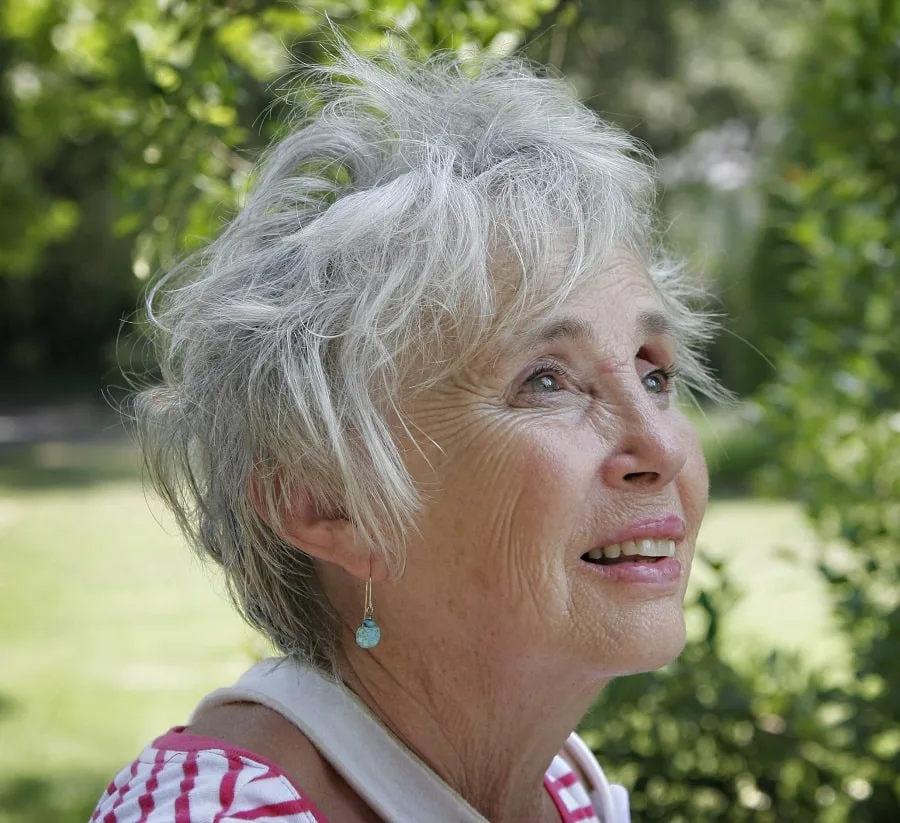 There's nothing a big tousle can't fix or do for older women! Use a straightening iron to create some waves and flat sections that beautifully blend. Lift your roots and mess up your tresses.
Add some volumizing spray, and you'll have a cool, modern hairdo that makes you feel and look younger.
18. Thick Stacked Pixie
Stacked layers are the reason you gain that fuller, voluminous effect for your short hair. Get a pixie haircut with bangs that you will swipe to one side. Keep the sideburns thick and in front of the ear.
19. Short Tapered Pixie
If you love a more formal short haircut that also has a modern vibe, this side-swept pixie with bangs is the best alternative. It has layers; therefore, you will gain more dimension and will reveal your facial features.
20. Back Comb
Taking advantage of that texture and height will really help you add value to your hairstyle. Work with your natural waves and comb the top and sides to the back. You will get an elongated look that will suit you like a glove.
21. White Dusty Curls
A short crop will cut off the weight of your curls and make them tight and bouncy with a great pattern. Use a curling mousse to define them and a special purple shampoo better to preserve the color.
22. Wispy Bangs
Wispy bangs are ideal for over 70 women who want to cover their large foreheads. Tease your roots or use a curling iron to lift them up. This way, you will get rid of that flat, dull look.
23. Pixie with Thin Bangs
Choose a pale copper blonde color and get some blonde highlights. Use a texturizing gel to define your strands and to shape your bangs on the forehead.
This pixie haircut for women over 70 with round faces will perfectly frame your face shape and make your beautiful eye color pop.
24. Bouncy Perm
Gaining more texture will help you achieve the volume your hair is lacking. Choose a pixie haircut that provides enough length to attach the rods. Texturizing spray will help you better define each wave and curl.
25. Tapered Pixie with Feathered Bangs
Choosing the right color is an important step that you don't have to neglect. A lighter nuance, like a sandy blonde, can make you look younger and will help you blend the white strands easier.
A tapered cut with feathered bangs is an ideal choice for a lady who wants to channel her glam.
A pixie hairstyle for women over 70 is a convenient choice when you don't want a hairdo that requires too much attention. Pixies are low maintenance and, more important, they work like a charm for dull hair that looks lifeless. Let us know in the comment section which of the examples above you are about to try!