Whether you have red hair or know someone with those flaming locks, sometimes a red hair quote sums up your love-hate relationship with it perfectly!
If you need a reminder of how lucky you are to be a redhead, need a boost of confidence or inspiration, feel the urge to share your struggles, or just need a laugh, these 25 quotes about red hair will easily sum up your feelings. Choose one or choose these quotes or captions to save to your phone, text to a friend, or use as your Instagram photo caption!
Short Quotes on Red Hair
In the list below, you'll find 25 quotes only women with red hair can relate to! When you're finished, check out our website for red hair styling ideas!
1. A woman with long natural red hair is a woman that can't be stopped.
2. They say red hair women have a heart made of fire.
3. The red in your hair resembles the fire in your soul.
4. Redheads are made by fire.
5. To dance with a redhead is to take the fire trials.
6. Red hair is dangerous, for, within passion and greatness, there is always a little bit of danger.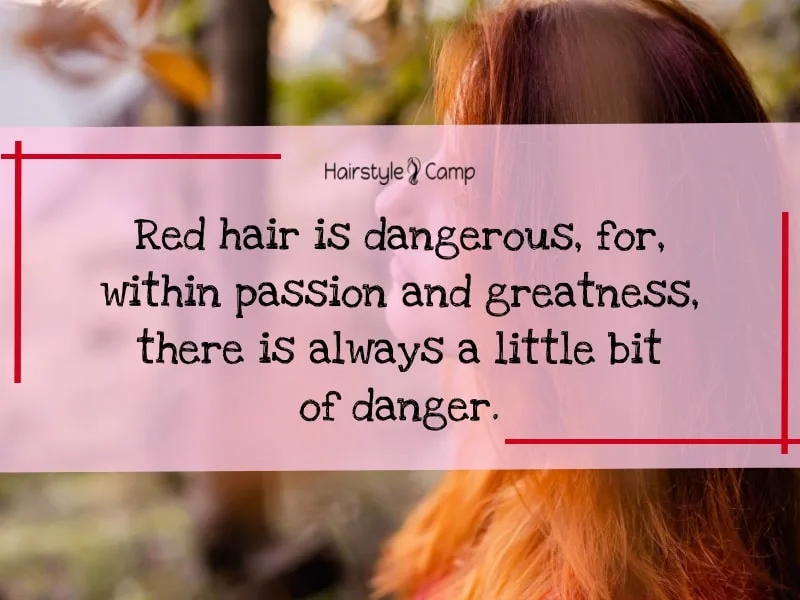 7. When lava and fire run through your veins, your hair is red and your heart holds a passion.
8. Even redheads have bad hair days.
9. When your hair is red, it's because great love runs down its strands.
10. When fire, passion, love, and power come together in a person, a true redhead is born.
11. Nobody can love with more intensity than a red hair woman.
12. True power, beauty, and love always glow red and definitely look better on red hair.
13. Empowerment settles easier on a red hair woman.
14. Redheads leave a trail of fire behind them.
15. Even empowered women fears empowered redheads.
Long Quotes on Red Hair
16. Red hair grows nonstop into a passionate crimson waterfall of beauty that shoulders any obstacle and tackles any fear.
17. If your hair is red, you have nothing to fear, for red is the color of adventure, of fearlessness and passion, of power, and of love. If your hair is red, then your soul is red, and you are unstoppable.
18. Red can be fun, it can be dangerous; it can be passionate and kind. Red tastes like wine and feels like fire. Then if your hair is red, you don't need anything else, for your life is an adventure.
19. To be a redhead is to connect with a unique inner passion formed by an aggressive motivation, an intoxicating charisma, and an undeniable beauty.
20. If you mess with a redhead, beware of their passionate heart, for it is almost always wrapped in fire, and you might just get burned.
21. Redheads have the power to burn themselves into people so deep that they could never be forgotten; they have the power to take over the world or burn it down as they please.
22. The fire that blazes in the heart of a redhead is powerful enough to burn hard enough to consume her into ashes so she can build herself anew.
23. Redheads are like wine; they can be bitter, but their bitterness fits perfectly with the sweetness in their heart; a heart whose bittersweet fire burns bright like a star.
24. To be a redhead is to be blessed by the sun; to be a loving woman with a passionate heart and a beautiful, blinding smile; to be a woman who is as dangerous as she is sweet.
25. There is only one way to love a redhead; forever and unconditionally, for she is one of a kind.
Our hair says so much about who we are as a person. Women with red hair are special cases! Hopefully the above quotes about red hair offered you some level of comfort or just a laugh.
When words start to fail you in describing how you feel about red hair, use one of our favorite red hair quotes to take the words out of your mouth.
Check These Quotes Too: