Box braids are one of the most popular protective styling options for African American women. Whilst many women traditionally choose to wear their box braids long, short box braids are becoming increasingly popular amongst women that want a hairstyle that is easy to style, easy to wear, and super-low maintenance.
Short box braids can easily be styled to look just like a classic and classy bob or you can even have your natural hair braided into an easy-to-wear pixie cut.
Short Box Braids as an Easy Styling Solution
If you want to minimize your daily hairstyling routine then short box braids are the perfect solution for you. This is a hairstyle that allows you to wake up each morning and look immediately amazing without having to put in any effort.
Protective hair styling is essential for African American hair during the summer month when sweating, high humidity, and other water-based activities can wreak havoc on the hair and cause it to frizz. Short box braids pose the most popular no-nonsense solution to this problem.
Here are some of the chicest and stylish short box braid styles. With so many ideas to choose from, you're sure to find the perfect style to suit you!
1. Short, Sweet and Silver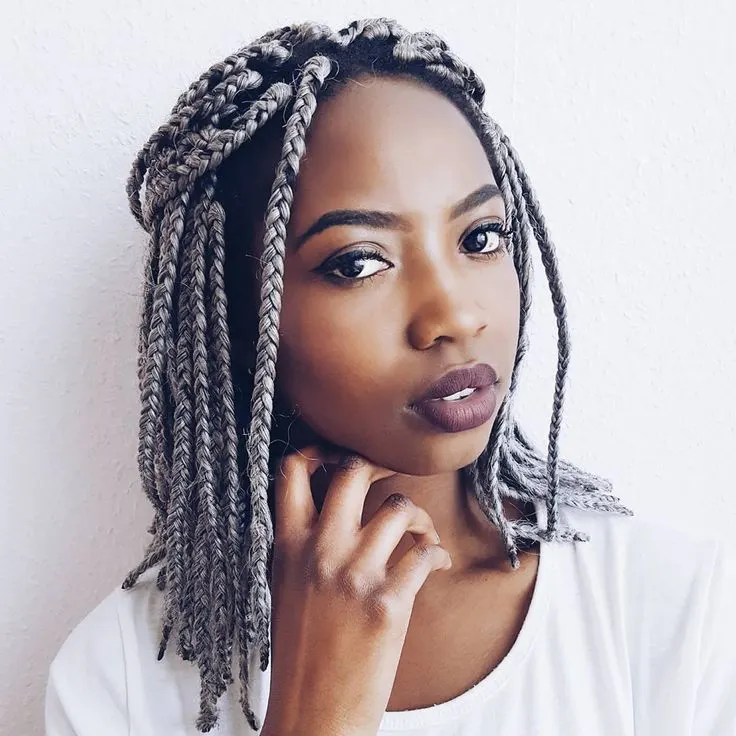 Grey and silver hair is this season's most popular color trend, and it looks fantastic paired with beautiful short braids and contrasting black roots. Ask your stylist to blend your natural hair with your braids so that the style only looks better as it begins to grow out.
2. Short Box Braids with Corn Rows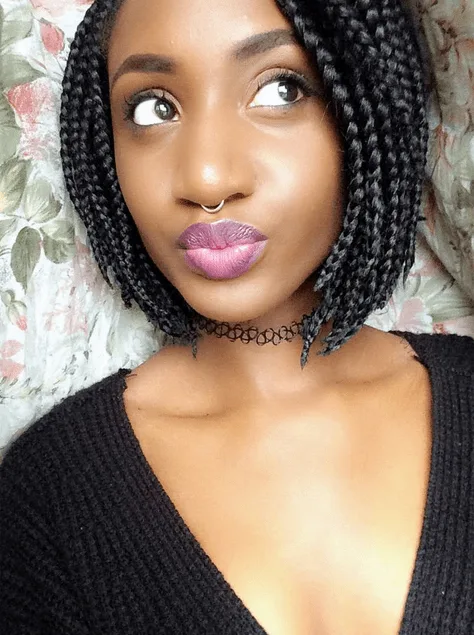 If you're keen to pull your hair away from your face and minimize styling even further then ask your stylist to weave your natural hair into cornrows before adding box braid extensions to give your hair fullness and shape. This is an ideal style if you're always on the go.
3. Short Box Braids with Clip Embellishment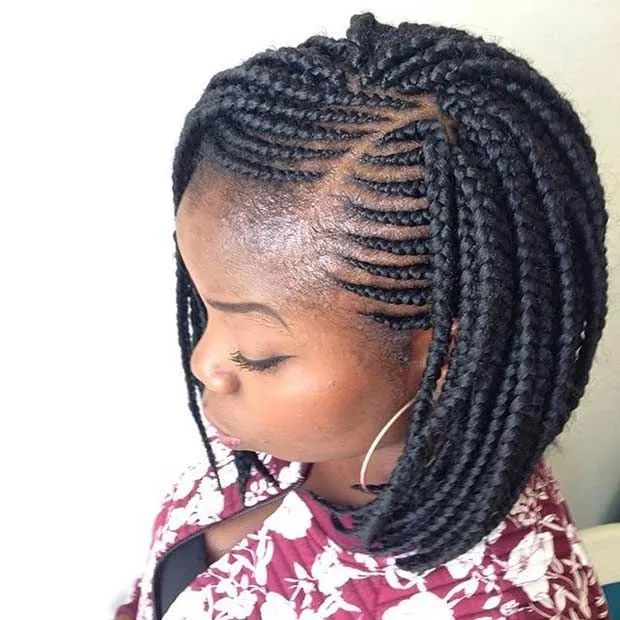 Short hair doesn't have to be boring! Whilst your updo styling options may be limited, short braided hair looks great when its embellished. Add rings and clips to your style to inject color, detail, and texture. These clips are easy to add to your hair, won't cause any damage to your locks, and can be simply removed in seconds, making them perfect for special occasions.
4. Box Braids in a Short, Graduated Bob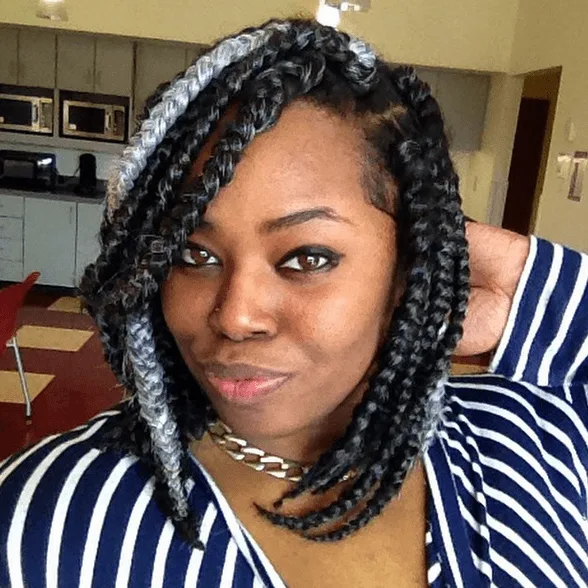 The graduated bob is a hairstyle first made famous by Victoria Beckham and now synonymous with chic, fashion-forward style. To create this style, ask your stylist to leave your braids short at the nape of your neck and then graduate them in length until they sit around two inches below your chin at the front.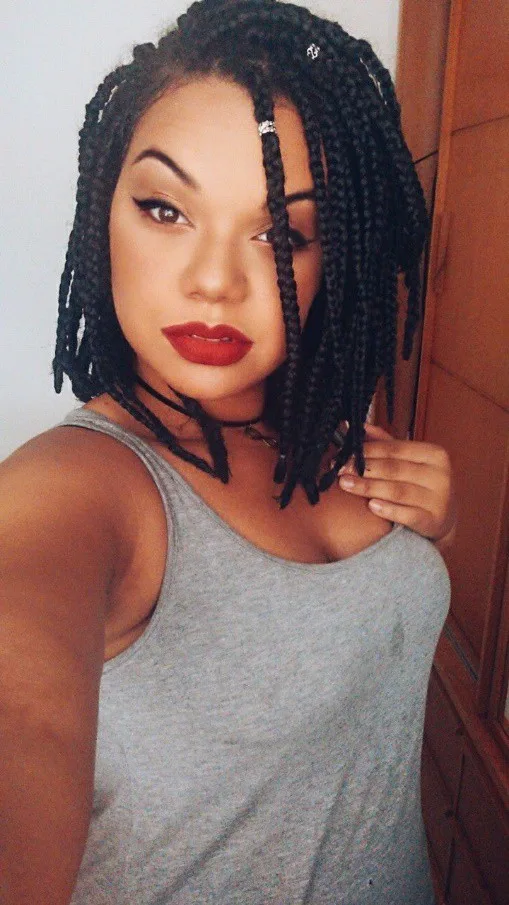 Brighten up your short blonde bob by adding a blend of bright and honey-colored blonde braids. This shade is perfect for summer, and the color blend is ideal for injecting texture and depth to your look.
6. Short Box Braids with Double Bun Detail
Who says you can't style your short hair into a sweet updo? Short hair can be just as versatile as long hair, and it is easy to create new and unusual styles from your short box braid bob. This is a great example: twist your braids onto the top of your head to create double buns for a sweet and playful style.
7. Short and Sweet Box Braids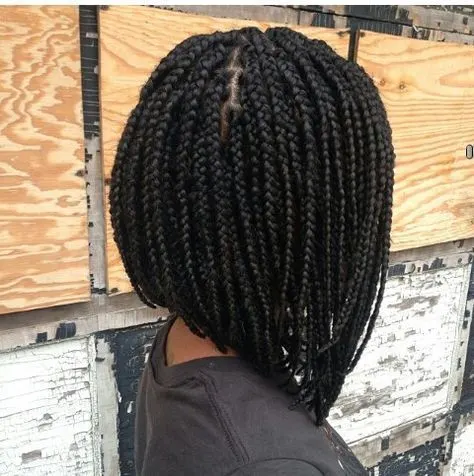 If you have delicate features, a slim or oval-shaped face, and a long slender neck then short and sweet box braids that skim your chin are the most flattering style available to you. These braids look pretty and feminine, and will really emphasize and draw attention to your face.
8. Pixie Style Box Braids With Real Hair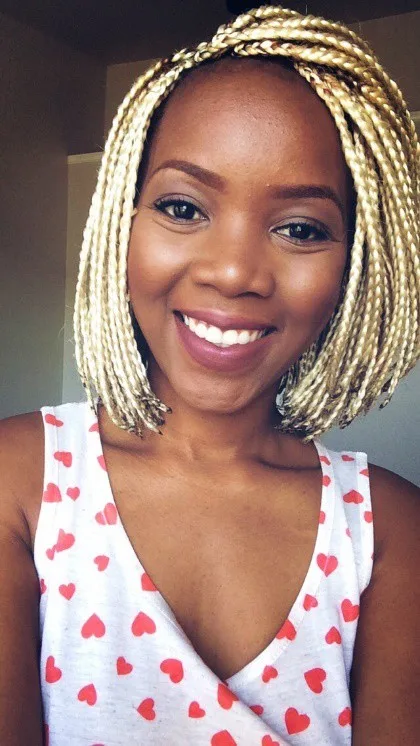 If you're keen to protect your hair for the summer but don't want the expense of adding box braid extensions then why not consider asking your stylist to create box braids from your natural hair, creating a short and sweet style?
9. Short Box Braids with Feminine Side Parting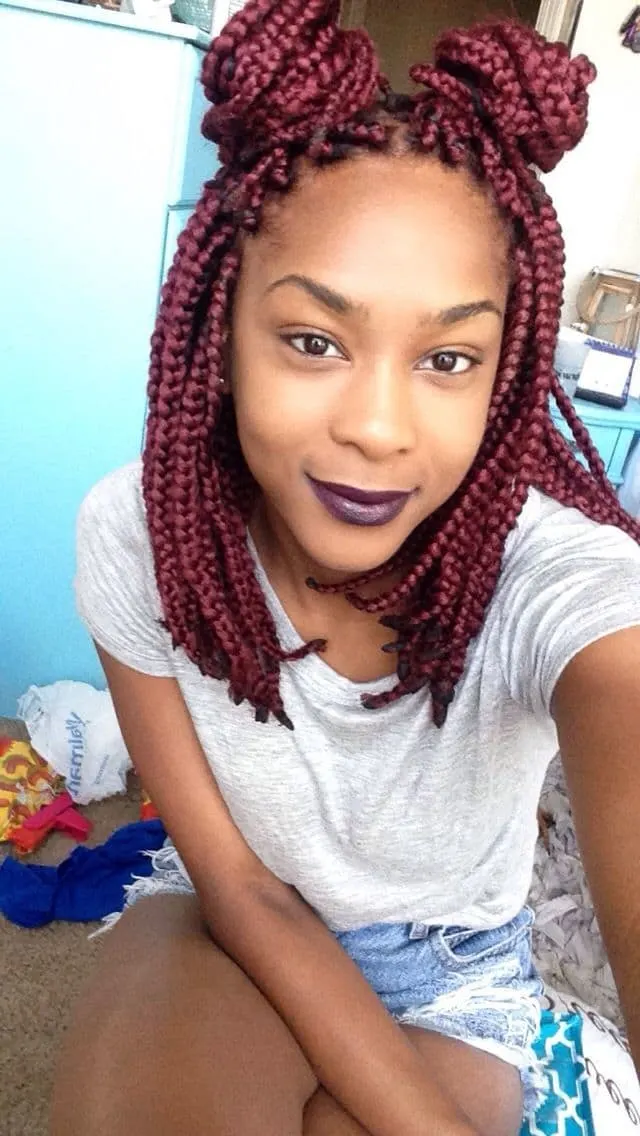 If you're looking for a short style that is as flattering as possible then ask your stylist to braid your hair with an extreme side parting, making it easy to pull your hair across one side of your face. This is a style that will suit all face shapes and is the ideal choice for bringing balance to assymetric or rounded faces.
10. Box Braid Half Pony Tail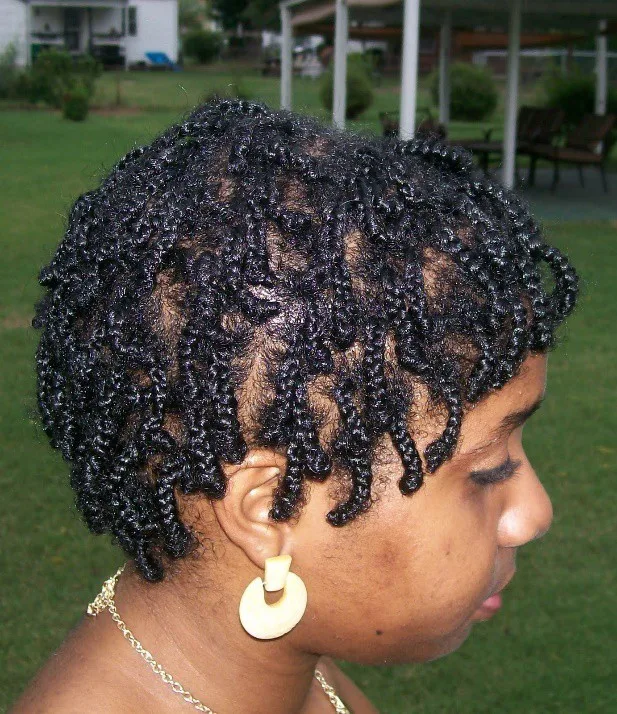 Love your box braids but hate them falling into your face all the time? There is a no-nonsense solution so simple to create it's almost too easy! Simply sweep a dozen braids that sit along your central hair line away from your face and tie them in place with a chunky hair elastic and then go!
11. Short Box Braids With a Color Flash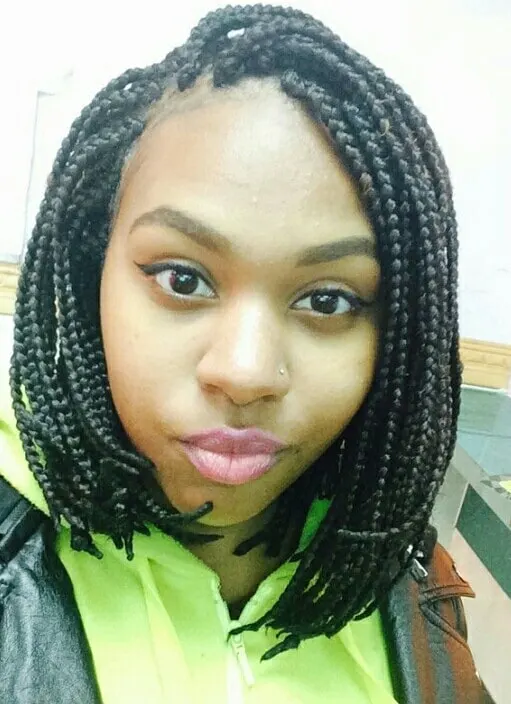 If you don't feel brave enough to experiment with a full head of color then remember that, when it comes to color, a little can go a long way. Choose your favorite shade and add just one or two braids of color throughout your hair: these will really stand out and pop and this is an easy way to give your short braids a fashion-forward edge.
12. Short Braids with Side Swept Fringe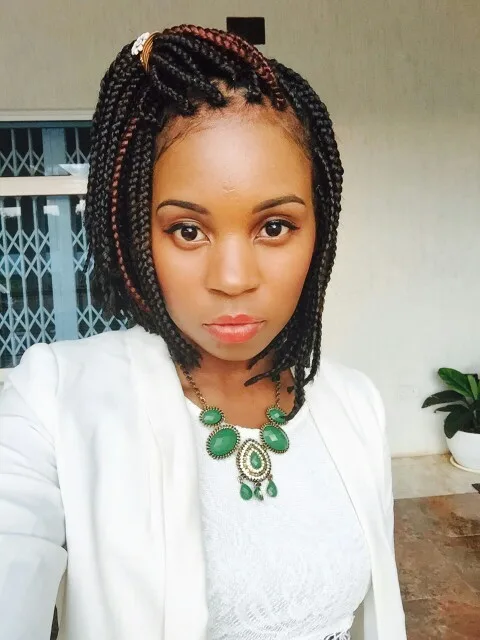 Skinny box braids such as these take much longer to apply, so prepare to sit in your stylists chair for a few hours, but the results are certainly worth it! Skinny box braids look more natural, are easier to style, and offer the most protection for your hair. This short pixie style offers the perfect balance to the slenderness of the braids.
13. Blunt Lilac Box Braid Bob
Lavender is such a pretty and feminine hair color, and definitely not something to shy away from if you want something different and fashion forward. Add a tough and urban edge to the girly shade by asking your stylist to finish your braids with a blunt and angular style: the straighter the better. Add minimalist makeup, oversized shades, and go.
14. Chic Box Braids with Central Parting
To ensure your braids look chic and modern, pull them into a slick central parting that even the most committed fashionista would be proud of. Central partings are ideal for showing off high forwards, slender noses, and full lips: emphasis yours with a slick of lipstick to recreate this look.
15. Box Braid Bob with Twisted Up Do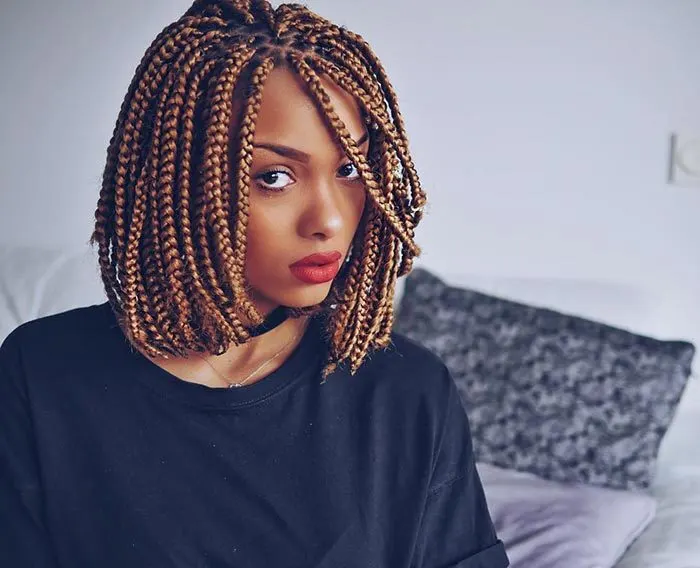 Who says you can't add an up do to short box braids? Add height and volume to your style by twisting your braids onto the top of your head to create a low key demi bun. Not only will this pull your hair out of your face, it will also create a feeling of glamour and evening style: this is the perfect way to style shorter braids for formal events.
16. Two Tone Micro Braids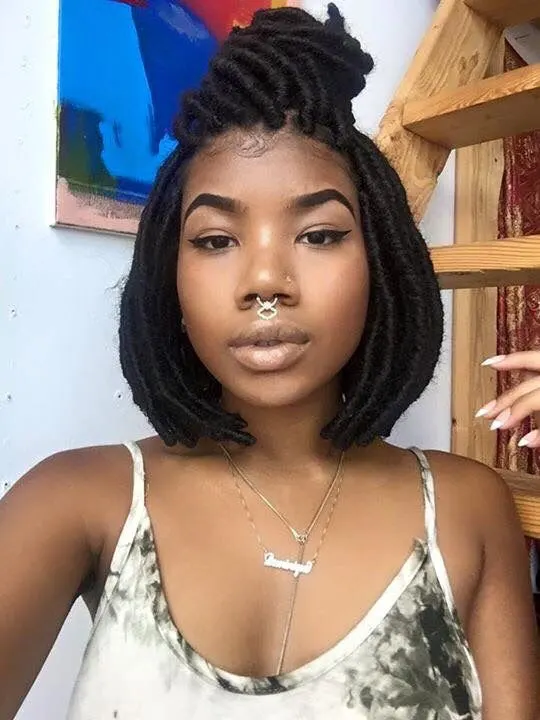 Blonde and black go together like chicken and chips: it's the perfect combination. To create a natural look to your braids, ask your stylist to create micro braids and make them as skinny as possible, whilst ensuring that your color combination blends and flatters your skin tone.
17. Short Chunky Box Braids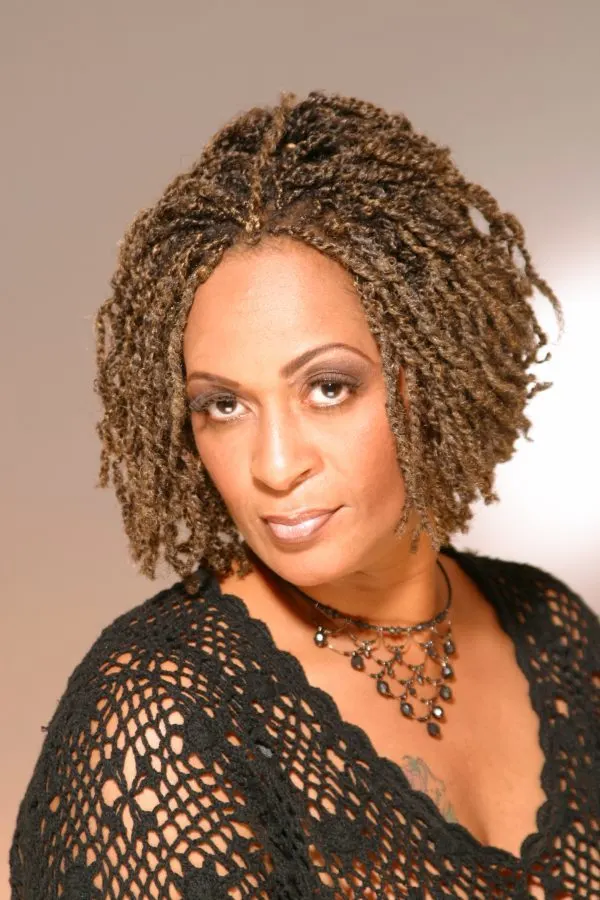 Box braids don't have to be skinny to be fabulous! Make a real style statement by asking your stylist to create thick and chunky rope-style braids in your hair. If you want to experiment with color then this rich and vibrant burgundy shade is flattering for all skin tones and will look great in the summer sun.
18. Short Purple Box Braids
Looking to experiment with color but not sure where to start? Perfect plum is the ideal place. Plum and purples have long been popular colors for afro hair, bringing warmth and vitality to African American skin tones. As your stylist to ensure that your braids curl under your chin to create a traditional bob style that will balance the vibrant color of the bob perfectly.
19. Pretty Powder Pink Box Braids
Pretty blush pink will make the boys wink, and this hairstyle will certainly attract attention for all the right reasons. Much like blonde, pink hair will show the regrowth of your natural hair color relatively quickly. To prevent your style from looking tired, ask your stylist to weave in some darker strands of hair into your braids, creating a subtle highlight effect, so that the braids blend more naturally.
20. Box Braided Half Updo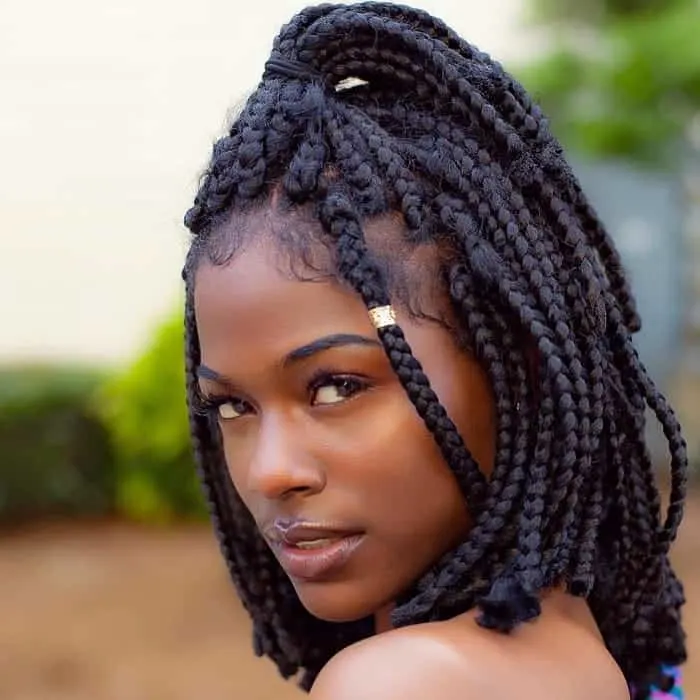 For short box braids on a bob hairstyle, gather up the top half of the braids into a high ponytail.
21. Red and Black Box Braids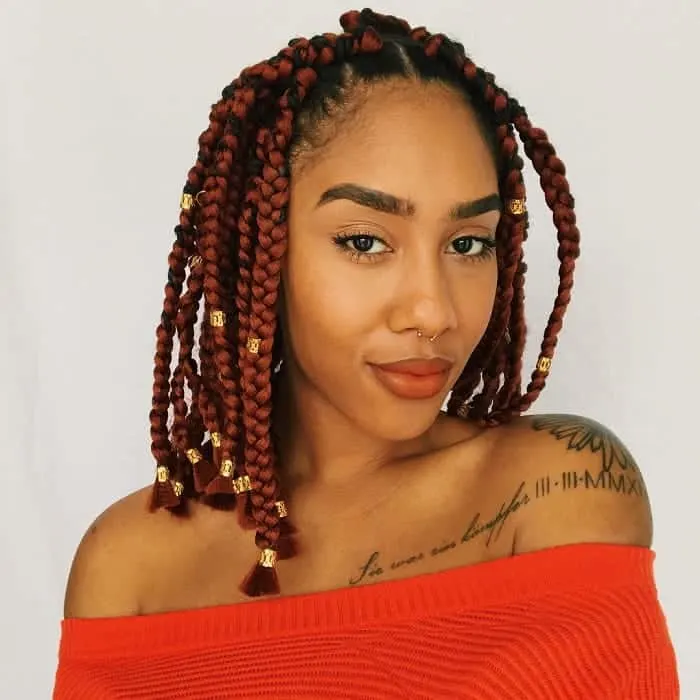 While the base of your box braids might be black, you can add a pop of color with a burnt shade of red.
22. Pink Short Box Braids
For that flirty touch to your black short box braids, add light pink! A heavy side part helps give this angled bob dimension.
23. Short Box Braids for Thick Hair
Manage thick hair in a better more stylish way by going for short box braids. The front braids are given silver hair hoops and beads for pretty contrast.
24. Ponytail with Short Box Braids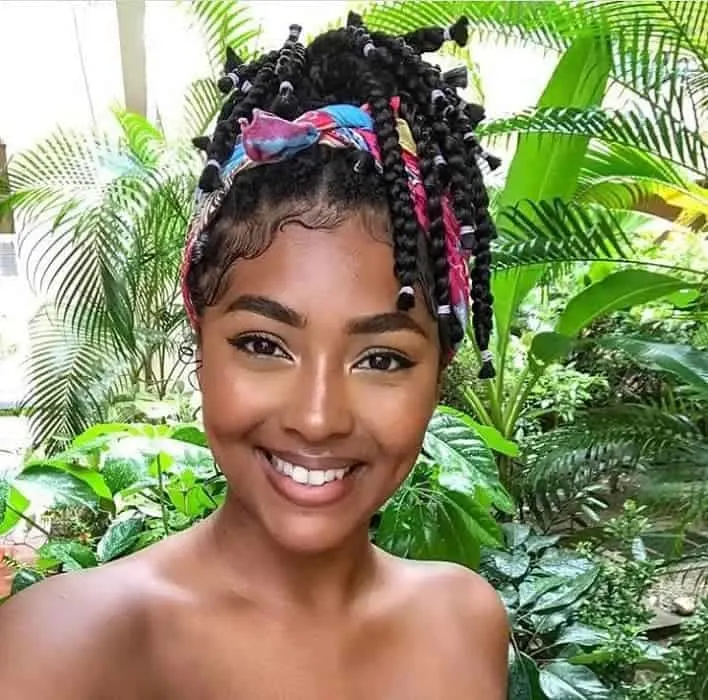 When you want a fun style for your short box braids, gather them up into a high ponytail with a bandana.
25. Box Braids with Blue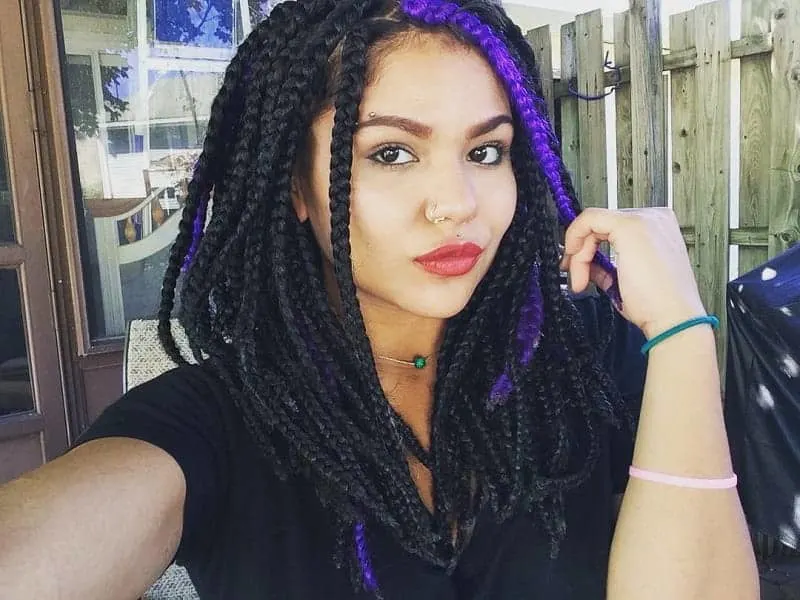 These medium sized blue box braids are long enough to style yet short enough to manage easily.
26. Layered Short Box Braids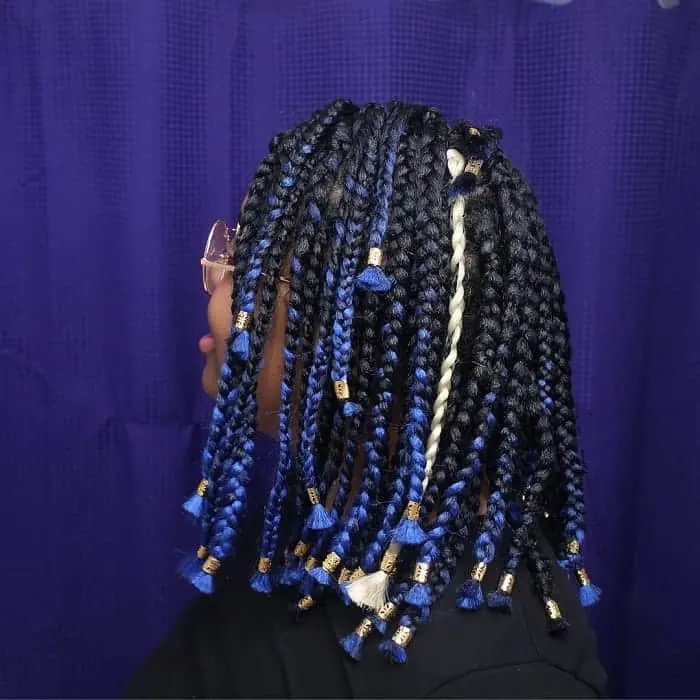 This short box braid hairstyle tipped with beads has several shorter layers up top just to mix up the look.
27. Brown Asymmetrical Box Braids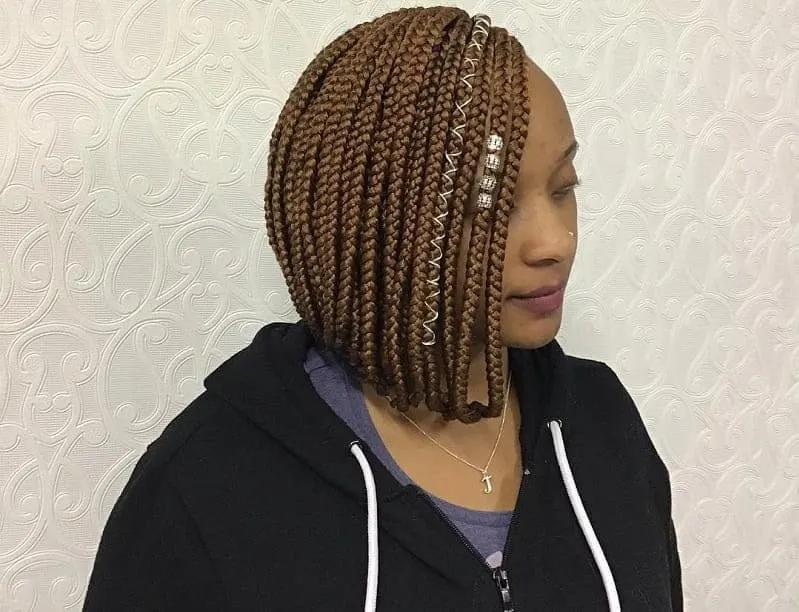 An asymmetrical bob focuses all the attention on the longer side of short box braids.
28. Jumbo Short Box Braids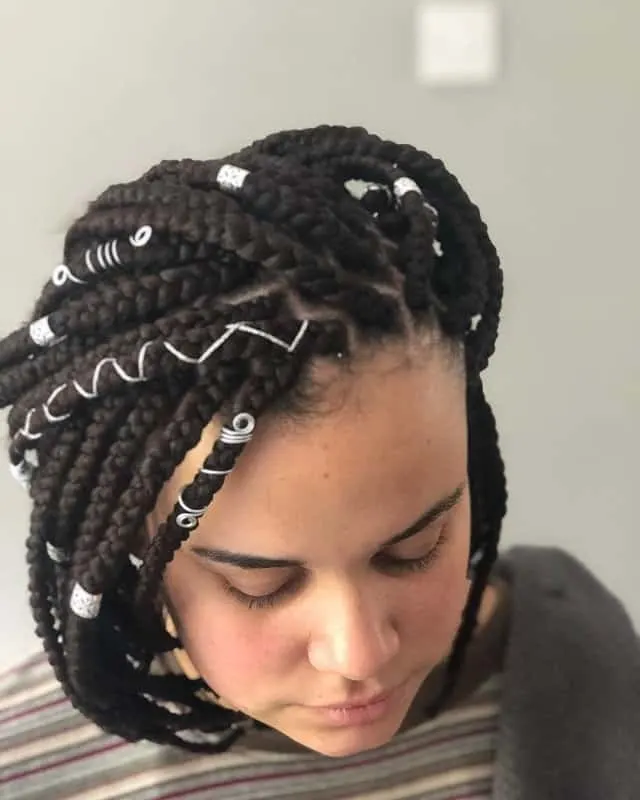 Thick hair makes it easy to form these jumbo short box braids. Have your stylist put in different lengths to switch up a traditional style, then hook in a few silver hair beads.
29. Blonde Box Braids for Short Hair
Winding in blonde with black short box braids is a very edgy and gorgeous choice. Secure each end with black hair ties.
30. A Line Box Braid Bob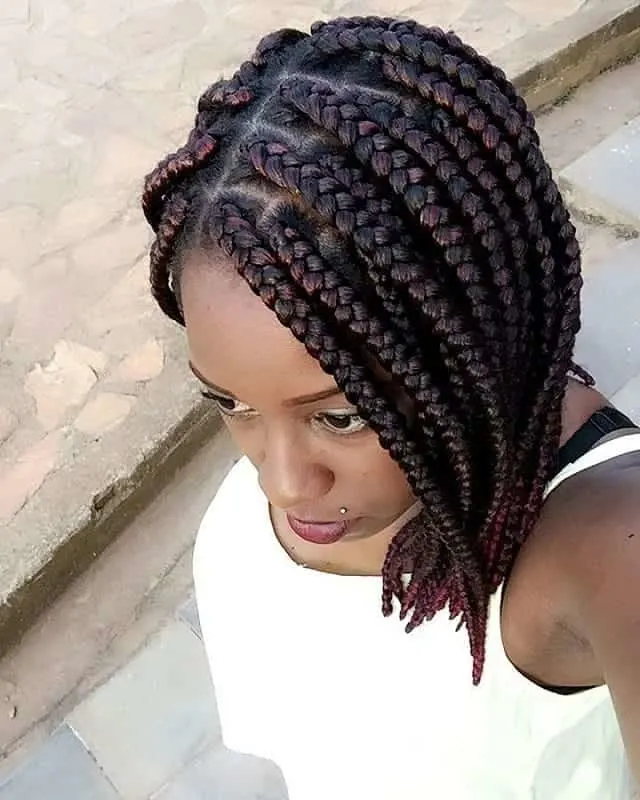 While the longer pieces of a short box braided bob are in the front, the back is off the neck and out of the way.
31. Side Part Short Box Braids
A small side part may not seem noticeable but it really is on a short bob with box braids.
32. Short Box Braids for Oval Face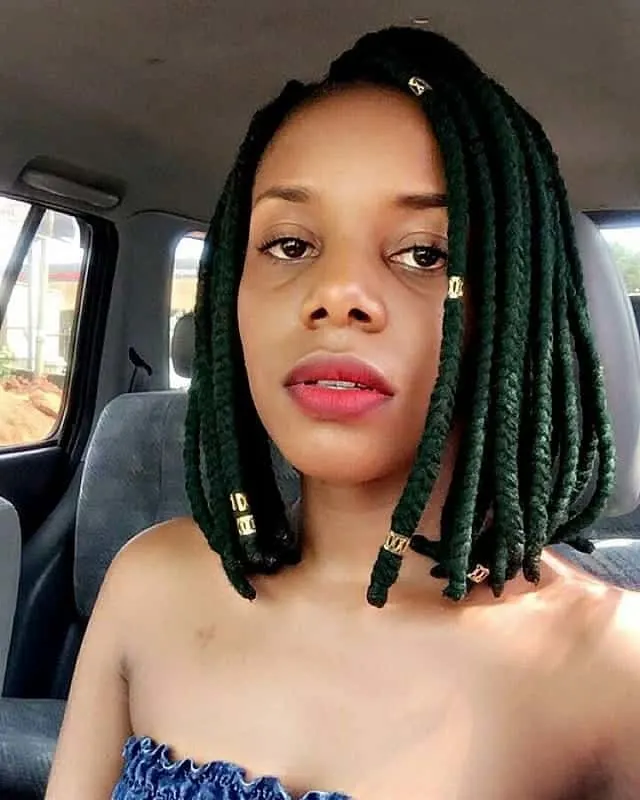 On an oval face, go for box braids that include a deep side part. It won't accentuate your face shape but will give your braids extra lift.
33. Blue Box Braids with Loose Ends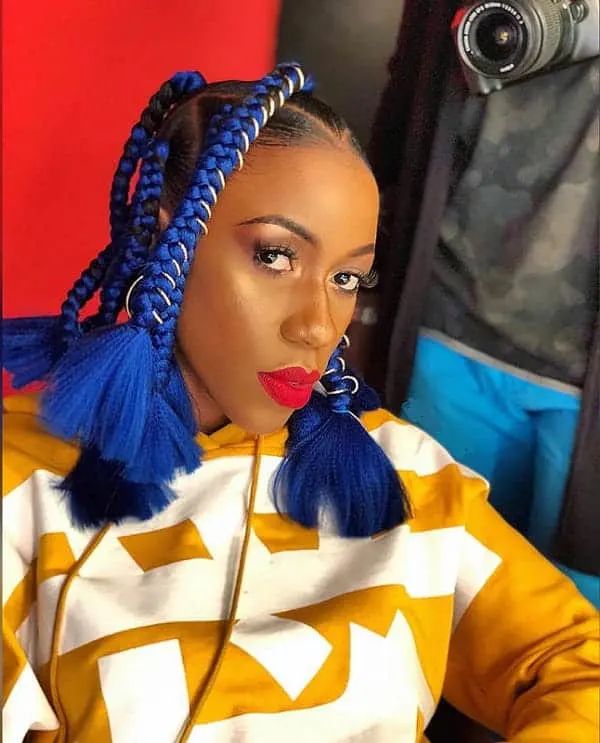 The loose straight and crimped ends on this short box braid style are what make the look. Just form four-five large braids on the head and braid them 3/4 of the way down.
34. Light Brown Box Braid Updo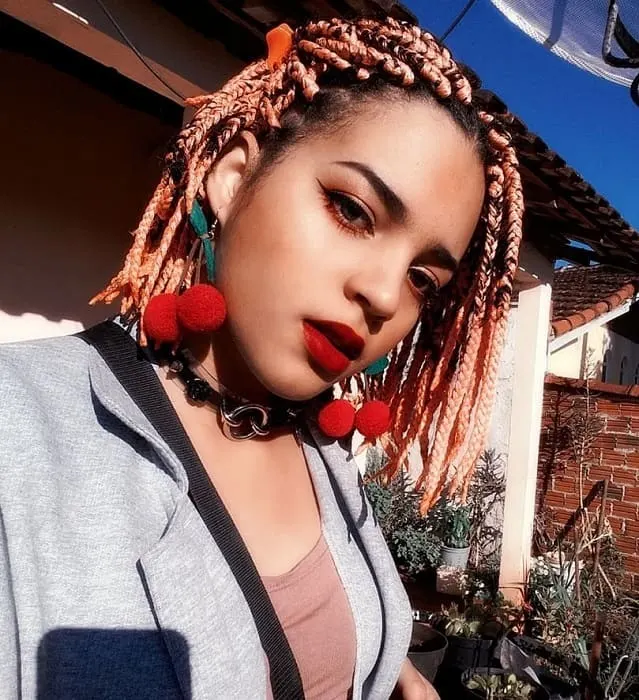 The color on this short hairstyle is a mix between light brown and blonde with a hint of pink.
35. Purple Box Braids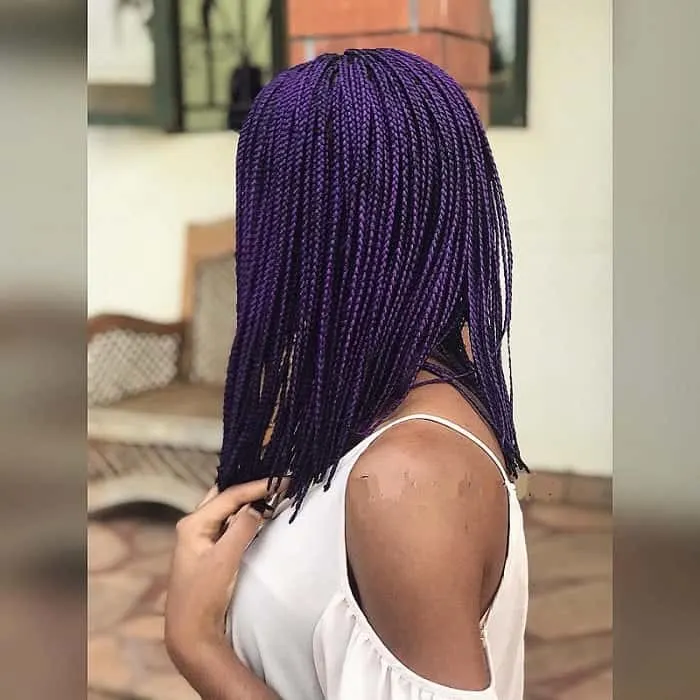 These thin box braids on a short hairstyle are plentiful so they make the hair look thicker.
36. Short Box Braid Messy Half Updo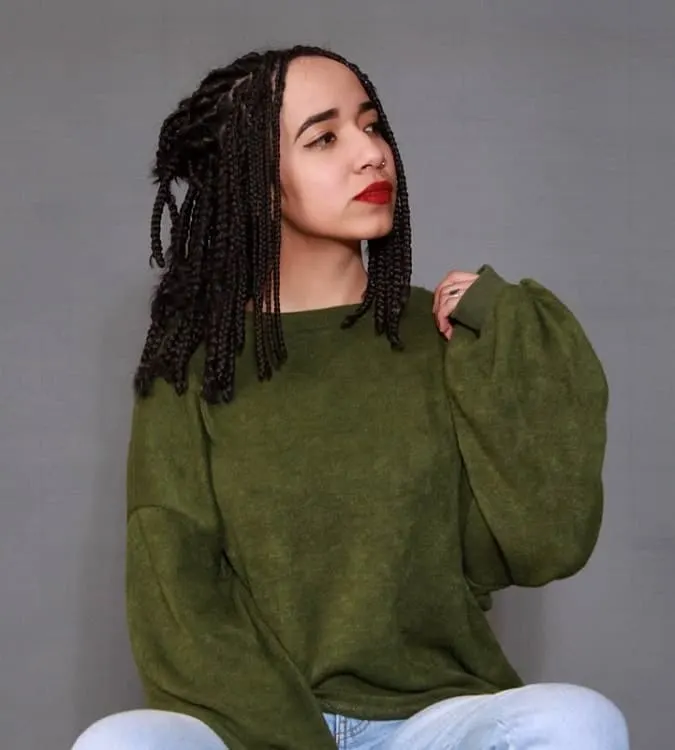 While there's a small section of hair up front that is loose to tuck behind ears, most of the top half of the short box braids is pulled back into a cute messy ponytail.
37. Short Twist Braids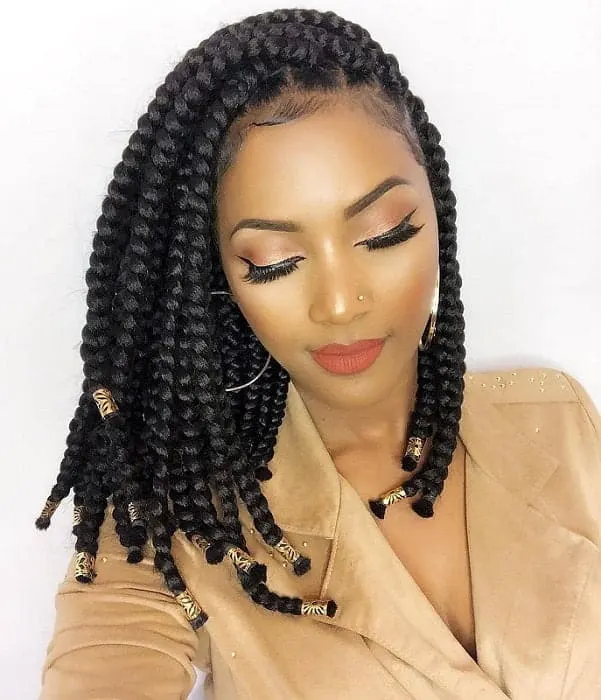 These short twist braids are stunning for Black women who prefer a fuller look.
38. Thin Box Braids for Round Faces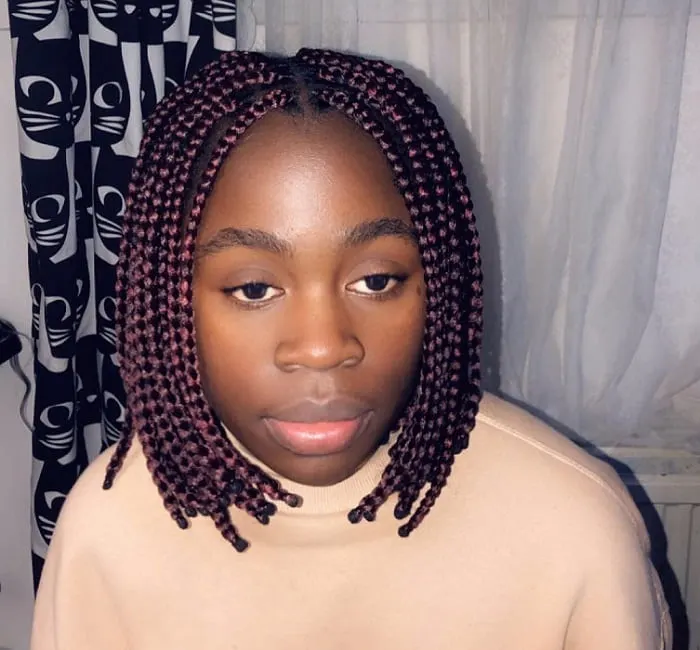 If your face has a fuller look to it, try these thinner box braids at a short length.
39. Caramel Short Box Braids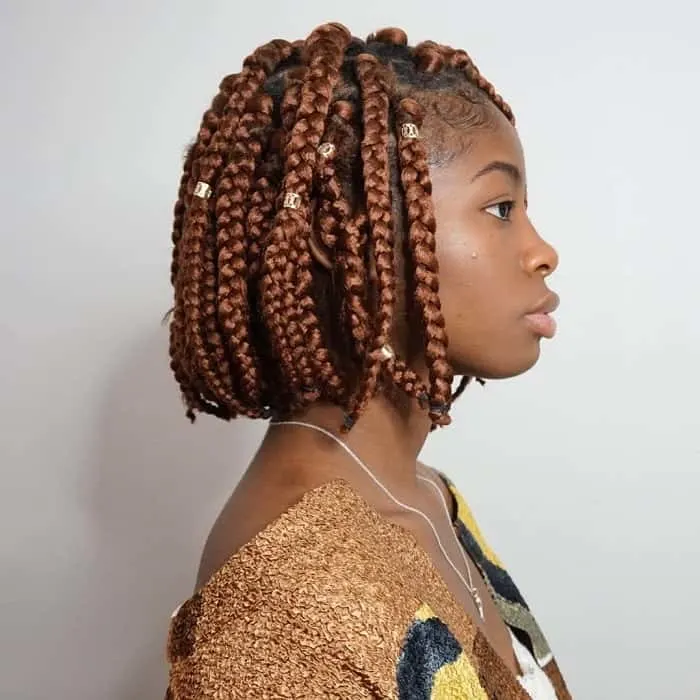 Placing your box braids at different levels around your head is an easy way to give character to a short box braid hairdo.
40. Light Blonde on Black Box Braids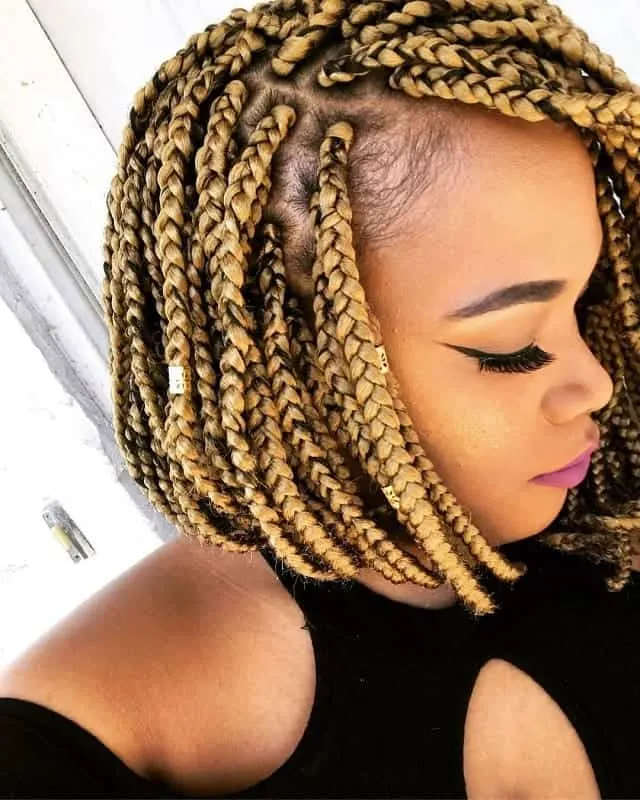 A light blonde color that is somewhat yellow is super pretty on black box braids. Keep them short and add in a few silver hair cuffs.
41. Blue Short Box Braids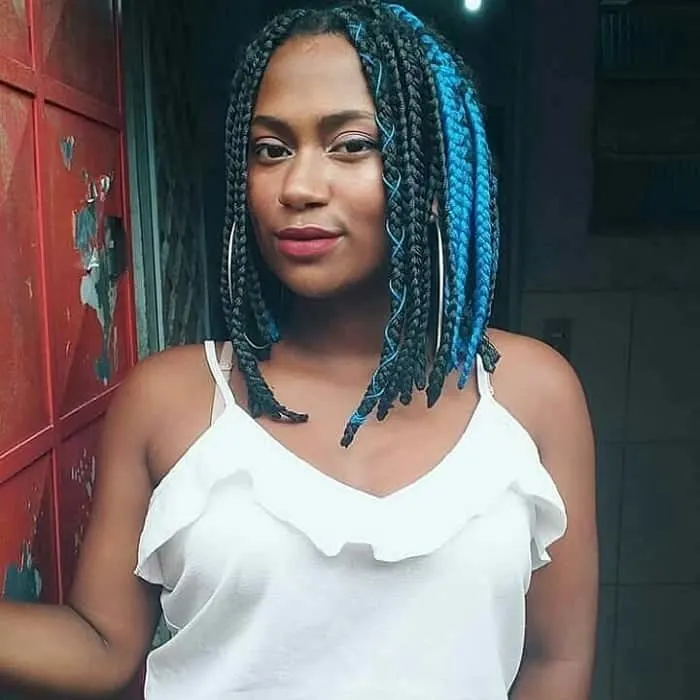 42. Bayalage Box Braids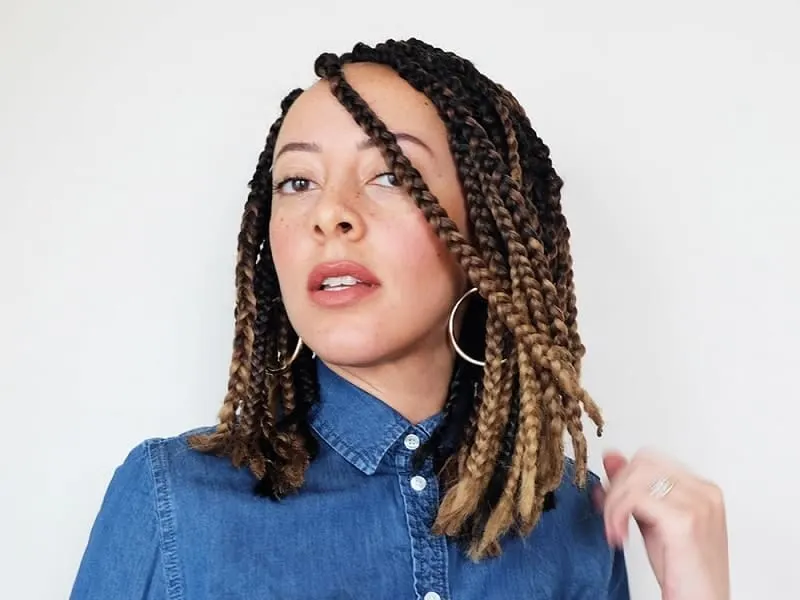 43. Curvy Short Box Braids
44. Short Box Braid Pixie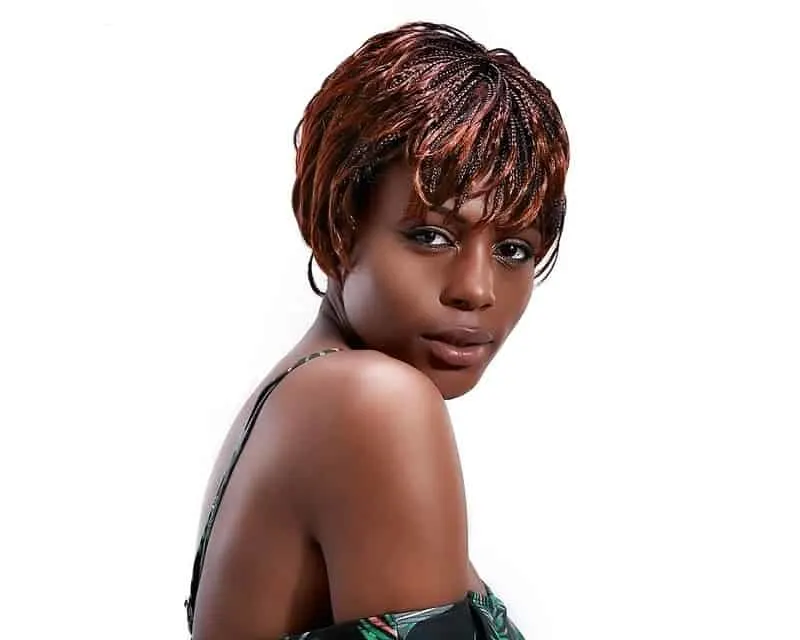 45. Beaded-Tipped Box Braid Pixie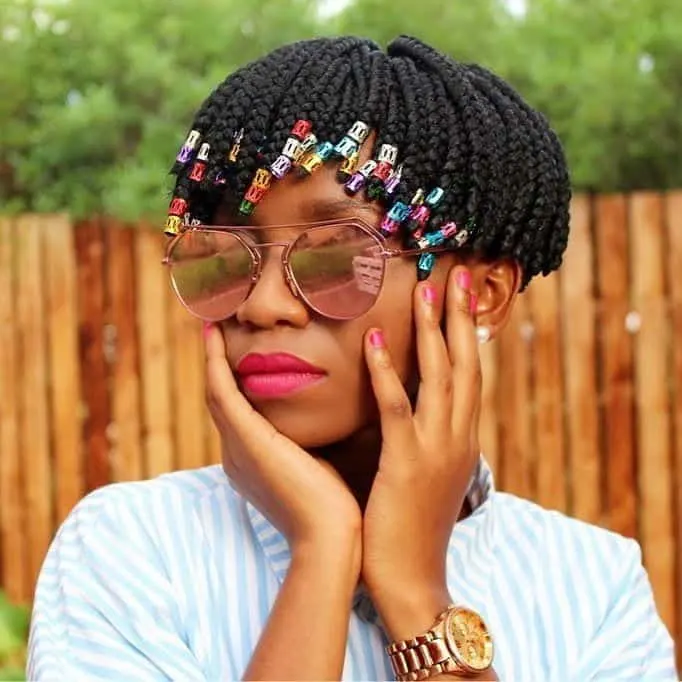 46. Box Braid Pixie with Center Part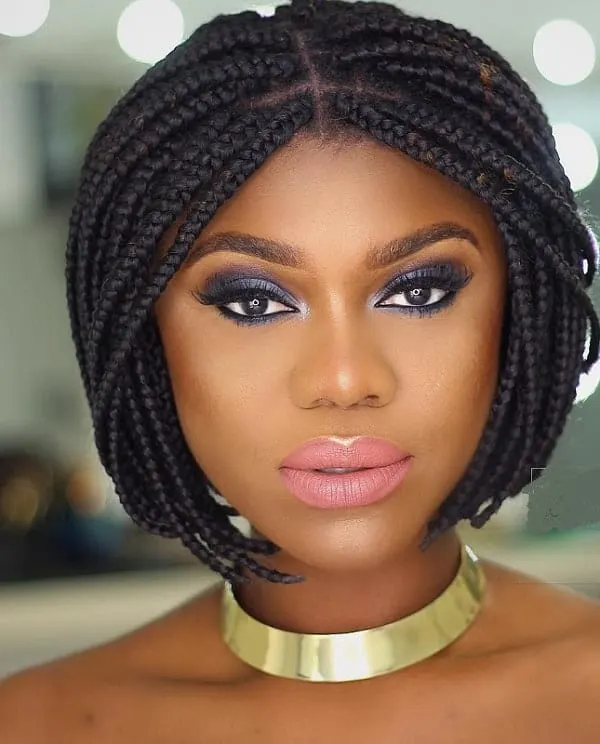 47. Layered Box Braids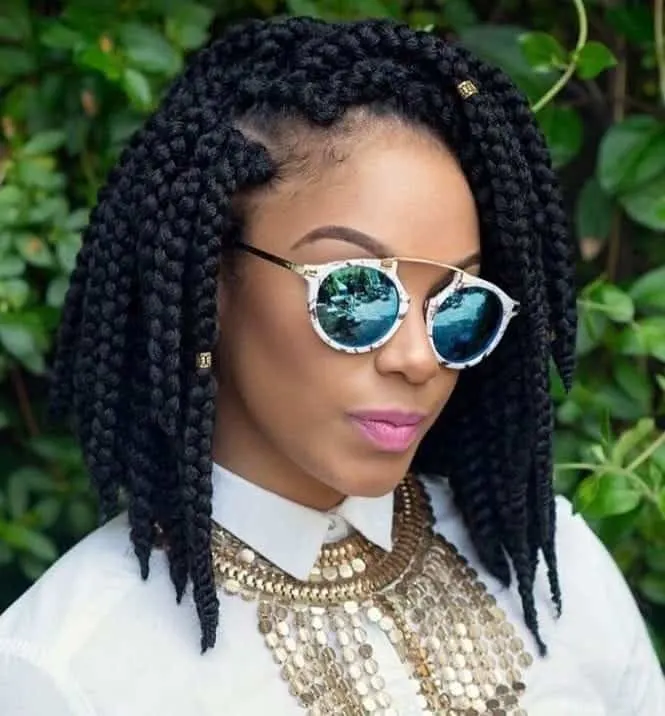 48. Caramel Box Braids for Thin Hair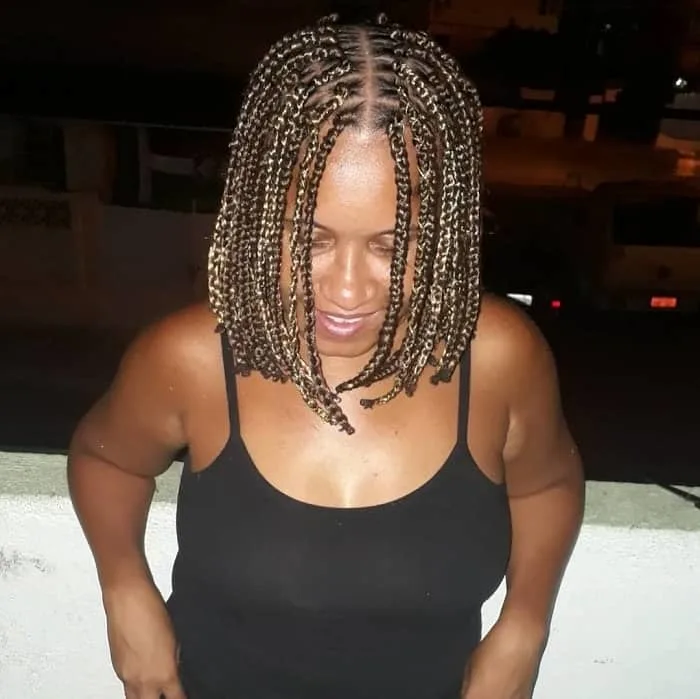 49. Box Braid Bob for Small Faces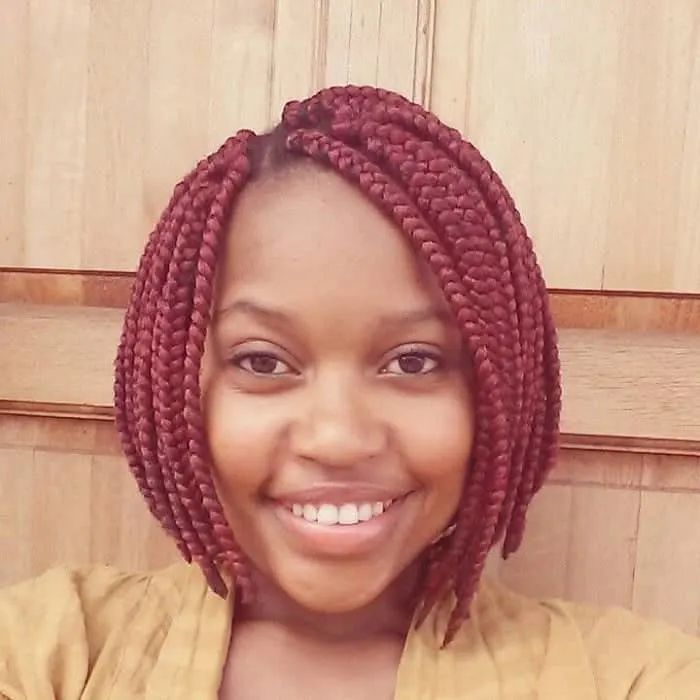 50. Box Braids with Yellow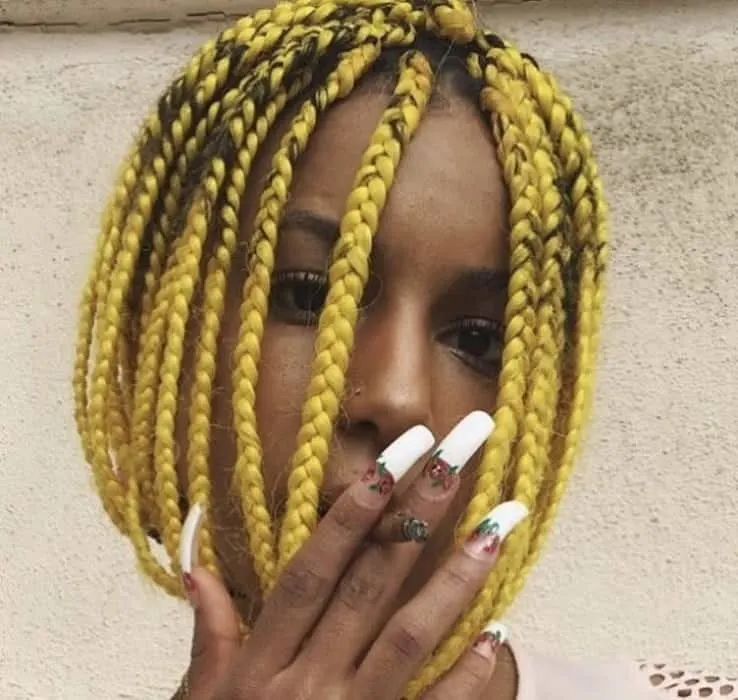 Using your popular bob braids, you can remake any hairstyle you want, even short ones. Most women adore bobs that are built with help from box or crochet braids, and they surely look amazing.