Jumbo box braids are a real statement and highly popular hairstyle among black women. Ladies love these gorgeous knits for so many reasons: the braid protects the natural hair from dirt and dust, they last for even one month and of course, they look absolutely fabulous.
Jumbo box braids are incredibly versatile because they can have any shape and length you want. Ultra-thin or chunky, in a natural shade or vivid and electric colors, short or long, these braids are ideal for any woman who wants a fabulous transformation.
Jumbo Box Braids
Jumbo and Kanekalon hair extensions are ideal if you want to build your knits. Depending on your hair density, buy a few packs, and make sure you have a few hours to spare because the procedure is really time-consuming.
1. Jumbo Triangle Box Braids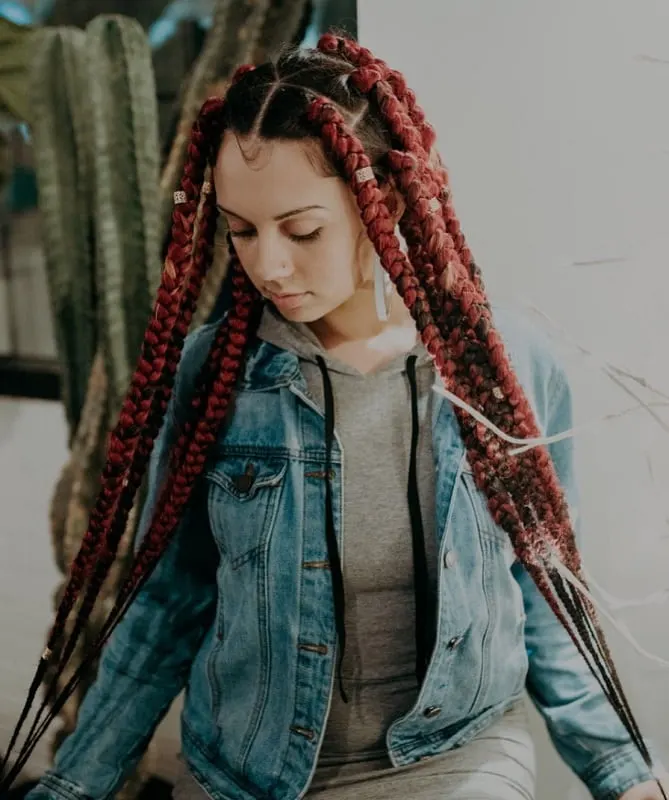 Go for chunky long braids that add a lot of length to your hair. Opt for a dark red Jumbo hair and create small triangle sections for the braids. The knits will look marvelous, and so will your scalp design.
2. Jumbo Box Braids Bob
If you love short hair, Jumbo box braids are ideal when creating a fabulous bob hairstyle. Decorate your knits with golden hair accessories, and you won't have to worry about styling your hair every morning.
3. Jumbo Crochet Box Braids
Every time you want a fancy hairdo, opt for an inverted bob that is made of Jumbo box braids. Make sure you use curly hair extensions that you can blend with the knits. Decorate some of the braidings with wrapped golden threads or hair rings.
4. Jumbo Knotless Box Braids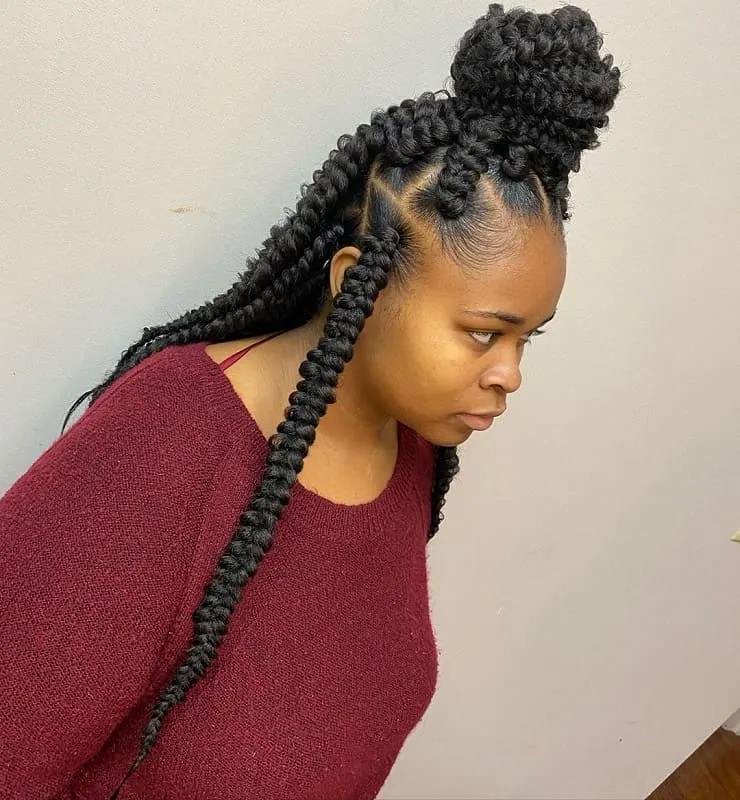 These astonishing braids look so romantic, and they are easy to recreate. After knitting them, dip the tips into hot water to secure them and slightly pull off each braid to obtain that beautiful effect. Take the top knits and make a big bun on top of the head.
5. Jumbo Bohemian Box Braids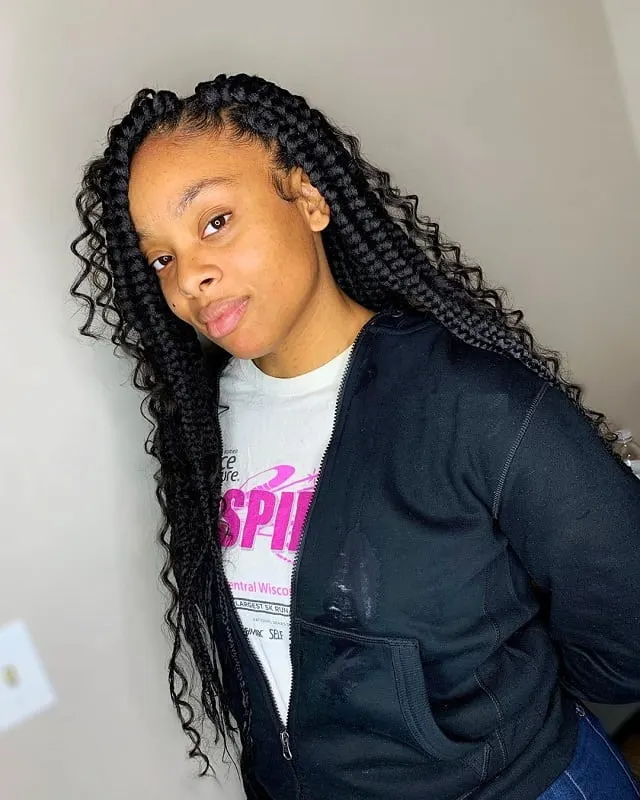 Get a marvelous bohemian look by using curly hair to make your Jumbo box braids. Spare a few strands and let them gorgeously blend with the rest of the hair.
6. Medium Jumbo Box Braids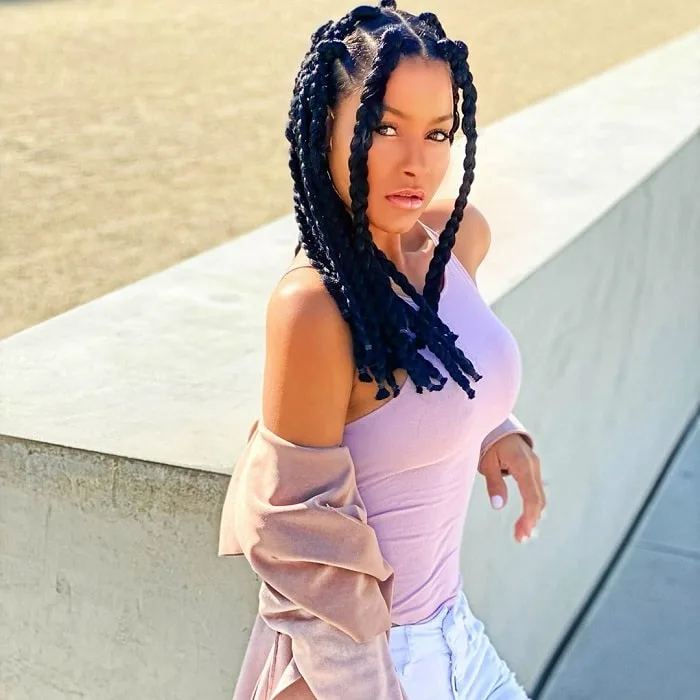 Part your hair into big squared sections and create some medium chunky braids. Secure them with elastics and wear them on one side.
7. Red Jumbo Box Braids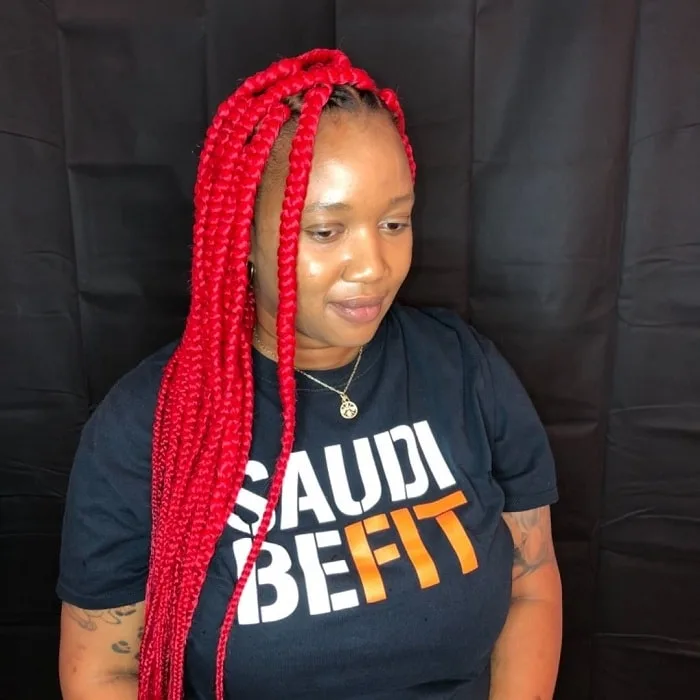 Keep the roots in their natural black color and get a few packs of electric red Jumbo hair. Section the mane into medium parts and knit the extensions. Toss them on one side.
8. Burgundy Jumbo Box Braids
This burgundy shade looks absolutely fabulous! Knit the braids as close to your scalp as possible and decorate the strands with hair rings, or white wrapped threads. Complete the look with a pair of retro glasses.
9. Jumbo Ombre Box Braids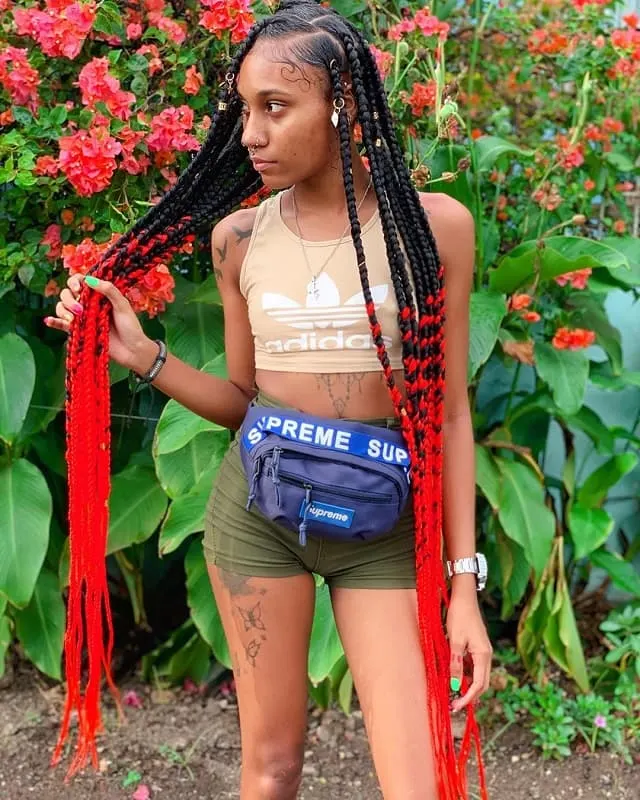 There is no limit when we're talking about hair length. If you have naturally long hair, create the box braids and extend them with red Jumbo hair. This way, you can get a hairstyle the reaches your knees, and that will undoubtedly look breath-taking.
10. Jumbo Box Braids with Curly Ends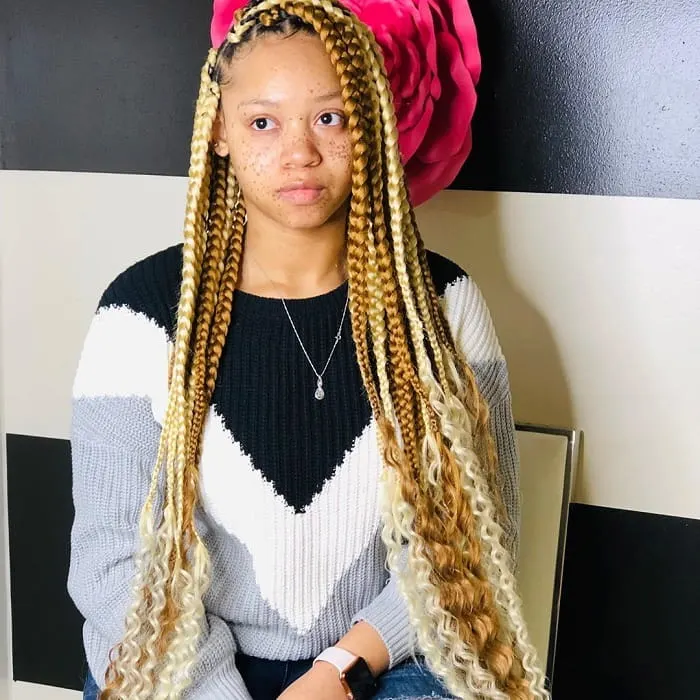 Use two shades of curly blonde Jumbo hair to recreate this fabulous look. If you want to look eye-popping, give this hairstyle a glorious touch by keeping the ends curly and untied. You will certainly look like a real-life princess!
11. Jumbo Box Braids With Beads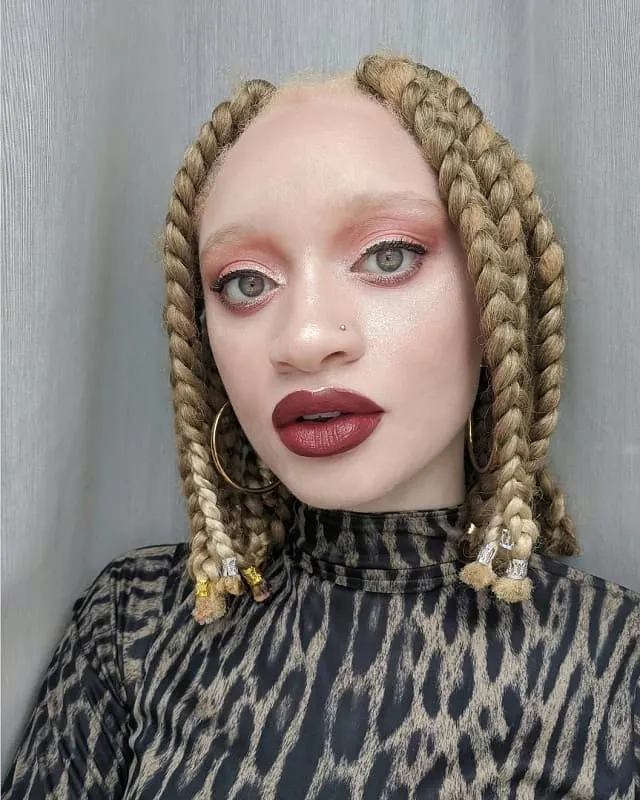 If you have pale skin, opt for an ashy blonde shade of jumbo hair. Create big chunky box braids that reach your shoulders and secure them with silver and gold beads.
12. Jumbo Twist Box Braids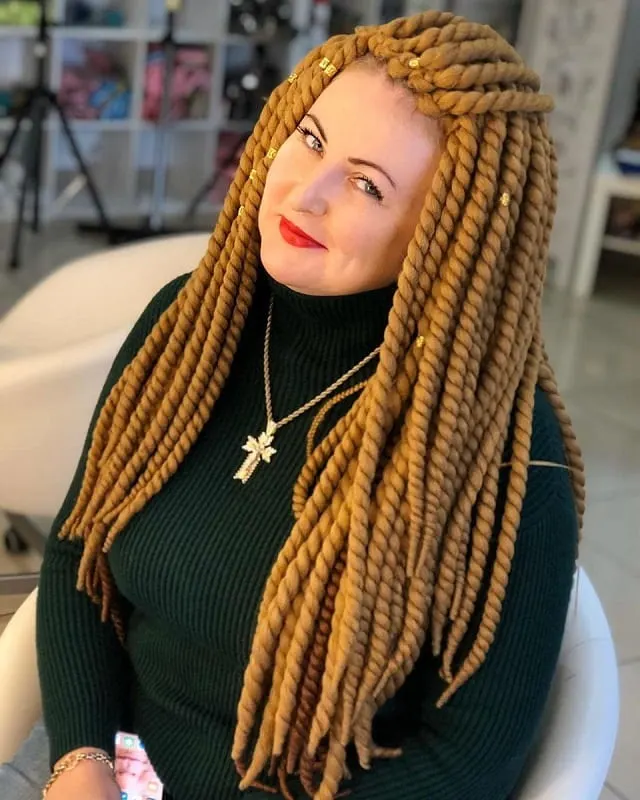 To recreate these gorgeous twists, pick a caramel shade for the Jumbo hair. Also known as Senegalese twists, this hairstyle is even easier to make than the regular braid. Use cuffed beads to decorate some of the braids and pin the top twists to the back, to uncover the forehead.
13. Blue Jumbo Box Braids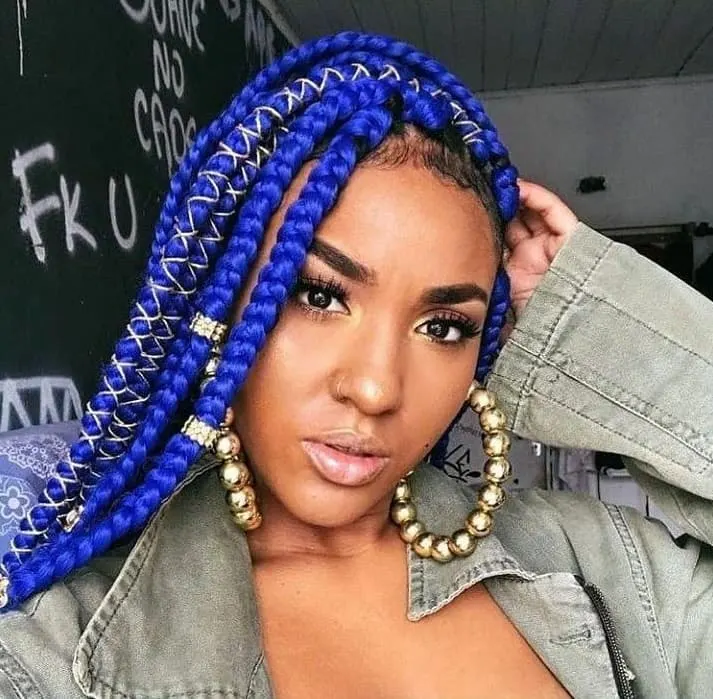 Want a gorgeous hairstyle that gets all the attention wherever you go? Opt for an electric blue Jumbo hair to style your box braids. Use hair rings to decorate the strands and wrap around some golden threads. Wear the top braids on one side.
14. Jumbo Box Braids with Weave
Craving for an out of the ordinary look? Immaculate white hair is certainly eye-popping, and it will help you grab all the attention! After knitting the braids, use colored threads to decorate them.
15. Two-Tone Jumbo Box Braids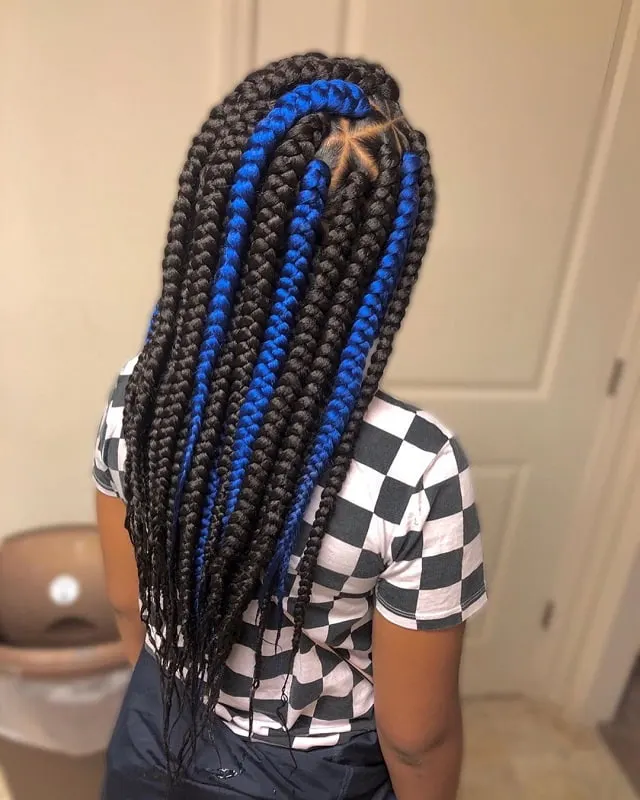 The star design from the top of the head is the ingredient that makes this hairstyle so unique and ravishing. Also, the electric blue knits certainly make the hairdo stand out even more.
16. Long jumbo box braids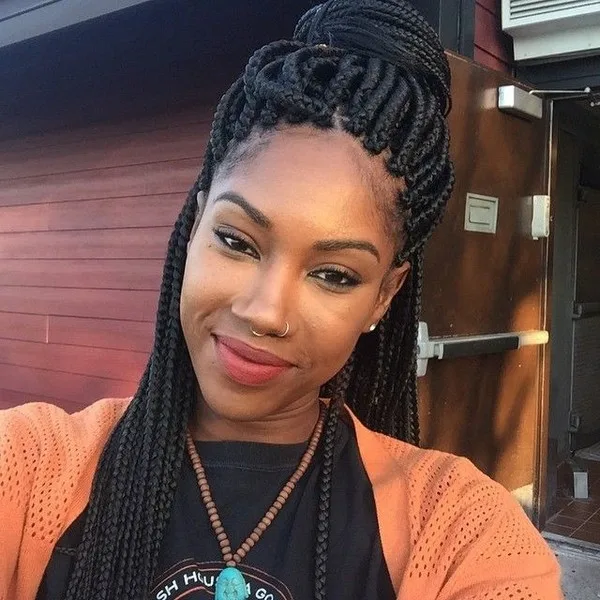 Box braids are a great opportunity to finally get yourself the long mane you always wanted. You get a chance not to just make knee-long tresses but to maintain some volume on top in order to make updos.
17. Keep'em Jumbo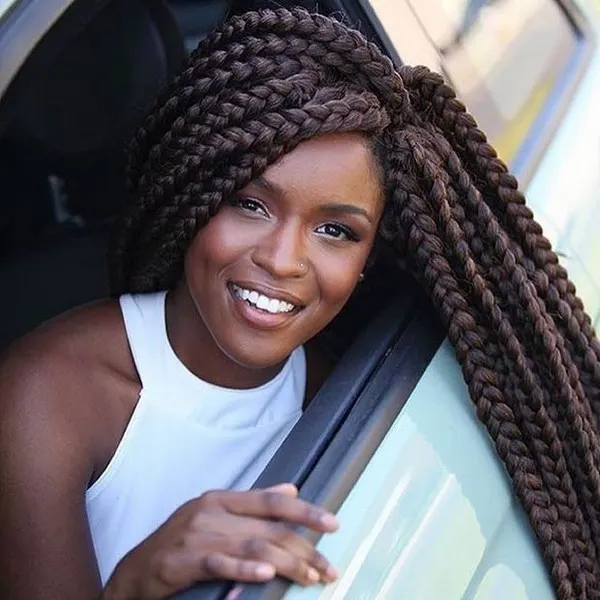 When creating jumbo box braids, don't forget about their weight. While they look ruly impressive, they can be a little uncomfortable to wear. Don't forget that they are hard to sleep with too.
18. Silver Jumbo Box Braids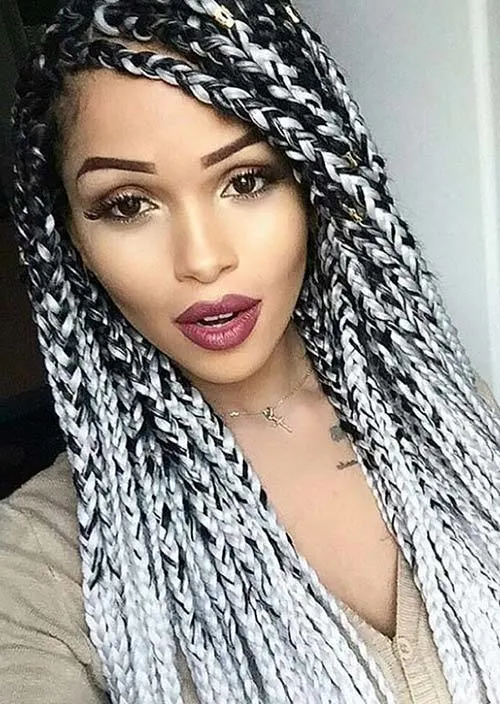 The popularity of silver hair doesn't seem to be waning, but dyeing your locks white is not something every girl is ready to do. Consider silver hair extensions when making your box braids.
19. High Bun + Jumbo Box Braids
A high bun is one of the most popular box braid style. In fact, it can already be considered a classic. Lift your voluminous locks up and tie them up into a bun. A great way to make a neat hairstyle.
Box Braids Vs. Senegalese Twist: The Differences
20. Mixed styles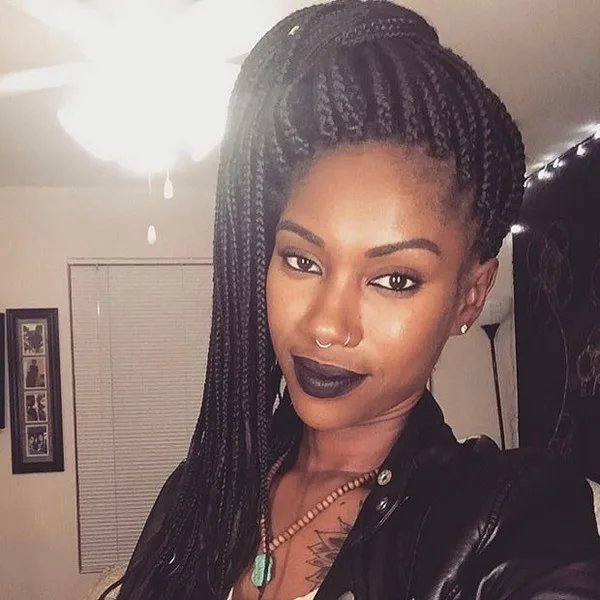 Box braids can come in mixed styles. You can start with jumbo braids on top and then go to the cornrows on the bottom. This is a great idea if you want to reduce the volume a little and make your braids more manageable.
21. Classics
If you haven't tried box braids before, you might want to start with the classics. Don't choose very long hair extensions. Start with shoulder or shoulder-blade length hair and make a few classic jumbo box braids.
22. Use variations
You don't have to use all your hair to create box braids. If you are ready to settle for just a few jumbo braids, you can use only a few hair strands. Such styles also look very fashionable and are easier to maintain.
23. Green jumbo box braids
If you want to make an impression while trying out various outrageous colors, box braids can help you do it fast and easy. Don't be afraid to use your imagination. Try all the colors you always wanted.
24. Short and sweet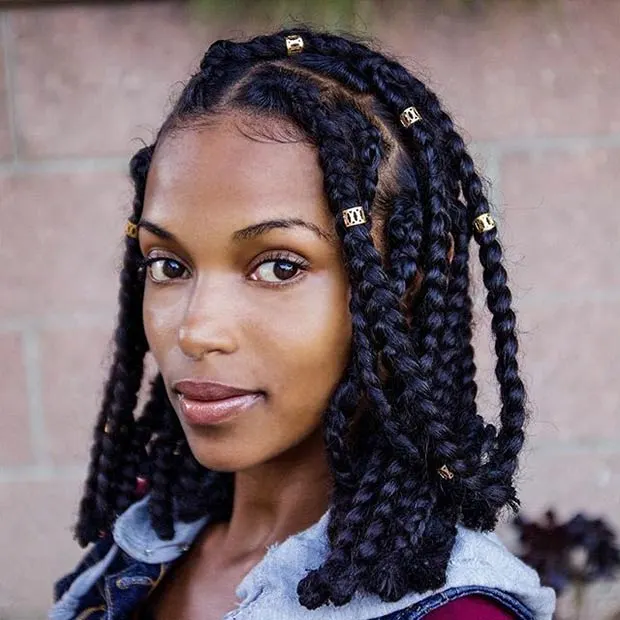 While many girls use jumbo box braids as an opportunity to create long tresses, you don't have to follow suit. Shoulder-length braids look just as fantastic. In fact, they are easier to style and look more natural.
Short Curly Hairstyles for Black Hair
25. Thin box braids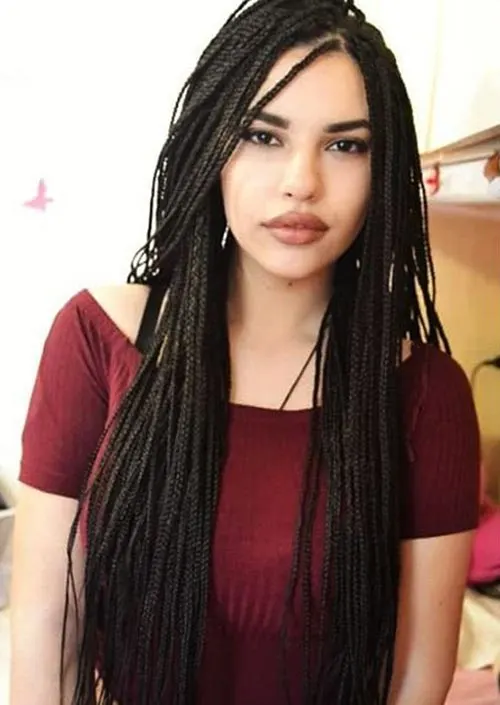 If you are not ready to deal with the maintenance that comes with the jumbo braids, you can try out thin box braids. They take longer to make, but look somewhat more elegance and are easier to care for.
26. Simple combination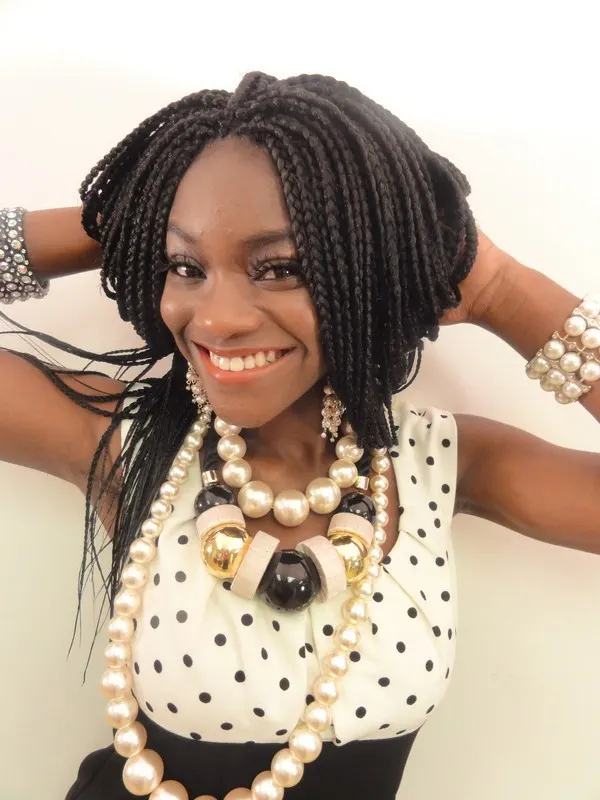 Combine box braids on top and thin cornrows on the bottom and you'll get an exciting look. This style is suitable for women with long faces since it will help add some volume on top and keep the hair thinner on the bottom for contrast.
27. Highlights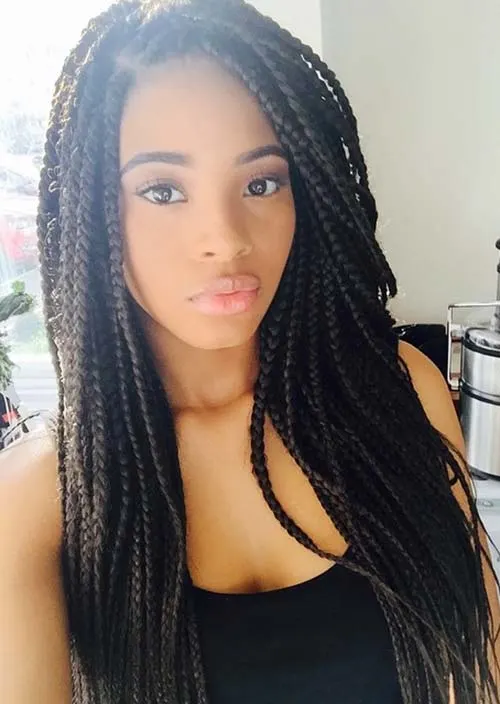 Highlights are easily created on jumbo box braids. All you have top do is get the hair extension of different colors. You can also make patchy highlights by actually dyeing the extensions.
28. Lift it up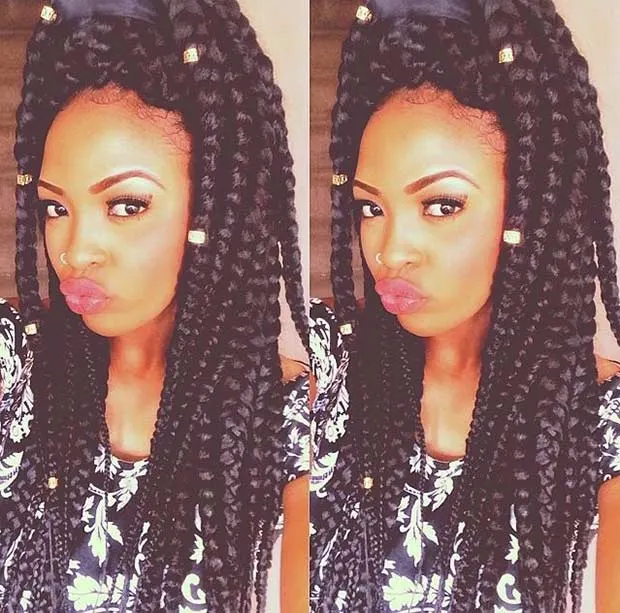 Large braids make it possible to create various impressive updos. Lift the side braids on top of your head and secure them with pins or large elastic bands. You can get a really regal look with just a few moves.
29. Silver queen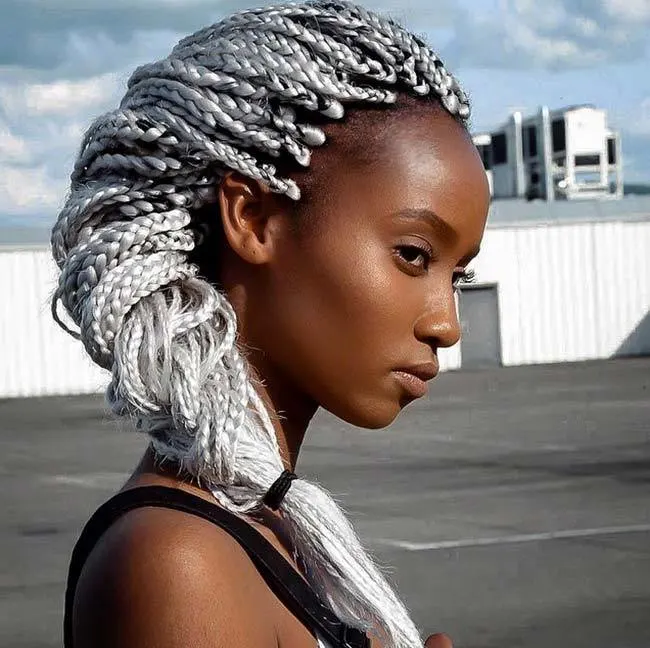 Silver hair extensions are gaining popularity. Dark-skinned girls look especially fantastic when their hair is complimented by silver strands. Make sure not to overdo the silver so it doesn't make you look older.
30. Ponytails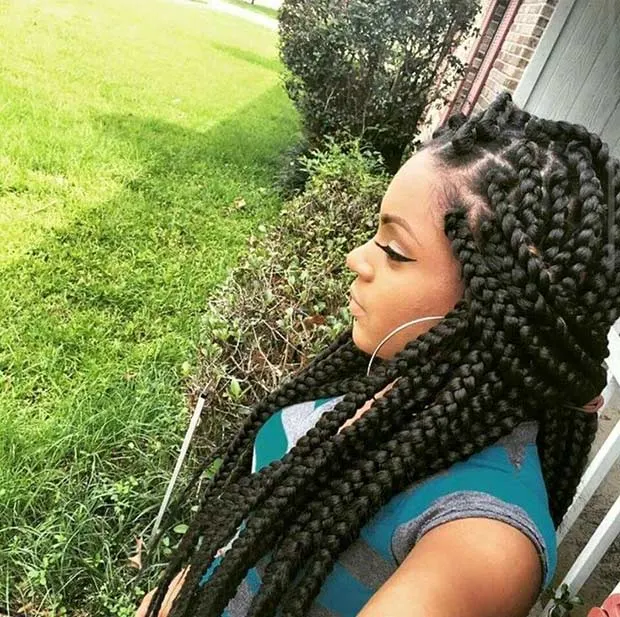 Jumbo box braids are often hard to arrange into regular hairstyles. However, ponytails are possible no matter how voluminous your hair is. Use a couple of the braids and an elastic band to secure the hair in the back.
31. Just the top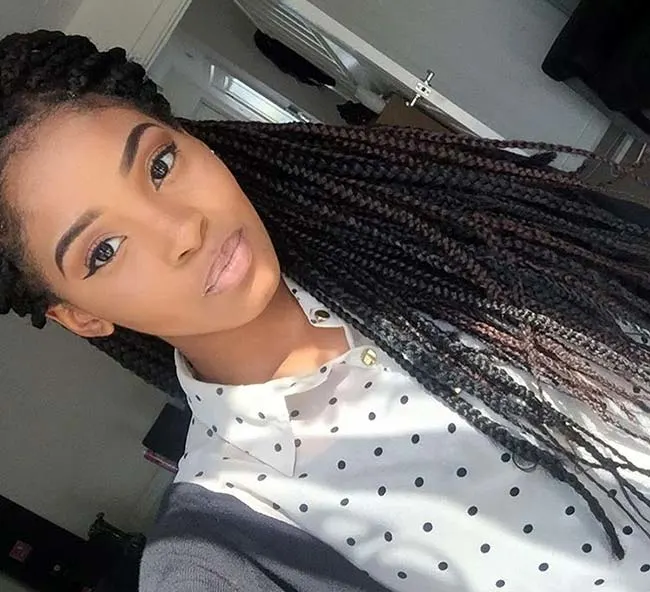 If you are looking for a special hairstyle, you can enjoy this jumbo and pencil box braid mix. Only the top part of your head can sport the jumbo extensions. The rest of the hair is braided smaller and tighter.
32. Go Violet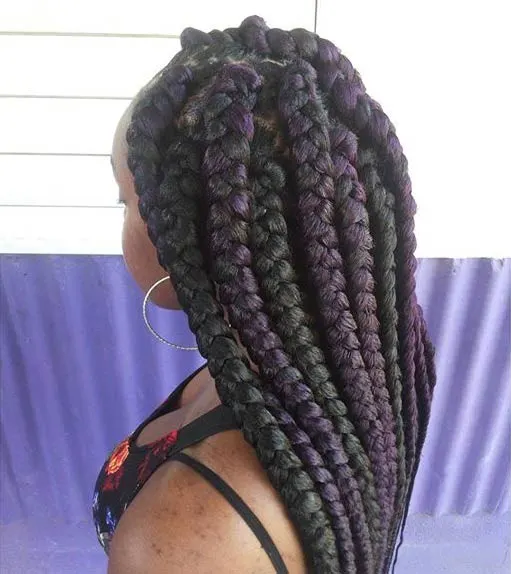 A few violet strands can make your whole hairstyle look terrific and help you stand out of the crowd. When choosing the hair extensions for jumbo box braids, consider getting a few violet pieces.
The Best Micro Braids Trending in 2023
33. Bright blue
Bright metallic blue colors look perfect when coupled with natural raven black hair. Box braids are a great opportunity to try out the most outrageous colors. The blue and black mix is always exceptional.
34. Extra jumbo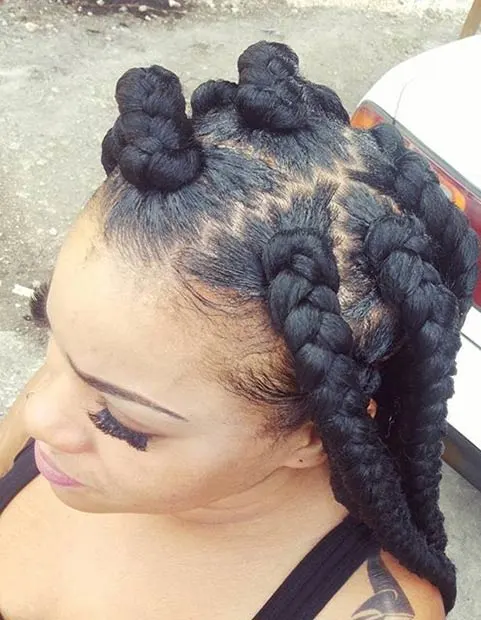 These extra jumbo braids are suitable for girls who are just starting out on their way to complicated braiding. You can choose only a few strands to add hair extensions to and create really huge braids. You might end up liking this style more than the classics.
Types of Braids to try With Weave
35. Make a palm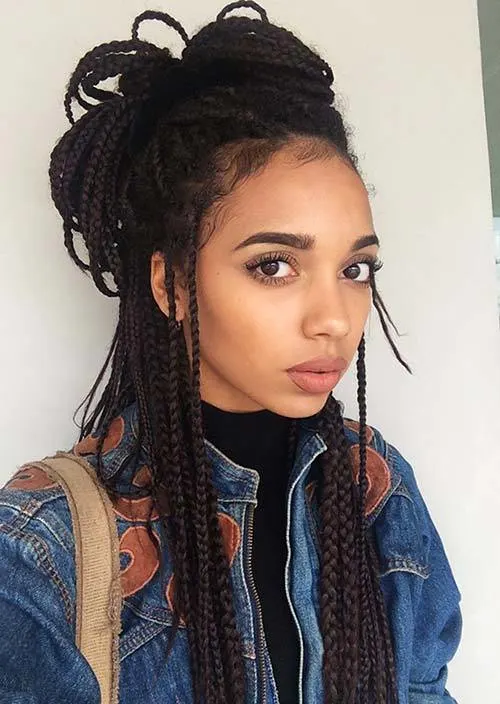 Palm-like hairstyles look great when you use box braids. No matter how thick or thin your box braids are, you can lift them up to create an impression of a palm tree.
36. Metallic shades
Jumbo box braids come in all shapes, sizes, and colors. Don't be afraid to experiment with the metallic shades. |They tend to look quite impressive and make your hair look like part of your wardrobe.
37. Up dos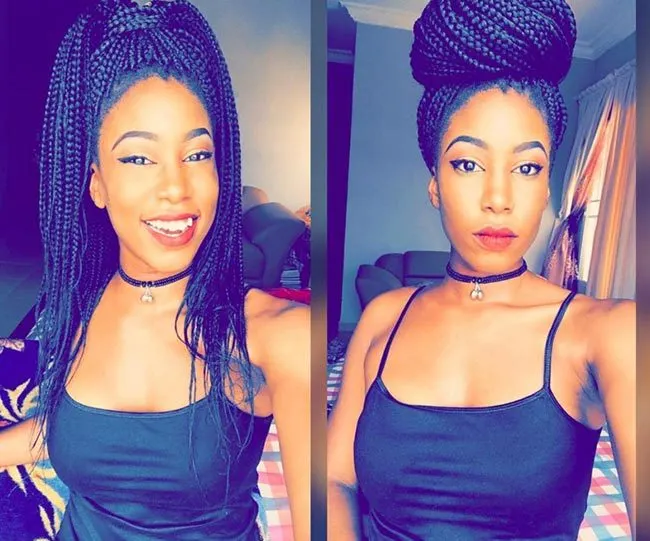 Box braids are your chance to try the updos you were unable to create before due to the length of your hair. Don't just wear your box braids down. Make buns, high ponytails, donuts, and more.
38. Braid the braids
Use your stunning box braids as strands to create large and impressive braids. Take a look at how easy it is and how interesting such approach looks. You can make a few loose braids to start.
39. Rainbow hair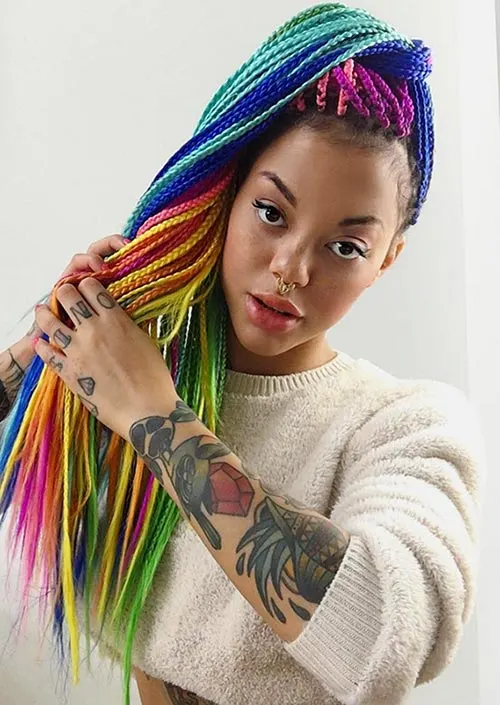 Standing out of the crowd with outrageous box braid colors is easy. Creating a rainbow on top of your head is bold. Try all the colors you like and mix them into one outrageous style. You'll look fantastic!
40. Mohawk braids
Simple and classic styles may seem too easy for you? Take a look at this impressive mohawk hairstyle that will keep the heads turning your way. There are so many things you can do with the box braids!
41. Tricolor mix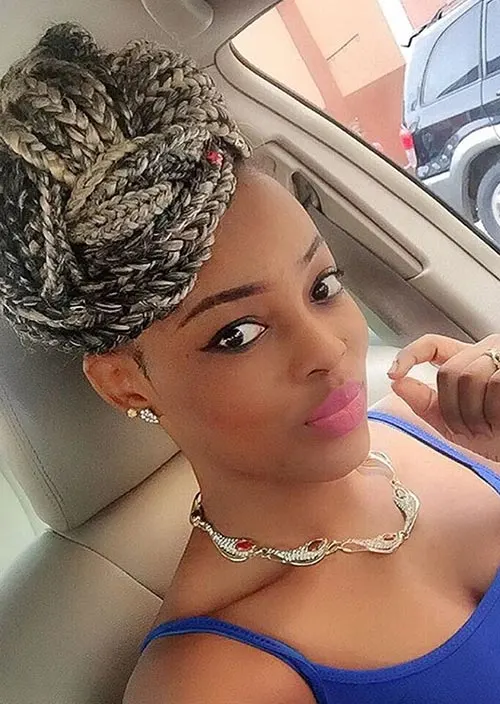 When you use hair extensions, color experiments are unavoidable. Since silver hues are popular, you can use several shades when doing the box braids. It won't look natural but the great effect is assured.
42. Interlacing
Playing around with your braids is fun. Use your new long locks to create various hairstyle. Interlacing the braids and using them as hair accessories is a great choice. Leave a few hanging freely.
43. Mix and match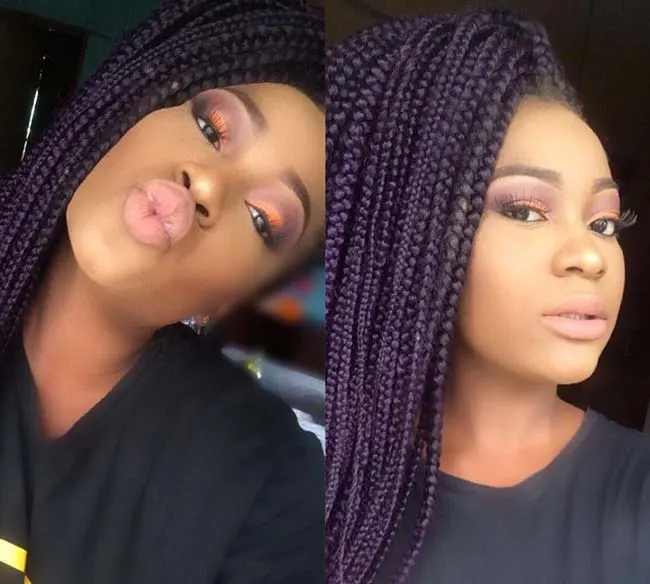 If you are mixing braid types, you might also want to consider mixing the color. Use one color for jumbo box braids, another for regular box braids, and a third one for cornrows. You'll love the result!
44. Black and white
Black and white are a perfect match, so why not take advantage of these colors? Add one or two white strands to your hairstyle and you'll see how unique your overall image will become.
45. The simpler the better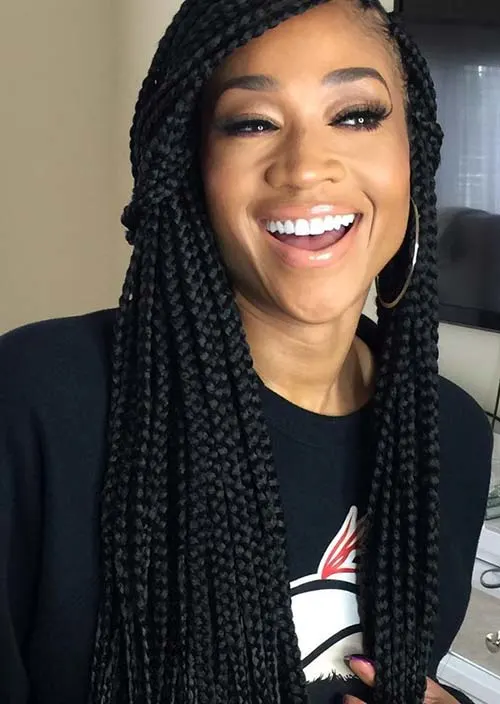 Simple box braids are exactly what you need to create an easy-going image. The closer you stick to the classics, the more option you'll have when styling your locks. Use your braids to tie the hair in the back.
46. Small bun
The volume that you can create when you use hair extensions allows you to mix a few different hairstyles. You can make a rather large bun on top of your head while having the rest of your hair hang freely.
47. Braid them in
You don't have to use all of your strands to create jumbo box braids. In fact, you can only use a few. Then you can take the box braids and weave into a regular braid with the rest of your locks. The result will be priceless.
48. Side sweep
When you have a voluminous hairstyle, you want to flaunt it. By sweeping your locks to one side, you can make a great statement. Take a look at how a few strands are not braided. This is a new approach to box braiding.
49. Contrasts
Hair extensions are created for volume and color contrasts. You can take advantage of both with white or silver strands. Black and white, beige or silver look very neat together. Make sure not to use thick extensions so the black is noticeable.
50. Bangs
Since women with jumbo box braids rarely go for bangs, you can use your imagination to make a fringe out of the braids. Take a look at the simple way shown on this picture. Three coils are made to resemble bangs.
51. The knot
One of the coolest ways to go about a high bun is to make it look like a knot. Box braids give you an opportunity to make such an experiment. After lifting your braids to make a bun, use another two or three to "tie" the knot.
52. Synthetic braids
If you are not a fan of using expensive natural hair, you can take advantage of synthetic fabrics. They are not as great for making voluminous braids, however, they come in all colors you can wish.
53. Beehive
You can use your beautiful jumbo box braids to create something between beehive and a large bun. Buns are popular since they keep the voluminous tresses out of your face while looking truly impressive.
54. Coils on top
You don't have to attach the braids all over your strands. Leave a few strands on top to make natural coils. See how cute and neat such hairstyle looks. It can be a great choice for younger girls.
55. Flaming colors
The more outrageous colors you use, the more appealing your style will be. Try flaming red and yellow shades to diversify your image. You can make a mix of pencil and jumbo box braids for better effect.
56. Golden rings
Using accessories on your braids is a great way to make your image appear even more fantastic. Don't be afraid to experiment with rings, bows, elastic band, and headbands. You can look fabulous!
57. Twists
While the box braids are rather voluminous, they aren't always too comfortable to wear. Twisting them into one big braid is one of the best ways out. It can look truly tremendous!
58. Bigger than big
Jumbo box braids give you an opportunity to have a lot of fun with the size of your hair. If you create a bun which is bigger than your head, you can definitely make an impression. Add some colors to diversify the style.
59. Rare jumbo
The big advantage of the box braids is that you can make them any size you wish. If you don't have time to deal with small braids, take really thick strands and create large and rare braids.
60. The wet look
If you are a fan of neat and wet looks, jumbo box braids can become your best friends. Using hair gel on them is easy. You just have to be ready for longer maintenance since they are harder to wash.
61. Twist and turn
If you have beautifully-colored braids, you just have to experiment with the hairstyles. Create asymmetrical images by sweeping the hair up on just one side and keeping it intact with hair clips.
62. Blue Jubo Box Braids
As we said before, blue and black look tremendous together so why not use the mix. Buy some blue and black hair extensions so the blue strands don't prevail. A few blue braids are a wonderful addition to your style.
63. Zebra style
Make your image truly striking by using dazzling white hair extensions for your jumbo box braids. They overall look is so appealing. All you need to do is make just a few strands white and reap the benefits.
64. A sphere
Making a high bun with box braids is easy. Making the bun look like an asymmetrical sphere is harder. Practice with your braids to create unique hairstyles, You can take advantage of hair gel and hair pins to help you along the way.
65. Colorful Jumbo Box Braids
If you are tired of your short hairstyle, colorful synthetic strands arranged into box braids can save the day. No matter how short your natural hair is, if you can find a few strands, you can be saved by the box braids.
66. Bold Blonde Jumbo Box Braids
If you are a blonde, try this jumbo box braids hairstyle. It can cause a little damage to your hair, so some women avoid this style. This look is daring and the rings in the braids multiply the beauty of this hairstyle.
67. Customized
A stunning idea if you are brave and love long jumbo box braids. You must have the patience to grow hair long to try this hairstyle. The braids are done layer by layer on starting from the sides until the whole length looks similar to the photo. Try any hairstyle on the top of the head that looks good on you.
68. Horsetail with Highlights
A cute combination of ponytail and jumbo box braids. You can apply some highlights like the above photo that'll make you stand out from the crowd.
69. With Accessories
Do you love using accessories on your hair? If yes, try with this hairstyle and see the amazing effect it can bring into your look!
70. Bohemian Jumbo Box Braids
A beautiful causal jumbo box braids style you can wear daily in your work, school or anywhere! In this hairstyle, braids are kept thin and a knot is made with the braids at the top of the head.
71. Jumbo Box Braids With Updos
Love to play hair updos? You'll definitely love the above jumbo box braids customized with the updos. These shiny braids create a stunning updo.