So you are a woman over 40 and looking for a short hairstyle. Only about a century ago women over 40 were considered old. However, times have changed and now girls, who turn 40, are entering another youthful phase of their lives. However, hair often doesn't feel as good as the rest of our body and sometimes decides that it will not look neat and shiny anymore. If this is the case, then the time has come to get a short haircut. No need to be upset. Many young girls wear short haircuts and are happy with them. So, forget about the long locks and enter the next phase of your fashionable life by browsing short hairstyle for women over 40.
Best Short Hairstyles for Women Over 40
If you have been wearing long hair all your life, you'll be amazed at the variety of hairstyles you have been missing out on. Just imagine all these pixies and bobs, which can look much more awesome than long hair and give you a great amount of style. These haircuts often require little maintenance and look great, even if you just got out of bed in the morning. We have prepared a list of the most popular short hairstyles for women over 40, to give you a glimpse of how wonderful you can look.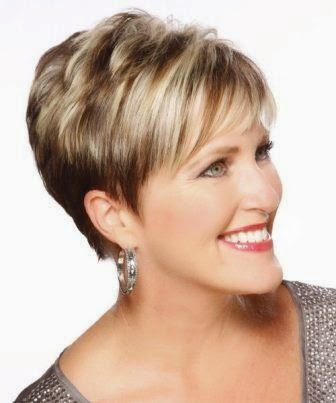 Even if you don't have that much gray hair yet, there is no reason not to try highlights. They will look amazing with your new and stylish short pixie. Choose the colors that suit your skin type and go for it. You will not regret the change!
2. Long and textured pixie
If you are not exactly ready to let go of your long hair, you can go for a longer pixie. The textured hair will create a lot of volume, which will make you look quite regal. This hairstyle is great for thick hair, but won't look good on fine manes.
Once your hair starts graying, you can finally let your imagination run wild and experiment with all kinds of colors. Red is a great color of choice for short hairstyles for women over 40, since it makes the face look much more youthful.
4. Messy bob
Textured hair looks wonderful for both bobs and pixies. It will also save you a lot of morning maintenance time. If your hair is thick enough, all you will need is some hair gel and a couple of minutes to make it look amazing.
5. Lifted bangs
If you want to create more volume on your bob, try lifted bangs. They will no require much work. Just make sure fringe is long enough to reach your eyes. Then every morning you will need some hairdryer work to lift it up.
6. Voluminous pixie
Pixie is one of the most popular haircuts for 40 plus women with fine hair since it helps create the much-needed volume. If your hair is thin, opt for a long pixie, which will allow you to lift the hair on top with a flat iron.
If your stylist knows how to make proper highlights, you can opt for this amazing undercut pixie. It will make your hair look very thick and the overall appearance will surely be amazing. Find the right barber and give it a try!
8. Sexy look
If you are over 40, there is no reason to forget about being sexy. You will get great help from the right haircut. So opt for this sexy bob, which will outline the eyes. The side strands will give an impression of a longer hairstyle.
9. Short and asymmetrical
More often than not, women over 40 face fine hair. No need to be upset. There is great variety of pixies, which will make your thin locks appear thick and fabulous. One of them is an asymmetrical pixie. Give it a chance and you will be amazed with the result.
10. Straight bob
If your hair is straight, it will look amazing in a medium sized bob. This simple haircut is a great choice for women, who don't mind spending some time on their hair. It requires a little maintenance but looks very neat and stylish.
11. Silver and beautiful
Silver hair is considered very stylish lately but not all women will look good with it. So, spend some time choosing the right color for yourself. Ask your stylist for advice. If silver is your color, then go for it!
12. Long bob

Long bobs are an amazing choice for women of any age. They look very stylish regardless of the hair type or hair color. Choose one of these wonderful long bobs and you will definitely feel amazing. Play around with the bangs to add some style.
13. Disheveled and back swept
If you want to look like a star, there is no need to spend hours on your appearance. Just get a medium-sized bob and do almost nothing about it. The sexy Cameron Diaz look will surely keep some heads turning your way.
14. Very long bob

If you are having a hard time saying goodbye to your long hair, you can start with a very long bob. Make sure to take good care of ends. Curls and waves on the bottom make long bobs look very neat and fashionable.
15. Curly bob

Curls look wonderful on any woman. So, if you want to diversify your bob with something outstanding and stylish, make some curls! No matter how old you are, the curls will surely make your day.
Now that you have browsed these short haircuts for 40 plus women, you must realize how much you have been missing out on. So, take your time and then give your stylist a call. You are in for a great change, which will make you feel truly amazing.